Aug. 26, 2021 • Analysis

Are you looking to buy or price a used combine before the 2021 harvest? You and everyone else (and you better hurry)! The prices have jumped with the supply of all used equipment tightening, but not equally for all types of harvesters. This is where used combine values in 2021 have differed from used tractor values. In this Iron Comps Insights, the Tractor Zoom data for combine auction sales is broken down over the past four years to better understand the trend that is driving 2021 used combine costs.
If you prefer an in-depth guided tour of this set of Iron Comps data, the video below walks through how different auction markets are behaving for combine sales that have taken place between the months of January and August. This segmentation allows a comparison of 2021 sales with the prior years without the typical end of year spike in December throwing off the numbers.
The biggest takeaways from the video are directional.  The values in the middle of the 2021 used combine market have shifted up. Harvesters with 1,000 – 2,000 separator hours are now worth considerably more than they were a year ago. In the following graphs, the past four years are averaged out for this same set of months. This provides a clearer picture of what is happening to harvesters in the ranges of 0-750, 1K-2K, and 2K-3K separator hours.
Used Combine Values With Less Than 750 Separator Hours
Considering all the hype that used equipment values have received this year, one would expect low-hour, late-model combines to be leading that surge. Not the case. They are up over last year, but not to the extent that newer tractor values have risen.   We saw this in the video too. 2020 was a phenominal summer for combine sales, so the bar was set high. This year there just has not been the available volume of those premium machines, which may be driving farmers in need of a combine to look at ones with slightly higher hours.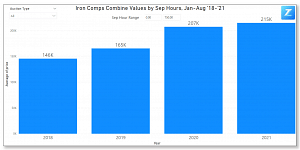 Used Combine Values With 1,000 – 2,000 Separator Hours
2021 appears to be the year for mid-hour combine sales.  With low availability at the lower hours combined with an extremely profitable crop in the field, farmers have justified bidding higher to make sure they are prepared for this fall.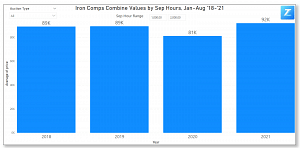 This $11,000 jump in value over a year ago equates to almost a 14% rise in value.  A significant driver of this increase is availability of combines. In our Tractor Zoom data, there have been 17% fewer combines sold in this range this year compared to last. This is despite the fact we've added 50% more auctioneers already this year, covering over 75% of the US auction market!
Part of this rise may also be level setting. You can see that values in 2018 and 2019 were a little closer to this year's current average prices. A good reminder that valleys and peaks do not last forever.
Used Combine Values With 2,000 – 3,000 Separator Hours
In this final look, we increase the usage to include between 2,000 to 3,000 separator hours.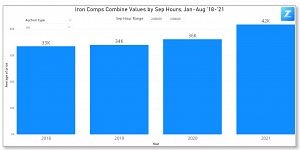 The year over year average combine value increases $6,000. Approximately the same annual rate, 16%, as the previous graph. Unlike the previous hour segment though, the supply for 2,000 – 3,000 sep hour combines is closer to what we saw in 2020.
What Are Combine Values Going This December?
This is the big crystal ball question, right? With a few variables out there, like actual verse USDA projected yields, it is impossible to tell for certain. Yet, we can look historically to see what has happened before. 2019 was a tough, but relatively consistent harvest season. In that year the average used auction price of combines between 1,000 – 2,000 sep hours increased 13% in December (over the January to August values shown above). In 2020, that rise was 23%! Remember that commodity prices started to take off in September, so it was anything but consistent.  Whatever this fall brings, if you are looking to purchase, or find the the value of a combine, be sure to check Iron Comps. The most recent comparable sale in a turbulent market can be the difference between gaining or losing 5% of the value right out of the gate!