Oct. 06, 2021 • Interesting Iron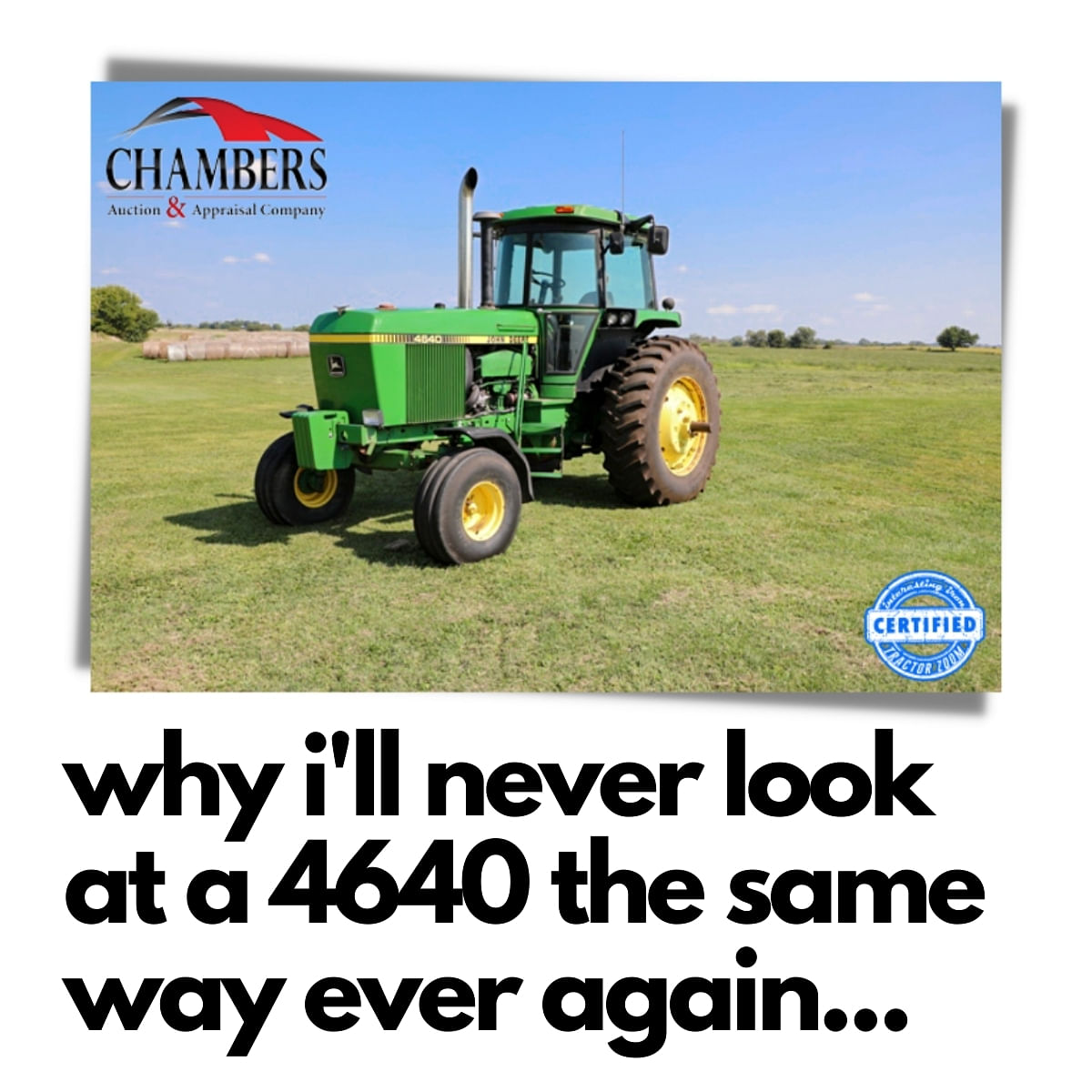 This week's Interesting Iron will be a little different than the normal stuff you see from me. Yes, there's a really nice John Deere 4640 coming up on an auction near Corydon, IA, but for this post, it's sort of a supporting character. It's a long-winded post, but I do hope you'll take a few minutes to read it all the way through.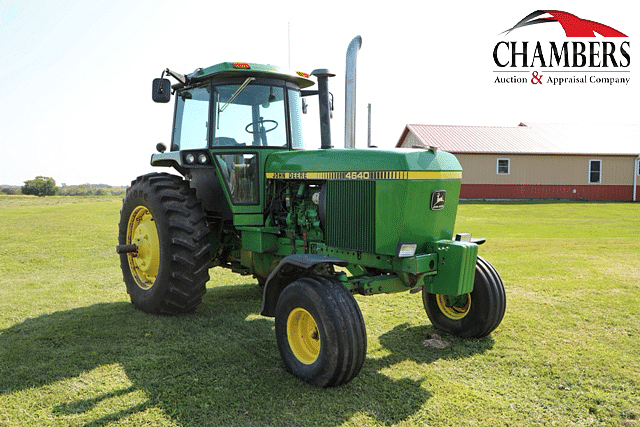 Let's talk about the tractor itself first, because this one that Jared Chambers is selling is an awfully nice one. It's a 1980 model according to the serial number, and boy oh boy, is it ever clean! I'm sure there are probably cleaner examples of the John Deere 4640 out there, but I doubt they're selling any time soon!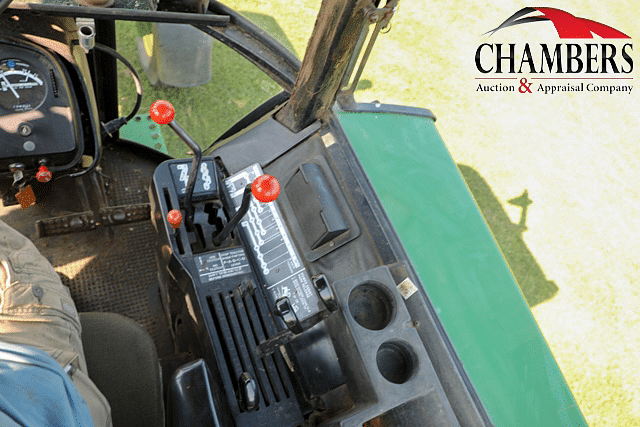 Dennis Allen was the farmer who owned it. He was a well-known and hard-working farmer who loved his life on the farm that he and his wife Marcia established. They built a life there, and raised a family. Sadly, Dennis passed away on February 1, 2018 due to complications of sepsis. Most all of the machinery has been stored in the barns and sheds since his passing. Furthermore, his brothers have kept up with the tractors, using them periodically to make sure nothing rots and starts falling apart.
The brothers say that the 4640 was Dennis's favorite tractor on the farm. For all of the 13-14 years he owned it, it was his favorite tractor to hook to the baler. He loved it, and he took very good care of it.
Jared has run the tractor on several occasions over the past six months and he tells me that it runs and drives very nicely. The AC does need to be recharged, and the dash cowling is missing. Other than those issues, this is a very nice machine!
Auction Details:
Date: Saturday, October 16, 2021 – 9AM Central
Location: 3152 180th St., Corydon, IA 50060
Contact: Jared Chambers (Chambers Auction & Appraisal) – 641.414.0234
As much as Jared didn't want to do it, this one has to be an onsite-only auction. He told me, "The farm is down in a hole in southern Iowa, and cell service is pretty bad down there. The chance of running into issues with an online bidding platform would be pretty high, and that wouldn't be fair to online bidders. So, we made the hard call to do an onsite-only auction."
It's a tough position to be in, but I totally understand why Jared made that call to do an onsite-only sale. If you're interested, grab a couple of buddies and hitch up the gooseneck and go for a road trip! If I'm able, I'll be down there for this sale!
Here's the auction flyer.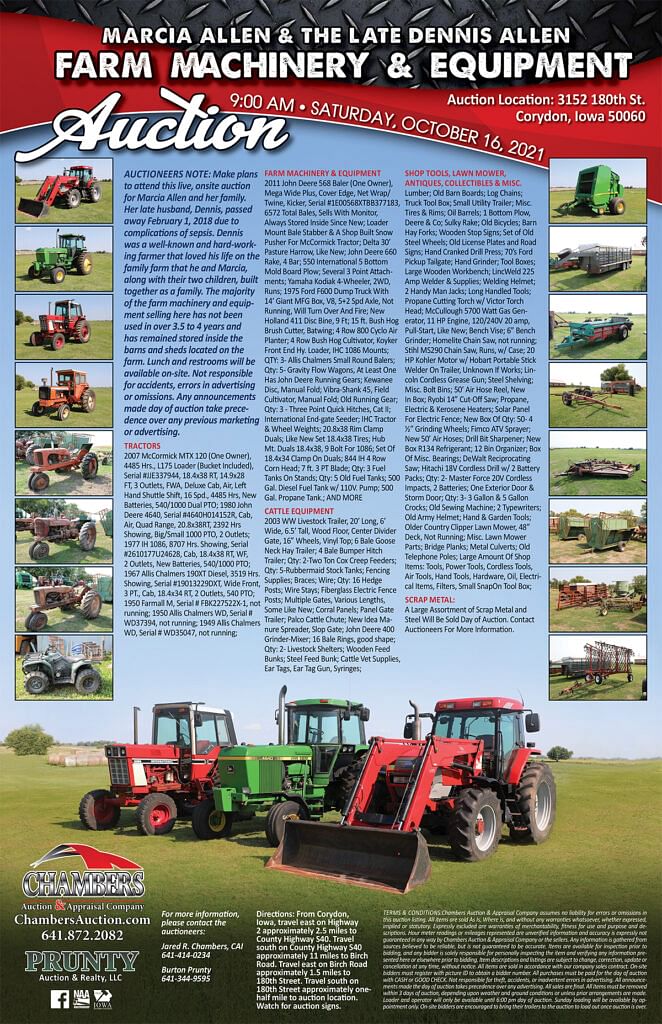 What's it worth?
Even with 12,000 hours on it, I believe that this is probably still a $22-25K tractor. Maybe higher. It'll be interesting to see what the buyers think. Some of it could easily depend on the weather. If it's a nice weekend, I think we'll see a lower turnout due to harvest. However, if it's drizzly or rainy like it was for much of the midwest last weekend, there may be a bigger turnout. One thing is for sure; if the right buyers are on the property next Saturday, I think it'll be a hotly-contested tractor. Time will tell…
Update: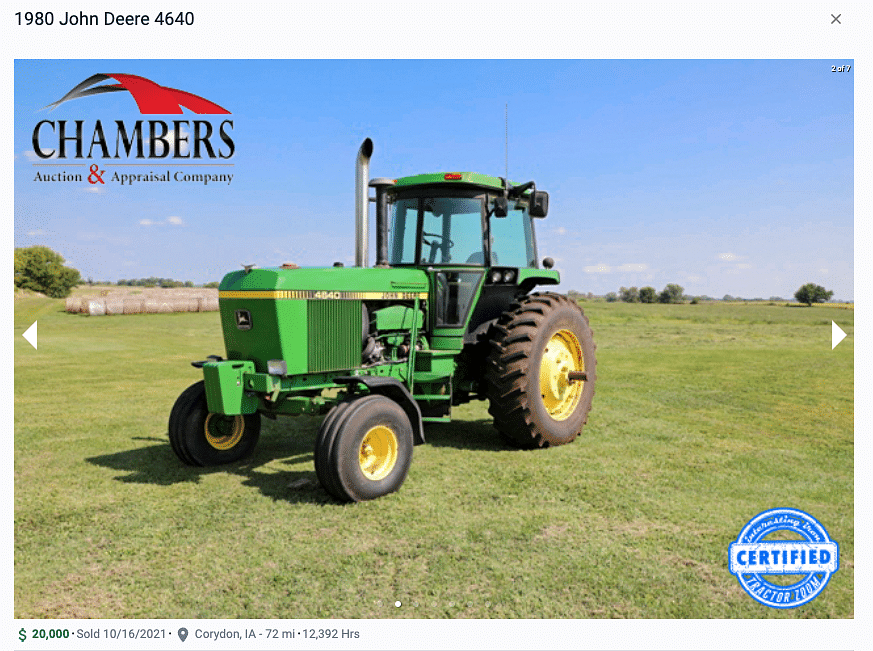 Ryan's estimate: $22,000
Hammer Price: $20,000
There were two things at play that kept this tractor from getting closer to where I thought it would be. First, the weather was nice, and after several days of rain earlier in the week, it was finally dry enough for a number of farmers to get back into the field. Second, the auction was way off the grid, and down in a holler. Spotty cell service at best, according to the auctioneer. He said he hated to do it, but with the service being what it was, he couldn't risk opening up internet bidding.
Even though we're living in a world where high speed internet is more necessity than luxury, there are a few places where high speed isn't available. In situations like this, it definitely makes a difference.
Now, the hard part of this week's post…
This is going to be hard to write. I never imagined that I'd have to do this.
Y'know, there are certain tractor models that I've come to associate with certain people in my circle of friends. You've probably got people like this in your life, too. You're probably thinking of them right now. For one reason or another, when you think of them, you think of that tractor model. When you think of that tractor model, you think of them.
My buddy Alex in Missouri has an almost-unhealthy obsession with 4320s. A Deere dealer from Wisconsin who I go pulling with will forever be associated with 4230s (for those of you who go to the Hillsboro Charity Tractor pull, you probably know who I'm talking about). My friend Sam (also from Missouri) is a 1086 fanatic, and the list goes on and on.
Well, Brice Volker was my John Deere 4640 guy.
I was in my hotel room in Crane, IN this past Saturday morning when I got the call that he had passed away. He was a dear friend, and a powerful voice for all things SoundGard and sustainable agriculture. I was shocked when I heard the news, and it took everything I had to keep it together until I hung up the phone.
I should've been checking over my camera gear, as we were to go prostock pulling one last time for the year at Wagler Motorsports Park. However, shortly after I got that call, the clouds opened up and it started raining. I'd never been more thankful to have a tractor pull called off in all my life.
Who was Brice?
Brice Volker was one of our Tractor Zoom auctioneer partners (he was part of the Speckmann Auction & Realty team), a farmer, and a successful seed salesman. All of those irons in the fire kept Brice pretty busy!
Just this past July, Brice made ag and auction history. You know those Busch Light John Deere combines that make their way around social media every so often? Well, the first one Busch ever did went to a farmer in southeastern Nebraska, and when he wanted to send it off to a new owner, he called upon Brice to do it. That was a really nice combine, too! We had a lot of fun helping him promote this sale! (That combine was also the only one that Busch allowed to be sold with the wrap still intact. Every combine that sells after this one will have to be unwrapped before it changes hands!)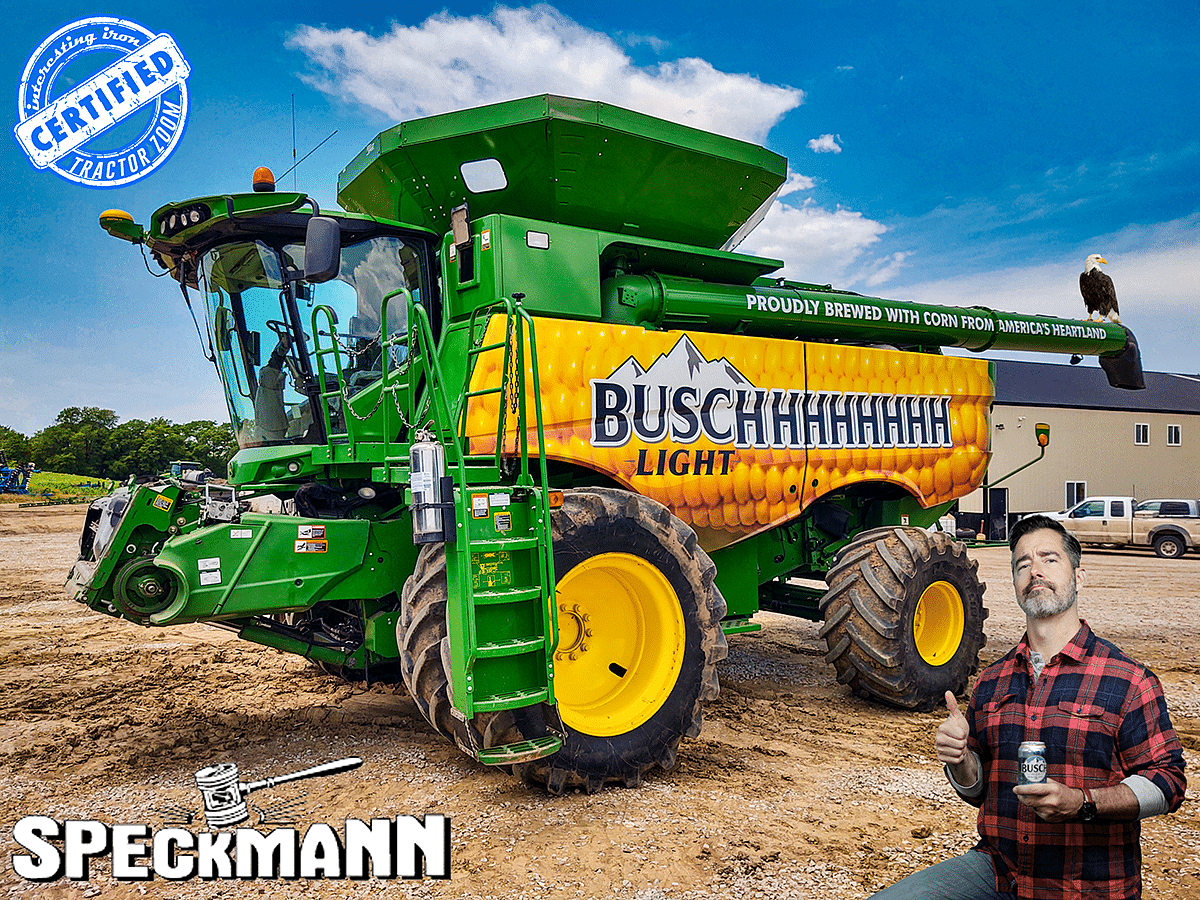 The auction business took significant time and energy, but Brice's real passion was agriculture. He didn't farm a lot of ground, but whenever I'd ask him how farming was going, the answer was always the same; he was always behind. Additionally, Brice had a successful seed business, and he always put his customers first. There was never another way to do business for him.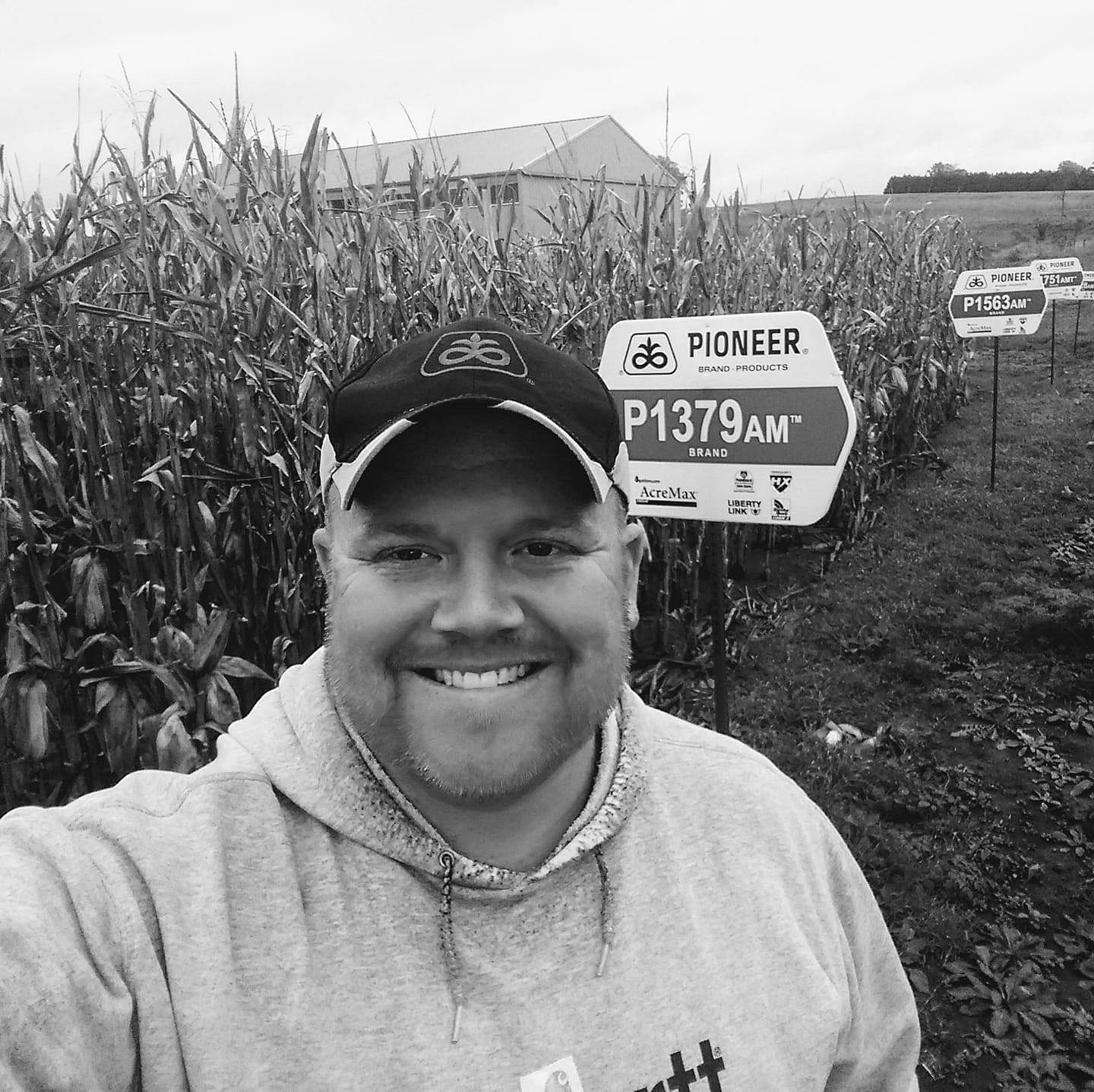 Ag Advocacy & John Deere
There was a lot more to Brice than that, though. About 7 or 8 years ago, Brice had the wild idea to start a Facebook group specifically for the 30-70 Series tractors. It was initially set up to be for the guys and girls who still farm with the SoundGard tractors. However, since then, it's become one of the main sources of useful info about these iconic tractors. If I had to guess, some of you who are reading this post right now are members of that group. Thank Brice for that…he started it and was very active in it up until the end.
Ask anybody who's involved with a Facebook group or some other similar social media entity; they'll tell you that it's a big time commitment, and that it doesn't pay very well! I'm one of the guys who started the Beer Money Pulling Team's FB page, and I can absolutely affirm it. It takes a lot of long hours to build a community like that! Brice did it very willingly (most of the time), and the membership has swelled to over 32,000 registered users! He was incredibly dedicated to it, and it all swelled from his passion for farming with those tractors – especially his 4640!
Brice was hilarious, too. He had a very dry sense of humor, and it complemented his personality really well. When we first met, he seemed a little bit on the reserved side. However, it didn't take long before his true personality came out. We'd talk auctions and prices very candidly, talk about what was right (and wrong) with the industry, and life in general.
One of the things that I'll remember most fondly about Brice was "the rules"…his rules for farming and equipment. Follow those rules and life would be good. Break 'em, and you'll be judged. ????  (These are all pretty tongue-in-cheek, but most are based in some form of reality.)
The Rules According to Brice…(applicable to John Deere 4640s, or just about anything else)
No chopped axles. Those axles never did anything to you. If you bash your leg on an axle because you weren't paying enough attention, pay more attention next time. Put the cutting torch away. Don't paint 'em green either.
Don't paint your front hubs green. It looks goofy.
8-speed Powershifts lead to head injuries. Quad Range or nothin'.
Don't cheap out on parts. Buy 'em from your local Deere dealer. They support you. Support them. If you're looking for super-obscure oddball parts, call Don's Tractor Salvage in KS. If they don't have it, you don't need it.
Cold start videos are stupid. Don't make 'em. They're hard on the engine, and nobody thinks they're cool.
Chrome straight pipes are ridiculous. (He and I never really saw eye to eye on this one. On multiple occasions, we went rounds on this one via text message. They were hilarious.)
Larsen LED lights are the only acceptable add-on lights for a tractor of any kind. Let the brodozer truck crowd have the cheap Amazon LED light bars.
Use 'em. Even if you collect 'em, don't stash those tractors away. They were built for a purpose.
Husker football > anything else. (We went rounds on this point, too. My Hawkeyes have the last six seven scoreboards on their side. I win.)
The personal side…
Brice always told me that he outkicked his coverage when he met Emily. He wasn't wrong, either (and I can say that because I outkicked my coverage when I met Kara – I know what that looks like)! They dated for several years, which by all accounts should've been enough time for Emily to realize what she'd gotten herself into…but she didn't. They truly were a team, and were absolutely in love from day one. He told me once that he had no idea how he got so lucky, but he said a prayer of thanks every morning and every night. I know how that feels, too. They would've celebrated their 8th wedding anniversary in early December.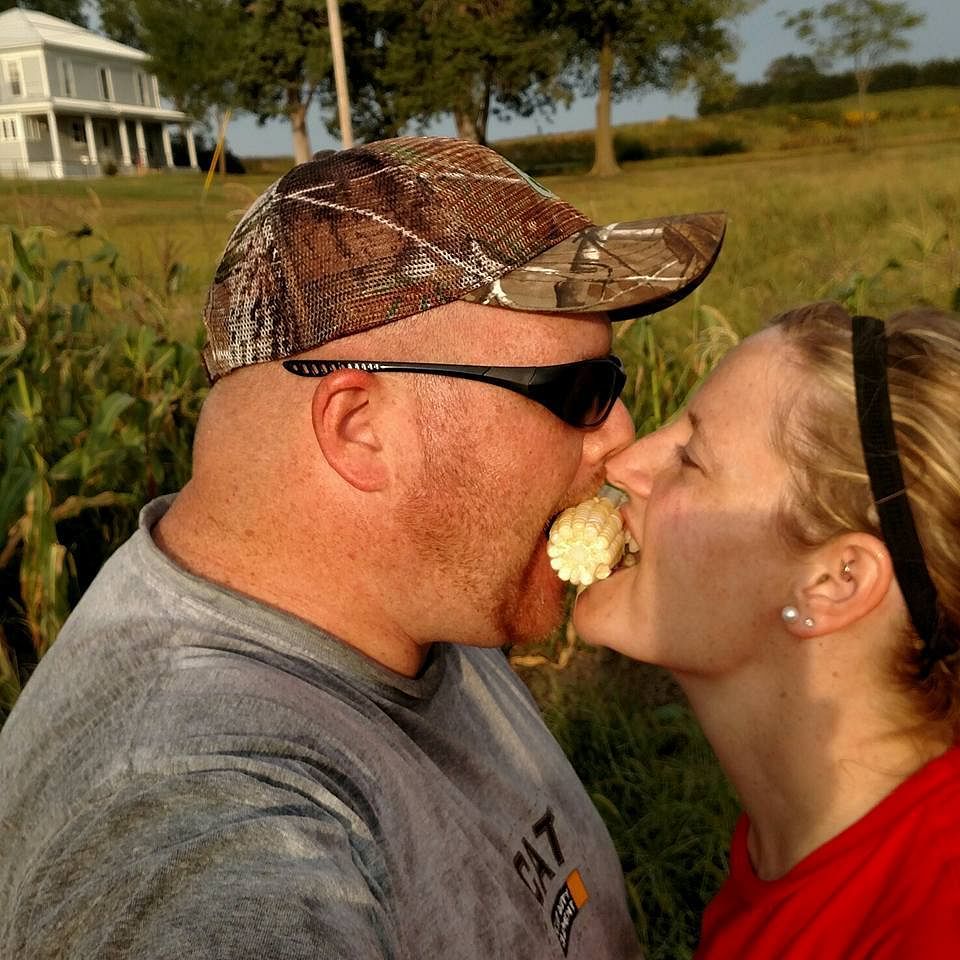 I firmly believe that there were only two places on this earth where Brice felt completely comfortable and at home. One was in the field, especially during planting and harvest. The other was when he was with Emily. I'm a photographer, and I see details that you might miss at a glance. In photos, Brice looks like he's most peaceful and at home when he's next to her, or sitting in the cab of the 4640.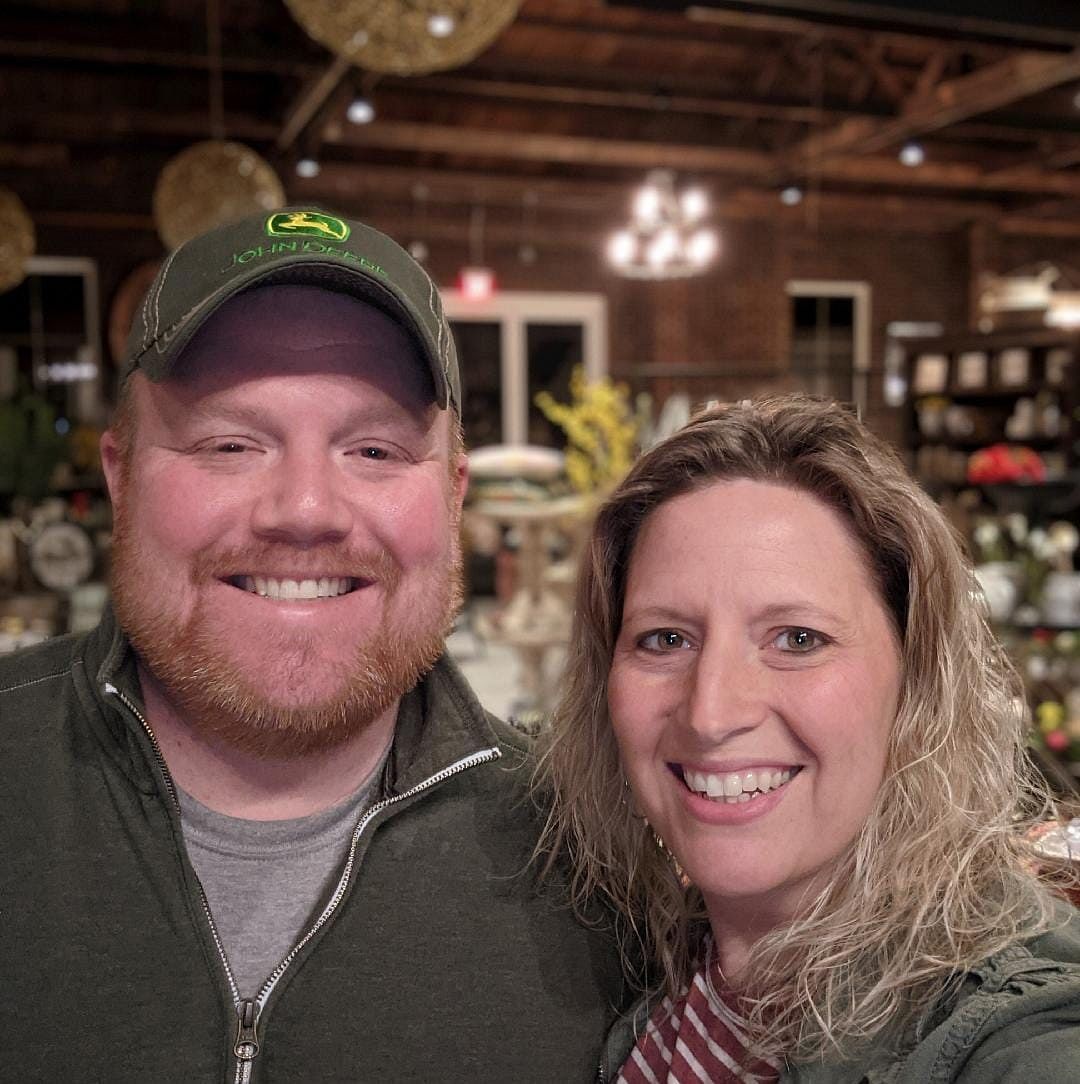 Final thoughts…
The agriculture community and the Deere community really lost somebody special on Saturday. Brice was a pillar of those communities, and he was a voice for agriculture. He loved to facilitate learning and knowledge exchange so that farmers could do better. So they could keep their machines running properly, do the best for the land and the crops, and help to be a better voice for sustainable agriculture. He cast a tall shadow in his 38 years here on Earth, and he leaves big shoes to fill as an advocate for the farmer.
We lost our John Deere 4640 guy.
They say that all the stuff we say at funerals needs to be said at birthday parties instead. Life is short, and somebody you love could be gone in the blink of an eye. Don't waste an opportunity to tell the 4640 guy in your life what he means to you.
There's a trending movement in support of the Volker family on social media right now – #augersoutforbrice. If you're in the field right now, do me a favor. Take a photo with the auger/augers out. Post it somewhere on social media with that hashtag. It would mean a lot to me personally, as well as the Volker family.