Jun. 29, 2022 • Agriculture
This week's What's It Worth? comes from Ron K. out of Kansas. Ron is considering selling his skid loader — a 2018 John Deere 333G — and wants to know what it's worth to see what he might expect to receive if he sells at an upcoming auction.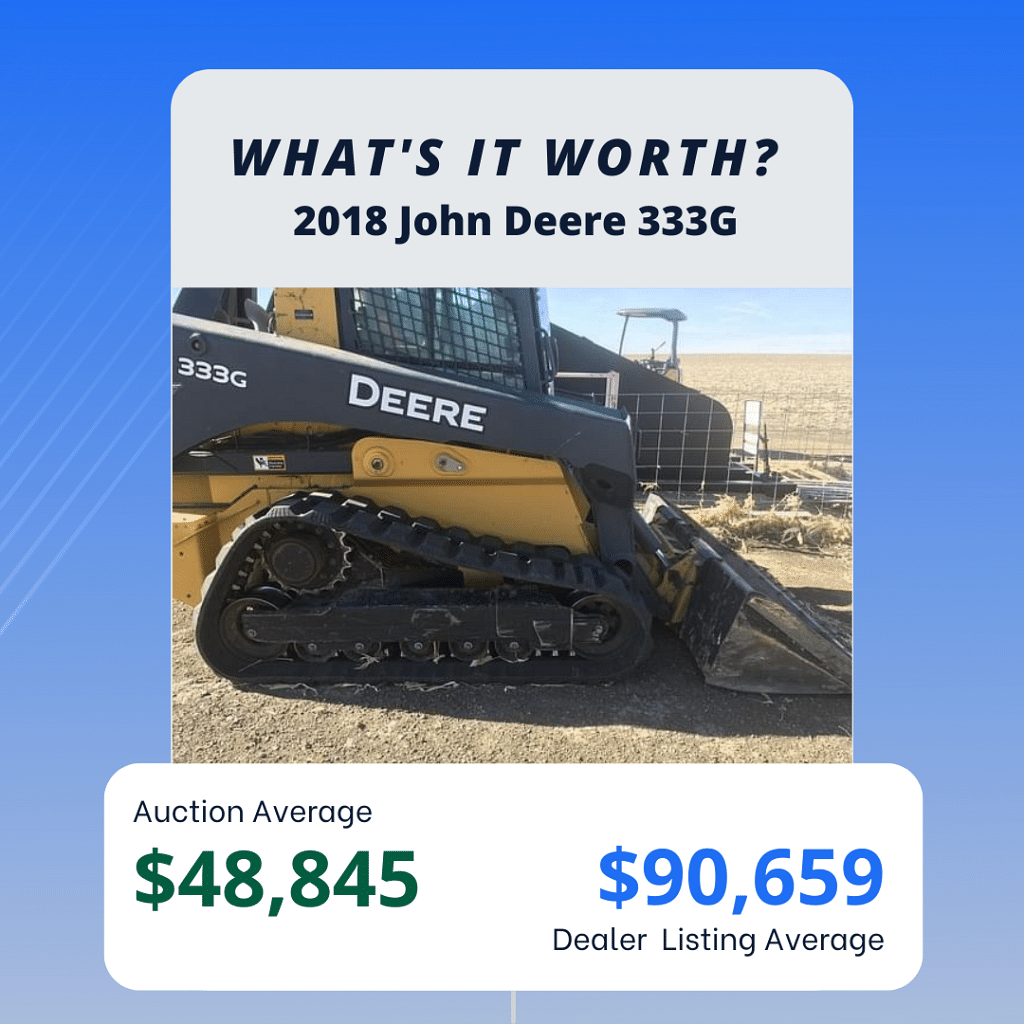 Auction Value
An analysis of Tractor Zoom's Iron Comps database reports an average auction sale price of $48,845 based on 55 sale results for all John Deere 333G skid steers going back to April of 2019. Filtering down to those that are closer to Ron's 675-hour skid steer, we find that 333Gs that have more than 500 hours but less than 1,000 have an increased average auction value of $54,022 based on 10 comparable sales. 
Additionally, Ron's skid steer has a bucket attachment, which is fairly standard on most 333G's. If we look to see if the bucket could increase his sale price, we see that John Deere 333Gs with buckets in the same 500-1,000 hour range only bring in an additional $575 in auction sale value.
Dealer Listings
Reviewing dealership list prices on June 28, 2022, we see the average list price of a John Deere 333G skid steer at a dealership is $90,659 based on 166 listings since September of 2021. As of this article, Tractor Zoom currently has 5 active John Deere 333G listings featured on its website, with an average list price of $86,460, which is up roughly $7,800 over the last 30 days.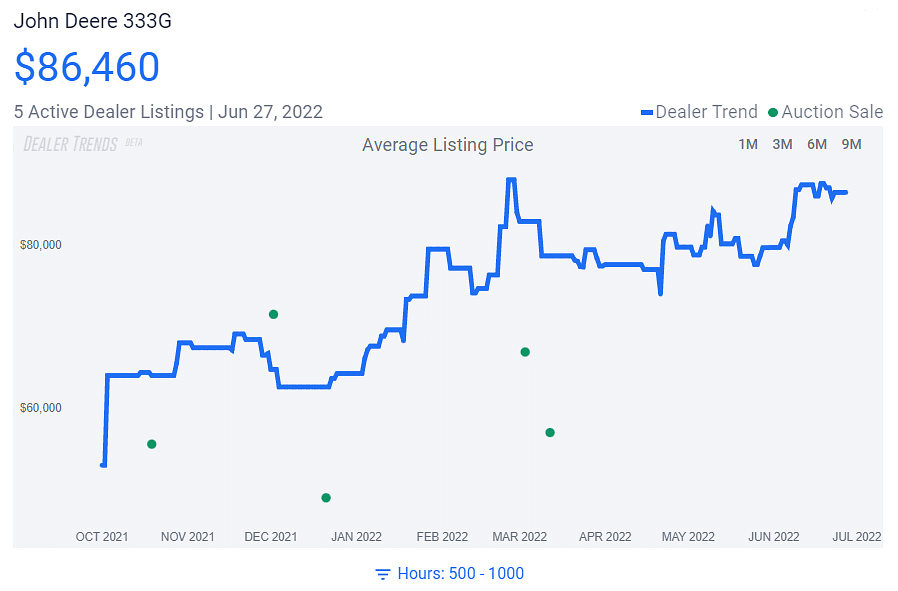 A new 333G with bucket attachment is currently listed for $115,000 on Tractor Zoom, so if we filter to look at just those models with 500-1,000 hours, we see the average dealer list price drop to $74,836 based on 41 comparable sales. Add in the year it was manufactured (2018) and we see the average list price drop further to $68,874. 
Assessing Equipment Value
It's important to note that the above is not a complete evaluation or valid estimate of Ron's 333G. Additional information on Ron's skid steer such as condition, track tread, hydraulics, or other attachments will impact the estimated value. 
Sellers looking for an equipment appraisal should work with their bank or local equipment dealer or auctioneer to receive a formal appraisal on their piece of equipment.
Farmers, contractors, or large acreage owners looking to understand and monitor the value of their equipment can now build Equipment Lists at Tractor Zoom. Equipment Lists not only help you build an accurate representation of what your equipment inventory looks like and is worth, they also help you prepare the information you need to secure a formal appraisal from a bank or local equipment dealer when it's time to sell.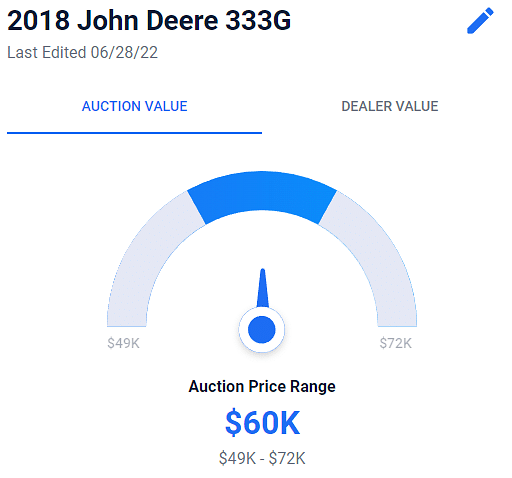 For those looking for John Deere skid steers for sale nearby or other construction equipment, find available makes and models on Tractor Zoom. If you can't find the exact year or specs you are currently looking for, save your search on Tractor Zoom to be notified when new equipment matching your needs hits the site. And, once you find a make/model you want to keep track of, be sure to Favorite that equipment so you can be alerted when dealer listing prices change, when bidding opens for the equipment, or when the final auction sale price is posted.