Aug. 14, 2023 • Analysis
This What's It Worth? analysis was sent in from Jeff M., a row crop farmer from Nebraska.
In advance of harvest season, Jeff is considering selling or trading in his 2021 MacDon FD140 platform header. Before he makes a decision, he wants to know what it's worth to see what he might expect to receive if he sells at an upcoming auction or as a trade-in at his local dealership.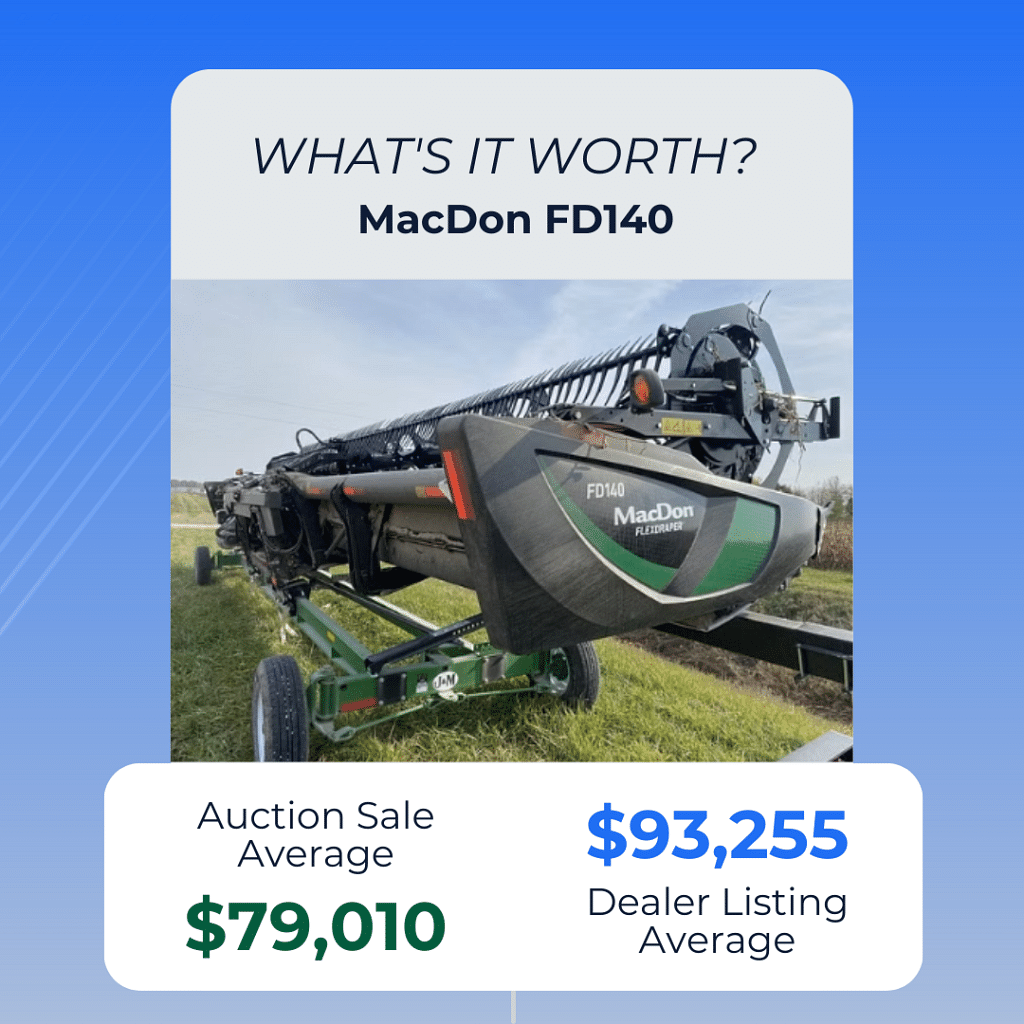 MacDon FD140 Auction Value
Digging into draper header auction values, an analysis of the Tractor Zoom Pro database reports an average auction sale price of $79,010 based on 35 sale results for the MacDon FD140 going back to August 2019.
Like all machines, headers depreciate with usage. This is typically recorded as acres harvested, condition, and age. While acres harvested can be difficult to verify, age is a good proxy. Refining our database results to those that are in similar condition, without a trailer, and closer in age to Jeff's model, we find a MacDon FD140 manufactured in 2021 and sold at the end of the 2022 harvest for $80,100.
MacDon FD140 Retail Value
Looking into values on the dealership side, we see the historic average list price of comparable MacDon FD140s at a dealership is $93,255 based on 33 dealer listings in August 2023.
As of this article publishing, Tractor Zoom has 20 active MacDon FD140 draper heads featured on the website with model years between 2018-2022.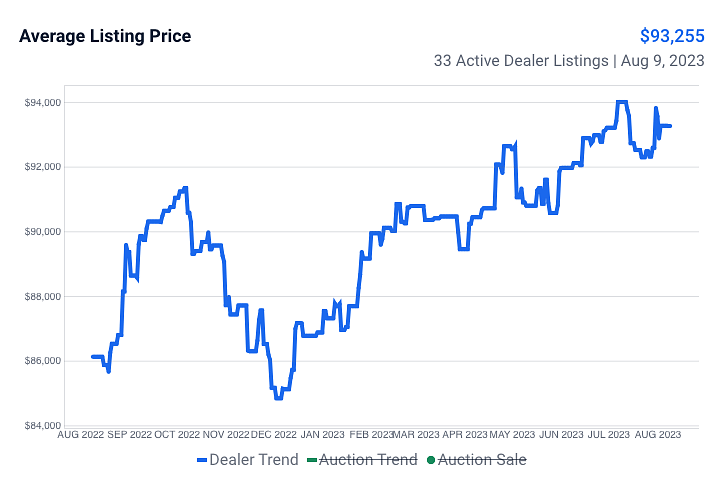 In the chart above, you can see average listing values taking their seasonal trend upwards since December of the past year. The top of this seasonal curve is typically placed during the early harvest month of September.
Harvest-related supply typically fluctuates by season, peaking in August as one of the highest-volume months; a critical time to secure the right equipment before harvest begins on farms across the country.
Over the past six months, we've seen combine supply in the market steadily increase, creating buying opportunities for farmers looking to upgrade their machines. Used harvesting headers, however, do not always follow combine sales patterns, which seems to be the case this year. Dealer sales volume of platform headers in July and halfway through August are down slightly over last year's summer selling season. This tighter supply could be offering support to these higher header prices.
Jeff knows the market is solid right now for platform headers, with retail and auction values to support it. Understanding the market trends can ultimately help him decide the best path to sell his draper head to receive top-dollar.
Assessing Equipment Value
It's important to note that the above is not a complete evaluation or valid estimate of Jeff's platform header. Additional information on Jeff's MacDon FD140, such as cutter bar and belt condition, as well as options, will affect the estimated value.
Sellers looking for an equipment appraisal should work with their bank or local equipment dealer or auctioneer to receive a formal appraisal on their piece of equipment.
Farmers looking to understand and monitor the value of their equipment can build Equipment Lists at Tractor Zoom. Equipment Lists not only help you build an accurate representation of what your equipment inventory looks like and is worth, they also help you prepare the information you need to secure a formal appraisal from a bank or local equipment dealer when it's time to sell.
To see available MacDon FD140s for sale nearby, or other platform headers for sale, search on Tractor Zoom.
If you can't find the exact year or specs you are currently looking for, save your search on Tractor Zoom to be notified when new equipment matching your needs hits the site. 
Once you find a Make/Model you want to keep track of, Favorite that equipment to be alerted when dealer listing prices change, when bidding opens for the equipment, or when the final auction sale price is posted.