Oct. 05, 2023 • Analysis
This What's It Worth? Analysis is requested by Boyd C., a row crop farmer from Iowa.
This season, Boyd is considering upgrading his 2009 John Deere 8130 row crop tractor, which has about 2,100 hours, to something newer. Before he makes a decision, he wants to know what it's worth to see what he might expect to receive if he sells at an upcoming auction or as a trade-in at his local dealership.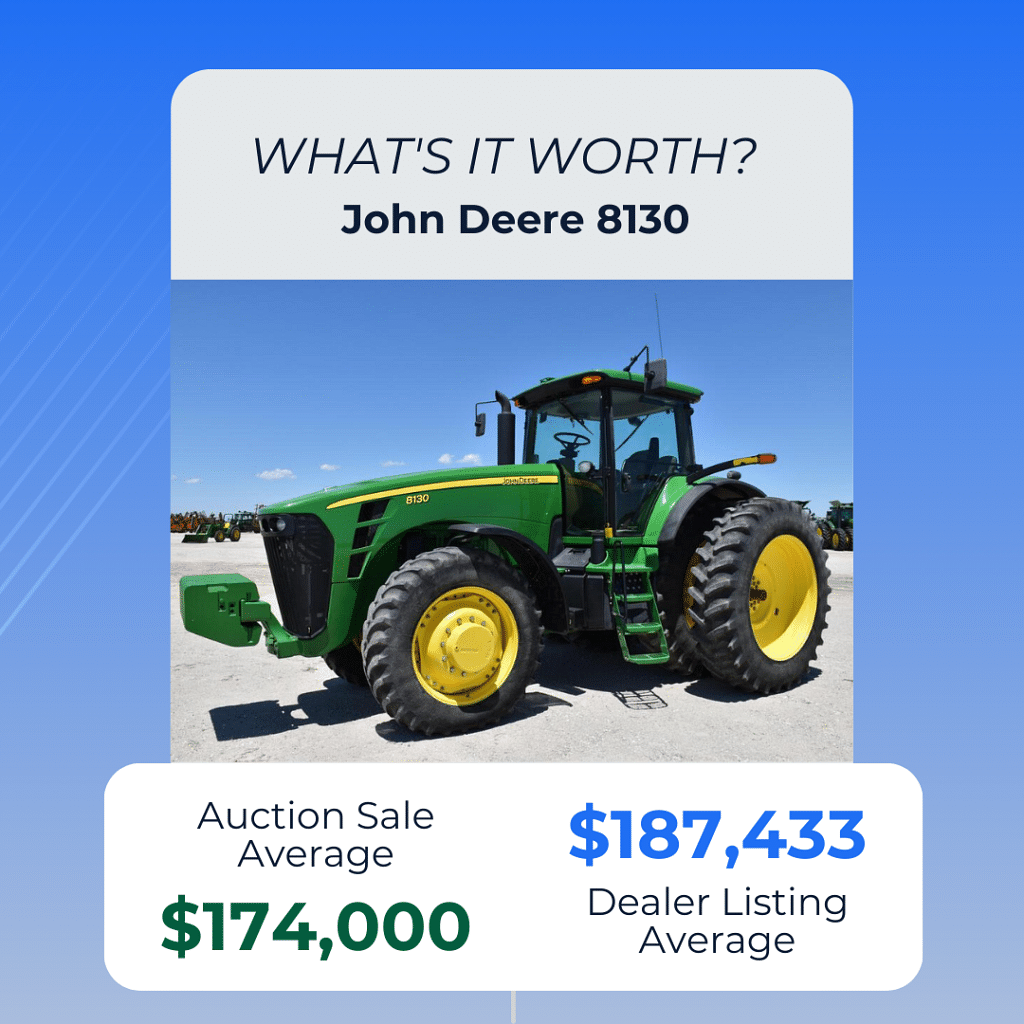 John Deere 8130 Auction Value
From an analysis of row crop tractor auction values in the Tractor Zoom Pro database, we find the average price of 8130s with MFWD sold in the past nine months and filtered by hour range between 2,000-2,500 is $174,000, based on two spring auction results.
One of the most recent sales of a John Deere 8130 is a 2007 with 1,406 hours that sold for $173,000 on September 8, 2023, at auction in Iowa not far from Boyd.
According to the Tractor Zoom data, there is more supply of row crop tractors on the market while demand is waning. This is having the result of stalling the price increases we've seen over the past couple of years at dealerships, although some auction values, especially for older, low-hour models like Boyd's, are still bringing a premium.
John Deere 8130 Retail Value
Looking into values on the dealership side, we see the historic average list price of 8130s at a dealership is $136,456, although that includes a good number of machines over 6,000 hours!
In fact, over the past nine months, there have only been three MFWD 8130s with hours below 2,500 at dealerships. All sold quickly at an average list price of $187,433 and all were sold in the upper Midwest. 
This additional information helped inform Boyd about the direction he could take to trade in or sell at auction.
As of this article publishing, Tractor Zoom has four active John Deere 8130s featured on the website with model years starting with 2007.
It's a critical time to secure the right equipment as harvest kicks into full gear on farms across the country and Boyd knows the market is active right now for quality row crop tractors, with retail and auction values supporting it. Understanding the market trends are ultimately helping him decide the best path to sell his 8130 to receive top-dollar.
Assessing Equipment Value
It's important to note that the above is not a complete evaluation or valid estimate of Boyd's tractor. Additional information, such as hours, drive type, horsepower, or other variables will impact the estimated value.
Sellers looking for an equipment appraisal should work with their bank or local equipment dealer or auctioneer to receive a formal appraisal on their piece of equipment.
Farmers looking to understand and monitor the value of their equipment can build Equipment Lists at Tractor Zoom. Equipment Lists not only help you build an accurate representation of what your equipment inventory looks like and is worth, they also help you prepare the information you need to secure a formal appraisal from a bank or local equipment dealer when it's time to sell.
To see available John Deere 8130s for sale nearby, or other row crop tractors for sale, search on Tractor Zoom.
If you can't find the exact year or specs you are currently looking for, save your search on Tractor Zoom to be notified when new equipment matching your needs hits the site.
Once you find a Make/Model you want to keep track of, Favorite that equipment to be alerted when dealer listing prices change, when bidding opens for the equipment, or when the final auction sale price is posted.