Jun. 15, 2022 • Analysis
This week's What's It Worth? comes from Doug M. out of Iowa. Doug is considering trading in or auctioning off his compact tractor, a 2017 John Deere 3038E, and wants to know what it's worth to determine whether he should trade in or sell outright.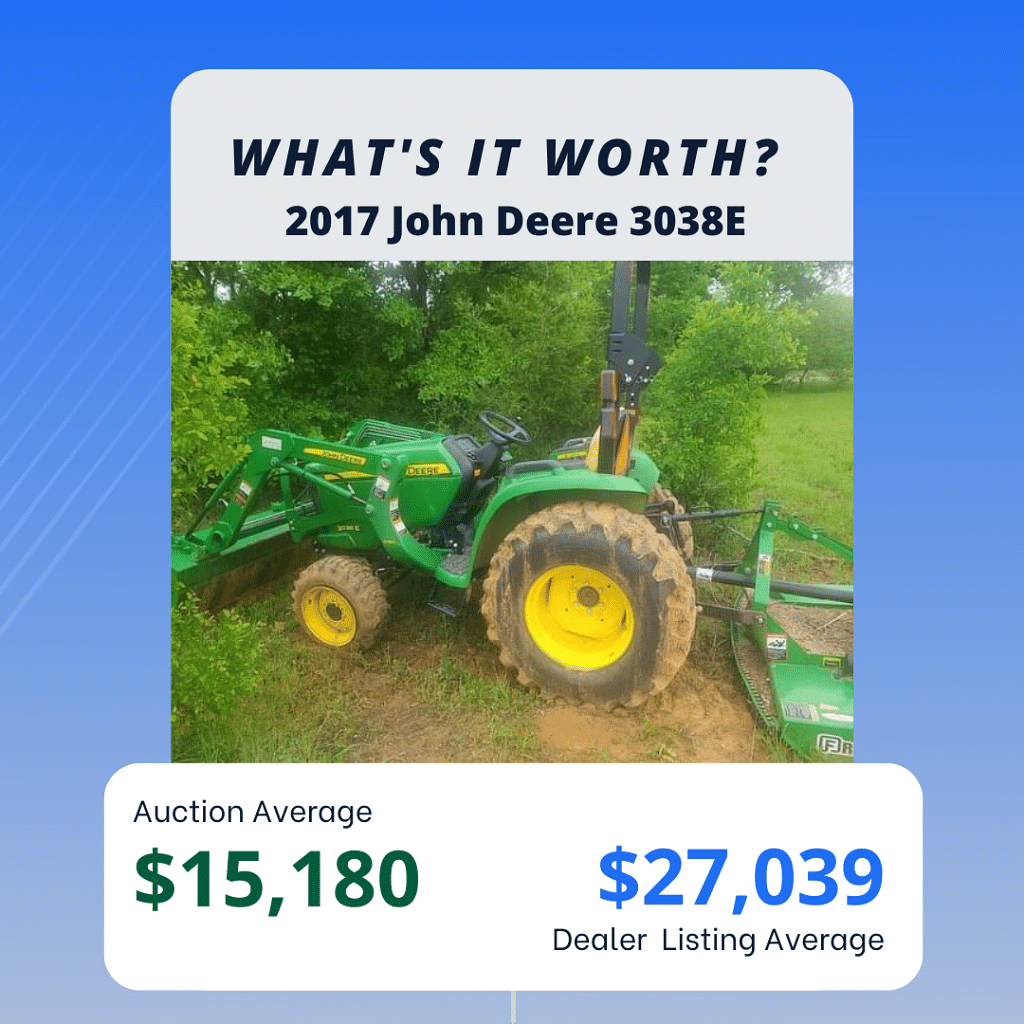 Auction Value
An analysis of Tractor Zoom's Iron Comps database reports an average auction sale price of $15,180 based on 80 sale results for all John Deere 3038Es going back to December of 2011. Filtering down to those 2015 or newer gives us an increased average auction value of $16,873 based on 10 comparable sales. However, if we look at just those sold in the last 90 days, we find only one comparable sale for a 2016 John Deere 3038E with 386 hours that went for $16,250 at an auction in Mississippi. Doug's tractor has a loader, which is fairly standard on most 3038E's. There are a few auction results without that attachment and those prices tend to be in the $5,000 – $10,000 range.
Dealer Listings
Reviewing dealership list prices on June 14, 2022, we see the average list price of a John Deere 3038E at a dealership is $27,039 based on 288 listings since September of 2021. This is almost the price of a new, base model, from the factory. However, filtering to look at just those 2017 models, we see the average dealer list price drop to $21,196 based on 14 comparable sales. 
As of this article, Tractor Zoom currently has 104 active John Deere 3038E listings featured on its website but only three 2017 models. These three listings have an average list price of $21,667, which is down roughly $1,500 over the last 30 days. 
As we mentioned, Doug's compact tractor has a loader, but not the menagerie of other attachments that are compatible with the 3038E. A newer backhoe attachment could add another $8,000 – $10,000, as could the combination of a box blade and rotary mower.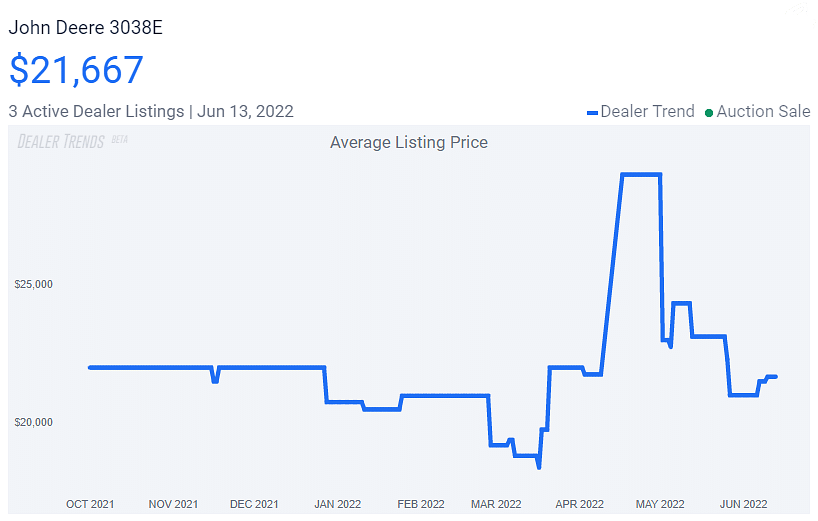 Assessing Equipment Value
It's important to note that the above is not a complete evaluation or valid estimate of Doug's 3038E. Additional information on Doug's piece of equipment such as hours, condition, or additional options will impact the estimated value. 
Sellers looking for an equipment appraisal should work with their bank or local equipment dealer to receive a formal appraisal on their piece of equipment.
Farmers and large acreage owners looking to understand and monitor the value of their equipment can now build equipment lists at Tractor Zoom. Tractor Zoom equipment lists not only help you build an accurate representation of what your equipment inventory looks like and is worth, they also help you prepare the information you need to secure a formal appraisal from a bank or local equipment dealer when it's time to sell.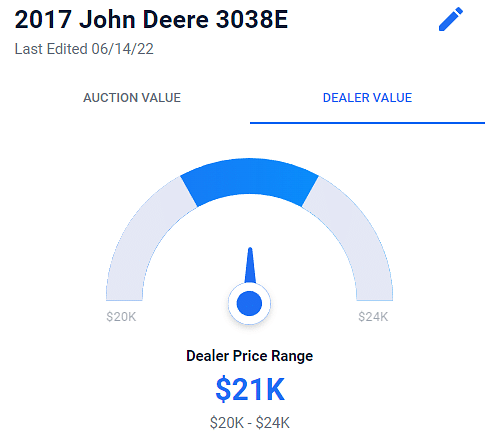 For those looking for a John Deere 3038E for sale nearby or other 40 horsepower or less tractors, find available makes and models on Tractor Zoom. If you can't find the exact year or specs you are currently looking for, save your search on Tractor Zoom to be notified when new equipment matching your needs hits the site. And, once you find a make/model you want to keep track of, be sure to Favorite that equipment so you can be alerted when dealer listing prices change, when bidding opens for the equipment, or when the final auction sale price is posted.