Jun. 12, 2023 • Analysis
This What's It Worth? analysis was sent in from Steve V., corn and soybean farmer, out of South Dakota.
Steve is considering selling or trading in his 3 series John Deere compact tractor – a 2018 model 3025E with about 230 hours and standard bucket attachment.
Before he makes a decision, he wants to know what it's worth to see what he might expect to receive if he sells at an upcoming auction or as a trade-in at his local dealership.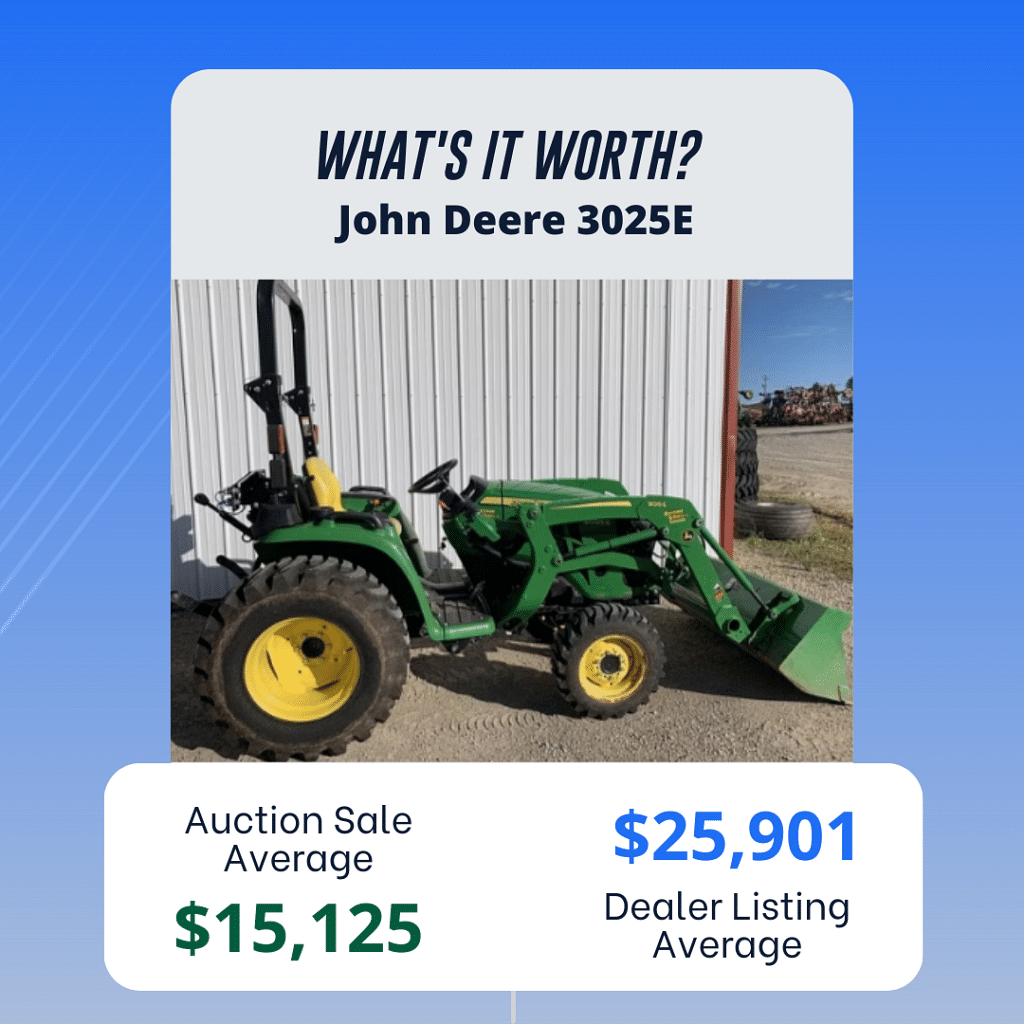 John Deere 3025E Auction Value
An analysis of the Tractor Zoom Pro database reports an average auction sale price of $14,832 based on 67 sale results for John Deere 3025E compact tractors going back to 2019.
Steve is the second owner of his 3025E and put around 190 hours on the machine, bringing it to a total of about 230 hours.
Refining our database results to those that are closer in age and hours to Steve's model, we find that John Deere 3025Es manufactured in 2018 with between 100 and 200 hours have a slightly higher average auction value of $15,125, based on four comparable sales.
John Deere 3025E Retail Value
Reviewing dealership list prices on 6/9/2023, we see the historic average list price of a John Deere 3025E at a dealership is $25,901 based on 262 dealer listings from June 2022.
As of this article publishing, Tractor Zoom currently has 15 active John Deere 3025E compact tractors featured on the website, with an average list price of $20,149. These machines have a range of hours between 70-630 and some include additional features like a belly mower, canopy or tiller attachment.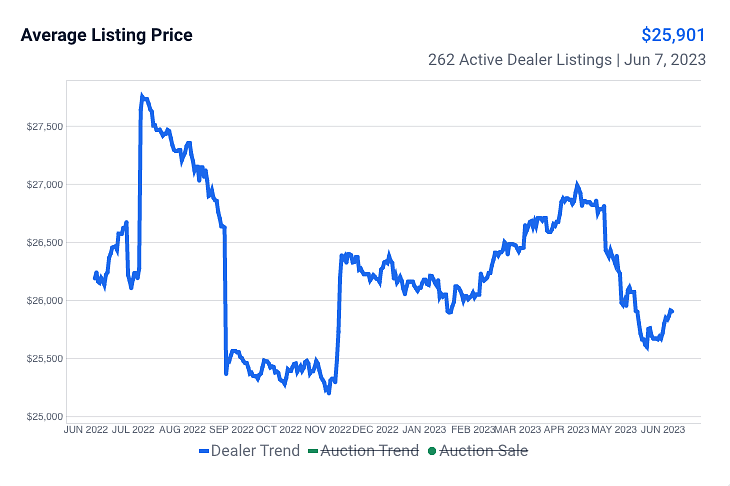 In the chart above, you can see the seasonal dip in compact tractor values in the fall and a couple immediate spikes due to new dealerships onboarded to Tractor Zoom. Year over year, the average list price is down slightly for this model.
Assessing Equipment Value
It's important to note that the above is not a complete evaluation or valid estimate of Steve's tractor. Additional information on Steve's 3 series tractor, such as machine condition, tire condition and type, or if a canopy or other attachments are included, will affect the estimated value.
Sellers looking for an equipment appraisal should work with their bank or local equipment dealer or auctioneer to receive a formal appraisal on their piece of equipment.
Farmers looking to understand and monitor the value of their equipment can build Equipment Lists at Tractor Zoom. Equipment Lists not only help you build an accurate representation of what your equipment inventory looks like and is worth, they also help you prepare the information you need to secure a formal appraisal from a bank or local equipment dealer when it's time to sell.
To see available John Deere 3025Es for sale nearby, or other compact tractors for sale, search on Tractor Zoom.
If you can't find the exact year or specs you are currently looking for, save your search on Tractor Zoom to be notified when new equipment matching your needs hits the site. 
Once you find a Make/Model you want to keep track of, Favorite that equipment to be alerted when dealer listing prices change, when bidding opens for the equipment, or when the final auction sale price is posted.