May. 17, 2022 • Agriculture
This week's What's It Worth? comes from Dan G. out of Missouri. He wants to know what price he might expect for his tractor — a 1981 International Harvester 1086 — as he prepares to buy something newer.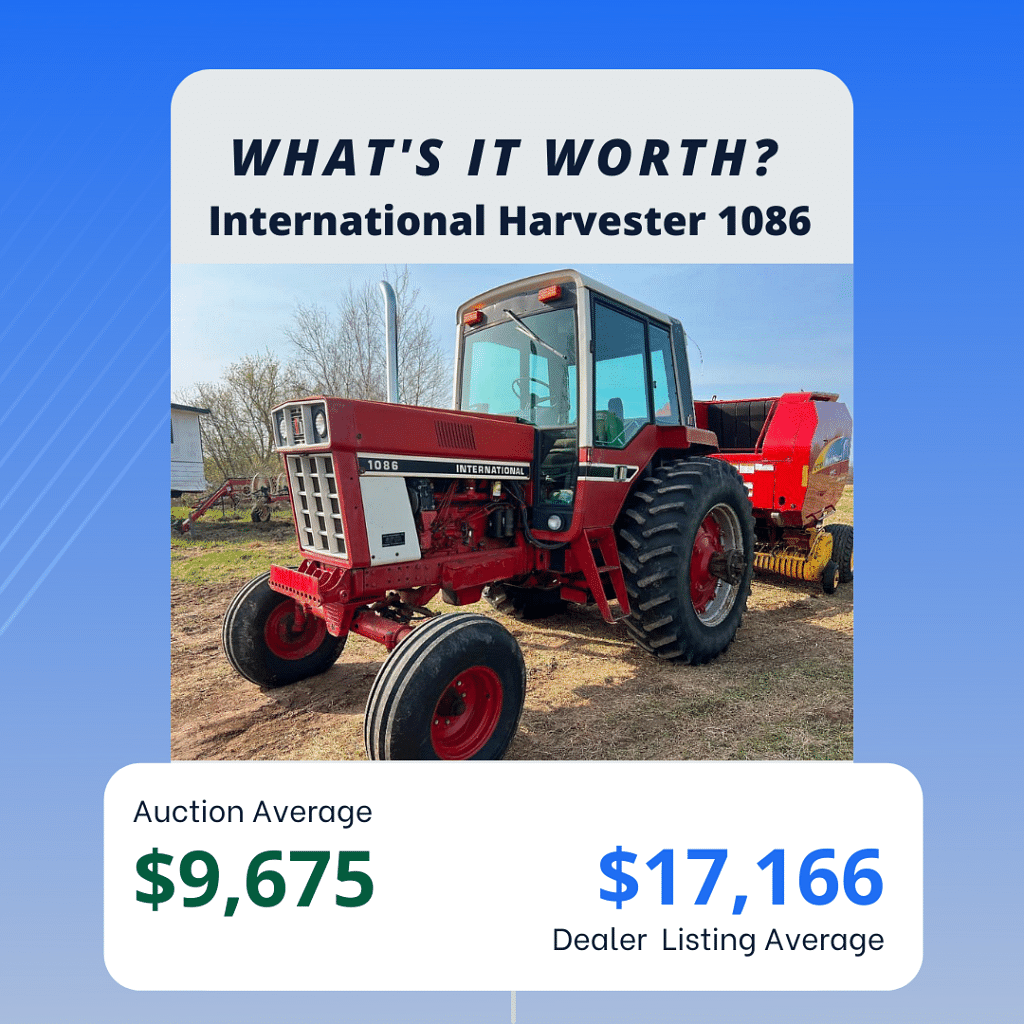 Auction Value
An analysis of the Tractor Zoom Pro database reports an average auction sale price of $9,675. This is based on 292 sale results for all International Harvester 1086's. Drilling down to  those sold at auction in the last year, the price climbs to $10,941 based on 98 sales. Looking even more recently, in the last 60 days, the average auction sale price bumps up further to $11,241. A solid reflection of the rising used tractor market!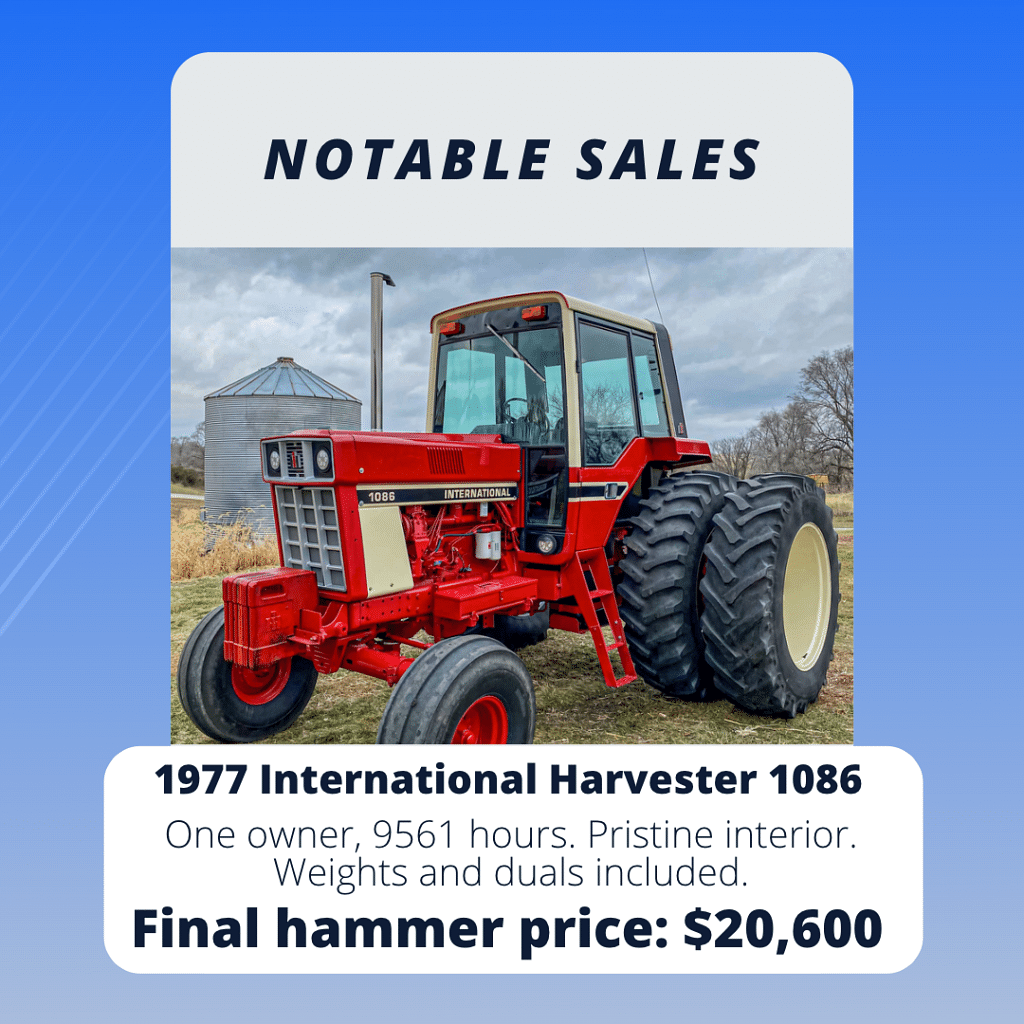 Dealer Listings
Reviewing dealership list prices on May 15, 2022, we see the average list price of an International Harvester 1086 at a dealership is $17,166. That number is based on 28 listings since September of 2021. However, as Tractor Zoom has significantly expanded coverage of dealers across the US, the average list price for a 1086 has decreased a little over $1,300 over the last 30 days with a greater number of higher-houred models being included in this data set.  As of writing this article, Tractor Zoom has 9 active 1086 listings available at an average list price of $14,564.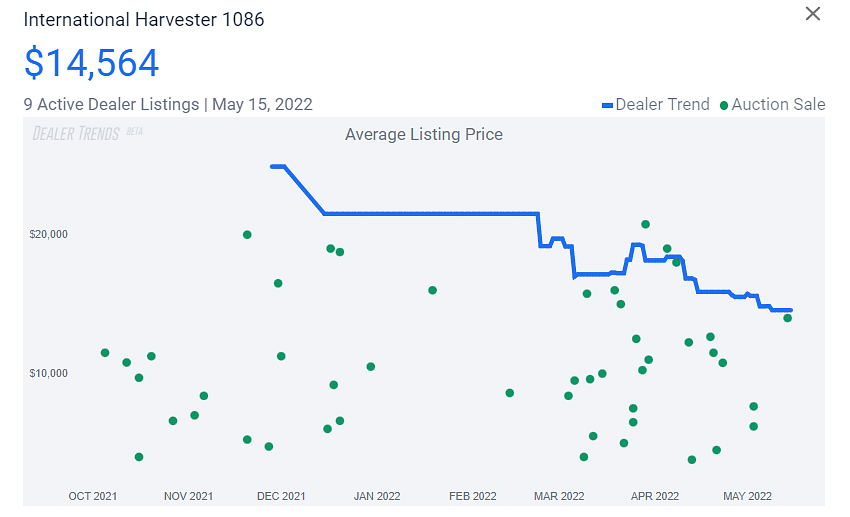 Assessing Equipment Value
It's important to note that this isn't a complete evaluation or valid estimate of Dan's 1086. Additional info about the tractor will certainly impact the estimated value. For example, filtering down to 1086s sold at auction with less than 5,000 hours equates to an average auction sale price of $11,634 (based on 49 similar sales) vs. $10,187 for units with 5,000-10,000 hours (based on 136 similar sales).
If you're looking for an equipment appraisal, work with your lender or local equipment dealer for a formal appraisal on their piece of equipment.
Farmers looking to understand and monitor the value of their equipment can now build equipment lists at Tractor Zoom. Tractor Zoom equipment lists help you build an accurate picture of your equipment inventory and what it's worth. Furthermore, they also help you prepare for a formal appraisal from a bank or dealer when it's time to sell.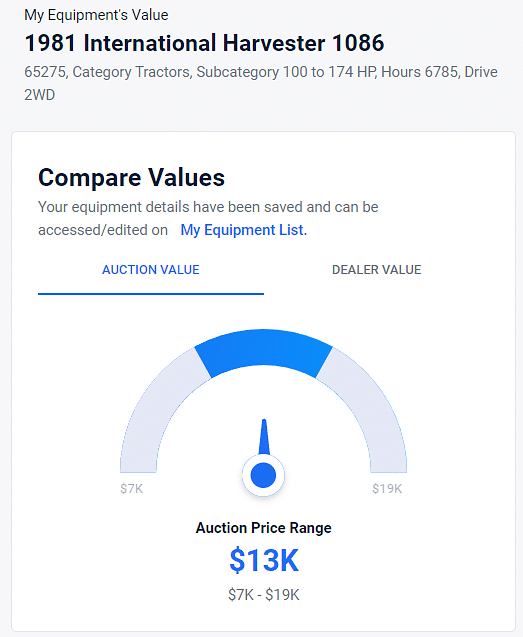 If you're looking for an International Harvester 1086 for sale nearby or other tractors with 100 to 175 horsepower, start your search on Tractor Zoom! Can't find the hours or specs you are currently looking for? Save your search on Tractor Zoom to be notified when new equipment matching your needs hits the site. And, once you find a make/model you want to keep track of, be sure to Favorite that equipment! That way, we can alert you when dealer prices change, when bidding opens, or when the hammer price is posted.