Aug. 28, 2023 • Equipment Values
Today, farm equipment is likely the second largest asset class on your balance sheet, yet it has historically been the hardest item to value in real time. In a survey completed by Successful Farming and Tractor Zoom, we discovered over 82% of farmers said their biggest pain point when buying or selling equipment was understanding what it was worth.
Equipment Lists from Tractor Zoom now allow farmers to quickly and accurately identify the value of their farm equipment. This feature is free to use and can be compared to a blue book for tractors, combines, sprayers, or any other piece of equipment in your fleet. Plus, your list of equipment and values is automatically updated based on the current equipment market, so you can come back and see how much your equipment is depreciating (or appreciating!) at any time.
You can identify the value of your farm equipment or even the farm machinery you are looking to buy with this tool in 3 quick and easy steps.
Step #1: Enter the make, model, and year of your equipment
To provide estimates relevant to your region, specify where the equipment is located by entering your zip code.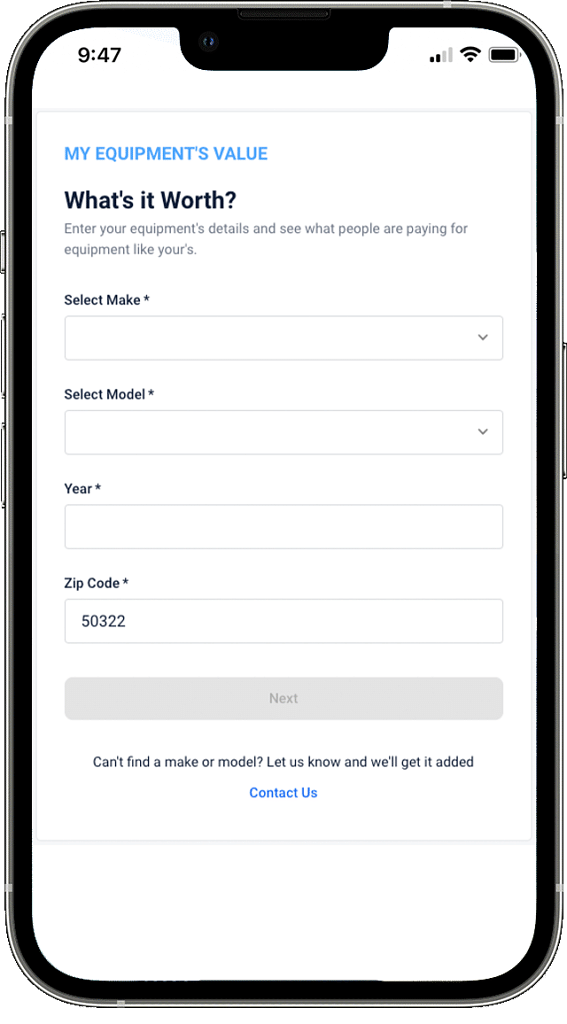 Estimates from Tractor Zoom are backed by over $31B of actual farm equipment sales, with transaction data updated daily. This ensures the estimates provided to you are based on the most up-to-date prices, reflecting today's market values, not outdated prices from last quarter or last year.
Step #2: Share relevant specs
Share a little more about your equipment by filling out text fields specific to the category of equipment and to your individual make and model. While additional details can be entered, they are not required. The more information you provide, the more accurate your estimate will be.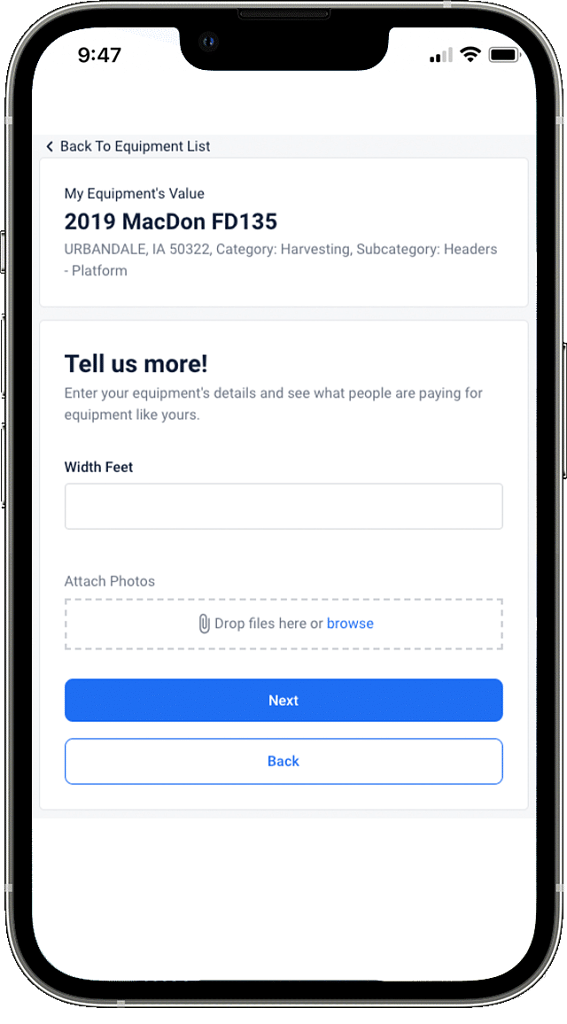 When calculating estimates, Tractor Zoom prioritizes the most applicable specs for each equipment category. For example, estimating the value of a row crop tractor will require operating hours and drive type at a minimum, while estimating the value of a combine will need operating and separator hours at a minimum. Supplying these additional details means your estimated equipment value is based on the most relevant comparables, not a category average.
Step #3: Specify the condition of your equipment
Finally, designate the current condition of your equipment — excellent, good, average, fair, or poor. Descriptions for each condition type are included when selected to help you choose the right one.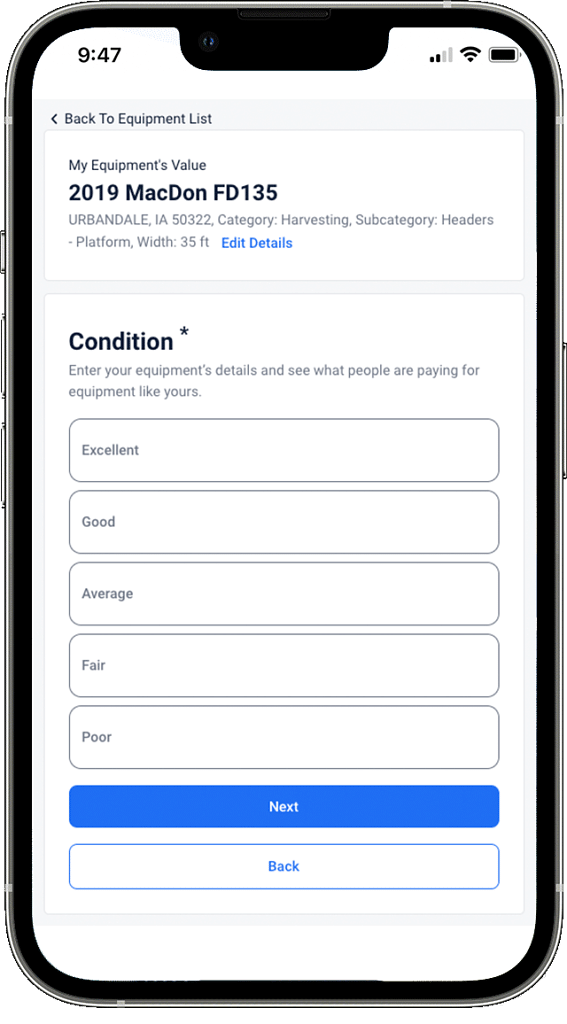 The whole process takes 2 minutes or less to identify the value of your farm equipment or heavy machinery.
See what your equipment is worth
Tractor Zoom analyzes the inputs you've entered and then presents you with up-to-date market values for your equipment. Estimated values are presented for both the auction and retail market so you have a complete view of what equipment like yours is being sold for today.
And, since Tractor Zoom collects equipment sale data from over 70% of the used equipment market, you can rest assured you have the most up-to-date equipment values when you're ready to sell, trade in, buy new, or update your balance sheet at the end of the year. Easily access your equipment values 24 hours a day, 7 days a week online, via the Tractor Zoom app, or by downloading a PDF directly from your Equipment List.
Additionally, your equipment is saved in your Equipment List, which means you can keep tabs on the value of your equipment over time and as the market shifts.
Start an Equipment List today.
Empowered decision-making
While understanding the value of your equipment may give you the upper hand when looking to buy or sell, it can also help you run a more profitable operation.
Understanding your equipment's value, or more importantly, the value of your entire fleet gives you a more accurate picture of your operation's net worth and fixed assets. You can mitigate unnecessary expense or risk by over- or under-valuing your assets. 
Understanding your equipment's value and tracking it more frequently is becoming increasingly more important in today's market. Ensuring your equipment is not over- or under-insured, generating a succession plan with accurate values for your farm, or identifying peak times to sell, trade-in, or even buy equipment are only a few of the ways you can make more empowered decisions knowing what your equipment is worth.
Mitigate risk and boost your operation's profitability with an Equipment List from Tractor Zoom.