Mar. 25, 2022 • Interesting Iron
As part of the DTN Business Seminar Series held at the National Farm Machinery Show, Tractor Zoom CEO and Founder, Kyle McMahon presented farm equipment supply and price trends for 2021, as well as additional insights for what to expect moving into 2022. The largest trend across multiple equipment categories continues to be low supply and high prices, so the main question from attendees — and likely the industry as a whole — continues to be, when will we see prices come back down?
While we saw farmers' willingness to pay more for equipment start in 2021 due in part to high net farm incomes, unsurprisingly, this trend is likely to continue into 2022 given supply shortages. Supply chain issues and logistics delays from original equipment manufacturers (OEMs) has led to few planter deliveries this spring and will persist in the form of sparse dealer lots throughout the year. Without an injection of new equipment being added to the market, price increases will continue to trickle down into the used dealer and auction equipment markets. Farmers will need to expect to pay more for used equipment and also be prepared to see higher hours on the late model trade-ins they've become accustomed to buying.
Review more key takeaways from the 2022 Farm Equipment Outlook presentation below to help inform any of your upcoming equipment purchases.
1. Row crop tractor list price increasing
In August of 2021, we saw additional indications of market volatility for row crop tractors, with the volume of tractors at auction down 55% compared to August of 2020. However, unlike any other category of equipment in the industry, tractor auction volume rebounded in December 2021 to match year-over-year inventory levels but at a 35% premium compared to the previous year.
Despite the huge surge in auction values, dealer list prices haven't seen near the volatility yet but row crop tractor prices are inching up, with a 3.8% increase for 175-299 HP tractors and an almost 6% increase for 300+ HP tractors over the last 30 days. With the announcement of protracted equipment supply issues, this trend isn't likely to reverse course anytime soon, especially for the late-model, low-hour, high horsepower models farmers have come to depend on to maintain their operations.
2. Combines see dramatic supply lows in 2021
In all of 2021, there were 31% less combines on the auction market compared to the previous year, which is likely one reason combine values were up 36% at auction in December 2021 over the same month in 2020. At present, we haven't seen dealer prices respond to the insane auction market growth, however, that may be short-lived.
"Let's say a couple of combines sell at auction one month and the prices are a little bit higher," said McMahon. "Okay, that might be an anomaly from an auction. In month two, it could be a trend that is starting to develop and need to pay attention. If that happens again in month three, it is a current market trend and you have to pay attention to it."
3. Self-propelled sprayers at dealer lots not moving in price…yet
While we saw a 28% decrease in the number of self-propelled sprayers sold at auction in December of last year, the 40% premium in auction sale prices (December 2021) hasn't made its way to dealer lots yet. Supply continues to be lagging moving into 2022 but dealer list prices have seen a 0% change in the last 30 days. 
This may mean if you're in the market for a self-propelled sprayer, now may be the time to buy before dealers begin to respond to the auction market signals.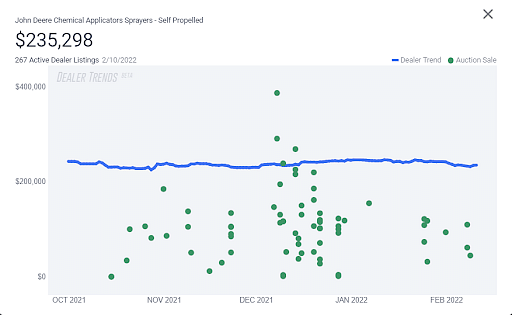 Interested in hearing more equipment supply and price insights?
To view all the farm equipment insights presented during the 2022 Farm Equipment Outlook, watch a full-version of the presentation on the Tractor Zoom YouTube channel.  Or, catch Kyle's take on the impact of farmers' asset accumulation, the trickle down of increasing prices, how to utilize depreciation data to make better buying decisions, and where equipment is headed this year on the Masters Choice MC Podcast.