Jan. 27, 2022 • Interesting Iron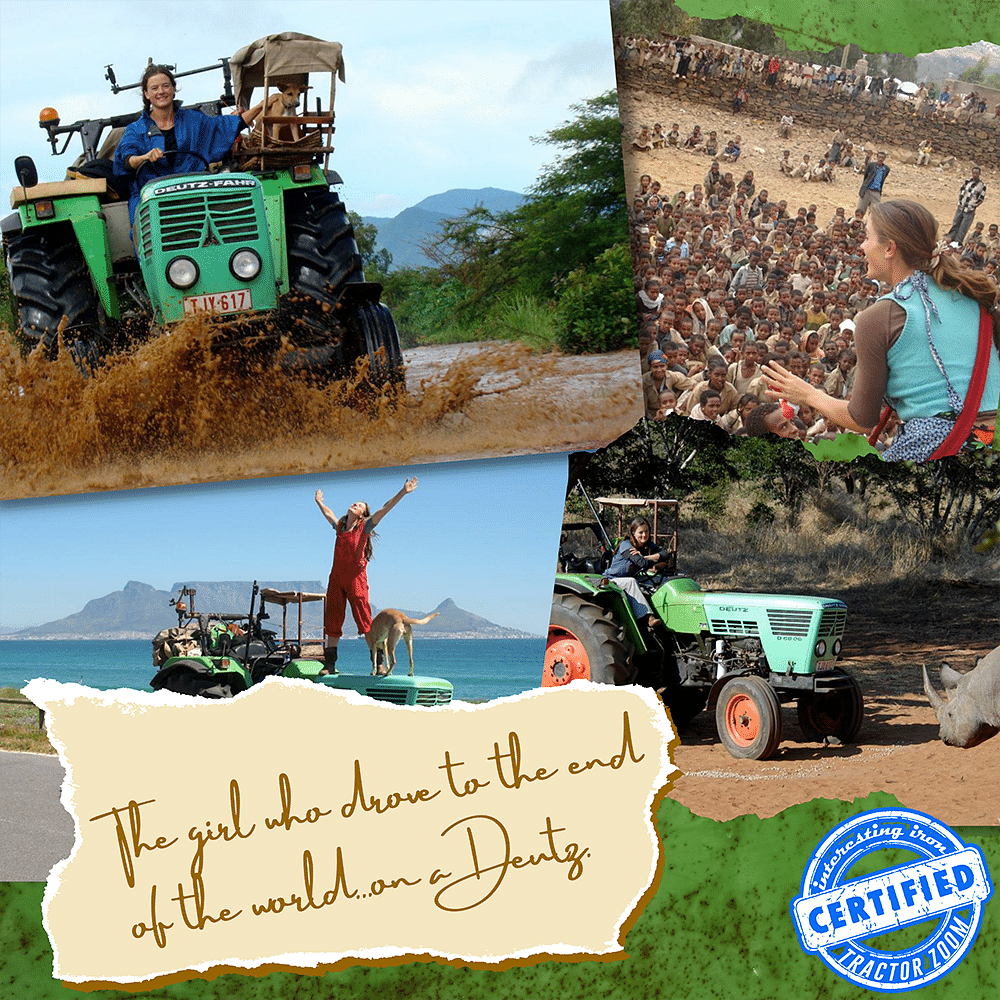 "Who in their right mind would choose a 1976 Deutz to drive to the end of the world???" I can hear you asking it right now. A woman named Manon Ossevoort – The Tractor Girl. That's who.
If you've been following along for any length of time now, you know that when I tell a story, I always pick something that's listed on our site. My goal is always to put something in the spotlight that you can actually buy or bid on. For the most part, this rule is fine; I pick a tractor to put in the limelight, and away we go. Other times, though, stories wind up sitting there waiting for the right tractor to show up.
I've had to sit on this story for nearly three years for the right mix of iron to list on Tractor Zoom. Now that it's all here, though…let's get into it! This is a neat story that, quite frankly, never got enough attention when it was happening (especially not here in the States).
Tractor Girl
Manon Ossevoort is a free-spirited, adventurous Dutch actress with big ideas, big dreams, and a great big heart.
She also has a thing for tractors.
How Tractor Girl came to life…
Sometime in the early 2000s, she started working on an idea. At the time, she wasn't sure what it would become – a play, a movie, a book, or something entirely different. She asked herself, "What would happen if I drove a tractor to the end of the world?" She got to thinking about it, and wondered to herself, "Where, exactly, is the end of the world?" Her inner child said, "It's the South Pole!" However, her twenty-something, more cynical nature, said, "It's somewhere where people have lost hope, and their dreams have died." She wrestled with this for awhile, but ultimately decided that perhaps both were the right answer.
All the while, this is starting to take shape as a one-character play. She would play her alter-ego, Tractor Girl, and basically explore this whole topic as she'd wrestled with it. It was meant to be inspiring for kids and adults alike. Kind of a light-hearted thing with a bigger message; don't be afraid to dream big.
Don't just act it out; DO it!
One day it hit her like a bolt of lightning; why bother just acting it? Why not just DO it? Drive a tractor across Europe and Africa, and then go to the South Pole!
So that's exactly what she did.
Her hope was that even in darkest of places – countries torn apart by genocide, famine, or poverty – she would still meet people who dared to dream, and hadn't lost hope. At the end of the day, she wanted to prove that human spirit was stronger than circumstance. Along the way, she hoped to inspire others, and carry their dreams and stories with her. And when got to the South Pole, she'd do the ultimate kid thing to do when you're in the land of endless snow. She'd build a snowman and stuff all of those dreams and stories into its tummy.
(I know what you're thinking. You have soooo many questions, and right now, you probably think she's completely nuts. And at the end of the day, you might be right. Stick with me…)
Literally everybody she talked to shot the idea down. A taxi driver in Amsterdam assured her that there was no way she'd survive; she'd surely be raped and murdered. Her friends said she was nuts. Even her grandmother told her (in so many words), "This'll be the death of me." Still, despite the naysayers, she was undeterred. She had a big dream, and nothing would stand in the way of accomplishing it. So, for the next year, she planned her journey. She set up a blog where she could share her journey with donors and sell merch. Merch sales helped fund the trip.
Exit stage right…into a new reality.
In June of 2005, on the last night of a big theatre festival in The Netherlands, Manon performed as Tractor Girl for the first time. It was staged on the beach. And, as she delivered the last lines, she and her dog hopped on a 30-year old Deutz D6806, drove off the stage, and into a new reality. That beach was where she began a 9½-year journey to drive a tractor to the end of the world.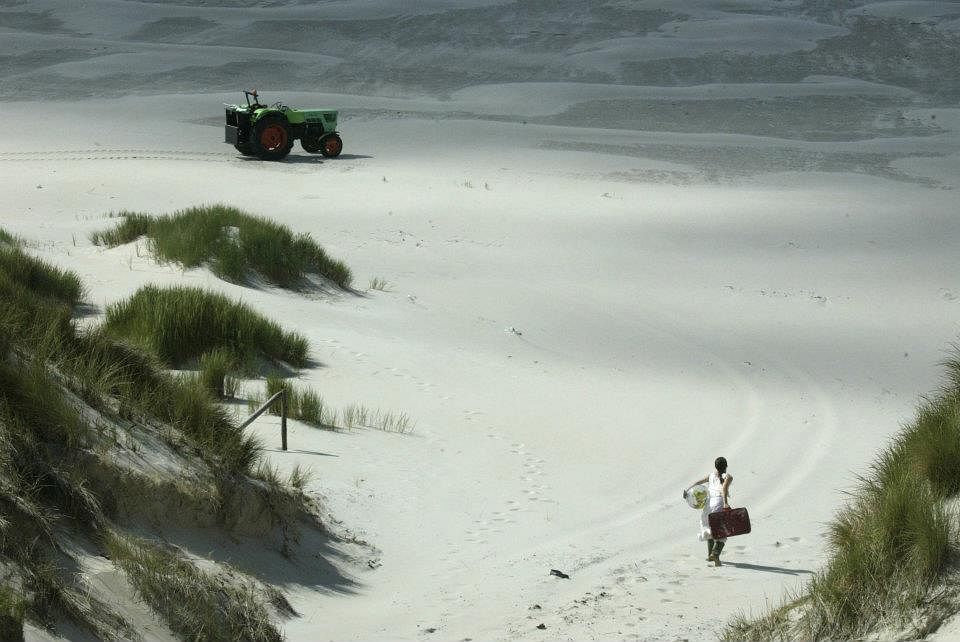 Now, before we get too much further, let's talk about the Deutz D6806 for a minute. I'm all for dreams and ideas, but I can't help but question the choice of tractor. I mean, they were good sellers in Europe, and I'm sure they're fine tractors for small farms. However, for crossing three continents – one of which is mainly comprised of 3rd-world nations, and another of which is frozen – I'd be a little concerned about that.
Actually, I'd be a lot concerned about that. Just sayin'.
(In fairness to Manon, I know the tractor was to be modified prior to leaving for Antarctica.)
Anyway, back to the story…and the first major issues; a wrong turn, and an electrical problem.
Locked up in Belgium
On day two of the journey, Manon made a wrong turn and ended up on a 4-lane near Antwerp (Belgium's 2nd-largest city). To make matters worse, her flashers weren't working! You can probably imagine how that went; her tractor running wide open at 12 mph while traffic went screaming by at 75. It's a wonder that she didn't become a hood ornament! Somehow, she managed to get to the next exit.
And that's where she met the Belgian police.
I don't know what the crime was, but between that and feverishly working through Belgian red tape, she found herself essentially stranded in Antwerp for 2½ weeks. Meanwhile, the news of this lunatic Dutch girl playing Frogger on a tractor on a busy highway had gotten around. News crews from all over the world came to get interviews. They all thought it was some sort of joke, like the Tractor Girl was working with Ashton Kutcher on a global version of Punk'd!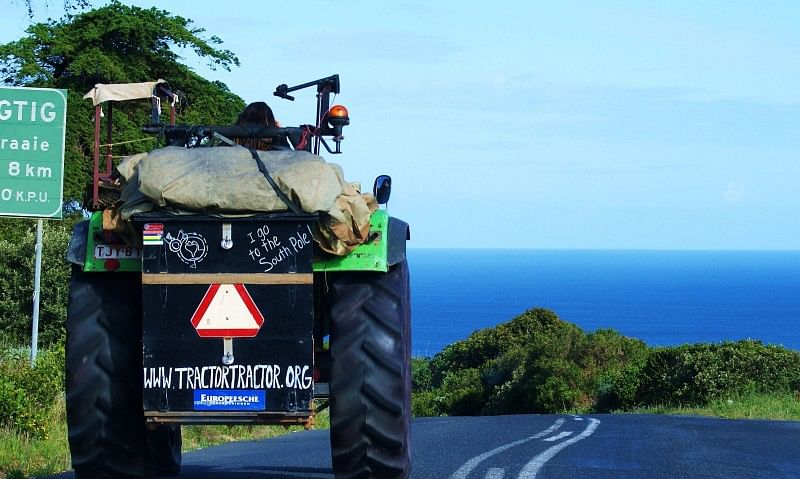 Fortunately, that was really the only bad run-in she had with the law. And once she got tags for the tractor licensed and the flashers were working properly, they let her go and the journey resumed. She took the scenic route through western Europe, touching Paris and through northern Italy. Everywhere the Tractor Girl stopped, she met hundreds of people with lots of dreams to capture and take with her.
Stark contrast…
France and Italy were decidedly beautiful. We've all seen the Travel Channel specials. However, once she got into eastern Europe, the mood changed. The Balkans (what we once knew as Yugoslavia) were beautiful places, but the previous decade had seen bloody civil war. Genocide and ethnic cleansing in the region resulted in nearly 140,000 citizens murdered for no other reason than their heritage. It wasn't just the crimes against humanity, either; war had left its mark on the landscape and the economy, too. Truly, these were broken, hurting nations. If there was a place that could potentially start proving Tractor Girl's theory, it was there.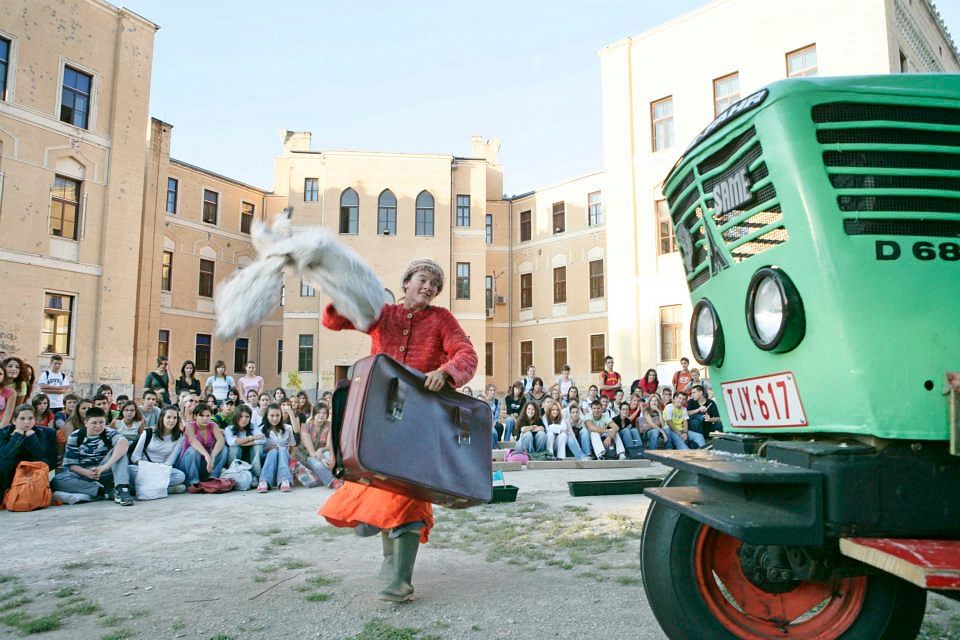 Finding hope in the darkest of places…
In one of her Ted Talks, she told the story of performing in a youth prison in Kosovo. All of the inmates had been convicted of crimes of one sort or another, but on the other side of the coin, they'd all been victims of the war too. The guards feared the worst, so she had to perform under maximum security. Nobody was sure what would happen when a bubbly actress tootled up to a prison on an old green tractor and started talking about never giving up on dreams. In a prison filled with kids scarred from war and crime, I can't imagine anybody'd ever thought of such a thing, y'know?
At any rate, she did her thing, and when she got to the part where they were to write down their hopes and dreams, the room got so quiet you could hear a pin drop. The kids took it seriously. The guards did too. Even in a place as dark as a prison, those kids still had hope. Tractor Girl made a lasting impact, too; the warden kept in touch with Manon, because the inmates wanted to know how she was doing. They wanted to know that their dreams were safely stashed in the trunk on the Deutz D6806's three-point.
And despite what everyone told her…she made it out of Europe safely.
Africa
After leaving Kosovo, Tractor Girl and the Deutz headed across the Mediterranean Sea, offloading at a port in Egypt. Talk about a change in venue…from a war-torn country to the desert. The Egyptian authorities were particularly kind, granting her pretty much complete access to travel across their country without an armed escort (I can't confirm it, but I get the impression that this wasn't always the case). And onward she went, with a great big heart and a great big smile and a genuine desire to listen and learn – and inspire. And the people responded with the same. The Tractor Girl story was typically a big hit wherever she went!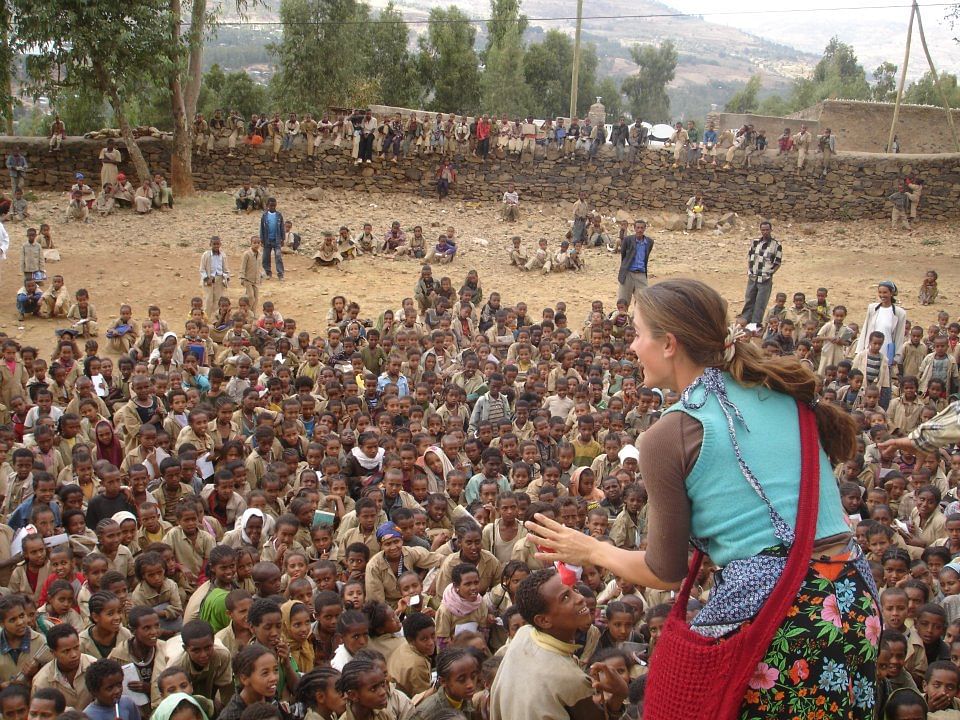 Nomadic life ain't for the faint of heart…
I don't like to think of myself as high maintenance (my wife probably says differently…), but I can tell you that there are a few things I can't get onboard with.
Sleeping under the stars on a continent where pretty much every animal that roams the night has multiple ways and reasons to kill me…most of them violent and painful.
Infrequent showers. There are places where I'm pretty sure God didn't intend for dirt to go, and I'd like to maintain proper decorum in that regard.
A lack of A/C. Me and humidity don't get along. At all. If that makes me a softy, so be it.
Yet, that was all part of Tractor Girl's dream, and she was okay with it. Furthermore, the photos from this part of her journey are just mindblowing. Check these out.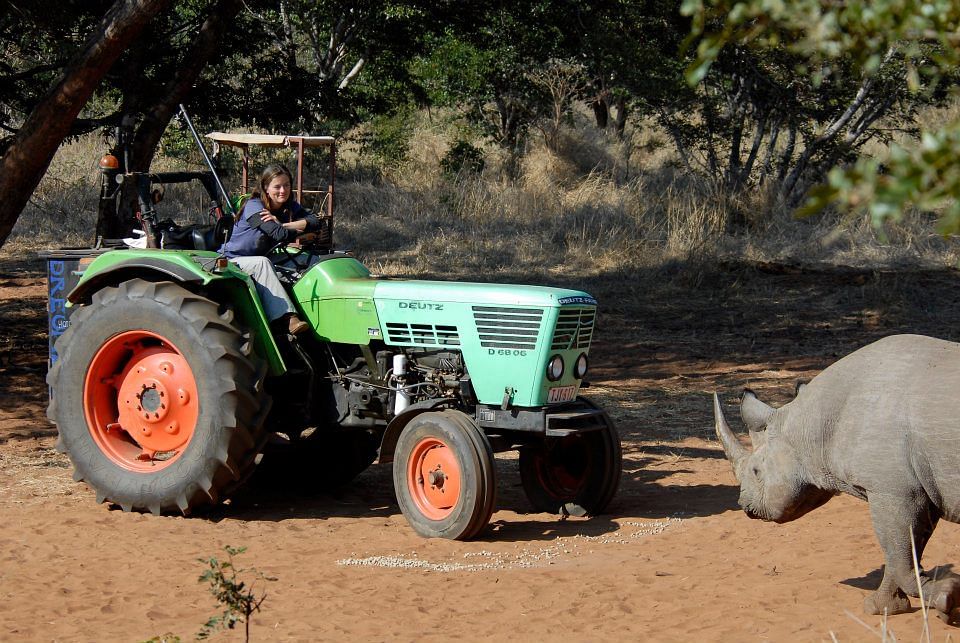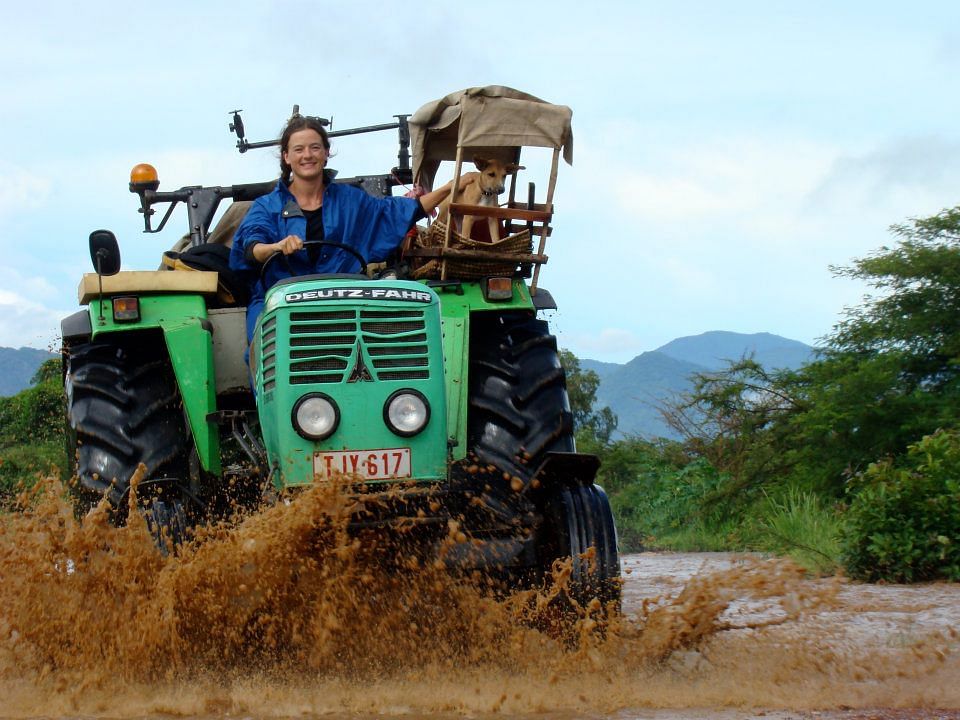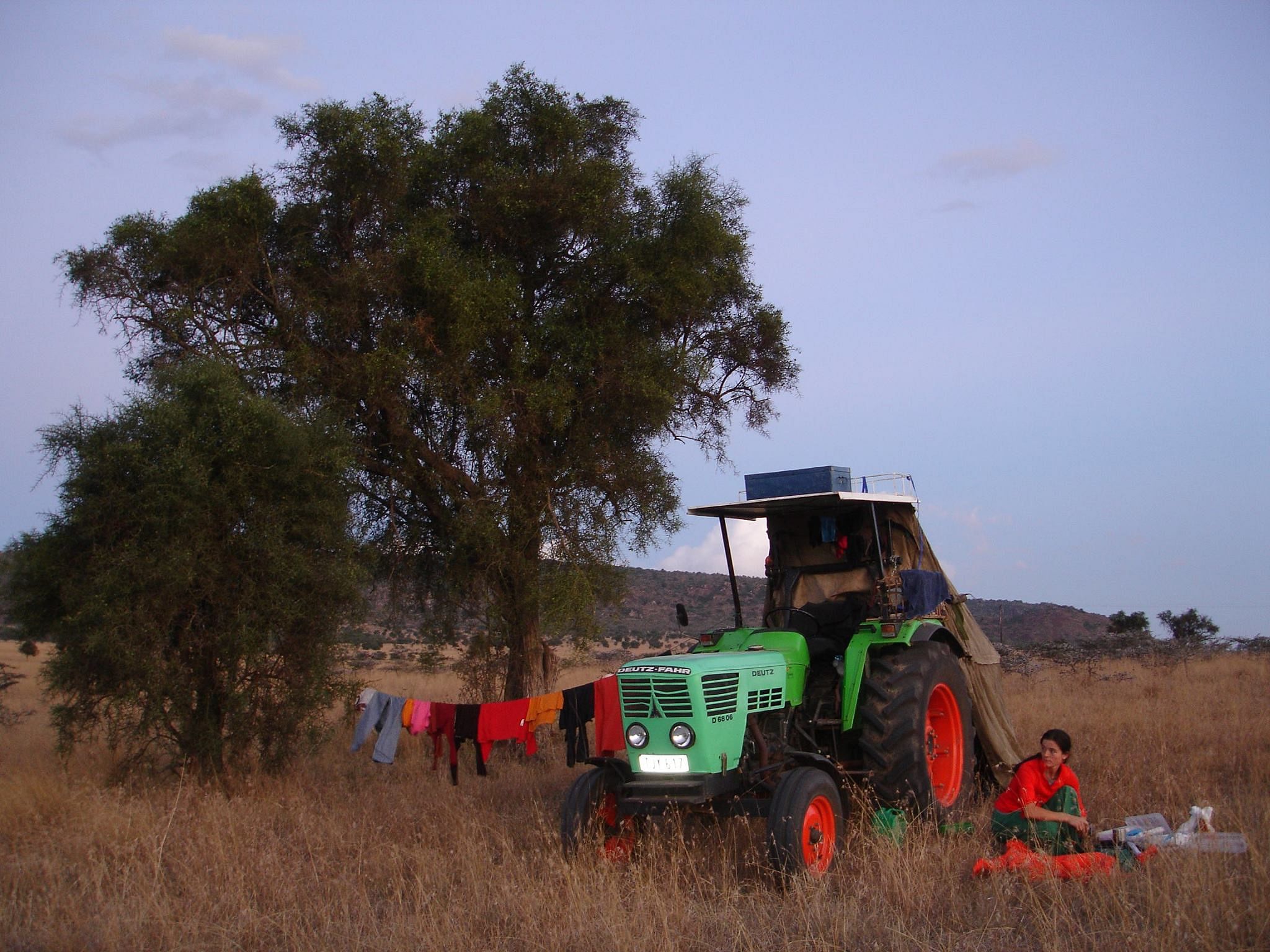 Completing the milestone.
Over 3 years and 8 months, Tractor Girl had crossed two continents, 22 countries, and close to 24,000 miles – at a maximum speed of 12 mph. She met thousands of people along the way, heard their stories, and took responsibility for their dreams. For many of the people she met, they'd never have the opportunity to travel out of a very small slice of the world. However, for some of them, perhaps writing those dreams down on a shred of paper and sending them down the road on the back of a tractor let them live an exciting journey to the South Pole.
She was half way through the journey.
To hear her tell it (her TED Talks are really good – I'd recommend watching one when you have a few minutes), one of the greatest days of her life was when she arrived at The Cape of Good Hope in South Africa. It was a huge milestone, and she was pumped. In Cape Town, she'd prepare for the next leg of the journey – a long ride on an ice breaking ship headed south to Antarctica. Once she arrived, she was headed to the South Pole.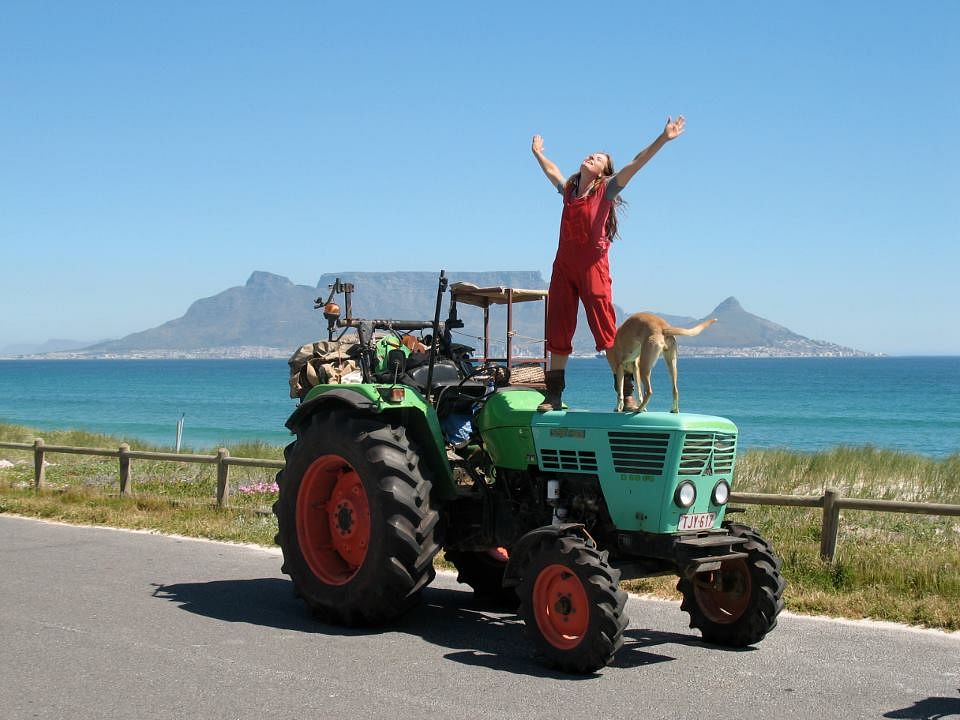 Missing the boat…literally.
Little did she know…her quest was about to be put on pause.
When she got to Cape Town, she learned that six weeks prior to her arrival, the ice breaker had left on a new mission to the North Pole. They'd tried to reach her, but to no avail, and the ship had no choice but to leave her behind.
Now what?
She remained positive and fiercely determined, but the trip had pretty much emptied the bank account. She'd have to sell a lot of t-shirts and have a lot of kind donors to foot the bill to get to Antarctica, and it just wasn't feasible. It appeared that the journey would need to stop until she could regroup and figure out the next steps. So, she left her trusty little Deutz D6806 in the hands of a couple of friends (I believe they were actually a Deutz dealer, astounding as that might seem), and went home.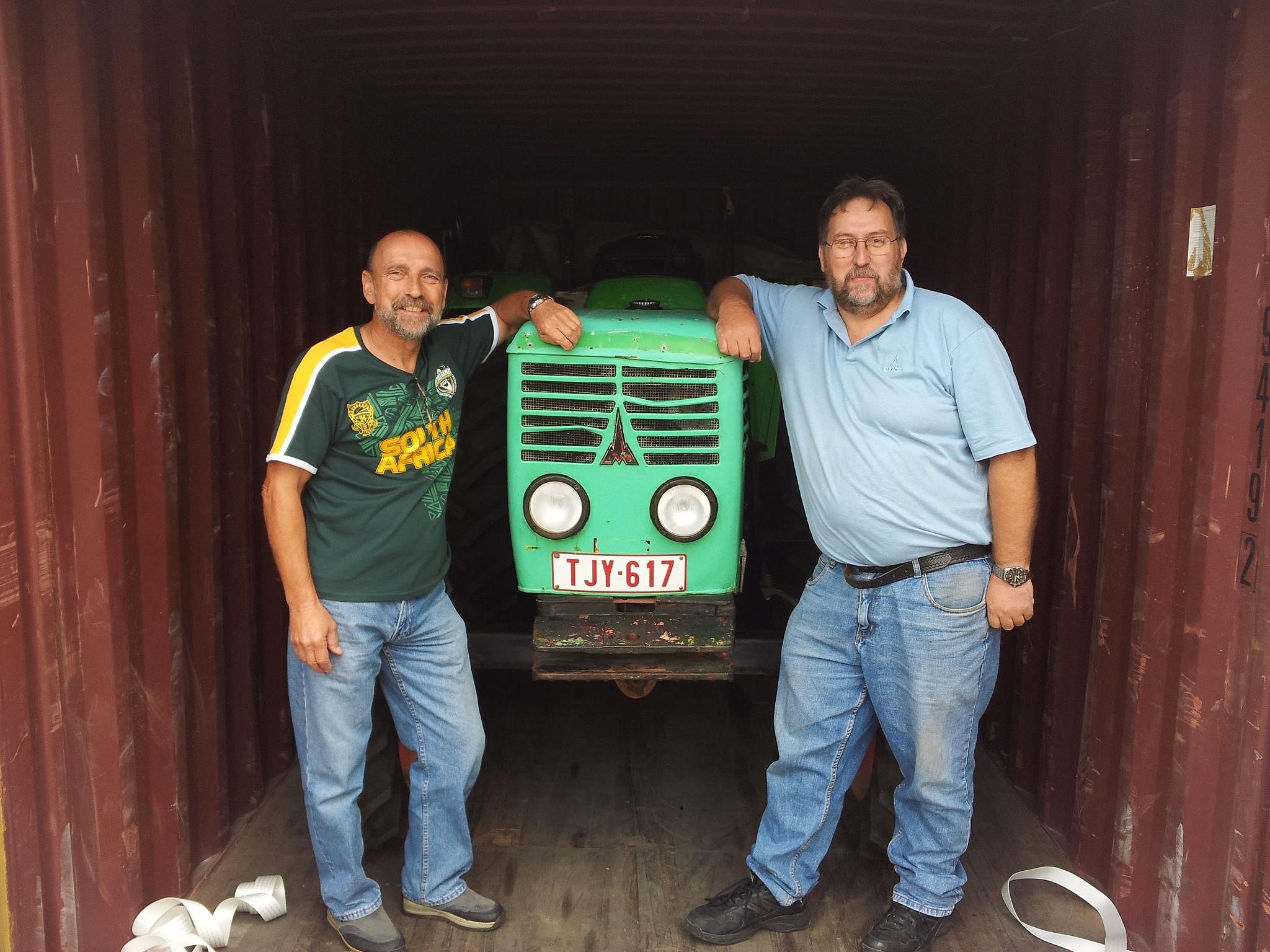 The adult, cynical "end of the world" strikes back.
For the next few years, Manon Ossevoort poured herself into fundraising so she could finish the journey. She shared her story with audiences far and wide, knocked on doors, cold-called – the works. But despite her effort, she ran into brick walls at every turn. The global economy had turned for the worst, and even though would-be investors loved the idea, they couldn't write the check.
Though she kept knocking, I think she'd be the first to admit that she began to lose hope. With each passing day, she felt her dream slipping through her fingers. That's a tough spot to be in, too – I've been there and I'll bet you have, too. For her, though, the weight was much greater; she carried the hopes and dreams of thousands of people who'd shared them with her. So, when she tearfully arranged for her beloved Deutz to be shipped back home, it was a really big deal.
She felt like the dream was on life support, and there wasn't much left to cling to.
That is, until she worked up the nerve to make a phone call to France…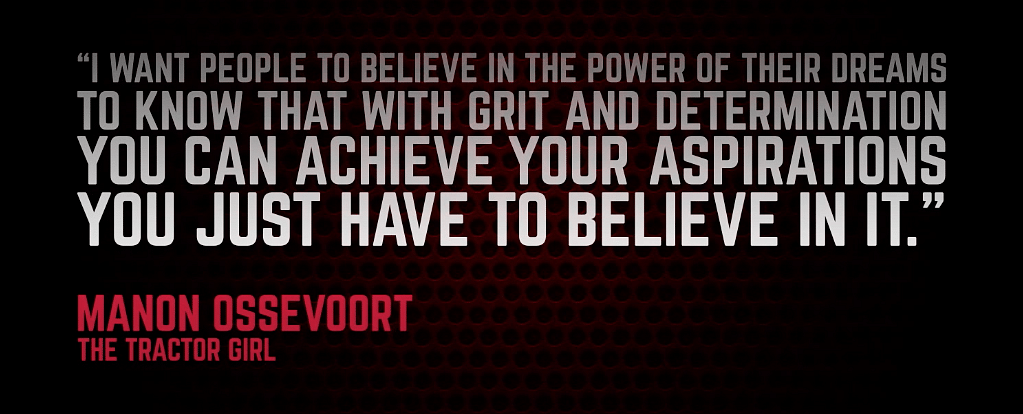 How's that for a cliffhanger? We'll finish this next week. It's a neat ending, I promise you. (If you know what happens, don't spoil it for the others!)