Dec. 09, 2021 • Interesting Iron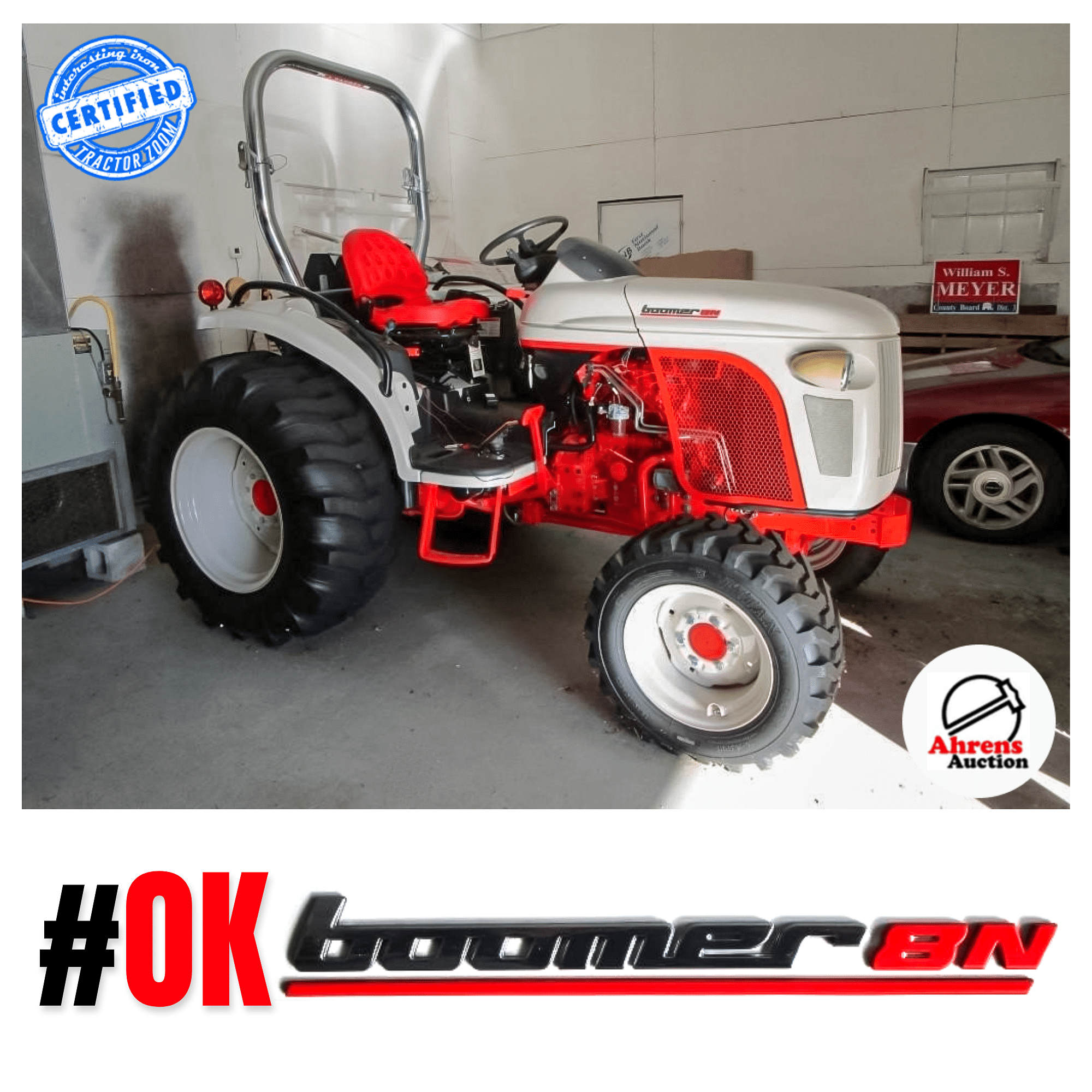 The Boomer 8N is cool. I said what I said. I'll die on this hill.
Right now, some of you are rolling your eyes and thinking, "I'll bet he thinks Mini Coopers are cool, too."
And actually…you'd be right. More on that later.
Right now, let's get the details out of the way.
Details on this Boomer 8N
Auction Date: Ends on December 13, 2021 (lots start closing at 7PM Central)
Auction Location: Staunton, IL
Bidding Format: Online-only
Auctioneer: Ahrens Auction LLC
So why do I like the Boomer 8N? In my opinion, New Holland did a lot of things right with this tractor. Let's walk through the history of how it came to be, what they did right, what they could've done differently, and what ultimately led to them killing off the model far earlier than they'd anticipated.
The Boomer
New Holland launched a line of compact utility tractors in the late 90s that eventually became known as Boomers. They were all fairly basic, but fairly capable, little diesel tractors putting out anywhere from 20-60 horse from 3 or 4-cylinder Shibaura engines. They were basically perfect acreage-maintenance tractors (and they still are today). They're pretty good sellers, too – they compete pretty favorably with Kubota, Deere, Kioti, etc.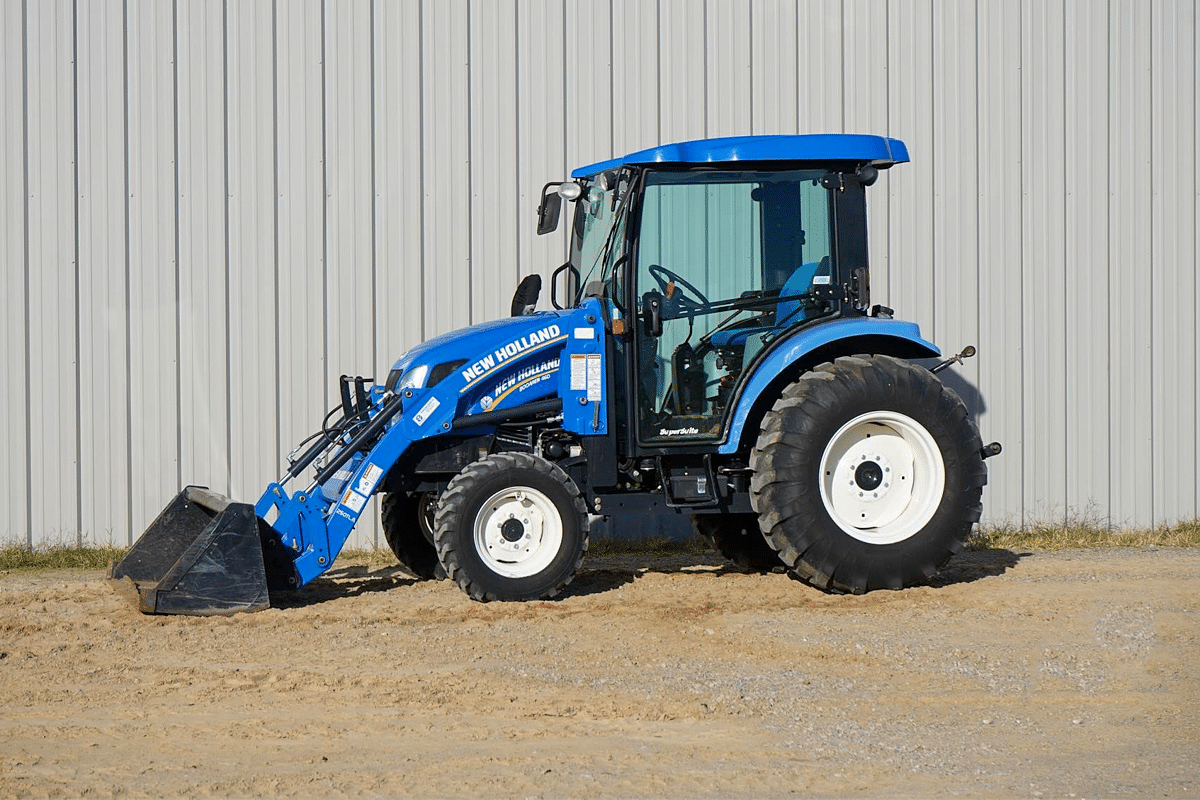 When did the Boomer 8N become a thing?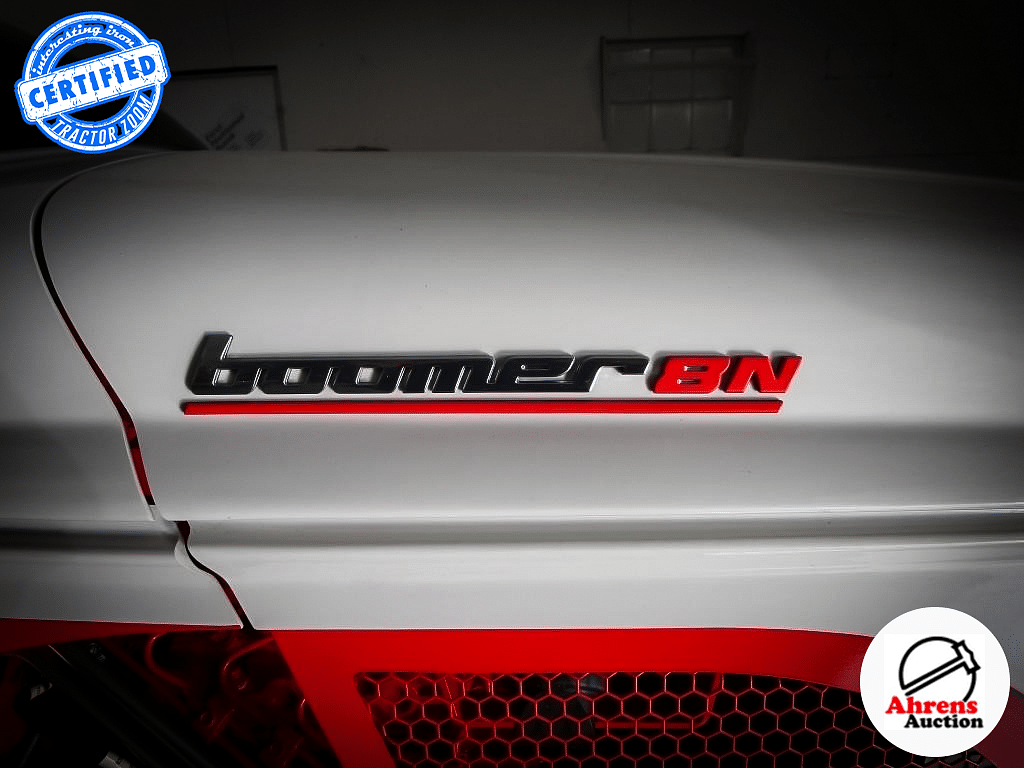 The short answer is that it happened in 2009. Ford's iconic N-series tractors launched in 1939 with the 9N, and ended 13 years later with the 8N. New Holland wanted to honor those tractors with a "new" 8N to celebrate the 70th anniversary of the N-series launch. Personally, I think that somebody on the NH product team was watching as BMW launched the modern version of the Mini Cooper, and said, "Y'know, nobody's ever really done that with a tractor…"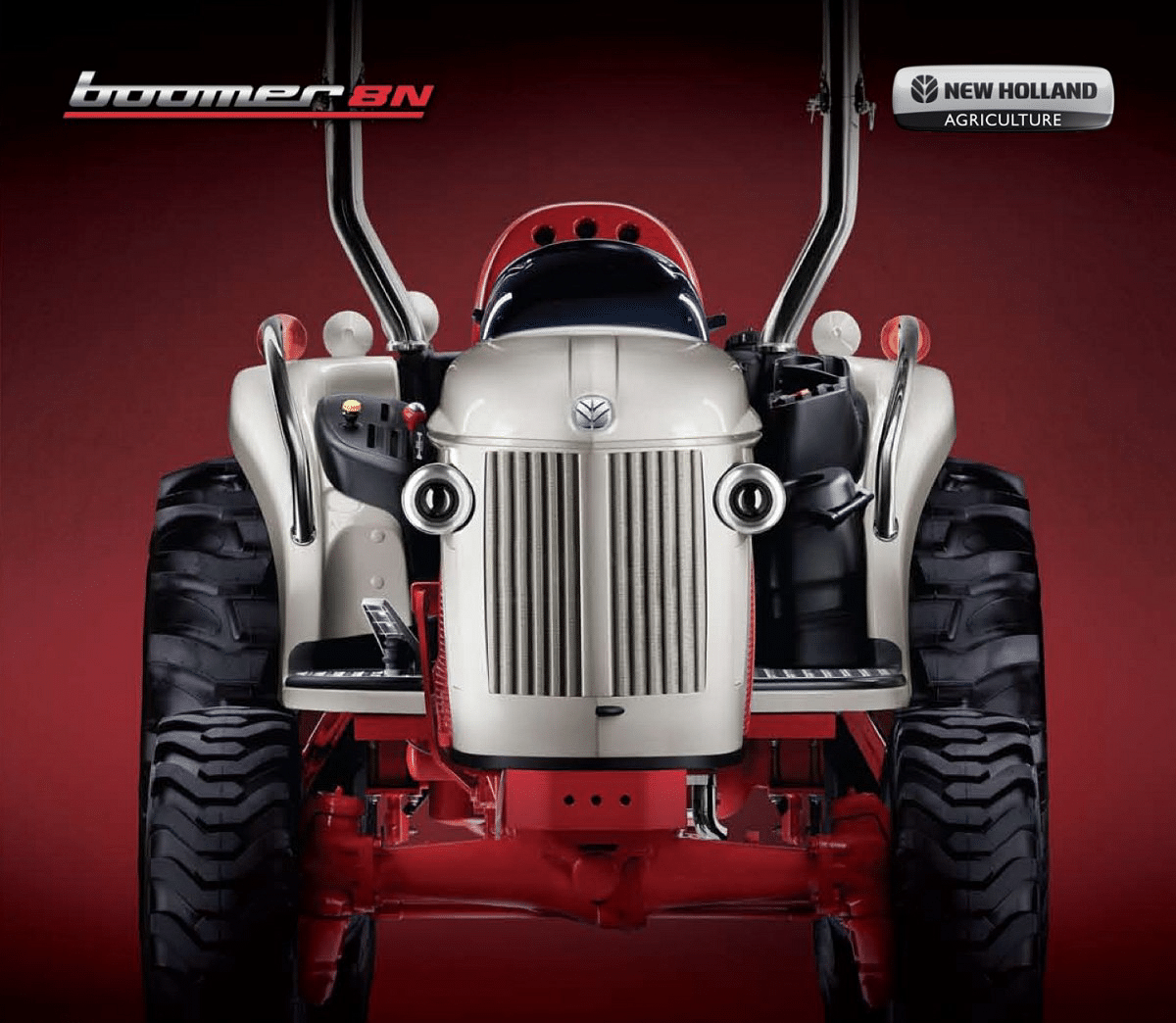 Without regard to that, the Boomer 8N came to life as a very modern tractor that paid its respects to the vintage roots. The sheet metal bears more than a passing resemblance to the 9N that Eugene Gregorie designed during his tenure at Ford. However, under the hood, this tractor was actually REALLY modern…and VERY stout. (It's also practically identical to the Boomer 3050 under the hood, too, with one exception.)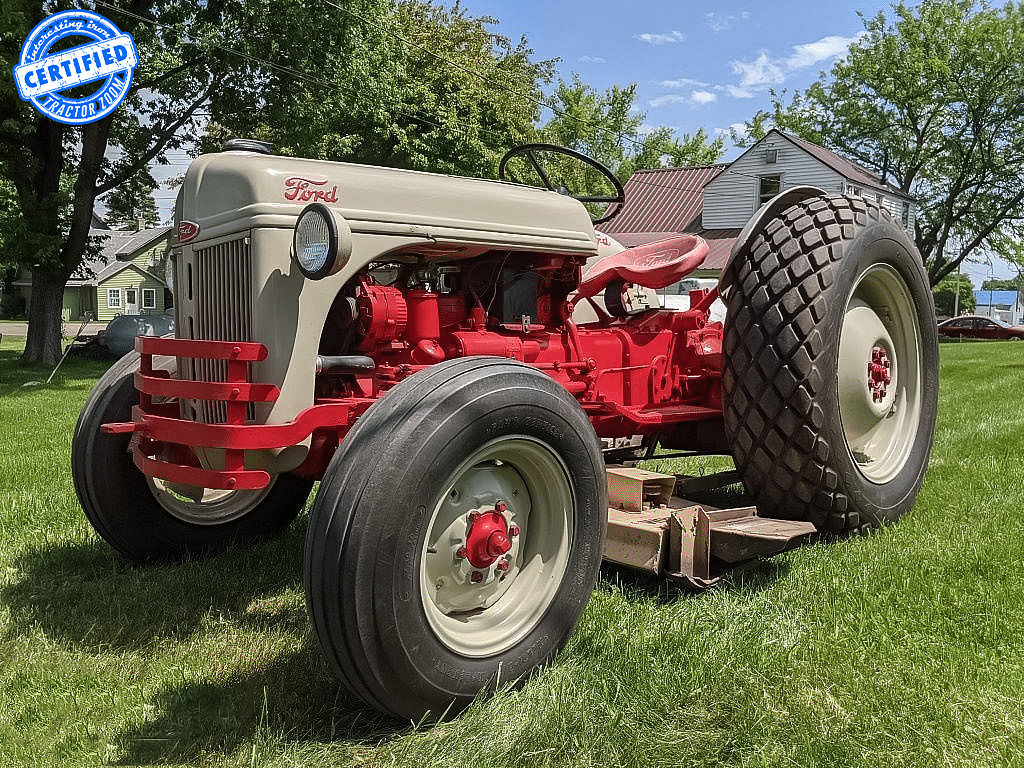 Powertrain/Drivetrain stuff…small but mighty!
Where the original N-series tractors used mainly gas engines that made 20 or 30 horse, the new one favored a very capable Tier III 2.2L four-cylinder diesel from Shibaura that made 50! It was – and still is – a very reliable engine that's found its way into a number of blue and red tractors over the last 20-25 years! If you find yourself looking at a tractor that has the Shibaura N844L (or N844L-T turbocharged version) in it, those are pretty solid little motors. They'll take a lot of abuse!
New Holland also did something a little different with the transmission on the Boomer 8N. It was only available with New Holland's EasyDrive CVT transmission. If I'm not mistaken, 2009 was the first time anybody had ever messed around with putting a CVT in a compact tractor frame. The big-frame row crop tractors had them and they worked well, so NH figured they'd try it in one of their little tractors, too! The transmission was just as stout as the engine, too, featuring chain drives instead of the typical rubber bands like you'd find in other CVTs. It also allowed the tractor to be fairly quick, as far as little tractors go; you could run up and down the road at almost 19MPH!
Lastly, these little tractors were MFWD, which was pretty much the standard by 2009. New Holland knew that if they were going to sell these things, they had to be capable; 2WD didn't really make any sense.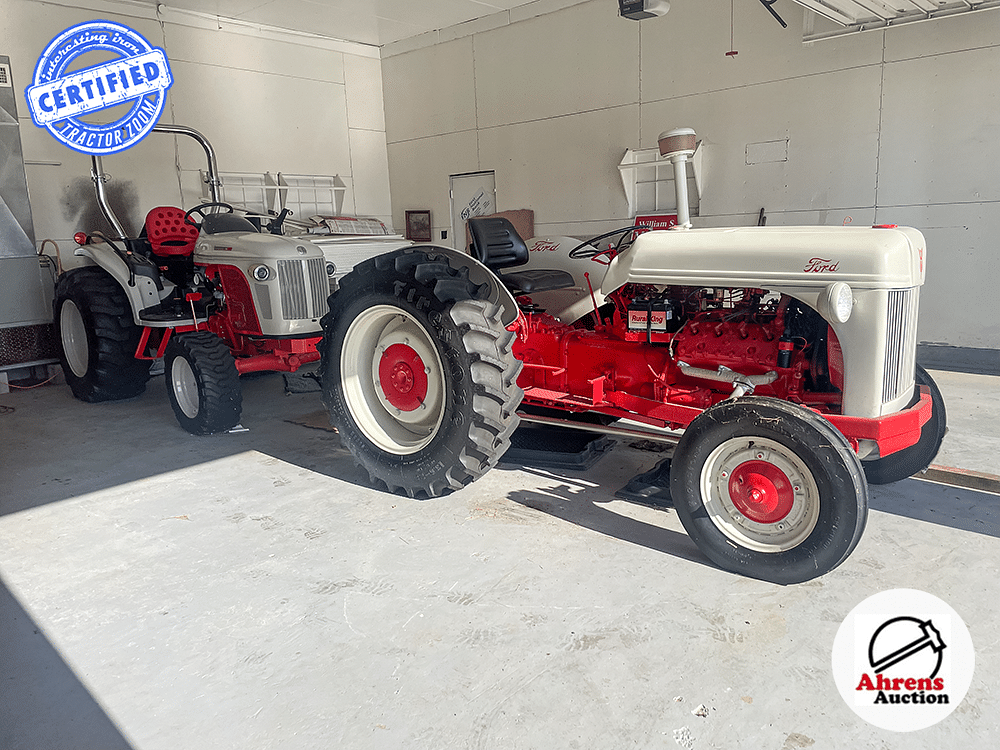 Media Darling…
When New Holland launched the Boomer 8N in February 2009, it was the talk of the National Farm Machinery Show. Not long after, the rave reviews started piling up. Everybody seemed to love this thing. It also won a GOOD DESIGN award that year, taking its place next to things like the Mars Rover and the Mercedes Benz E-class! Everything was going great…until it wasn't.
In 2009, the economy took a pretty hard nosedive, and suddenly New Holland found themselves with slumping sales and a lot of unsold inventory. Sadly, they pulled the plug on the project in 2011, after building somewhere in the neighborhood of 1200 tractors.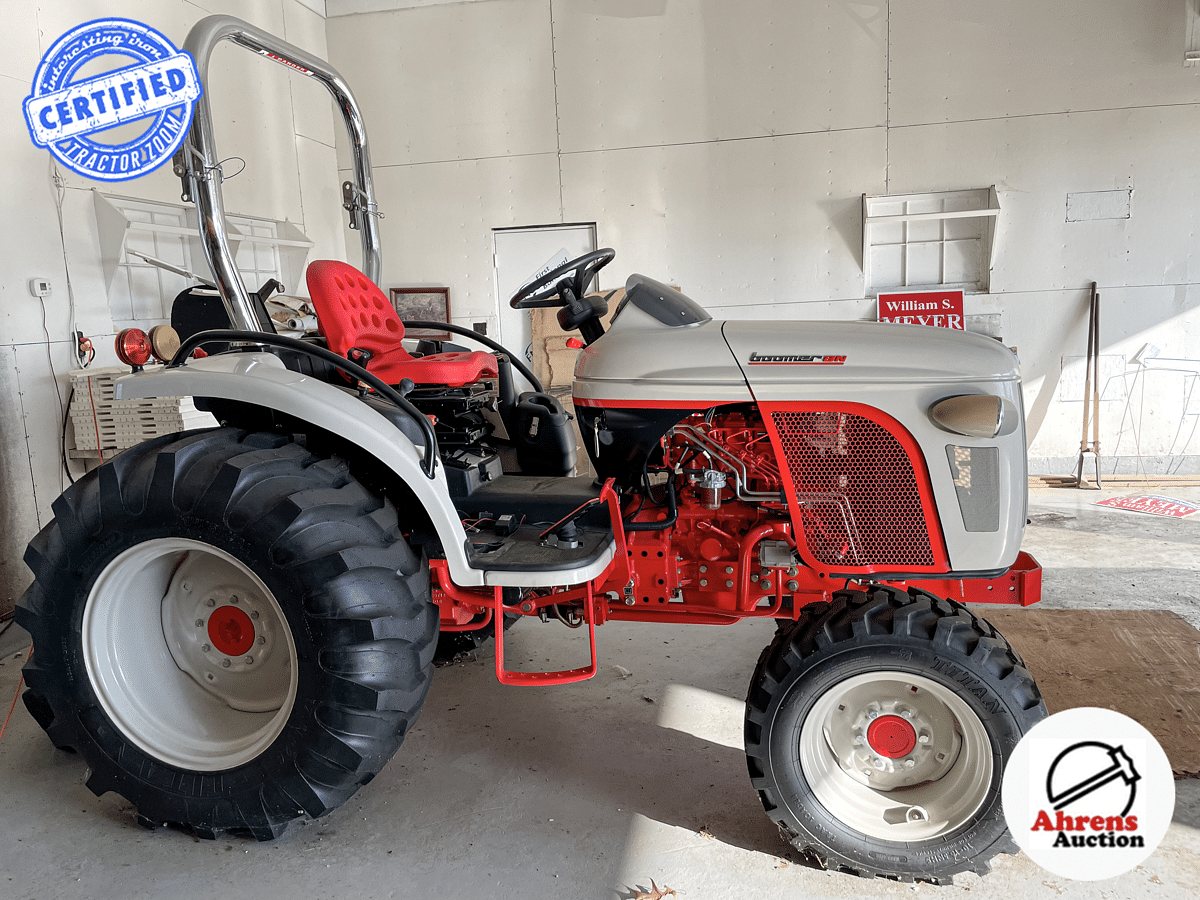 What went wrong…
Well, that's a matter of perspective.
If you talk to the die-hard purists, they'll tell you that one of the things they really love about the N-series tractors from the 40s was that they were built for Joe Farmer. They weren't super-deluxe tractors that were only for a select few farmers; they were simple, reliable, and affordable for everybody. When the Boomer 8N came out, some of the purists felt like the modern tractor was an overpriced yuppie toy. Furthermore, they felt slighted that New Holland would try to market a "tarted-up utility tractor" as a modern interpretation of such an iconic classic. Apparently there were some interviews and articles that sort of hinted at that (if that's how you interpreted them). Maybe they were right, maybe not. Either way, that's one perspective.
If you talk to a dealer, though, they have a different story…and I just happen to know one!
Cory Forrester is a good friend of mine from Pennsylvania, and he owns a very successful New Holland dealership. So last night, I gave him a call and picked his brain a little bit. Turns out…he knows quite a bit about this tractor. See, Forrester Farm Equipment sold more Boomer 8Ns than any other dealership on the planet (I didn't realize that when I called him). Of the 1200 or so that NH produced, Cory and his team sold over 200 of 'em (including the one in Illinois that you can bid on today)! Cory has a few of these in his personal collection, including serial number 1!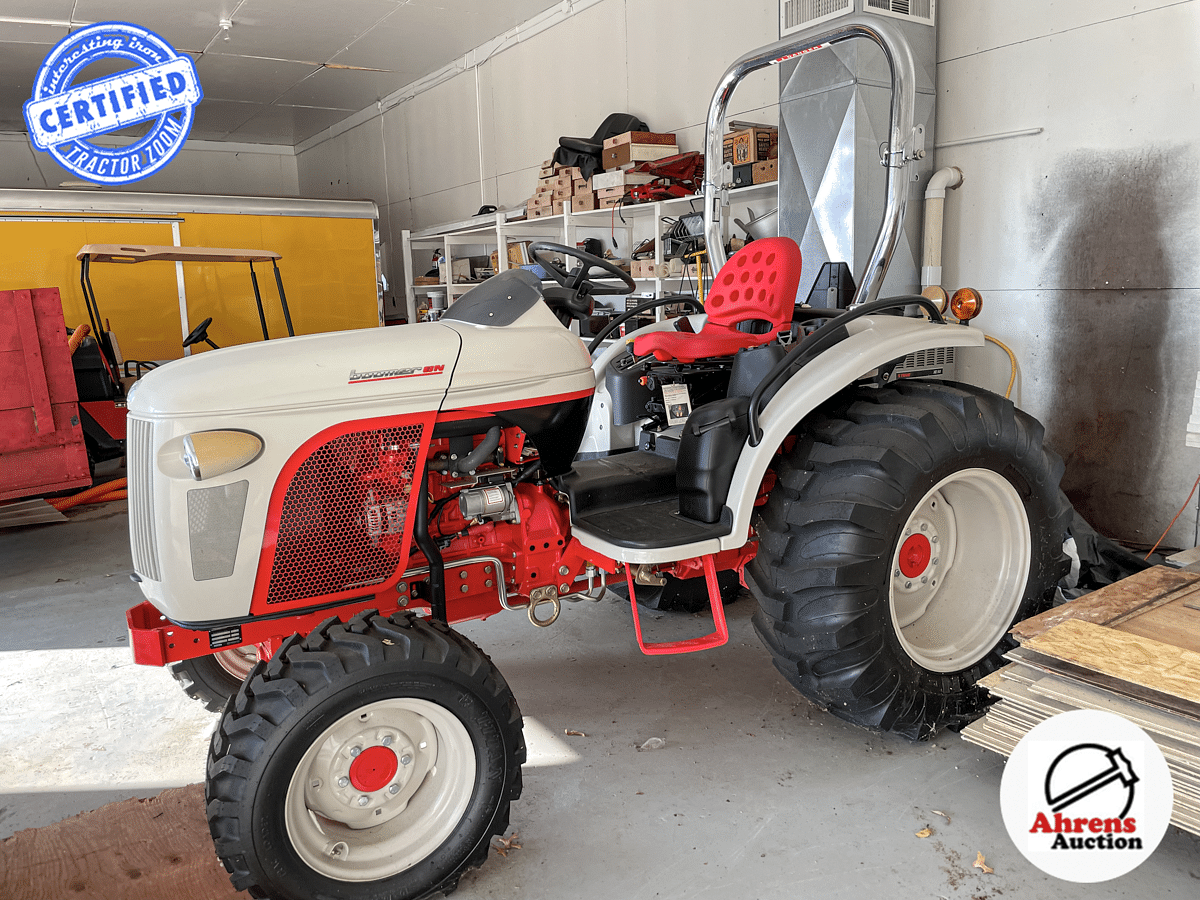 They were spendy…
Cory told me that the new 8N packed a ton of useful power into a small, very attractive package that was branded really well. However, that attractive package wasn't cheap. The base tractor itself sold for about $32K (or $36K with a loader), which was a pretty significant premium over the Boomer 3050, which was essentially identical. Furthermore, New Holland offered a few attachments for the tractor so buyers could put it to work. The attachments were pretty straight-forward; a mower deck, a rear-mounted rotary mower, a backhoe, and a loader.
New Holland also figured that their buyers would want to personalize the tractor. So, they developed about a bajillion different things that you could buy to do that. Cory told me that you could basically chrome out the entire tractor if you wanted to; grab rails, floorboard, knobs and levers…the whole deal. Incidentally, this is another thing that was straight from BMW's playbook with the Mini Cooper; you could trick one of those out six ways from Sunday, too. 
The leading edge…or the bleeding edge?
Cory also mentioned that for all of its strengths, it was a case where being on the leading edge of technology became the bleeding edge. See, the CVT transmission that came with the tractor was pretty high tech, whereas the engine was a more mechanical thing. If buyers weren't familiar with the nuances of a transmission like that, they could have issues. Nothing real major, but enough to leave a sour taste in their mouths, y'know? A couple of software updates ended up fixing many of the problems, but still, first impressions go a long way.
At the end of the day, it was probably a deal where New Holland should've opted for a more traditional shuttle-shift transmission or even a hydrostatic drive. Had they stuck with a more tried and true option and not gambled on breaking new ground, sales might've gone differently. Cory told me that he remembered sitting in a meeting with a few other dealers and NH top brass, and he cringed when he heard about the transmission. I'm sure he wasn't alone in that, either.
My two cents…
I think it's probably a blend of all of those things up above. The tractors are good tractors, but I think the customization options and the branding alienated a market. The people who really love their old 8N love it because among other things, it's simple and cheap and gets the job done. They were hoping for a simple, cheap tractor with updated sheet metal, and that wasn't what the new tractor was. The new tractor was fairly high-tech, and to them, included features that they didn't need.
Furthermore, to a point, New Holland did sell the new tractor using nostalgia. They were trying to capture a market of people who had ridden on Grandpa's 8N when they were little, but didn't grow up to be farmers. Instead, they'd taken jobs in finance or technology. They'd done well, and had a nice house on 5 acres and needed to maintain it. There's nothing wrong with that; heck, all of us here at Tractor Zoom moved off the farm. It doesn't mean that we don't need a tractor for a few things!
Lastly, when the economy tanked and the dollar wasn't going as far, it kind of ended up as a perfect storm.
The Boomer 8N you can bid on today!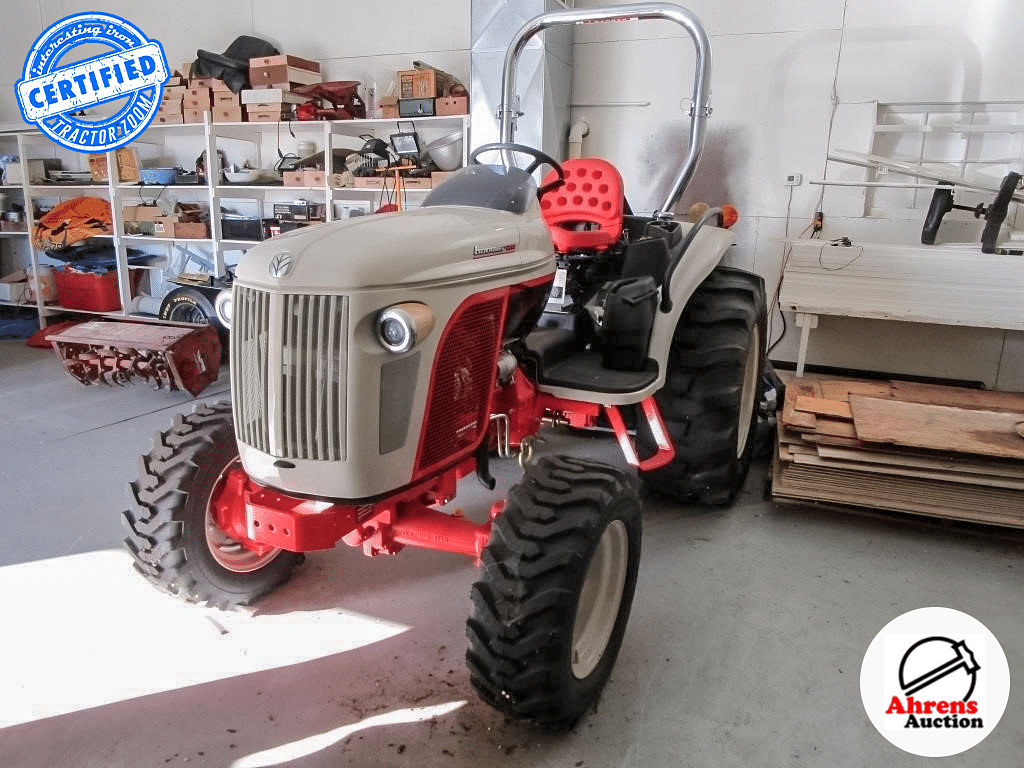 Folks, this is a REALLY nice tractor, and it's darn near brand new. It's a one-owner 2009 model with only 4.7 hours on it!
I talked to Dennis Ahrens, the auctioneer who's handling the sale, about this tractor and he said that Bill Meyer bought it pretty much as a collector's item about ten years ago, and never really used it. I'd imagine it's one of the lowest-houred Boomer 8Ns in the country. I know there's one out there for sale right now that's only got a single hour on it, and there's also one for sale about an hour away from me that only has 10 hours on it. There are probably a handful of them stashed away in collections across the country that haven't seen much more use, too.
As far as reliability goes, these are pretty tough tractors so long as you remember what they are; a 50-horse 4×4 tractor. They're not a Steiger. Don't treat 'em like one. Also, Cory recommended having it serviced at a NH dealer, so they could flush the fluids and change the filters (and update the software if needed). With less than 5 hours on it in 10 years, it'll need it.
A couple of other interesting things about this tractor…
It's a low serial number (Z9D8N0039). It was the 39th one built.
But…it wasn't sold until May 27th, 2011.Want to know where it was?
Forrester Farm Equipment in Chambersburg, PA. Cory's dealership actually sold the first 48 serial numbers that were available to the public (starting with Z9D8N0011). One of Cory's team actually sold this tractor to Bill on the Friday of Memorial Day Weekend 2011!
(The first 10 serial numbers were demo tractors that New Holland used for demonstrations and such. Cory bought #1 after the public launch and he's had it ever since!)
What's it worth?
These tractors are fairly uncommon, but they're not entirely impossible to find. They don't usually have as few hours on them, though, which means that this one could attract some collector eyeballs. Cory told me that if that tractor were back in his dealership, he'd probably price it at $23,500, so that's what I'm going to go with, too.
We've got about a dozen Boomer 8Ns sales records listed in our Iron Comps database (the hours vary quite a bit), and we just saw one sell on Tuesday. It had 57 hours on it, a loader, and a sunshade, and it went for $20,500. Good shape, too! It outperformed the average sale price, which our database shows as about $17,750 right now.
At any rate, I'll be watching come Monday to see where this one shakes out!
Details on this Boomer 8N
Auction Date: Ends on December 13, 2021 (lots start closing at 7PM Central)
Auction Location: Staunton, IL
Bidding Format: Online-only
Auctioneer: Ahrens Auction LLC
Pro Tip – if you own a Boomer 8N and you're having a hard time finding parts…reach out to Forrester Farm Equipment. They have a pretty good sized inventory of 8N-specific parts! (As of 12/9/21.)
Oh, and one more thing. Why do I think Mini Coopers are cool? For one, they're SUPER-roomy. I'm 6'6″ tall and I take up some space…but I'll tell ya what, I fit into the Mini Cooper quite comfortably! (I don't fit into my Volkswagen GTI nearly as well as I do my buddy Steve's Mini.) Furthermore, Minis are actually pretty quick little cars if you buy the right one, and they handle unbelievably well! They're also pretty easy on fuel, so long as you aren't driving like an absolute hooligan…or so I'm told. ????