Dec. 30, 2021 • Interesting Iron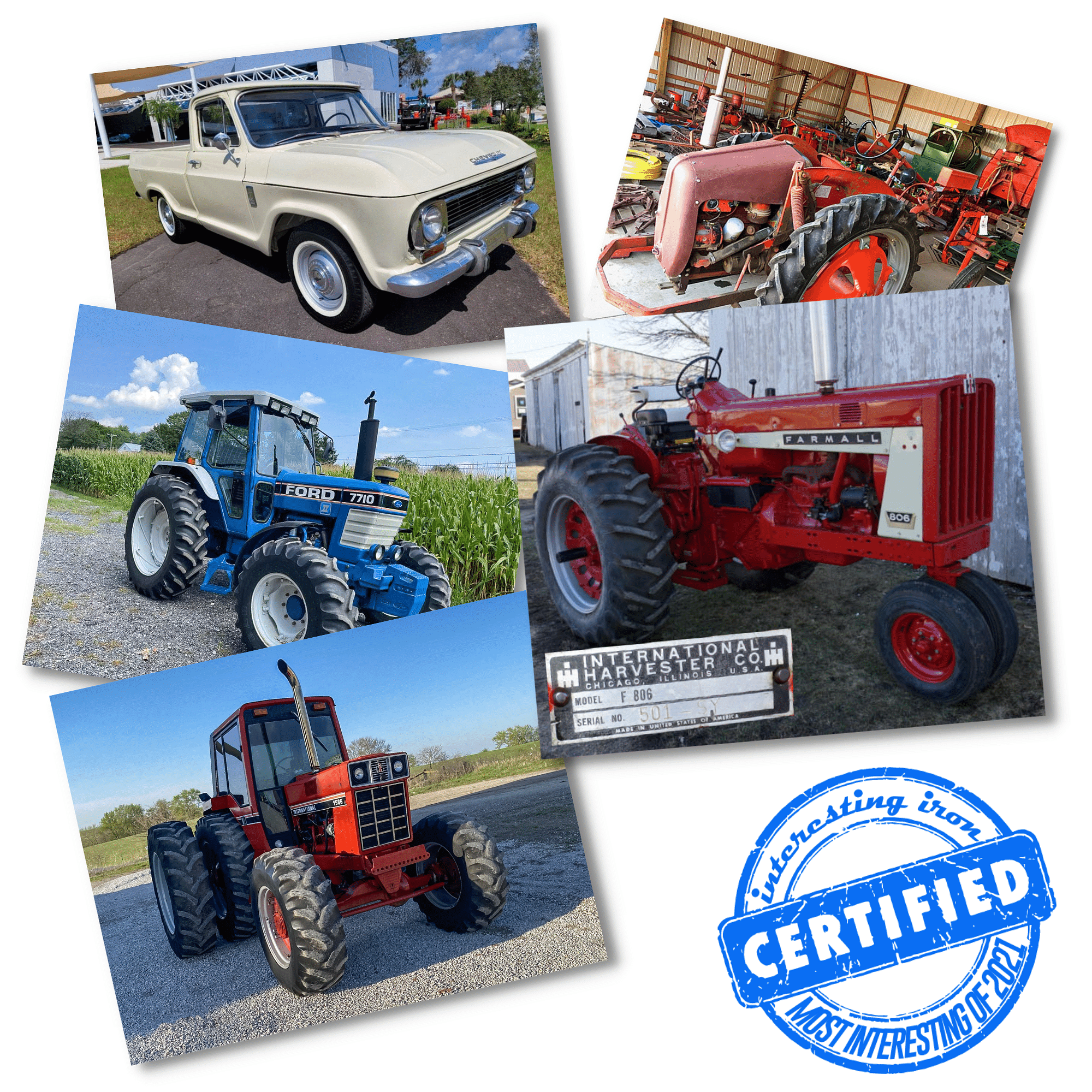 If you missed it last week, I started on a list of the most interesting iron to cross the block in 2021 that never made it to the blog. We got through five, but I've got a few more. So, let's pick up where we left off and finish off with six more!
Bill's Fantastic Fords
Bill McGrew is a pretty interesting guy, and in addition to farming and running a construction company, he also collects tractors. As I've been told, the machine shed is almost like a museum; Bill keeps pretty much everything in pristine condition. And when it came time to pare down the collection a little bit this past November, his son Greg (one of our TZ auctioneer partners) hosted the auction. I think there were only ten or so tractors on that sale, but holy moley, were they nice! They weren't your typical collector-type tractors, either, which I thought was cool. No 1066s, no 4020s, yadda yadda. There were a few nice John Deeres and a couple of red ones, but it was a pair of Fords that really caught my eye.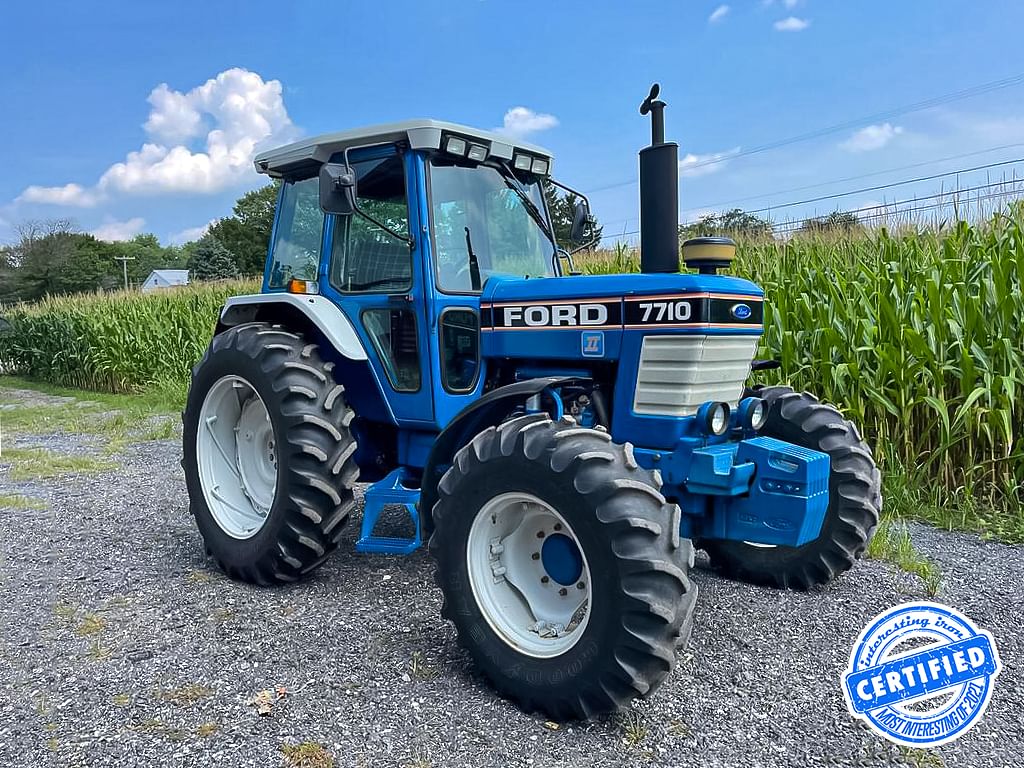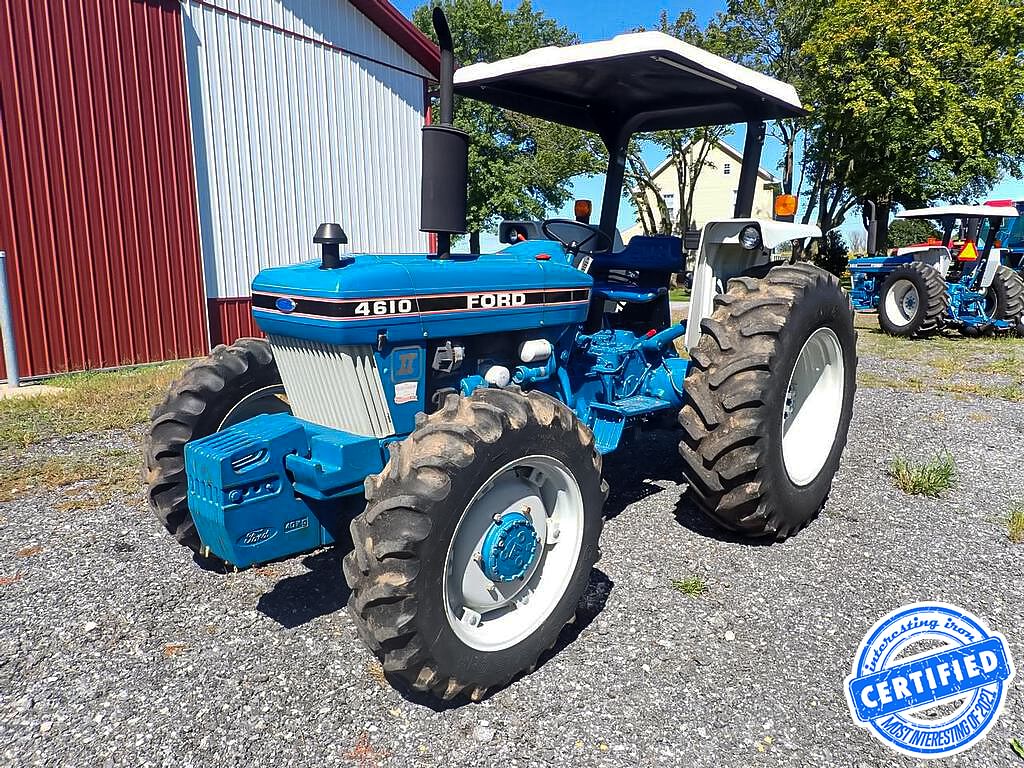 These two really stood out to me mainly because it's so hard to find ones that are this original. We've seen hundreds of late-80s/early-90s Fords listed on Tractor Zoom and save for a very select few, none of them looked this nice! The buyers must've thought so, too, because they both set new records!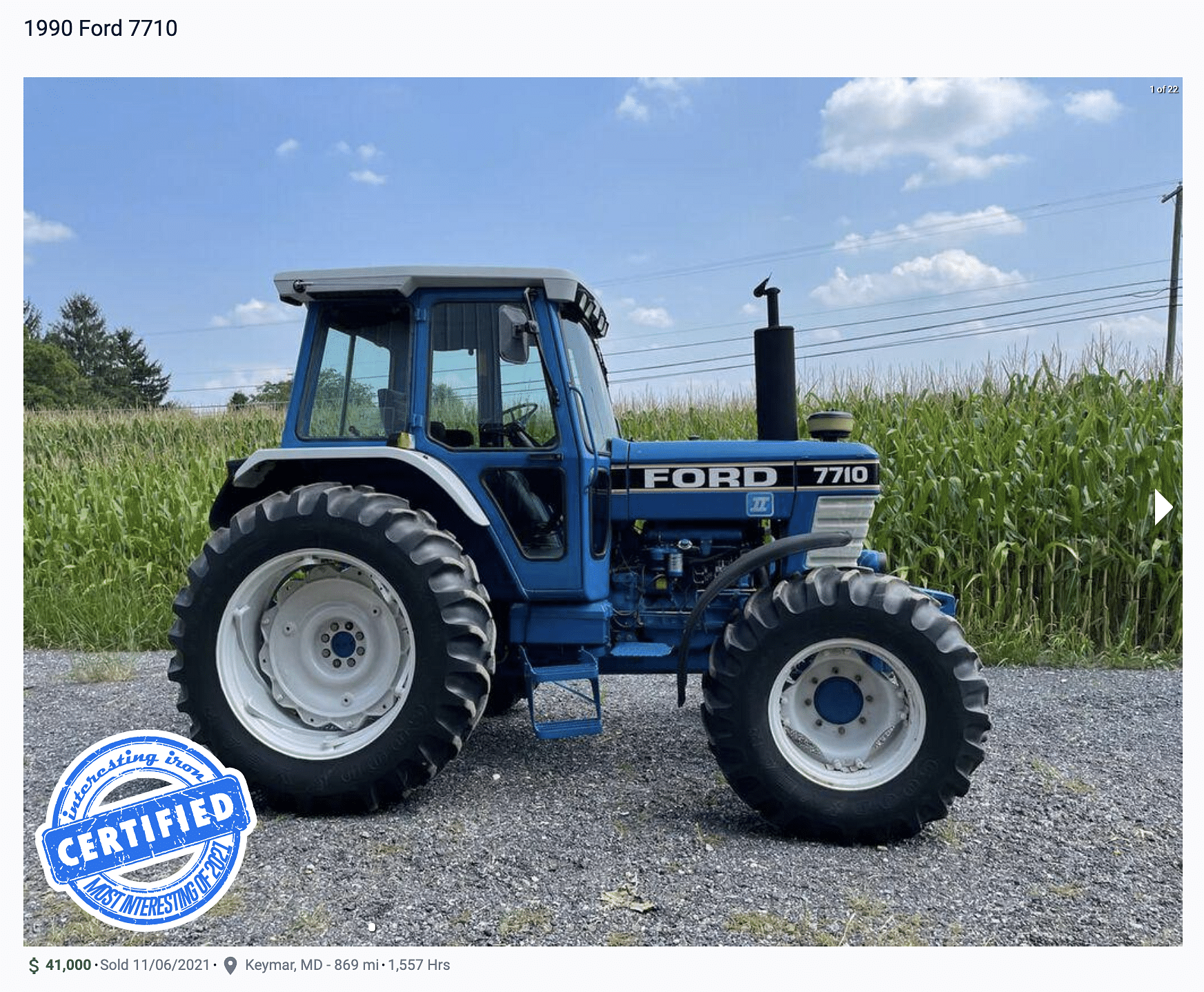 Auctioneer: McGrew Equipment Company
Location: Keymar, MD
Date: 11/6/21
Hammer Price: $41,000
This one set a new auction price record at $41,000 – one that I don't know if we'll ever see broken. It could happen, but it'll take a heck of a nice tractor. I'd imagine that at 1557 hours, this is probably the lowest-houred example on the planet. As I understand it, it's headed off to a collection somewhere.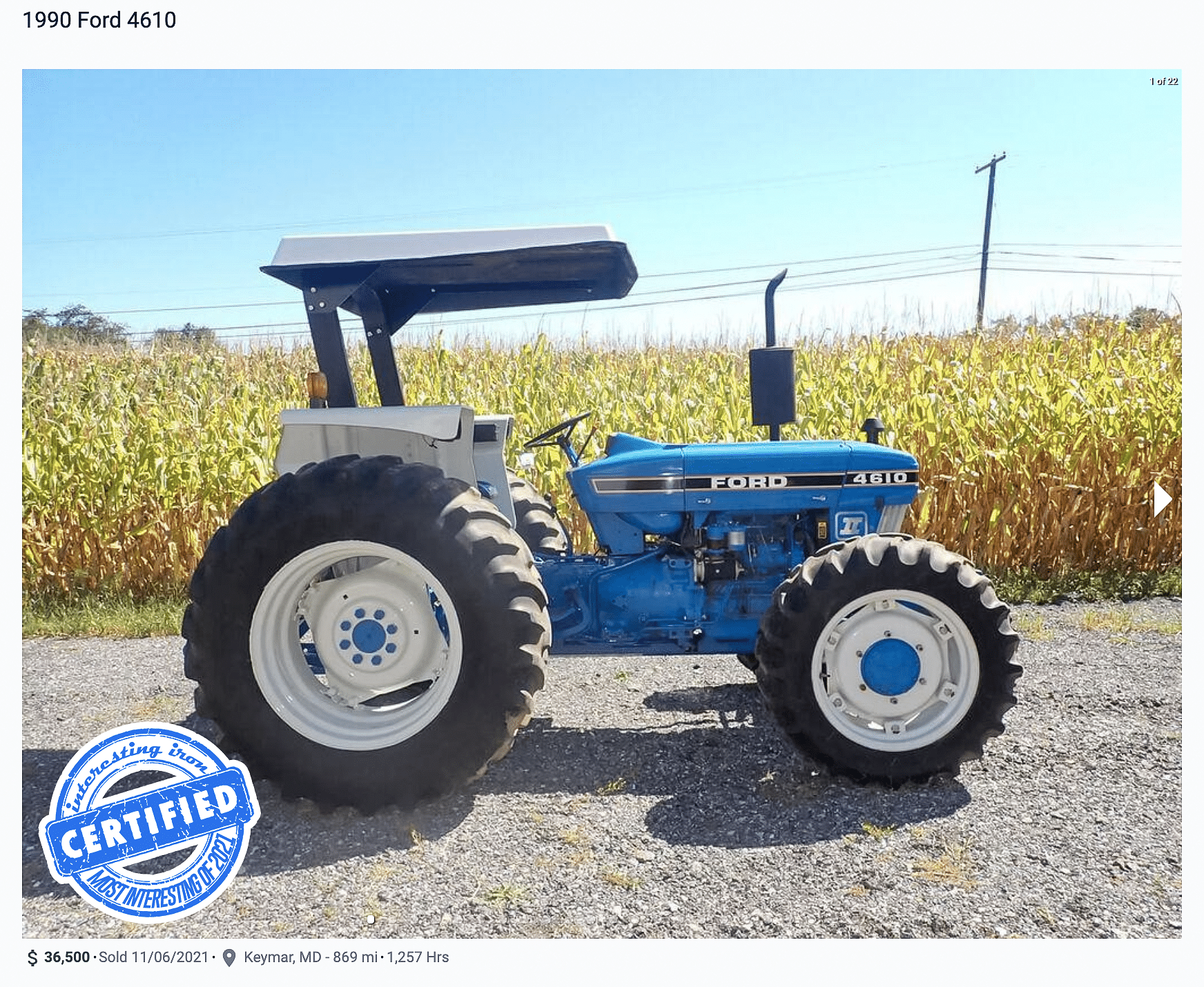 Auctioneer: McGrew Equipment Company
Location: Keymar, MD
Sale Date: 11/6/21
Hammer Price: $36,500
At $36,500, this one set another auction price record that'll be very hard to beat. The best part of this one, though? It went to a guy who's going to put it to work! As he was leaving, he said something about getting it home and off the trailer before his wife found out that he'd bought it! (If you're his wife…you didn't hear that from me…)
This auction was one of those sales that demonstrates an age-old principle. When buyers see auction photos, they form an opinion right away. If the farm is clean and well-kept, and the equipment is clean, it'll sell for higher dollars. It's been proven time and time again. Presentation sells.
Interesting fun fact: Bill McGrew's farm is on the very same ground where Francis Scott Key was born and raised!
The Brazilian Bowtie
Everybody knows what Chevy's C/K series from the late 60s and early 70s looks like. They're iconic. Heck, our CEO has a pretty blue one that he says he'll keep forever (and if you've ever met Kyle, you know that that's saying something…). I'll bet you've never seen one like this, though!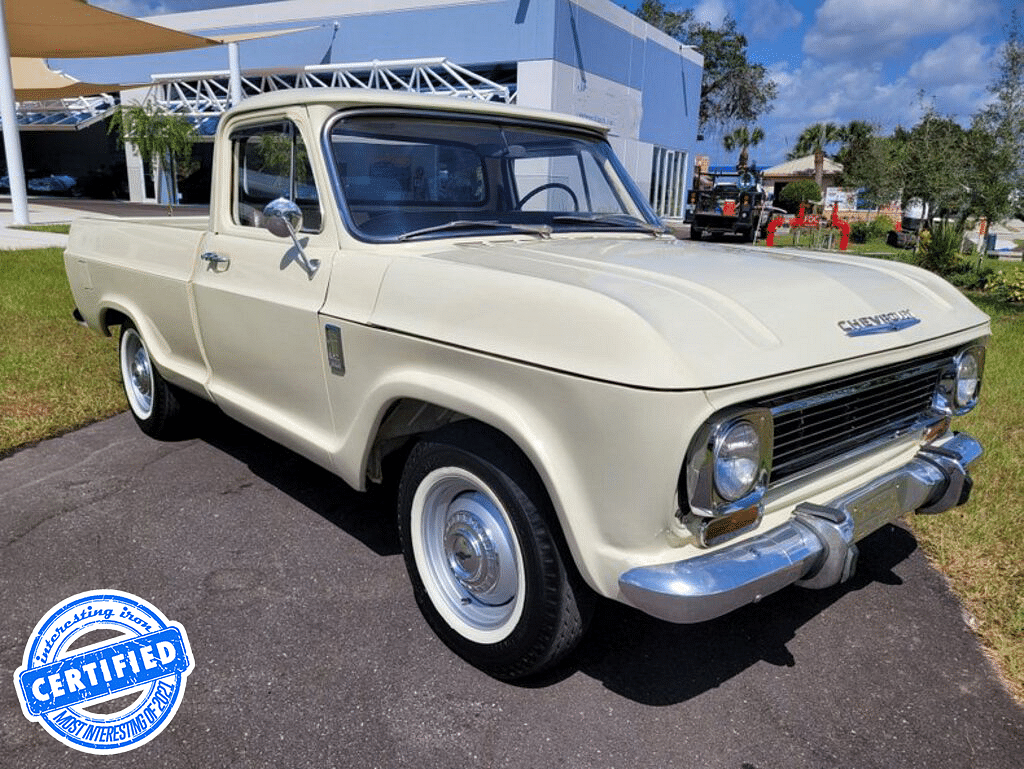 What you're looking at is actually a 1972 Chevrolet C10…from Brazil. Like a number of other auto manufacturers, GM also had a South American division that produced a full line of cars and trucks. They built full-sized light trucks in Brazil from 1964-2002. Aside from the headlight buckets and a few of the gauges on the dash, most everything else on this truck was designed and built in Brazil. It's definitely a unique little pickup, and one that's very rarely imported into the States. I'd be shocked if there were more than 50 of 'em on US soil today.
At any rate, this little guy is a pretty basic truck: two wheel drive, short box, bench seat, three on the tree, powered by a 250-cubic inch inline six making about 140ish horse. I believe this would've qualified as one of the lower-end pickups, similar to the C10 Custom. It was basically a Brazilian work truck, like a handyman might use. Practical transportation to get the job done. This one had undergone a full restoration, for the most part; I saw a little bit of chipping paint on the engine block, but nothing horrible.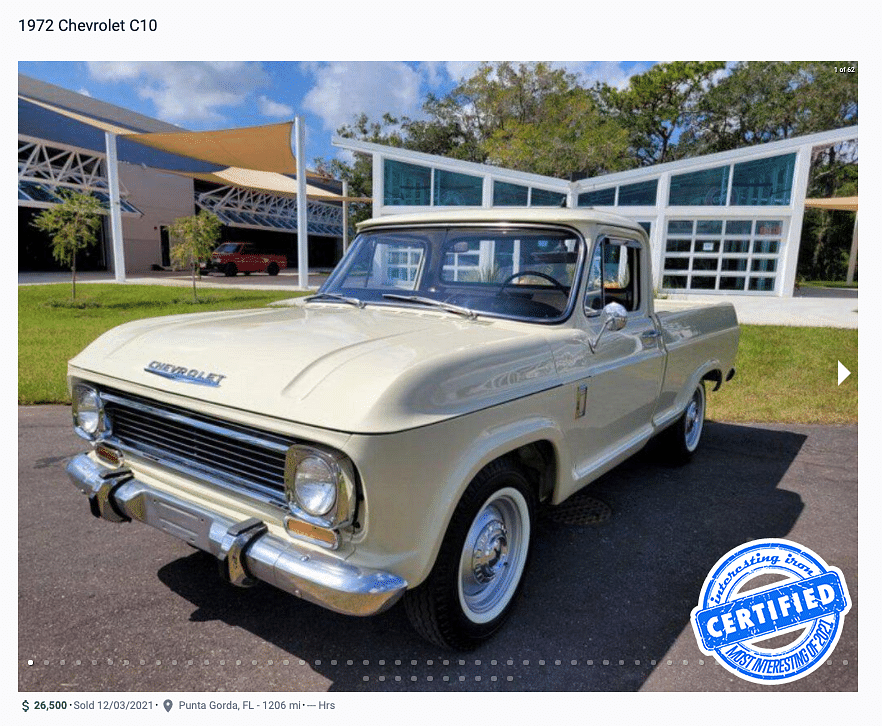 Auctioneer: Premier Auction Group
Location: Punta Gorda, FL
Sale Date: 12/3/21
Hammer Price: $26,500
I know this pickup had been on sale at a classics dealership in Palmetto, FL for about $29,000, but it showed up at Premier Auction Group's Gulf Coast Classic about a month ago and hammered home at $26,500. The market for internationally-produced pickups like this one is probably fairly small, but I'll guarantee that heads will turn wherever this one shows up!
A muscled-up 1586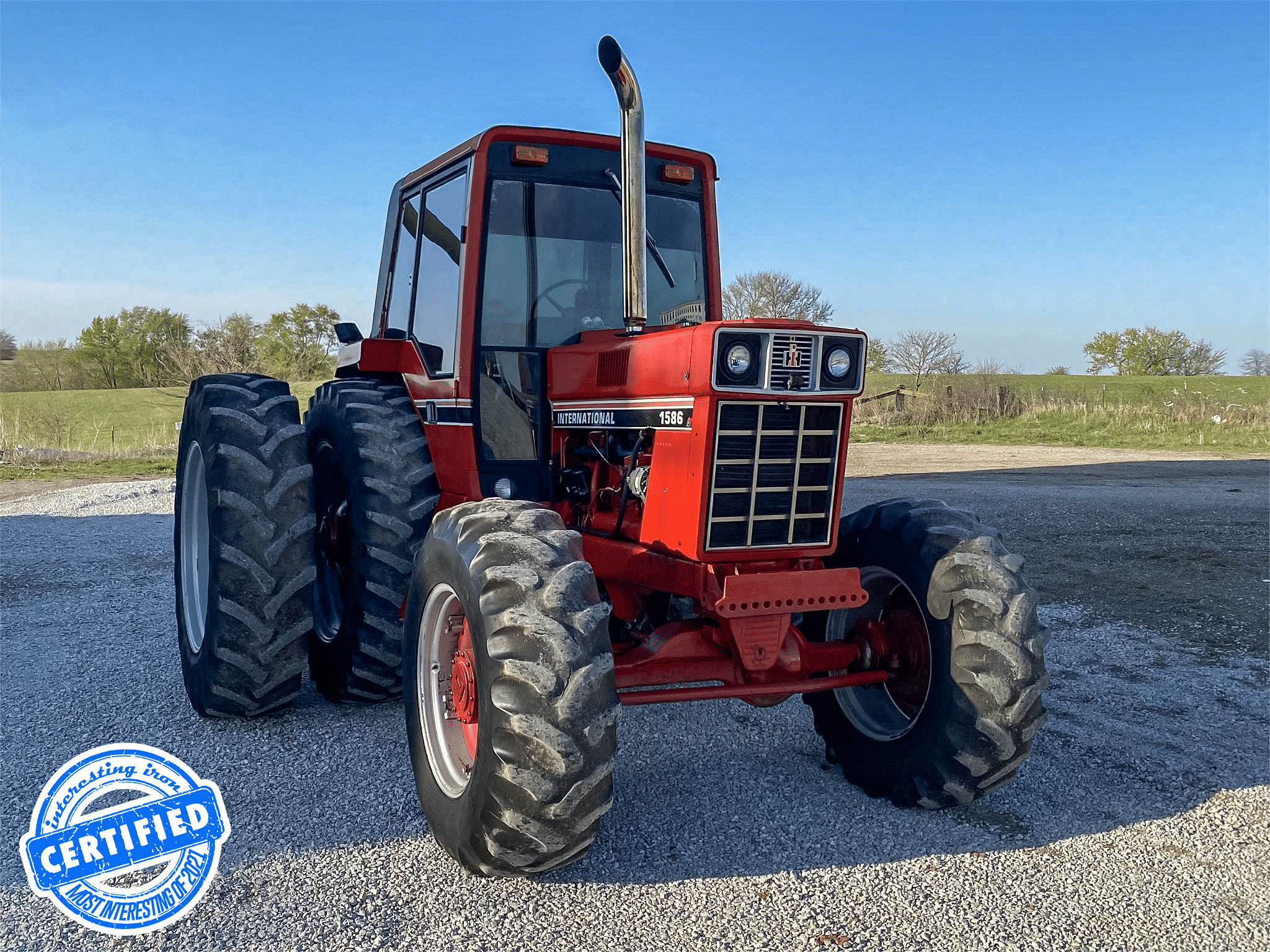 Have you ever wondered what happens when engineers go on vacation?
You get Harvester's 86-series tractors.
These things were the most clumsily-engineered tractors Harvester ever made, and most all of the mistakes were made in the cab. The doors opened the wrong direction so you'd bash your head when you got in it. Once you got in the cab, the gearshift was on the wrong side so that felt real weird (and it blocked the door). Everything seemed like it was just laid out backwards. I know that once you got used to it, it was probably fine, but the learning curve was awful steep. I mean, let's be honest. How many of you got out of an 86-series and ended up yanking a lever you didn't want to because you were wearing pants with a hammer loop on the side of 'em?
Still, IH sold a TON of 'em. They'd won over a lot of farmers with the 66-series tractors and when it was time to upgrade, they all bought 86s. Some of them probably got used to it right away and their 1086 became the greatest tractor they'd ever farmed with. However, for a lot of farmers, the 86s weren't their favorite. Looking back on it now, those tractors were just wonky.
Even for all of those oddities, the 86s have their fans…and man alive, when this muscled-up 1586 FWA came up on the auction block, they went BONKERS. And when the hammer fell, the auctioneer had a new auction price record on their hands!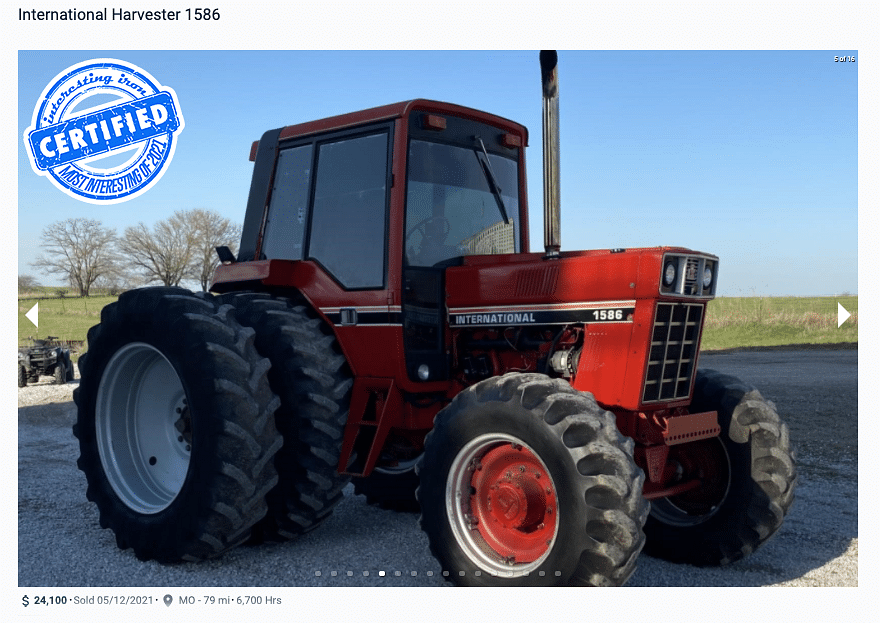 Personally, I think this tractor sold high because of its looks. Duals, front wheel assist, bright red Tri-Stripe paint, limo tint on the windows and a tall chrome stack will make just about anything look pretty mean, y'know? It wasn't a perfect tractor by any stretch. It had some rust on it (which was plainly shown in the photos – the auctioneer didn't try to deceive anybody), and there were a few things that definitely needed attention. However, from afar, it looked pretty good, and blew plenty of black smoke in the videos! At the end of the day, that appealed to somebody enough to spend $24,100 on it!
It held an auction price record for a few months, but on December 3, a nicer one showed up in Wisconsin that beat the record by a thousand bucks. I think it was a nicer tractor all the way around. It didn't have duals, but it was definitely knee-deep in rubber and presented very nicely. At the end of the day, I'm not sure where either of these two went. If I had to guess, I'd imagine you'll find both of 'em in the field this spring! (One of my buddies from Illinois wanted this one pretty bad for a planter tractor, but I know he didn't end up with it.)
The First One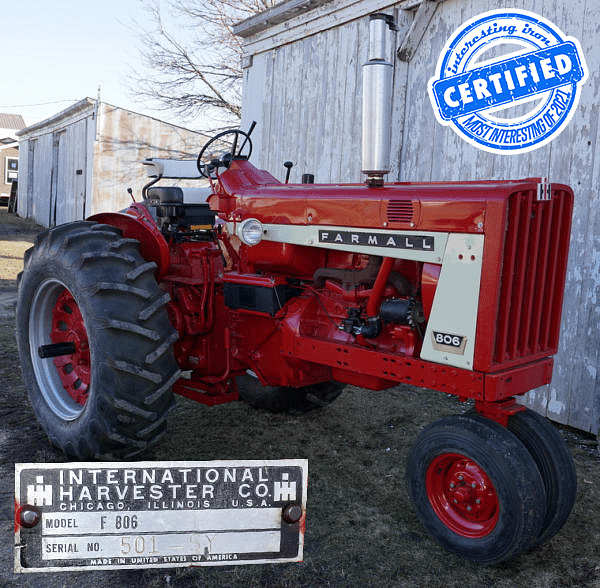 The 806 was a pivotal tractor for Harvester. Here's the back-story as far as why…
It's the early sixties, and IHC has just gotten punched in the jaw with the dumpster fire that was the Farmall 560, the failing rear ends, and the biggest recall they'd ever issued. Some estimates push upwards of $19 million bucks ($167 million today) to deal with the fallout of that recall.
Harvester is bleeding and their backs are up against the wall, but they ain't dead yet. In fact, they're pretty salty. They know the 560 deal was their own dumb fault, they know what it cost them, and they're tired of continually hearing about it.
Armed with a new CEO, a chip on their shoulder, and a point to prove, it was time to start punching back.
Harry Bercher was the new CEO, and he was determined to get IH back on top. The 706 and 806 were the first all-new designs from Harvester in close to 30 years. Bercher told the engineers to make darn sure that they were built tough, and the engineers listened. They beat the everlovin' snot out of those tractors, to the tune of about 75,000 hours of testing before the product launch. They marketed the 806 as "the toughest tractor ever built," and it was a heck of a mean right hook.
The result? Harvester rolled nearly 43,000 of 'em off the assembly line.
And that one in the photo above? It's the very first one of 'em all.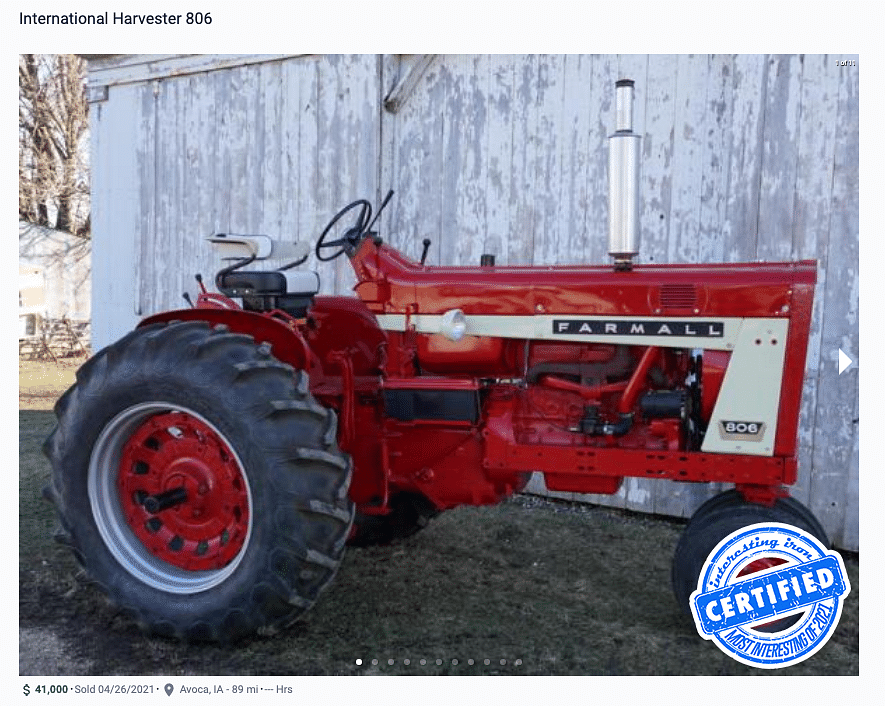 Auctioneer: Girard Auction
Location: Avoca, IA
Sale Date: 4/26/21
Hammer Price: $41,000
There can only be one "first" tractor in any lineup, and for the 806, this was it. It's a gas-powered model (which surprises a lot of folks), and it has been in good hands for a VERY long time. It was treated to a full-blown restoration by Frank Tomac in the mid-90s, and it's been in private collections ever since (one in Wisconsin, and most recently in Michigan). However, it hasn't been under wraps that whole time. This 806 has been featured and displayed at a number of tractor shows over the years. It even headlined an open house celebrating 40 years of Harvester's Hinsdale Engineering Center in 1999 (the 706 and 806 were the first tractor designs to come from Hinsdale)! It was consigned with my friend Ken Girard as a late addition to the last of the Farmall Land sales back in April.
The bidding went a little nuts during the final few hours of the sale, and when that hammer finally fell, we had a new auction price record! And at the end of the day, that makes perfect sense to me, too. The 806 was the comeback story of the decade as far as farm equipment goes. And in my opinion, it was the tractor that truly saved Harvester. Had the 806 flopped, I think we'd have seen the company fold within the decade.
The Last One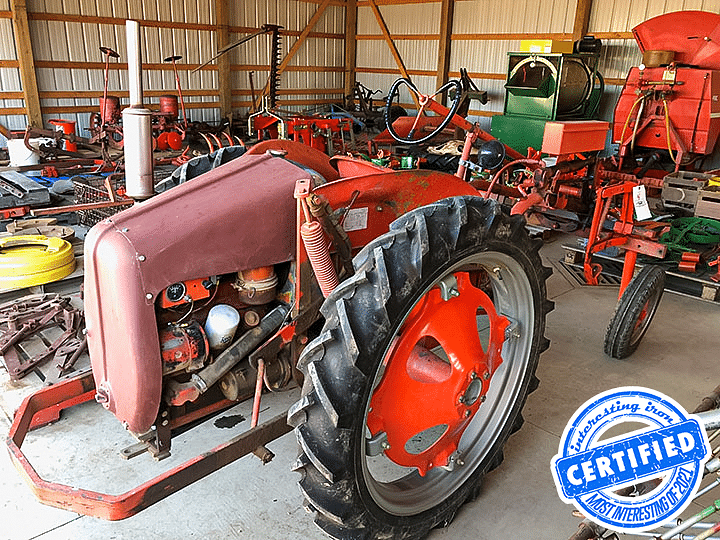 This isn't a great photo to show what the Allis Chalmers G was, but I'm here to tell ya, this weird-lookin' little thing was an absolute game-changer for AC. The G is a neat little tractor in my book. They're not super-rare, as AC churned out about 30,000 of them between 1948-1955, but they're quite unique. The G is light (1300 pounds, give or take), so most of the weight was hung over the rear wheels so it wouldn't lose traction. Allis sold the G as sort of an all in one system, and offered a whole slew of row crop implements for them – everything from tillage to planters! They were held in place by a couple of wedge pins, so implements could be changed in about five minutes. Handy for small operations!
The G turned out to be REALLY popular with veggie growers back in the day, and even now it's not completely uncommon to see them in use today. They're super-lightweight, very easy to work on. Furthermore, as many growers have shown us over the years, they're very easy to modify! Today, you'll find these little guys with all manner of implements mounted on them! (Most often, it's one type of sprayer or another.)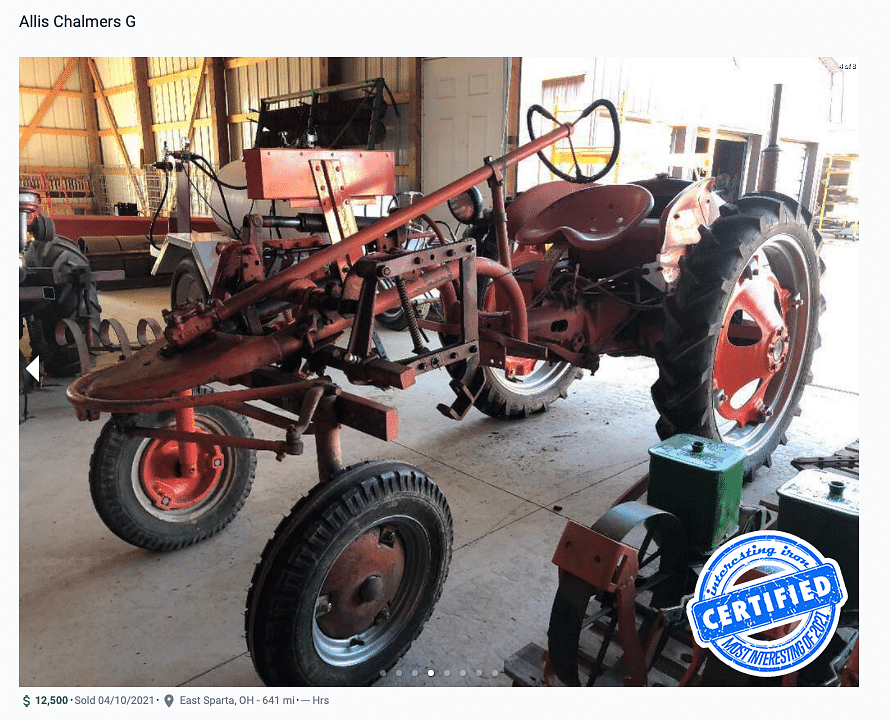 Auctioneer: KIKO Auctioneers
Location: East Sparta, OH
Sale Date: 4/10/21
Hammer Price: $12,500
At any rate, this one was the very last one that Allis Chalmers ever made – serial number 29976. It showed up on an Ohio estate auction of an Allis Chalmers collector who specialized in Gs. It wasn't perfect, but it ran and drove, and it's definitely a cool piece of AC's history. They had a lot of success with the G, and as such, there were a few Allis collectors who really wanted it! $12,500 is a monster sale price on a G! To put that in perspective, the average auction price this year has been about $2,400. At the end of the day, I'm not sure that we'll ever see it happen again! (If so, it'll probably be the next time this particular tractor sells – or if the first one happens to show up on a sale at some point.)
Wrapping up…
Well, there you have it, folks. Some of the coolest stuff that changed hands at auction over the past year that never made it to Interesting Iron. It's been an interesting year, to say the least. Between supply chain issues, pandemic stuff, a historically high grain market, and a few other things, it's been a pretty wild ride as far as equipment prices go. Prices are rising like we've never seen before, and it's begun to trickle down to the older stuff, too.  Farmers are waiting for the prices to settle back down, but I'm not sure that we're there yet.
Either way, there are bound to be lots more interesting trucks and tractors coming in 2022, and you can bet that I'll be hunting for 'em!