Dec. 24, 2021 • Interesting Iron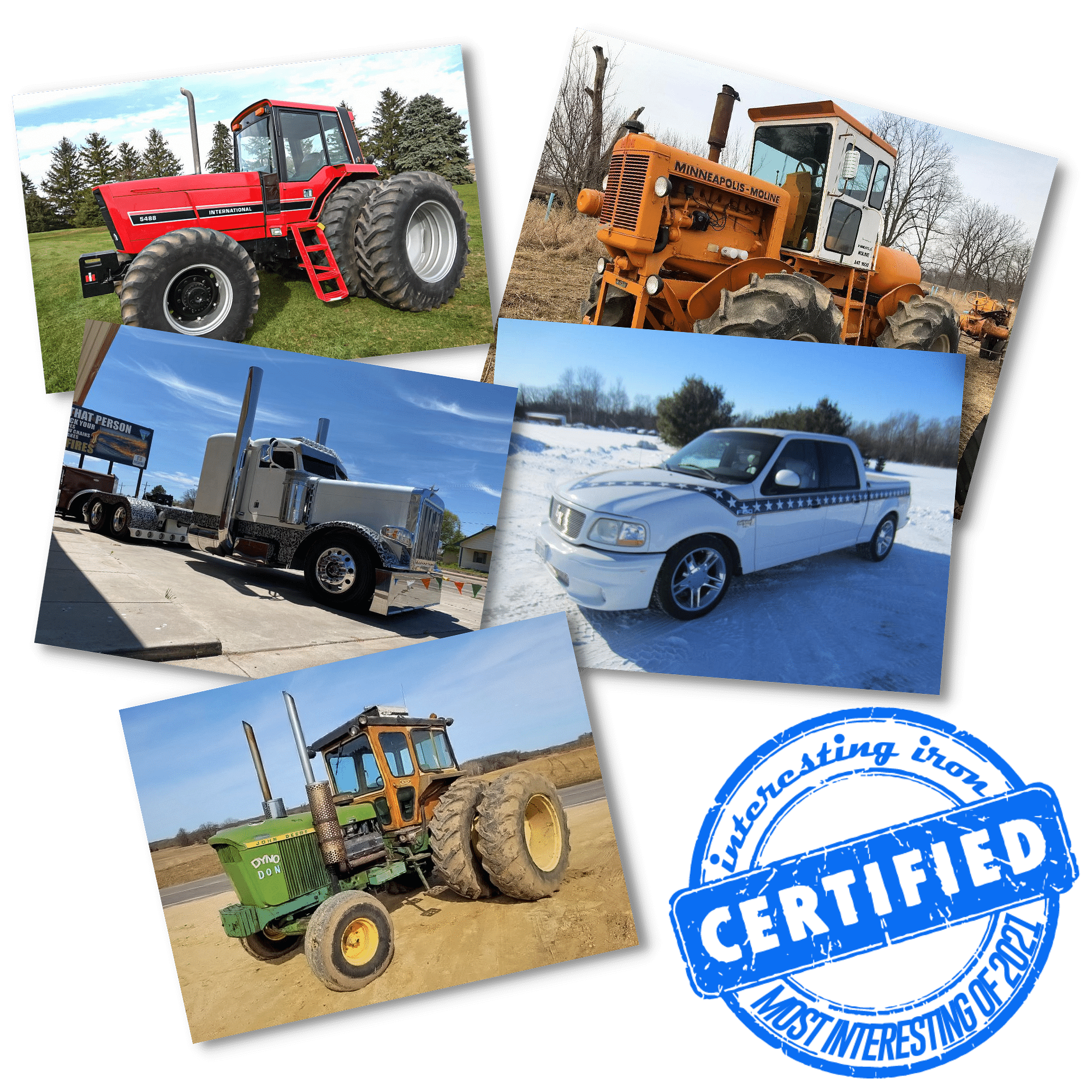 Every year, there's tons of neat stuff that crosses the auction block that I never get to write about. Usually it's a timing thing. I try to write these blog posts with enough time that somebody could theoretically place a bid. In a perfect world, I want at least three days between the time I post and when the auction closes. So, if something comes up on Tractor Zoom on a Tuesday and the auction ends on Friday, that's pretty much a no-go. As a result, lots of really interesting trucks and tractors never make it to the blog. I hate it when that happens, but there's not much I can do about it, y'know?
Still, those pieces deserve a mention, and an end of the year wrap-up is a great place to do it. So, let's take a quick a look at some of this stuff! This one is a two-parter, so we'll look at a few more next week. There's no order of importance on these; I just think they're cool for one reason or another!
An F-150 fit for a guy named Bobby…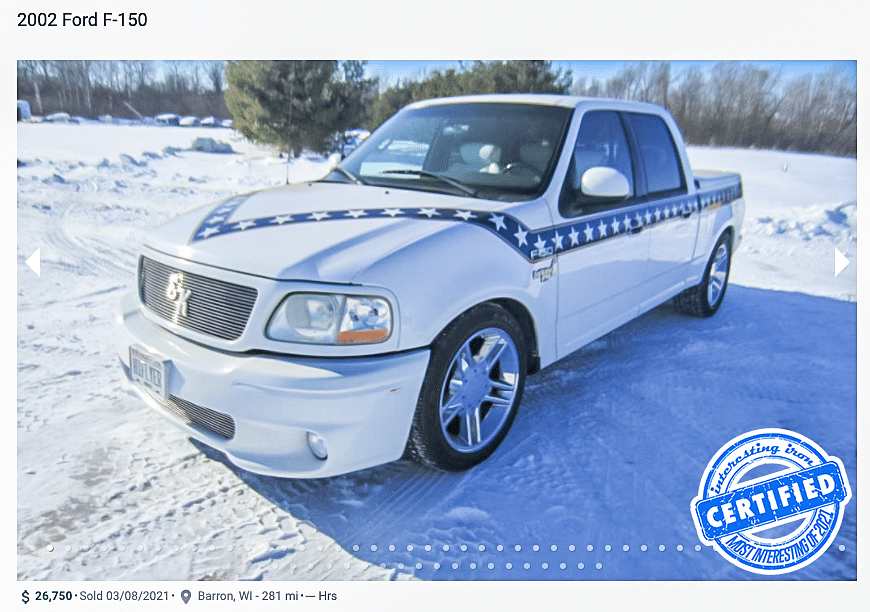 …but not just any guy named Bobby. Nope, this F-150 was one of 10 (11 if you count the prototype) pickup trucks created to honor Evel Knievel, the legendary stuntman. The trucks were all customized by Galpin Ford (the biggest Ford dealer in the world for nearly 30 years) in Los Angeles. The Evel Knievel F-150 was basically just a cosmetic package, but there were a few performance upgrades. It rode on Bell Tech suspension, had a 3″ cat-back Flowmaster exhaust, Boyd Coddington wheels with Goodyear Eagle F1 rubber, and a handful of parts borrowed from the F-150 Lightning. On the inside, it had all sorts of carbon fibre trim, white-faced gauges, and white leather seats with the same red/white/blue pattern sewn into them (that pattern was always on Evel's jumpsuits).
At any rate, the first truck was sold on June 18, 2002, and that's actually the truck in the picture. Evel signed the dash while he was there at Galpin Ford for their big release party. I thought that was kind of neat. (And of course, like most of his autographs, it was signed, "Happy landings…")
This one was sold by our friends at Hansen Auction Group on March 8, 2021 for $26,750, and I figured that was the last I'd see of it. However…a month later, that same truck showed up at the same location on a Big Iron auction and sold for $19,000. I never did figure out what happened with that deal; if I had to guess, it was a deadbeat bidder situation, and the truck never officially left the owner's possession. That happens more than you might expect.
Either way, it's still a neat truck that paid tribute to a pretty legendary fella!
Auctioneer: Hansen Auction Group
Sale Date: 3/8/21
Location: Barron, WI
Hammer Price: $26,750
The Stuttgart Special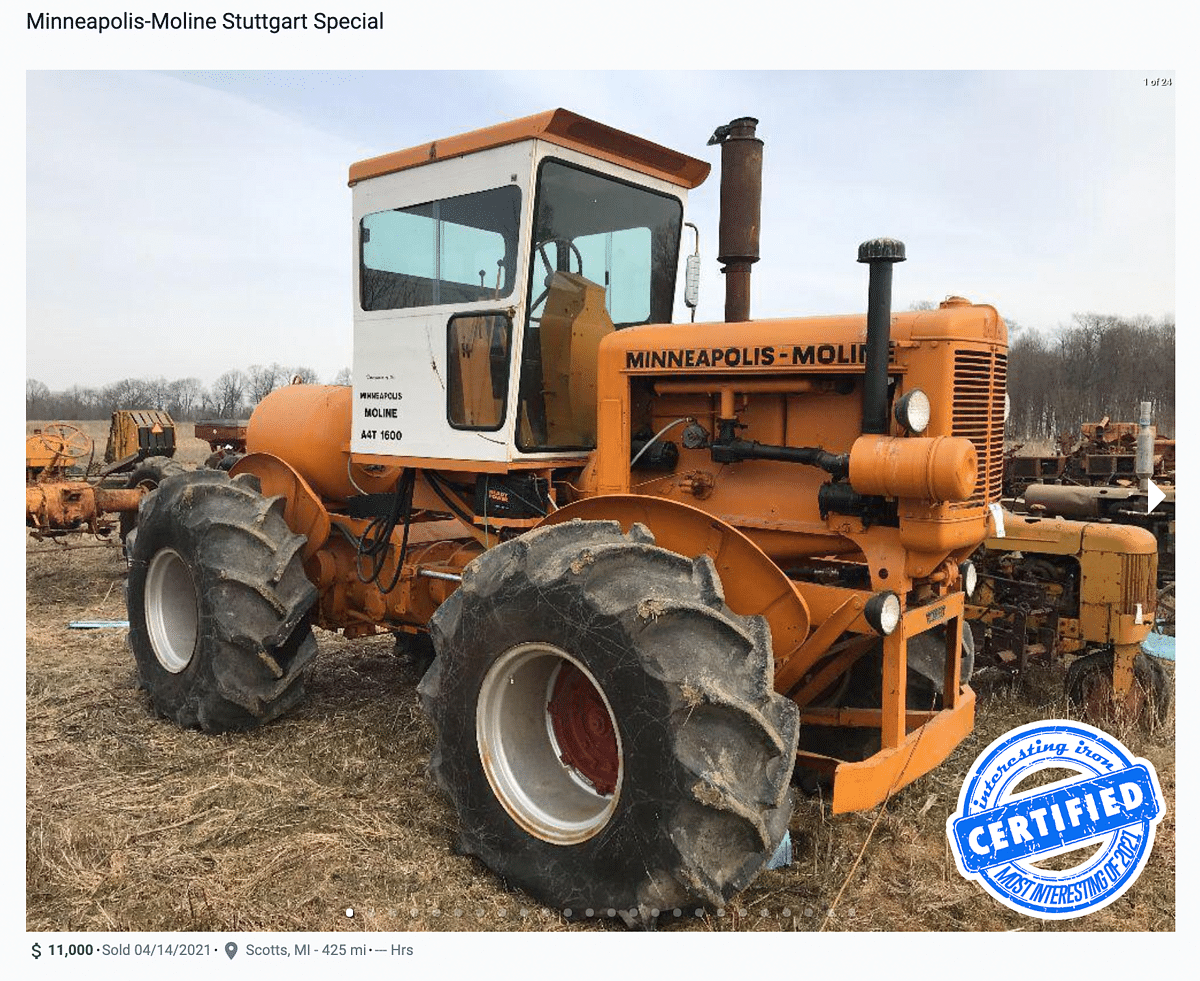 The Stuttgart Special is a cool story of how sometimes, the tail really can wag the dog. See, even though it's painted Moline's familiar Prairie Gold (Power Yellow, if we're getting picky), this tractor didn't come from Minneapolis Moline. It came from Don Oliver's Moline dealership in Stuttgart, AR. See, Don was an enterprising guy with a good mechanical team around him, and he listened to the voice of his customer. When they came asking for a 4WD solution to their farming needs, Don and his team set out to build one.
This is the tractor they came up with; a mashup of two MM U rear ends mated together, powered by a 605A running on propane. They were neat tractors! Don Oliver built a total of 36 of them in the early sixties (33 running on LP, and 3 using a 220 Cummins for one farmer). Most of them have been relegated to the salvage yard by now, but there are still a few parked along some fencerows in central and northeast Arkansas, from what I've been told.
Innovation makes the world go 'round…
Here's the interesting thing about the Stuttgart Special; as Don was building these, the engineers at Moline were watching (and I presume lending support if needed). It wasn't too long after these were built that Moline released the A4T tractors. The powerplant was different, but the general proof of concept was pretty similar. At the end of the day, it's not a stretch to call these the prototype A4T tractors. In this case, that little dealership down in Arkansas led the way for Moline's tractors. I think that's kind of neat!
This particular tractor was saved from the fencerow and subsequently restored by a gentleman named John Kruthus in northeast Arkansas. After he'd had his fun putting it back together, he sold it to a buddy of mine from Tennessee. A few years ago, it went up to a collector in Michigan, which was where it stayed until this past April when it sold at his estate auction. I'm not sure where it ended up, but I suspect it'll be there awhile. Unless there's a fully-restored prototype stashed away in a barn somewhere, this one is likely the nicest of the bunch.
Auctioneer: Sheridan Realty & Auction (they paired up with Aumann Auctions, Inc. for this sale)
Sale Date: 4/14/21
Location: Otsego, MI
Hammer Price: $11,000
Chop Tops & Chicken Lights…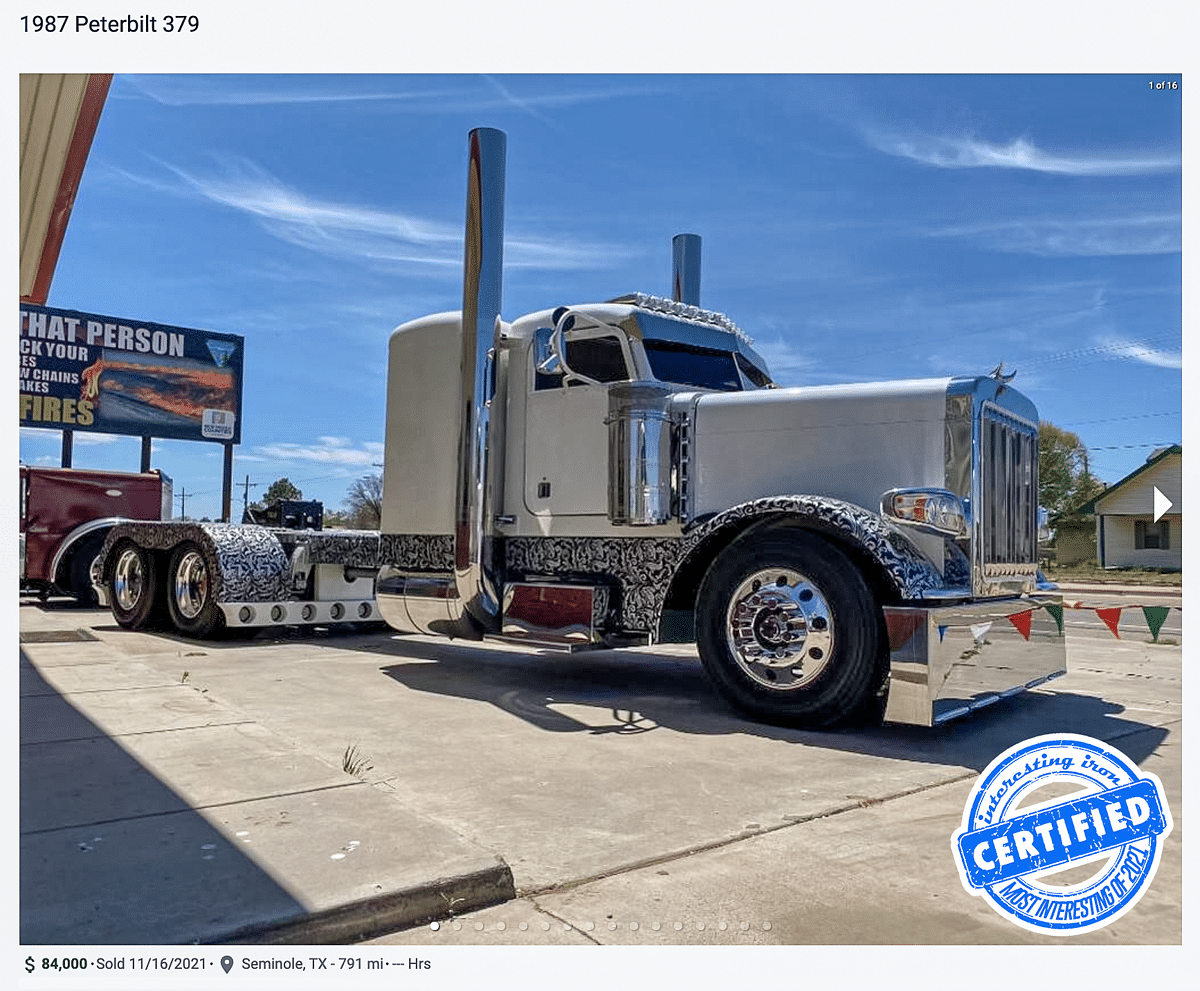 I've seen literally thousands of Pete 379s list on Tractor Zoom over the past few years, but I've never seen one anything like this.
I was never able to get much information on who built it or owned it, but this is a pretty unique truck. It's an '87 model powered by a CAT 3406 with a Road Ranger 13-speed. That's fairly standard stuff for a late-80s Pete, but this one has had the hot rod treatment applied. I'm not sure how much the shop that built it cut out of the roofline, but I'm guessing it's at least 6″. It's taken flat-top sleepers to an all new low…????  (Yay for Dad jokes!)
That's not where the custom touches stop, though. Check out the interior on this thing! Wood floors, three captain's chairs in the sleeper, and cowhide almost everywhere! Based on what I can tell, it was darn near complete, too. Aside from the shotgun side door needing to be re-wired and recovered, it's pretty much ready to turn heads at the Ft. Worth Stockyards! (And truthfully, that's what I think it did. Pretty sure this was probably licensed as an RV of sorts.)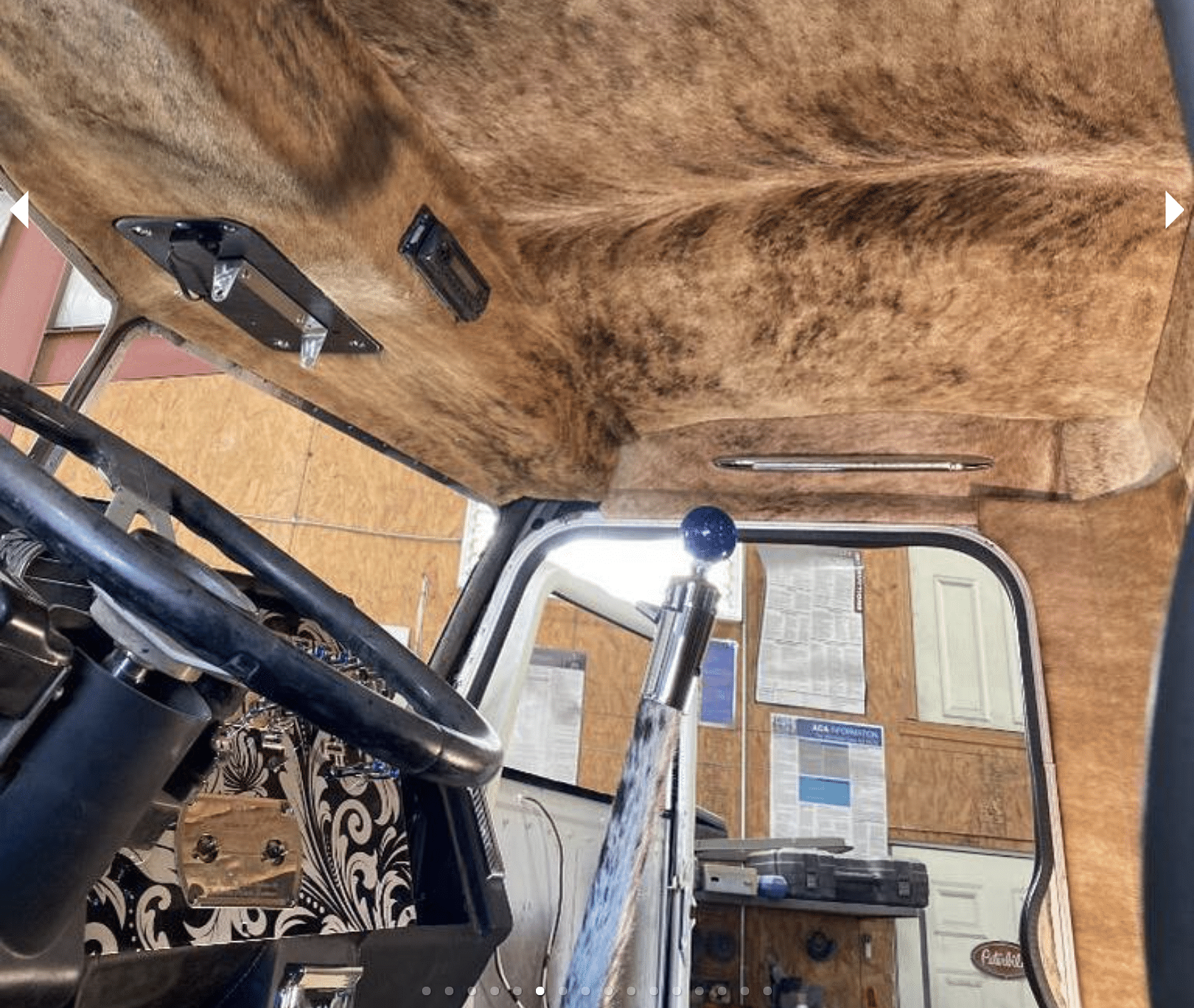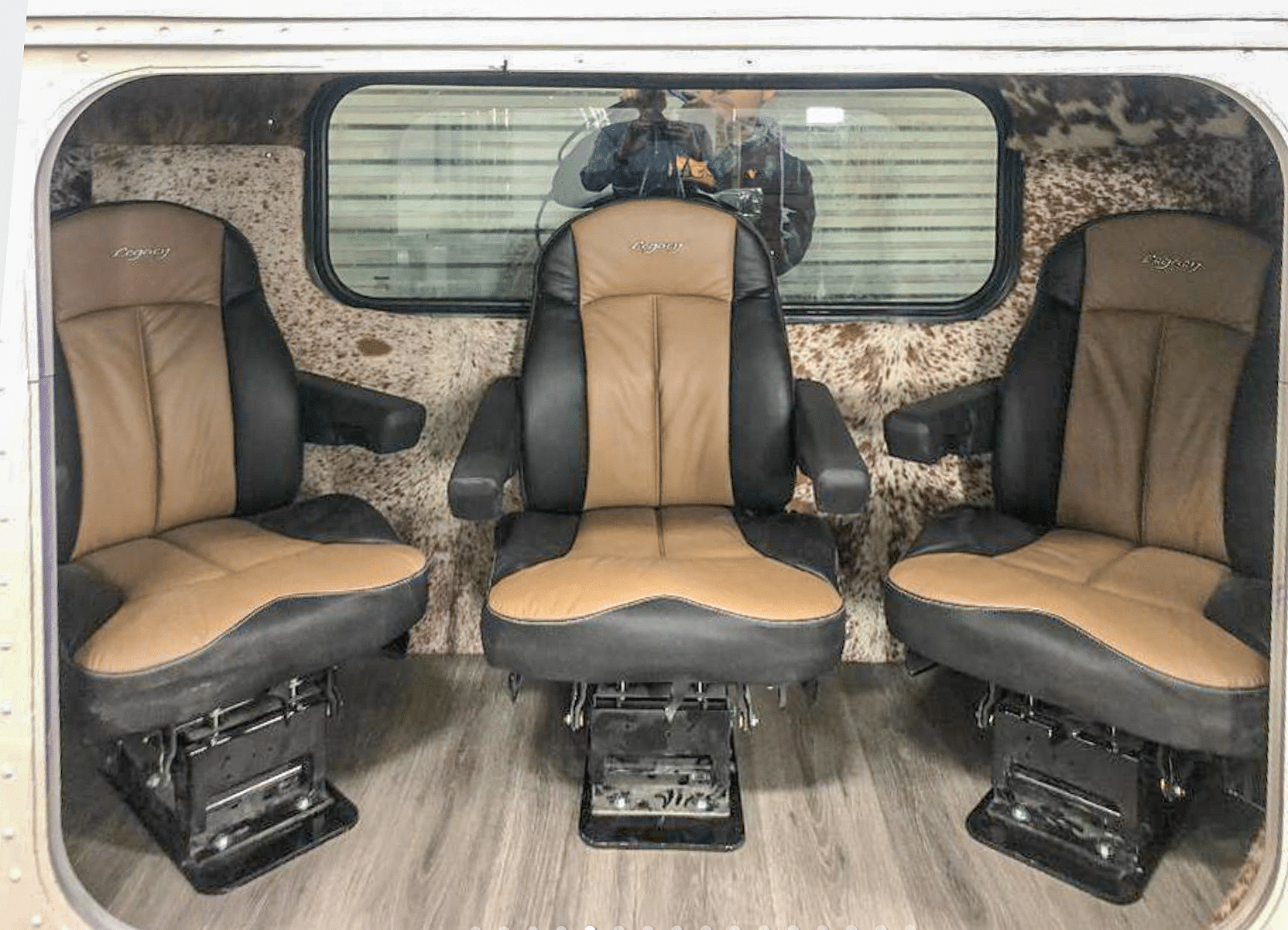 In any case, I still think it's pretty cool. I'll bet those 10″ stacks sound awesome when the CAT is putting in work in the hammer lane…
Auctioneer: Iron Bound Auctions
Date: 11/16/21
Location: Seminole, TX
Hammer Price: $84,000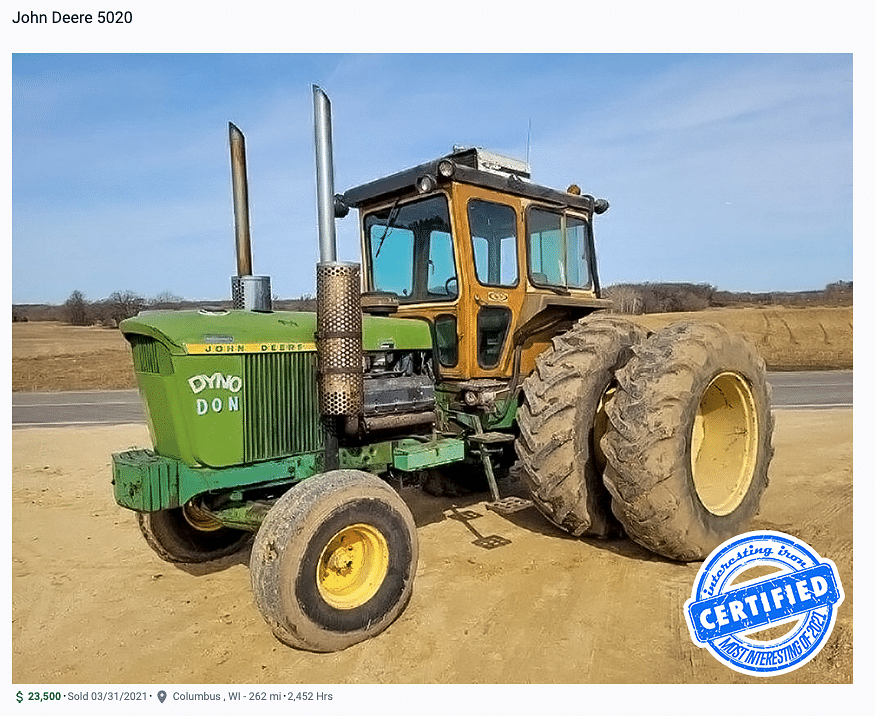 Dyno Don's Monster 5020
So when we talk about big-frame Deere re-powers, obviously the first one everybody thinks of is John Kinzenbaw and his Detroit conversions. They were far and away the most successful conversions out there…but they weren't the only ones. There were a handful of outfits that re-powered these tractors with everything from Detroits to air-cooled Deutz motors, to this one…with a mean ol' 903 Cummins shoehorned into it!
When this one showed up in late March on a consignment in Southwest Wisconsin, I did a little digging on it but never really turned up much. It was a very low-houred tractor (2450-ish hours on a functional hour meter), which caught my eye, but I couldn't find much more. Since then, though, I've learned some things. See, there was a guy named Ed Mead out of Amboy, IL who re-powered a few large-frame Deeres with the 903 Cummins back in the 70s, and he actually sold a kit to Cummins specifically for this tractor. I'm not sure if they were going to reverse-engineer the kit or what, but this is actually a factory Cummins-converted John Deere 5020! They made a couple of changes to beef up the bellhousing in this tractor, but other than that, it was using Ed Mead's kit to do it! Pretty unique tractor, huh?
Auctioneer: Wilkinson Auction & Realty
Date: 3/31/21
Location: Columbus, WI
Hammer Price: $23,500
In a weird turn of events…
It just so happens that I found the new owner…on the very day that he listed the tractor for auction. Yep, if you saw it the first time and missed the chance to get it, lightning is about to strike twice. The bidding went live last night on AuctionTime! Chad, the new owner, bought the tractor with the intent of cleaning it up over the summer. However, as is often the case, life got in the way and he never got around to it. When faced with the reality that this fairly rare machine was going to have to sit outside in a Wisconsin winter, he felt like he needed to get it into the hands of somebody who'd be able to fix it up properly.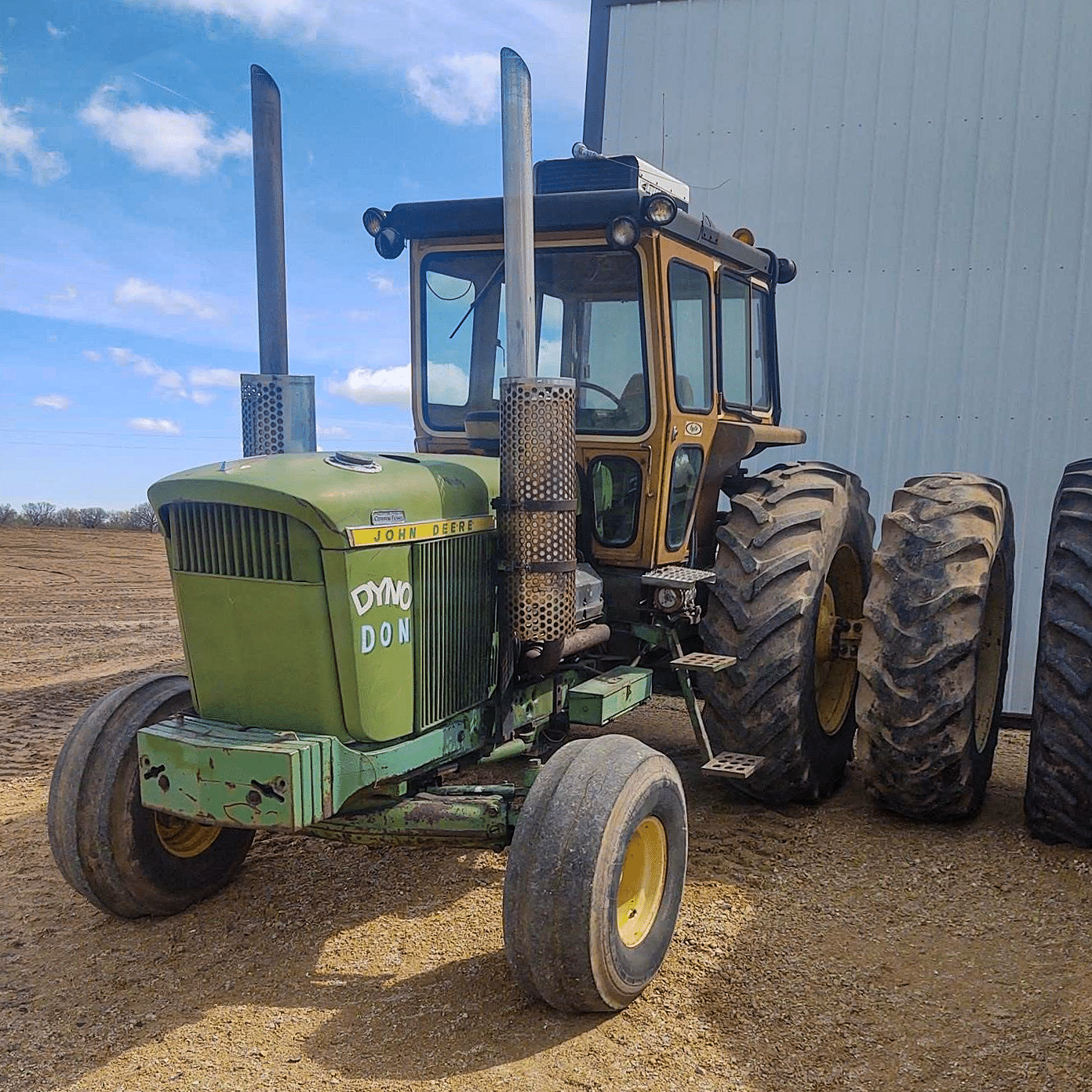 The Ogden 88…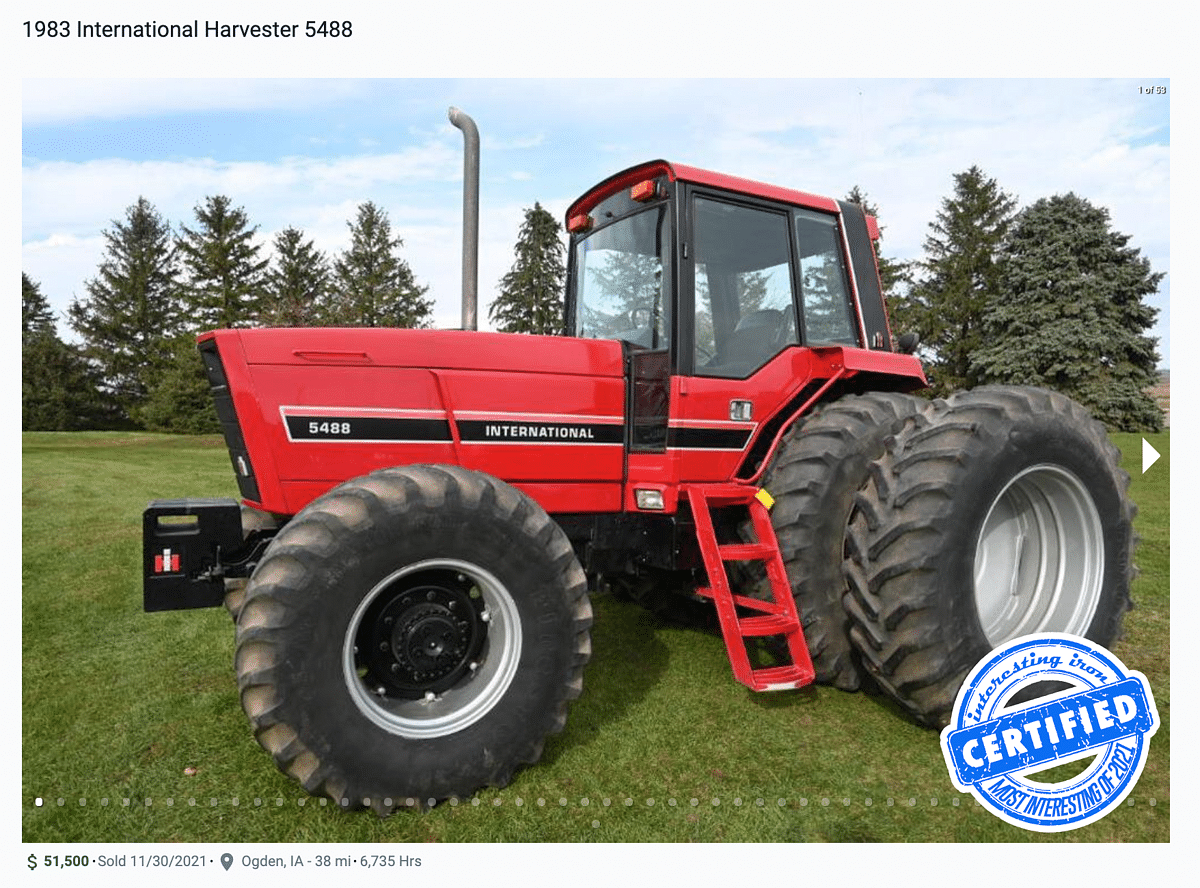 This one really blew me away. No, it wasn't original paint, but pretty much everything else about it was. This 5488 was an absolute time capsule. Two owners. 6735 hours. Western interior. If this tractor had been optioned with a tape deck instead of just an AM/FM radio, there probably would've been a Ronny Milsap tape stuck in there. This tractor really was sweet.
I have a bit of a soft spot for these tractors, if I'm being honest. The last tractor to roll out of Rock Island (officially, anyway) was a 5488. It truly was the end of an era; not only that, it was the result of one of the only good things that Archie McCardell did during his time at Harvester. The 86-series was really long in the tooth, and despite the horrible position that IH was in, they needed to develop a new transmission and build a new tractor. Even when the handwriting was starting to appear on the wall, Archie pushed forward with over $200 million in development for that new transmission. It was a big risk; $200 million bucks is big bucks, y'know? Still, the engineers built a solid transmission that would (for the most part) serve the 88s well, and the tractor was a pretty big success!
Why did it sell so high?
The Ogden 88 set a new auction price record for 5488s. Over the past few years, you'd be looking at somewhere around $30,000 to bring home a nice example. However, the price on this one went into an entirely different galaxy. It sold for $51,500! That's $17,500 higher than the previous record!
Economy aside, why did this tractor sell so high? Three reasons, in my opinion.
Bill & Denise Burt, the farmers who owned this machinery took meticulous care of it. EVERYTHING on that sale looked as good as this 5488 did.
Presentation is everything, and the Sullivan team knows what they're doing. They provided 53 photos of this tractor, documenting everything on it – good, bad, and ugly (and there wasn't much ugly). In today's world where our brains have to take in a lot of information really quickly, if the photos don't jump out and grab you right away, you'll move on to something else. I can't stress this enough…presentation is absolutely critical to selling equipment – especially if it's online.
Lastly (and you've heard this from me and others before), there will always be a market for clean, well-maintained machinery, regardless of the age. If the previous owner has taken good care of it, it's going to bring good money. That's all there is to it. Somewhere, somebody has a need for that equipment.
Yes, supply chain and economy issues do play into this sale. We're in uncharted waters when it comes to what's happening right now, there's no denying it. However, I still think that this beautiful 5488 went so high mainly because of the reasons above. At the end of the day, I think it'll take a museum-grade (or historically significant) tractor to beat this price. I doubt we'll see it happen anytime soon, either.
Auctioneer: Sullivan Auctioneers, LLC
Date: 11/30/21
Location: Ogden, IA
Hammer Price: $51,500
Wrapping up…
Well folks, there you have it! The first batch of the most interesting stuff that crossed the auction block that never made it to Interesting Iron during the year! I've got a few more coming next week, too, so stay tuned for those!
Lastly, from me, as well as the rest of the team here at Tractor Zoom, happy holidays! Hopefully you'll get to make memories with the ones you love and hold dearest!