Aug. 24, 2022 • Interesting Iron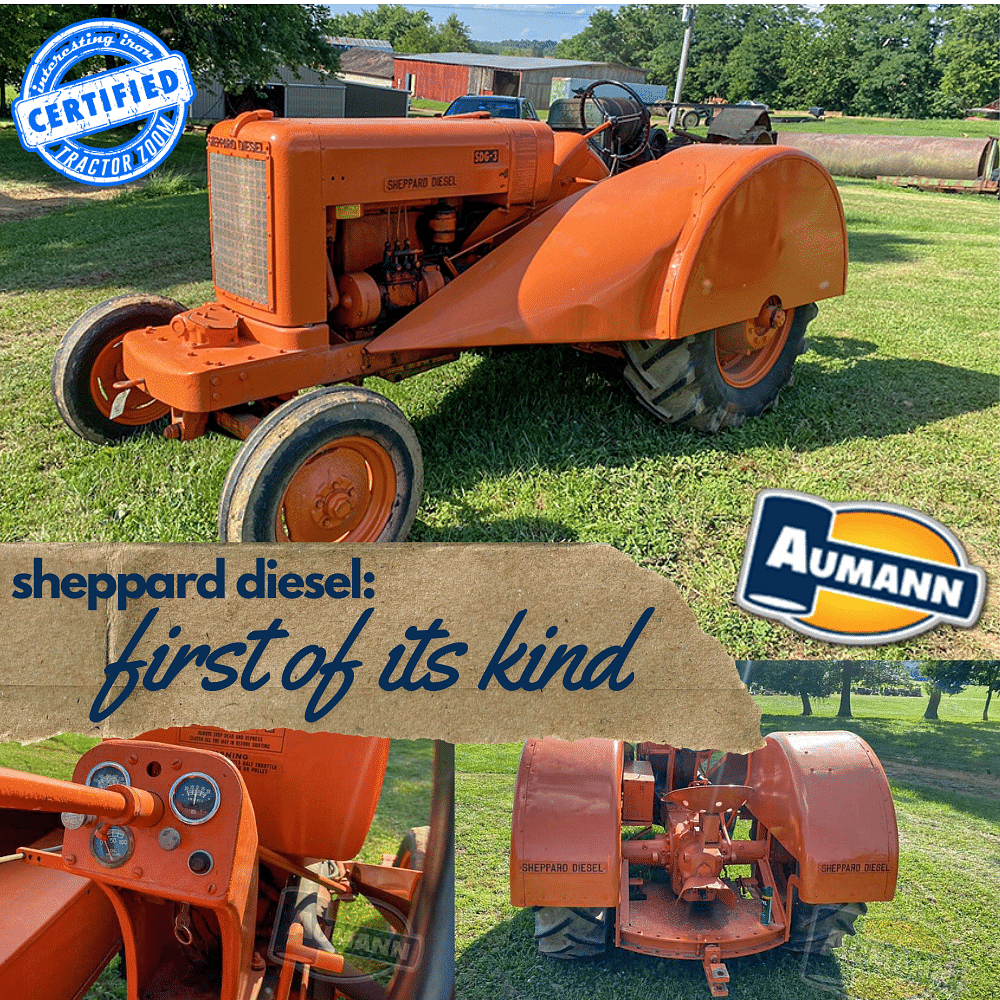 This is a pretty rare one, folks. Sheppard Diesel SD-3 tractors are few and far between today, but orchard and grove models are essentially unheard-of. They're high-quality tractors, and they set an industry-first. Sheppard Diesels were the first tractors to be built in America and powered entirely by diesel fuel!
Let's get the auction details out of the way, and then we'll dig in.
Actually, before we get in to Sheppard Diesel, I want to take a second and welcome Aumann Auctions to the Tractor Zoom family! With 60 years in the auction business, they're definitely one of the first names in antique and collector iron, and we're excited to have them aboard! They've sold a lot of neat tractors over the years, and they specialize in collector auctions. Heck, they've held the record for the highest-selling tractor for close to 20 years now – most recently beating their own record by selling a 1913 Case 30-60 for $1,470,000. Yep, nearly a million and a half bucks! All things being equal, these guys sell more Interesting Iron-approved tractors than just about anybody else on the planet!
Now, on to this interesting little tractor and the man behind it.
The Shoemaker's Tractor…?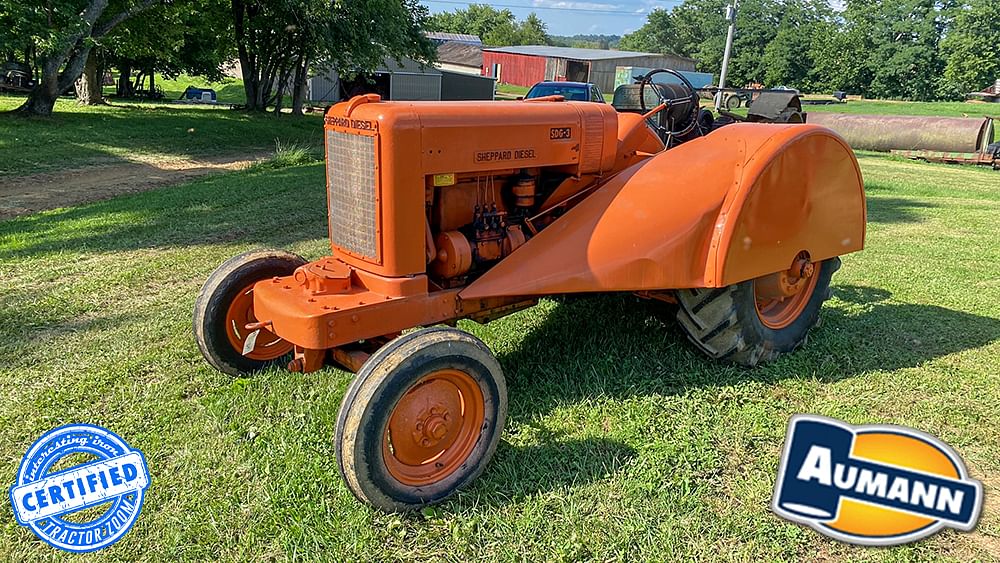 Wait…what? What does any of this have to do with shoes?
Well, quite a bit, actually.
See, Harper Donelson Sheppard started the Hanover Shoe Company in 1899 in Hanover, PA. He turned it into quite a thriving business, too. He and his wife Henrietta had two sons – Lawrence (1898) and Richard (1912). Lawrence took over the shoe company and continued in his father's footsteps. Richard (R.H. as he preferred it), on the other hand…he wasn't into shoes. It just wasn't his thing. He loved engines. Diesel engines, if we're getting specific.
According to his son Peter, "He was mechanically inclined. He built his first diesel engine when he was 16 and went on to graduate from Dickinson College." (Farm Collector)
So, once he'd graduated, he chased his passion. He started an engineering firm, and by the end of the 1930s, he'd developed 20 diesel engines that were sold worldwide – mainly utilitarian and marine applications. Generators, pumps, refrigerated rail cars, lifeboats, stuff like that.
Here's a video of a one-cylinder lifeboat engine recovered from a WWII minesweeper.
Neat stuff!
Anyway, on to the tractors…
Sheppard Diesel tractors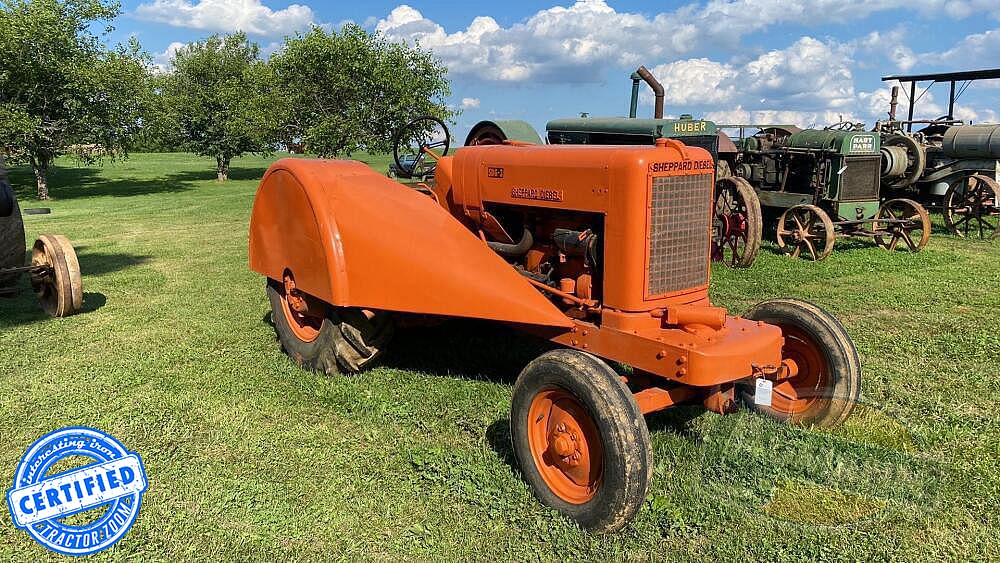 The quickest way to turn an M into an H…
So in the late 40s, Sheppard began playing with an idea centered around repowering Farmall Ms. Why? Because diesel was about half the price of gas at the time. He figured that if he could make a kit allowing somebody to swap the M's gas engine with one of his 3-cylinder direct-start, indirect injection diesels, the cost savings would be tremendous. (And in theory, he was probably right. If a farmer owned the tractor for long enough, they could potentially realize some cost savings.)
It was good logic, and the engine itself was pretty good, but a few issues prevented the kit from taking off when it launched in 1949.
It was spendy. As I understand it, the kit was about 1200 bucks. That was nearly half the cost of a brand new M!
It cut the M's power by over 10%, which wasn't the direction farmers wanted to go – even if it might save them money on fuel in the long run.
With 22:1 compression, it was a hard starter!
At the end of the day, Sheppard scrapped the kit, having only sold a few of 'em. Today, the ones that have survived fetch pretty big money!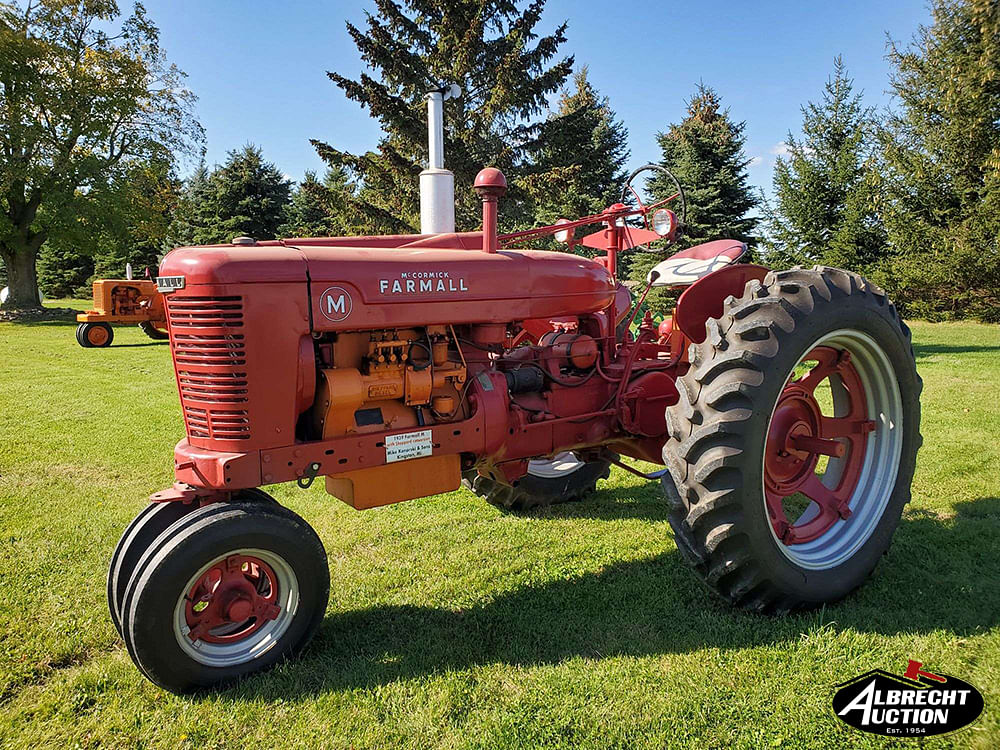 Sheppard SD-series tractors
At about the same time in 1949, Sheppard launched its own line of tractors as well. In doing so, they became the first company in the US to build a completely diesel-powered tractor. They started with three models, the SD-1, SD-2, and SD-3, and in 1953, followed them up with an SD-4.
SD-1
The SD-1 was essentially a glorified garden tractor, with a single-cylinder engine that made a touch over 5 horse on a good day, but with a pretty hefty pricetag of about $1100. As you'd imagine, they didn't sell well. Sheppard only built 14 of them, and there are only three known to exist today. The only one I know of belongs to Wendell Kelch, a noted collector and restorer out in Ohio.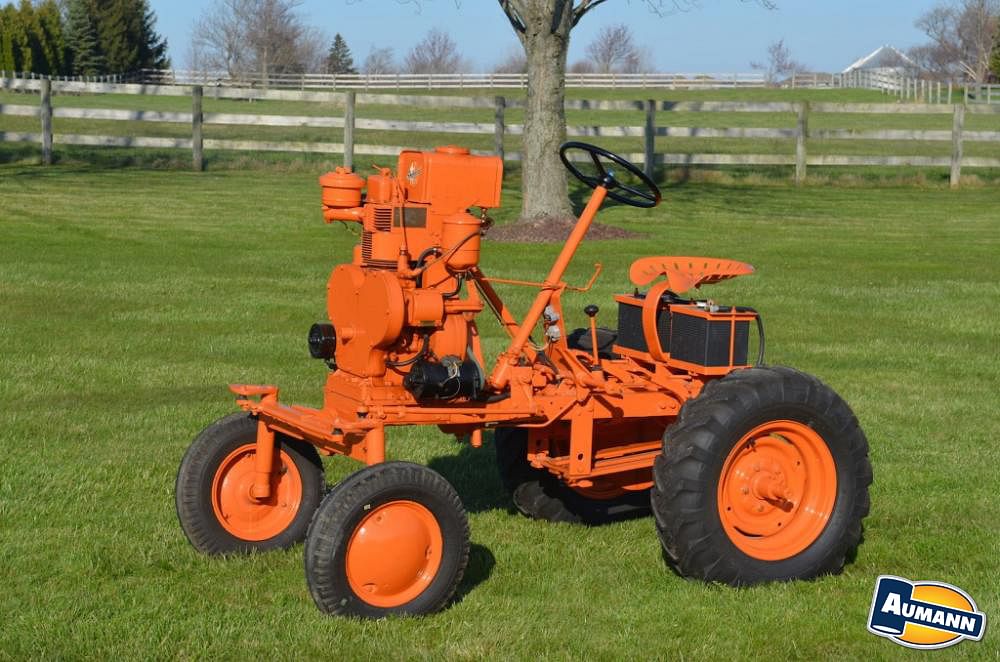 SD-2
The SD-2 was a two-cylinder model producing about 24 horse, and while it sold better than the single-cylinder, it never set the world on fire. With a list price of about $2700, it was close to $900 more than an Allis WD or a Farmall H, and almost double the cost of an 8N! As a result, production was pretty low. Company records indicate that they only turned out 257 of 'em. They do show up on collector auctions once in a great while, but definitely not like a garden-variety WD.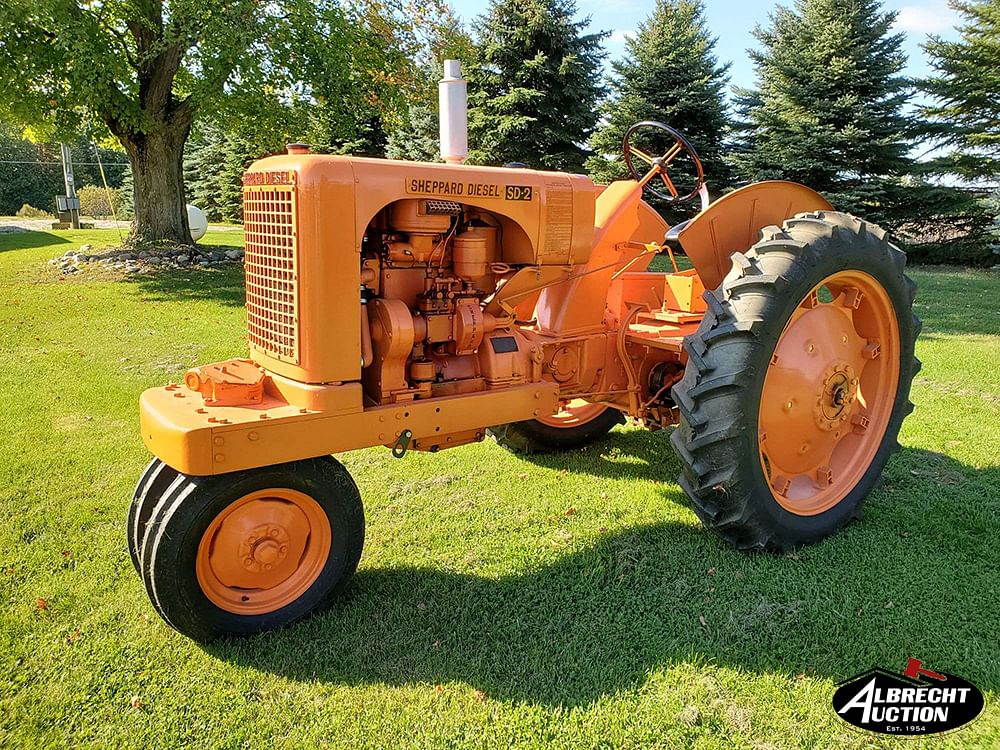 SD-3
If there was a strong seller in the Sheppard lineup, it was the SD-3. It was a three-cylinder tractor that made about 32 horse, so it was right in the John Deere A/Oliver Super 66/Super H territory. The pricing was a little closer to market with this model, so it sold a few more. Total production was 1441 units (including the SDG-3 that you see in the photo above). Again, not a great big seller, but not horrible, either. Despite being more common than other Sheppard models, these are still fairly rare to see at an auction.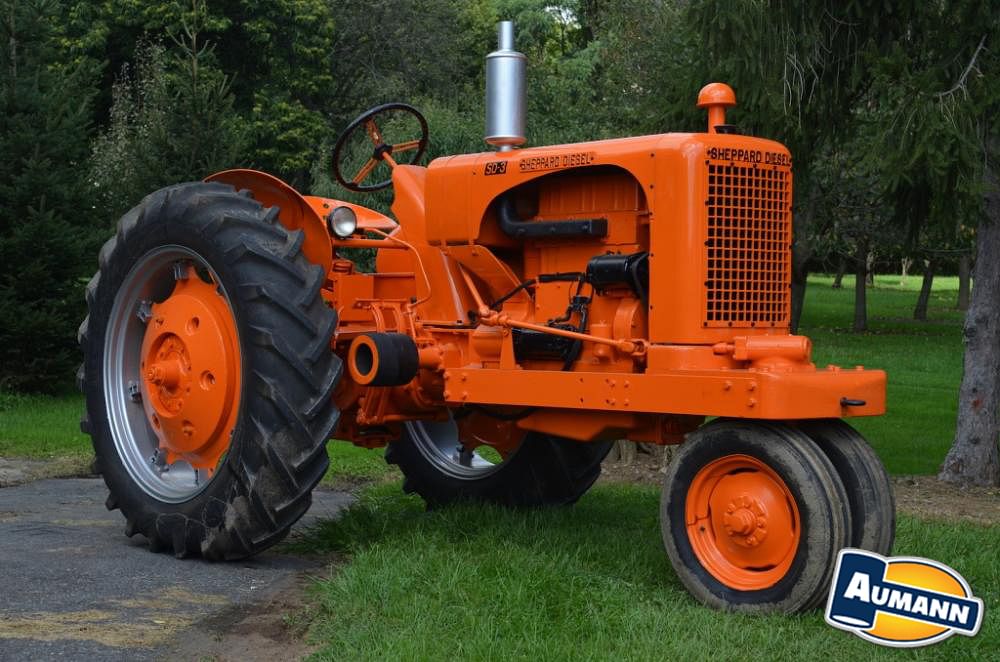 SD-4
The SD-4 was the big tractor in the line. It made about 51 horse from Sheppard's four-cylinder design. Again, well-made, but with a pretty big pricetag – $4200. You could buy a Super MD or a John Deere 70 with a grand or more to spare, or go big with a Massey 55 and make a lot more power – all for less money. Production was pretty low, as you'd probably expect. They only made 231. These are also pretty rare to see at auction.
(Sidenote: Interestingly enough, it was an innovation on the SD-4 that would pave the way for R.H. Sheppard's future success. More on that in a minute.)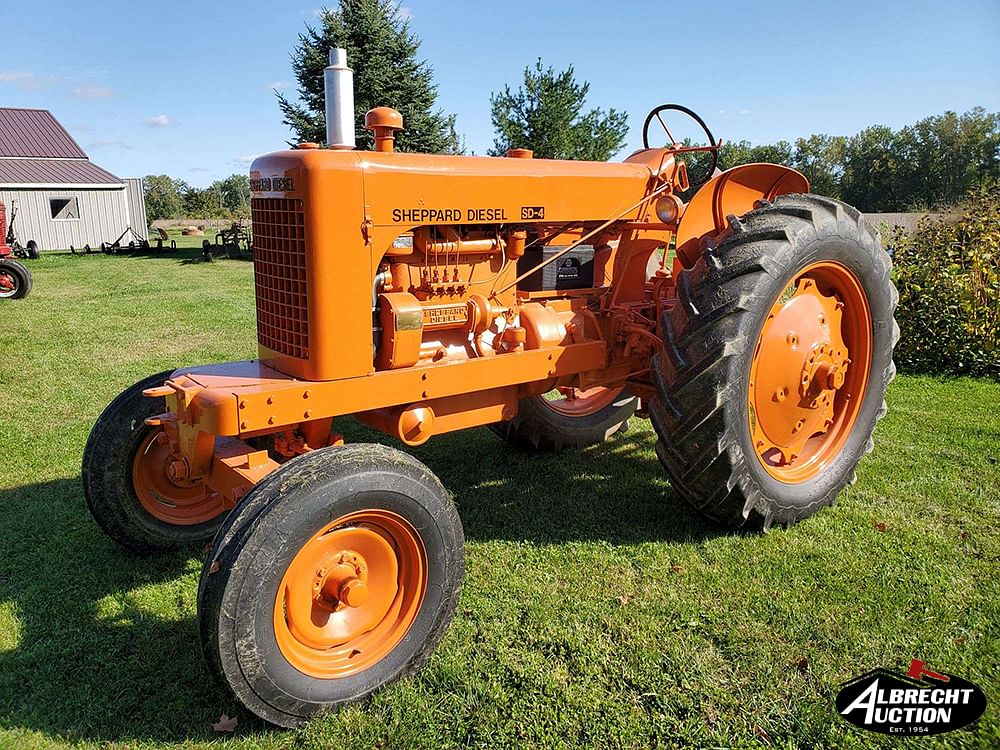 Why didn't they sell?
They were well-built tractors, but on the whole, they didn't sell well. I think there are a few of reasons for that.
Their tractors were spendier than the competition; quite a bit spendier in some cases.
They didn't have the dealer network that Harvester and Deere did. Sheppard dealers were few and far between.
They didn't offer financing (AKA "floorplanning"). Cash was king; if a dealer bought it, they paid for it before it ever rolled off the assembly line.
As a result, you didn't see many Sheppard Diesels sitting on dealer lots like you would a Deere dealer, mainly because it was so expensive to buy them not knowing if they'd be sold. It was a risk that most dealers – many of whom remembered the Great Depression very well – just wouldn't take. (And honestly, could you blame them? I couldn't.)
The rare one that you can buy on September 3…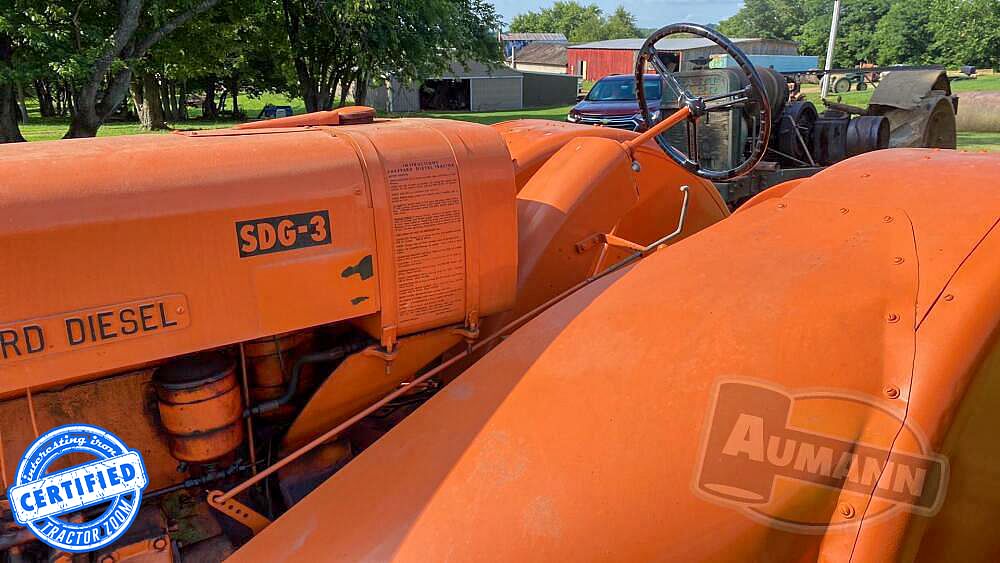 Sheppard did experiment with a couple of specialty models – namely Orchard (SDO-3) and Grove (SDG-3) tractors. I've heard conflicting stories as to the number of SDO-3 tractors produced (some say a dozen, some say 14), and I've never heard or seen anything about SDG-3 production numbers. However, I think it's probably safe to say that these are among the rarest of all Sheppard Diesel farm tractors.
What's the difference between and Orchard and a Grove tractor?
Based on a brochure that I've seen, the main differences between these two specialty tractors were that the SDG-3 had knobby tires on the back, where the SDO-3 had traditional bar tires. The swoopy fenders were standard to both models, and the cowl was standard with the Orchard but not with the Grove. They both had the optional 8-speed transmission as standard equipment (it was optional on the row-crop). Essentially, these were the same tractor, but with different standard equipment.
Either way, they weren't real popular models.
Currently, the tractor in the photos sits in a collection in Virginia (the local paper even wrote about this auction). It's been repainted at some point, and it runs and drives just fine. At some point in its life, the knobby tires were replaced with bar tires, but other than that, this is essentially a factory-correct Sheppard Diesel SDG-3 grove tractor.
What's it worth?
Honestly, I don't know. That's the thing with these orphan tractors. There aren't really enough of them to set a basis!
Here's what I do know; back in 2016, Mecum Auctions sold a TREMENDOUS collection of orchard and grove tractors from a gentleman in Michigan, and there was a beautiful SDO-3 on that sale. At the time, collectors thought it to be one of two surviving orchard tractors. When the gavel fell, it sold for $17,500! They've still got the catalog on their site – check it out here.
Now, that said, this SDG-3 is not as nice as the SDO-3 from the sale in 2016. However, given the rarity, and the fact that there are some fairly dedicated Sheppard collectors out there, I do think it could potentially get upwards of $10,000. It'll all depend on who's there at the sale and who's watching online!
Wrapping Up…
At the end of the day, Sheppard tractors were well-built, and featured some interesting innovations all the way around. Could they have made it in the long haul if they'd have opted to offer financing? I doubt it. By the time RH Sheppard started selling tractors, the competition was already pretty well established. Furthermore, it would've been awfully tough to build brand visibility without a bigger dealer network. And in the end, that didn't really matter all that much anyway. Here's why.
While developing the SD-4, R.H. Sheppard was unimpressed with any of the power steering solutions that were available to integrate into the new tractor. Seeing nothing out there that he felt was good enough, he put pencil to paper and designed his own! When the company discontinued building tractors in 1956, it was because R.H. Sheppard saw a greater opportunity in power steering components…and that's what they make to this day! They're still headquartered in Hanover, PA, too. Their factory is less than a mile away from my cousin Colin's real estate office!
Here's the details on the auction one more time!