Jan. 19, 2022 • Combine
With planting season right around the corner, most farmers are eager to get back in the field. However, the outlook on equipment values and their supply continue to remain bleak which has many farmers worried about how they are going to harvest a 2022 crop that hasn't even been planted. 
This past December, farmers eager to find combines for sale were met with a lack of quality supply. The available inventory at auction for combine harvesters had decreased 47%  compared to the previous December. It was this lack of supply, coupled with strong demand, that catapulted combine sale values 30% year over year. And, while December is typically a heavy season for moving harvesters and a good benchmark in establishing values for the year to come, it is unlikely we will see supply increase or values drop anytime soon.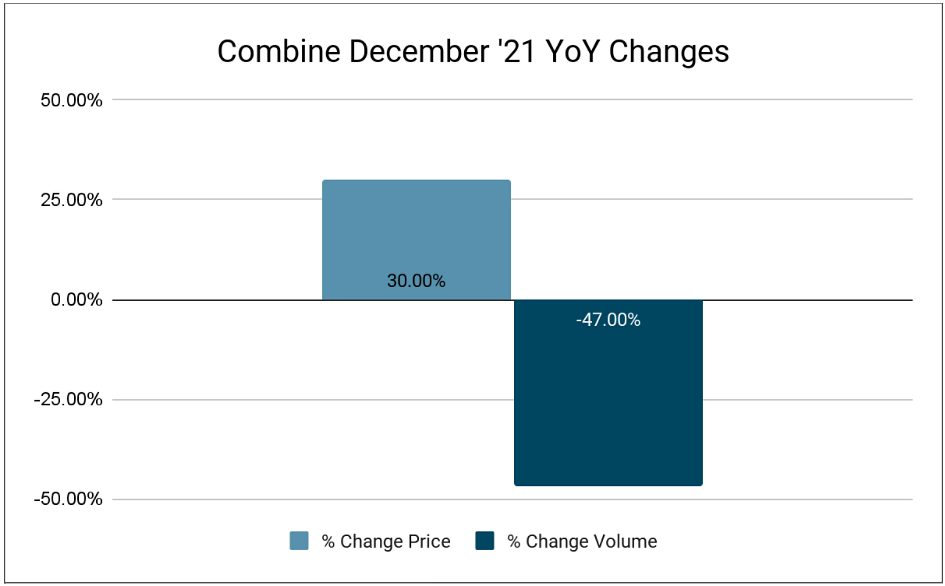 *Analysis based on over 400 harvesters that were less than 20 years old and sold only in December 2020 and 2021 auctions for more than $20,000.
What will 2022 bring for combines?
2021 was a highly profitable farming year for most farmers. With more cash on hand and an incentive to reduce taxable income, farmers' willingness to spend on equipment increased. An already short supply of available harvesters and other farm equipment drove prices even higher.  One only has to look back to September 2020, where combine year-over-year supply was off 35% (drug down by a slower than usual August auction season) and corresponding sale price was up, but only by 10% (which was a modest increase compared to the tractor market). Fast forward to December 2021, where we saw diminished supply (-47% YoY) coupled with farmers capitalizing on tax incentives,  which combined to garner a 18.5% lift in average harvester values just from a few months earlier in September. 
Moving into 2022, farmer profitability will have a steeper hill to climb with soaring input costs — equipment included. Current commodity prices are justifying those costs, but strong markets are, unfortunately, not one of the few certainties in life. What we are certain of though is that tight equipment supplies will remain short-term but farmers will continue to weather the storm long-term, as they've always done.