Jul. 21, 2021 • Interesting Iron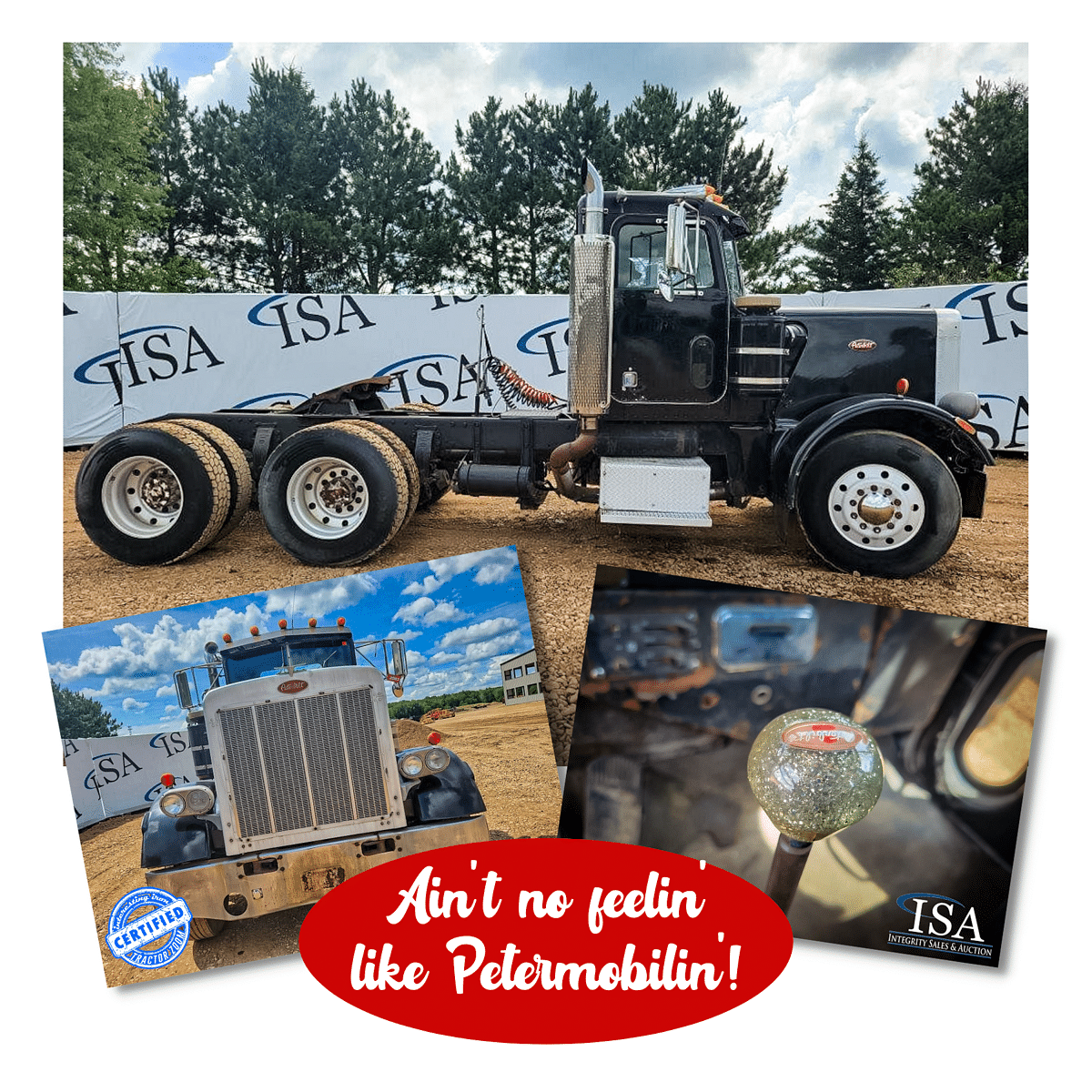 It's been a long time since I've written about a semi. Probably too long. Our auctioneer partners have listed some nice ones lately, but the timing never worked out quite right for me to write about it. It stinks, but it's the nature of the beast, y'know?
But then Ross at Integrity Sales & Auctions listed this Peterbilt 359 along with a bunch of other inventory for an upcoming consignment, and the timing worked out pretty well!
So, let's talk Petes! They're the biggest player in the US over-the-road truck market, and they continue to innovate today! They're a great American success story, and one that'll be around for a long time to come!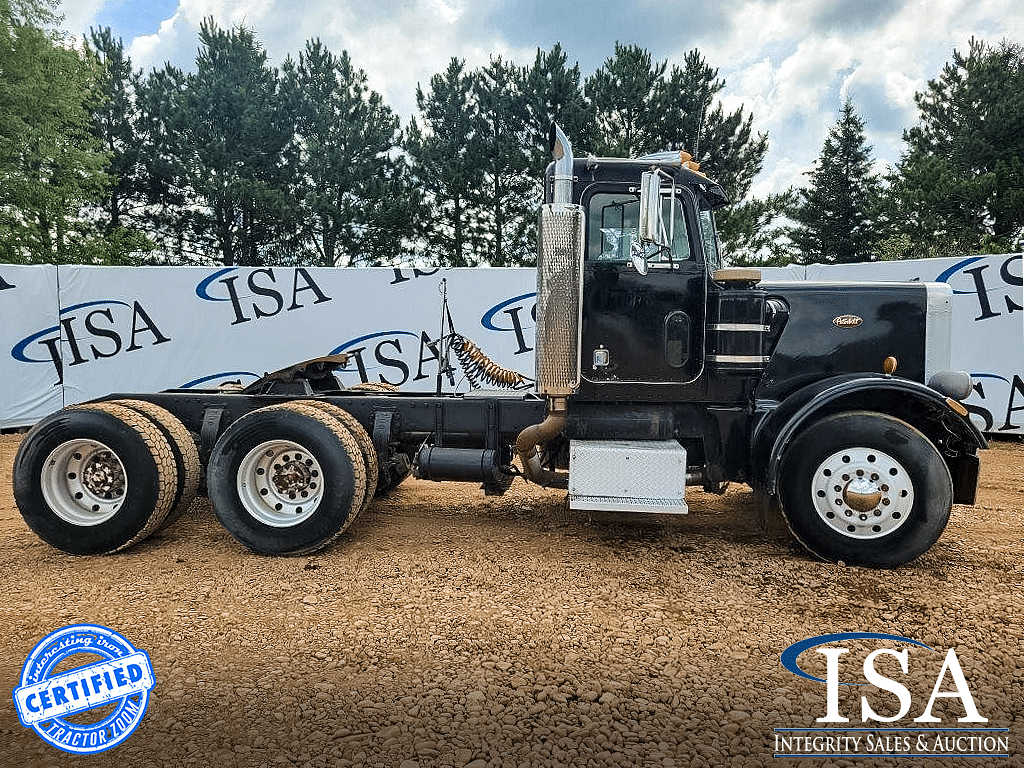 Replacing both the horse…and the river!
Peterbilt's been at this thing for a long time. 82 years, if you're keeping score. Theodore A. Peterman owned a lumber mill in the 30s, and it was efficient enough that the crew often sat there twiddling their thumbs waiting for felled logs to show up. The typical methods of getting logs from the forest to the mill were pretty slow – either relying on a river to float them, using teams of horses, or using a steam engine. Any way you sliced it, it was slow. Mills are like trucks; if the wheels ain't turnin', nobody's earning.
Despite the tough times of the Depression, T.A. Peterman decided to try something new. He had a source for surplus Army trucks, so he bought a few to see if trucks might do a better job. As it turned out…they did!
So, after a few years of success with this, Peterman sees an opportunity with a failing truck company and he jumps on it. He gets out of the mill business and leaves lumber in the dust, and buys Fageol Truck & Coach out of Oakland in 1938, and just like that, he's in the truck business!
While Peterman only turned out 14 trucks in 1939, they were all his own chain-driven design. No more modifying old Army trucks and making those work. With the new company (called Peterbilt), he could now build custom models that could be sold to the public.
Which is exactly what he did.
Built with a pre-determined purpose
Peterbilt went from building 14 trucks in all of 1939 to building one every three days in 1940. Impressive growth for a guy who was all about the lumber business two years earlier!
Actually, there was a good reason for that. Peterman believed in the idea of researching first, before he built anything. There was no haphazard, "guess we got lucky" success. He sent his people out into the field. They did ride-alongs, and interviewed drivers. Before pen was laid to paper to design anything, the engineers knew exactly what the customer wanted – it was a requirement for a project to get off the ground!
Sadly, T.A. Peterman never really got to see the fruits of his labor. He lost a battle to cancer at age 51, and passed away in 1945. He left the company to his wife Ida, who promptly sold the company's assets (but not the land) to a management group. The company continued to grow, though; they'd been filling military contracts as well as building civilian OTR trucks, too.
In 1958, though, they ran into a problem. Ida Peterman still owned the ground in California where the factory was located, and when shopping mall developers came calling with a heck of an offer, she sold the land. This left the owner's group scrambling for new ground.
New direction…same purpose-built quality
Ultimately, the owner's group never found the ground when Ida sold the factory ground to developers. Peterbilt ended up changing hands; a guy named Paul Pigott bought the company and built a brand new factory in Newark, CA. By 1960, trucks were once again rolling off of the assembly line.
Pigott owned, among other things, Kenworth. He brought them under the same umbrella company (Pacific Car & Foundry, later to be known as PACCAR), but let them operate independently. Basically, he bought Kenworth's toughest competitor. Smart move.
Over the next decade, Peterbilt would continue to build dependable, high-quality trucks that would solidify them as a key player in a very quickly-growing market. One of the most successful early models was the 351, and it became legendary long-hauler. Eventually, it gave way to the 359, and later the 379 and the 389 of today. The conventional design is timeless!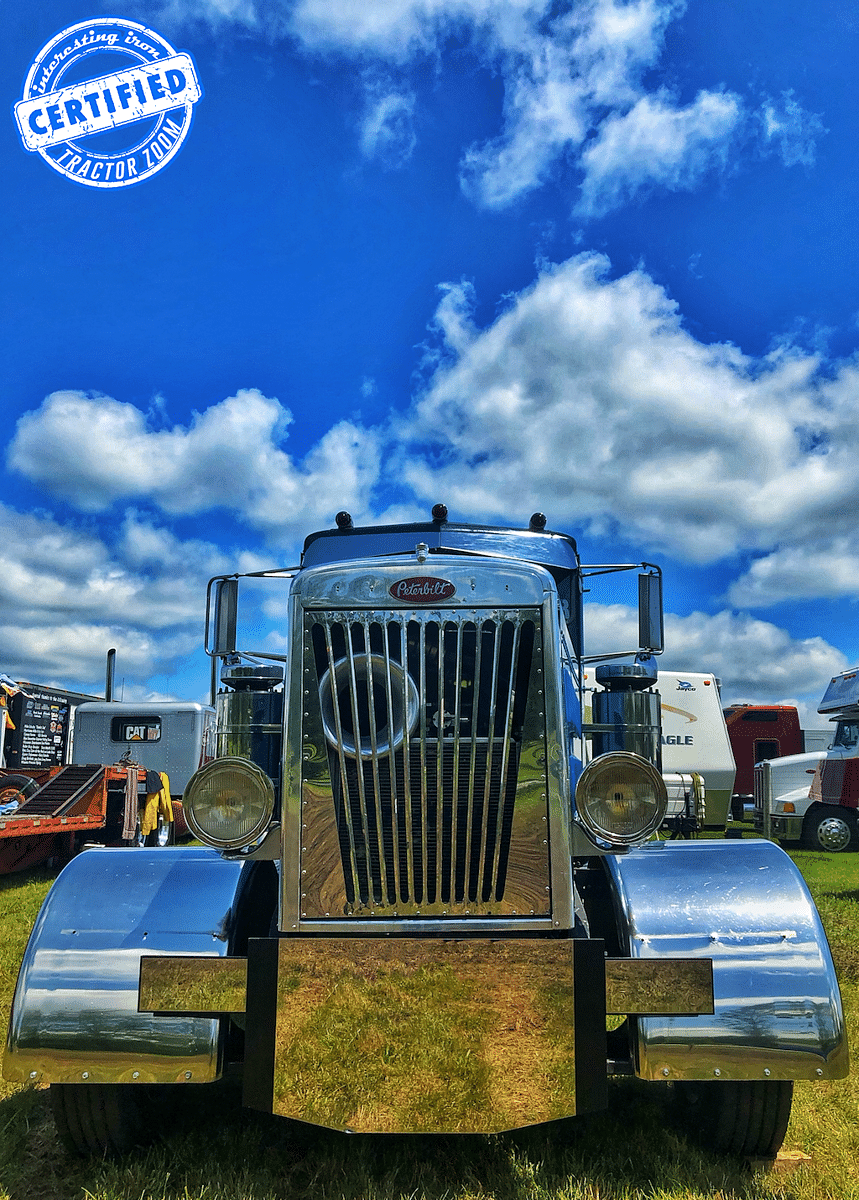 The 359 was built from 1967-1987, and it was one of the most successful models Peterbilt ever sold – for three reasons (in my opinion).
They were versatile.
There was a ton of room underneath the tilting hood. I have yet to source an original dealer order blank, but the engine and transmission options were nearly unlimited. I've seen everything from a 6V71 Detroit to a 3408 CAT in these trucks!

They were light.
The Peterbilt 359 featured an aluminum cab and sleeper. This dropped weight, improved fuel economy, and resisted corrosion. I believe that you could even order the frame in aluminum too. The lighter weight was pretty important to anybody hauling super-heavy freight (produce, for instance).
They had style.
The shape of the 359 was almost immediately a classic. The lines are nearly perfect, as far as I'm concerned. When somebody says "truck" most people see a 359/379/389 in their heads.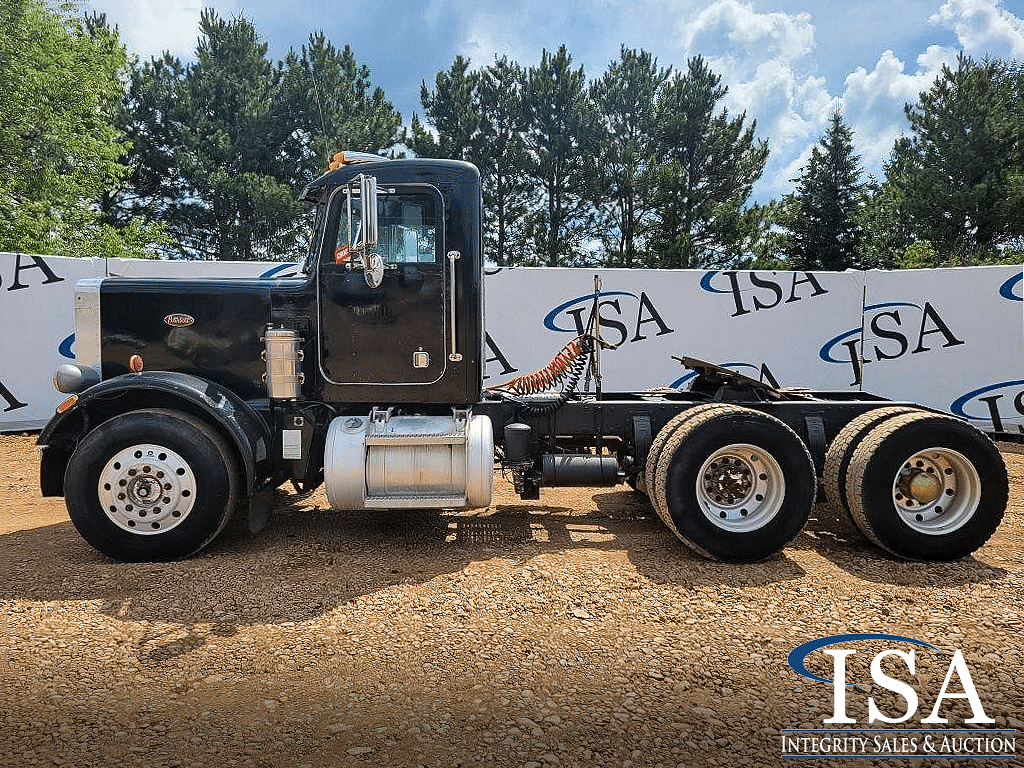 I tried to get in touch with Ross at Integrity Sales & Auction, but I haven't heard back from him yet, so my information on this truck is a little bit limited. However, I'll tell you what I do know.
This particular truck is a 1984 model, and it lives in Merrill, WI (about a half hour straight north of Wausau). It's got an 855 Cummins under the hood (a Big Cam, I believe) factory-rated at 300 horse. It's a fairly low-option truck from what I can tell, too. It shows just under a half million on the odometer. Most of the day cab 359s I've seen have either a 9 or a 10-speed Eaton Road Ranger in them, and I'd expect the same here, too. I believe that at some point in its life, it's been repainted.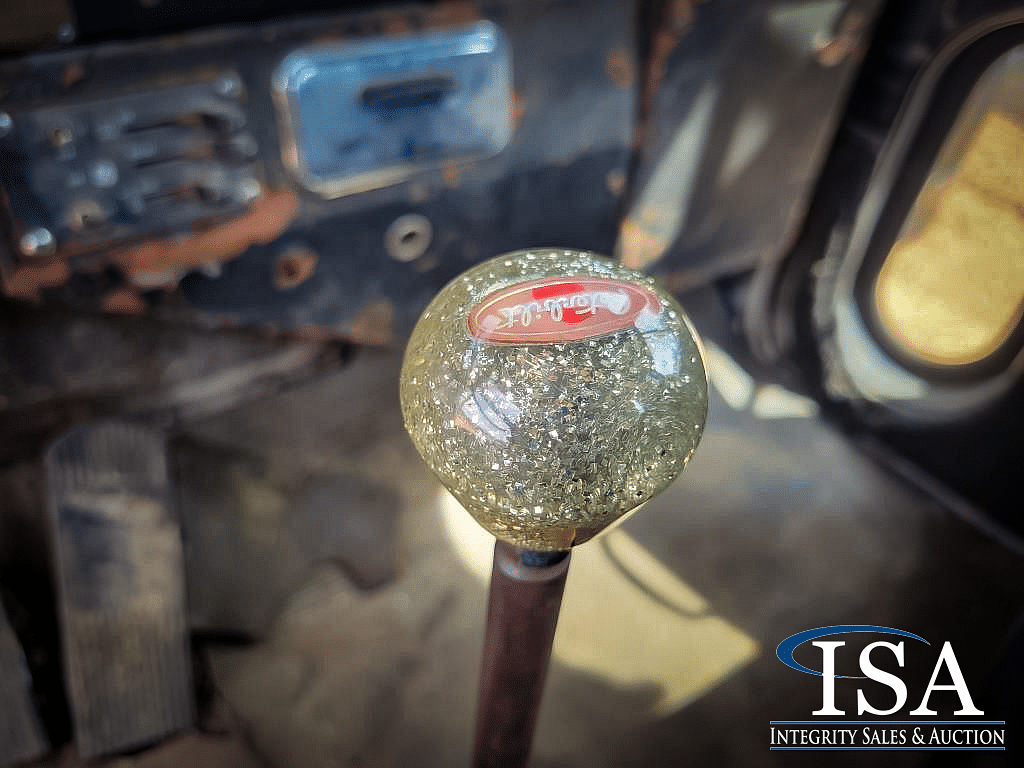 At the end of the day, this is nothing more than a classic working Pete that's seen its fair share of life. It's got a few battle scars (the driver's side fender, for one, and the bumper for another), but overall, it's a reasonably clean truck that would probably do just fine with a small hopper bottom or a pup trailer. A 300 Cummins won't leave you stranded, and it doesn't really have the power to get you into a lot of trouble. Being that it's mechanical, it'll be pretty easy to work on, too.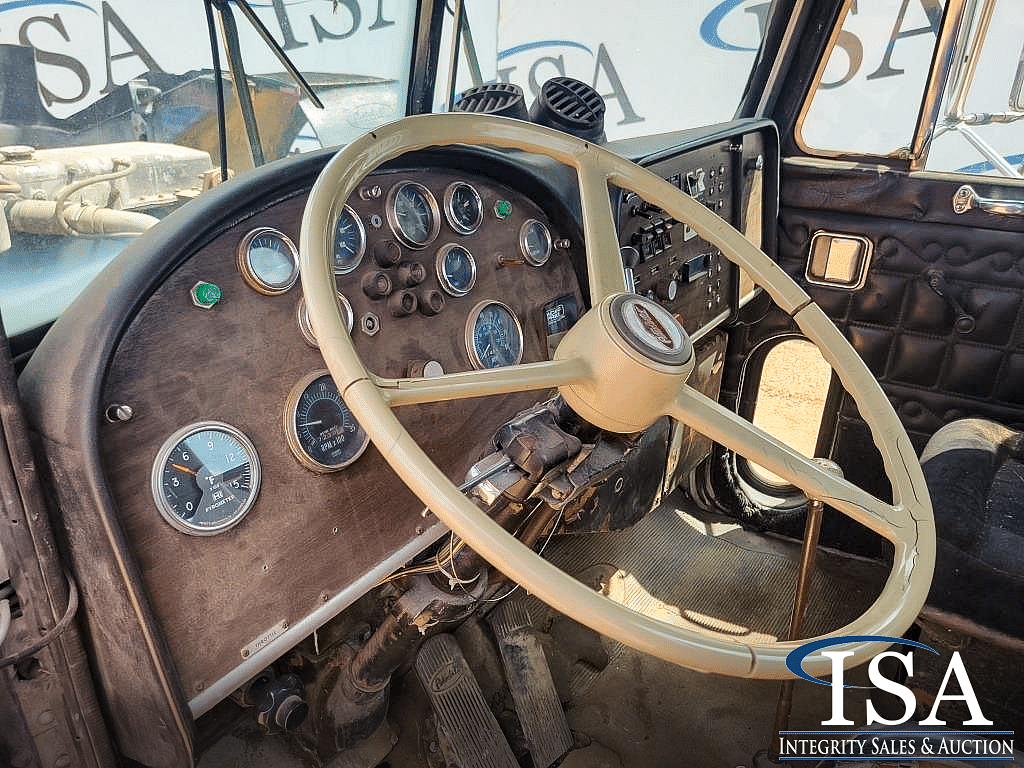 What's it worth?
I did a little digging in our Iron Comps database this morning to see how many Peterbilt 359 day cabs we had records for. In filtering the data a little bit, I came up with about 19 results over the last 3 years. Based on those numbers, coupled with the auctioneer's description and the video on YouTube, I think this is about a $10,000 truck. 
Wrapping Up
The Peterbilt 359 is an icon, as far as I'm concerned. They're a piece of history that connects us to an era where being a trucker was a respected career. Everybody I knew growing up wanted to be a trucker and drive a good looking Pete or a Kenworth, because it was a noble occupation. Today, we have over 3 million long haul truckers in the US, driving over 175 billion miles every year. Truckers haul nearly 70% of the stuff that we buy every day! Sadly, the perception of trucking has slipped from a career to more of a "job" and that's a shame.
If it were up to me, I'd do everything in my power to bring some respect back to the profession. Let's bring back the dress code; Wranglers, boots, pearl snaps, gold-rimmed aviator sunglasses, and cowboy hats. While we're at it, bring back cool CB handles, too (mine was The Jolly Green Giant).
Want a head start on all that? Buy this Pete…because there ain't no feelin' like Petermobilin'!
Also, smile pretty at the west bound 36 yard stick…there's a Kojak with a Kodak waitin' for ya.