Sep. 14, 2023 • Interesting Iron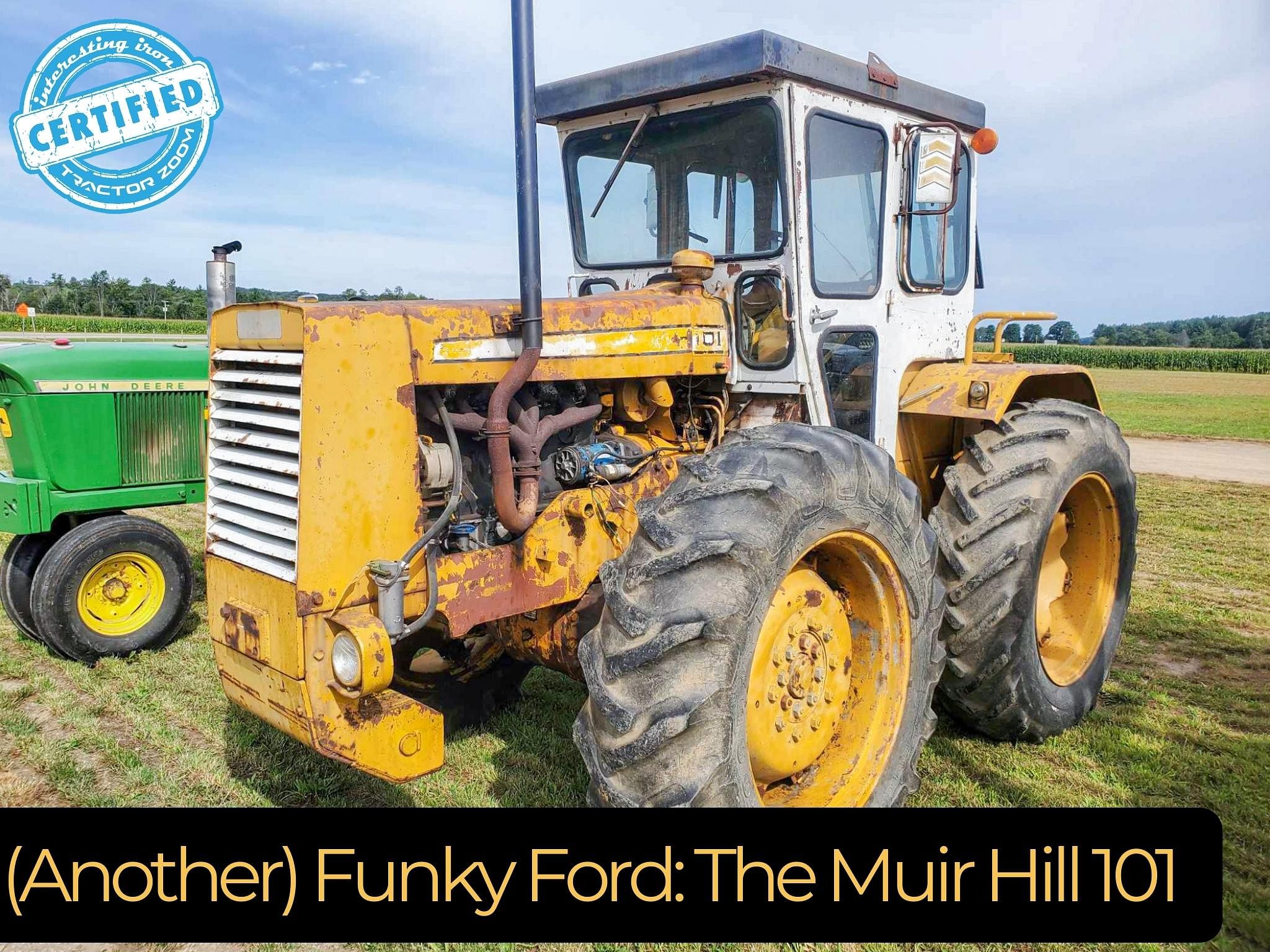 The reason I say "another" in the title is because while I've never written about the Muir Hill 101, I did write stories about a County 1164 and a Roadless 95 couple of years ago. Truth be told, up until a few days ago when this one popped up on Tractor Zoom, I'd never heard of Muir Hill!
Curiosity got the best of me, and I started digging for information. As it turns out, these things are pretty neat!
Muir Hill
Muir Hill was an English company formed in the early twenties. They were basically an engineering shop that also had a few short-line contracts. They took a liking to the Fordson tractors early-on, and sold (and later developed) equipment to expand their capabilities – rubber wheels so they could go on the roads, loaders, etc. One of their most interesting products (to me, at any rate) was turning a standard Fordson tractor into a miniature locomotive! Though they were little bitty things and fairly primitive, they were pretty useful for material handling on a small scale. Believe it or not, there are still a few on display (and maybe even still in use) today across the pond!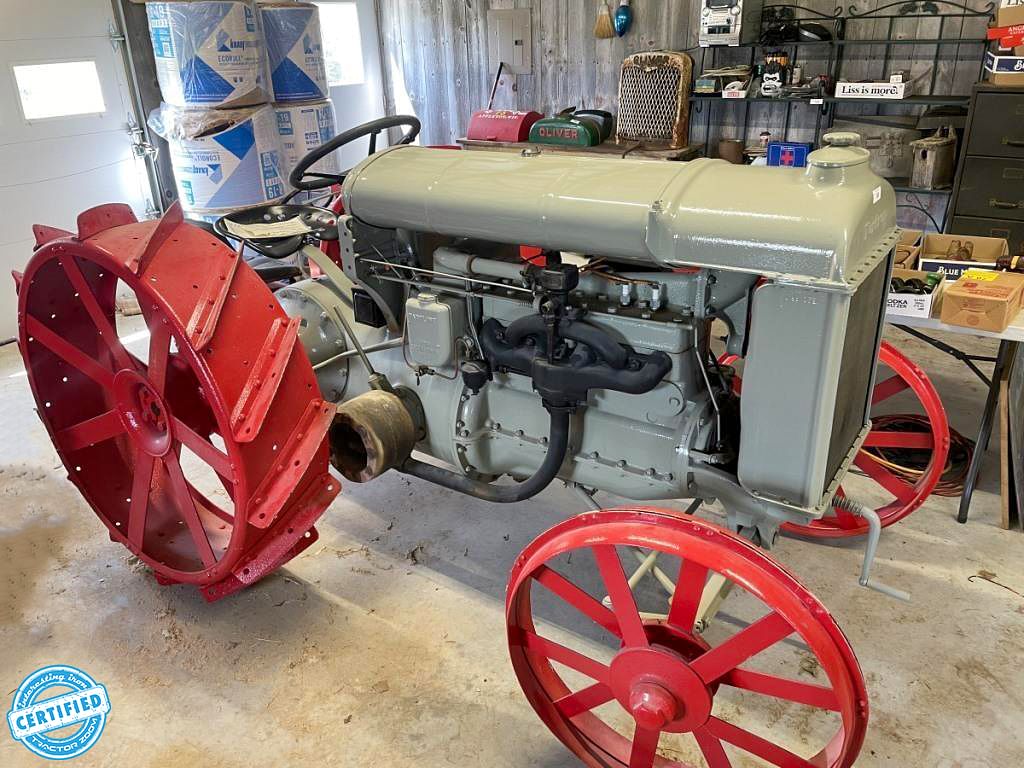 Expanding on the utility of the Fordson, Muir Hill also built dumpers and tractor-mounted shovels starting in the mid-1920s. They were pretty popular, and they kind of started the company's serious foray into industrial and materials handling equipment. That's really where they made their name, producing everything from locomotives to shovels and loading equipment for the next five or six decades. Furthermore, whatever they built was almost always based on a Fordson tractor of one sort or another!
That is, until the mid-sixties, when they hired an engineer named David Brown, and decided to build tractors.
Elevating the 4WD game…
David Brown (no relation to the tractor company) was an engineer with vision. While working for a company called Chaseside in England, he saw the need for a better 4WD tractor for British farmers. A couple of other companies were already converting 2WD Fords and Fordsons at the time – namely County Commercial Cars and Roadless Traction Ltd.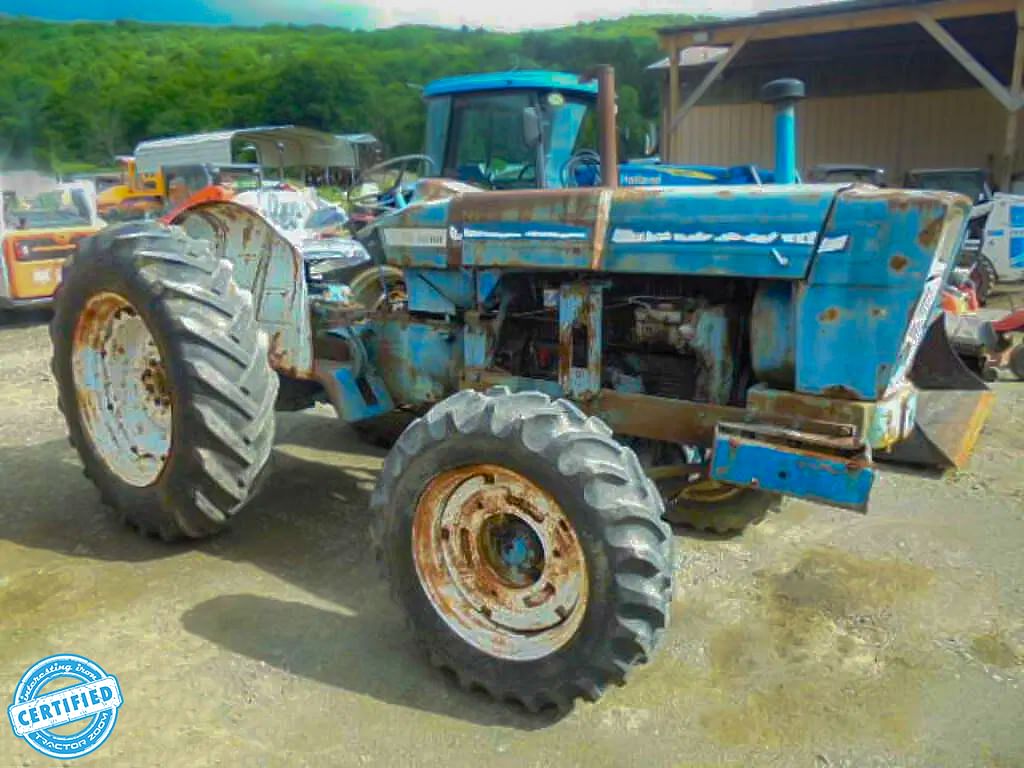 However, they weren't perfect. Neither of them had much ground clearance. Furthermore, because of the way the driveshaft(s) were positioned outside of the frame, they took forever to get turned around. While a lower center of gravity was a plus on hilly ground or in row-crop applications, it didn't work as well in a diversified farm that grew a little bit of everything. Beyond that, if a tractor couldn't get out of its own way, it wasn't much good for general chores.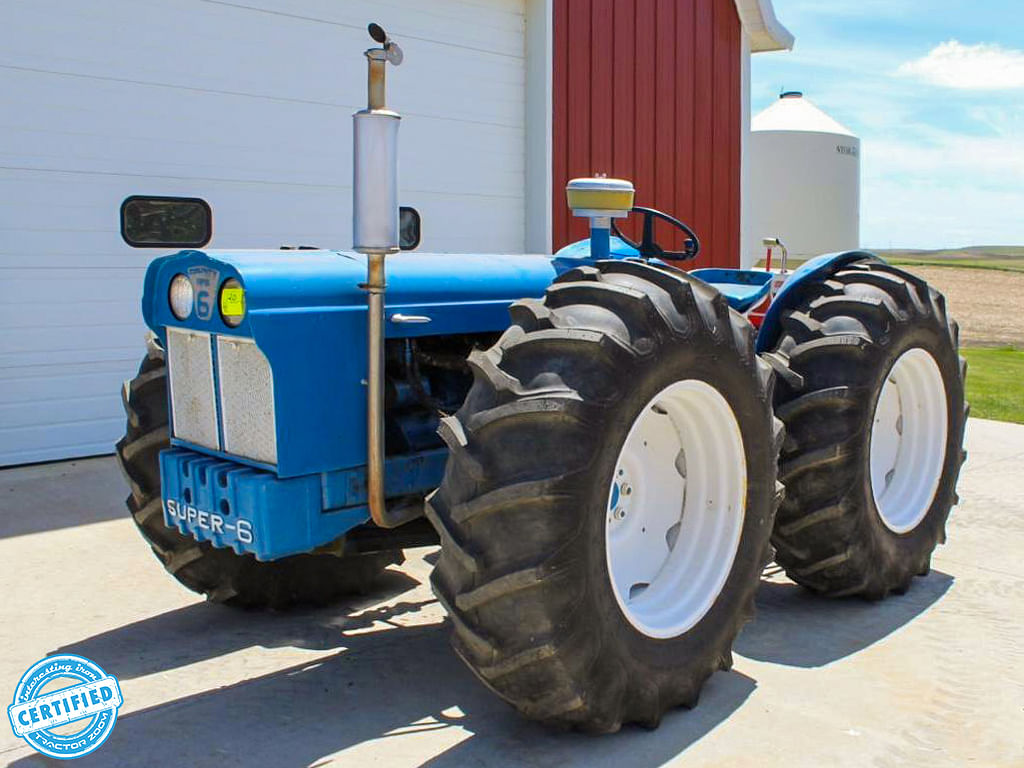 Regardless, in David's mind, if you were a farmer looking for a one-tractor solution, what was available didn't cut it.
So he designed one of his own.
Northrop 5004
Brown's 4WD tractor design was a conversion based on the Ford 5000. It was called the Northrop 5004, and it never really gathered much steam in the market. I believe that only 100 or so were built. It was heavy for its size, and because it used Ford's four-cylinder engine under the hood, it was pretty under-powered. It wasn't all a waste, though. The machine did sit up taller, and the driveshafts ran off of a dropbox so they could be neatly tucked under the frame.
Here's one of the surviving tractors in action.

Ultimately, Brown didn't stick around to see the completion of the Northrop. He left Chaseside during prototype testing in early 1965 and went to work for Muir Hill.
The Muir Hill 101
While I don't believe that Brown had any ill intentions in leaving (nor do I think he was poached), I do believe that he learned from the development process. I'm sure it showed him what not to do, and I'd imagine it helped him refine his design a bit, too.
In any event, when he pitched the idea to Muir Hill's management in 1965, they bought in on it right away. The new tractor would still be based on the Ford 5000, as they were available as skid units, and the trans and rear ends were pretty darn tough.
Styling
One of the things that Muir Hill wanted to do was distance themselves from the competition. One of the easiest ways to do that was with the styling of the new tractor. At the time, County and Roadless both used as much factory Ford sheet metal as they could, and they were always painted blue.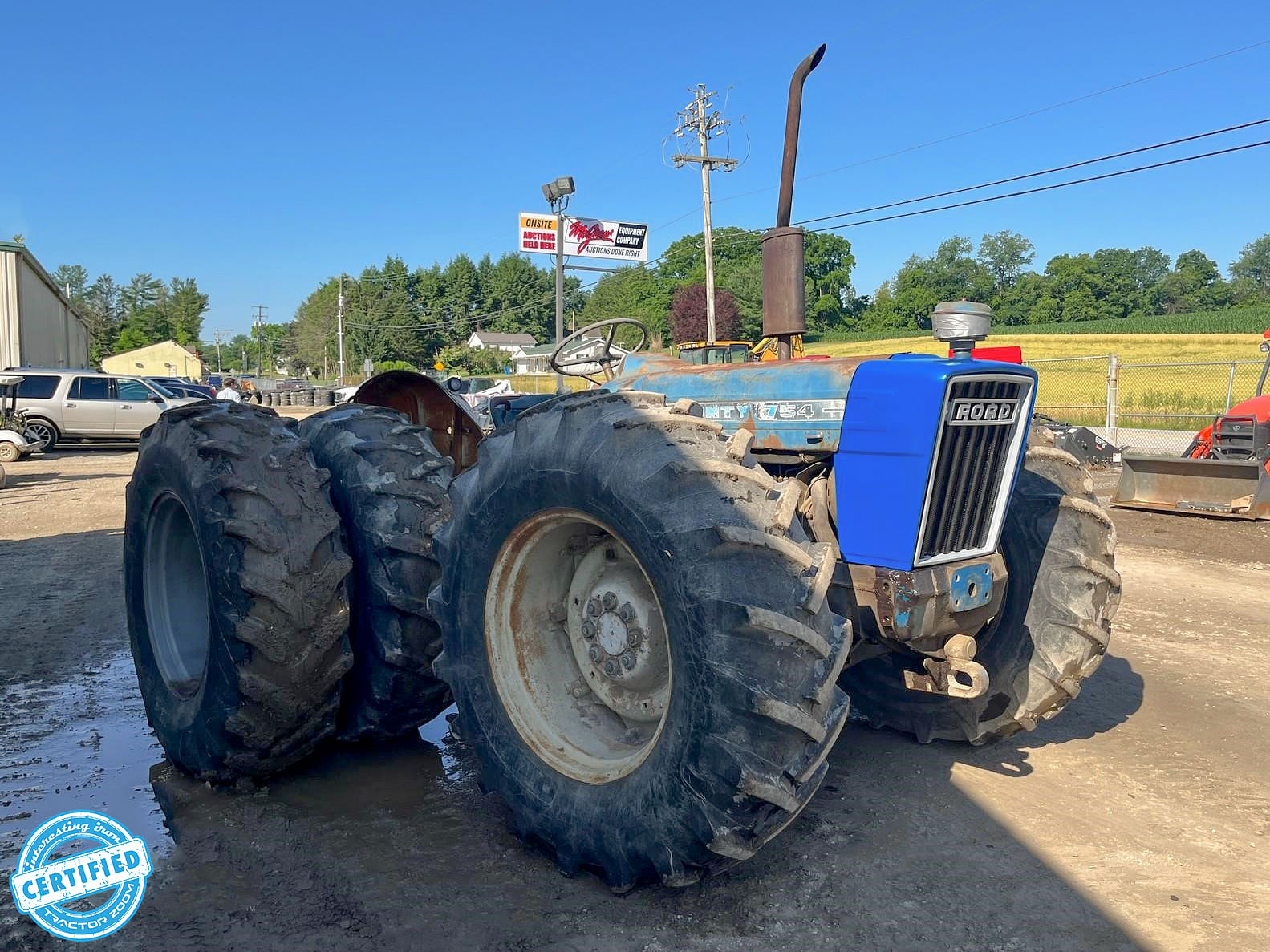 So how'd they do it? They made their own sheet metal and painted it their shade of construction yellow. The new machine wouldn't look anything like a County or a Roadless. When the tractors were released for sale in late 1966, they were only available as an open station. While this 101 has an aftermarket cab on it (I think it's a Cozy Cab), by 1970, the company would offer one of their own.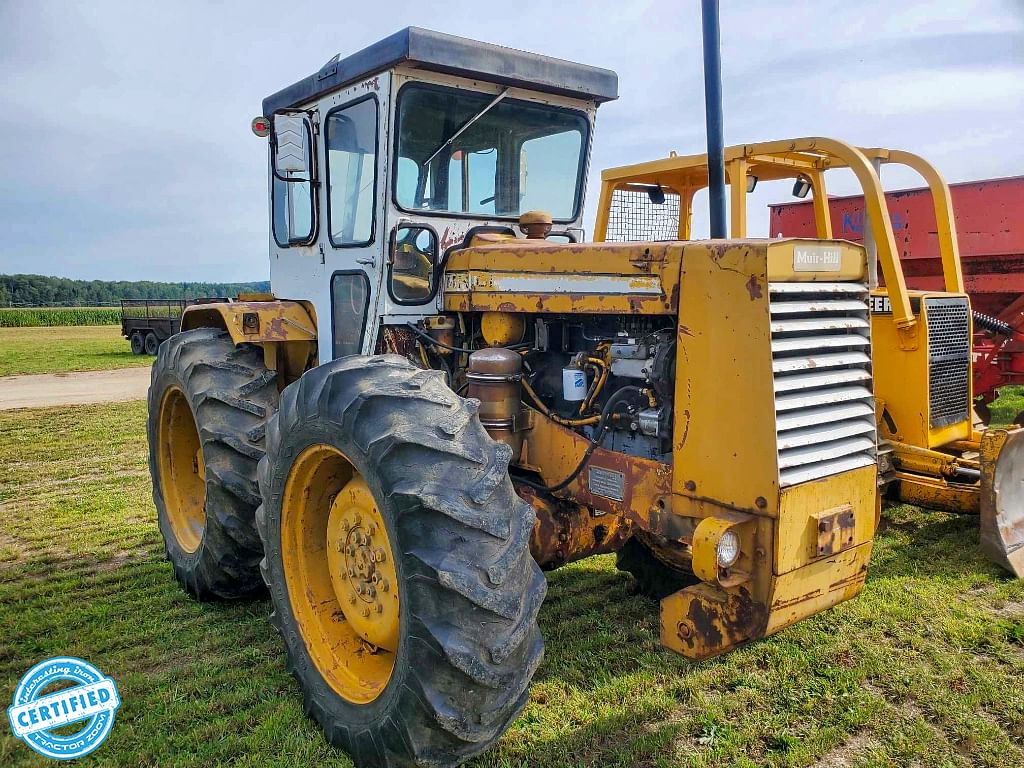 Power & Driveline
Most everything on the 101's innerds came from Ford. Most of them used an naturally aspirated inline six cylinder (the 2704E) rated for about 108 horsepower. The power was fed through an 8-speed gearbox (and in later years, a 16-speed with a creeper gear was available) into a dropbox and then out through centrally-mounted front and rear drive shafts to a 5000 rear end. I think the front axle was an in-house design, though I wouldn't swear to it.
The equal sized wheels might look a little weird, but Muir Hill was intentional about it. Big wheels up front added heft and traction, which was definitely necessary. At 155″ long and having a 75″ wheelbase, this was a short, stubby machine. At over 9600 pounds, it was a pretty hefty thing, too!
There weren't a lot of design or specification changes to the tractor throughout its life. Aside from the optional transmission option in 1967 (which I believe was a modified Dual Power unit), the cab in 1970, and a little bit bigger engine for the 1971-72 model year, nothing really changed.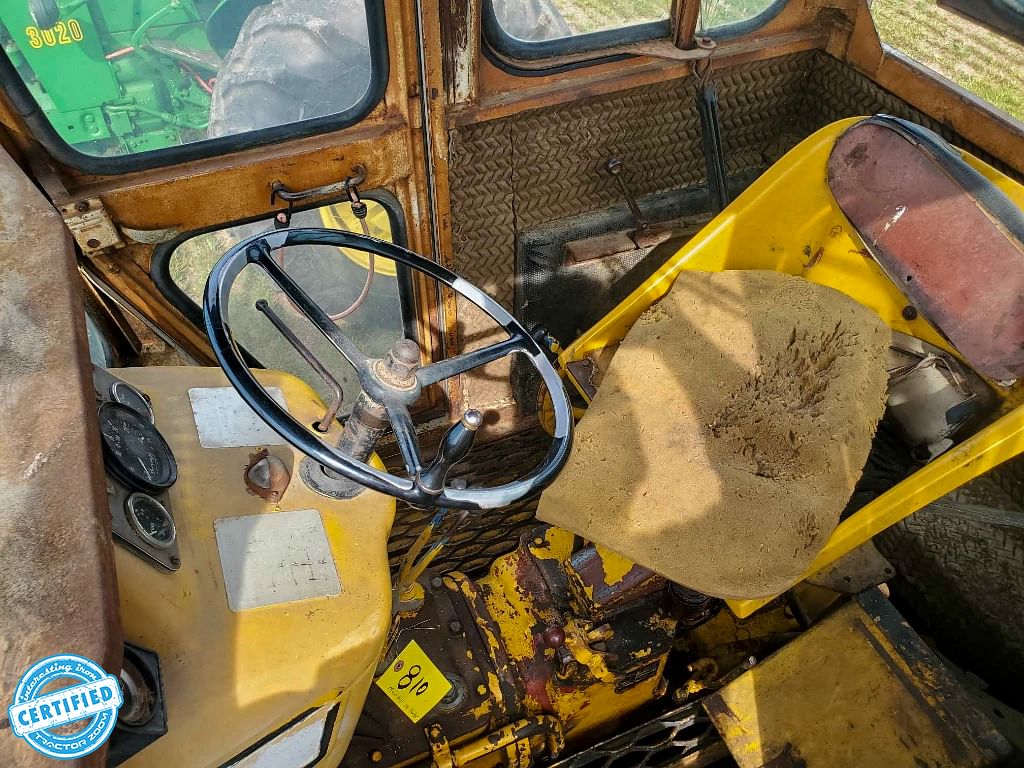 How'd they sell?
I don't have production or sales numbers, but I believe they sold reasonably well for what the company was. Muir Hill wasn't a large company and they didn't churn these tractors out like 4020s. Tractors from the competition – especially the models from County – definitely had more market share and brand awareness. I read an interview with a British Muir Hill collector and he likened County's brand perception with that of Rolls Royce.
However, Muir Hill wasn't only sold in Great Britain. They had a few dealers and distributors here in North America, and I believe many of them were in the northeast, with a few here and there in Canada and out here in the midwest. Interestingly enough, one of them was John Fayhee & Sons in Prairie City, IL.
There were six more models produced in the sixteen years that Muir Hill built tractors. Many of them were Ford-powered, but newer models opted for Perkins power (turbocharged 354s as well as naturally aspirated 510s and 540s).
What happened to Muir Hill?
The eighties happened.
Sort of.
By the mid-seventies, the big players in agriculture were all getting away from hydraulic front wheel assist and building their own in-house mechanical units. Ford was no different. When they released the big TW models in 1979, the writing was on the wall for companies like Muir Hill. It was inevitable that the demand for converted 4WD tractors began to diminish. Furthermore, the farm crisis had global implications, and definitely hurt the company's sales. I believe the last of their tractors – the 171 – were built in October of 1982.
Most of the companies like Muir Hill and their competitors had other business units with products to sell. However, I believe that most all of them would eventually go under, or be sold off piece by piece.
Muir Hill today
While there's not many of them here in North America, in Great Britain, Muir Hill has a heck of a cult following. Actually, there's quite a cult following for all of the 4WD conversion tractors in England and Ireland, not just the big yellow ones. Some who own these tractors still use them for farming, but I think more are part of collections. They show up at tractor pulls for farm stock classes, club drives, and plow days all the time. You probably won't see dozens of them in any one place, but if there's a tractor show somewhere in Great Britain this weekend, I'll bet two or three of 'em show up.
The one you can buy on September 16…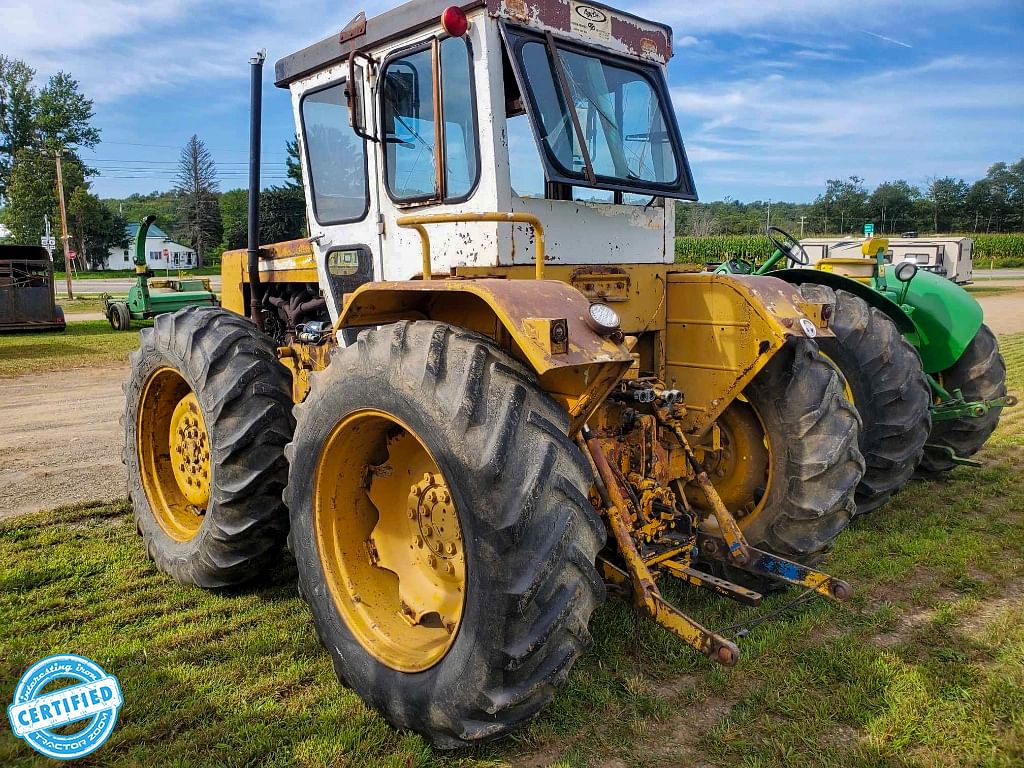 As soon as I saw this tractor, I was kind of left scratching my head as to how it got to northern Pennsylvania. So I called Richard Wiggers, who owns Tri-State Auction Services with his wife Kim, and asked him.
As it turns out, this is not the orphan oddball I thought it was. Apparently in the late sixties and early seventies, there was a guy who imported a handful of these tractors to sell to local small dairy farmers. Richard was honestly a little shocked that I'd never heard of Muir Hill. He said, "Man, I'll bet there's still a half dozen of these things running around our area! Really, you've never seen one out there? I've run a few of these things, and while they're not usually much to look at, when it gets muddy, these things just keep right on going!"
This particular tractor was owned for quite a while by a local farmer who did a little dirt work. Now that he's not farming, he drove this one down to the auction yard to send it off to a new home. It runs and drives, and I believe Richard told me that the PTO and 3-point work. As you can see, though, it's seen a thing or two in its day. I'm sure it's got its fair share of leaks and drips and small things that need tending to. Still, all of that said, it does run and drive. That counts for at least something, right?
What'll it bring?
As we were wrapping up, Richard asked me what I thought it would bring. I told him, "I don't know about the Keystone State, but if it was in England, it'd bring a lot more than you'd expect! They're pretty hot over there!"
Honestly, I wouldn't be a bit shocked if it ended up going back across the pond at the end of the day. Like I said, there's a cult following for these machines, and British tractor collectors are no different than North American collectors. They're watching American auctions, hoping to score a deal, too.
I know there's a farm dispersal auction in England next weekend where a few notable Muir Hill pieces of equipment will cross the auction block. Collectors are talking, so the timing might be perfect to get the word out!
I'm not sure what it'll sell for, but I'll be curious to see where it goes when the bidding ends!
I think these Ford 4WD conversion tractors are pretty neat, don't you? (Dare I say…funky?)
Have a great week!
BTW, if you're interested in taking a deeper dive into Muir Hill and the company's history, the folks at Heritage Machines have a bunch of terrific articles on their blog! Well worth the read!