Dec. 14, 2022 • Interesting Iron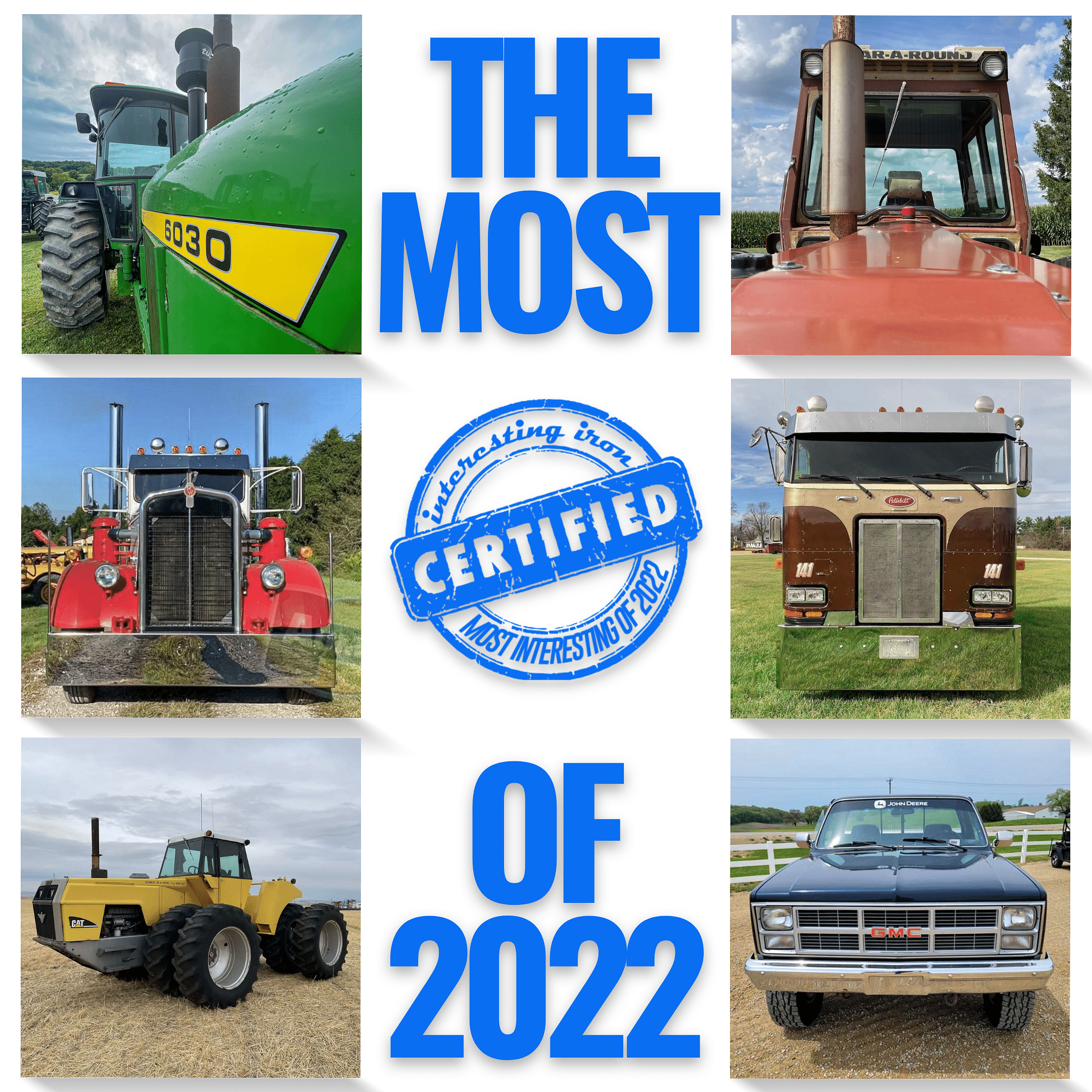 Every year, there's lots of Interesting Iron-worthy stuff that crosses the auction block or sells through a dealer that I never get to write about. Most of the time, it's a matter of bad timing. If an auctioneer lists something on a Thursday and the sale wraps up a couple days later, that doesn't work. As a result, lots of really neat stuff slips through the cracks. Furthermore, now that we're working with over 600 auctioneers and almost 1300 dealer locations across the country, there's almost ALWAYS something that deserves a closer look – and there aren't enough hours in the day to catch 'em all!
Still, there's a few pieces that stuck out to me this year, and they deserve a mention, y'know? So let's look at the most interesting iron of 2022 that ended up on the cutting room floor!
The SoundGard 6030 from Saskatchewan.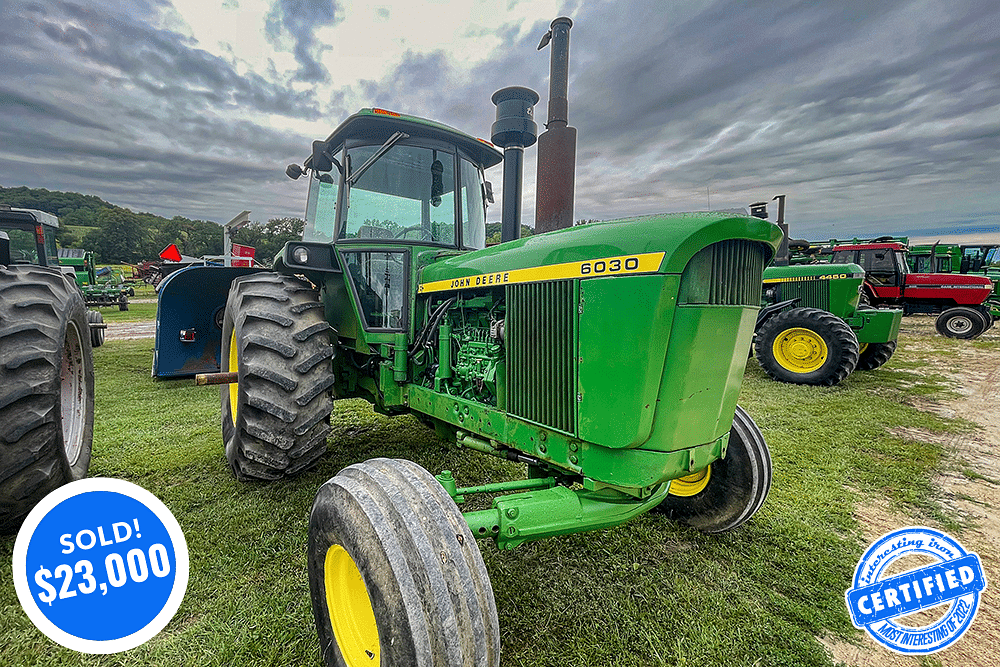 The internet is a crazy place…and sometimes it helps us make some amazing connections. Such was the case with a somewhat mysterious SoundGard-swapped 6030 that showed up on Joel Everitt's auction lot this past August. I'd seen photos of it and posted them to our social channels with a link out to what we knew about it (which was very little).
However, that all changed a few days after I posted the photos. A retired farmer named Don commented, and said, "I was the second owner of that tractor, and I did the conversion." So I reached out to him, and we talked for a few minutes. He bought the tractor from the original owner in Montana and farmed with it in Saskatchewan. He put it on a dealer's dyno shortly after he got it, and at 265 horse, it was barely breaking a sweat!
After a few Canadian winters, though, Don was about done with open-station tractors. When he found a relatively inexpensive 4230 cab, he pulled the 6030 in the shed and went to work. "It kept me outta trouble," he said, "and it was a fun project that helped me stay warm later on down the line!" The following spring, the tractor was finished up and good to go! Don farmed with it for a few more years before trading up to a 4840 at the local dealer.
Auctioneer: Joel's Tractors
Sale Date: 8.24.22
Location: Strawberry Point, IA
Hammer Price: $23,000
At the end of the day, it went home with a guy I occasionally go tractor pulling with. In fact, he drove it home to SW Wisconsin when the auction was over! It's not a perfect tractor, and it did have a few mechanical things that needed some attention, but I know it's in good hands now.
The White-A-Pillar (Vette-A-Pillar?).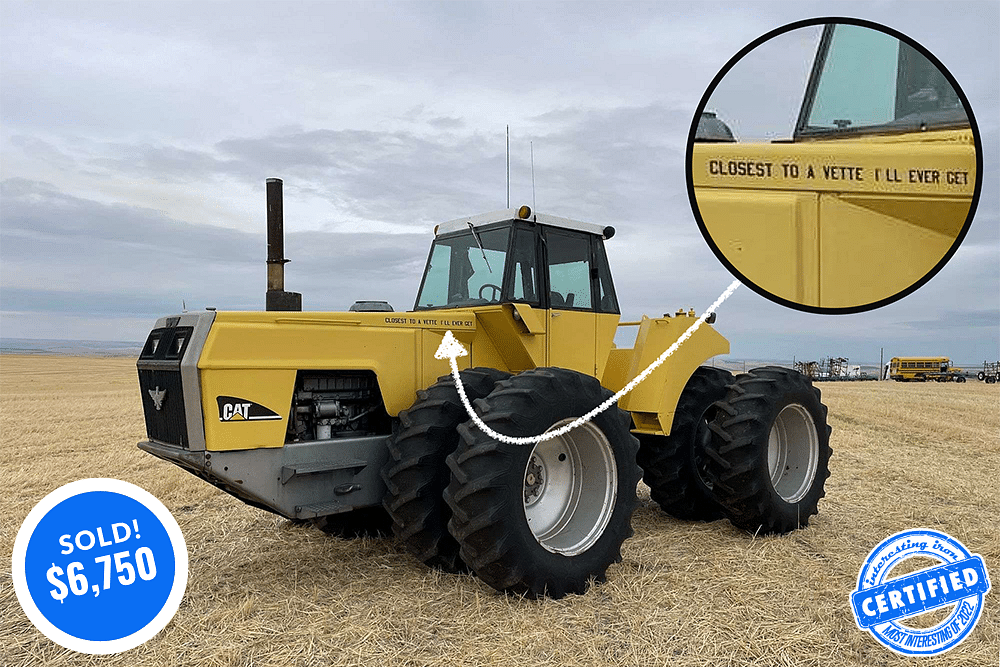 Despite being in production for about five years, White 4-270s aren't real common. Furthermore, finding one that had been painted yellow with big CAT badging on the side? I'd imagine that this is the only one out there.
So, when this showed up on Camille Booker's sale in November, I posted it on our social media. I was really hoping that a local would chime in. It didn't take too long before somebody did, too. As it turns out, this big ol' White belonged to a fairly well-known farmer in SE Washington state named Don Richardson. He was a veteran, a lifelong farmer and FFA supporter, and also drove a school bus in later years. Sadly, he passed in July of this year.
Apparently, Don must've had a thing for yellow Corvettes, too (see photo above). I don't know that he ever owned one, but between the phrase on the hood and his part time gig as a bus driver, the dots started to connect.
Auctioneer: Booker Auction Co.
Sale Date: 11.16.22
Location: Pomeroy, WA
Hammer Price: $6,750
When the auction closed, the final sale price was somewhat low for these tractors if they're in running condition. I do know that the interior was pretty well shot, but I don't think that tells the whole story. My theory (which will buy you a cup of gas station coffee when paired with a couple dollars) is that the paint, interior, location, and rarity of driveline parts all made this a tough sell.
Hopefully we see it again in the Palouse region wheat fields!
Old Skool Rules.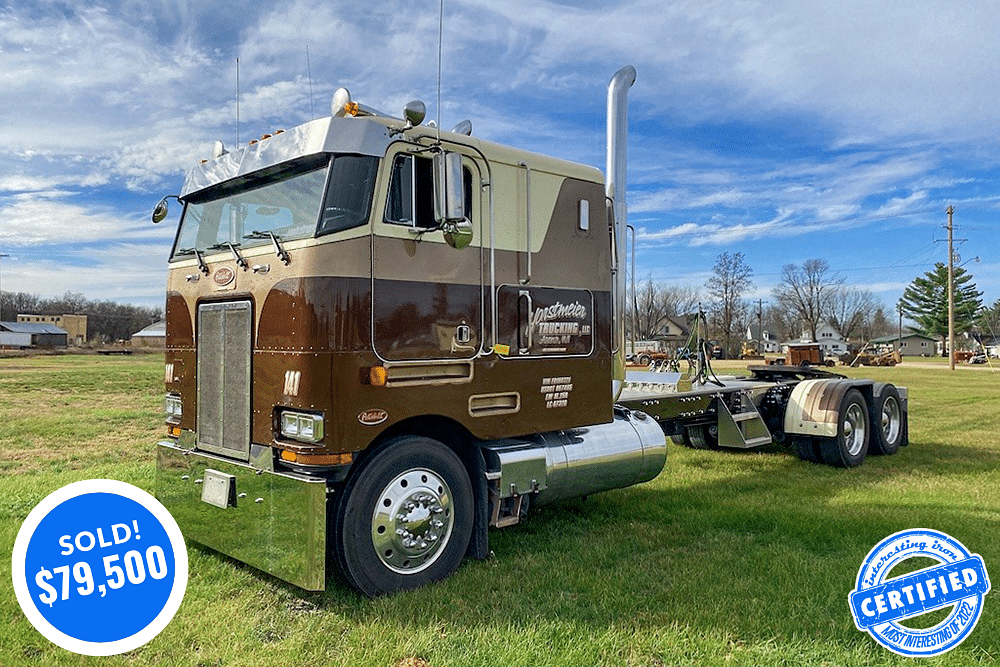 I've got a thing for cabovers. Some of my fondest memories as a kid were riding with my Uncle John hauling tart cherries up to Traverse City, MI in our blue Transtar. Man, those were good times. I wish we still had that truck back at the orchard, and I'll bet Uncle John does too. Anyway, I never really lost the love for cabovers. I know they ride rough and they're a pain to work on, but c'mon…they look cool!
This 1985 Peterbilt 362 showed up recently on one of Perry Wilkinson's auctions in SW Wisconsin, and I'd be lying if I said that I didn't drool over this one a little. It turns out that this truck has a bit of history to it, too! Until recently, it belonged to Horstmeier Trucking out of Arena, WI. It was primarily a show truck, but it did some in-state work here and there hauling produce. Lance Horstmeier and his brother did most of the work on their own (it was stretched when Lance bought it), and in my opinion, they did a really nice job!
Auctioneer: Wilkinson Auction & Realty Co.
Sale Date: 12.1.22
Location: Muscoda, WI
Hammer Price: $79,500
This old Peterbilt had all the goods, too. 400 Cummins, a 13-speed, nice paint and interior, and a 300″ wheelbase. I'd imagine it rode fairly smooth with a load behind it, too! Yeah, it probably takes an acre or two to get it turned around, but when it looks this good, who cares?
Bonus: Chris Fiffie, the guy behind the Big Rig Videos YouTube channel, did a Rolling CB Interview with Lance on his way to the Waupun Truck Show in 2015. These interviews are pretty cool in my book, and I know Chris has a blast doing them!
The Survivor.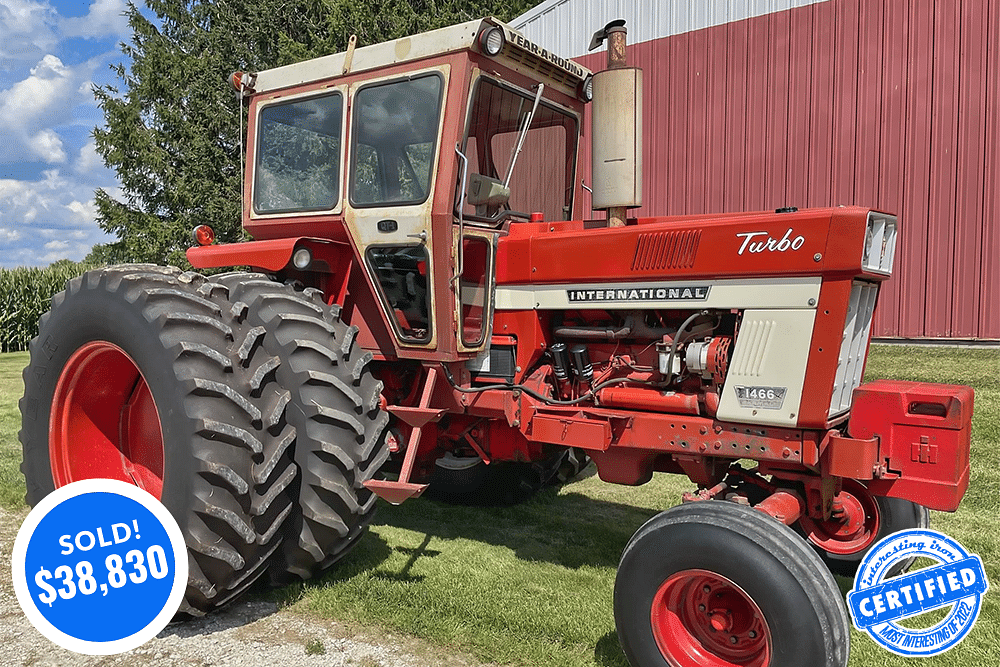 The word "survivor" gets tossed around a lot these days when talking about classic cars, and I think we're starting to see it a little more frequently in the equipment industry too. In its purest form, it's a vehicle that's never been altered, and has the documentation to support it.
This one fits the bill, as far as I'm concerned.
This tractor has been on the same farm since it was brand new. It's an early 1974 model, and the family bought it at Sheahan Implement just north of I-88 in Sycamore, IL in DeKalb County. In fact, up until mid-September when Almburg sent it home with a new owner, it had never left DeKalb County!
It's a time capsule; it's still got the original carpeting in the Year-A-Round cab, and even the fan and the heater still work, too! Furthermore, in 48 years, this tractor has only racked up 3,624 hours!
Auctioneer: Almburg Auctioneering
Sale Date: 9.15.22
Location: Maple Park, IL
Hammer Price: $38,830
The bidders really responded well to this one, and at just under $39K, I believe it's the highest auction price we've ever seen on a 1466! They're only original once, folks, and collectors will fork over big bucks for originality!
The County Truck.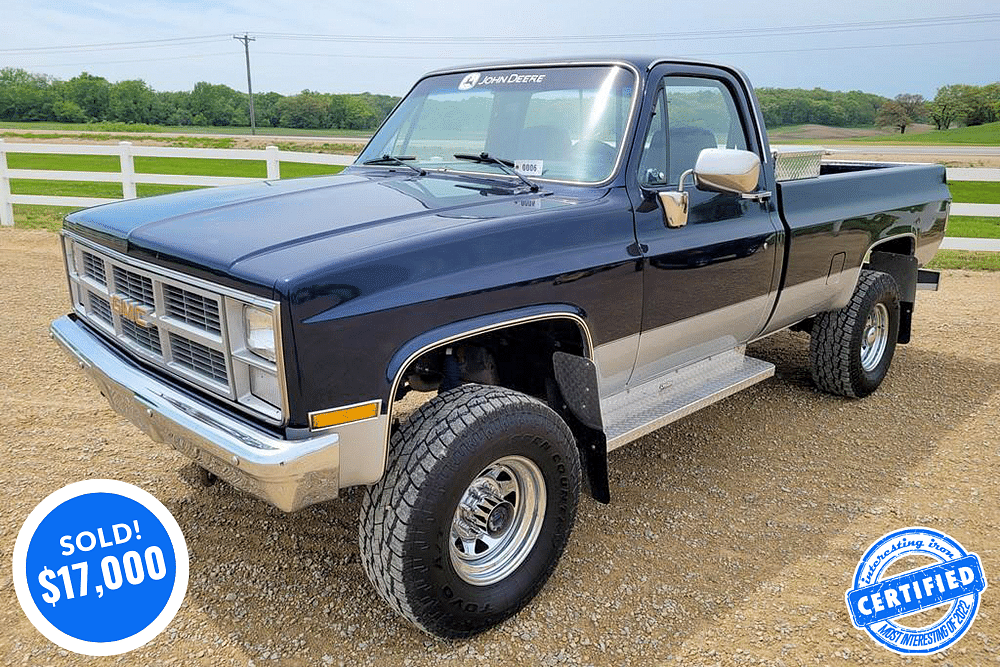 The farm trucks we had back when I was a kid weren't anything special. Low-option Dodge 4×4 1/2 tons with vinyl seats and 318s, mainly. They served us pretty well, but they weren't really noteworthy. Lots of farmers in our area had nicer ones, but at the end of the day, those old Dodges were fine for our needs.
I always wanted a squarebody, though. I always thought they were sharp trucks even back when I was in high school, and I think my appreciation for them has grown since then. When this one showed up on a Powers Auction Service consignment sale this past July, Kara and I both kind of fell in love with it. We didn't bid on it, but we probably should've.
It was a former municipal truck, according to the auctioneer's description. However, in looking at the photos, I think that it may have been a restoration in progress as well. County trucks don't typically come with velour buckets, so I'm guessing there was at least a partial interior swap from a late-80s Chevy van at some point. It was powered by a fairly typical 350 small block with a four-speed Muncie manual (this one had the creeper gear).
It wasn't perfect – it definitely needed a headliner and a thorough cleaning on the inside and under the hood. Aside from that, though, it was a really clean truck for doing truck stuff! Was it collection-worthy? Probably not – it wasn't original enough, but it definitely would've been welcome in my garage!
Auctioneer: Powers Auction Service
Sale Date: 7.8.22
Location: Browntown, WI
Hammer Price: $17,000
The Classic.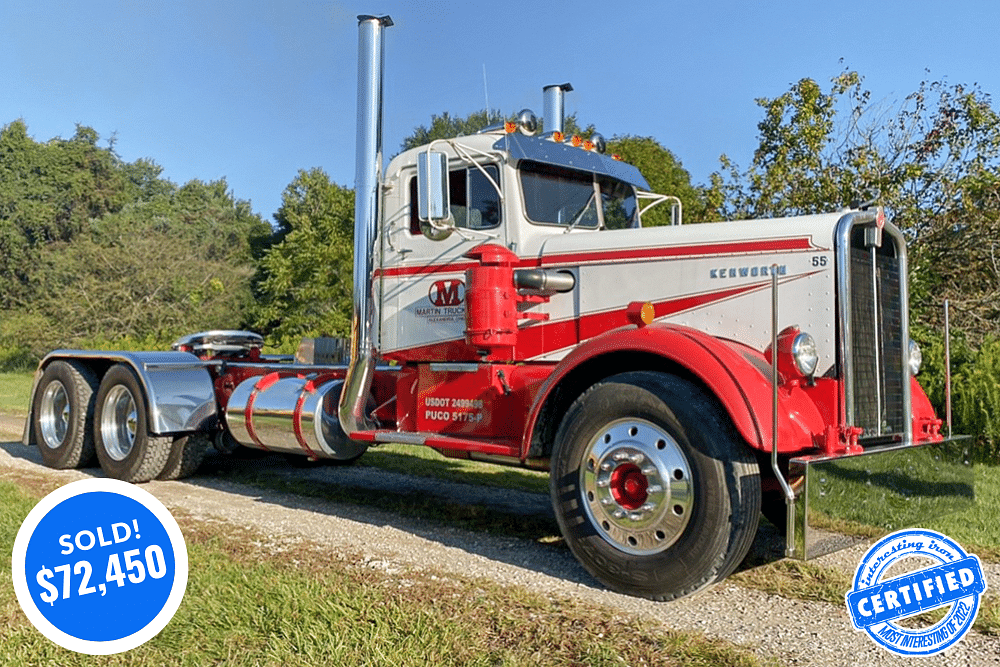 I don't know what it is about needle nose trucks, but I really like 'em. They're different. At a truck show or on the very rare occasion when you see one on the road, they stand out from everything else. Furthermore, when they've been restored or rebuilt like this one, they really make the cookie-cutter Pete 389s look pretty normal…and maybe even a little boring. Don't get me wrong, I love a sharp W900 or 389 as much as the next guy, but trucks like these are classics.
This Kenworth 521 is a 1955 model, and sold on an Aumann Vintage Power sale for Don Martin back in October of this year. It was extremely well-done, too; 400 Big Cam Cummins, 15-speed, and a reasonable stretch to the frame. Apparently the bidders liked it too, because it brought pretty solid money! You certainly couldn't build a truck like this for $72K today, y'know?
I believe Don had owned this truck for about 7 years. I think it only hauled equipment to shows, for the most part, so it's had a pretty easy retirement. That's not to say that it couldn't do an honest day's work if needed, but I doubt we'll see this truck running up and down I-80 any time soon!
Auctioneer: Aumann Vintage Power
Sale Date: 10.29.22
Location: Alexandria, OH
Hammer Price: $72,450
So there you have it. Part 1 of the most Interesting Iron of 2022 that I never got the opportunity to put up on the blog. Stay tuned for Part 2 for more of the most Interesting Iron of 2022! More trucks, some neat re-powered tractors and pickups – and more!