Feb. 03, 2022 • Interesting Iron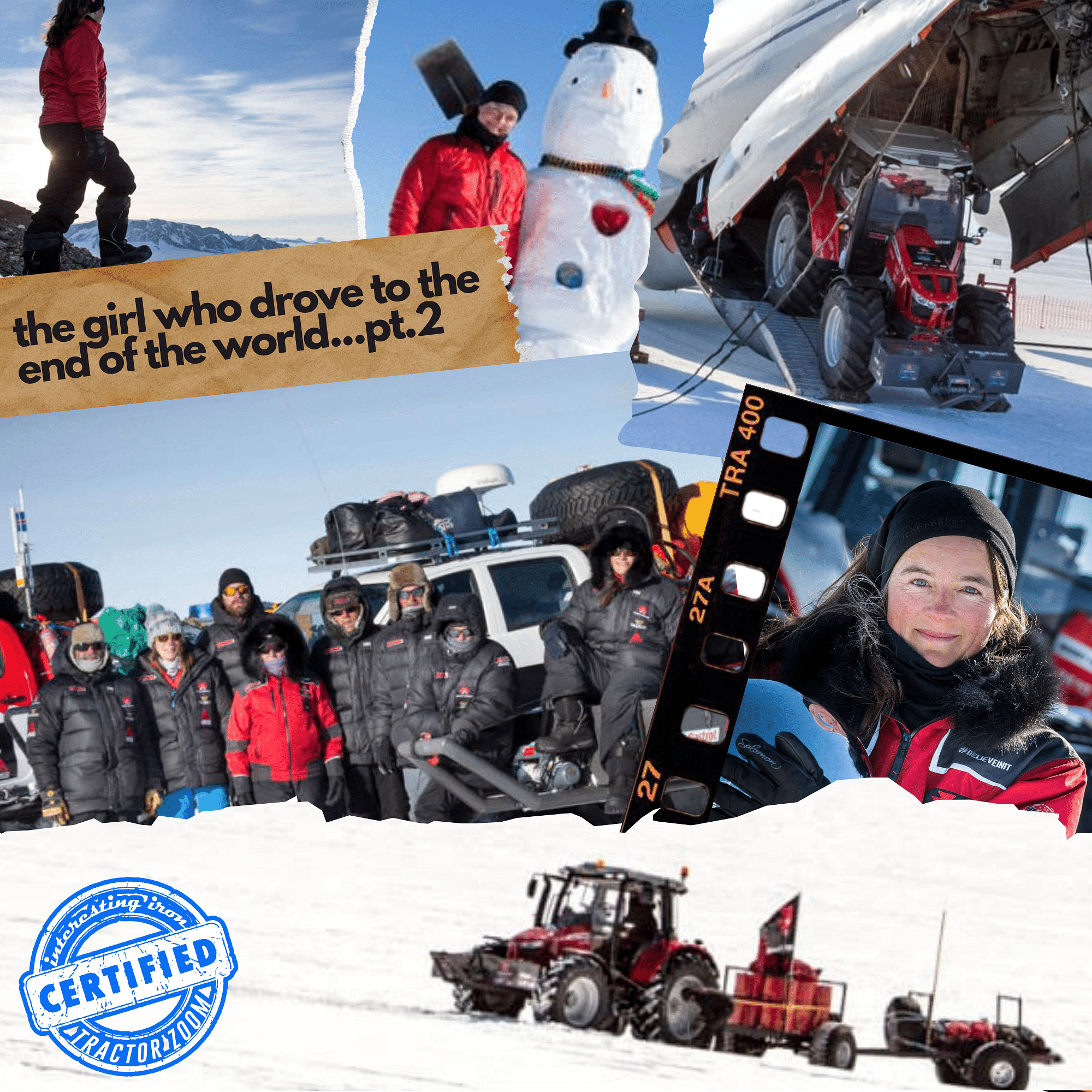 When we left off, Tractor Girl was in a tough spot. She'd made it across two continents, and almost 24,000 miles on her little Deutz. Along the way, she'd met thousands of people, and collected their stories and dreams. All along, the plan had been to hitch a ride with a southbound icebreaker, and finish the trip to the South Pole. However, when the ship had to leave early, it left her high and dry in South Africa.
She'd gone home to regroup, but that hadn't gone well. For 2½ years, she tried to drum up sponsorship to finish the journey, but to no avail. By early 2011, the dream, as well as her promise to those whose dreams she carried on the back of the tractor, were barely hanging on. Hope was fading fast. So, mustering every bit of courage she had left, she threw the mother of all Hail Marys…
She didn't expect much. They were a big company, and she was just one person with a dream. She figured that she'd be doing well to wedge a foot in the door.
Much to her surprise, there was no pushing required. Massey Ferguson may as well have thrown the door open so hard it fell off the hinges!
See, they have history with the frozen continent. Sir Edmund Hillary took a small fleet of Ferguson TE20s to the South Pole back in 1958. The tractors, equipped with little more than aftermarket tracks and some reasonably stout heat-housers, actually performed pretty well. Hillary's expedition was the first time motor vehicles had ever driven on Antarctica. It was a big win for the newly-established Massey Ferguson brand, and it's something the company is very proud of today (and rightly so)!
Here's a film that the New Zealand National Film Unit put together about the journey. (Hat tip to Brian Lohnes at BangShift for this one!)
Antarctica2
After a few meetings, they went all in. Massey assembled a team to work with Manon on the details, and leaned on their industry partners for support and expertise for the project (which they called Antarctica2). Trelleborg, Castrol, and AGCO Finance all hopped onboard, as well as FUSE Technologies (AGCO's connectivity software team), AGCO Parts, and MechaTrac (the Holland-based dealer that got her to the right people).
And so the team went to work. They spent three years getting ready for the mission!
The tractor of choice – A Massey Ferguson 5610
The team chose the Massey Ferguson 5610 for the trek. They wanted a relatively nimble, compact MFWD tractor with plenty of power, and the 5610 fit the bill very well. Rated at 110 horse (from a 3-cylinder, no less), it was a power house. The bonus? The cab is big – it's the same one used on the 6600 and 7600 tractors. The greenhouse provided very good visibility, plus it was spacious enough that the team wouldn't feel cramped – even in arctic gear.
If you've followed this blog for any length of time now, you know that when I tell a story, it always involves something that's listed on our site. My goal is always to spotlight a piece of equipment that you can actually bid on – or in this case, buy from one of our dealer partners. Today, it's a Massey 5610, and it's at Tri County Equipment in Caro, MI. Super-low hours on this one, includes a MF 931 loader and bucket, good rubber, and immaculately clean on the inside! (I've been waiting for nearly three years to have one of these show up on Tractor Zoom so I could tell this story! It seems that once these things get to the farm, the farmer won't give 'em up – I believe this is the first one we've ever seen come up in our company's history!)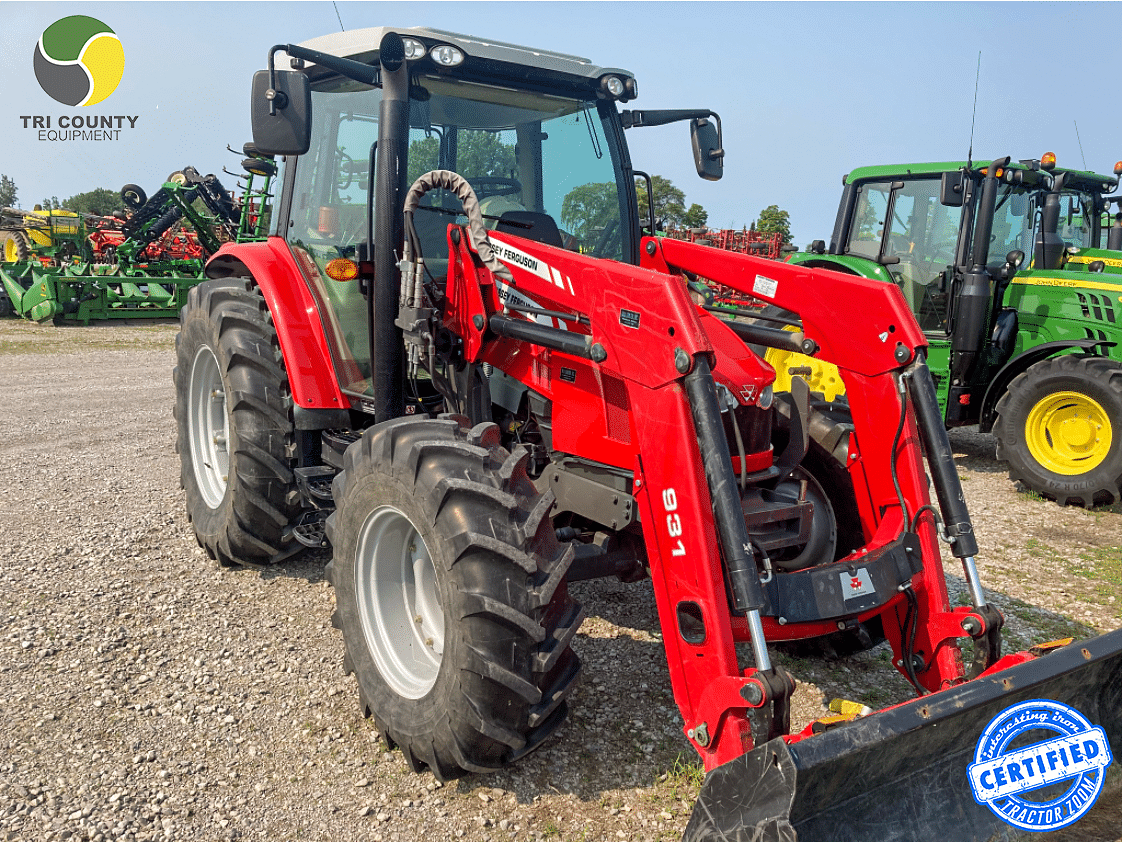 Prepping for the journey
While Sir Edmund Hillary's fleet of TE20s were basically stock tractors with a few tweaks, the Massey Ferguson 5610 that Tractor Girl would drive was definitely NOT. The engineering team in Beauvais, France (where the 5610 is built) knew the tractor would have a number of challenges to deal with – mainly climate and altitude-related. They spent a full two years in the development process on the tractor. So what was changed?
Just about everything.
Antarctica's average air temp in November and December hovers around -30F. Diesel gels at 10-15F, so that wouldn't work. So, the engineers made the 3-cylinder common-rail turbodiesel run on jet fuel (A1 aircraft-grade kerosene, which doesn't freeze until -53F).
A secondary 105-gallon fuel cell was mounted on the back of the tractor.
Engineers re-fitted the drivetrain to run on lubricants that wouldn't freeze (I suspect that's where Castrol's expertise came in handy).
Trelleborg developed brand new tires just for Tractor Girl's Massey Ferguson 5610. As I understand it, they were floaters made from super-soft rubber. Normal farm work would tear them up in a heartbeat, but on snow and ice, they were dynamite! (I doubt they were quite as soft as drag slicks, but I'll bet they weren't far from it.)
Everything on the tractor was weatherproofed. Electrical, driveline, transmission – the works. Failure would put lives at risk, so nothing was left to chance.
The cab was modified with heavier duty insulation and a secondary heating system. The glass was also swapped out for Lexan, as it's much more shatter-resistant.
Lastly, the tractor was fitted with a winch and a long boom in front in case they needed to winch out of a crevasse. (That came in handy a few times!)
Learning to drive…on a glacier
The engineers finished the tractor sometime in 2014. It was as prepped as it could be. However, the team was not.
So, after Richard Markwell (Massey's VP & Managing Director of Europe, Africa, and the Middle East) handed the keys over to Tractor Girl on July 29, 2014, it was time for the team to prepare. They had to learn how to live on the ice, essentially, and Iceland was the place to do it. For five or six weeks, the team of eight learned how to drive on ice, navigate 4-foot wide cracks in glaciers, and generally speaking – make a practice run. I suspect that this wasn't real easy. I mean, most everybody has had some experience with winter driving, but Antarctica is whole different ball game.
All systems go.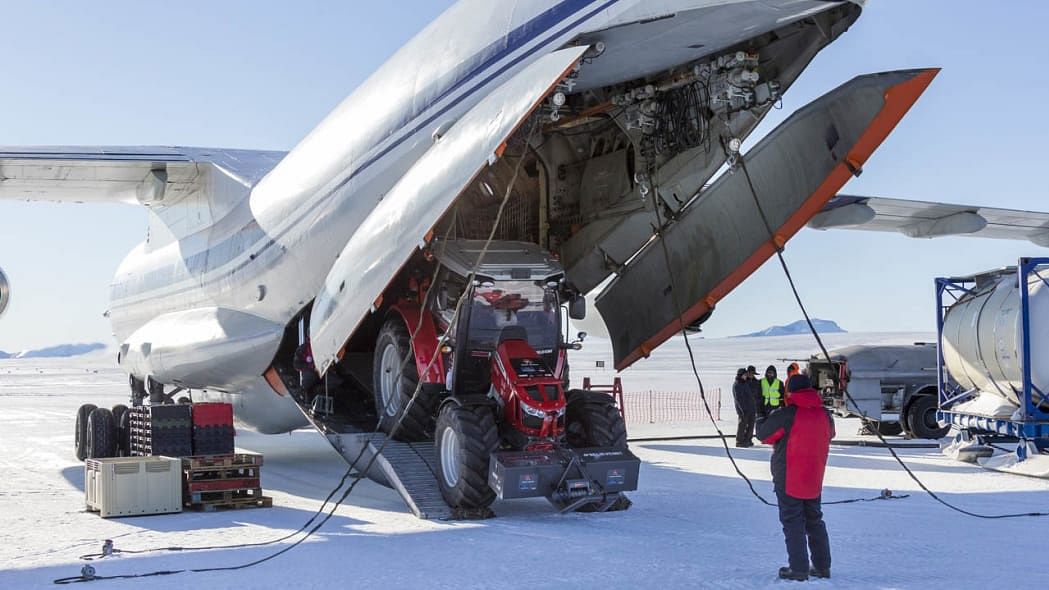 And so, with their training complete, everything was loaded up and shipped to Cape Town, just a little over six years after Tractor Girl's journey came to a halt. From there, they went to Novo, Antarctica, landing on November 19, 2014. (Incidentally, November 19, 2014 was the 57th anniversary of the day that the Massey Ferguson brand was officially established. I doubt it was planned that way, but I'm sure it made for good marketing!)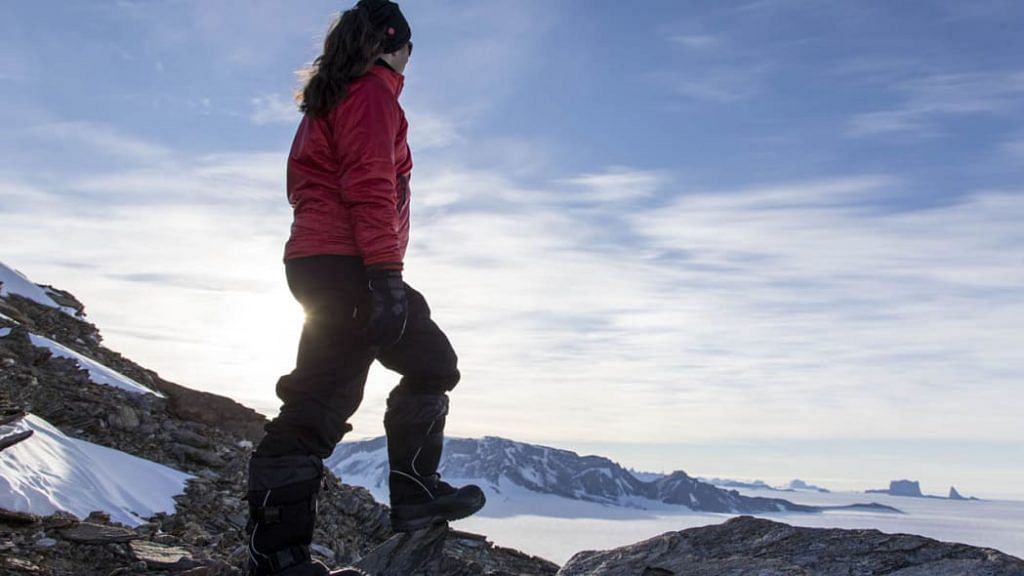 The Team
The team consisted of eight people, including Manon. Nicolas Bachelet was one of the lead engineers for the Massey Ferguson 5610's expedition prep. Simon Foster handled the video and photo production. Paddy Scott handled all of the communications. Matty McNair & her daughter Sarah McNair-Landry, two highly-respected arctic explorers were the guides for the expedition. Lastly, there were three expedition specialists from Arctic Trucks in Iceland who handled guidance and safety support.
The Convoy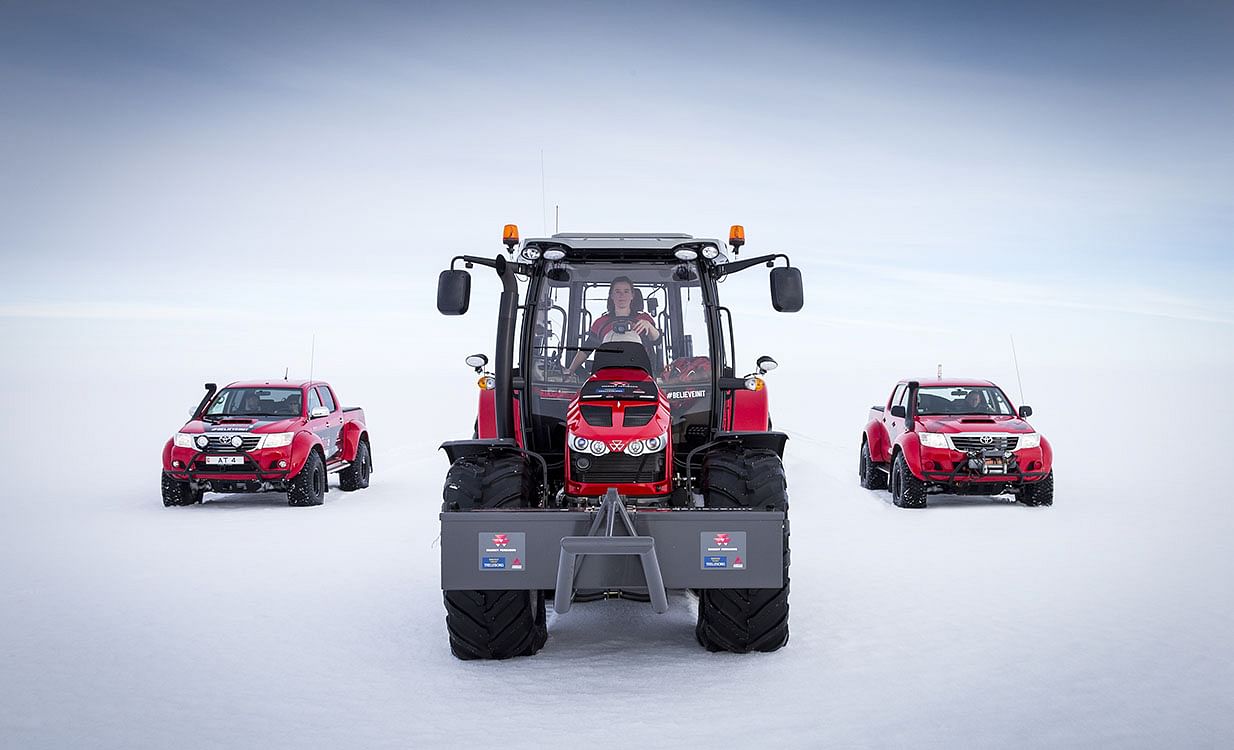 It wasn't just the tractor. The convoy included a pair of the coolest pickup trucks I think I've ever seen, and they were built by a company in Iceland called Arctic Trucks. They were 6 wheel drive Toyotas, and they're the most capable trucks in the world. The rest of the crew piled into these trucks, while Manon drove the tractor most of the way.
Here's some video from Arctic Trucks when they left for the South Pole.
The Journey
Here's a few photos from the trek, all from AGCO.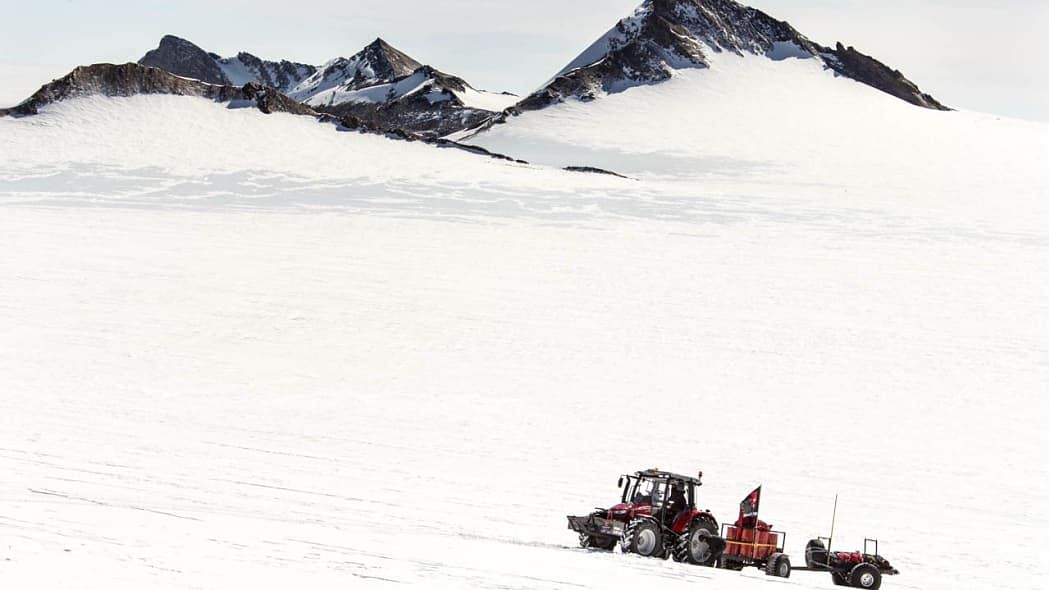 Over the next 16 days, the team of eight would cover nearly 1554 miles of the most brutal conditions known to man to get to the Amundson-Scott Research Station at the South Pole. Since the sun never set, they ran nearly around the clock. It was very slow going; the terrain was very difficult to navigate, and it often felt like they were barely moving. They only stopped once – there's a Russian outpost at the halfway mark. The welcoming committee was ready, too. Hot chicken curry and shots of vodka all around! (Probably not my choice of cuisine, but that's okay. Russians aren't known for distilling bourbon, and I doubt they had a grill for ribeyes, y'know?)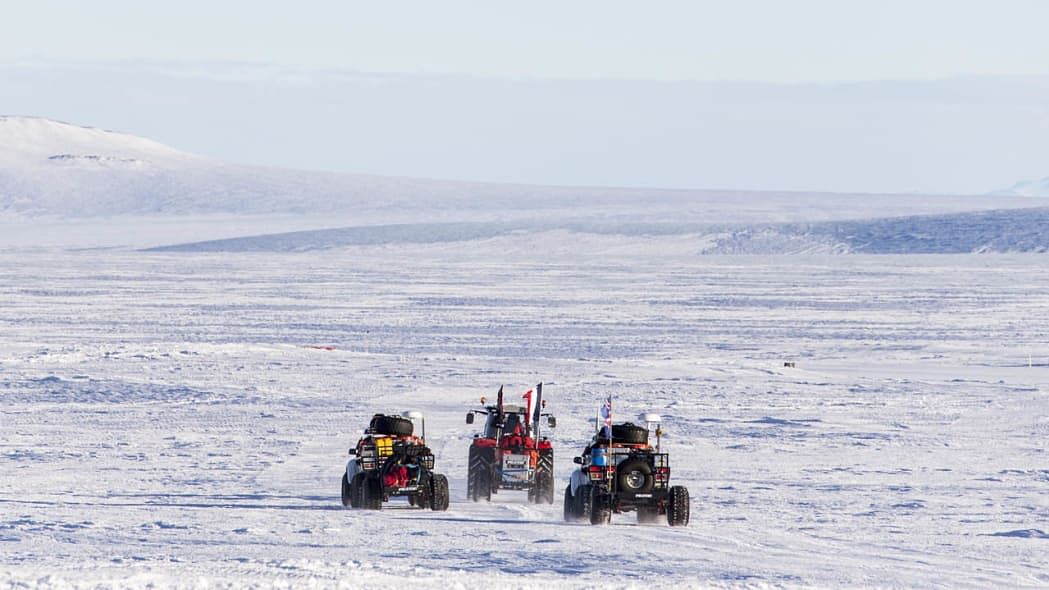 After a well-deserved rest, the team bid farewell to the Russians, and it was time to hit the road again.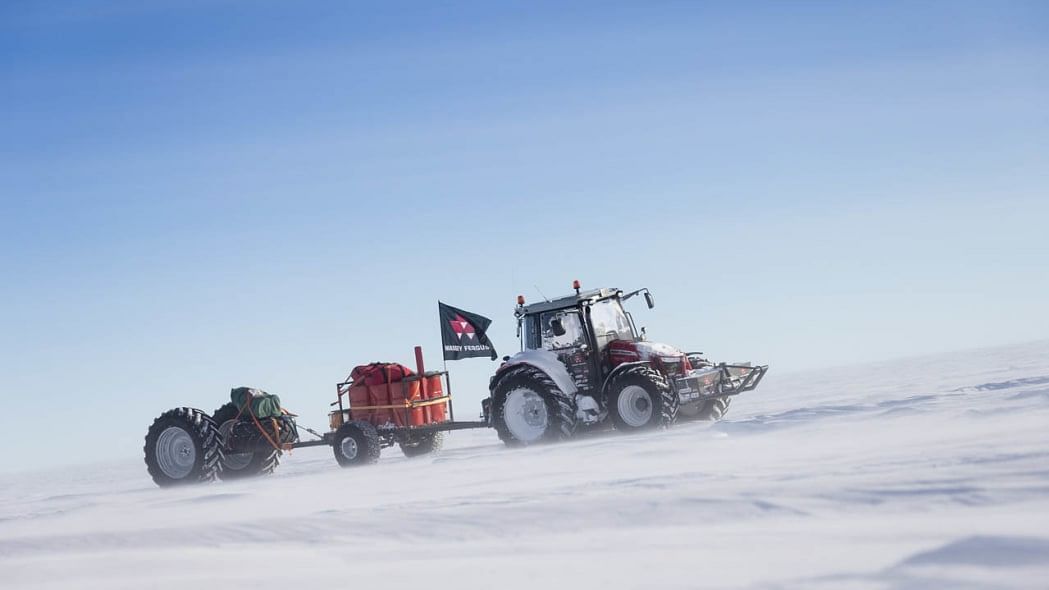 And eight days later, they made it to the South Pole! They'd done it! A dream nearly 10 years in the making had finally happened!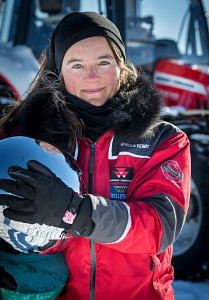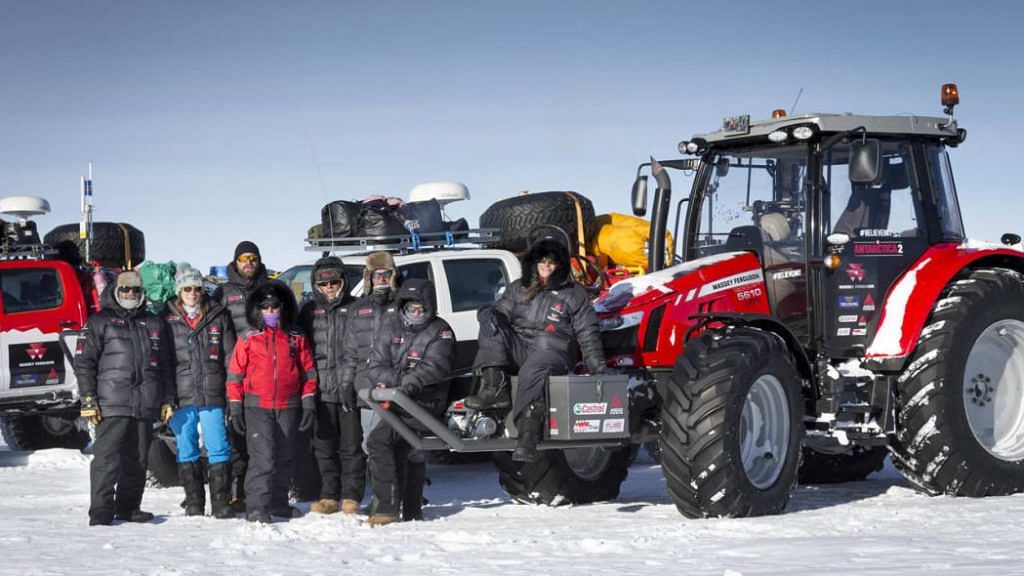 Massey Ferguson 5610 & Tractor Girl – racing Santa Claus!
The team arrived at the South Pole on December 8, 2014 – which was great! However, at the end of the day, they were only half way finished. They still needed to get back to the airstrip on the coast – and they needed to do it quickly. Every one on the team had a family at home, and they'd promised to be home for Christmas! It was especially important to Manon Ossevoort, though; she had a 10-month old daughter at home, and she was determined to be there for her first Christmas.
So, after a day of celebration and rest (and letting the world know they'd made it), Tractor Girl and the rest of the team fired up the Massey and the Toyotas to go home. The trip back was grueling, but since their tracks were frozen, the trip moved along much faster. They made it back to the Novo airstrip in twelve days – leaving just enough time to load up and get home for the holiday!
The Snowman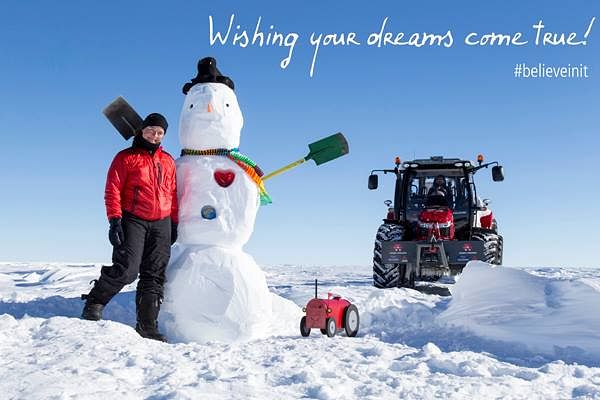 Remember the part where Tractor Girl wanted to build a snowman with the dreams of the world in its tummy? Well, she did it, but I'm not sure exactly where. See, when she reached the South Pole, she didn't feel quite right building the snowman there. The research station is a busy place, believe it or not, and with all that activity, she didn't want him to be run over!
So, somewhere on the return trip, the team found the perfect place, and built the snowman. And, true to her word, she put the hopes and dreams of all of those people she'd met in its tummy. Before she left, she'd digitized every one of those little slips of paper and put them on a hard drive.
That hard drive is sitting in a protected little time capsule in the middle of that snowman in the photo. And that's where it'll remain for the next 72 years, if all goes according to plans. Manon specified that she didn't want it opened until 2094 – 80 years from when she put it there. Hopefully somebody will know how to open that hard drive in 72 years!
What happened to Tractor Girl and the Massey Ferguson 5610?
Tractor Girl returned the tractor and received a hero's welcome in Beauvais, France (where it was built) on February 13, 2015. And, after making a few appearances at a couple of European ag shows, the tractor was displayed at the factory. Manon, on the other hand, went home to resume life as a mom. In her spare time, she's written a book about her journey. Sadly, it hasn't been translated to English, though, so unless you're fluent in Dutch or German, you're probably out of luck. I believe she would still like to direct a movie, but I haven't heard that it's been given the green light as of yet.
I've reached out to her, but thus far I haven't heard back yet. Maybe some day, I'll have the opportunity to meet her. Her story is really neat, and I'd love to pick her brain about it!
Tractor Girl's Journey by the numbers…
The numbers are pretty staggering, if you sit down and put pencil to paper. Here's the high-level.
Nearly ten years, start to finish.
One person (for most of it)
Two tractors
Three continents
22 countries
26,700 miles (roughly)
Thousands of hopes and dreams.
And those are just high-level stats! I'd love to know how many tires she used, how much fuel, etc.
On the Massey side, the little 5610 performed flawlessly. Save for one broken fan belt on the return trip, the tractor ran for nearly 760 hours in just about the worst conditions possible and it didn't miss a beat. That says something about the durability of these little three-bangers!
They wrote their name in the history book again, too. They were the first vehicles to the South Pole back in 1958, and in 2014, they became the first wheeled tractors to make the trip – everything prior (and maybe since) has been on tracks.
My thoughts on the whole thing…
I have lots of 'em, but I'll boil it down a little bit.
I still haven't determined whether she's crazy or brilliant. Without regard to that, though, I'm impressed with her courage to do it.
It's a miracle that through over 26,000 miles, in some very dangerous parts of the world, she was completely unharmed. I mean, there were places on her route where people simply vanish and are never heard from again, and yet nobody ever laid a hand on her.
I'm impressed with that little Deutz. I mean, I get that tractors are supposed to last a long time, but she started her journey on a tractor that was already 30(ish) years old! (One of the questions I want to ask her if I ever have the chance is how many times the Deutz broke down on the trip, and how she was able to fix the issues!)
Missing that boat was probably the greatest stroke of luck she ever had. Had she somehow gotten to Antarctica with the Deutz, I'm just about sure that she wouldn't have survived the trip to the South Pole. Quite frankly, I don't think you could modify a 30+ year old Deutz enough to make that trip feasible – not without rebuilding it into something that barely resembled the original tractor, at any rate.
The most important thing, though? I think it reinforces the fact that so long as you never give up, you can achieve anything.
You can even drive a tractor to the end of the world.
Get more info on the Massey Ferguson 5610 for sale in Michigan here…
Sources: Tractor Girl FB page, Boekhandel Broekhuis FB page, kickasstrips.com, TractorTractor.org (archived by The Wayback Machine), AGCO's Blog.