Jan. 25, 2023 • Interesting Iron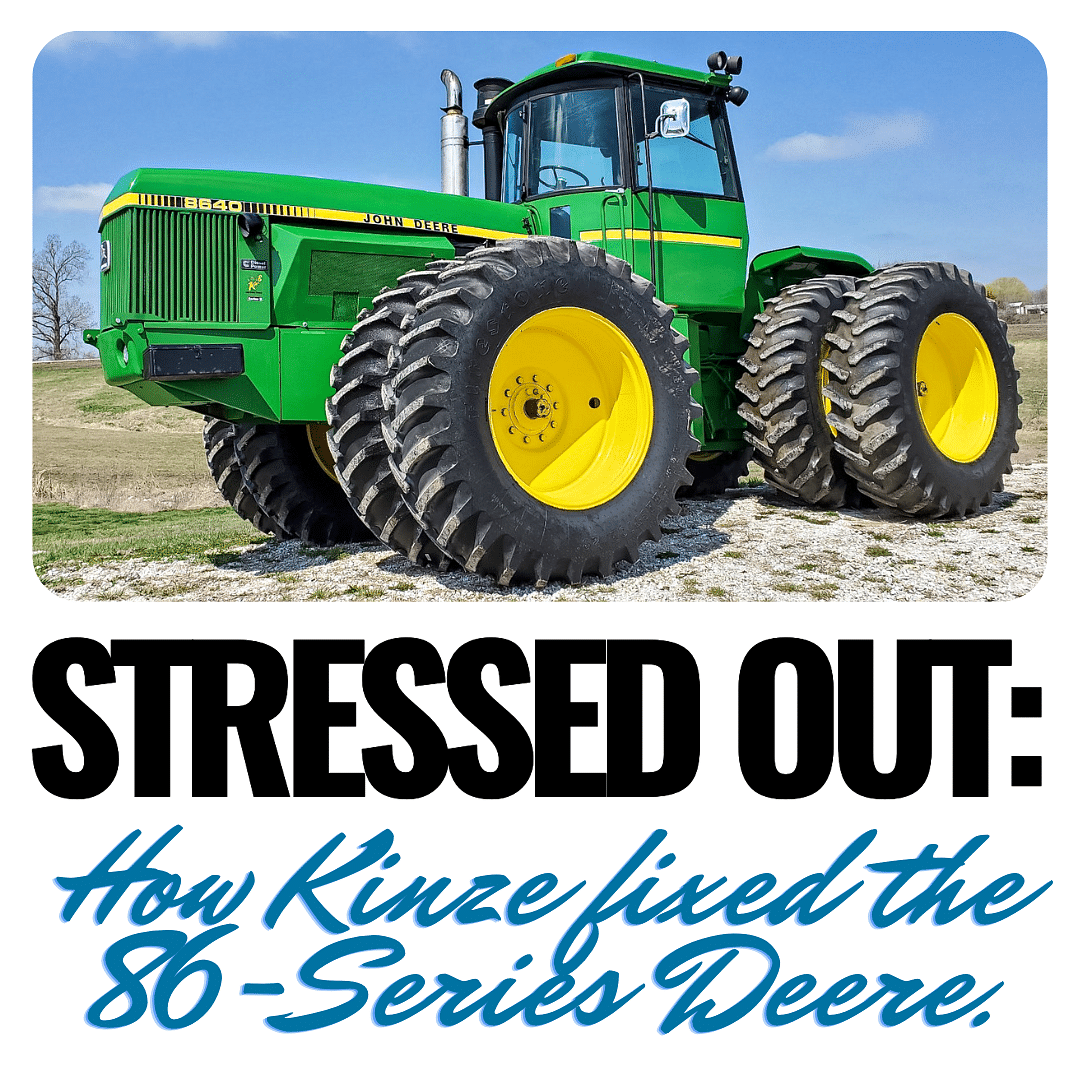 Auction Date: February 11, 2023 – 10:30AM CST
Auctioneer: Putney Auction Service
Format: Online & Onsite (online bidding is open now)
Location: Indianola, IA
TZ Auction Listing
It's been a long time since I've seen a Kinze repower listed on Tractor Zoom, and this one is a pretty nice tractor! Furthermore, the story of how Jon Kinzenbaw got back into the repowering business is interesting!
To set the stage, though, we need to start in Waterloo.
Deere's early 4WD tractors.
By most accounts, John Deere's entrance into the 4WD market was painful. They've got it figured out now and they're turning out great 4WDs and tracked machines, but those first two decades were really bumpy. Between mechanical issues and pricing, they just couldn't seem to get it right.
The 8010 was a commercial flop because it was expensive and the transmissions failed, prompting a spendy recall. Furthermore, when the WA-14 & WA-17 were released a few years later, they were even more expensive! As you'd expect, those didn't sell well either. Deere did have some success with the 7020/7520, but they were light in the horsepower department compared to Steiger and Versatile.
However, as 1975 rolled around, Mother Deere had high hopes for the 86-Series 4WD tractors.
Hold that thought. Let's put a pin in this topic for a second, and let's introduce Jon Kinzenbaw – founder of Kinze Manufacturing, because later on, he'll play a big role in this story.
Jon Kinzenbaw – Powering up.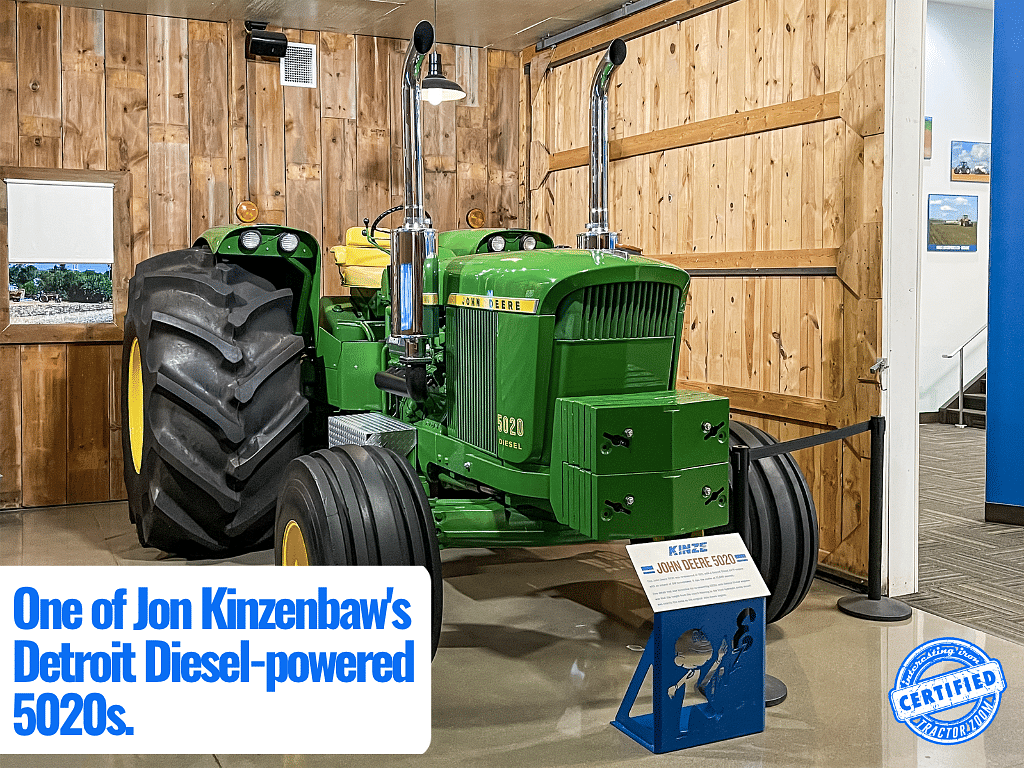 Before there was ever a big blue Kinze grain cart or a planter…there was Kinze Welding. Fresh out of basic training with $5 in his pocket, Kinzebaw took out a loan to open up shop in Ladora, IA. Jon had earned a reputation in high school as a good welder and fabricator who was pretty handy when it came to mechanical problems, too. His first job? Welding up a broken loader frame for a local farmer on December 10, 1965 – the day he opened. The cost? $11.20.
Jon was a natural born problem solver, so the odd jobs for local farmers soon turned into bigger ones. About a year and a half later, he met Clarence Carlson, a pretty accomplished welder and mechanic in Le Grand, IA. Clarence told him about a guy in Illinois who was repowering John Deere 5020s with 8V-71 Detroits. The tractors made big horsepower, but they were absolutely destroying the stock clutch. It didn't take long before Jon had figured out how to fix that problem (he adapted a truck clutch to make it work), and suddenly, he found himself in the repowering business!
(Side note: I can't help but wonder if Clarence Carlson was referring to Ed Mead? For a short time, Ed used Detroits that he got from a supplier here in Des Moines.)
Over the next five or so years, Jon repowered over 200 5020s as well as a few other Deere models. Things tailed off a little with the introduction of the 6030, but that wasn't a bad thing. It allowed for development of other things…like folding planters and grain carts!
Now, let's get back to Deere.
The 86-Series 4WDs – Deere in distress.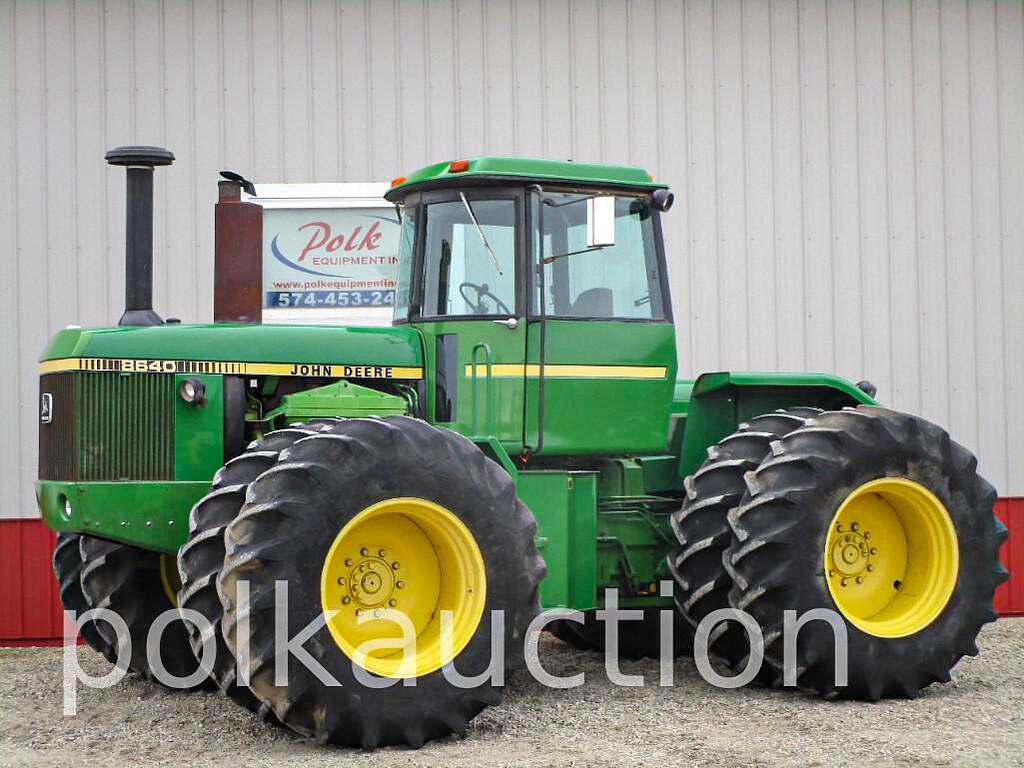 The shortcomings of the 7020 & 7520 tractors were supposed to stop with the 84/86-Series, released in 1975. They were all-new designs with lots of horsepower, live PTO and the creature comforts of the Sound Gard bodies. What was even better was that farmers could get all of this in a compact(ish) size that would still fit in the machine shed! Needless to say, farmers were really excited about them. The tractors sold well, too.
Then the unthinkable began to happen.  Engines started failing left and right.
For some farmers, they worked out fine, but others couldn't get more than 2500 hours out of them! Deere's engineers couldn't figure it out, either; on paper, this combo should work great! The 619 was a stout motor that made great power, but in this application, they seemed to self-destruct in short order. They tried multiple different fixes over the next decade, but none of them really worked all that great.
And then a farmer named Cliff Smothers bought one…
Why Cliff Smothers is important…
Well, it's because Cliff was Jon Kinzenbaw's father in law. When the engine in his 8630 failed, Jon looked it over and came to the conclusion that the problem wasn't so much the engine as much as it was the design of the tractor. And, after a little thought, he figured out a solution to the problem. In 1988, Kinze Power Products was formed, and suddenly, Jon found himself repowering tractors again!
The Problem
The biggest problem with the 8630/40/50s was the way that the engine was integrated into the frame. Deere bolted the front axle more or less directly to the engine itself, making it a stress-bearing member.
Now, if you farm perfectly pancake-flat fields and never encounter a road ditch or have to get across a waterway, this is probably fine. But here in the real world, that just doesn't happen. In the real world, even flat Illinois and Indiana farm ground has a little roll to it here and there, and spots where front axles have to flex a little bit.
Every time that axle would flex, so would the block. Couple that with expansion and contraction from heating and cooling cycles of the motor, and you've got a perfect recipe for blown head gaskets at best. More often than not, though, it led to rapid disassembly; rods out the side of the block, etc. It was a mess!
Furthermore, these tractors were also designed to be compact(ish) and rowcrop-friendly. That's terrific…when everything works right. However, when things break, they're hard to work on without tearing the whole thing apart. Labor costs were a lot higher with these tractors just because it was such a pain to get into them!
The Solution
The early solution was fairly straight-forward.
Series I
Dump the 619 (after all, it was junk by the time these tractors got to Kinze).
Replace with a factory reman 855 Cummins in a cradle-shaped subframe, effectively taking the stress off of the engine so it wouldn't flex.
Bolt subframe into the frame rails.
Reroute exhaust off to the driver's right side.
Connect the 855's output shaft to the Quad Range transmission using an adapter plate.
Install hood extension to account for the extra length (12-18″)
Set the engine at 350 horse.
Rinse and repeat.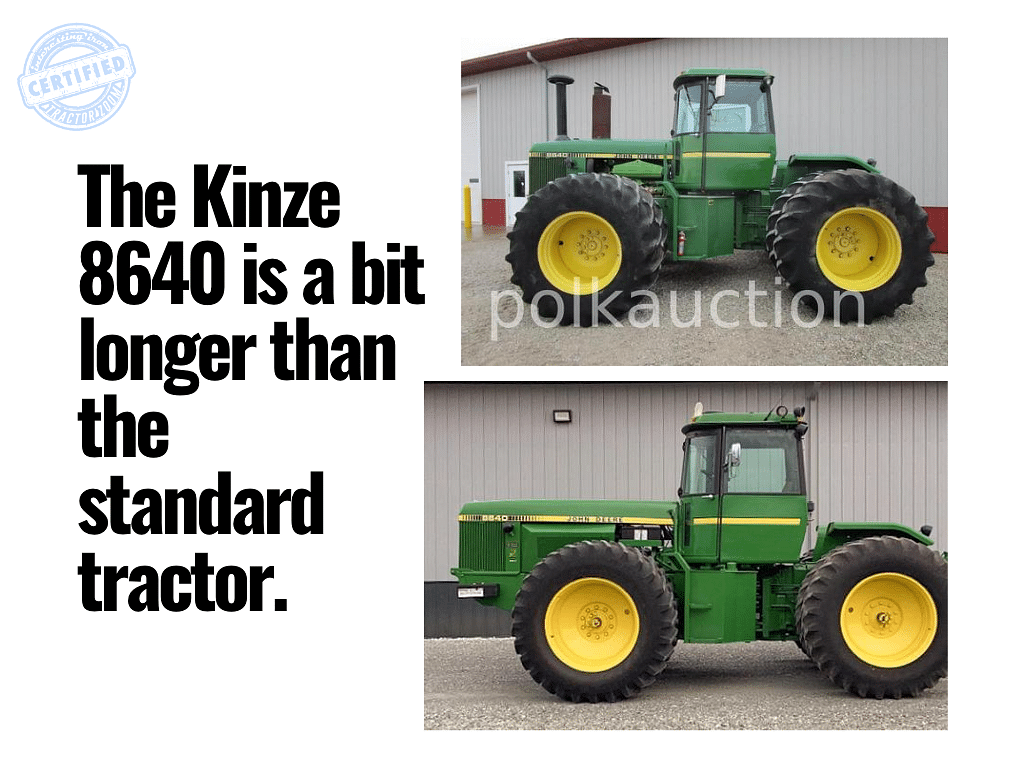 Kinze chose the 855 Cummins because they were dependable, plentiful, and strong. Furthermore, a factory reman engine came with a warranty (and an extended warranty if the buyer wanted it). It was a good move all the way around.
Series II
Over the years, the company continued to innovate their repower process. The Series II tractors swapped out the subframe assembly for longer front frame rails. This allowed the engine to move forward a bit further and get a better weight distribution for a better ride (and better traction when in heavy tillage). It connected to the Quad Range using a dropbox-style gearbox, which also gave them room to move the hydraulic pump.
The biggest outward change to the Series II Kinze Repower was the hood. Instead of a steel factory hood with a metal spacer in the earlier repowers, Kinze used a one-piece fiberglass hood that flipped forward for easy access to the motor, batteries, hydraulic pump. It was pretty slick, and saved a TON of time!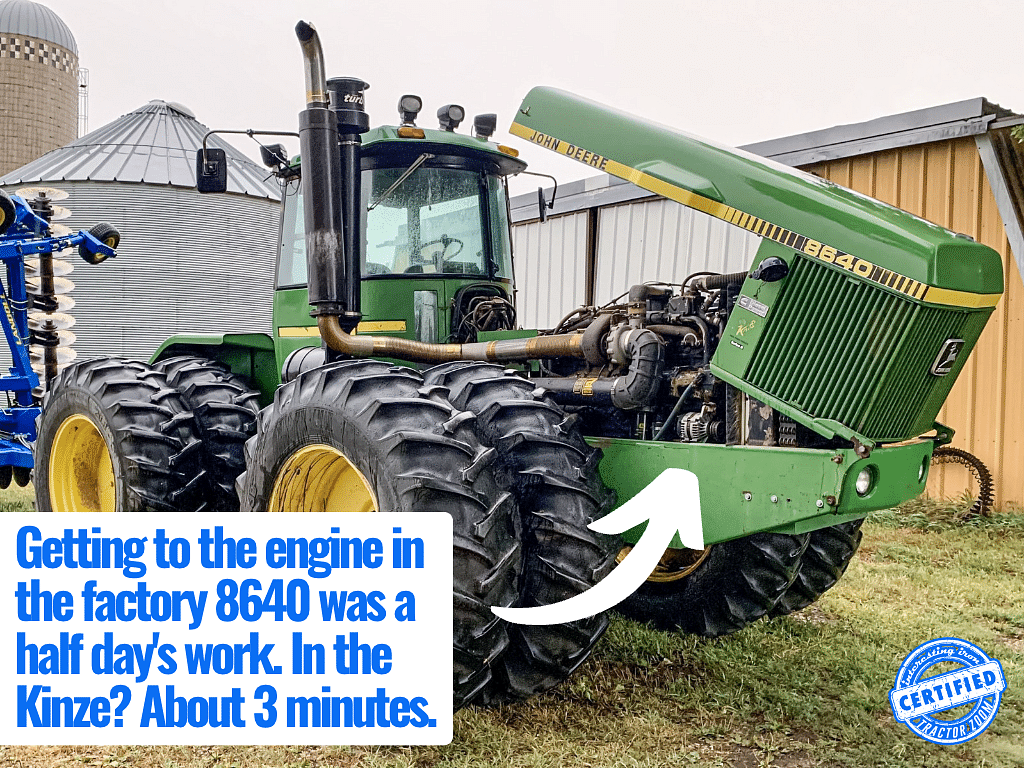 Why the Kinze repower made sense…
In 1988 when Kinze put the first repowered 8630 on display at the World Ag Expo in Amana, IA, it was very well-received. The forward-tilting hood and the side exhaust were really eye-catching. Furthermore, it came at a time when farmers who owned these tractors were dealing with the problems that the stress-member design introduced. In the past, Deere had replaced failed engines with the engine from the 8650 (which was better, as it incorporated motor mounts). But for farmers facing a $10,000 overhaul bill, this became an option.
That said…a $20-25,000 repower wasn't exactly inexpensive. Still, it was a better solution than anything else at the time. It fixed the inherent problems with the design, offered more power and efficiency, and made the tractor easier to service! Heck, if a farmer sprung for the full $25,000 option, Kinze would even repaint the tractor!
From 1988-2007, Jon Kinzenbaw estimated that they repowered about 600 of the big articulated Deeres. Lots of them (most?) are still around today, hard at work!
And that brings us to the one you can buy in a couple of weeks!
The 8640 Kinze Repower you can bid on right now…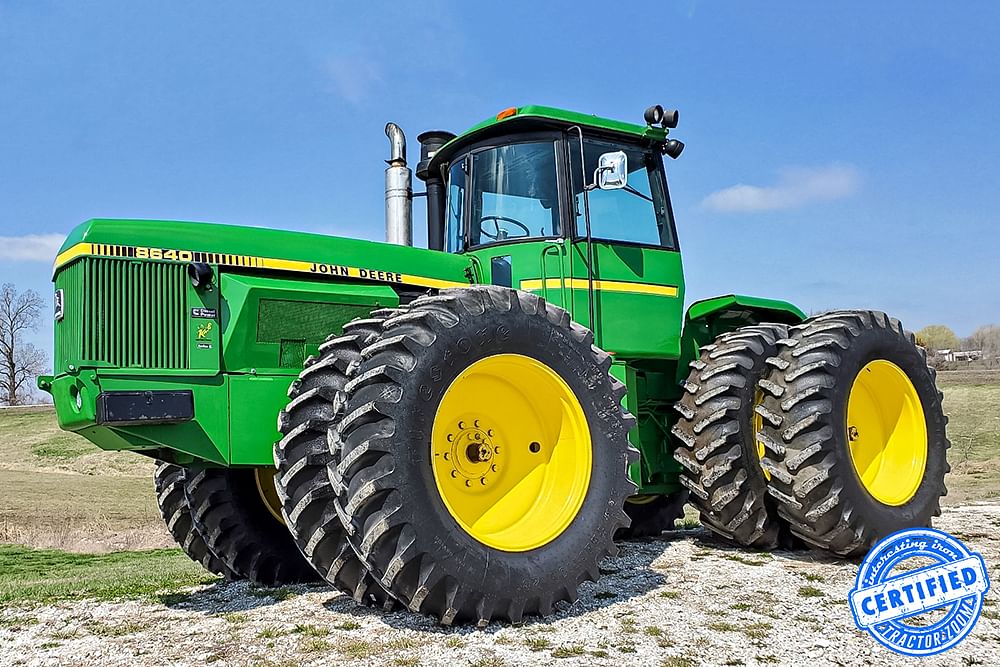 This is probably the nicest 8640 Kinze repower I've seen on an auction in quite a while. It's a three-owner Series II tractor with just over 10,000 hours on it, and I believe it's been in Iowa all its life!
As luck would have it, I happen to know the second owner. So, I gave him a call the other day.
His dad got the tractor from a John Deere dealer in southern Iowa in the mid-90s. After a few years, the 619 gave up, and they decided to send it out to Marengo to have Kinze repower the tractor. It took about four months, but when they got it back home, it resumed duties as the big horse on the farm.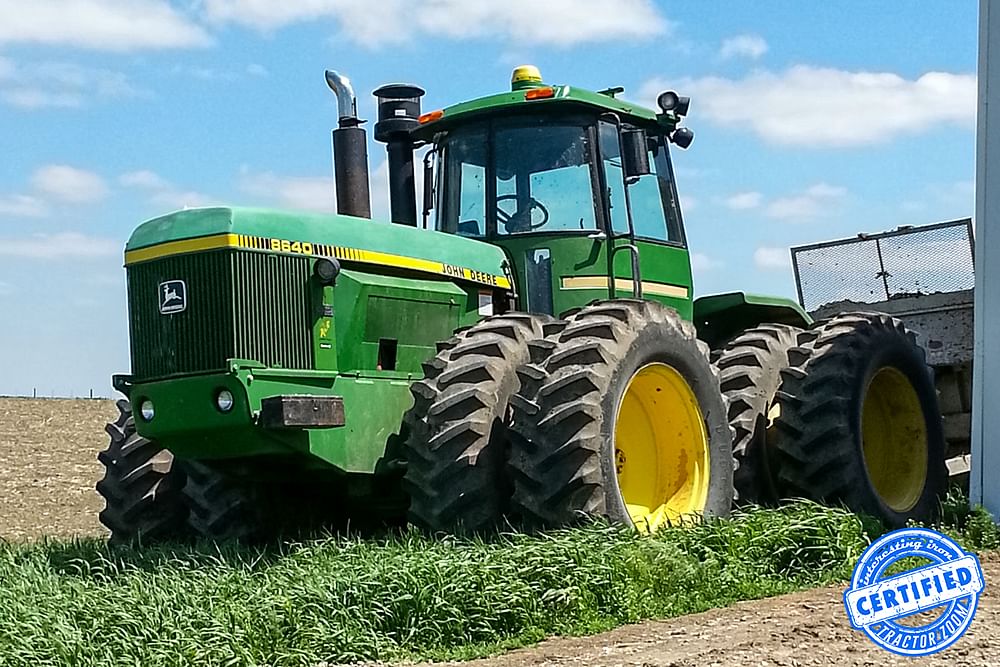 It was a good tractor and made good power, but in 2013, it developed some issues that basically toasted the engine. 855s are stout motors, but nothing is bulletproof, y'know? Rather than opt to have the 8640 fixed, they upgraded to a 9000-series 4WD, and sent the old tractor to a local boneyard.
From what I understand, it didn't last long at the boneyard. I'm pretty sure it was sold within a month to the farm that owns it now. They fixed the issues, and once again, the big Kinze repower went right back to work. That's where it's been for the past ten years, farming alongside a 2016 Case IH Steiger 370.
I wasn't able to chat with the folks who own it now. However, according to Mark Putney (the auctioneer handling the retirement sale), the tractor has been well-maintained and is ready to go to work. I get the feeling that the owners really liked this tractor, because they've put some money into replacing laundry list of stuff. The AC is new, as are the cab gaskets, batteries, and hydraulic lines. It also has all new LED stadium lights; you ought to be able to land airplanes with this thing! Lastly, it's got a fresh coat of paint, and four brand new Firestones up front!
It's not a museum specimen, and after 40 years of farming, I don't really expect it to be. It'll need rubber in the rear sometime soon, depending on how hard it's used in the coming year or two. Still, I think that fundamentally, this is a pretty solid machine.
What's it worth?
Last September, one sold in Ohio for just over $49,000. It was clean, but the rubber wasn't as fresh (and they weren't Firestones), the paint was a little faded, and it was missing the center link of the three point. I think it probably had more hours on it, as well.
Will this one do as well? Yes, I think probably so. In fact, I think it could do a little bit better, if only for the rubber alone. I mean, Firestone 20.8-38s are selling for a couple grand apiece IF you can find them! That's $8,000 of rubber alone!
Honestly, I think this tractor could potentially bring $60,000 or better. It's got a lot going for it, not to mention the fact that Kinze repowers are starting to go up in value. I mean, there were only about 600 of these big articulating repowers built in total (across the model line), and I think collectors may be starting to take notice of them. Time will tell!
If I get the chance, I'm going to go down to Indianola in a couple of weeks to watch it sell. If I do, I'll put it up on our social media channels!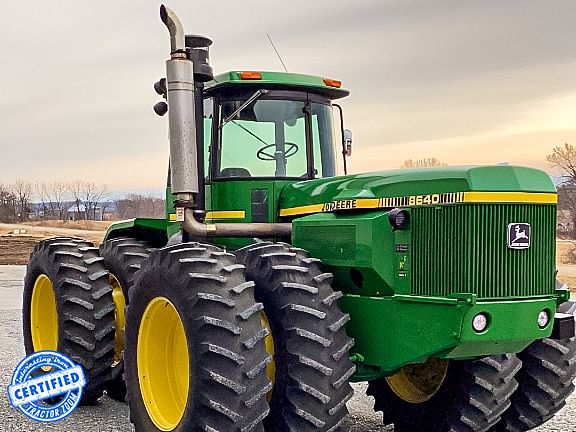 Here's the auction info, in case you're interested!
Auction Date: February 11, 2023 – 10:30AM CST
Auctioneer: Putney Auction Service
Format: Online & Onsite (online bidding is open now)
Location: Indianola, IA
TZ Auction Listing