Jul. 02, 2020 • Auction Prices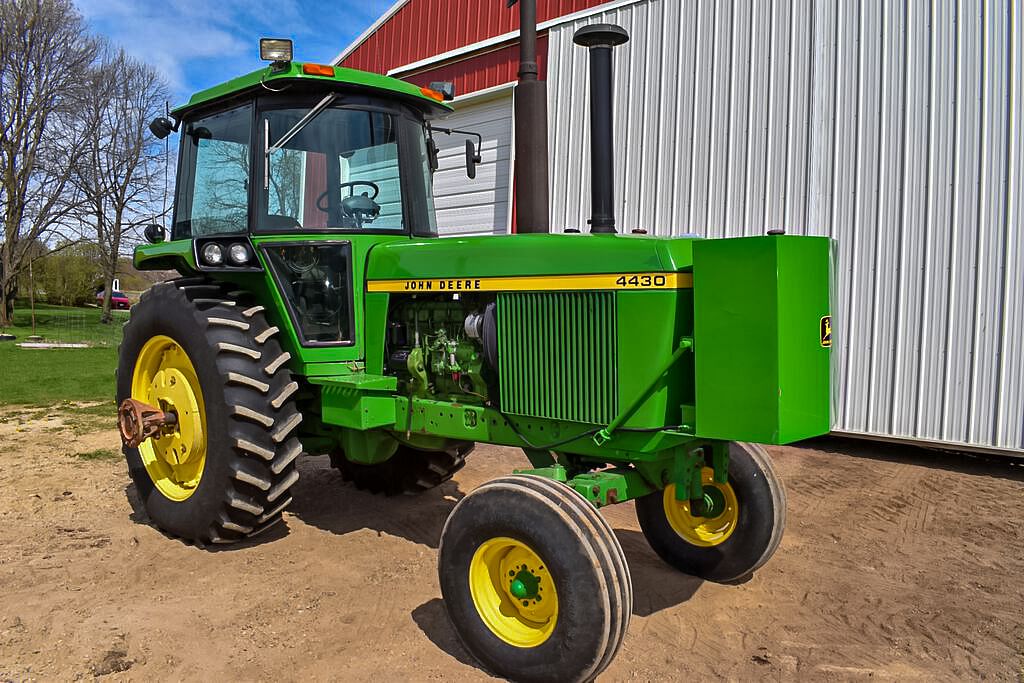 Click here to see the auction listing for this beautiful 4430!
It seems to me that cabs from the fifties and sixties were an afterthought. They're pretty crude, cramped, and usually drafty. Yes, it kept you out of the elements, so they were better than nothing, but still…not all that great. Surely you can hear a conversation about tractor cabs in the engineering office, right? It probably went like this. "Y'know, we should build that tractor with a cab! Hey Harv, do we have anything in back that we can throw on this thing so it's got a cab?"
Deere changed the game when they launched the 30-series in late 1972. Their engineers designed the tractor around the SoundGard cab using seals and bushings to isolate vibrations and engine noise. This really was a big deal! Nobody had ever built a tractor like that before! Was it a gamble? Maybe…but as bigger farms emerged, so did the need for more modern equipment. Farmers were spending more hours in the field than ever. They wanted to be more comfortable.
The gamble paid off, too. John Deere's game changing 4430 established them as not only a front runner in the horsepower game, but also as a pioneer in the "modern" era of farm tractor. They built them with a cab in mind from the start, and that decision has changed the agricultural landscape. Talk to any farmer who's run an open station and then bought a SoundGard. Spoiler alert: They won't give the SoundGard back.
Here's how well that gamble paid off, in sales terms.
Deere sold a 4430 every 36 minutes of every day for 5 years!
Let that marinate for a few seconds.
This one lives at a farm in Wisconsin for the next few weeks until Matt Maring and his team send it home with the highest bidder on July 24. It's a one-owner '77 model quad range with 7700 hours, and it's loaded! Duals, a front-mount fuel tank, rear wheel weights, and a super-clean interior! All things considered, I think it's an $18-20K tractor all day long. What do you think?