Jul. 13, 2022 • Interesting Iron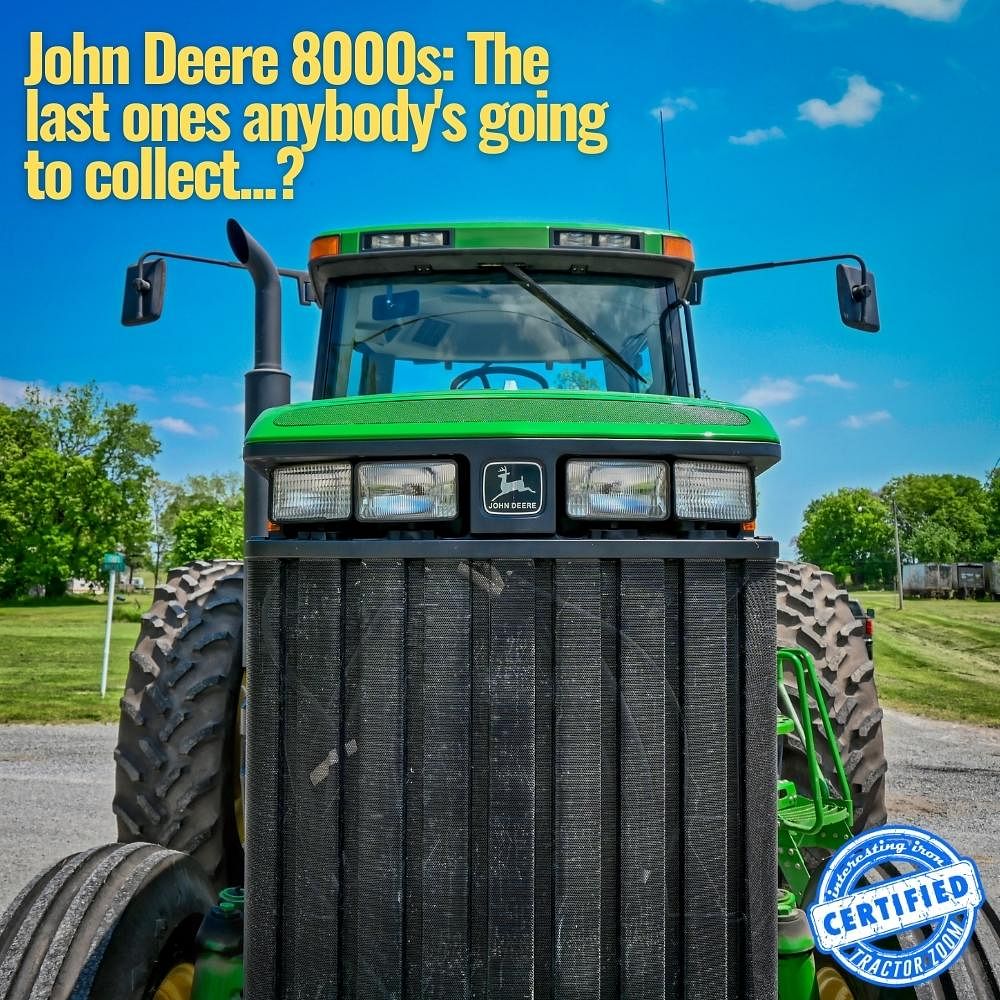 Deere's 8000-series tractors were game-changers for a handful of reasons. Personally, I think they were some of the very best that ever came from Waterloo. We'll get into the story in a minute, but let's get the details on an absolute unicorn of an 8100 selling at a Sullivan auction on July 26.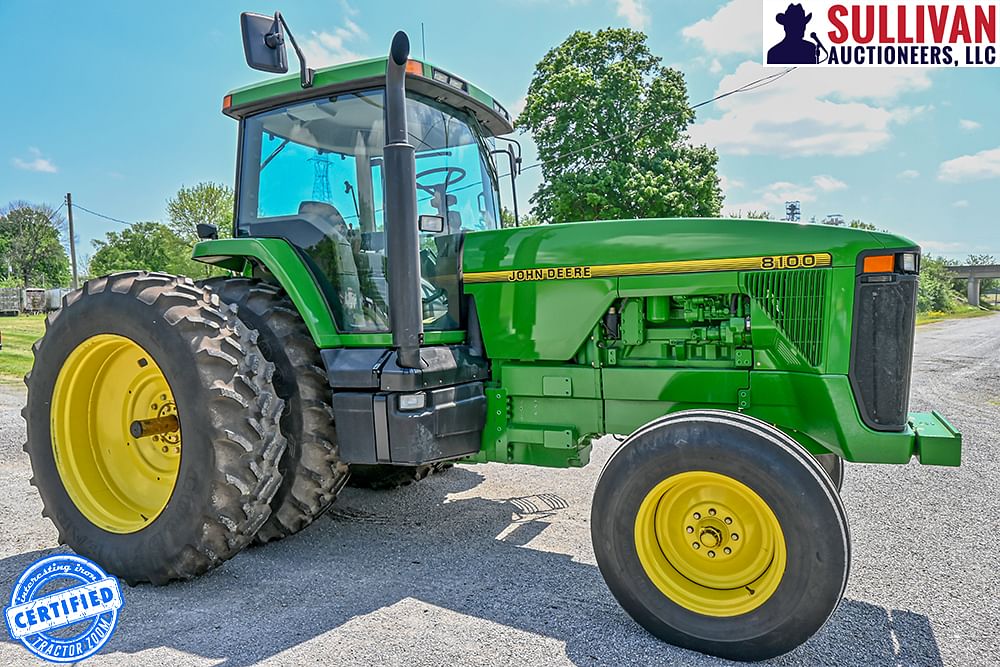 Nothing stops a Deere like a Magnum…
(I've always wanted to use that in one of these columns!)
For close to 20 years, John Deere had done really well with the Sound Gard tractors; they'd sold well when farming was good, and sustained the company during the rough times of the 80s. They'd held the top spot in the equipment market through quite a bit of the 80s because of those tractors, which had been incrementally improved multiple times. However, in Racine, Case IH was getting the newly formed company together, and they had one goal.
Beat Deere.
They had the tractor to do it with, too. When the boxcar Magnums rolled out, the game changed quite a bit. The new 7100-series tractors were powerful, well-built tractors that not only looked good, but were comfortable and roomy. It sold well, and while Deere still held the horsepower advantage, it was only a matter of time before the red guys got comfortable with the 8.3 Cummins and started turning up the wick…which they did in 1990 with the 7150.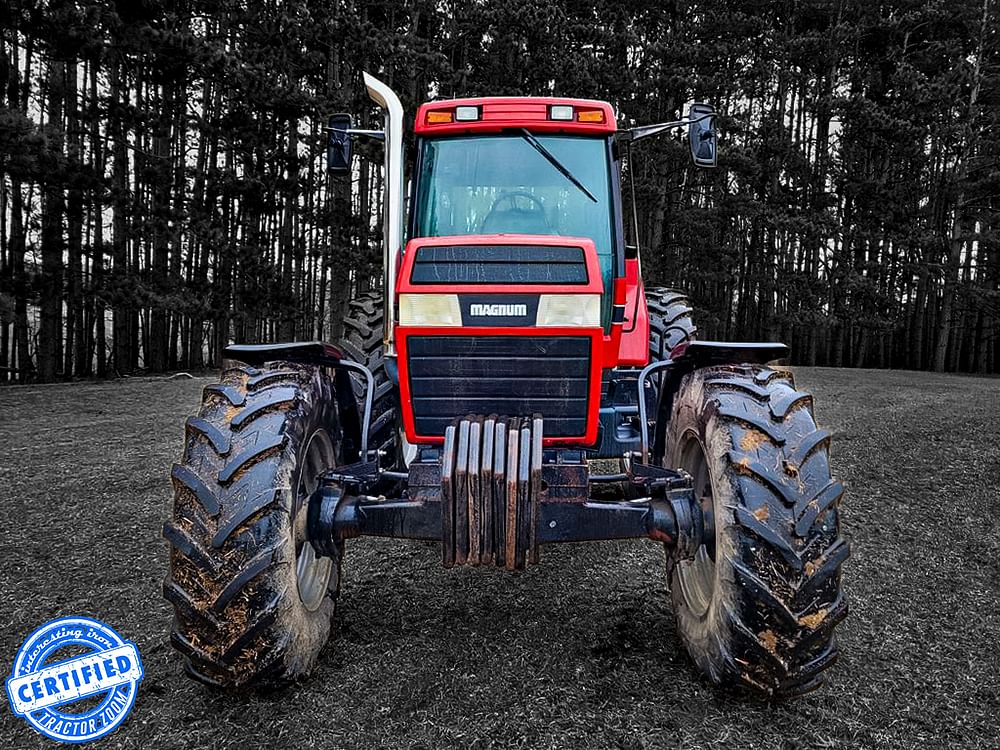 Deere's response would be a completely new, clean-sheet design. Sort of…
The 8000-series clean-sheet design…
…actually wasn't all that clean to start with.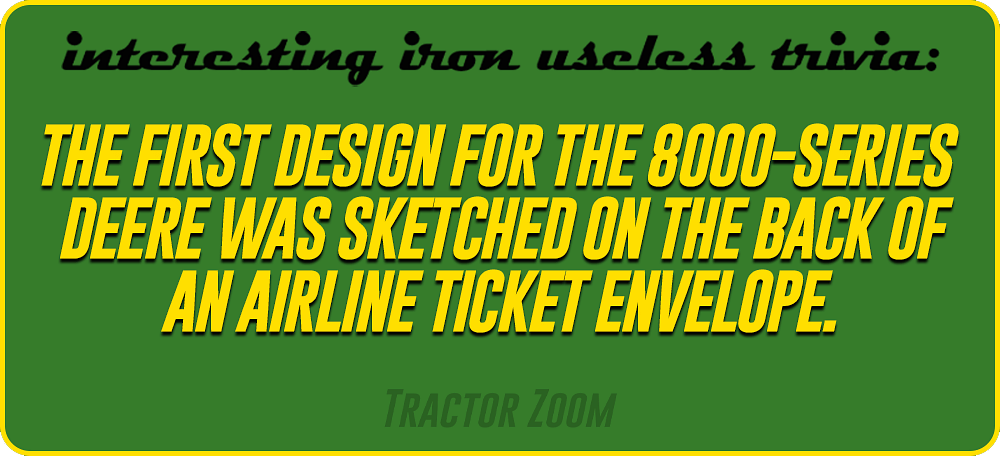 Some of the best ideas in history were sketched out on bar napkins and scraps of paper – and in Deere's case, it was an airline ticket envelope. According to a timeline/blog post from MachineFinder, Terrill Woods (one of Deere's design engineers) began playing with an idea for an MFWD row-crop tractor with a super-tight turning radius. The sketches on that envelope were the basis for the 8000-series tractors that would be released in August of 1994 for the 1995 model year. The focus was on operator comfort and handling,
How to make a tractor turn on a dime…
I've written about John Deere's Caster/Action on a couple of occasions. It was a system that tilted the front wheels a few degrees to help tighten up the turning radius a little bit. It appeared on the 50-series tractors first, and by the early 90s, it was a mature feature that worked well. However, the problem that Deere's engineers were running into at this point was that you could only tilt and turn the wheels so far before you started rubbing up against the frame.
This time around, though, there was a plan. By moving the motor and the transmission forward and higher in the tractor, they could make enough room that the wheels could tuck under the frame when turning around. At the end of the day, the motor ended up moving 10″ up and 44″ forward of where it was in the Sound Gard tractors. That was a massive move! It gave them a tighter turning radius than any other big-frame row-crop on the market – even New Holland's Genesis tractors with SuperSteer couldn't touch 'em!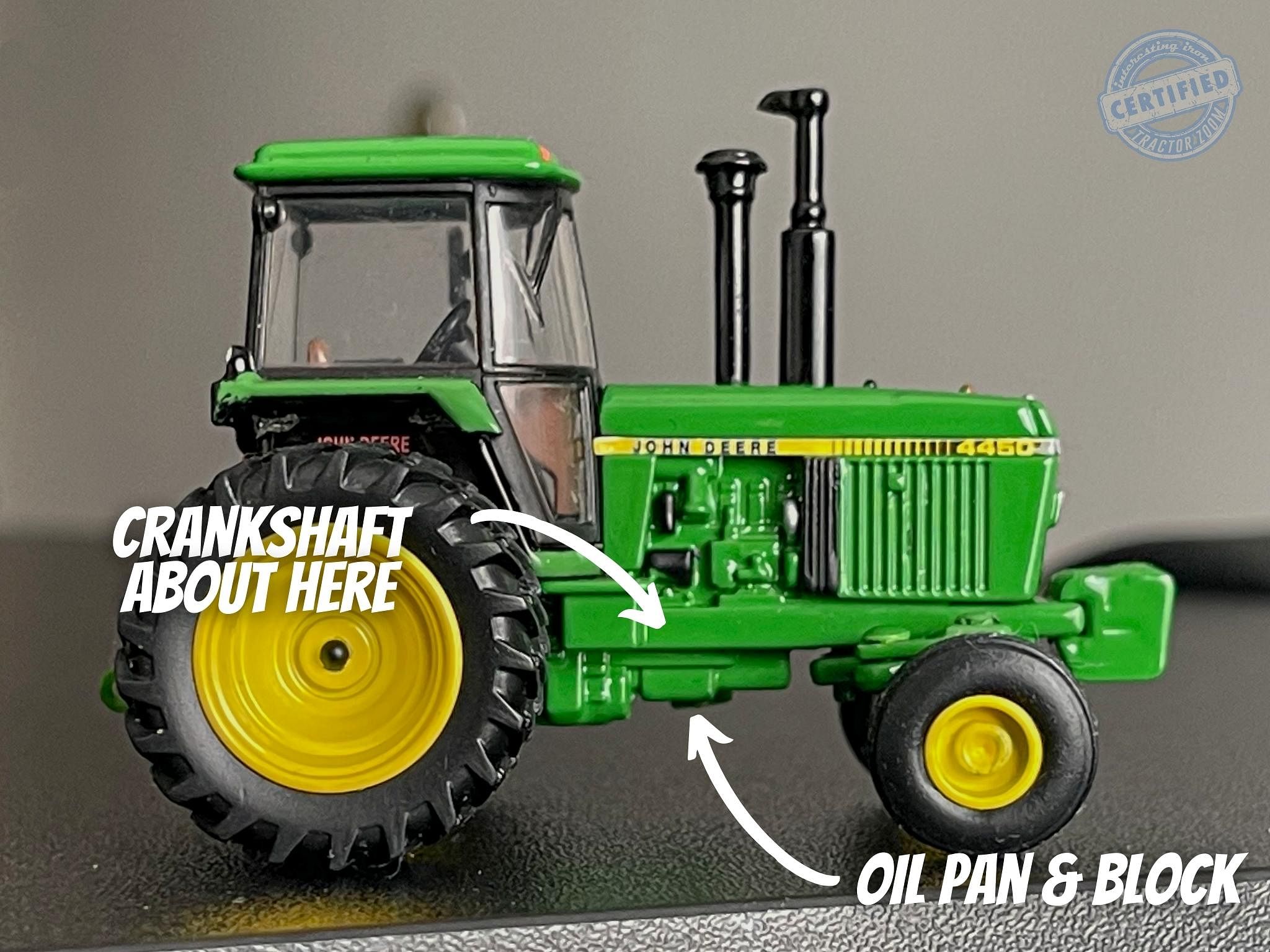 Compare the 4450 to this 6210R…there's a lot more room for activities (and tilting wheels) under that frame!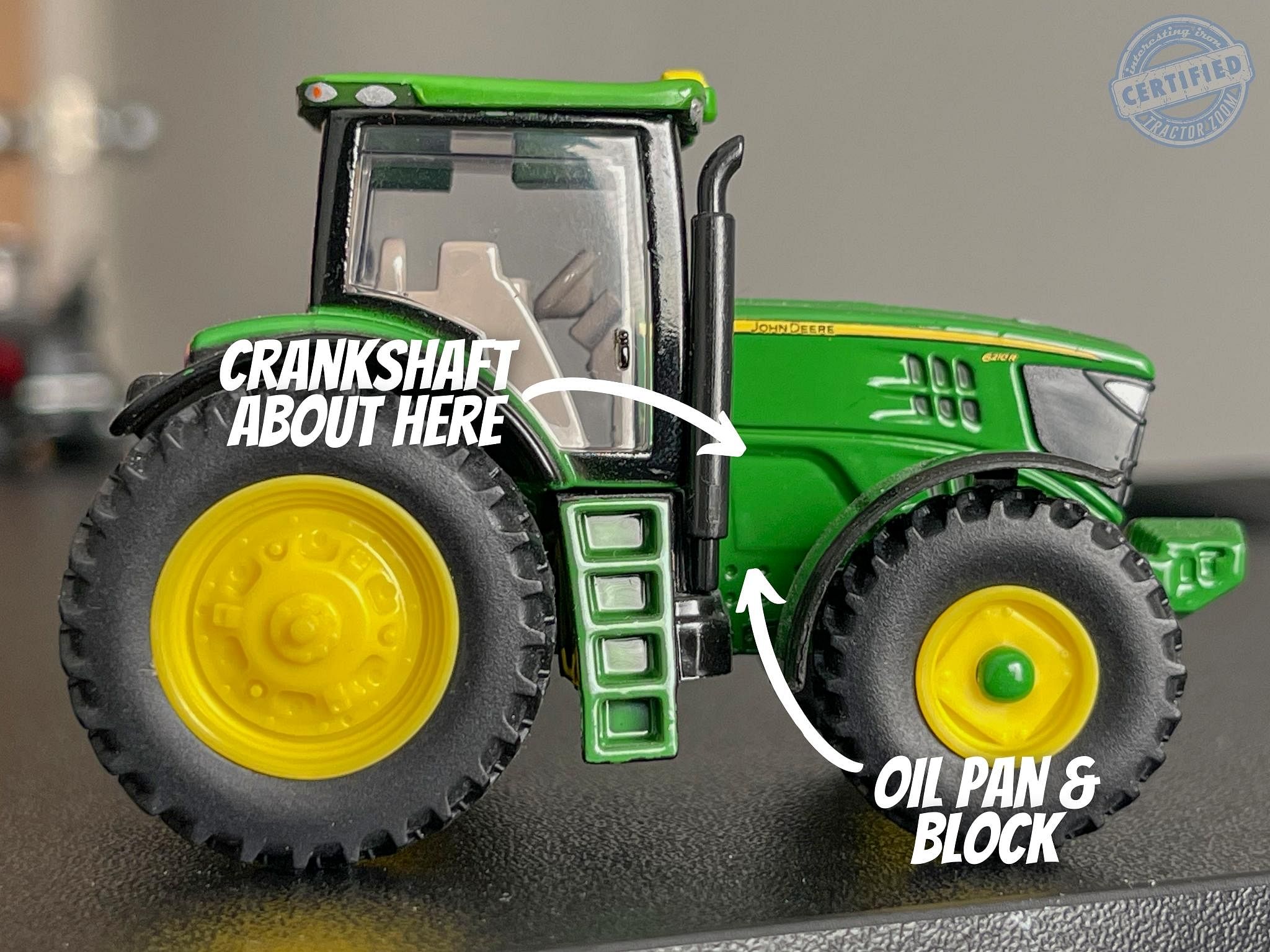 Wasp Waist
Furthermore, moving all that around in the tractor gave that Deere enough room to skinny up the back half of the hood following a principle called "wasp waist" to give the operator better crop visibility than ever before.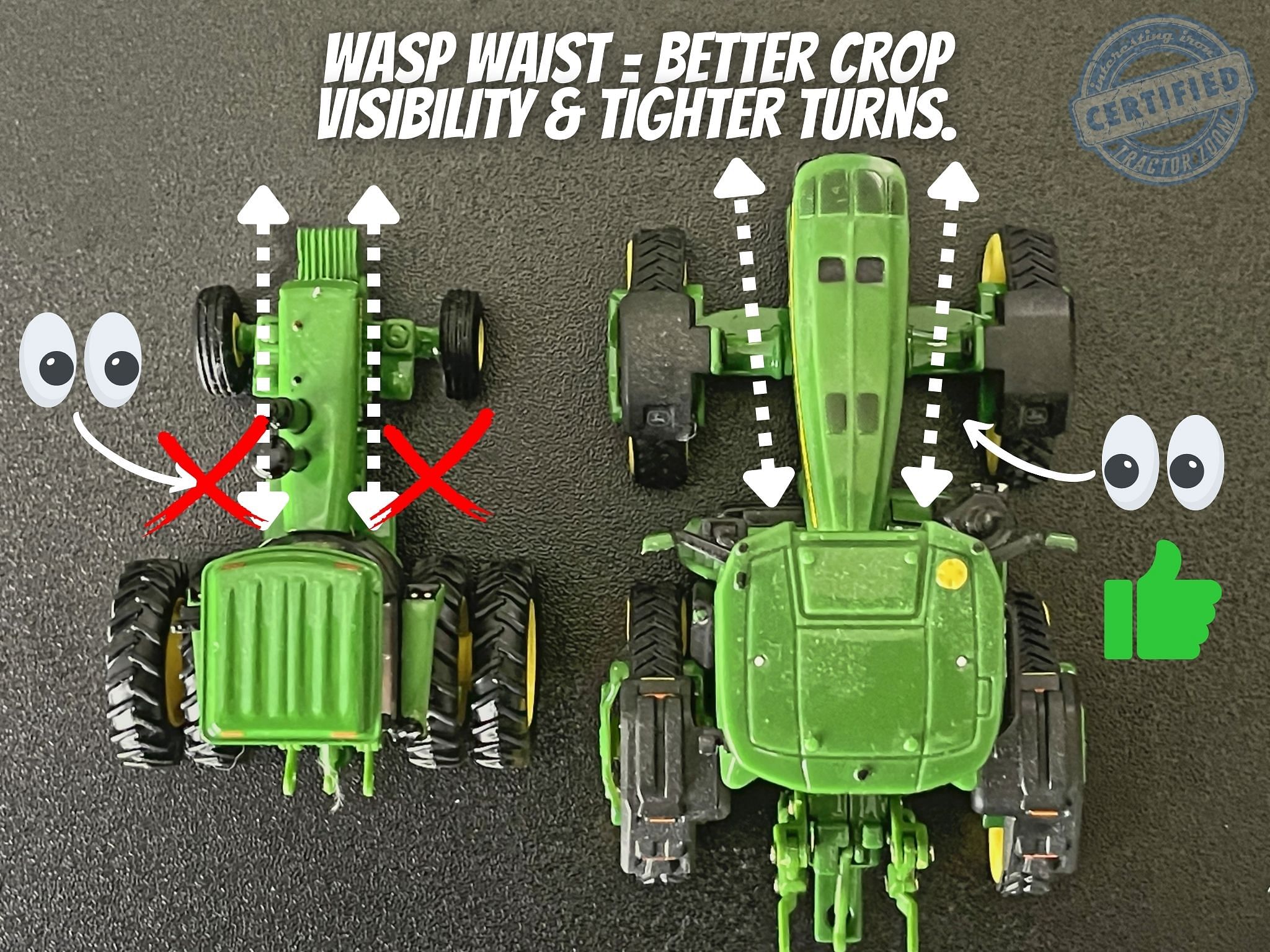 But that's not where they stopped pushing things forward. The cab moved forward too, which helped the stability and the ride quality for the operator.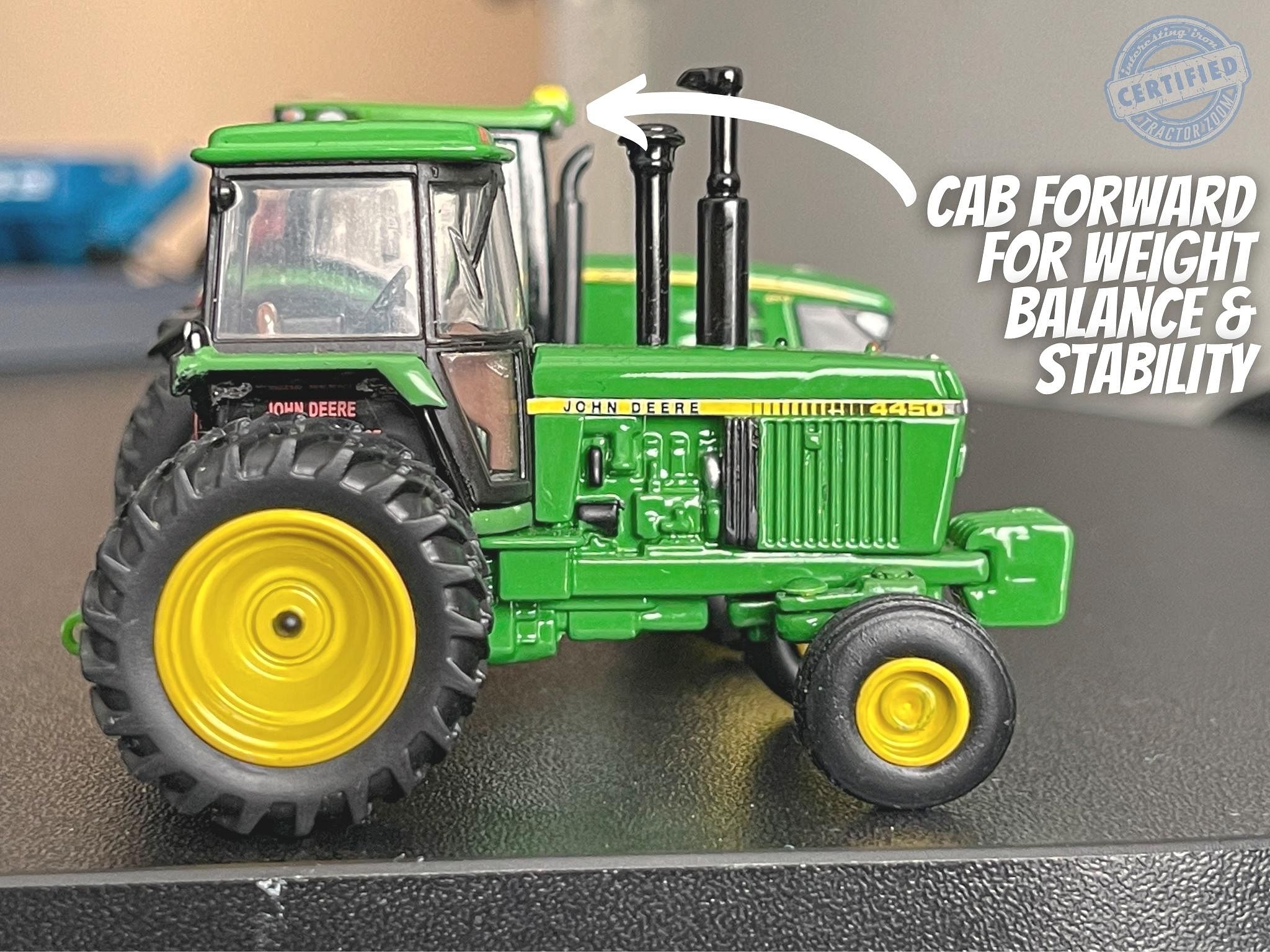 At the end of the day, 8000-series design really created a very well-balanced tractor that rode pretty well! Furthermore, for its size, it was probably the most maneuverable tractor on the market!
Command all the things…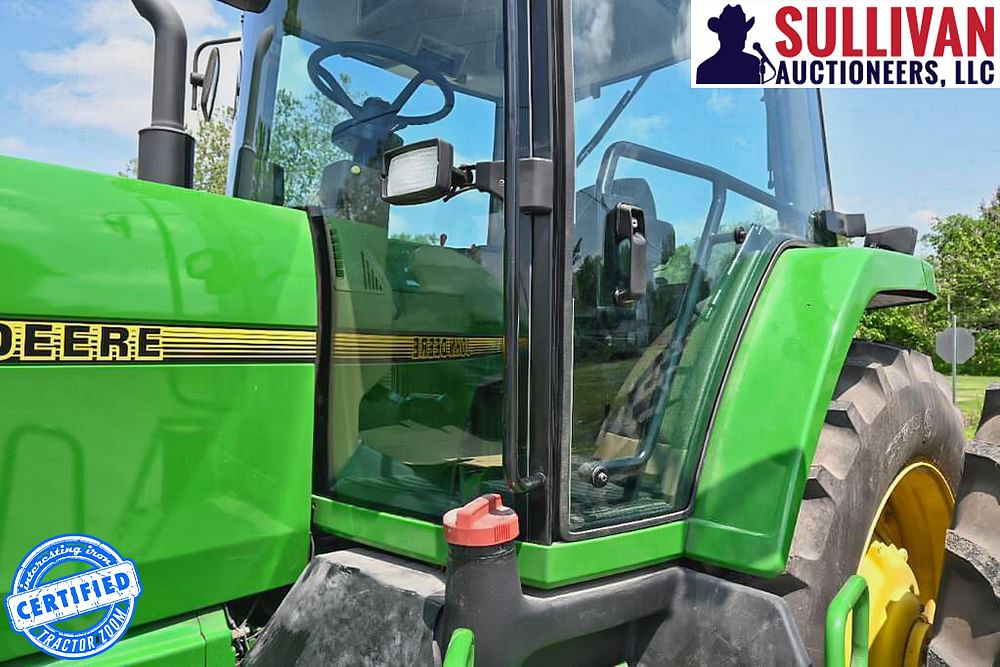 The CommandView Cab was another major shift in design. I don't think Deere had ever built a bigger cab for their tractors. The brochures said 65% more cab space than ever before, and that made life a lot more comfortable for the operator. Furthermore, the front windshield offered a completely unobstructed view of the field ahead that the Sound Gard cabs never could. That front windshield is over 20 square feet of glass!
The other major in-cab innovation wasn't necessarily new, but it was a new implementation.
CommandARM was a system that had been introduced in the 9500 combine back in 1989 that moved all of the major machine controls on to the right armrest. It had gone over fairly well, so Deere's engineers adapted it for the 8000-series. Most of the guys I know who farm with these tractors really like it!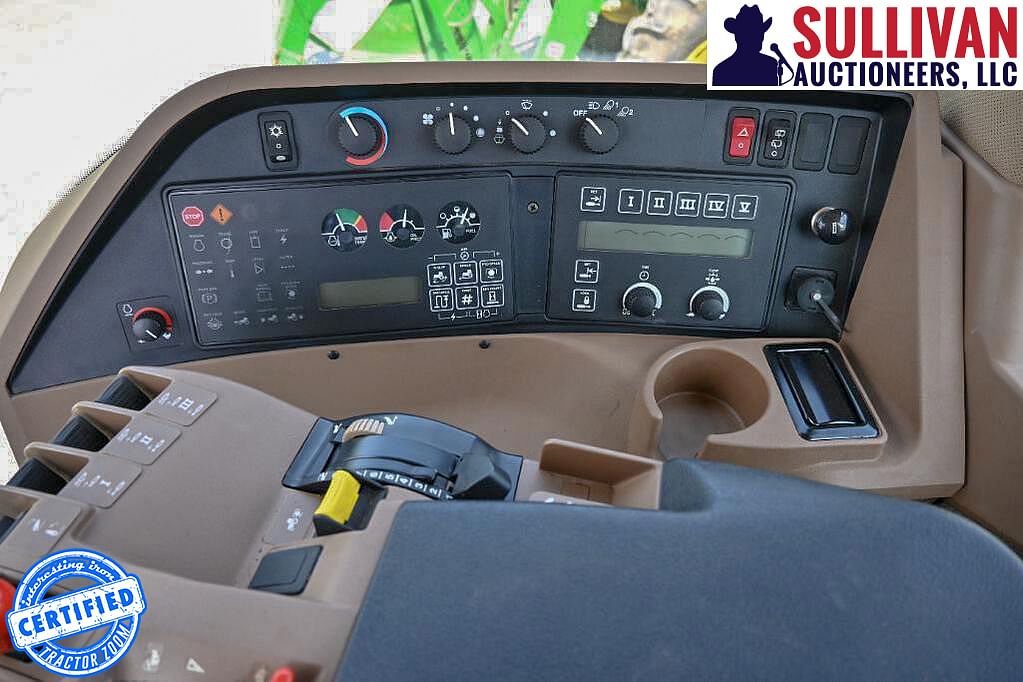 Power and putting it to the ground…
For the early 8000-series, there were two engines available. The 8100, 8200, and 8300 all used a turbocharged and intercooled 466 just like the late Sound Gard tractors did. 8100s were rated at 177 horse, 8200s at 200 horse, and 8300s at 222 horse. The 8400, however, used a new 497 cubic inch turbocharged and intercooled engine (it's commonly known as the 8.1L PowerTech) that was rated at 250 horse, and in 1997, all of the rest of the 8000-series machines began using it as well. Both motors were stout, with a pretty good reputation for longevity. I personally know at least a half dozen guys running those PowerTech engines with well over 15,000 hours on them. Harnessing the power was an all-new 16-speed Powershift transmission, which has proven to be pretty bulletproof over the past 27 years.
How'd they sell?
Like hotcakes. Deere had a winner on their hands from the word go. I don't know actual sales numbers, but they couldn't make them fast enough!
The 8100 you can buy on July 26…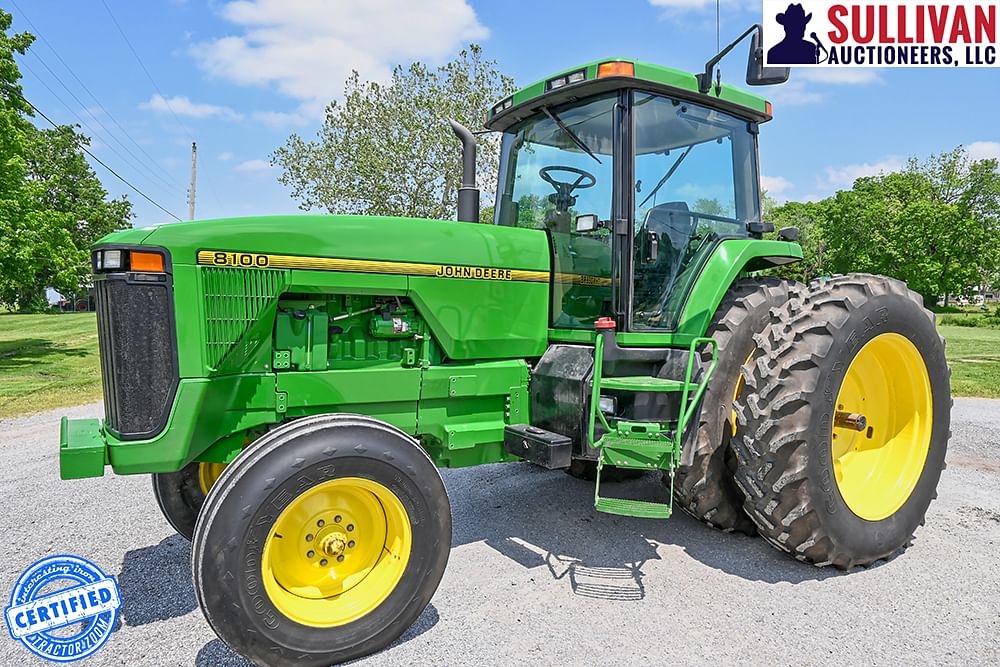 I won't swear to this, but I'm about certain that this is the lowest-houred John Deere 8100 left on the planet. If there's one that has fewer hours, I'll bet Deere owns it. With 113 verified hours on the meter, if you want a "new" 8000-series, this is the tractor you're buying.
Quite frankly, it's a unicorn. The man who bought it new in 1994 as a 1995 model literally only put 113 hours on it. I'll bet the Sullivan Auctioneers crew has put more time on the tractor just getting it ready for the sale than Edmund Bickett did in the few years prior to his passing in 2017!
Why didn't it ever get used?
I wondered the same thing. So I called Cody Holst, the man who's handling the auction for Sullivan, and asked him what the story was. He told me that Mr. Bickett had a lot of irons in the fire, and he had done well with a bunch of businesses that he owned. From the sounds of it, there physically weren't enough hours in the day to use the machines he had, so some of them just never ended up getting used. For instance, there's a 2010 Chevy Z71 that's only got 1945 miles on it on this sale. There's also a very nice John Deere 6410 set up as a loader tractor that's only got 205 hours on it, and a 1998 Case 590 Super L backhoe with only 417 hours on it! They're all in beautiful shape, and just never ended up seeing much use!
As far as the 8100 goes, "It had been sitting for a while when we catalogued it, so we weren't completely sure what we were getting into," Cody told me, "but we had the local Deere dealer give it a once-over to make sure it was going to be safe to operate, and after a fluid flush, they gave it a green light. We've started it a few times to move it around for photos and what-not, and it's never thrown a code or gave us any hesitation. It fires right up every time!"
So there you have it. Sometimes life happens, and stuff doesn't get used like you'd expect it to.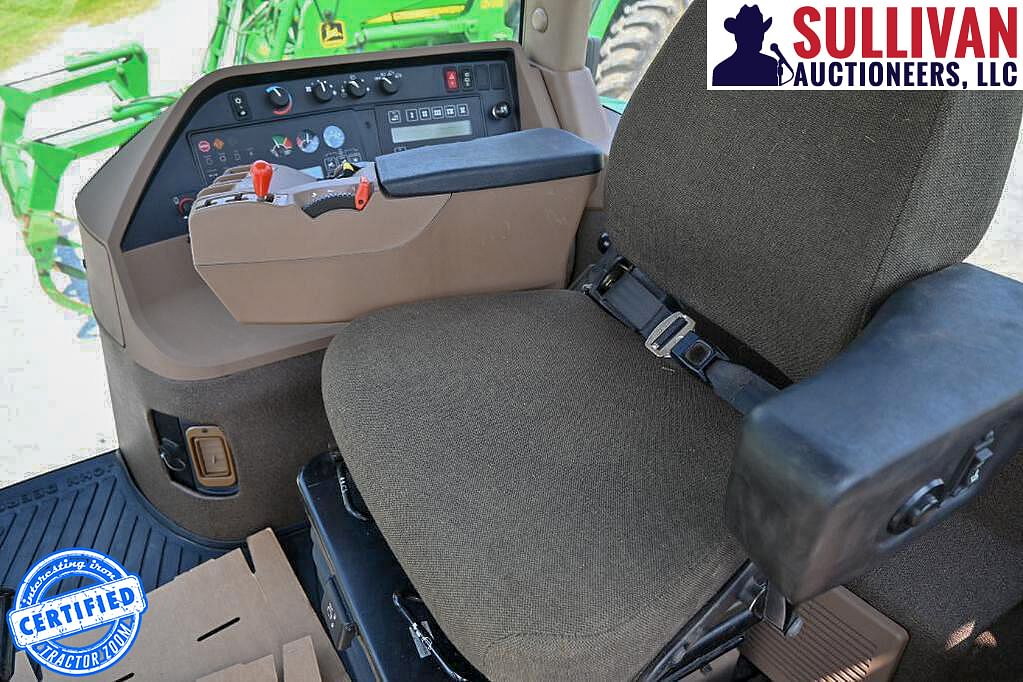 Is it collectible?
Depending on who you ask, the 8000-series (and 8000-Ten) tractors were the absolute pinnacle of John Deere's manufacturing. They integrated new technology, but it's not so computer-controlled that it takes a service call to fix them. You can still fix a lot of the stuff that goes wrong on these tractors with hand tools. Furthermore, though, this might be the last generation of John Deere tractors that farmers will still bond with. Here's why.
The farmers in my Grandpa's generation were really the last ones to have really strong brand loyalty. If they were raised on green, they bought green until the day they called it quits. If my family had been corn and soybean growers, there's a good chance that an 8000-series would've been the last new tractor Grandpa would've ever purchased from a Deere dealer. For that reason alone, a few of us grandsons would have a special place in our hearts for that tractor.
Here's the thing, though. After my Grandpa's generation, brand loyalty really started to go away. A lot of farmers in my Dad's generation had a preference, but at the end of the day they needed a tool to accomplish a task. If a tool of another color was the right fit for the farm, then that's what came home.
So yes, at the end of the day, I do think some of the 8000-series Deeres will end up in collections…but I think that these will be some of the last ones that farmers collect.
What's it worth?
I think that this tractor will probably end up selling for pretty close to $100K. 8000-series Deeres tend to hold their value really well. (For reference, the bid sits at $66,500 as I write this column.)
It's a beautiful tractor for sure, and as close to original as you could possibly get. Furthermore, it's a tractor that you can work on yourself. Most Deere guys I know are pretty well-versed with the 466 because it's been around since the 40-series that came out the year I was born. It's been given a clean bill of health by the local dealership, it's got a fresh cab kit (27 years destroys foam, no matter where you park it), and it's only got 113 hours on it. I'm fairly sure that this will end up as a working tractor, too, so all of those things are important.
But…there are a few things that hold it back from being one of those crazy sales that everybody talks about for the next 25 years, too.
It's a 2WD. The 8000-series was built specifically with MFWD in mind, and the majority of them were built that way. So, while this is a low-houred unicorn, it's got a more limited use-case on the farm. It'd make a terrific baling rig, but it probably won't work for tillage or planting unless you're pulling an 8-row.
It's an early tractor. Not in the sense that early serial numbers suffered from some kind of issue per se, but this one does have the smaller engine. The tractors from 1997-1999 had the 8.1L PowerTech, and those are typically better sellers.
The 12-13 shift. Powershift transmission in these tractors is great, but the 1995-1996 models were notorious for having a rough 12-13 shift. Dealerships can calibrate these transmissions, but as far as I'm aware, there's no permanent fix other than to teach the operator to either clutch that shift or idle down. Later models had bigger or o-rings that helped calm that shift down a lot.
The rear tires. DynaTorques are best in fairly dry, sandy soil, as far as I know. The general opinion is that they're not the best tire for heavy clay, which we have a lot of here in the Midwest.
Wrapping it all up…
Do I think it'll be a record setting sale? Absolutely. Do I think it'll end up in a collection? Probably not yet. The 8000-series tractors are rapidly approaching 30 years old, but for a lot of you (myself included), they don't seem that old. For that reason, I think it'll end up working on a farm…which, to me, is where it should be!
If you end up buying it, I'd love to hear from you! Tell me what you're going to do with it!
Here's the auction details one more time.