Sep. 27, 2023 • Interesting Iron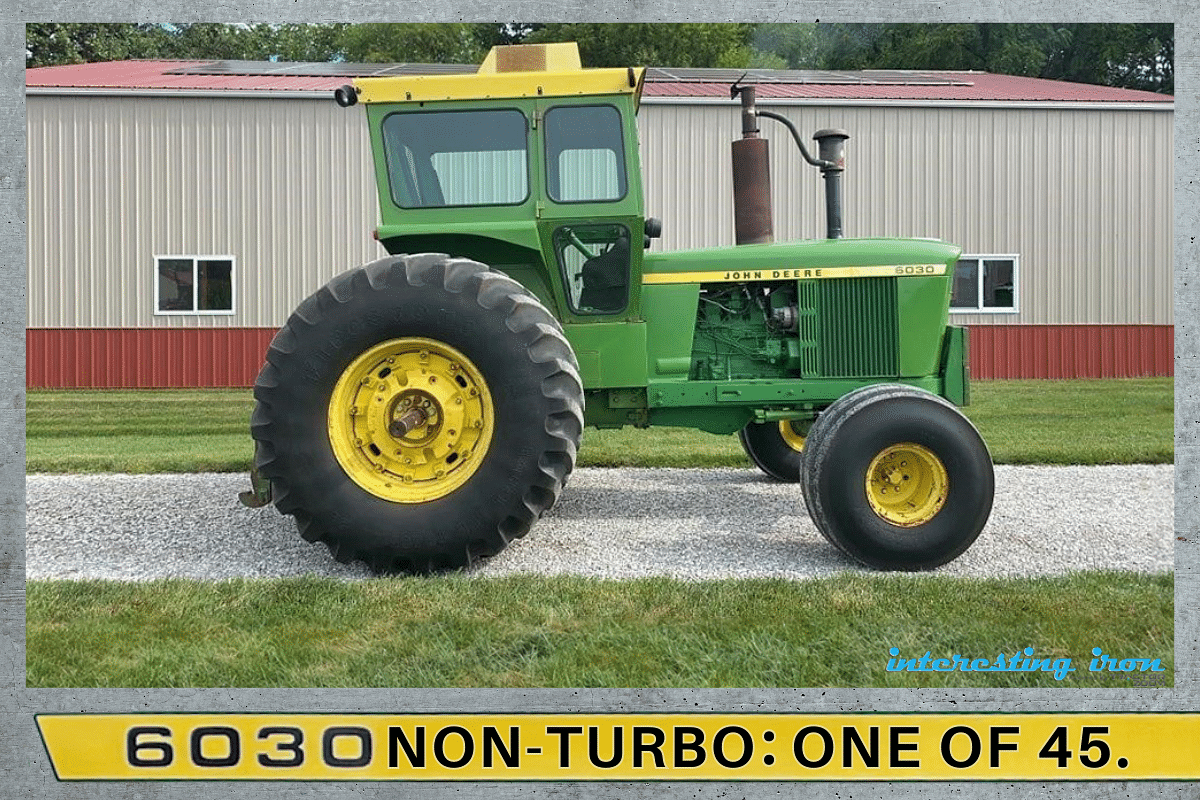 I profiled the 6030 a couple of years ago, but if I'm honest, I glossed over the 6030 Non-Turbo. At the time, it was fine because it really didn't have any bearing on the restored row-crop tractor that Jake Rice was selling.
However, that's not the case here.
Save for one that was painted industrial yellow at the factory, the 6030 Non-Turbo tractors are the rarest of the model.
And in about three weeks, you could own this one. It's selling at an online-only collector auction just northeast of St. Louis!
Big Bad John: The 6030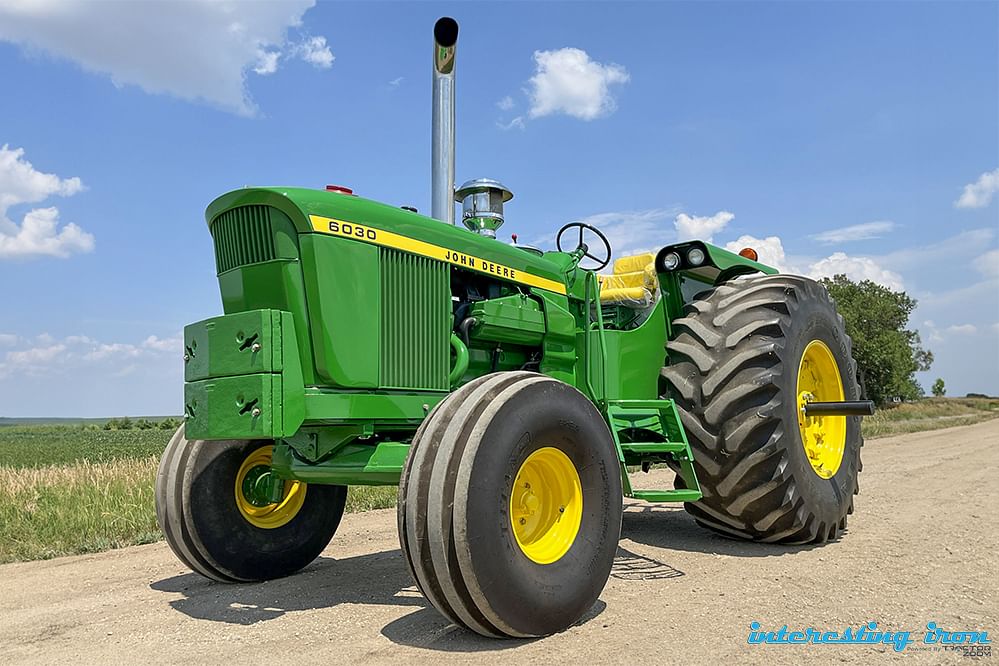 By the late sixties, the muscle tractor horsepower wars had shifted into overdrive. All the major tractor players were getting in the game, pushing bigger and bigger power numbers out the door. Deere was part of the game, too, releasing the turbocharged 4520 in 1969 and the 4620 in 1971. They were good tractors, but at the time, I think Harvester had the edge.
Well, in March of '72, John Deere launched the 6030 to take it back.
Final evolution…
The 6030 was the final evolution of the 5010 and 5020, and it was a monster. At over 18,000 pounds, it was a lot beefier than its predecessors, and made a lot more power, too. Where the naturally aspirated 5020 was only good for 141 PTO horsepower, the 6030 tested at 176! However, by most accounts, a typical 6030 made a lot closer to 200-215 without turning the pump screw.
The thing that made the 6030 so much better was John Deere's turbocharged big block, the 531 cubic inch inline six. The 5020 didn't have that, and it definitely showed when the two were next to one another in the field.
6030s weren't perfect, though. All of that power did tend to find weaknesses elsewhere in the tractor – mainly in the axles. If you worked them hard enough, you could snap an axle. Furthermore, if you put the engine under enough load, it would spin the bearings (or worse). If you ever see a 6030 with a 619 under the hood, there's a good chance that that's what happened. The 619 became the go-to replacement engine once the 8630 was released in 1975.
Yeah yeah yeah, Interesting Iron guy, we knew most of that. Where did this non-turbo deal come from?
Glad you asked. Let's talk about it.
The 6030 Non-Turbo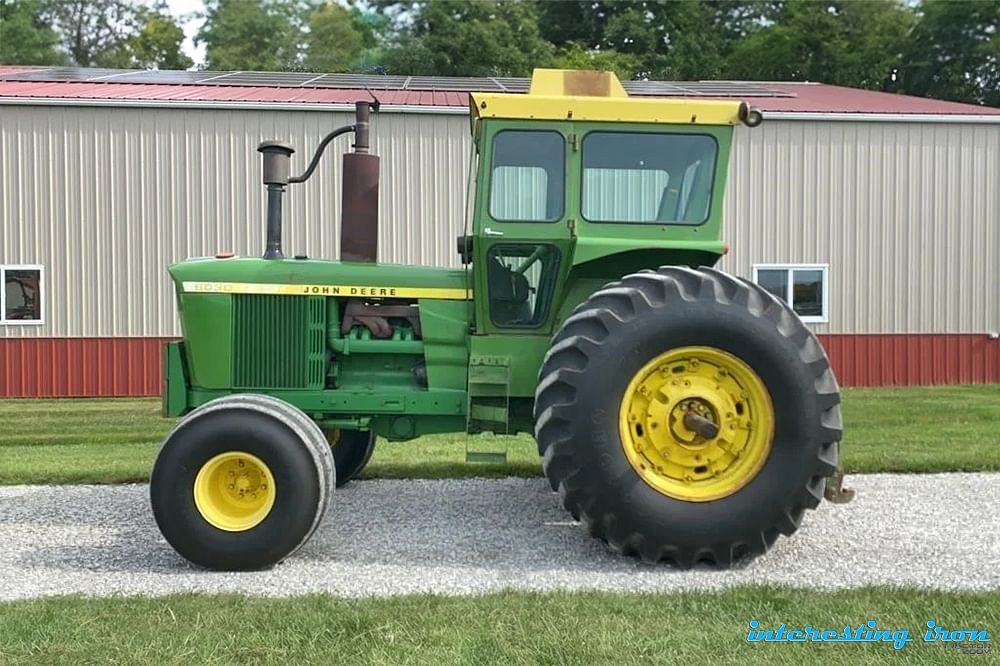 During the first year of production for the 6030, the tractors sold fairly well. In total, I believe 550 units went out the door in 1972. Granted, that's not a giant number when you compare it to something like a 4430 that sold over 16,000 in its first year. However, I think the market was a little different. I feel like the 6030 was meant to be the big horse (or one of them) on a fairly good-sized farm, whereas the 4430 might've been the main tractor for a marginally smaller-scale farmer.
Still, for some farmers, the turbocharged 6030 was a little too much tractor. They needed a heavyweight tractor, but didn't need all the extra juice, y'know? And John Deere listened to that, and decided to offer a lower-cost secondary option; the 6030 non-turbo. Basically, it was the front half of a 5020 mated to the back half of a regular 6030. The engine was a higher compression 531 that used a Roosamaster rotary pump (the regular turbocharged 6030 came with a Bosch P pump).
As far as I'm aware, it's one of the only times in history that Deere has offered the customer a choice in powerplants.
How did they sell?
Sadly, the 6030 non-turbo never really spooled up (see what I did there?). Despite the lower price, the demand just wasn't there. At the end of the day, Deere would discontinue the non-turbo model. Officially, there were only 45 built, many of which were sold as exports to other countries.
Gary Titsworth, the gentleman selling this one, estimates that there are only 23 known to exist today here in the States. They're pretty darn rare!
Which brings us to the one you can buy on October 16, 2023…
The one you can bid on right now…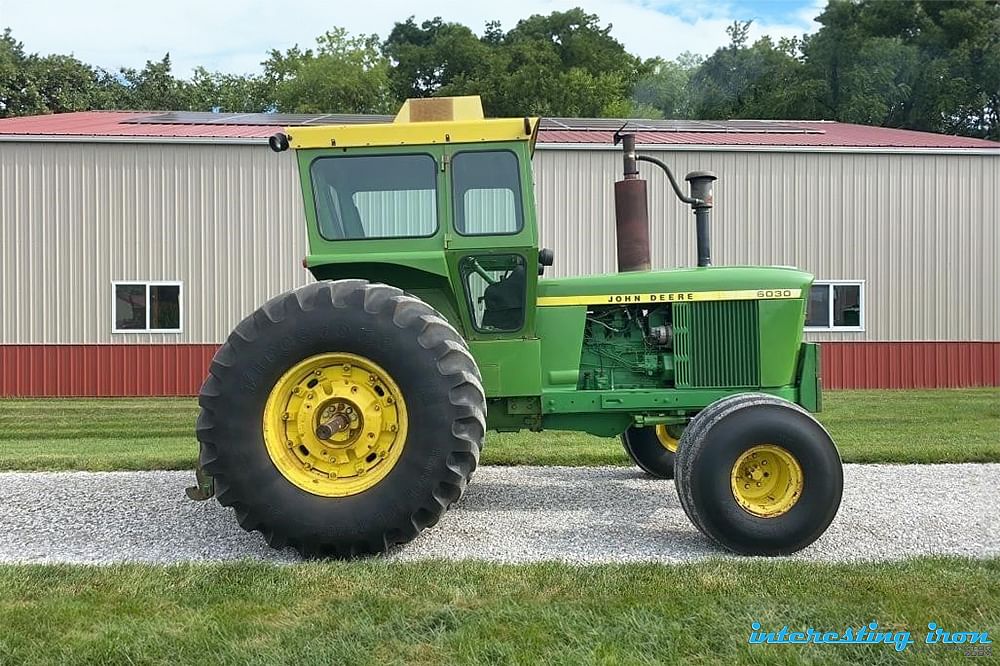 This is a really nice original 6030. It's essentially all-original, save for the rubber and the cab interior. The paint is original, and retains a lot of the original shine, which in my experience is pretty uncommon. These big-frame Deeres are workhorses and a lot of them have been through their paces, and the paint baked in the sun. Somebody took pretty good care of this one.
I wanted to know a little more, though, so I called Cody Hanold, who's partnered up with Hayden Giesler on this collector's sale. Cody introduced me to Gary Titsworth, and we had a great chat while he was washing one of the tractors that he's planning on keeping. He and his wife Cheryl both really enjoy the hobby together, but they're at a point in life where they'd rather slow down a little. "It's time for somebody else to enjoy these tractors, and make their own memories with them," he told me.
Gary confirmed my suspicions about the 6030 non-turbo while we were on the phone. He told me that while he couldn't say for absolute certain that the hours on the tach were original, the way that it runs and drives leads him to believe that they're accurate. He said, "It's probably one of the nicest-driving tractors I've ever owned, Ryan. Everything on it is nice and tight; no slop in the shifter or anything. It drives like a 5700-hour tractor should."
When I asked about the tractor's backstory, I wasn't shocked to hear that it came from Mr. 6030 himself, Brad Walk of Sigel, IL. He's absolutely the go-to guy for 6030s, and the stuff his restoration shop turns out is unreal (as you'll soon find out). Gary bought it from him about nine or ten years ago, and since then he hasn't had to do anything to it other than enjoy it!
But wait, there's more!
The fact is, this is just one of the neat tractors on this sale. Gary and Cheryl are also selling a handful of nicely-restored two-cylinders (the model 70 gasser is especially nice) as well as some mid-sized row-crops from the sixties, and a few utterly gorgeous muscle tractors.
These three tractors were all restored by Brad Walk and his team. They've all been completely torn apart and redone, and as you can see, nothing was spared with these machines. Automotive two-stage paint, John Deere factory parts, the works. These are all done right.
The 4020 FWA…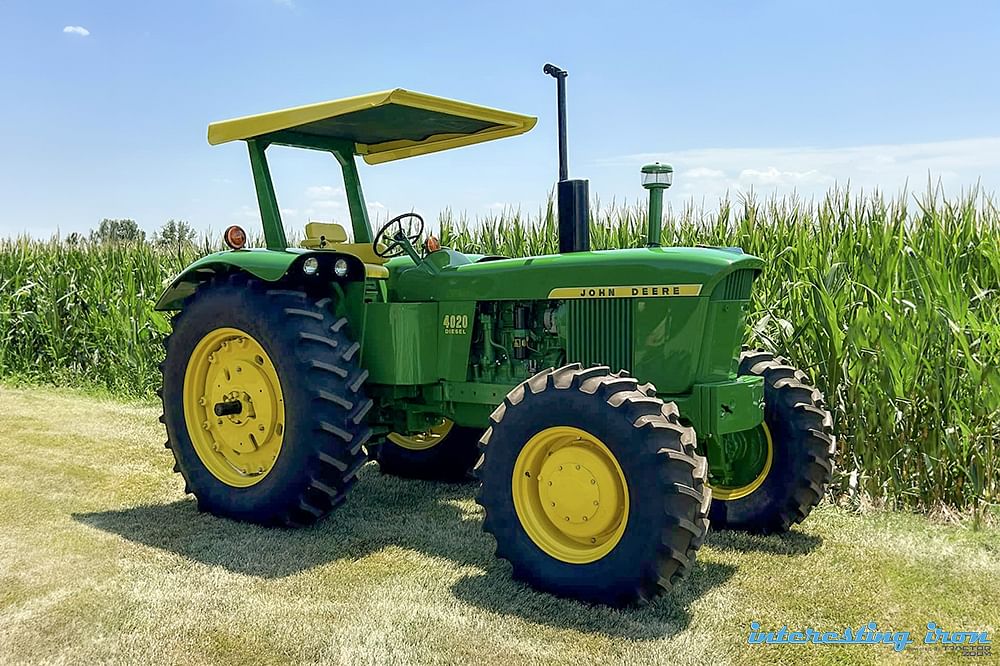 Next up, a beauty of a 5020…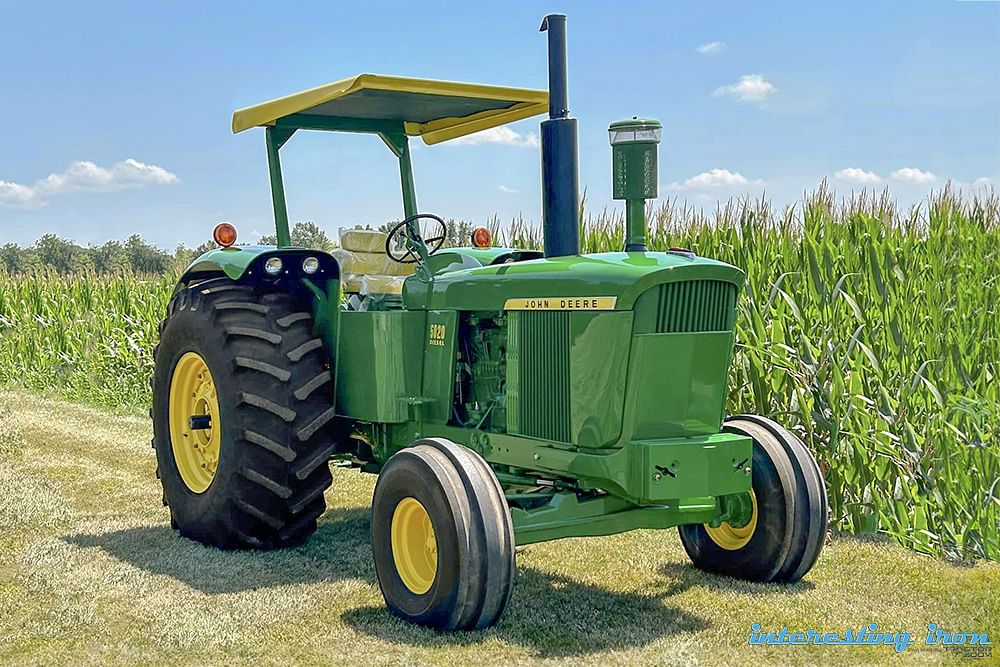 And lastly, the "other" 6030…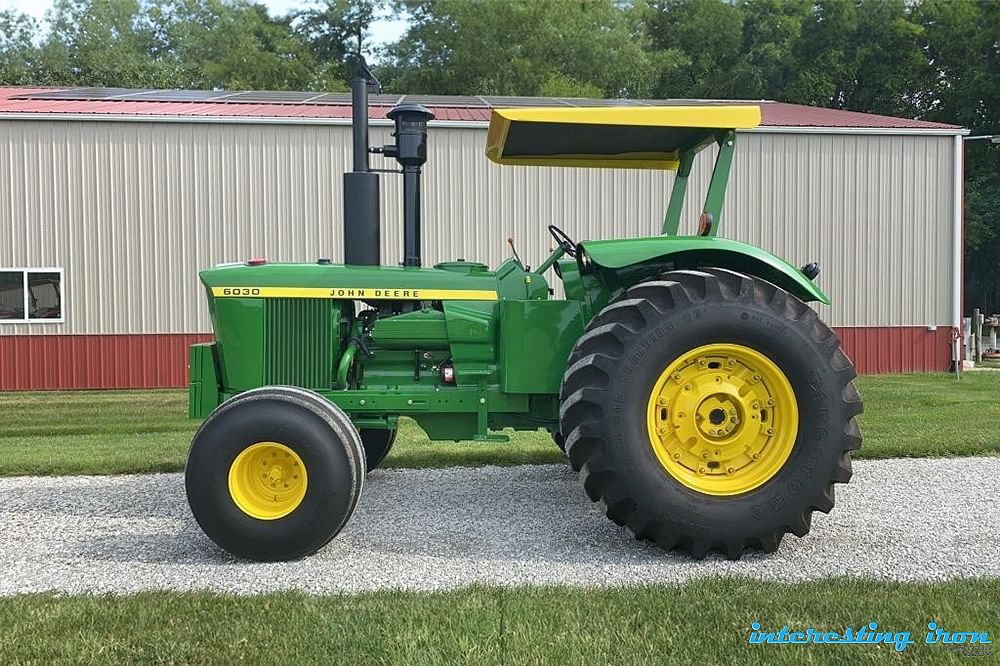 What'll they bring?
None of them will go cheap, I'll guarantee that.
5020:
Honestly, this one is likely the least collectible out of the four I've mentioned today. I know for nearly certain that our Tractor Zoom Pro database doesn't have anything this well-done in it. That said, I've seen a handful of them sell at Mecum Gone Farmin' auctions, and they'll typically bring anywhere from $35-40K.
4020 FWA: 
With 4020 FWAs, it's all about three things. Provenance, powershift, and the year 1972. A tractor that sold in Mississippi in April had all three of these things. It had Two Cylinder Club documentation that it was indeed a factory-optioned FWA from 1972 with a powershift, and it had been nut and bolt restored just like Gary's tractor. When the hammer fell for the final time, it brought $82,000!
Will Gary & Cheryl's tractor do that? Probably not. It's a 1969 side console synchro range, and I don't think that there's any documentation that it was a factory-optioned FWA tractor. Gary told me he saw it when Brad Walk bought it out of Nebraska, and it had the front wheel assist axle on it when it was delivered.
Still, I don't think $40K or more is out of the question for this one. It's a beautiful tractor, and you definitely couldn't build another one as nice for that kind of money today!
6030:
Really nice restorations and resto-modded 6030s have been hot for a while now, and I don't see them backing off. I can't imagine that this one sells for less than $60K, if not more. There again, you couldn't build a tractor to the same level of fit and finish for less unless you did all the work yourself (and had a pretty solid donor tractor to begin with). Shoot, it's got close to $9,000 in new Firestones all the way around it! 30.5s in the back, and 16.5L-16.1 4-ribs on the front!
6030 Non-Turbo:
This one is the wild card. With only 45 having been built (and many of them sold out of the country), these tractors just don't come up on auction very frequently. I don't think one has sold at auction since April of 2018 when Carr Auction & Real Estate sent one home with a new owner for $59,500 – and that one definitely wasn't as nice as Gary's. Before that, I think Brad Walk sold one on AuctionTime in late 2015, but I have no idea what it brought.
At the end of the day, there's just not much to draw a baseline from, y'know?
I will say this, though; unless something really weird happens, it will set the new high watermark for 6030s. As of September 27 at 5PM, the bidding was sitting at $63,750. The current price record is $64,000, set by the one sold by Polk Auction for Keane Thummel back in 2014 in Bedford, IA.
If you made me throw a number out, I don't think $75-80K is out of the question at all. It'll be fun to watch!
Why are 6030s so spendy?
It's those darned tractor pullers. They're turning them all into pulling tractors!
I say that tongue firmly in cheek, but there is a shred of truth to it. 6030 sheet metal has been popular on pulling tractors for decades! I'm sure I've taken photos of close to 100 pulling tractors wearing 6030 sheet metal over the past fifteen years, and every year, it seems like I find new ones!
(You knew this was coming, right?)
Here are some favorite shots I've picked off over the past few years. The 6030 is my favorite tractor of all time, so I'm a little biased, but I make no apologies for it!
Obligatory 6030 pulling tractor photos…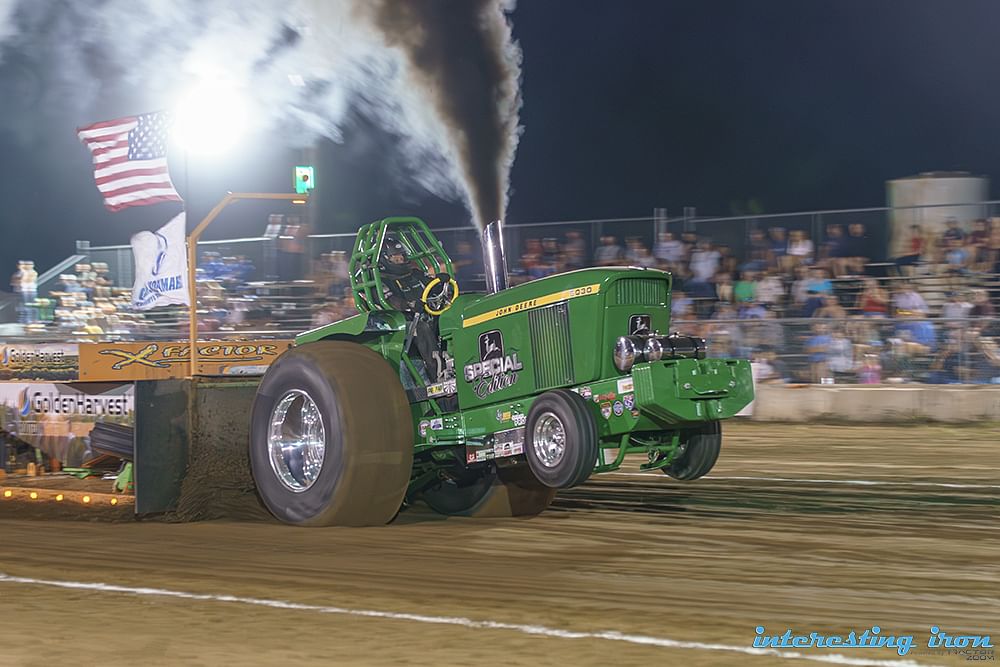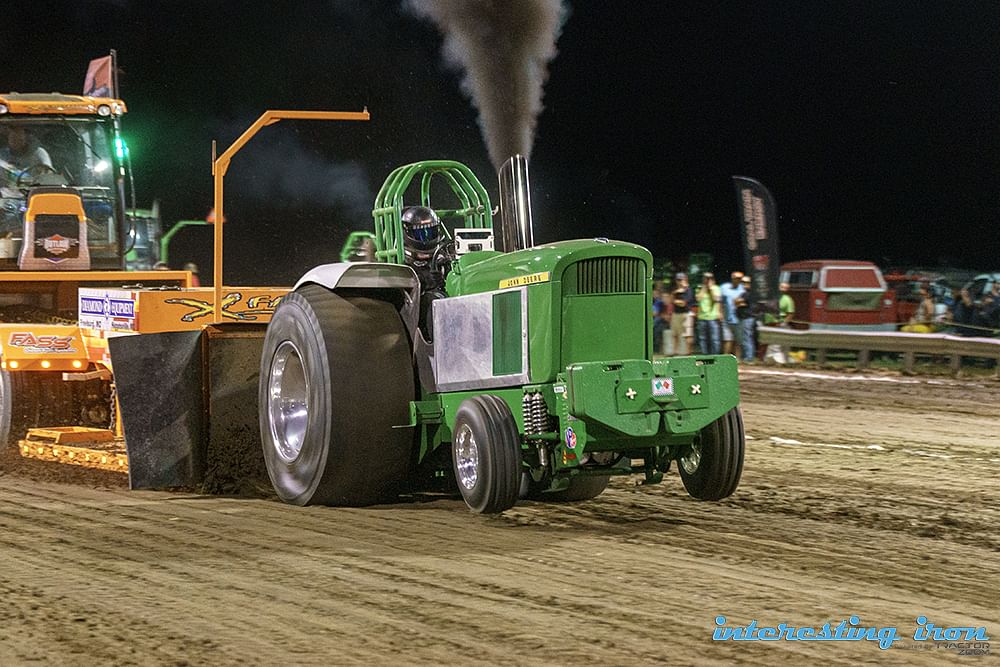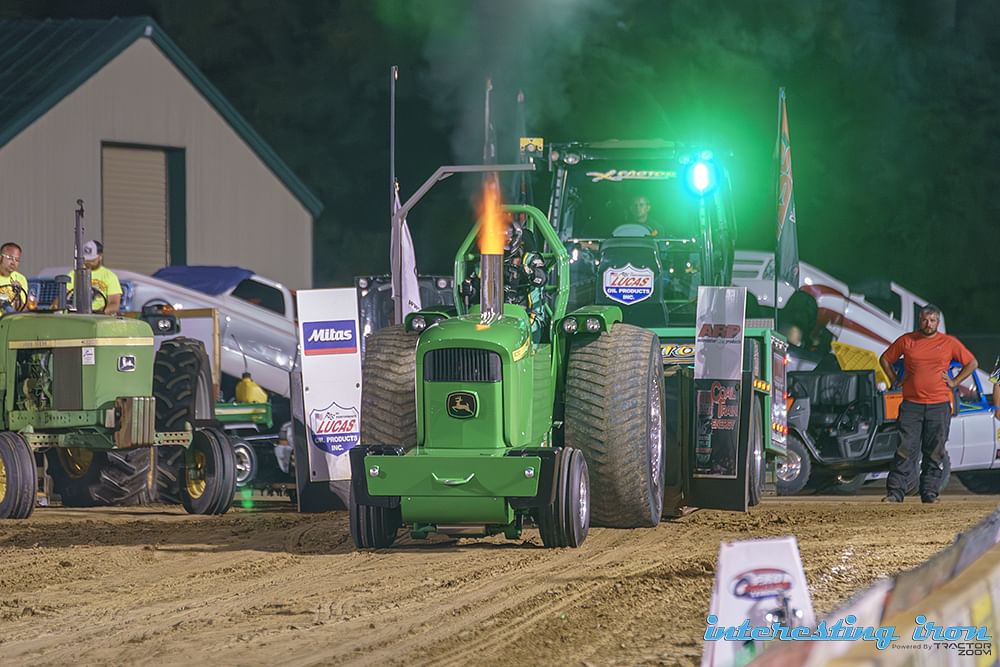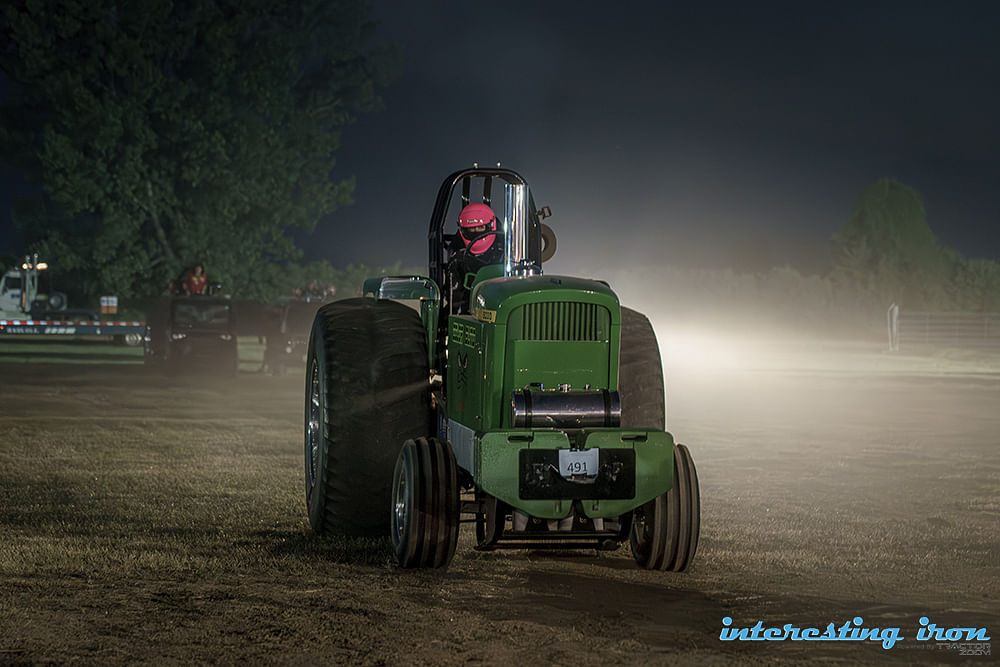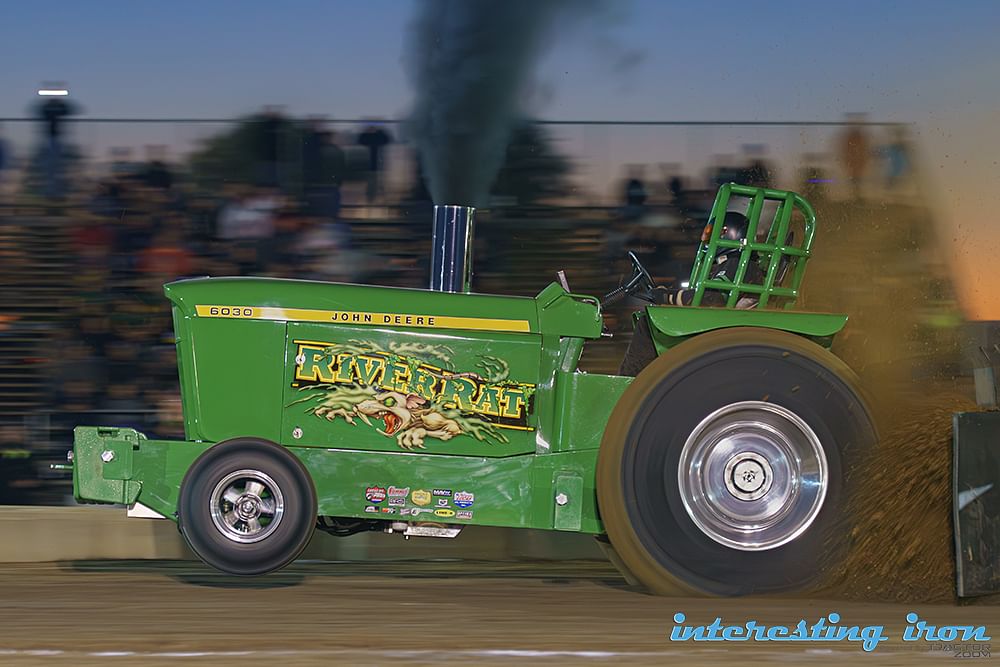 Wrapping up…
At any rate, that about wraps it up for this one. Here's the link to the 6030 non-turbo (as well as the rest of the tractors on the sale)! Go check 'em out! These are beautiful pieces of history, and Gary & Cheryl really want to see them go to good homes; maybe one of them should go to yours!
'Til next time, make it a great week!