Sep. 29, 2021 • Interesting Iron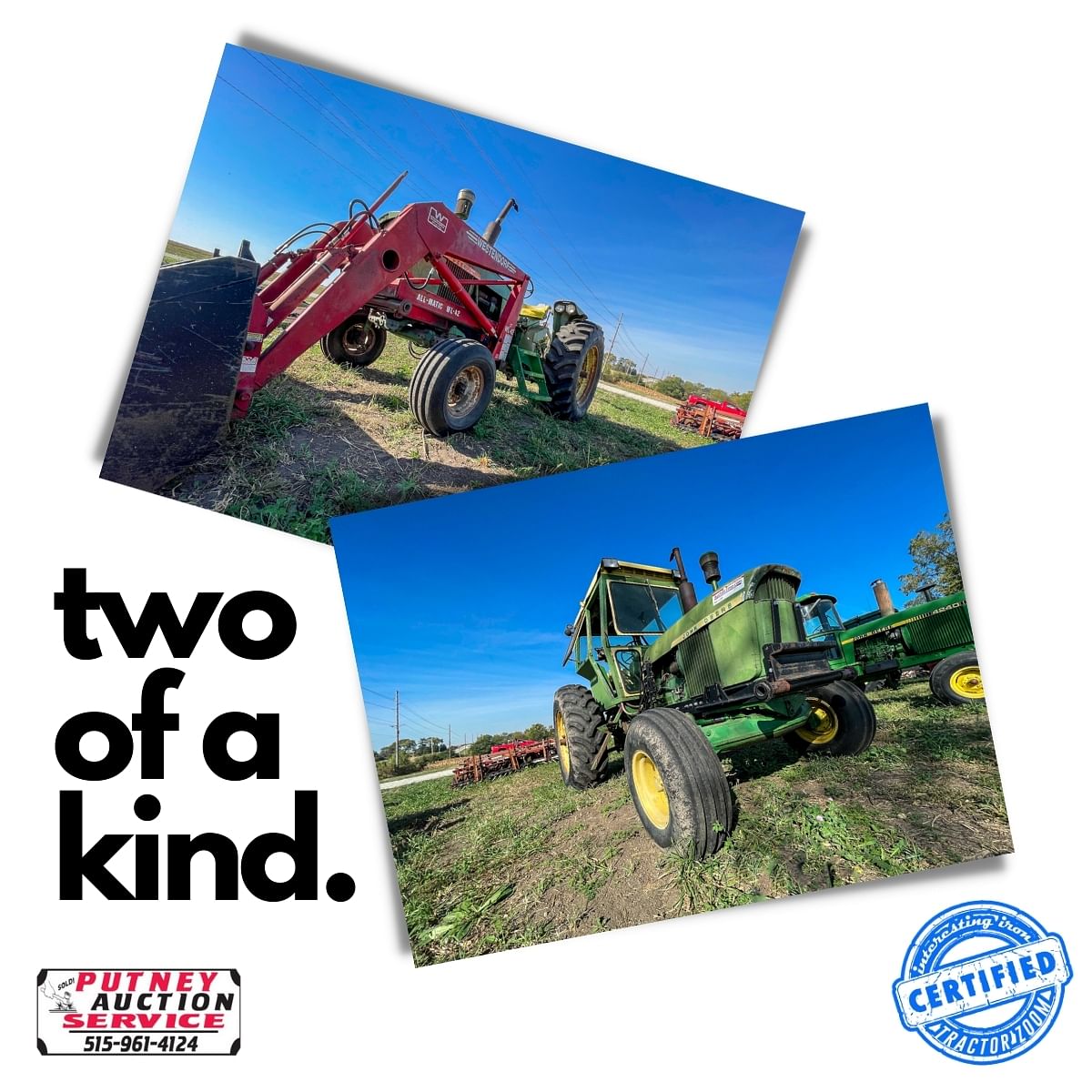 Every so often, I see auctions where I know the seller from one area of my life or another. Such is the case this week, with a pair of John Deere 4020s selling at an auction hosted by my friend Mark Putney at Putney Auction Services. They belong to my friend (and coworker) Cindy Howard.
Cindy joined the Tractor Zoom family just over two years ago as a member of the Auction Success Team. Basically, it's her job to build relationships with our auctioneer partners, and help them get their sales listed on the Tractor Zoom website. She, along with the rest of the AST, are absolutely critical to our success as a company. If we don't have those relationships, we don't have auctions to promote. If we don't have anything to promote, we can't help Tractor Zoom users find the equipment they need for their farms.
So yeah…Cindy, Matt, John, and Jeremy are at the core of our company. I can't imagine what life would be like without them.
Now, before anybody starts accusing me of playing favorites…let me clear the air. These John Deere 4020s that she's consigning are becoming something of a rarity, because they're one-owner tractors. Her dad bought both of them brand new from a local dealer just south of Des Moines. They've been in the family ever since. These were the tractors that Cindy grew up on!
I'm not going to try and write something new as far as the history of the 4020 is concerned. There have been hundreds of pages devoted to telling the story of the 4020 (and more are being released every day). There's nothing new that I can really add to it!
So, let's look at this pair of 4020s!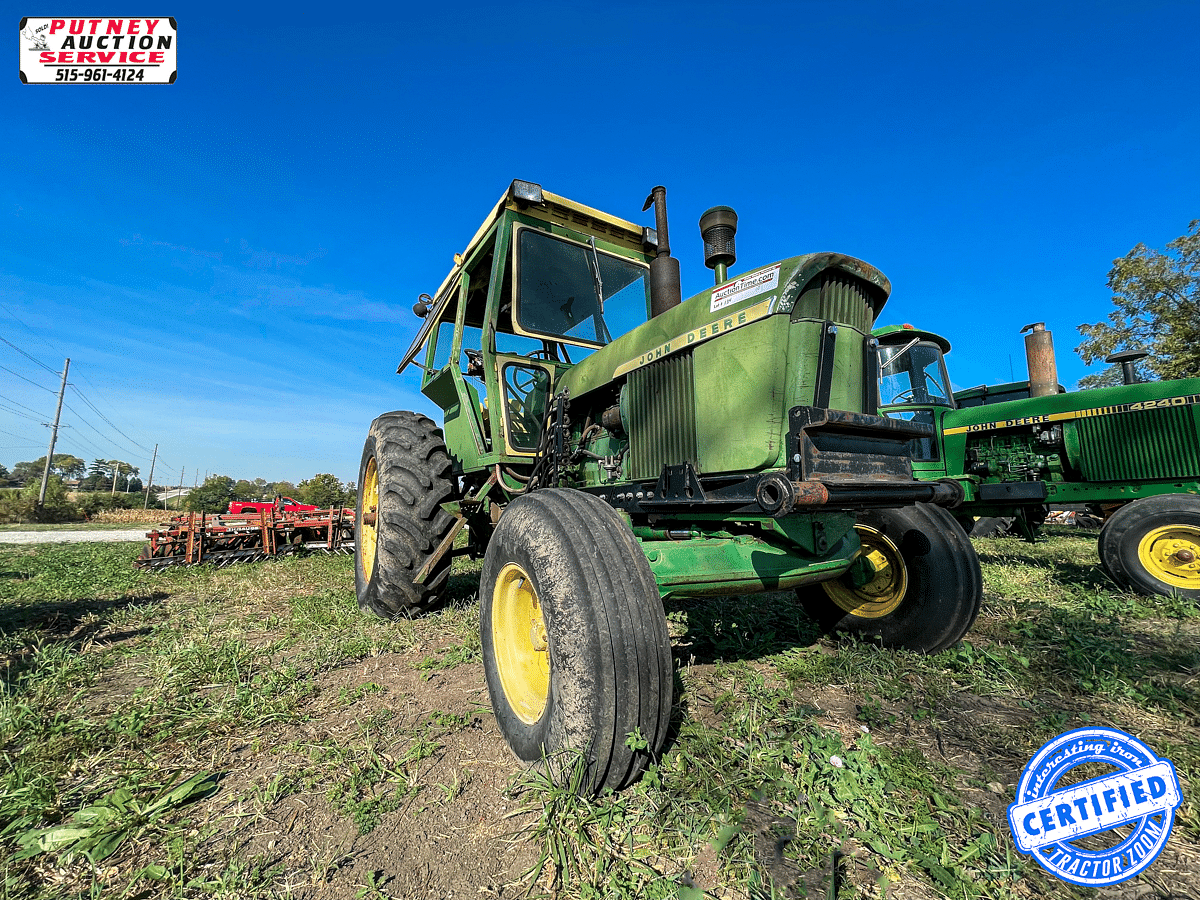 This was the first 4020 that Cindy's dad ever bought for their small farm (the Alkorn Ranch) out near Winterset, IA. If I had to guess, it was originally purchased at one of the local dealers (which I believe is now an AgriVision location). By 1969, Deere had over 3700 dealers in North America, so tracing tractors back to original dealers can be a bit of a challenge if the decal and paperwork isn't handy.
At any rate, this tractor was the primary workhorse for a year or two on the Alkorn Ranch. They kept livestock, so it was sort of a do-it-all tractor, which was exactly how Deere intended the 4020 to be used. I'm just about positive that it planted corn, baled hay, and did quite a bit of choring with a loader.
At some point in its life (Cindy couldn't remember when), loader life took its toll and the front axle blew out. When that happened, Dad swapped the axle with one from a 6030. That was a fairly common swap back in the day, as they were a lot beefier, and better-suited to the stresses of life with a loader.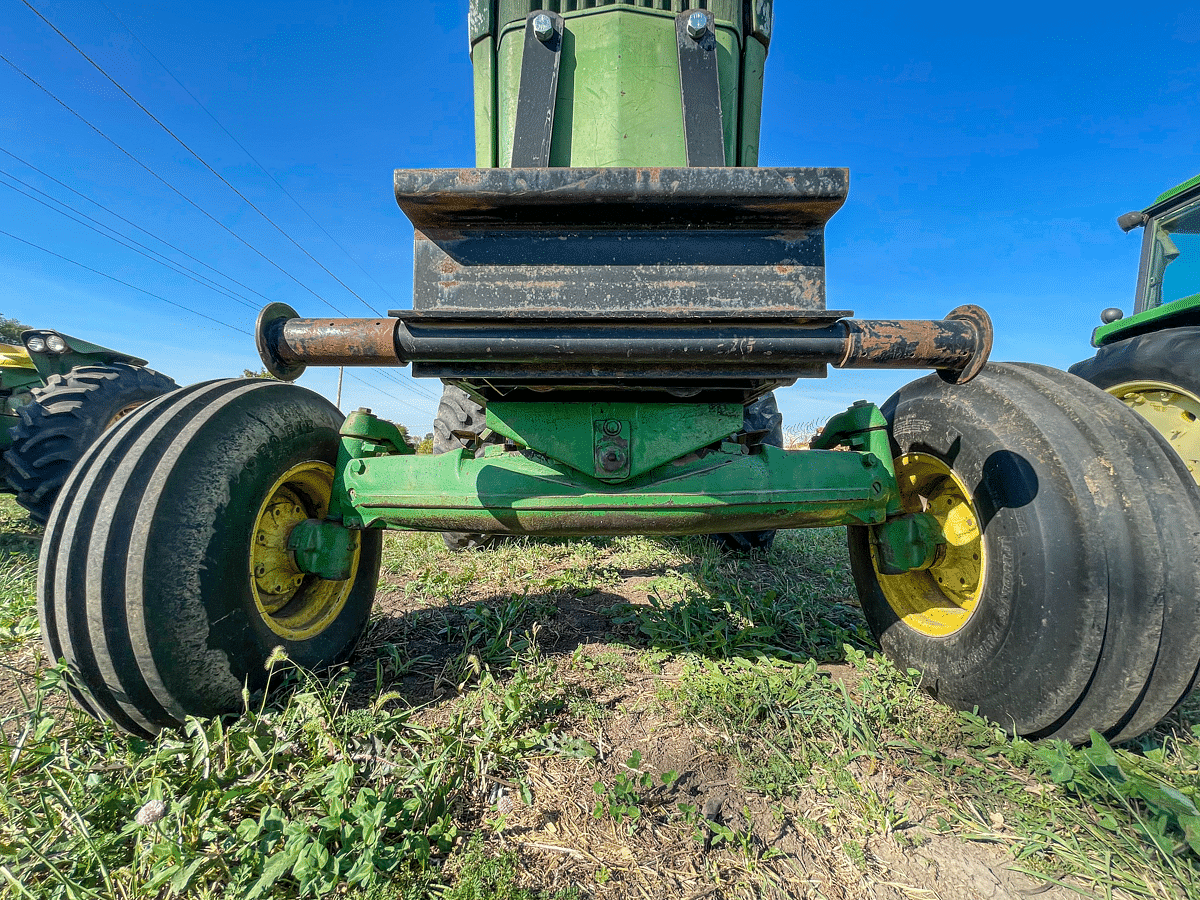 The tractor itself runs well according to Cindy (I believe it was driven to the auction yard from her farm, which is at least 20 miles away). It'll need a little a few things, but it's got good bones, and it'll serve a new owner pretty well, I'd imagine!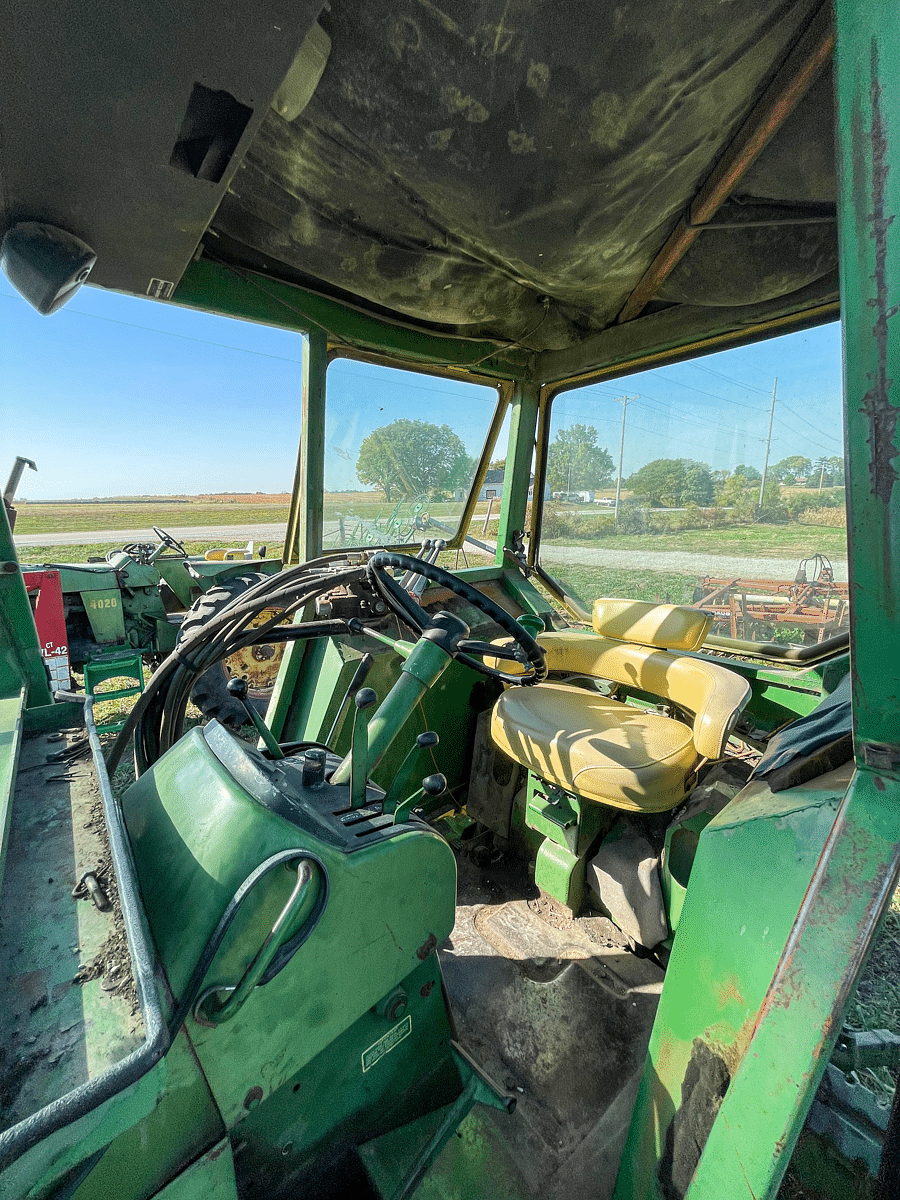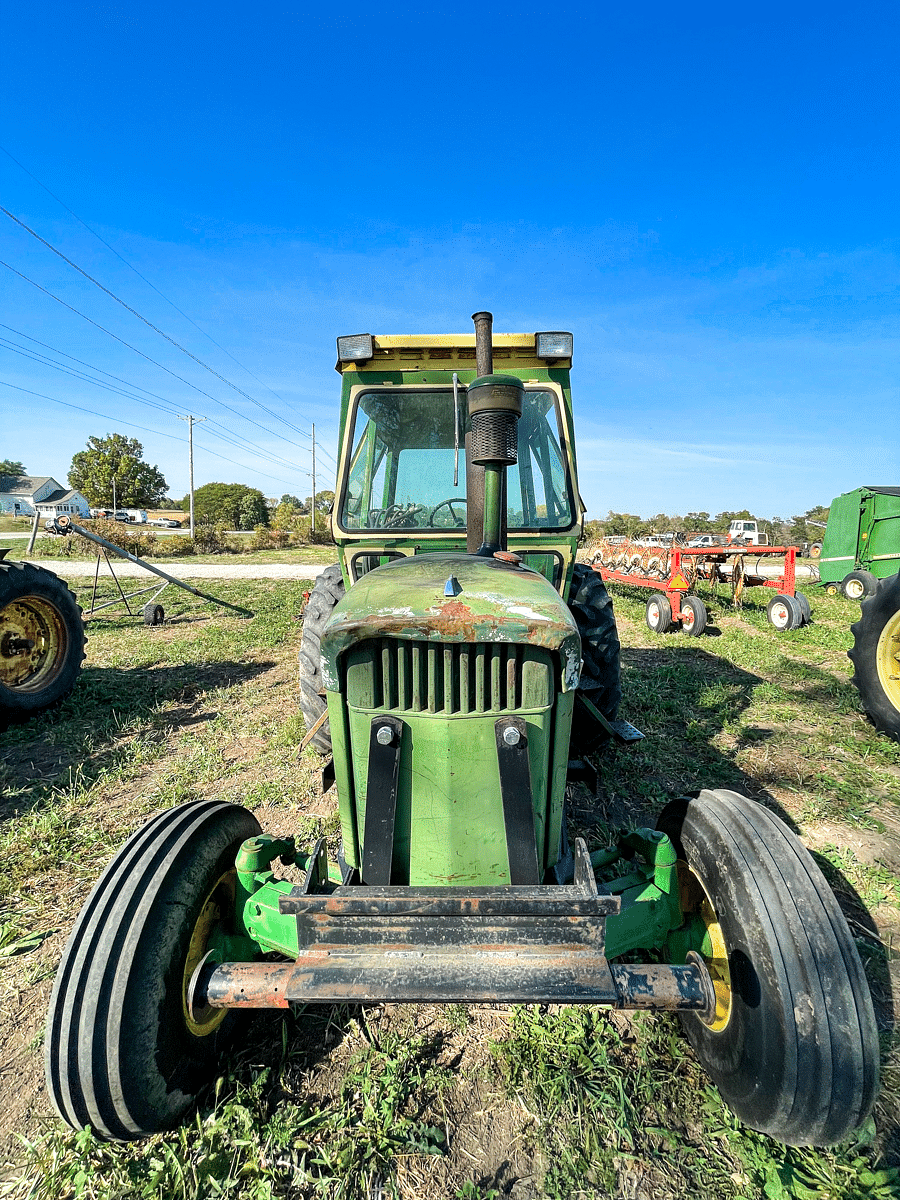 What's it worth?
Honestly, you can pay whatever you want for a 4020. This year alone, we've seen them sell for over $30K, and as cheap as $2600. As you'd expect, the nicer (and more original) the tractor, the higher the price. And although this one is pretty original, which is generally desirable, it's also a little worse for wear. It is a gasser, though, which is on the much less common side, so that may help the value a little bit. I feel like this is probably a $5-6000 tractor. Time will tell! The live auction starts on Saturday morning at 10AM Central, and it'll be simulcast on the web as well. If I weren't heading to Indiana to shoot some drag racing & tractor pulling this weekend, you'd find me at this auction!
Check out the full sale bill here!
Check out the details on this 1965 John Deere 4020 here!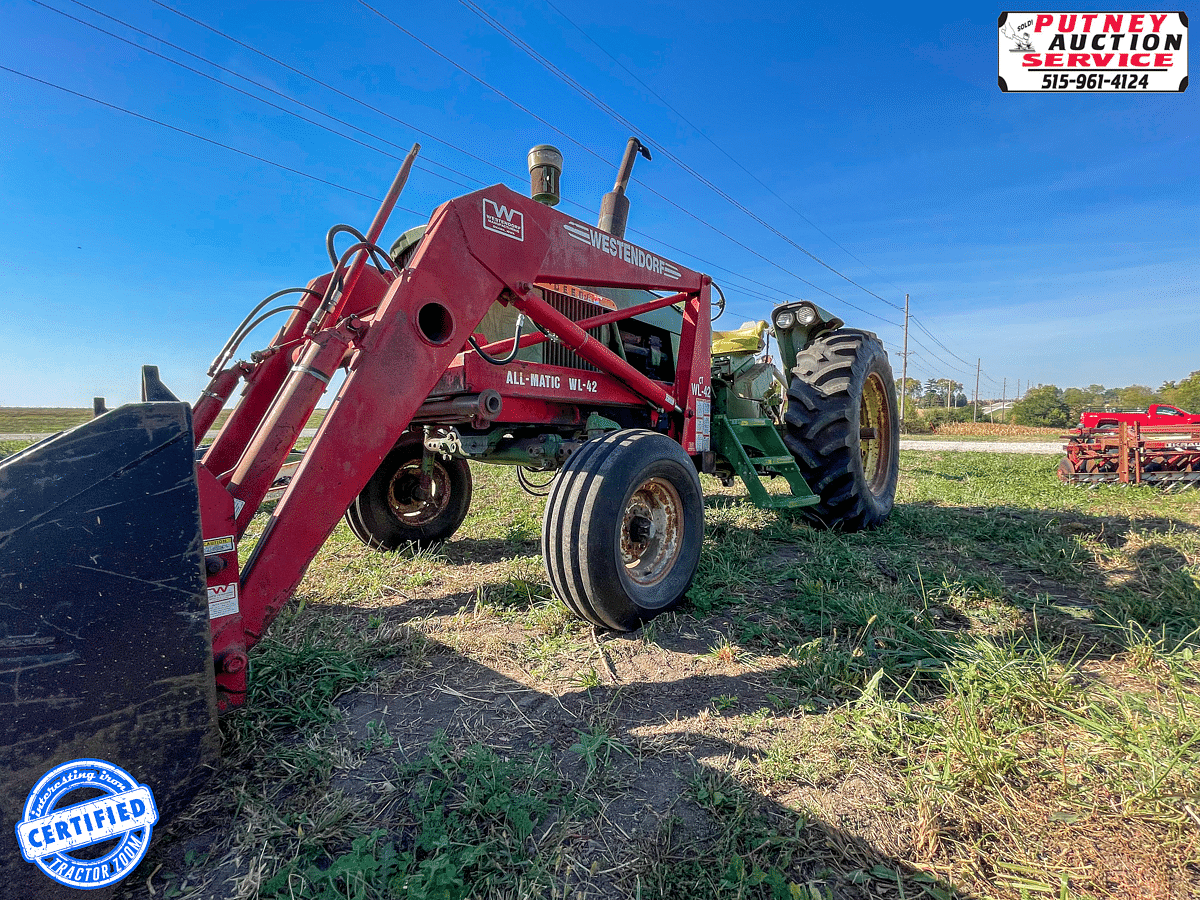 Of Cindy's two 4020s, the 1966 gasser is definitely the cleaner of the two. Cindy's Dad bought this one brand new in 1966, and it's been on the family farm ever since. I'm not sure when the Westendorf WL-42 loader came into play; it's definitely newer than the tractor. It served as a second
Honestly, other than the typical sunburn on the hood and a ding or dent here and there, this one is in pretty darn good shape. I could go on and tell you what this tractor did at the Alkorn Ranch back in the day, but it's basically the same as its big brother tractor up above!
Plus, the story of the Alkorn Ranch is pretty neat…and that's coming up in next!
What's it worth?
Based on some comparable sales in Iron Comps, I think this is probably a $7-8000 tractor.  If I had to guess, this one will remain a working tractor for somebody. Gas tractors still have a place here in the upper midwest, where chores still have to be done even when it's cold outside…and gassers start easier than diesels in the cold! Actually, this one sports a Fireball XR700 electronic ignition, so it should fire up in just about any situation!
Check out the details on this 1966 John Deere 4020 here!
The Alkorn Ranch
I've known Cindy Howard for two years or more, and I knew that her background was in cattle. However for some reason, I had it stuck in my head that her family had raised Black Angus like most other Iowa beef producers. I found out this morning that this was NOT the case!
The Alkorn Ranch was in operation until her dad passed away in 1987, and they were known for one thing; purebred Charolais cattle. They're a big, stocky French breed that seem to do pretty well in the upper Midwest with its cold winters. They're also known for being pretty even tempered and easy to handle (for the most part).
Sentinel: The Protective Loudmouth
They raised several pretty impressive animals when Cindy was a kid, too. Sentinel was a bull that was shown in Kansas City as well as Louisville at the National Western, where it took Reserve Champion honors in 1981. Cindy told me that Sentinel was quite the animal. He was used to having horses around him at home, and during shows, Cindy had to take him on walks to the horses to help calm his nerves. She said that if his nerves got the better of him, you'd swear he was about to tear the stall down! On multiple occasions, Cindy (all 5'2″ of her) raised a few eyebrows when she marched into his stall while he was having a fit, and calmed him down almost instinctively! Sentinel was pretty protective, too. He didn't like anybody getting near "his" Cindy.
Casper: The Center of Attention
The other notable animal that they raised was Casper. Casper was a character. For whatever odd reason, he liked costumes. Cindy told me that one of her fondest memories of that animal was walking him out of the stalls and through the main drag at the Iowa State Fairgrounds to appear on the Channel 5 news…wearing a string of five bandannas tied around his neck and a pair of sunglasses! Casper took Iowa State Super Bull honors that year as well.
Cindy's family was very involved in the Iowa Charolais Breeder's Association, too. Her Dad served as a director for many years, and I believe that Cindy's still active in the group today.
At the end of the day, this pair of 4020s are pretty run of the mill. But without those two tractors, Casper and Sentinel wouldn't exist, and Cindy probably wouldn't be who she is today. To a point, the physical stuff around us shapes and molds us into the people we are today, or will be in the future.
And that makes these tractors pretty important, as far as I'm concerned.