May. 14, 2021 • Interesting Iron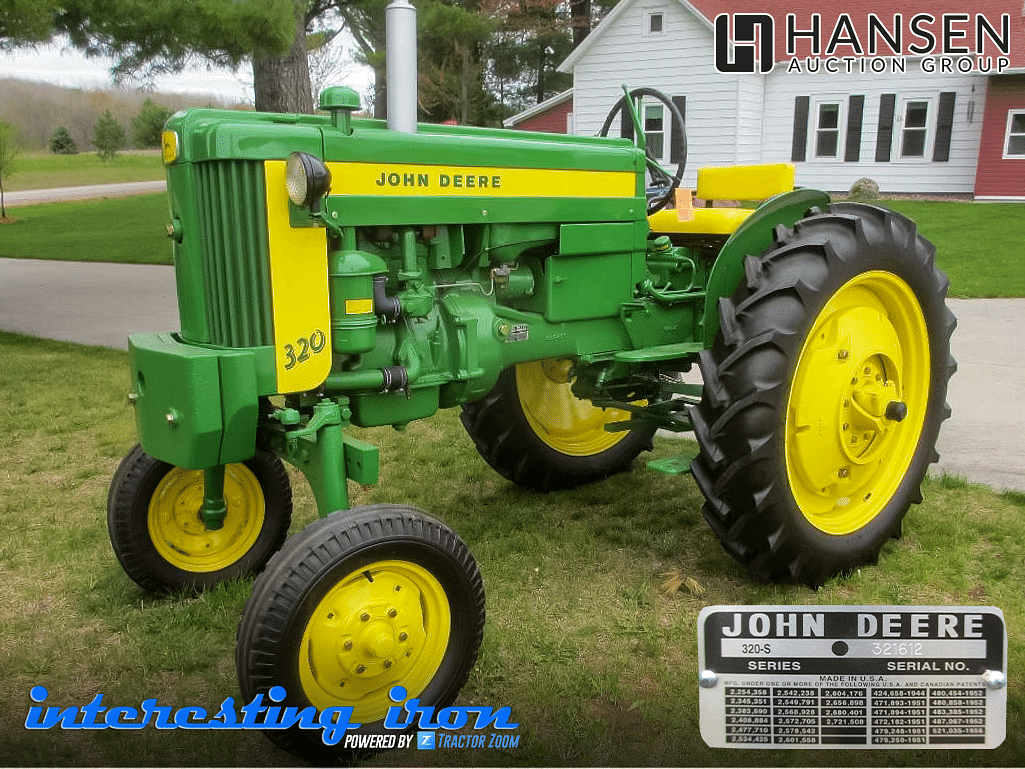 When John Deere released the 20-series tractors, they knew that they'd pushed the two-banger platform just about as far as they could. By the mid-50s, the two-cylinder powerplant was close to 40 years old, and it had gotten more and more archaic as farming modernized. The 20- and especially the 30-series were basically stop-gap measures to buy enough time to finish the New Generation tractors.
(Two-cylinder folks, don't sharpen the pitchforks and light the torches yet…I promise, I've got just as much love for them as you do! We owned at least 4 of 'em and they were exactly what we needed in my family's apple orchards back home in Michigan! I'd give anything to find one of 'em and buy it back!)
For 1956, the plan was to upgrade small farmers with an M or a 40 to a 420 in 1956. The 420 was a slightly upgraded 40 with more of everything; power, options…and pricetag. Overall, that plan worked out pretty well, but it wasn't for everybody. For farmers who wanted a cheap, no-frills tractor, that didn't sit well.
Deere's answer for these farmers was pretty simple and fairly effective. They kept the Dubuque Works crankin' out 40s, but rebadged them as the 320! Same 101 ci motor, same transmission, and two basic models; the low-slung Utility, and the Standard. It was a good solution, too. For farmers who couldn't justify the cost of a 420 (or who didn't need the increased capabilities), the 320 fit the bill really well. The 320S was far and away the best seller in the line, outselling the 320U by two to one.
The 320S Southern Special
However, there was a little-known third variant. The 320S Southern Special (AKA the 320V in some collector circles). It was a high-clearance build-to-order tractor primarily for vegetable farmers in Florida, Louisiana, and Texas. John Deere never officially recognized the tractor as its own version, instead referring to it internally as a "Custom Job".
The 320S Southern Special offered an extra 10 inches of ground clearance over the 320 Standard. Compared to the Standard model that came with 24-inch tires, the Southern Special left Dubuque with 34-inchers and taller front spindles. It was a good compromise for growers in the southern states who needed a thrifty tractor for their vegetable crops.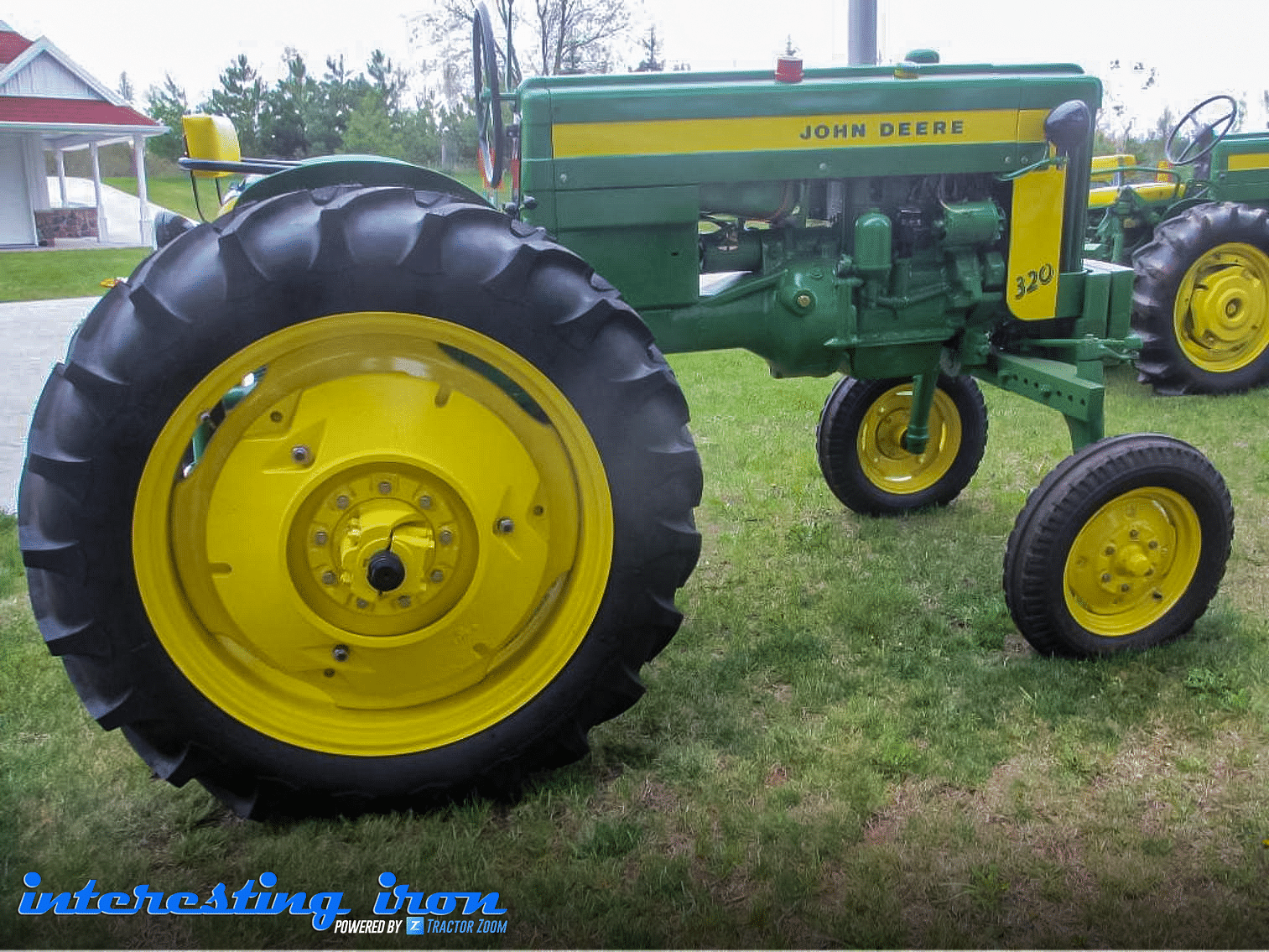 Deere didn't build many of them, though. Farmers only ordered 67 of 320S Southern Special. So, that makes this one pretty rare!
But wait…there's more!
John Deere built the 320 in two phases. From 1956 through sometime in August 1957, they all had vertical dash and steering wheel. Honestly, they look horribly uncomfortable to drive – especially for a tall guy like me! Thankfully, the engineers decided they could do better, and put an angled dash and wheel into production for the tail end of the production run. Altogether, I believe they only built 518 tractors in Phase II.
Here's how the 320 production breaks down:

So, at the end of the day, this little John Deere 320S Southern Special is a Phase 1, one of just 48 tractors built this way. Based on the serial number (321612), I'd guess that they built it sometime in the spring of '57.
The Southern Special that you can bid on right now…
Here's a quick walk-around of the tractor up for auction in Iola, WI right now, courtesy of Hansen Auction Group (one of our longtime Tractor Zoom auction partners).
The John Deere 320S Southern Special is awfully pretty, isn't it? It's been restored quite nicely, too; the paint is darn near perfect! All the boxes are checked, too; fresh rubber, front weights, rear wheel weights, new seat cushions…pretty much everything you'd do if you were restoring it yourself!
The owner did a couple of things that I don't often see on auctions on Tractor Zoom, too. He had the Two Cylinder Club run the certification report on the serial number to verify that it was built at the factory as a Southern Special. That's definitely a nice thing to have, as it proves the provenance of the tractor. J.R. Hobbs was on record as stating that there were plenty of enterprising dealerships who theoretically could've cobble together a Southern Special if they happened to have the right parts on hand (spindles from a 40 High Crop, and a few other bits and pieces that would interchange with other tractors). The Two Cylinder Club certification proves that the Dubuque Works built this one as a Southern Special.
Additionally, he replaced the serial tag. That probably sounds pretty simple, but let me assure you…it's not. Getting a serial tag re-issued from John Deere is no easy task. It's a multi-step process with a lot of moving pieces, and for that reason, it usually takes months to accomplish. If you're ever going to attempt it, make sure you've taken your patience pills before you start. It definitely doesn't happen overnight. To put it another way…if it goes smoothly for you, buy lottery tickets the day you get your tag. ?
What's it worth?
All things considered, the 320 was a pretty low-production model for Deere. As a result, they're harder to find, and bring a fair bit higher price than other models of the same era. I did a little digging in our Iron Comps Insights database to see how 320 prices stacked up against the 420. Believe it or not, the average price of a 320 is about $6000 – over double the average price of a 420!
With the 320S Southern Special being among the rarest versions of the tractor, and furthermore, with this one having been certified, I think it should bring a fair bit more. I honestly don't think $10-12K is completely out of the question. A John Deere 320S Southern Special is tough one to find, and they haven't changed hands at auction very frequently. I know a few have rolled across the block at Mecum's Gone Farmin' auction over the years, and most of 'em have hammered home in the $12K range.
This tractor is part of a pretty good-sized collection of 20-series Deeres, and they're all just as nice as this one! Take a look at 'em all here. The auction ends on May 24, 2021, so the bidding is just starting to heat up right now. In the meantime, it'll be a fun one to watch!