Jul. 28, 2021 • Interesting Iron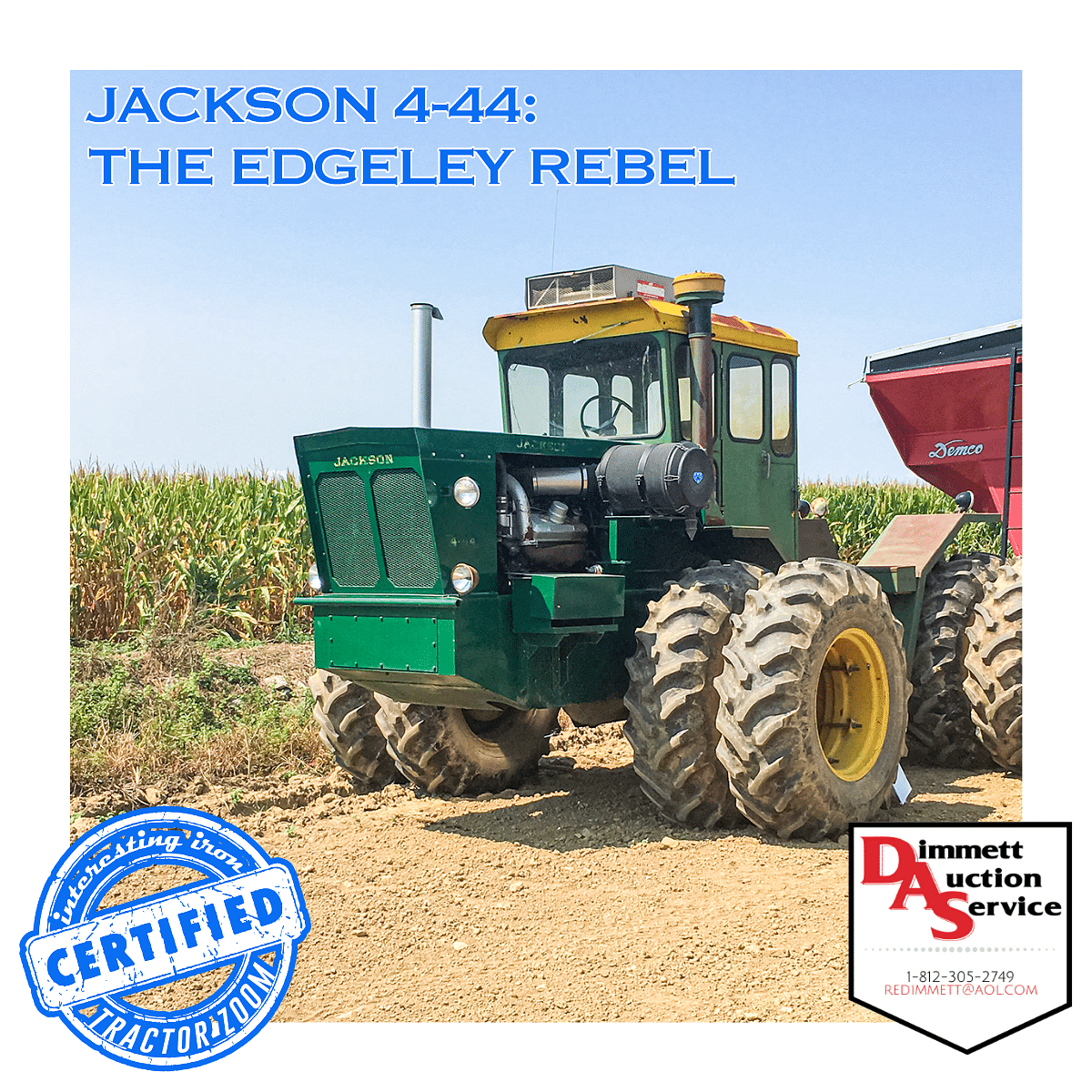 See the auction details on this tractor
If you think about it hard enough, anything can be rare if you describe it right. Even stuff like a 4430. You'll see stuff like that at auctions once in a while, too. "This is the only 4430 ever sold in 1974 to a guy named Frank, living in Minnesota, who always ate a chicken salad sammich for lunch – but only on Tuesdays…when he wore red socks."
Yeah…this isn't that kind of tractor.
Jackson tractors are pretty darn rare.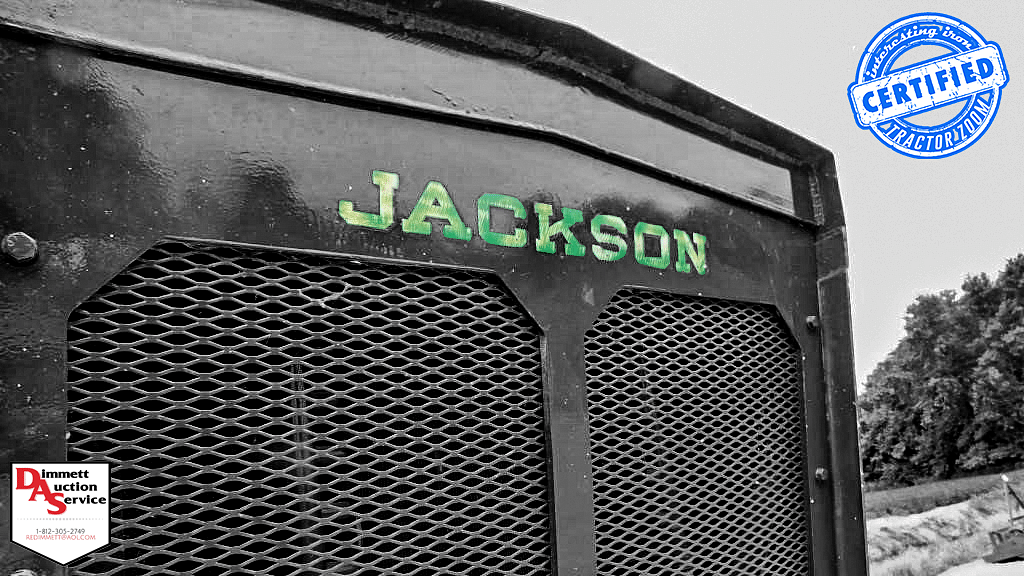 The Jackson Mfg. Co. is a somewhat elusive company. Not elusive in a bad way, just awfully hard to track down. With a fairly common last name in the company name, that's not terribly surprising. A Google search will probably turn up some kind of result in nearly every state in the union. Quite frankly, there just isn't much information about this company and the tractors they built!
So that all having been said, it'll be challenging to tell this story, but I'll give it a shot!
Necessity is the mother of invention…?
Erval D. Jackson lived in Edgeley, ND, and he was the man who founded the Jackson Manufacturing Co. back in the sixties. My guess – and this is strictly a guess – is that he was like a lot of farmers from the upper Great Plains. Traditional farm equipment didn't work well for the big expansive fields up there. As a result, several companies began innovating, creating bigger tractors – Steiger and Big Bud being the most notable.
Anyway, Erval was a guy who was pretty handy, and loved to invent things. In 1969, he started building tractors. Like other big tractors of the day, they were essentially component tractors. Builders like Erval would source engines and drivelines from whomever they could get them from, and basically drop them into a frame.
There were three (I've heard rumors that there may have been a fourth model) models that Jackson built; the 4-53, the 4-44, and the 534. The 4-53 and 534 both used Detroits for power, and the 4-44 used a Cummins V504C. I'm not sure who supplied the transmission, but I know that in the 4-44, it was a 5-speed with a 2-speed rear end.
The tractors were, from what I understand, pretty spartan. No real creature comforts to speak of. The company wasn't very successful in the long run, either. In fact, Jackson built only 16 tractors between 1969-1972! From what I understand, though, they all still exist and most are still working!
The one you can bid on right now…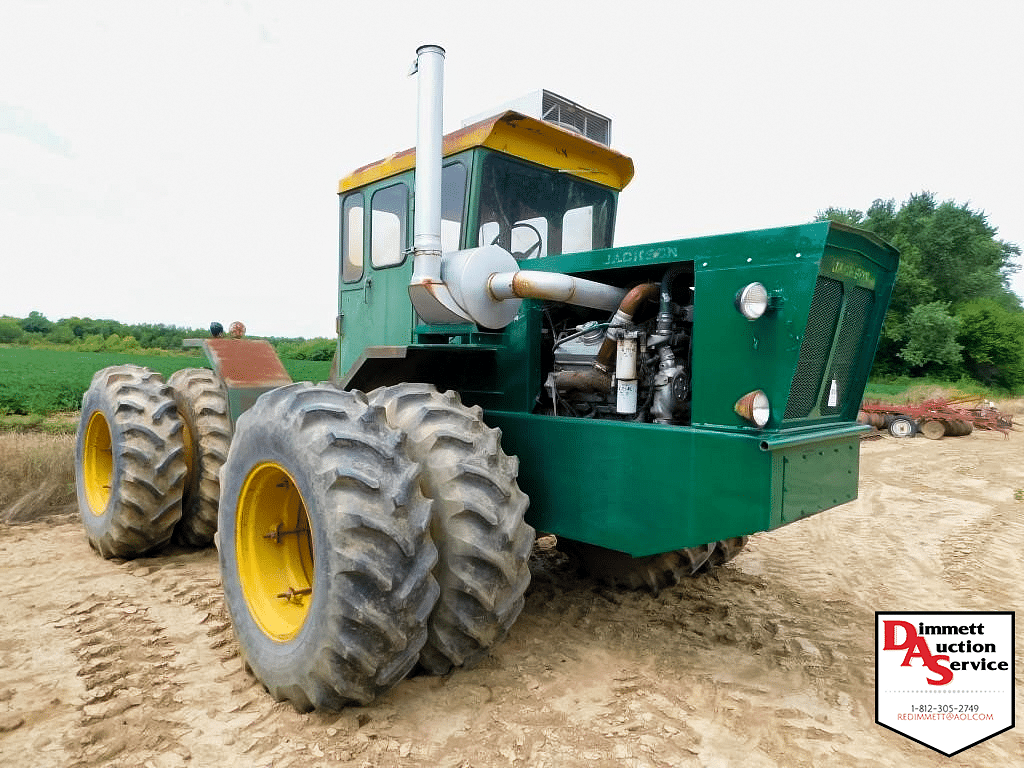 This is likely the most famous Jackson tractor on the planet. It's owned by Chris Wathen, a noted tractor collector in Evansville, IN. Jason over at Big Tractor Power has shot footage of this tractor (as well as the rest of Chris's collection) on multiple occasions for his YouTube channel. Here's one of those videos from a few years ago. The collection has grown a little since then, I believe!
One of one…(probably)
So what makes this particular Jackson tractor so unique? Well, as far as anybody is aware, this is the only re-powered 4-44 on the planet. The previous owner wanted more power, and made a pretty solid choice as far as engines go, too. He yanked the Cummins V504C (which is fairly similar to the 555 "Triple Nickel") in favor of a Detroit 6V-92 Silver Series. That big Detroit packs a punch, too – it's rated at 350 horse! That's a far cry from the 210-horse Cummins that it originally had!
I had the opportunity to chat with Chris for a bit about this tractor yesterday, and he told me that while his collection is pretty focused on component tractors, he typically stays away from re-powers with massive power bumps. "Power will always find weakness," he said, and with my background in tractor pulling, I definitely agree with that. However, Jackson tractors didn't skimp on driveline components, and even with the bigger motor, he's never had any problems with it. He did mention one thing that I found pretty interesting. The axles for the tractor were built by Rockwell. The tag even says something to the effect of "Rockwell for Jackson Mfg." With such a small number of tractors built, I'm surprised that Rockwell would've even tooled up for an order that small!
The ideal buyer…
At the end of the day, Jackson tractors were reasonably well-built, but very spartan when it came to creature comforts. They had ample power and weight for farming the Great Plains. However, when it came to finishing touches, they left a little to be desired. For instance, no A/C. Today's high temp. in Edgeley, ND is 94º F. If you're in that tractor this afternoon…it's going to be a sweatbox!
Chris has fielded a lot of phone calls about this tractor, but he got the feeling that a lot of them are tire kickers. I suppose that for a tractor like this, that's going to be the nature of the beast. People are curious. They've never seen one before; heck, lots of you folks reading this are probably in the same boat! (Full disclosure: I am too – I'd heard of the brand but until Chris's auction listed on Tractor Zoom, I'd never seen what one looked like either!)
At the end of the call yesterday, we both agreed that the ideal buyer for this tractor is a collector who'll appreciate it for what it is. A tractor built by a guy with a little bit of a rebel streak in him. A guy who, when the right solution for a problem didn't exist, created one of his own!
What's it worth?
I have absolutely no idea, and I doubt anybody else does either. Truthfully speaking, I don't think a Jackson has rolled across the auction block in decades! It'll be interesting to see what it sells for – and who it goes home with!
There's quite a bit of really cool stuff on Chris's auction on August 21, 2021. Check it all out here!
One more thing…
One of the reasons that Chris is a collector of component tractors is because of his dad. His father actually built two of them back in the late-60s/early-70s. One was a 4WD, and the other was a 2WD that looked like a front wheel assist tractor. Both saw use on the farm for a while, and then traded away at local dealerships. Chris tracked down the 4WD at a scrap yard a few hours away, and saved it from imminent destruction (had he talked to them just a couple of days later, that tractor would've been scrapped and lost to history). They've since restored it and it sits proudly in the collection.
The 2WD, however…that's a different story – and it might be one that YOU can help with!
Chris's dad traded the tractor in to a dealership in Evansville in the mid-70s. Chris remembers that it sat on the lot for a few months before moving to the back row. At some point, it disappeared from the lot, and that's where the trail went cold.
The family desperately wants to find it again, and they need your help to do it. Here's a few photos that the family has of the tractor. I realize they're not much to go on, but if you live within a few hundred miles of Evansville, maybe show these to the older farmers in the area and see if it rings any bells.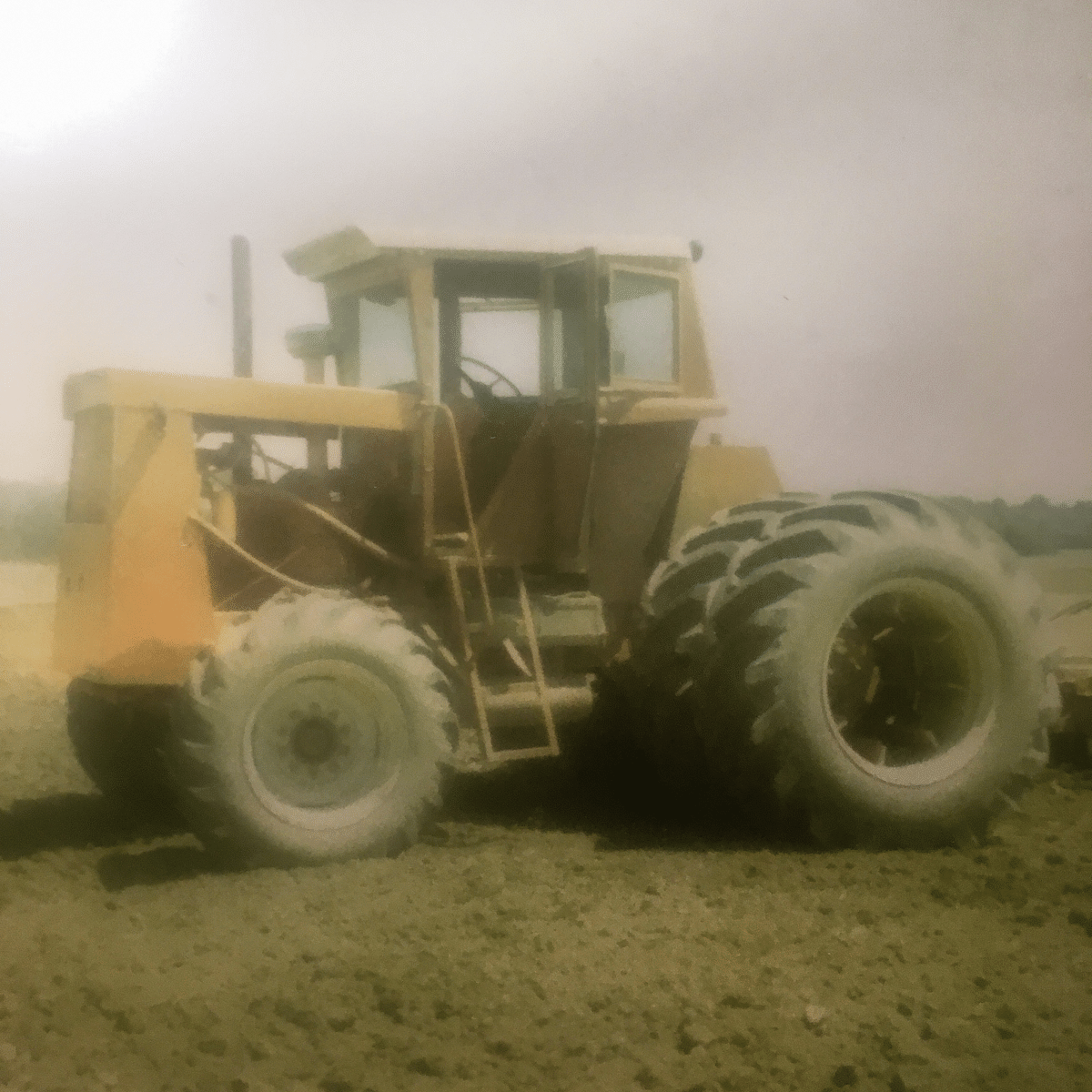 The tractor was red (even though it looks orange in this photo) and the wheels are white. The powerplant was a 220 Cummins, and it had a 10-speed RoadRanger in it. It was a bareback tractor with two remotes.
It's a long shot, but we hope that one of you knows where this tractor is today. While it's highly unlikely, we've both got our fingers crossed that it's stashed in a barn somewhere with a tarp over it. The power of social media is an amazing thing, folks. Even if you don't recognize this tractor, it might ring a bell for somebody you know, so please share this article on your social media!
Still, if these photos DO ring a bell for you, please call or text Chris Wathen at 812.483.9391. He's a very nice guy, and he'd be eternally grateful for any leads you have!
Chris Wathen: 812.483.9391
Special thanks to my buddy Nellson Stout for the cover photo. He's had a little hands-on time with the tractor not too long ago and snapped that one!