Oct. 25, 2023 • Interesting Iron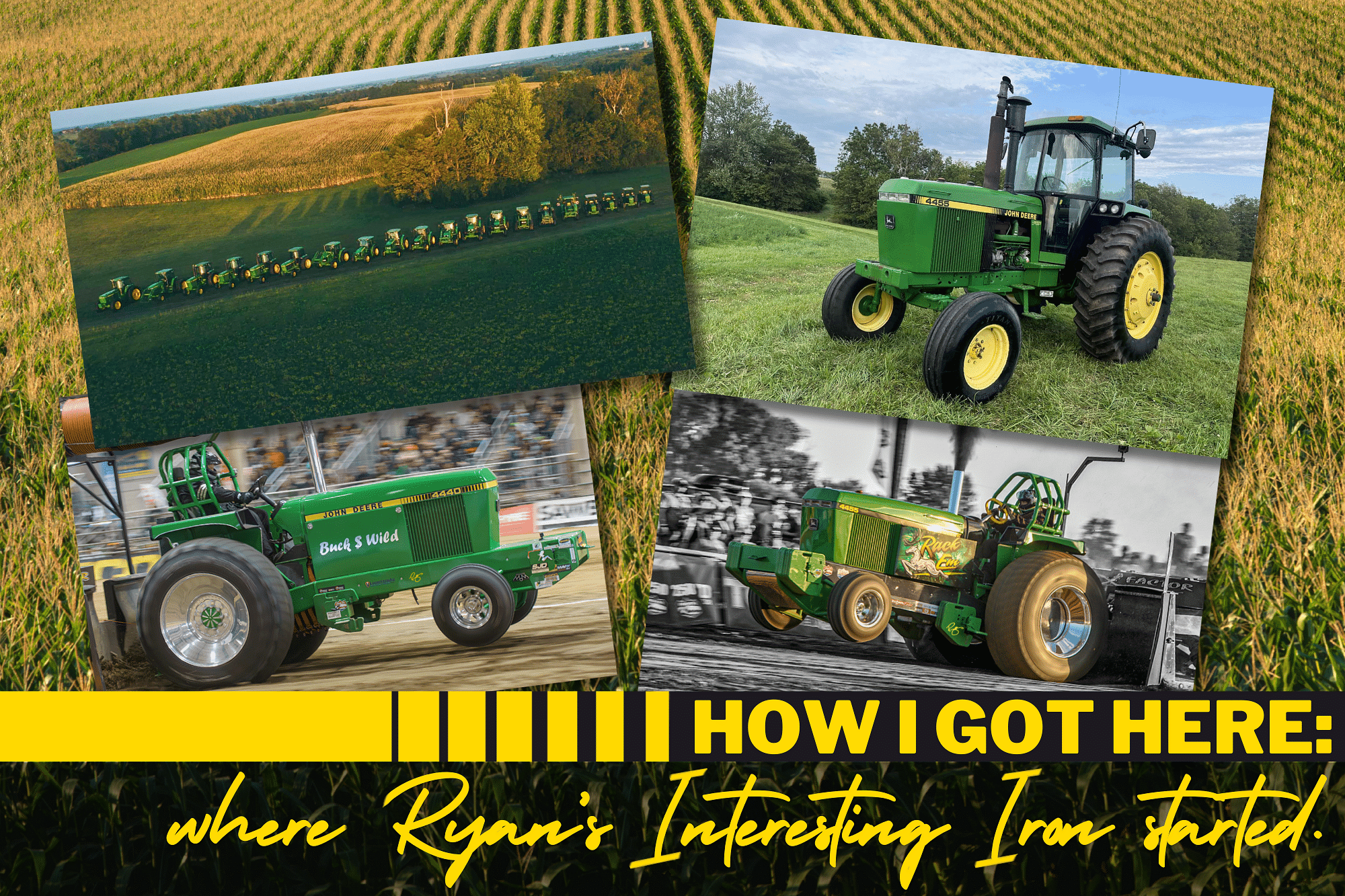 An auctioneer from Illinois recently asked me, "Where did Ryan's Interesting Iron come from? What made you decide to tell tractor stories?"
As I answered, I thought to myself, "Y'know, that might make a good story sometime soon."
Over the weekend, that conversation crossed my mind again as I was looking at Tractor Zoom's inventory. When I stumbled on an absolute cream puff of a 4455 in Kentucky selling this Saturday, "sometime soon" became now. You'll see why in a minute.
First, let's talk about the tractor, and the impressive collection it belongs to. Then we'll get into what got Interesting Iron started.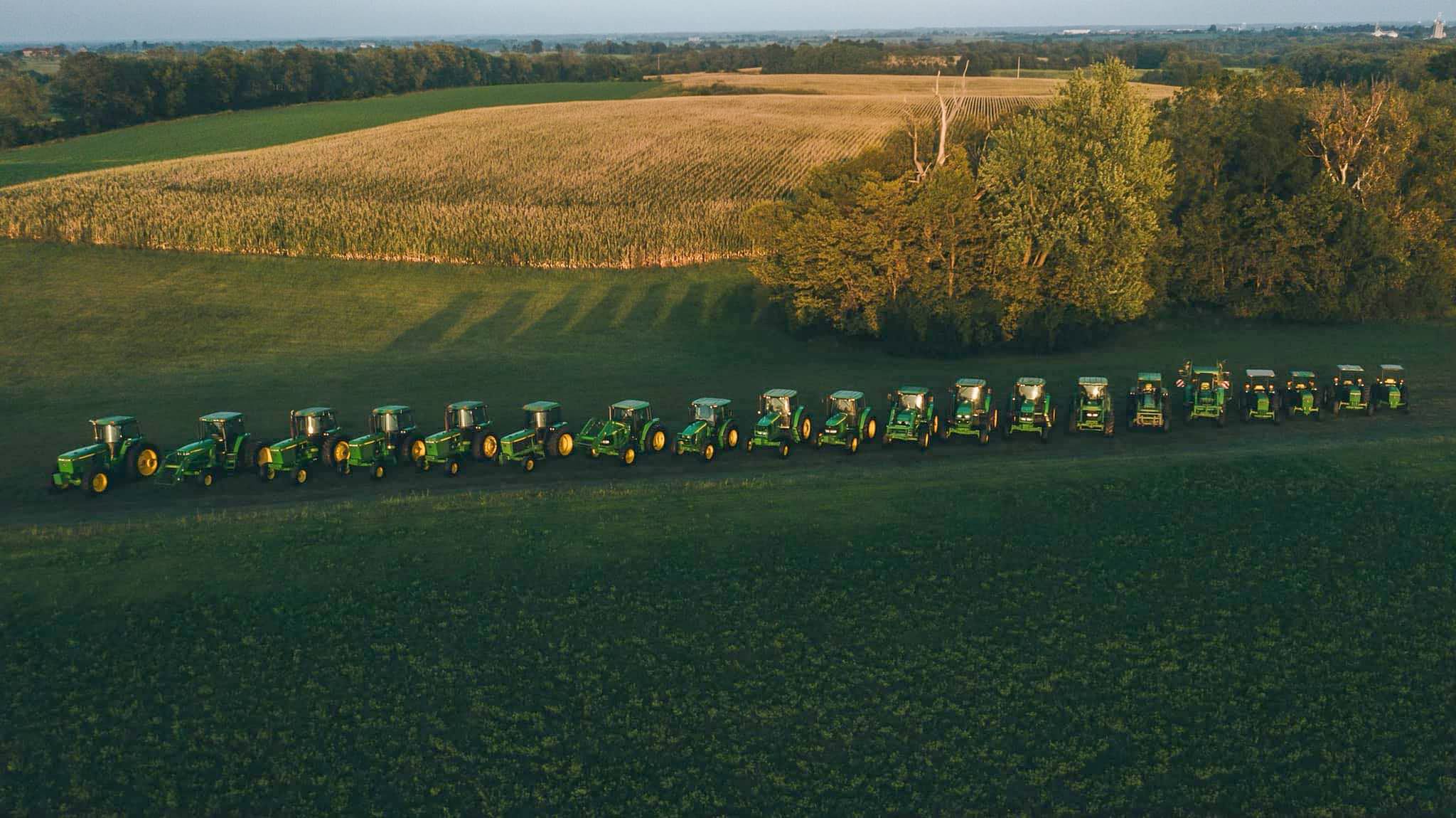 Can we take a second to admire the presentation of this lineup? This is gorgeous! Well done, guys! I wish more auctioneers did stuff like this!
These tractors live on a 170-acre farm owned by two doctors east of Lexington, KY. All tolled, I think there are 28 tractors on the sale. They're mainly John Deere, with a few mid-sized Kubotas and a couple of Farmalls for color. All of 'em pretty much spotless machines, and none have more than about 6000 hours on the meters. Nice collection, eh?
Check out the lineup for this great collection HERE.
(Note to auctioneers: Entry-level drones are cheap, take good photos, and aren't hard to fly. Buy one and get comfortable with it so you can snap photos like this! I guarantee it'll get the public's attention!)
Now, let's get focus on the 4455, because it's an absolute dandy.
Ryan's Interesting Iron of the week: The 4455
I can't say much about John Deere's 4455 that I haven't said elsewhere. Personally, I think they're the ultimate version of the small-frame SoundGard tractors. I know a lot of you have a soft spot for 4440s, and I get that. For a working tractor, though, I think the 4455 – especially the MFWD – is a better tractor. The 4455 made more power, had greater capabilities, and offered better creature comforts.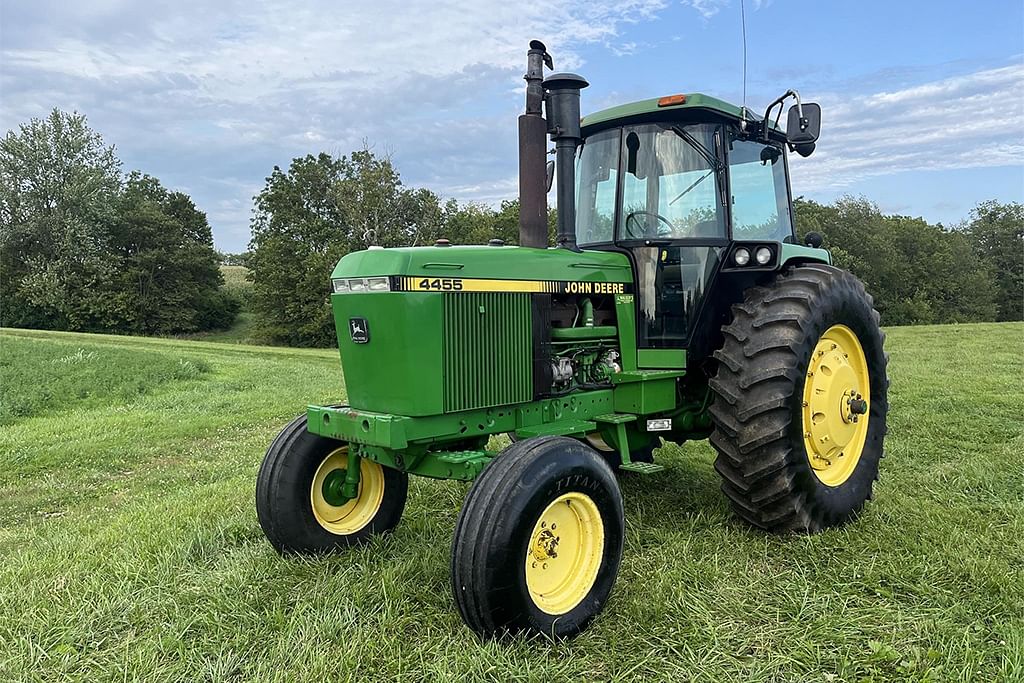 I talked to Garry Taylor, the auctioneer handling the sale, the other day on the way in to the office. He couldn't remember exactly when the doctors had purchased it, but he knows that it's had a pretty easy life since migrating south. Baling and bush-hogging and the like. Nothing intense.
"The farm rules were that none of the tractors got more than five hours usage per day," he told me. At first, I thought, "Woof…that sounds like a colossal pain to deal with." However, I suppose if you've got a small farm and a bunch of tractors, it might not be that hard to balance the hours. It probably limits the amount of work you can feasibly accomplish, but at only 170 acres, I'd imagine those machines never really worked all that hard.
Either way, the strategy worked. The 4455 only has 3549 hours on the clock.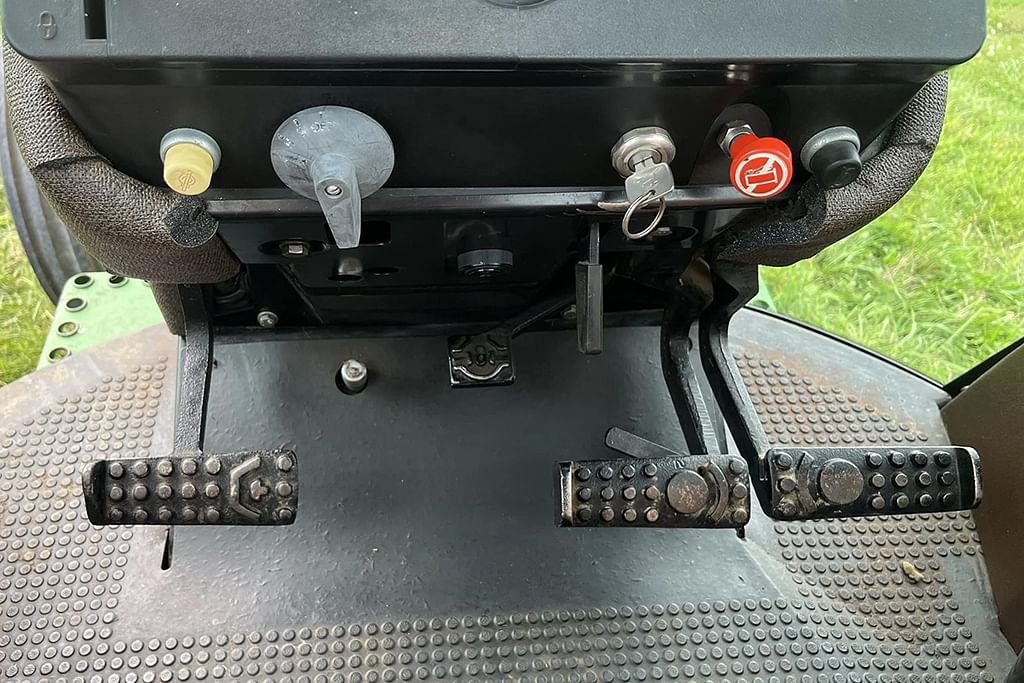 The tractor is well-optioned, with a 15-speed Power Shift and three remotes. Furthermore, it's survived pretty nicely. Save for a cab kit and a little touch up paint on the rear end housing and the front axle, it's all-original.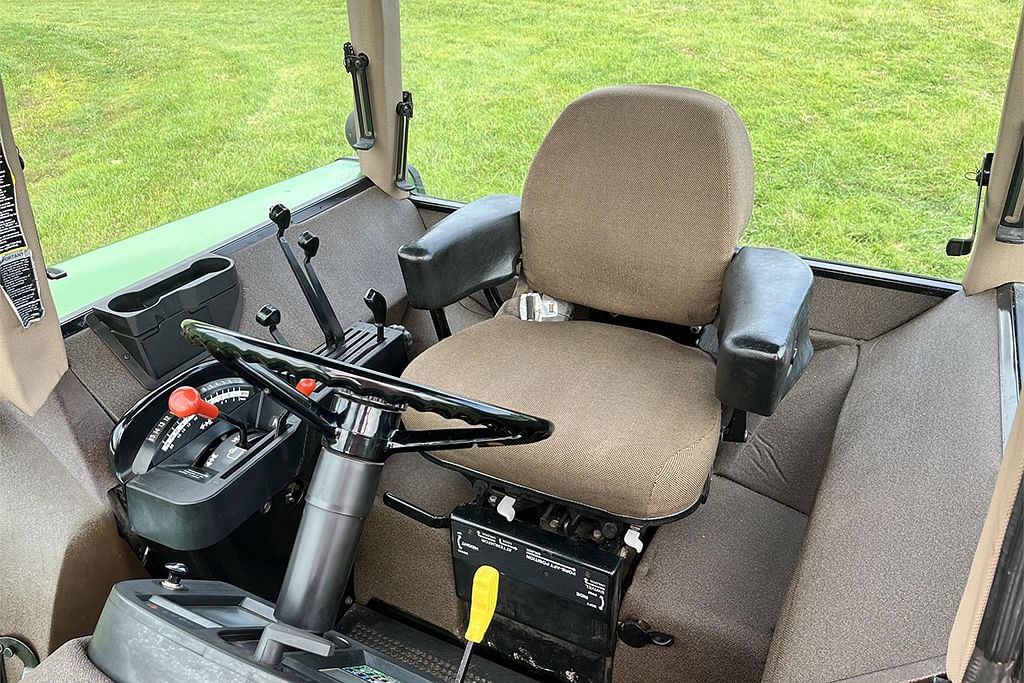 Overall, it's a terrific example of the last (and potentially best) small-frame SoundGards ever made!
What's it worth?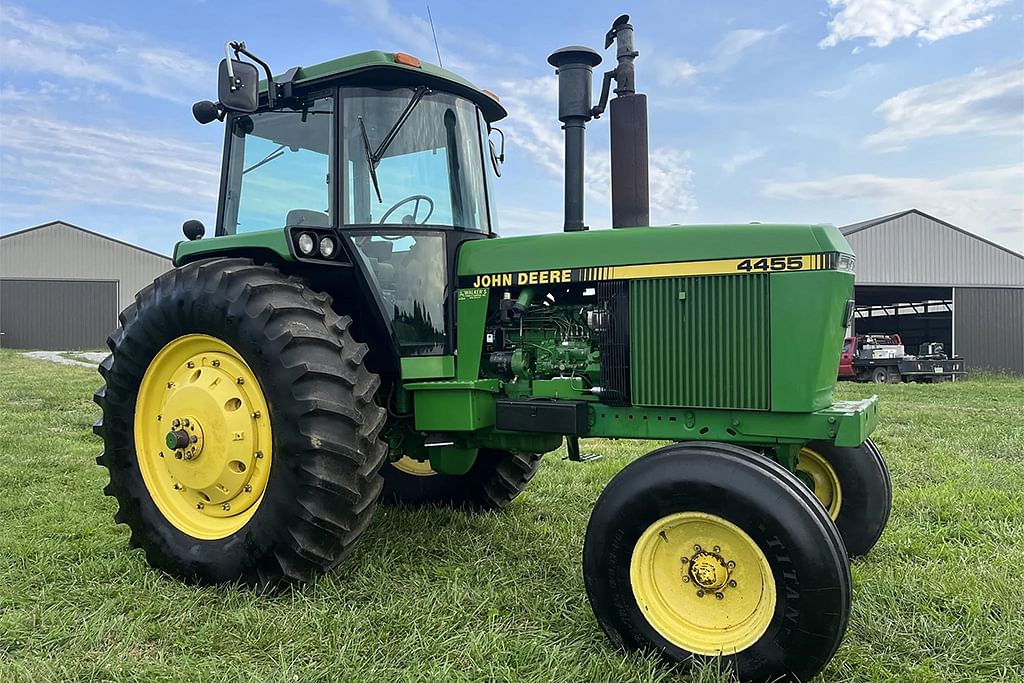 Good question.
At the end of the day, this tractor has a lot going for it. It's a very clean low-houred Powershift machine with three remotes, great rubber, and almost all of the original paint. On the other hand, I don't believe it sells with any weights, and the paint isn't completely original. If it's collectors who are bidding, that could hurt the value a little. It's also not an MFWD tractor, and that'll definitely take some away from the hammer price.
As far as I'm aware, the highest price we've seen on a 2WD 4455 this year is a touch over $65K. However, when it's all said and done, I think this one could top that. I'd be surprised if it didn't sell for close to $70K or more. Time will tell!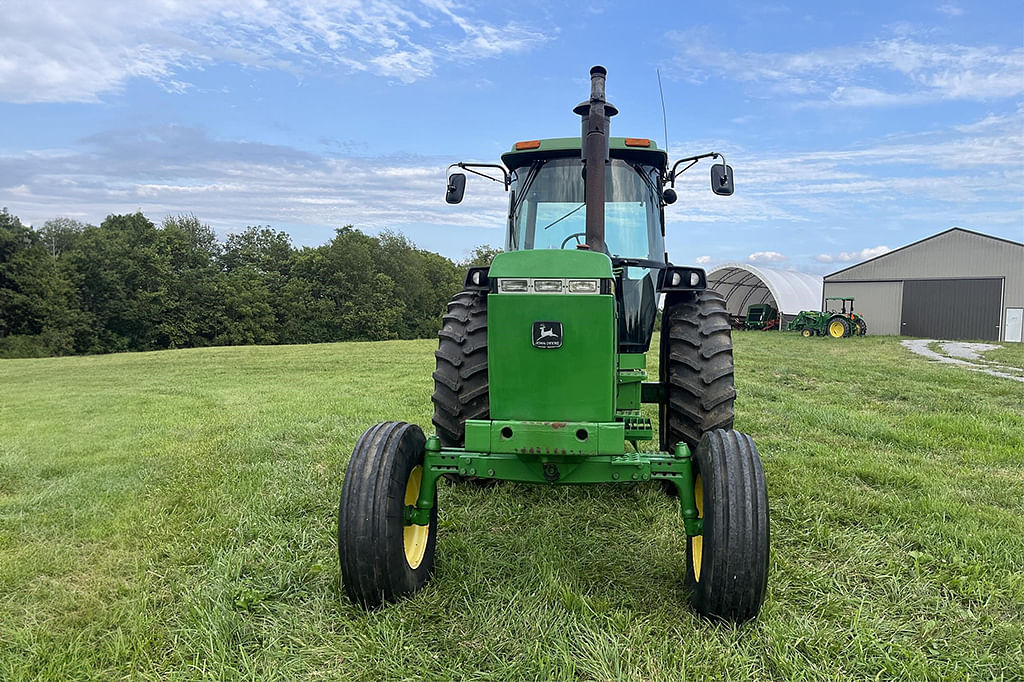 Now, let's talk about the original question…how Ryan's Interesting Iron came to be a thing.
How I got here: The Interesting Iron origin story…
I hate the term "origin story." It makes me think of phrases like "artisanal" and "old-world" and "thoughtfully-crafted" and other nonsense that hipster marketing teams say about everything from loaves of bread to #2 pencils. If you've read this blog for more than like five minutes, you know that's not me. However, I couldn't come up with a better term to describe it, so here it is in all its glory.
The idea for Interesting Iron originated the night of June 22, 2018. At the time, I still worked for FedEx Office, and shot tractor pulls on weekends. I was in Mound City, MO shooting the PPL's Rumble By The Refuge event. It's usually the first big show on my calendar, and the first time I get to catch up with my pulling family after winter and spring planting. Chris Waegele and Mitchell Corbin and their team do a great job with that show. I'll be there with the camera for it as long as they'll let me! If you get the chance, it's definitely worth attending!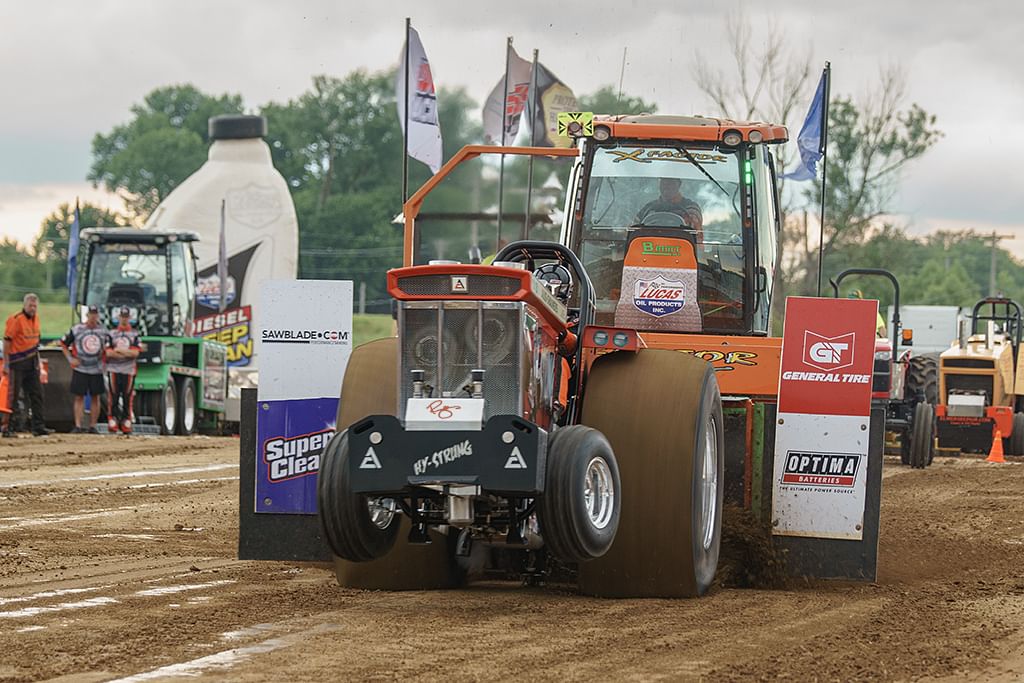 At any rate, after the show wrapped up and I'd stashed my camera for the night, I bumped into Brandon and Eric Clark and Billie Ruwe. The Clark brothers farm in western Iowa and Billie farms in Blair, NE near the river. They're all tractor pullers, too, but they weren't competing that night. It had been a while since I'd seen any of those guys, so I grabbed a seat on Brandon's tailgate.
We spent a few minutes catching up on life and farming. Then at some point, the conversation veered towards old farm tractors.  Brandon and Eric are die-hard green guys who pull a 4455. And although Billie's puller is a 4440, he's got deep roots on the Minneapolis-Moline side. Those guys love the history of farm machines, and once the floodgates opened, we all got pretty animated! Granted, a few beers were involved, but we literally talked until nearly 3AM about old tractors!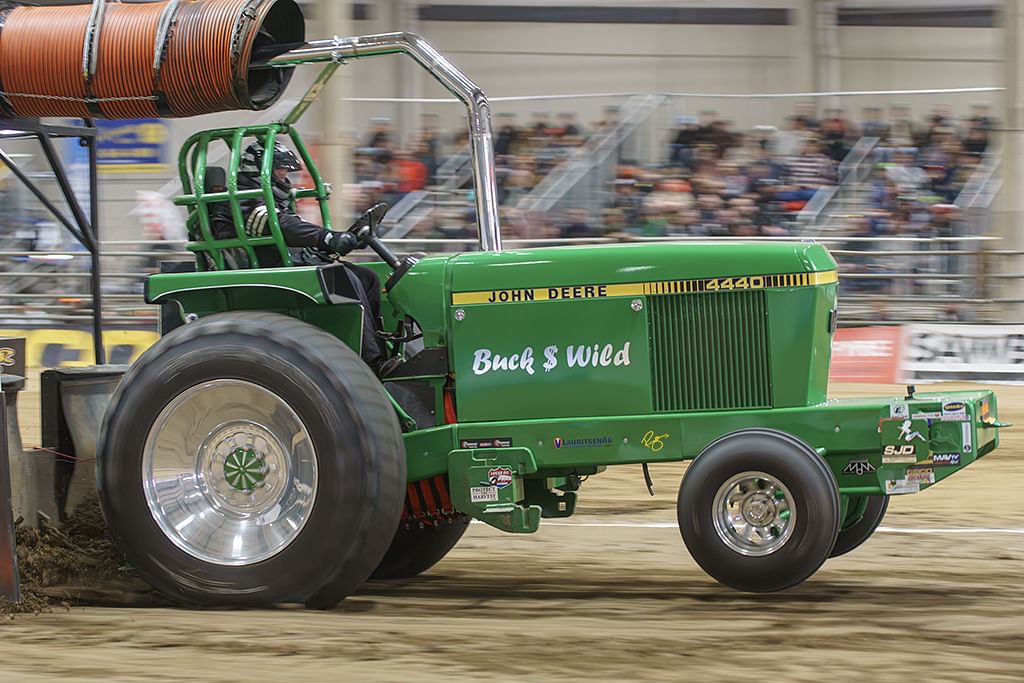 I remember thinking, "Man, I should be recording this for posterity's sake!" I still wish I had, too. That conversation went from the factory history to dealerships that they loved (and some they didn't), to the tractors that were the backbone of their farms. It was a great night. Honestly, it was probably one of the most memorable nights I've ever had in pulling! It wasn't the pull that made it great, either; it was the company and conversation afterwards.
I'll never forget that night as long as I live.
Little did I know…
…that six months later, I'd be sitting in my living room interviewing with Kyle McMahon (TZ's CEO) for their social media manager position!
Two months after I'd accepted the position, I was in the office one afternoon cooking up a way to connect with our Tractor Zoom users via email. And for some reason, I thought back to that June evening in Mound City. Then suddenly it clicked. Let's spotlight some of my favorite old-skool farm equipment listed on auction right now, add some color commentary about each one, and a link to the listing! We'll call it Ryan's Interesting Iron!
So that's what I did!
It was hastily-written with almost zero spit and polish, but the Interesting Iron email came to life on February 28, 2019. If more than three dozen people read it, I'd be shocked. Still, I thought it was cool, so I kept with it. By the summer of 2020, the stories grew too long for email, so we moved the content over to the blog you're reading today!
Wrapping up…
I still love sharing tractor stories, and I still go back to that night nearly every time I sit down to write, too. When it's all said and done, if I've done it right, you've been there on the tailgate of Brandon's Duramax with us every time!
BTW – I'm always looking for tractors with a great story. If you've got one, send me an email and let's hear it! Maybe we can turn it into an Interesting Iron story together!