Aug. 10, 2022 • Interesting Iron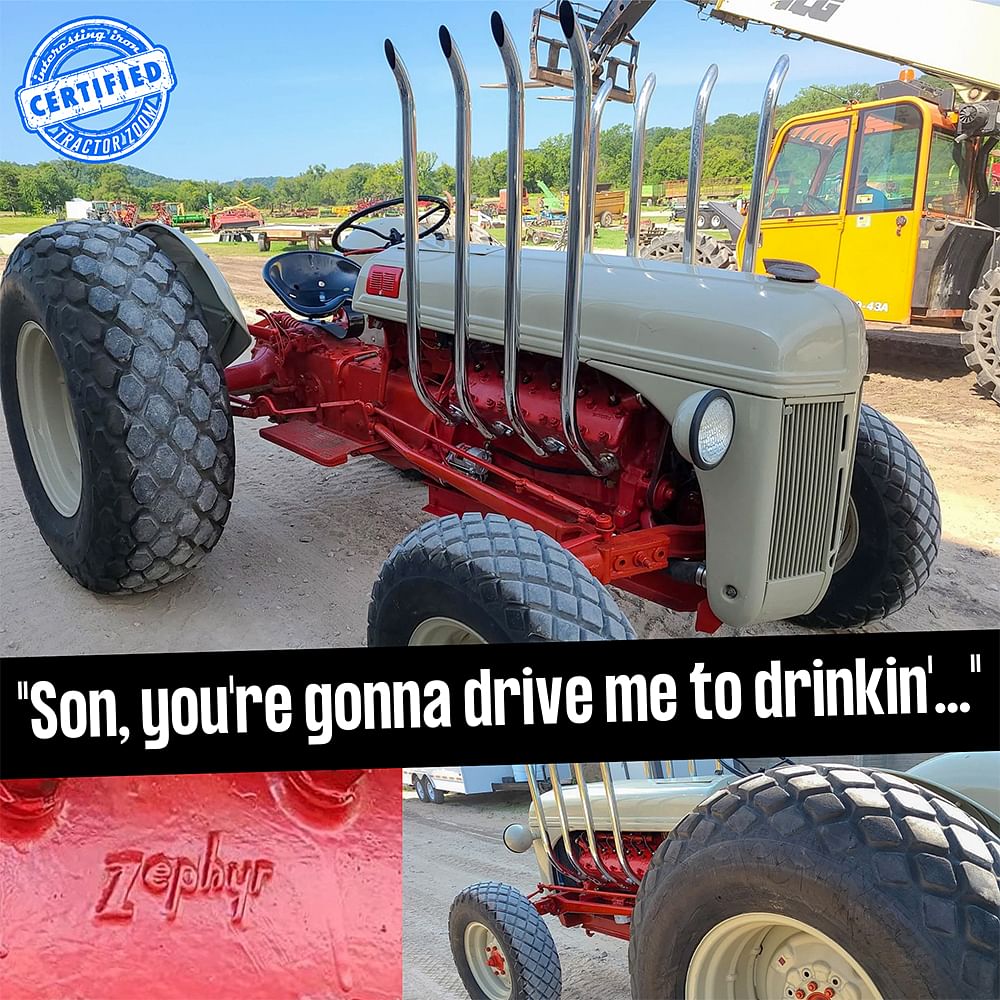 Yep, you read that right. This V12-powered Ford 8N is an OG Hot. Rod. Lincoln. (And if the song isn't playing in your head by now, it should be…)
Wait…what? I remember that song, Interesting-Iron-Guy…that Model A had a V8. Get it together, tractor-guy.
Well, yes and no.
See, when Charley Ryan wrote and recorded that song with the Livingston Brothers in 1955, it was a Lincoln V12.
Check it out if you don't believe me!
When Commander Cody re-recorded it in 1974, he changed a few things in the song – the V8 being one of them – to make it work better. (And it certainly did.)
Anyway, enough about classic rockabilly songs. Let's talk about this souped-up Ford 8N.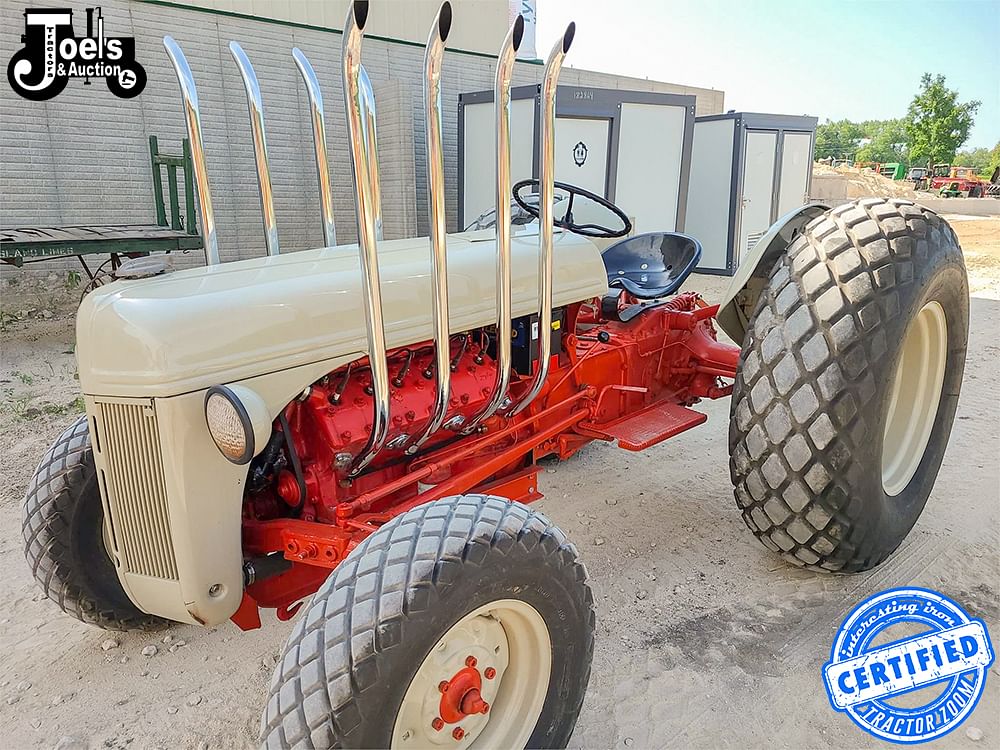 Ford 8N: The most popular farm tractor in North America?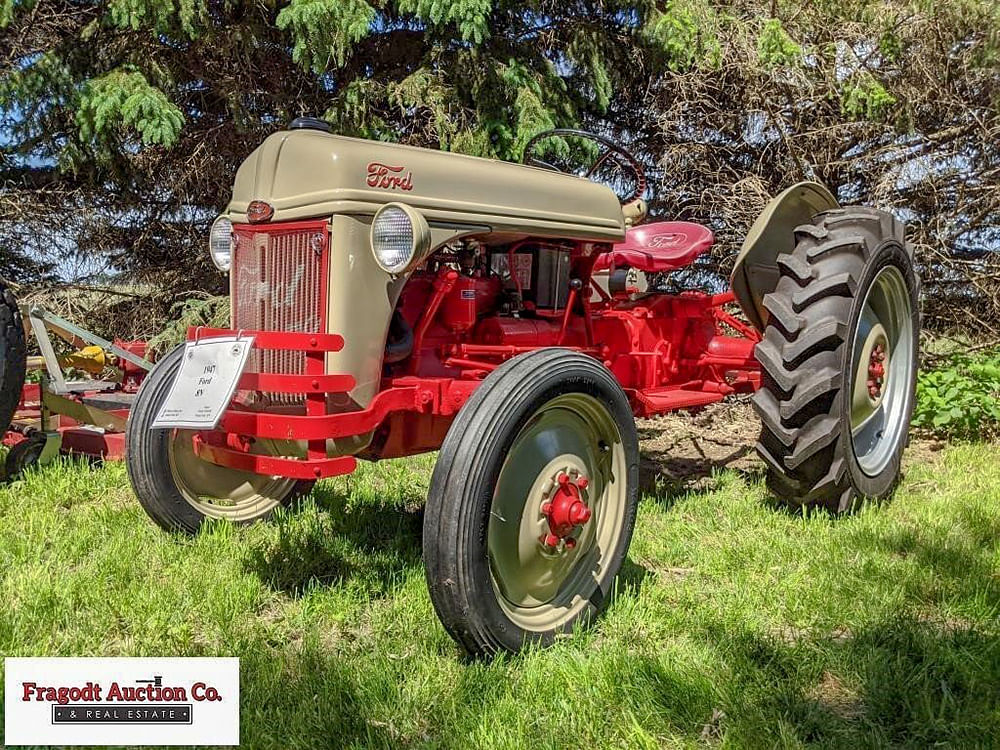 At over a half million of 'em built and sold between 1947 and the end of the run in 1952, the Ford 8N is probably the best-selling tractor in North America (especially if you count second-hand sales). If you're reading this right now, I'll just about guarantee you that you can think of at least two people who have owned an 8N. I'm fairly certain we had one on our orchard at one point, and my father in law had one for a while too.
They were inexpensive, well-built tractors that just seemed to work for nearly everybody.
Nearly.
Not quite all, though.
See, the one downfall of the Ford 8N is that it wasn't exactly a powerhouse. It was only rated at 30 horse, which wasn't a lot for 1950. There were plenty of farmers out there who were asking for more, too. Fortunately for them…there were the Funk brothers.
The Funky Fellas in Kansas…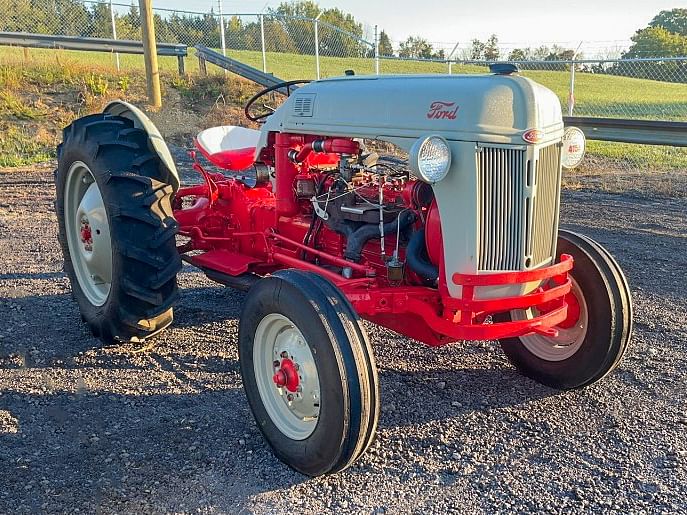 Joe Funk and his twin brother Howard grew up in Ohio, and were completely fascinated with all things mechanical…including airplanes. In 1934, at just 24 years old, they built their first airplane, and a business took off (see what I did there?). For the next few years the Funk Aircraft Co. built airplanes in Ohio, but after some issues with a nervous lender in 1940, they relocated the business to Coffeyville, KS. Unfortunately for them, the timing of the move wasn't good, and between the war and increased civilian competition when it ended in 1945, the airplane business kind of fizzled out.
So, near the end of 1948, they pivoted. Farmers with Ford 8Ns were looking for more power to increase their capabilities on the farm, and the Funk brothers knew Ford engines. So, they started messing around with swapping engines to give them the power that they wanted. They developed two kits – one with a Ford industrial inline six making about 95 horsepower, and one with a flathead Ford V8 that made 100 horse or more – and started selling them.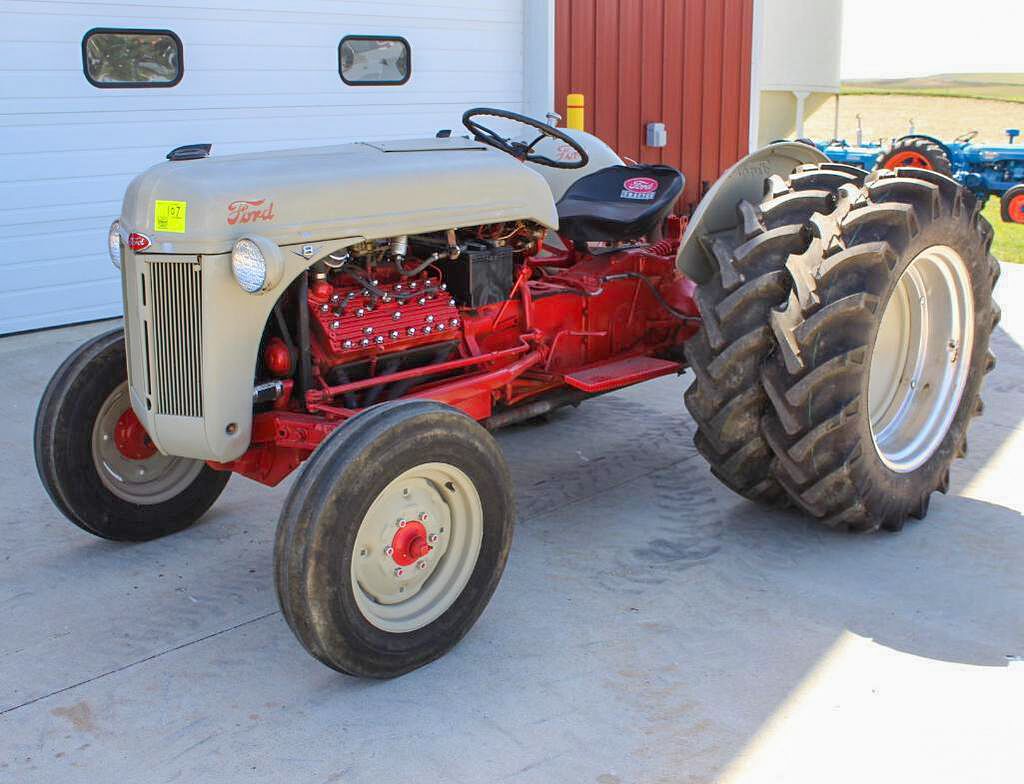 It didn't take long before word started getting around that a Ford 8N with a Funk conversion was a whole different animal in the field. Where the original tractor's four-cylinder was adequate to pull a two-bottom plow, a Funk Ford 8N had enough oomph to pull a three-bottom plow with power to spare!
Funk only sold these conversion kits for about five years, though, and records are spotty thanks to a fire that burned the building to the ground. However, those who've researched it far more than I figure that there were about 4500 Ford 8Ns converted with the inline six, 100-200 of the flathead V8s, and a few oddball test conversions for other models.
Paving the way to something bigger…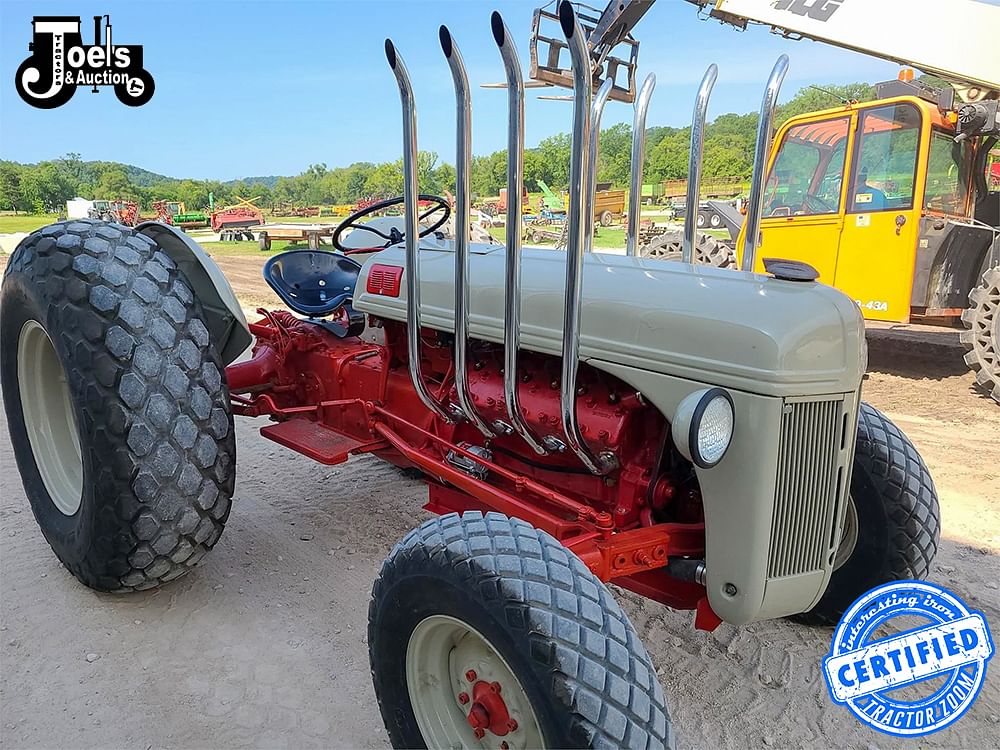 Despite selling these conversions for just a few years, the Funk brothers were on to something. They may not have been the first or the most successful (Kinze probably owns that title), but they were among the first to really make a viable business out of it. They proved that the process could be repeatable and that there were gains to be made from wrenching on stuff like this.
Since then, the little Ford 8N has become something of a blank canvas for re-powers. I sat down yesterday and jotted down a list of every Ford 8N conversion that I knew of, and I think I came up with about fifteen. I'm sure there are more out there, but these are the ones I know of.
Common 8N Conversions:
Funk – Ford Inline six
Funk – Ford Flathead V8
Mercury Flathead V8 (I believe these are a little bit different than the Funk/Ford Flathead, but I'm not sure)
Small block Fords (289s and 302s are very popular, as well as a few 351 Windsors and Clevelands)
Ford 300 Inline Six
Small block Chevrolets (pretty much any one you can think of has been done)
Chevrolet 4.3L V6 (think 90s S-10s and Blazers)
MOPAR small blocks (318s for sure, and I'd be surprised if somebody hasn't figured out how to make a 383 work)
The weird…errrr, more exotic conversions:
Yeah, exotic. Let's go with that.
Curtis Connett's blown Flathead V8 FWA 12-speed Ford 8N. This thing would be a riot to drive. Check it out below.
The Nordstrom Special – Art Nordstrom's big-block Sprint car pusher. Hit the photo below to read Yvette VanDerBrink's article on this rowdy little tractor!
Jack Donohue's 8N Credible Land Speed Record tractor. Hit the photo below and check out my friend Brian Lohnes' article about it on Bangshift! This thing is bonkers!
Marvin Baumann's turbine-powered (yes, you read that right – a jet engine) Ford 8N. Hemmings wrote a nice piece about this one! Hit the photo to read it!
And most recently, Brian Rogers' utterly INSANE 800-horse twin-turbo 7.3L Power Stroke V8 Ford 8N. (Oh, and it has two nitrous kits on it, too. Y'know, just in case a twin turbo setup isn't enough.)

Now, before the purists start sending me hate mail about how these "ruin" an irreplaceable piece of history, I'm well aware that most of these tractors won't do much of any farm work – and I'm completely okay with that. If it's okay for somebody to turn a '69 Charger into a 1200-horse drag car, then it's okay for Marvin Baumann to shove a little tiny jet engine into a tractor. It's more of a "I wonder if we could make this work" and less of a "I think this will work better on the farm" kind of thing. That's my take on it. I mean, it's not like Ford didn't build over a half million of 'em…
(Plus, tiny jet engines are cool, and so are 800-horse Power Strokes.) 
Finally, that brings us to the last of the more exotic conversions…the Hot Rod Lincoln.
The V12-powered 8N you can buy on August 24th…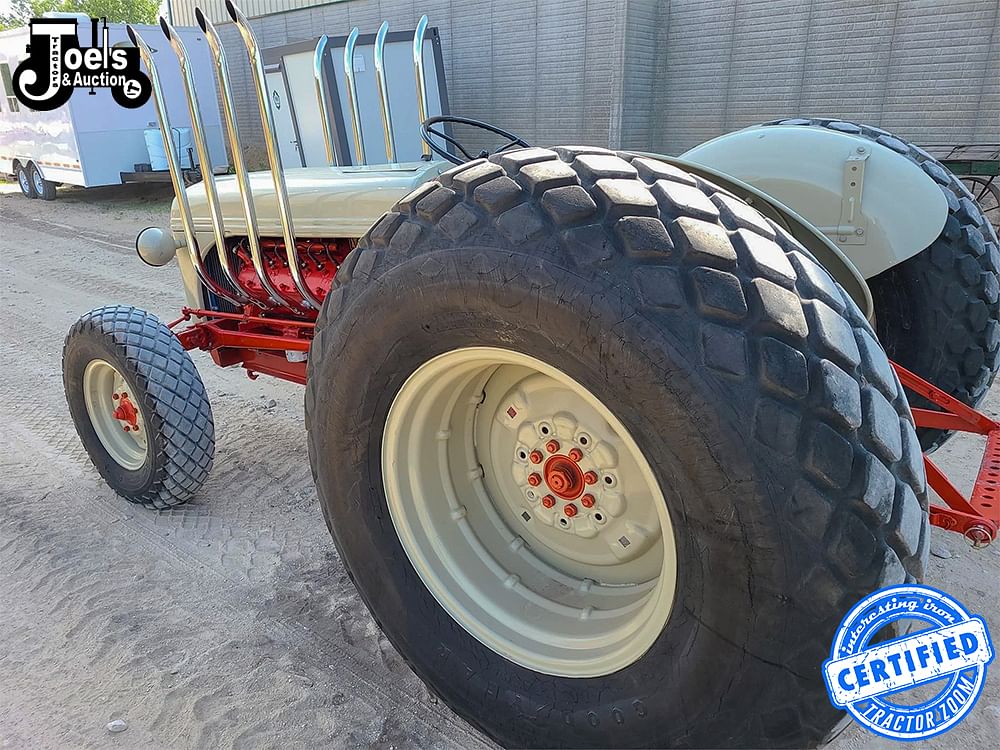 John, one of our Tractor Zoom Auction Success Team guys, texted me a photo of this little monster on Sunday. He asked, "What in the Commander Cody and his hot rod Lincoln is going on here?"
And as I laughed out loud, I texted him back and said, "Well, apparently that's the theme of this week's Interesting Iron!"
This tractor comes from a fairly massive collection of old Ford tractors out of an estate in Northeast Iowa up by Decorah. When I talked to Joel Everitt the other day, he told me that this was one of nearly 100 Ford 8Ns in this gentleman's collection. Surely there were some parts tractors and probably a few carcasses in that number, but still, that's a ton of Fords!
Sadly, I don't think we'll ever know the total history on this tractor, as the owner has passed away and I don't know that there's a lot of documentation on it. I asked Joel, and he said that he hadn't seen anything. (That said, if you're reading this and you know the story on it, please reach out! I'd love to be able to work with you to update the article and get the rest of the story out there!)
Here's what I do know:
The Flathead V-12 engine came from a Lincoln Zephyr, a streamlined mid-size luxury car introduced in 1936 to compete with Packards and LaSalles. It was – and still is – a jaw-droppingly gorgeous car in person, and there's even one on display at the Museum of Modern Art in New York! It was only in production for a few years, eventually being replaced by the Lincoln Continental, a name that nearly everybody recognizes today.
As I understand it, the V-12 was a staple in Lincoln's lineup for about a dozen or so years. They were good engines for the most part, however, they got a bad rap because of a few issues early-on in production. Early examples of the engine suffered from oiling problems at low RPM (in other words, they suffered from sludge buildup). Furthermore, the engine's cooling system had some issues as well, which resulted in a few warped aluminum heads. Fortunately, Lincoln caught the issues fairly early, and evidently was able to address them pretty quickly.
Here's the cool part; it bolts right up to the Sherman Overdrive transmission!
At any rate, as I understand it, the tractor was built in 2017. Overall, I think it's pretty well-done. The bodywork is nice and straight (the chassis and the hood have been stretched about a foot or maybe a few inches longer), and the tires are also in good shape. If you wanted to get real nit-picky, you could probably find a run in the paint somewhere. It probably has a scratch here and there as well – these things happen. Still, on the whole, it's a neat hot rod!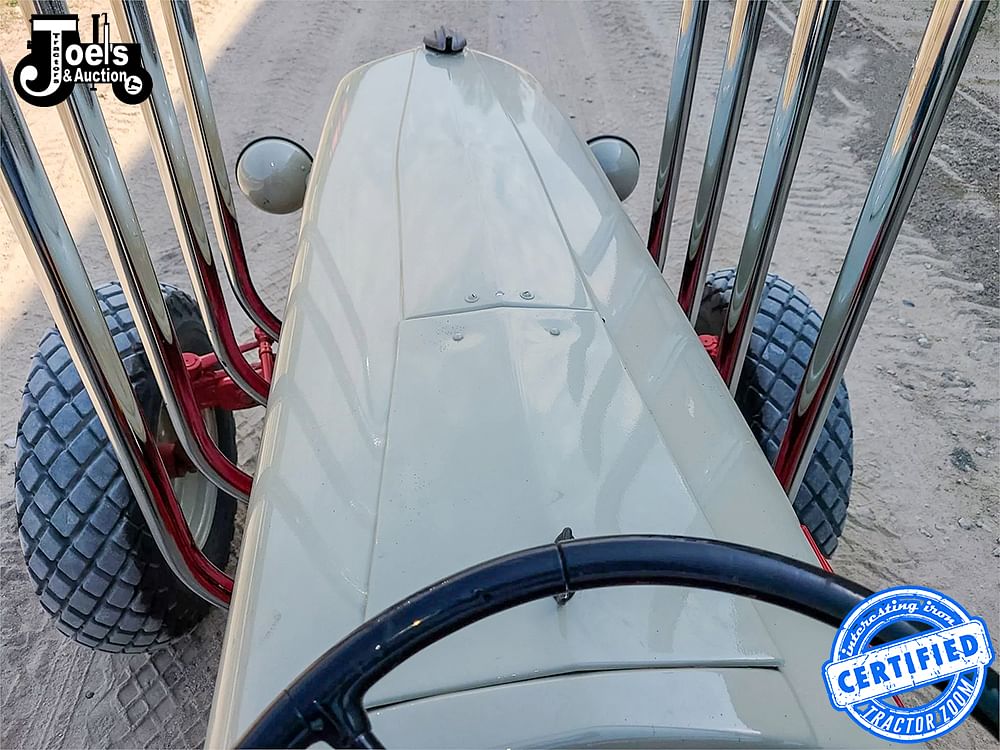 What's it worth?
To put it bluntly, I have no idea. Furthermore, I don't think anybody knows what to expect for this tractor. Generally speaking, for a garden-variety, plain-Jane Ford 8N, you'll probably pay between $1000-1500. Nicer examples that have been cleaned up with straight tin-work, $2000-2500 give or take. Funk conversions (and more common conversions with modern small block V-8s) are all over the board. For instance, we've got sales data in our Iron Comps database for Funk inline sixes selling for $4000 and up, and a few V8s starting at $6000 and up.
However, nobody's got a Blue Book value on these exotic conversions, mainly because there aren't many of 'em out there. I know for fact that this is the first V-12 powered 8N that will go into our database, and we've got more auction price data than anybody on the planet!
Without a doubt, though, this will sell for less money than it would cost to build one today. It runs and drives, and all the body modifications have already been done. That's worth a lot.
When the hammer drops, I'll bet we're somewhere between $6500-7500 on this one.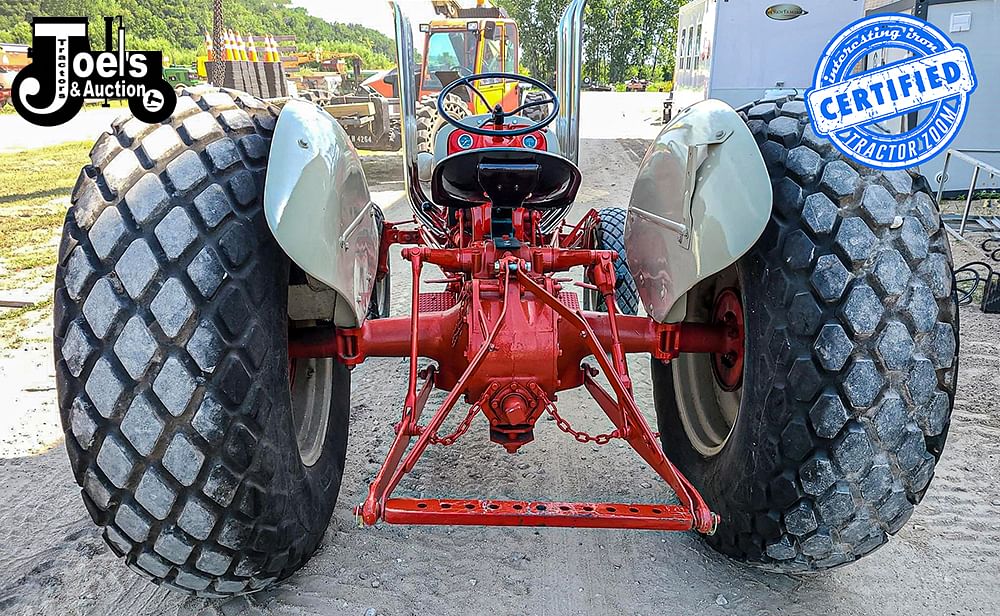 Wrapping up…
Joel told me that he'd taken the tractor for a spin not too long ago (for research purposes…) and that it was a hoot to drive! Honestly, it made me want to take a drive up there to see if he'd toss me the keys! Come to think of it…there's a tractor pull in Hillsboro, WI this weekend too. Surely there's a way that I could take the long way up there and stop to see it…
Y'know…for science.