Jan. 10, 2023 • Interesting Iron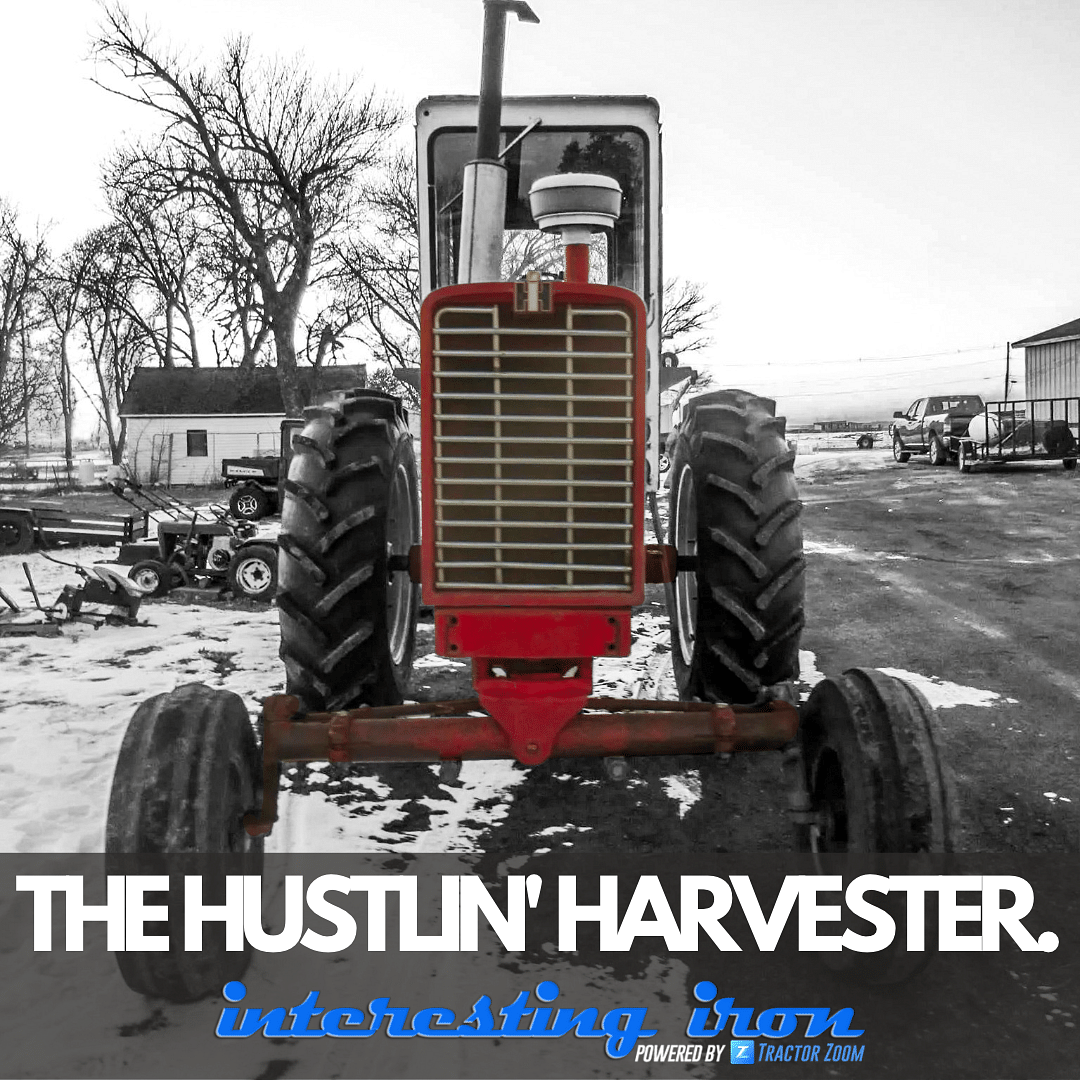 I stumbled on the listing for this Farmall 856 a few days ago, and kind of fell in love with it. See, I'm a big fan of the 56-series, and I've never actually written about them. Seems like a perfect opportunity…and a perfect opportunity to introduce a new tractor category: the Hustle Tractor. We'll talk about that in a minute.
Here's the auction info, before I forget.
Auction Date: Ends January 18, 2023 – 12:02PM Central
Auctioneer: Kobza Online Auctions
Format: Online-only auction (bidding opens January 11, 2023 – 5:00PM Central)
Location: David City, NE
TZ Auction Listing
To be perfectly clear and transparent, I have absolutely zero interest in owning this tractor. In fact, as much as I liked it when I saw the listing, I'd be lying if I said it didn't make me awful anxious. We'll get into why in a minute or two.
For now, let's talk about what the 856 is, and why I like 'em.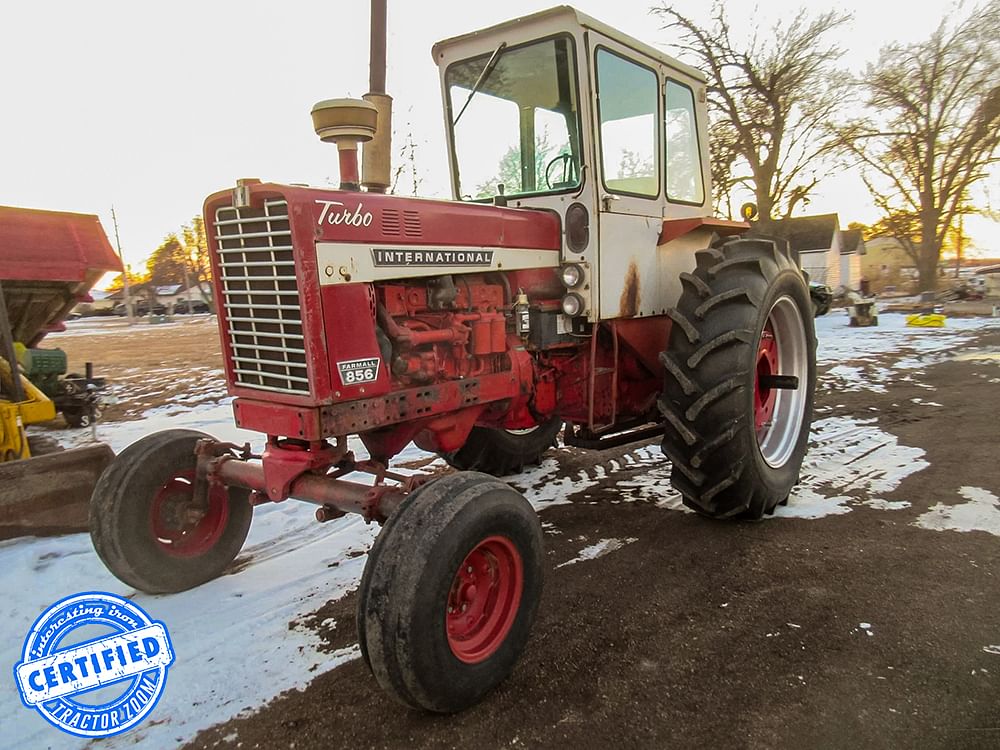 The 856
On paper, the Farmall 856 was just an updated version of the very successful 806. As such, it had big shoes to fill.
However, I think there's more to it than that. I think – and this is just my opinion – the 856 was when Harvester finally felt like they'd really put a really rocky past behind them.
To make a long story short, early 460s and 560s had issues with rear end failures. It turned into something of a PR dumpster fire, and led to what I believe was the company's largest product recall ever. Furthermore, estimates put the cost to fix the problem as high as $19M (that would be close to $200M today)!
The 806
To put it bluntly, Harvester was pretty salty about the whole thing. They knew that the 560 was their own fault, they knew what it had cost them, and quite frankly, they were sick and tired of being reminded of it every nine minutes.
So when they built the 806, they engineered the single toughest machine they'd ever built. By the time they rolled off the assembly line in Rock Island, the test mules had racked up over 75,000 hours of testing. The IH engineers had beaten those tractors to death over and over because they could still feel the sting from the 560 debacle, and they didn't want to deal with it again.
Well…it worked. The 806 and the dry-sleeve D361 was one of the most bulletproof motors ever. The company moved close to 51,000 units, and it's not hard to find 'em still earning their keep today! Some have over 20,000 hours on the clock and haven't had the head off or the pan dropped!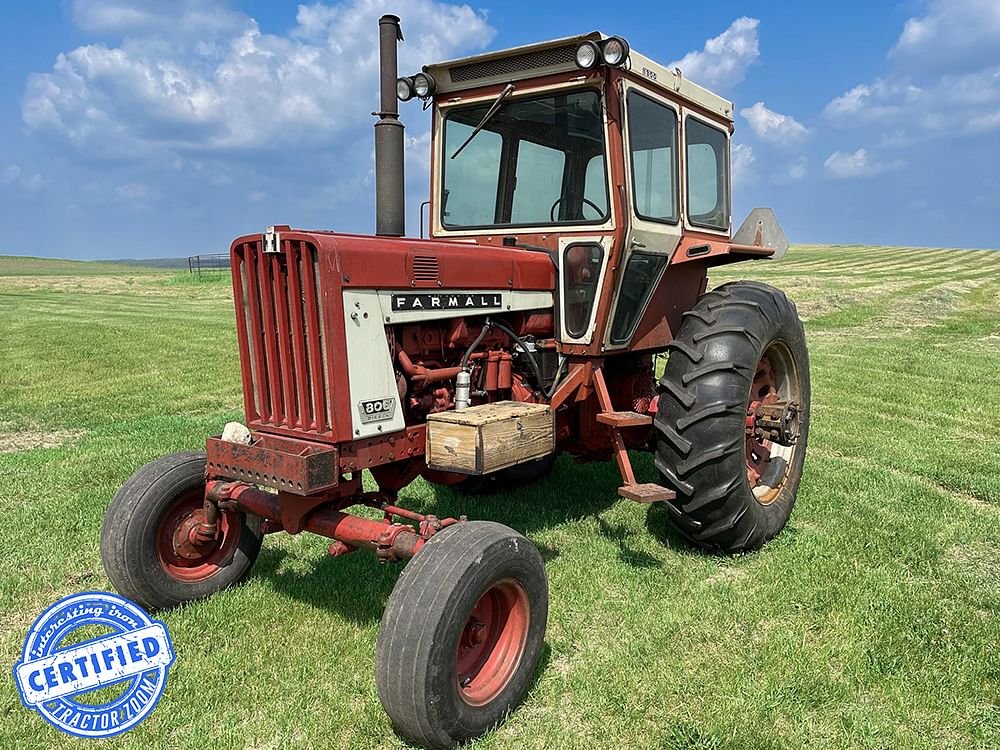 Yeah yeah yeah, Interesting Iron guy, we know. 806s are awesome. Get on with it.
Fine. Moving on…
The 856: Making a great tractor even better…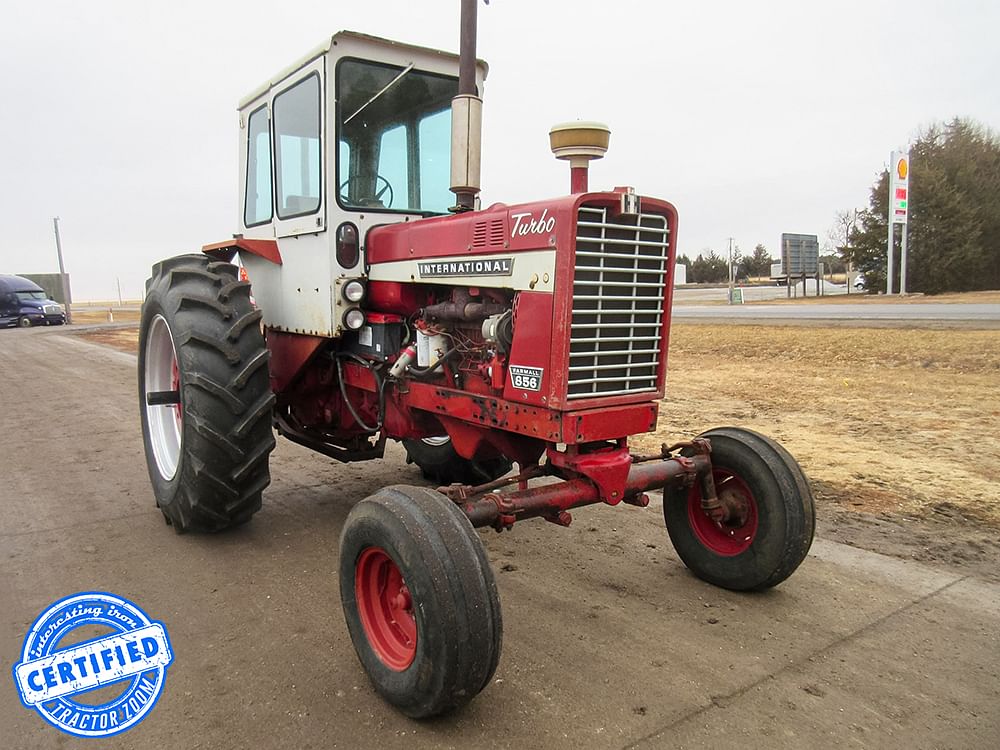 The Farmall 856 was introduced in 1967 as the direct replacement for the 806. For the most part, the changes were pretty subtle. It got just a tiny bit bigger and heavier, and borrowed the grille from the 1206. The biggest change was in the diesel powerplant. The tough-as-nails D-361 was now bored and stroked out to 407 cubic inches, and made about 5 more horsepower. (The gasser and propane models retained the C-301 engine from the 806.)
The 856 was produced from 1967-1971, and per TractorData, total production was 29,004 units. That figure includes IH serial numbers as well as the Farmall 856 Custom, a lower-cost variant meant to compete with the John Deere 4000. It was essentially the same tractor, but with a single hydro, smaller fuel tank, Fast Hitch, and single headlights in the fenders.
Overall, the tractor sold pretty well. Basically, they took everything that had proven itself in the 806 and gave farmers just a little bit more. The 856 was nimble, tough, and punched way above its weight class.
Muscle Tractor…or Hustle Tractor?
I asked a buddy of mine about his definition of a "muscle tractor" a few months ago. He said, "It's gotta be 2WD, have a minimum of six cylinders, a turbo, and make at least 100 horse on the PTO."
I think that's a pretty fair assessment, too. Most of the tractors that we'd consider "muscle-y" would fit that mold, too. They were built to be the big tractor on a farm, and as we know, the competition was pretty stiff.
There's another category, though – one that I call the Hustle Tractor. Basically, it's the little brother of the Muscle Tractor. 2WD, 80-100 PTO horsepower, and a naturally aspirated inline six. On a large farm, it would be a secondary tractor, but on a smaller farm, it might be the big horse. They could do pretty much everything a turbo tractor could do, but were probably better-suited for smaller jobs.
It was a seriously crowded category, which makes sense; the market for an 80-100 horse tractor would naturally be bigger. Not every farm could justify a 130-horse tractor, but most of 'em had a place for a little smaller tractor that could get out of its own way and get a job done quickly! Between 1963-1971, I'll bet there were at least 25 (if not 30) different tractors that would fit this category.
By the numbers…
If you're looking purely at sales as the definition of what reigned supreme, everybody played second fiddle to John Deere and the 4020. But from a capability standpoint, I think the story has a different ending. I know the 4020 was a big deal and broke a lot of new ground, and I respect that. However, if I can only take one to the field, I want the 856. To me, they're
The Farmall 856 you can bid on right now…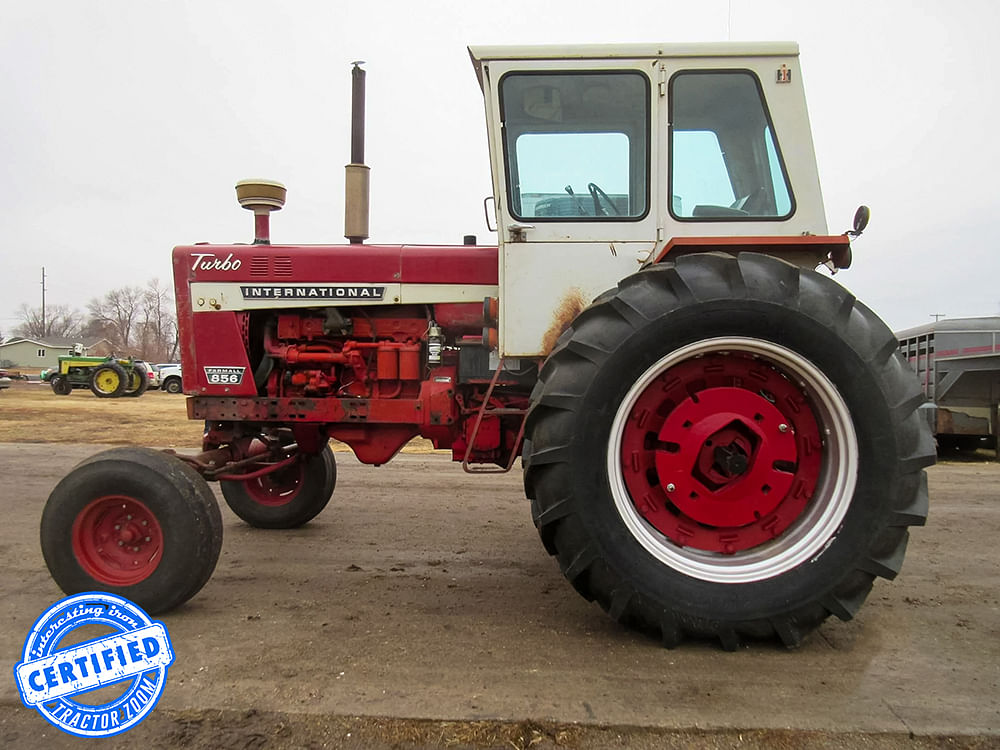 This particular tractor is somewhat unique, because it's been in the same family for over 50 years. It's getting harder and harder to find a bigger tractor like that, to be honest. It's not uncommon for the same family to have an M for that long, but it's a little less common for bigger, more modern stuff.
A man named Dwaine owns this tractor, and he told me a little about it on the phone recently.
His uncle bought this Farmall 856 in the late sixties; he wasn't the first owner, but it didn't have many hours when he bought it. It had the cab on it, but Dwaine believes that it was installed by the dealer, not by the factory. Not long after, he added the M&W turbo to it for a little more power. It's currently set at about 120 horse, which is a very sensible number. There's a lot more in that combo if the pump were to be opened up a little more!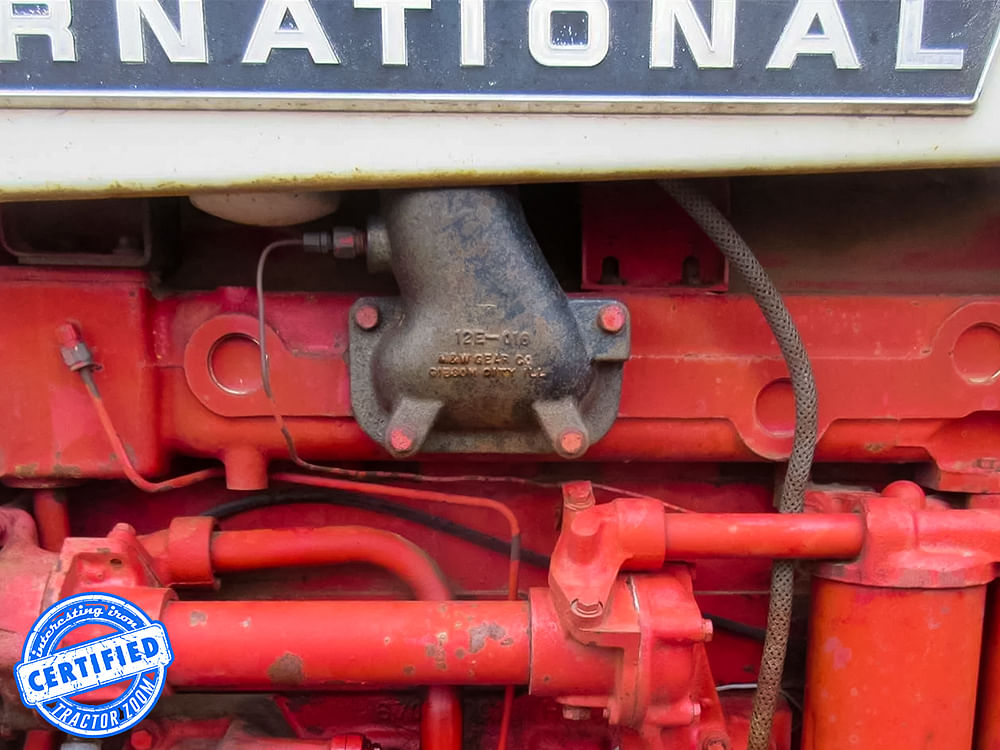 It wasn't the primary tractor in the operation, but for nearly 40 years, the 856 served him faithfully as a planting, baling, and feed wagon tractor. Dwaine spent a lot of time in that tractor in his younger days, too, so when it went up for sale about fifteen years ago, he bought it from his uncle, and it's been on his acreage ever since. He mainly used it for utility type stuff and snow removal, so it's had a pretty easy life.
The Details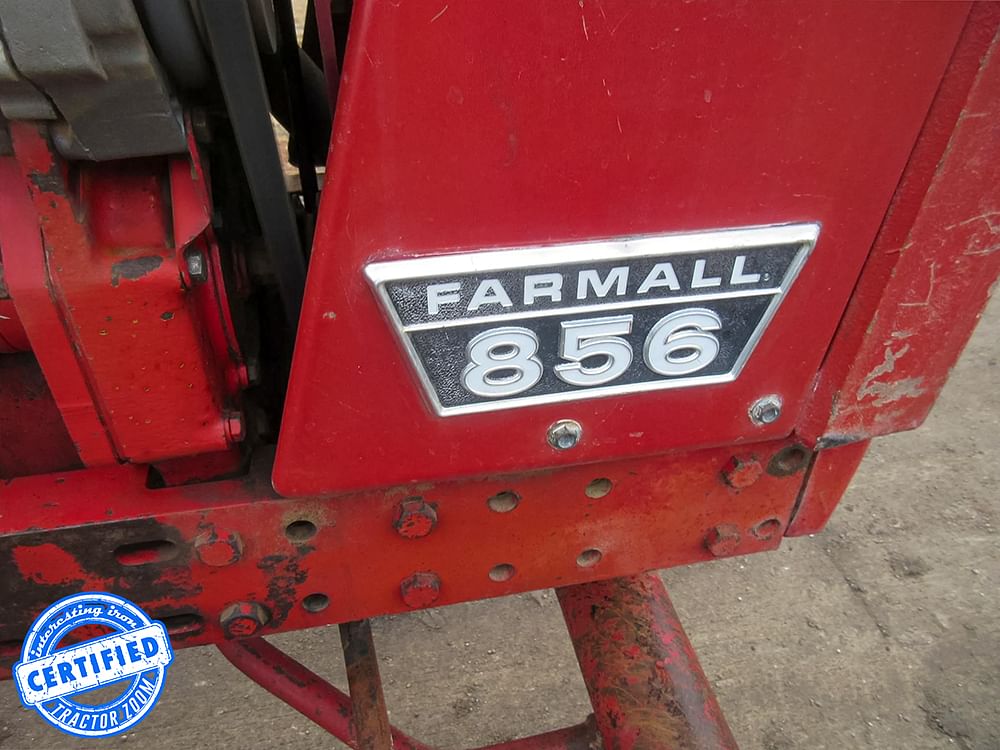 Dwaine told me that this is a very original tractor that's been remarkably trouble-free. The hour meter is original, and the hours showing are accurate. At 8,537 hours, it's not exactly low-houred, but it definitely has plenty of life left in it. The motor, as far as he remembers, has never been cracked open. The pan hasn't ever been dropped, and the head has never come off either. No overhauls. The only thing that's been rebuilt is the injection pump.
It's a strong runner and a great driver with a strong T/A. The hydraulics are very good as well, and no issues with the dual PTO. The only things that Dwaine noted that needed attention are the cab heater (which is currently disconnected – it hasn't worked in many years), and for whatever reason, the horn doesn't work. He thinks that maybe a wire came loose, but he hasn't taken the hood off to chase it down.
Overall, it's a solid, dependable machine.
Still, it makes me squirm.
Why this tractor gives me anxiety…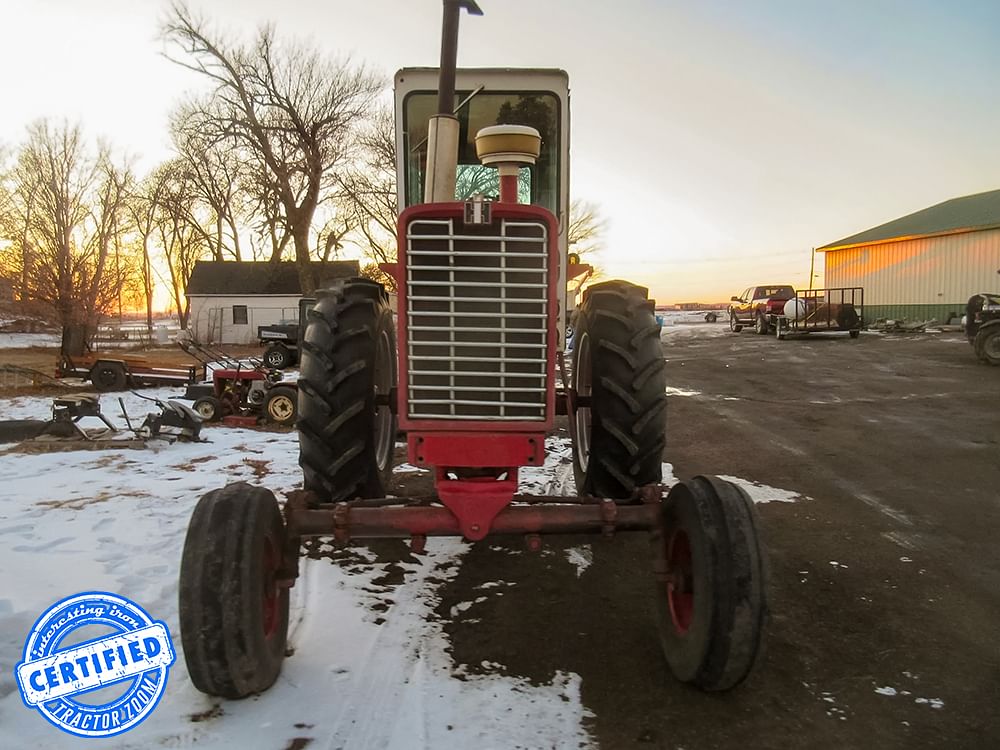 There's only one reason; the Ice Cream Box cab.
In 1965, Harvester partnered up with Stolper-Allen out of Menomonee Falls, WI to build them a cab that they could market as a factory option. It was basically just a metal box with windows and a door, if we're being real honest. Because they were all-metal and didn't have much of anything to deaden the sound, they were unbelievably loud. They didn't seal well, either, so they were dusty in the summer. Furthermore, the cab glass acted like a magnifying glass in the summer and it got pretty hot!
The biggest complaint about those cabs, though, was the interior space. These cabs are literally just a touch over 38″ wide. They were designed that way so that a farmer could still mount a 234 corn picker when it came time to harvest. I mean, I understand why they had to be built this way, but they sure weren't made for comfort! I'm 6'6″ tall and with my arms at my sides, I'm 32″ wide. If I could even get into that cab, I'd have a total of 3″ of room to move on each side. I'd feel like I was literally wearing the tractor!
Still, even with all that, these cabs were a pretty notable accomplishment. Even if they were drafty and dusty, they did keep you out of the elements. To a lot of farmers in the sixties, that was a pretty big deal!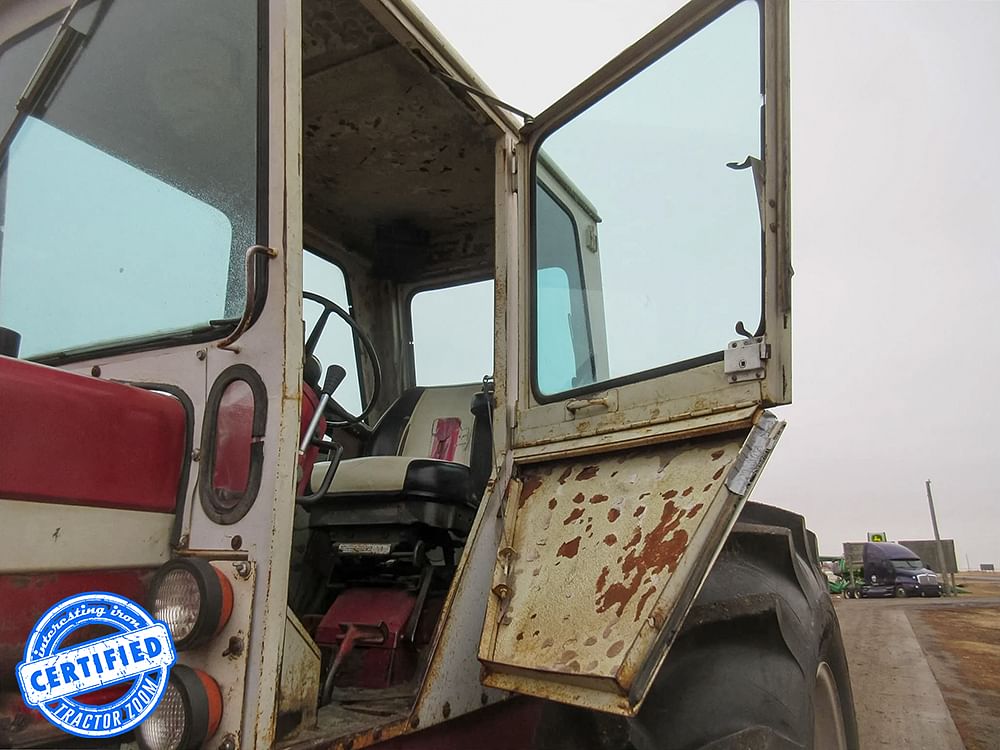 What's it worth?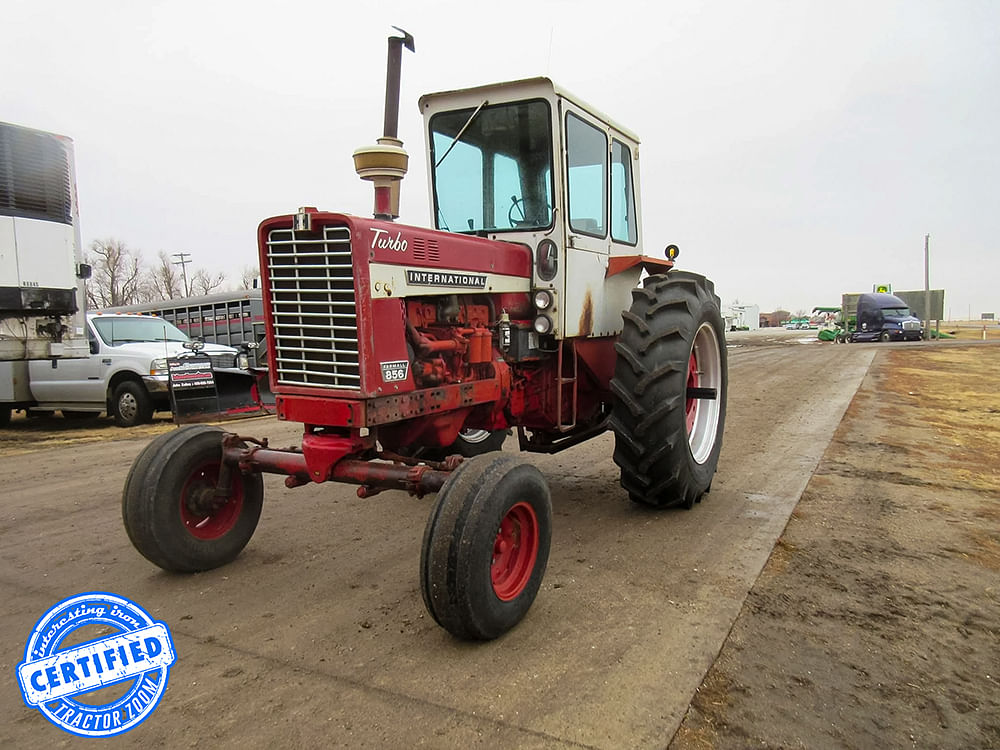 Generally speaking, values on the Farmall 856 have been increasing over the past five years. Based on a quick look in our TZ Pro database, which captures more auction values than anywhere else, the average auction price in 2022 was $9,113 (72 tractors).
On the plus side, it's very original. 8500 hours on a working meter, and owned by the same family for over 50 years. It's always been treated with respect, always maintained properly, and the motor's never been open. Depending on who's bidding, the M&W turbo could add a nice chunk of change to the selling price, too. There are collectors who get a little crazy over M&W setups. The fresh rubber on the back and the fact that pretty much everything works is a bonus, too.
On the down side, the cab hurts it. They're so restrictive that there are plenty of potential bidders who'll pass this one by because the cab is essentially a straightjacket if you're a decent sized human. Furthermore, taking the cab off isn't exactly difficult, but you'll need a spare set of fenders to mount in order to have a practically useful machine. That adds to the cost of purchase, because most farmers don't have spare sets of fenders laying around anymore.
At the end of the day, I think that this is probably a $12-14K tractor. My guess is that the buyer will probably end up trashing the cab and restoring it as an open station. It'd make a great machine for tractor rides and poker runs!
Wrapping up…
Hustle Tractors are an important piece of farming history, in my book, and I think we'll continue to see these tractors rise in collectability. Pound for pound, they were (and in some cases, still are) the tractors that worked the hardest to feed America! They make terrific parade tractors, too! It'll be interesting to watch this 856 as the week progresses!
Here's the details on this auction.
Auction Date: Ends January 18, 2023 – 12:02PM Central
Auctioneer: Kobza Online Auctions
Format: Online-only auction (bidding opens January 11, 2023 – 5:00PM Central)
Location: David City, NE
TZ Auction Listing
Also, while I'm thinking of it, I wanted to give a shout-out to my buddy Tyler Montgomery at Territorial Trading (and his dad) for a little help on this article. His dad happened to be in David City the other day and gave the tractor a quick once-over for me. The two of them have got a neat collection of tractors out in Western Kansas, and Tyler's got a great Instagram page full of old-skool iron! Give him a follow!