Jun. 06, 2023 • Analysis
We're digging into the equipment auction data from May. Last month, we listed nearly 10,000 equipment lots and saw tractors and sprayers bring in top dollar.
Take a look below at the top auction sales across equipment categories, average listing prices, and a pair of International Harvester 1456s featured on Facebook!
Tractors
Kevin DeWitt Auctions sold a 2014 John Deere 8335R on May 3, 2023, for $238,750.
Specs for this John Deere 8335R include:
Hours: 2,536

MFWD

HP: 335

Rear PTO

More: 16f/4r, ILS Front Axle, 2630 Display, 85CC Hyd. Pump, 4 Remotes, Hid Light Pkg, Foot Throttle, 9L Engine, 480/80RX50 Duals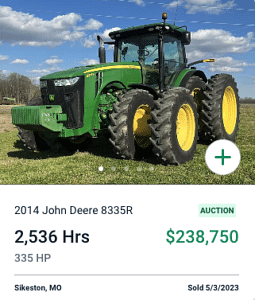 In the past month, the average list price for John Deere 8335Rs at dealerships with 2,501-3,000 hours was $209,500.
Find tractors for sale near you online at Tractor Zoom.
Self-Propelled Sprayer
DPA Equipment Auctions sold a 2019 John Deere R4045 self-propelled sprayer for $282,000 on May 2, 2023.
Specs for this John Deere R4045 include:
Hours: 1,841

Capacity: 1,200 Gallons

John Deere Diesel Engine, Hydrostatic Drive, 1,200 Gallon Stainless Steel Liquid System, 120′ Boom, 6-Way Nozzle Bodies, StarFire 6000 Globe, Dual John Deere Displays, Front Load, Saddle Mounted Poly Rinse Tank, Stainless Steel Chemical Inductor, 480/80R50 Row Crop Tires. There is a crack in lower right front glass.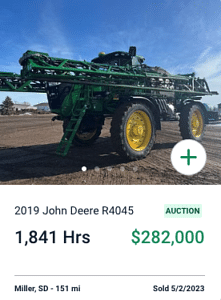 In the last month, the average list price for John Deere R4045 sprayers at dealerships with 1,501-2,000 hours was $341,253.
Vertical Tillage
Pifer's Auction & Realty sold a 2017 Salford 2141 for $87,250 on May 4, 2023.
Specs for this Salford Vertical Till implement include:
40 ft. Working Width, Double Tine Harrow, Rolling Baskets, Hydraulic Hitch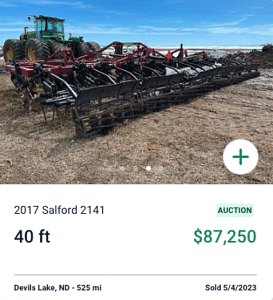 If you're in the market for new or used vertical tillage equipment, search online with Tractor Zoom.
Class 8 Combine
Purple Wave Auction sold a 2010 Case IH 8120 Axial Flow Combine for $113,300 on May 23, 2023.
Specs for this Case IH 8120 include:
Engine Hours: 2390

Separator Hours: 1,686

More: Engine Cylinders: 6, Fuel type: Diesel, Transmission: Hydrostatic, Single Point Header Coupler, Feederhouse: Lateral Tilt, Variable Speed, Reverser Chaff Spreader, Straw Chopper Power, Unloading Auger Length: 22′ 6″, Tires Front: 520/85R42, Rear: 540/65R30 Duals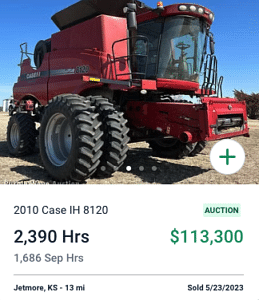 The average listing price of Case IH 8120s with 2,001-2,500 hours at dealerships in the past month is $100,740.
Browse available combines for sale near you on Tractor Zoom and set up a saved search so you don't miss out on the right machine for your operation.
Construction
Mid-American Auction Co. sold the highest priced skid steer, a single-owner 2021 Bobcat S850 with utility bucket, on May 20, 2023, for $69,000.
Specs for this skid steer include:
Hours: 143

More: Heat, Air, Heated/Air Seat, Deluxe Instrumentation, Auto Ride Control, Hand/Foot Controls, 2-Speed, Power Bob-Tach, Sells with 78" utility bucket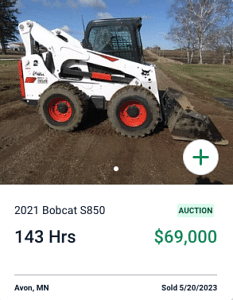 We list a variety of construction equipment at auctions and dealerships across the country. Browse our full selection of construction equipment for sale on Tractor Zoom.
This month, we helped Jon S., a Pennsylvania dairy farmer, identify the value of his skid steer at auction and dealerships so he could prepare to sell or trade. Find out what his Bobcat S770 is worth and learn how you can monitor equipment values with Tractor Zoom.
Facebook Favorites
We featured a pair of International Harvester 1456s on a Facebook #TwoForTuesday and created some buzz around these popular machines.
One of the 1456s sold by McGrew Equipment Company on May 9, 2023, for a final sale price of $14,750.
Specs for this 1456 include:
HP: 144

Hours: Unknown

2WD

540/1000 PTO

More: International 1456 Tractor Open Station, 8F/4R Geared Transmission, International Harvester Diesel, 3PT, Drawbar, 2 Sets Of Remotes, 10-16 Front Tires, 24.5-32 Rear Tires, Hour Meter Illegible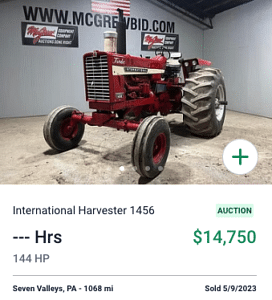 The second 1970 International Harvester 1456 featured in our post sold on May 30, 2023, by Zomer Auctions for $17,250.
Specs for this International Harvester 1456 Turbo Tractor include:
Hours: 4,144

Drive: 2WD

HP: 144

More: Good Torque and Clutch, New Wiring Harness, New 10.00-16 Front Tires, 18.4-38 Rear (one rear tire has been patched), 2 Sets of Wheel Weights, Front Weight Bracket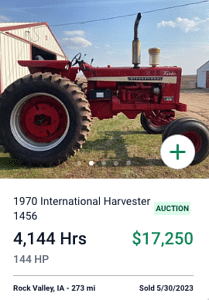 Follow us on social for more unique and antique tractors so you don't miss out on treasures like these.And check out the latest Interesting Iron about one of the most sought-after Massey Fergusons, the Massey 1150.