Jun. 07, 2022 • Analysis
Fresh off the spring auction season, Tractor Zoom featured 506 farm equipment auctions across the country, with over 9,500 lots advertised in the month of May. During this time frame, farm equipment bidders made a 2019 John Deere R4045 the top-selling item during a DPA Auctions consignment auction on May 17. Self-propelled sprayers were a hot item last month holding three of the top four auction prices of the month. Check out what this sprayer went for and some additional top-selling pieces of farm equipment sold at auction below.
Tractors
Pifer's Auction & Realty
sells 2012 Case IH Steiger 550 Quadtrac for $301,000 on May 19, 2022.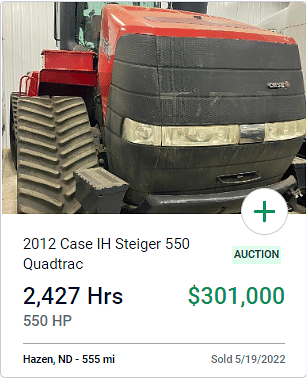 Specs for this 2012 Case IH 550 Quadtrac include:
Drive: Tracks

Horsepower: 550

Hours: 2,427

Rear PTO: Yes

More:

6 Hydraulics, Hi-Flow, PTO, 30 in. Tracks, Left Hand Reverser, Powershift Transmission, Mounted Pro700, Auto Track, 362 Receiver
An analysis of the Tractor Zoom Pro database on June 6, 2022 shows an average dealer listing price of $219,601 for this make and model based on 17 active and sold dealer listings since September 2021. However, in the last 60 days, we've only seen two Case IH Steiger 550 Quadtracs sell, both at auction, for an average auction sale price of $261,000.
Browse available Case IH Steiger 550 Quadtracs on Tractor Zoom.
Sprayers
DPA Auctions
sells 2019 John Deere R4045 for $320,000 on May 17, 2022.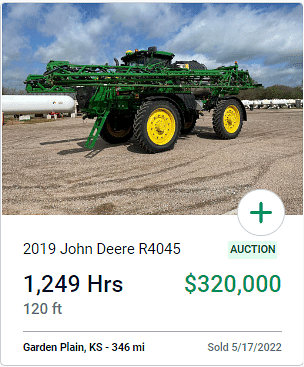 Specs for this 2019 John Deere R4045 include:
Capacity: 1,200 gallon

Condition: Average

Hours: 1,249

Width: 120 feet

More: J

ohn Deere Diesel Engine, Hydrostatic Transmission, Premium Cab, Heat, Air Conditioning, Am/Fm Radio, Heated and Cooled Leather Seat and Buddy Seat, 1,200 Gallon Stainless Steel Liquid System, 120′ Boom, 5-way Nozzle Bodies, Top Mount Poly-rinse Tank, Stainless Steel Chemical Inductor, Automatic Solution Control, Front Fill, Michelin Spraybib VF 420/95R50 Tires, Fenders, StarFire 6000 Globe
While self-propelled sprayer auction values surged toward the end of 2021 due to limited supply, dealer list prices have stayed relatively steady since the beginning of 2022. As of this article, Tractor Zoom currently has 457 active dealer listings at an average list price of $197,817. 
Browse available John Deere self-propelled sprayers for sale on Tractor Zoom.
Harvesting
Albrecht Auction
sells 2014 Case IH 7230 for $170,000 on May 4, 2022.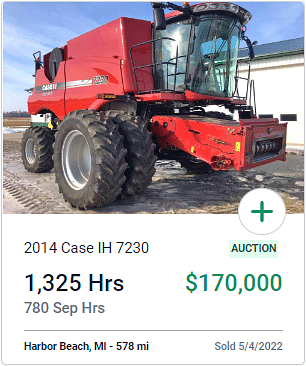 Specs for this 2014 Case IH 7230 include:
Drive: 4WD

Hours: 1,325

Separator Hours: 780

More:

Luxury Cab, Pro 700 with Auto Guidance, New Extended Wear Coen and Vanes, Pivoting Unloading Spout with Camera on the End of the Auger, Independent Cross Auger Control, Hydraulic Folding Bin Extensions
During the spring auction season, where we saw a 2021 John Deere S770 sell for over $367,000, we hypothesized that farmers may be hedging their bets and getting an early start on harvest prep based on the limited supply of combines in the market last year. During the month of May, the newest combine available at auction was this 2014 Case IH 7230, which may signal a continued shortage in the auction market for newer, low-hour machines. However, if enough combine deliveries hit dealer lots this summer, availability may be less of an issue. 
Browse available combines for sale on Tractor Zoom.
Construction Equipment
Quarrick Equipment & Auctions, Inc
sells 2015 John Deere 410L Backhoe Loader for $73,000 on May 5, 2022.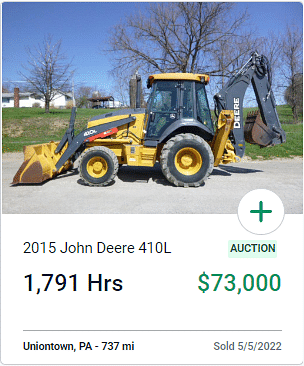 Specs for this 2018 Case IH 255 include:
Condition: Average

Drive: 4WD

Hours: 1,791

More:

Cab, Air, Extendahoe, Aux Hyd, Powershift
While Tractor Zoom primarily focuses on farm machinery, we also advertise a wide variety of construction equipment sold at auctions and dealerships around the country. Browse our full selection of construction equipment for sale.
For the Peterbilt fans…
Deanco Auction
sells 2004 Peterbilt 379 for $98,000 on May 25, 2022
Seventeen different Peterbilt 379s made it to the auction block during the month of May and while the average auction sale price for this truck landed at $54,203 during that time frame, Deanco Auction had the leading sale at $98,000. This sale also sets the record for the highest-selling 379 in 2022 to-date.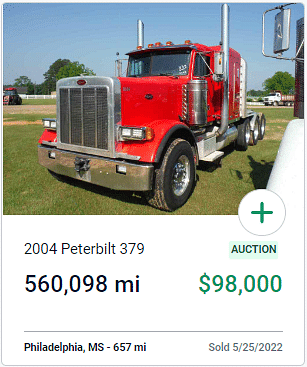 Specs for the 2004 Peterbilt 379 include:
Condition: Average

Miles: 560,000

More:

Tri-axle, Ext. Hood, Cat C15 Eng., 18-sp., Flat Top Sleeper
Tractor Zoom Price Prediction Wins
Tractor Zoom's What's It Worth? price prediction hit the mark for a 2014 Bobcat T590 sold at a McGrew Equipment Company auction on May 3. The sale price predicted by Tractor Zoom was exactly what the piece of equipment sold for at auction!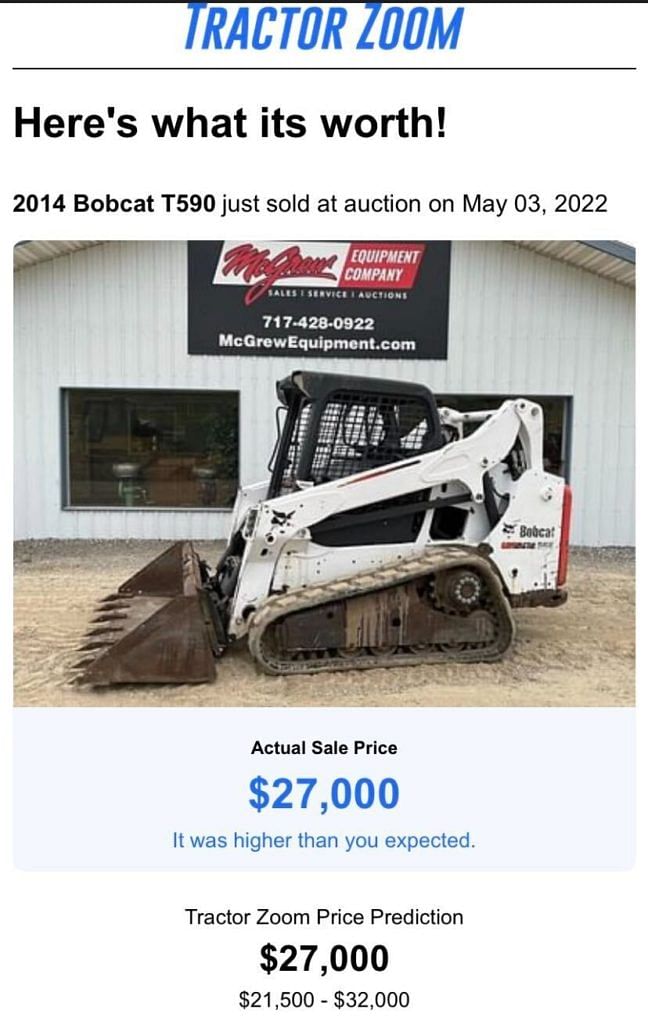 Launched in February 2022, the price prediction feature utilizes our extensive database of equipment auction data including equipment hours, condition, age, make, model and size category, as well as measures of inflation and machine-learning technology, to predict the sale price of a piece of farm equipment within a high degree of precision.