Jul. 06, 2023 • Analysis
We're digging into the equipment auction data from June. Last month, we listed over 14,000 equipment lots and saw tractors, combines, and sprayers bring in top dollar.
Take a look below at the top auction sales across equipment categories, average listing prices, and an International Harvester 1066 featured on Facebook!
Tractor
Dagger Machinery out of North Dakota sold a 2021 John Deere 8RX 370 on June 7, 2023, for $367,848.
Specs for this John Deere 8RX 370 include:
Hours: 1,054

MFWD

HP: 370

Rear PTO

More: Rear 3 Point Hitch, 5 remotes (1 Hi Flow), Front Weights, Drawbar, Ultimate Comfort Cab, Air Seat and Cab Suspension, 4600 Monitor, Left Hand Reverser, 18" Front and Rear Tracks, Front and Rear Fenders, Basic warranty expires September of 2023 or 2000 hours, Limited basic warranty expires September of 2024 or 3000 hours, Emissions expires September of 2026 or at 3000 hours, clean tractor kept in shed and out of elements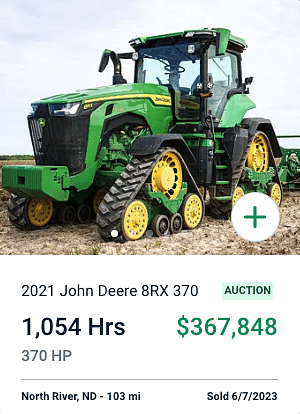 In the past month, the average list price of John Deere 8RX 370s at dealerships with between 1,001-1,500 hours was $494,835.
Find tractors for sale near you online at Tractor Zoom.
Chemical Applicator: Self-Propelled Sprayer
DPA Equipment Auctions sold a 2020 RoGator RG1300C self-propelled sprayer for $297,000 on June 1, 2023.
Specs for this John Deere R4045 include:
Hours: 1,121

Capacity: 1,300 Gallons

Boom: 120'

More: AGCO Diesel Engine, Hydrostatic Transmission, Air Conditioning, Heat, AM/FM CD Radio, Leather Seat, Buddy Seat, LED Lights, Beacon Lights, Foam Marker, Top Poly Rinse Tank, 2 Poly Direct Injection Tanks, 2 Raven Sidekick Pro Pumps, Poly Chemical Inductor, Front Fill & Side Fill, 2 Key Pads, Alliance Agriflex + 372 VF710/70R38 Flotation Tires, Fenders, Analog HD Camera, Raven Viper 4 Monitor. Dry box and row crop tires sold separately.

Compact Tractors
Ulmer Auction sold a John Deere 3039R for $46,475 on June 5, 2023.
Specs for this John Deere 3039R include:
Hours: 35

HP: 39

Drive: MFWD

More: 2 Function Joy Stick, Rear PTO, Hydraulic, 3 Pt. with JD 320R Loader w/ Bucket
In the past month, the average list price of John Deere 3039Rs at dealerships with between 1-500 hours was $40,927.
We looked into this equipment segment even further when we helped Steve V., a row crop farmer out of South Dakota, identify the value of his compact tractor at auction and dealerships. Find out what his John Deere 3025E is worth and search for new or used compact tractors online with Tractor Zoom.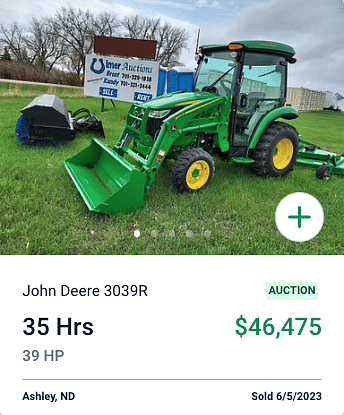 Harvesting: Class 8 Combine
C&B Equipment sold a 2022 John Deere S780 Combine for $355,100 on June 7, 2023.
Specs for this John Deere S780 include:
Engine Hours: 298

Separator Hours: 232

HP: 473

Drive: 2WD

More: ProDrive/Combine Advisor Read/Less Cameras, Contour Master with Fore/Aft Tilt, Multi 5-Speed FH Drive, 650/85R38 D 0.9 Tread, 750/65R26 R 0.9 Tread, 26′ Hicap Unload Auger, JD 400BU GTE, Advanced Powercast Tailboard, 4600 Command Center with Prem 3.0 Activation/No Receiver, AutoTrac Ready, Small Wire Concave, Gen Purpose Touchset Chaffer & Sieve, Deluxe Header Height Sensing, LED Lighting & Service Lights, Extended Wear Variable Stream Rotor, ExtendedWear Grain Handling, Concave Cover Plates, Sidehill Performance Package, Small Grain Combine, Duals, Chopper, No Header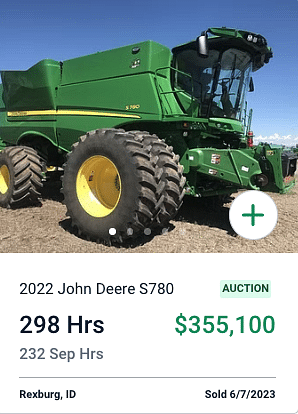 The average dealership listing price of John Deere S780s with between 1-500 hours was $565,189 in the past month.
Browse available combines for sale near you on Tractor Zoom and set up a saved search so you don't miss out on the right machine for your operation.
Construction
J.M. Wood Auction Company sold the highest priced compact track loader, a 2022 Bobcat T870 with mulcher, on June 14, 2023, for $125,000.
Specs for this Bobcat T870 include:
Hours: 126

More: 76″ Blackhawk mulcher, High Flow, 2 speed, cab, A/C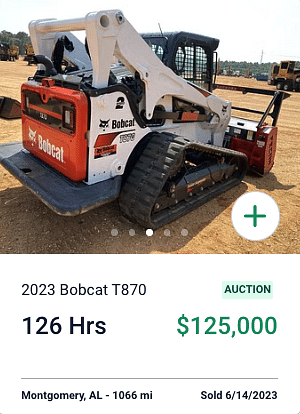 This is just one example of the variety of construction equipment listed on Tractor Zoom and sold at auctions and dealerships across the country. Browse our full selection of construction equipment for sale near you!
Facebook Favorite
We featured a 1972 International Harvester 1066 on Facebook and created some buzz around this popular model. Check out the equipment specs below and see what it sold for at auction.
The International Harvester 1066 was sold by Lutter Auction out of South Dakota on June 21, 2023, for a final sale price of $16,600.
Specs for this 1456 include:
HP: 140

Hours: Could be 3,338 or 13,338

2WD

More: Diesel engine runs great, 3 Point, TA is good, 540/1000 PTO, Transmission is good, new batteries, rear fenders, oil change and filters recently, rubber is good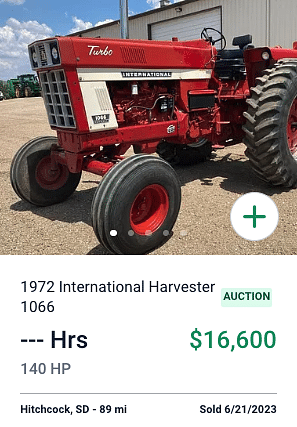 Follow us on social for more equipment spotlights so you don't miss out on another treasure like this!
Tractor Zoom Price Prediction
Price Prediction utilizes the extensive database of Tractor Zoom equipment auction data, plus measures of inflation and cutting edge machine learning techniques to predict the auction sale price of a piece of farm equipment with a high degree of precision. Here is one example of a Price Prediction win from equipment up for auction in June.
A John Deere 5085M with loader, sold on June 13, 2023, by Mages Land Company & Auction Service LLC, was predicted by Tractor Zoom to sell for $46,500. The actual sale price was slightly lower at $45,000.
Specs for this John Deere include:
Hours: 1,419

Drive: MFWD

HP: 85

More: JD 5085M Tractor w/ 563 Loader & Joystick, Rear PTO, FWA, Dual Front Hyd, Dual Rear Hyd, Power Reverser Trans, 540 PTO, 3pt Rear Fender Switches, 3pt Quick Hitch, Quick On/Off Attach, 6 ft. Bucket, Dual Entry Cab, Mirrors, Lights, Rear 16.9 x 30