Jul. 15, 2022 • Agriculture
To kick-off the summer auction season, Tractor Zoom featured 619 farm equipment auctions across the country, with over 11,000 lots advertised in the month of June. During this time frame, farm equipment bidders made a 2010 John Deere 9430 the top-selling item during a Mid-Iowa Auction Company retirement auction on June 8. Check out what this tractor went for and some additional top-selling pieces of farm equipment sold at auction below.
Tractors
Mid-Iowa Auction Company
sells 2010 John Deere 9430 for $250,000 on June 8, 2022.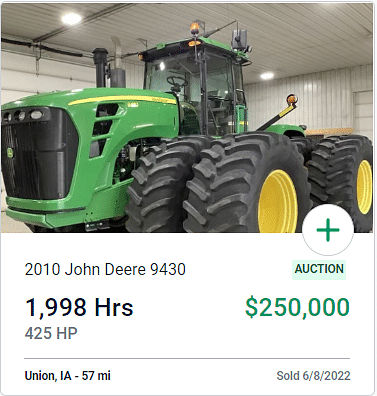 Specs for this 2010 John Deere 9430 include:
Drive: 4WD

Horsepower: 425

Hours: 1,998

Rear PTO: Yes

More: PTO, 4 valves, 800/70R38 rubber 85%, GPS-ready, and mint condition. 1-year 250 hour Powertrain warranty until June 2023.
An analysis of Tractor Zoom's Iron Comps database on July 11, 2022 shows an average auction sale price of $181,900 for all 2010 9430s sold in the last year, which is almost 30% less than what this tractor sold for on June 8! The premium sale price can likely be attributed to the limited supply of quality tractors in the market. According to the May Tractor Zoom Used Equipment Index, we have not seen so few high-quality row crop tractors hit the market since the earliest part of 2019. 
Browse available 300+ HP John Deere tractors on Tractor Zoom.
Sprayers
DPA Auctions
sells 2016 John Deere R4045 for $155,500 on June 21, 2022.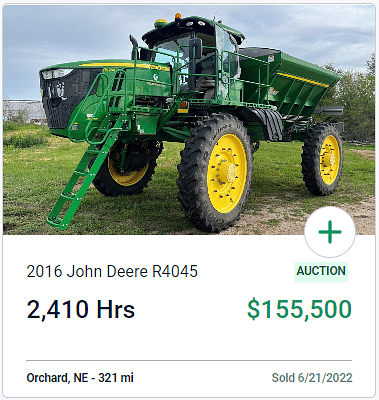 Specs for this 2016 John Deere R4045 include:
Condition: Average

Hours: 2,410

More: John Deere Diesel Engine, Hydrostatic Drive, New Leader L300 G4 Stainless Steel Dry Spinner Box, Electric Roll-over Tarp, John Deere Green Star Controls, StarFire 6000 Receiver, Cab Heat/Air Conditioning, Buddy Seat, Rear-view Cab Camera, 380/105R50 Row Crop Tires
This is the second month in a row DPA Auctions has held the highest auction sale price for the sprayer category. Last month, they sold a 2019 John Deere R4045 for $320,000.
Browse available John Deere self-propelled sprayers for sale on Tractor Zoom.
Harvesting
Sullivan Auctioneers
sells 2021 John Deere S
780 for $448,000 on June 20, 2022.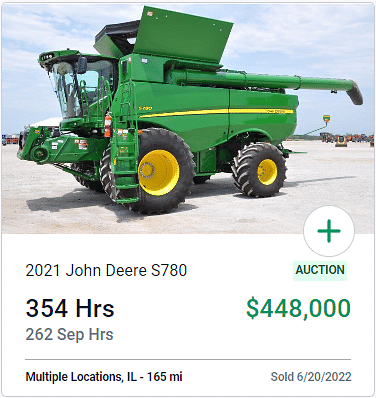 Specs for this 2021 John Deere S780 include:
Drive: 4WD

Hours: 354

Separator Hours: 262

Condition: Excellent

More: ProDrive Trans., ContourMaster Feederhouse w/ CommandTouch 5-spd. Drive & Hyd. Fore/Aft, PowerFold Bin Extension, 26′ Unloading Auger, Chopper w/ PowerCast Tailboard, Extended Wear Rotor, Extended Wear Grain Handling, Active Yield, 650/85R38 Drive Tires w/ Duals, 750/65R26 Steer Tires, Sidehill Performance Pkg., LED Lights, Premium Cab, Gen 4 10″ Display
June saw an influx of newer combines hit auctions around the country. Last month, we reported a 2014 Case IH 7230 as the highest combine sale at $170,000, which was the newest combine available at auction in May. In June, 8 combines were sold that were manufactured 2016 or newer for an average auction sale price of $216,000 (separator hours ranging from 262 to 1,846).
Browse available combines for sale on Tractor Zoom.
Hay & Forage
J Martin Auctions
sells 2018 Kuhn VB3160 Round Baler for $42,500 on June 24, 2022.
Specs for this 2018 Kuhn VB3160 include:
Condition: Good

Bales: 1,500

More: Progressive Density, Roto Cut, 540pto, Net Wrap/String Tie, Like New, Sold with 2 Extra Rolls of Net Wrap
Browse available round balers for sale on Tractor Zoom.
Construction Equipment
McGrew Equipment Company
sells 2020 Caterpillar 299D3XE Compact Track Loader for $115,500 on June 14, 2022.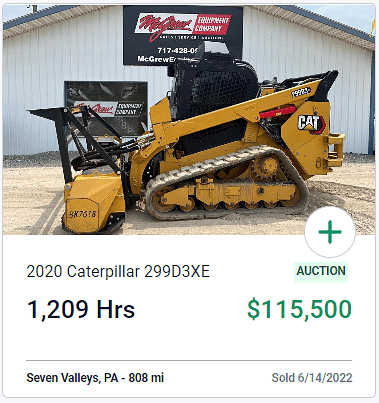 Specs for this 2018 Case IH 255 include:
Condition: Average

Hours: 1,209

More: Skid Steer Loader with Fecon Blackhawk Mulcher EROPS, 1209 Hours, Heat & Air, Radio, Pilot Controls, 2 Speed, High Flow AUX Hydraulics, Rear Camera, Hydraulic Cooler, 110 HP Caterpillar Diesel, Fecon Blackhawk 78" Mulcher, SSL Quick Attach, 16" Rubber Tracks, 3560 LBS Lift Capacity, 11756 LBS Operating Weight
While Tractor Zoom primarily focuses on farm machinery, we also advertise a wide variety of construction equipment sold at auctions and dealerships around the country. Browse our full selection of construction equipment for sale.
For the 4440 enthusiasts…
Sullivan Auctioneers
sells 1980 John Deere 4440 for $53,000 on June 20, 2022
Ten different John Deere 4440s made it to the auction block during the month of June and while the average auction sale price for this trusted model landed at $28,750 during that time frame, Sullivan Auctioneers had the leading sale at $53,000. This sale also sets the record for the highest-selling 4440 in 2022 to-date.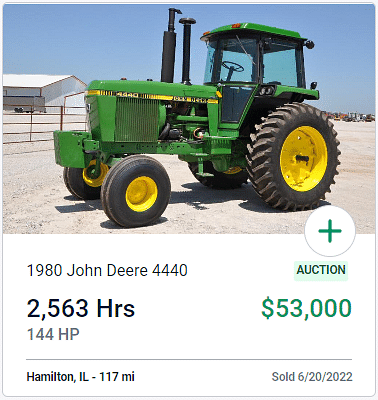 Specs for the 1980 John Deere 4440 include:
Condition: Average

Drive: 2WD

Horsepower: 144

Hours: 2,563

Rear PTO: Yes

More: QuadRange Trans., 2 Hyd. Outlets, 540/1000 PTO, 18.4-38 Rear Tires, 11.00-16 Front Tires
Tractor Zoom Price Prediction Wins
Tractor Zoom's What's It Worth? price prediction hit the mark for a 2017 John Deere S660 combine sold at a Deutz Auctioneers retirement auction on June 6. The sale price predicted by Tractor Zoom was $500 off what the piece of equipment sold for at auction!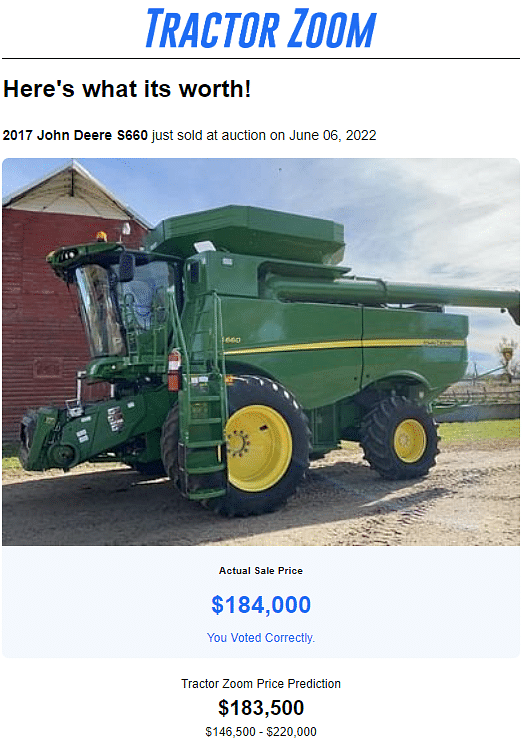 Launched in February 2022, the price prediction feature utilizes our extensive database of equipment auction data including equipment hours, condition, age, make, model and size category, as well as measures of inflation and machine-learning technology, to predict the sale price of a piece of farm equipment within a high degree of precision.