Aug. 16, 2022 • Auction Prices
During the month of July, Tractor Zoom listed 495 farm equipment auctions across the country, with over 7,500 lots advertised. During this time frame, farm equipment bidders made a 2020 John Deere S780 combine the top-selling item during a Wheeler Auctions consignment auction on July 30. Check out what this combine went for and some additional top-selling pieces of farm equipment sold at auction below.
Tractors
Wheeler Auctions
sells 2021 John Deere 8R 340 for $385,000 on July 30, 2022.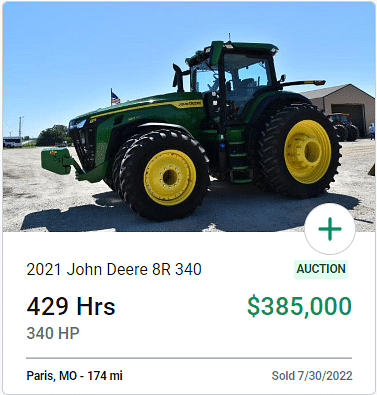 Specs for this 2021 John Deere 8R 340 include:
Drive: MFWD

Horsepower: 340

Hours: 429

Rear PTO: Yes

More:

2021 MFWD w/ ILS, E23 (42K) Trans, Ultimate Comfort Package, Ultimate Visibility, 60 GPM Hyd Pump, 5 Hyd Outlets, 1000 PTO, 20,000lb Rear Lift Capacity, 480/80R50 Rears, 420/85R34 Fronts, 4600 Processor w/ 3.0 Activations
An analysis of Tractor Zoom's Iron Comps database on August 8, 2022 shows an average auction sale price of $378,000 and an average retail price of $390,423 for all 8R 340s sold or listed since September 2021. While this July Wheeler Auction sale didn't break any records, we're likely to see these continued premiums captured for low-hour, high-quality row crop tractors given their limited supply. 
Browse available 300+ HP John Deere tractors for sale on Tractor Zoom.
Sprayers
Resource Auction
sells 2010 John Deere 4930 for $179,250 on July 28, 2022.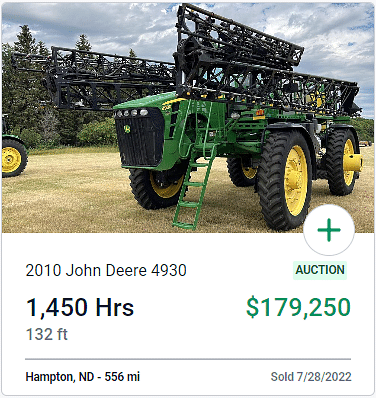 Specs for this 2010 John Deere 4930 include:
Condition: Average

Hours: 1,450

Width: 132 feet

Capacity: 1,200 gallons

More:

1200-gallon Stainless Steel Tank, Auto Trac Ready w/ 2600 Display in & StarFire ITC Receiver, 5-way Nozzle Bodies, Chem Eductor, Boom Height Sensors, Firestone 380/105R50 Tires, Rear Duals
Last month, DPA Auctions held the highest auction sale price for the sprayer category with the sale of a 2016 John Deere R4045 for $155,500. With continued supply chain pressures on OEMs and delayed deliveries for new equipment, it's not surprising to see this low-hour self-propelled sprayer garner a higher sale price than June's 2016 model.
Browse available John Deere self-propelled sprayers for sale on Tractor Zoom.
Harvesting
Wheeler Auctions
sells 2020 John Deere S780 for $425,000 on July 30, 2022.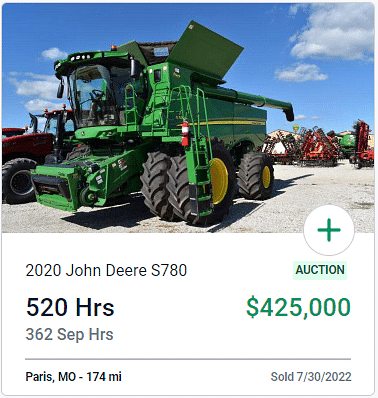 Specs for this 2021 John Deere S780 include:
Drive: 4WD

Hours: 520

Separator Hours: 362

More:

2020 4WD, Pro Drive Transmission, 5 Speed Feeder House, Contour Master w/ Fore/Aft Dual Tilt, Chopper w/ Powercast Powered Tailboard, Ext Wear Rotor, Power Fold Hopper, Combine Advisor Package, 26′ Unload Auger, Gen 4 4600 Command Center w/ 3.0 Activations, 650/85R38 Fronts, 750/65R26 Rears, Prem Cab, LED Lights, Extended Powertrain Warranty
The average price for low-hour, late model combines continued to be strong throughout July — 5 combines, with 500 or less separator hours each, sold during the month at an average price of $355,700.  Premium values for these recently sold harvesters are likely to support elevated values as we go into August, which is typically the hottest selling month for all harvest equipment. Our Tractor Zoom Combine Index for July also reinforces this limited equipment supply, combined with back-to-back profitable growing seasons should continue to prop up values for the rest of 2022.
Browse available combines for sale on Tractor Zoom.
More Harvesting Sales to Prep for #harvest22
DPA Auctions
sells 2021 John Deere RD35F draper header for $80,000, while
Zielsdorf Auctions and Real Estate
sells John Deere 708C corn head for $90,500.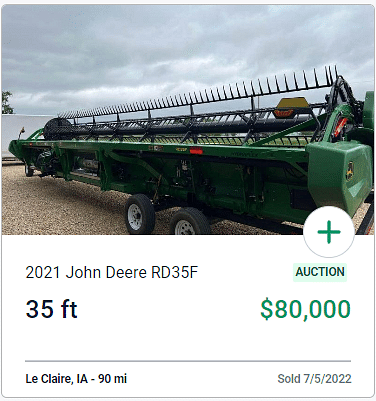 Specs for the 2021 John Deere RD35F include:
Width: 35 feet

Condition: Good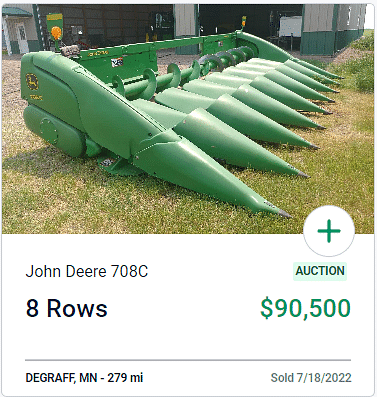 Specs for the John Deere 708C include:
Rows: 8

Condition: Average

More:

Dual Drive, Row Sensor Header Height Control, HYD Deck Plates, (Set of 8 Landkota Stalk Stompers, Last Used On JD 608C)
Construction Equipment
Wieman Land & Auction
sells 2012 Bobcat S850 Skid Steer for $52,000 on July 27, 2022.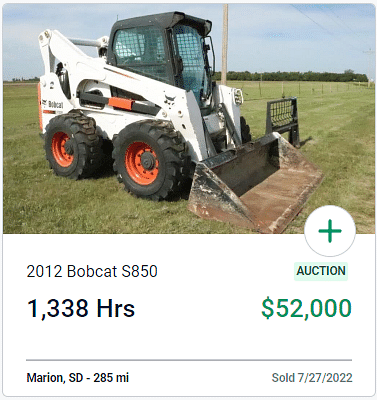 Specs for this 2012 Bobcat S850 255 include:
Condition: Average

Hours: 1,338

More:

CAH, Hyd Detach, 2 Spd, SCPA Controls or Hand & Foot Controls, AC Blows Cold, 14 x 17.5 Tires, 84″ Low Pro MDS Bucket, Everything Works As It Should
While Tractor Zoom primarily focuses on farm machinery, we also advertise a wide variety of construction equipment sold at auctions and dealerships around the country. Browse our full selection of construction equipment for sale.
For the car collectors…
Sullivan Auctioneers
sells 1977 Ford Bronco for $57,500 on July 18, 2022
305 Ford pickups made it to the auction block during the month of July, with a 2022 Ford F-250 catching the highest sale price of $69,500 at a Southeastern Auction Company, Inc. consignment auction on July 30. But what caught our eye was this 1977 Blue Ford Bronco that sold for $57,500 at a Sullivan Auctioneers consignment auction in Carthage, Il. Not only is she nice to look at but this sale also set the record for the highest-selling Ford Bronco listed on Tractor Zoom that's been sold at auction since November 2006.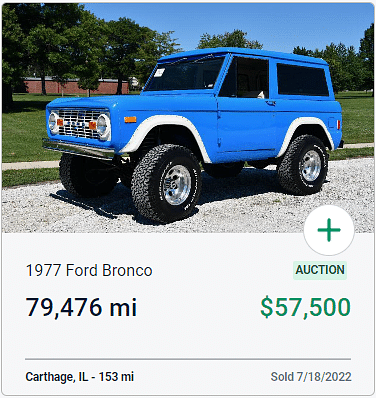 Specs for the 1977 Ford Bronco include:
Condition: Good

Miles: 79,476

More:

 

302 V8 Engine, Automatic Trans, 4WD, Warn Front Locking Hubs, Power Steering, Rear Air Foil, Front and Rear Chrome Bumpers, Full Window Tint, Grabber Blue Exterior Paint w/ Wimbledon White Flares and Accents, Parchment White Interior w/ Bucket Seats and Center Console, Fresh Restoration, Modern Stereo, Flowmaster Exhaust, Mild Lift, 15″ M/T Alum. Wheels, Like New BFGoodrich 33×12.50R15LT Tires
Tractor Zoom Price Prediction Wins
Tractor Zoom's What's It Worth? price prediction hit the mark for a 2015 John Deere Z930M combine sold at a Peterson Auction dealer auction on July 26. The sale price predicted by Tractor Zoom was just $100 off what the piece of equipment sold for at auction!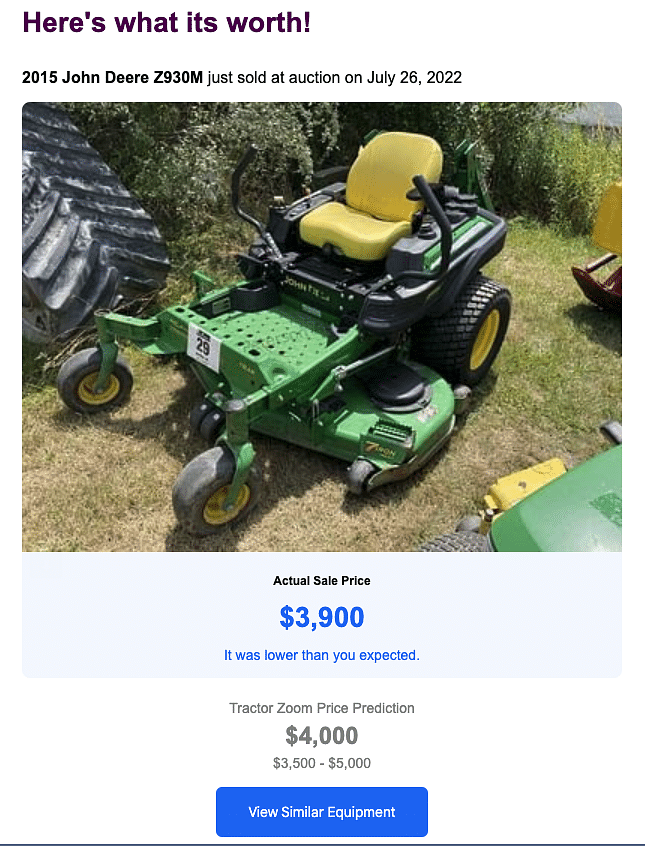 Launched in February 2022, the price prediction feature utilizes our extensive database of equipment auction data including equipment hours, condition, age, make, model and size category, as well as measures of inflation and machine-learning technology, to predict the sale price of a piece of farm equipment within a high degree of precision.