Feb. 07, 2023 • Analysis
The first month of the year started off strong with more than double the number of lots advertised in January 2023 over the same month in 2022.
Read on to learn about the top auction sales across several equipment categories and look at what values have increased and decreased for both auction and retail markets.
Tractors
Rediger Auction Service sells 2018 Case IH Steiger 620 Quadtrac for $471,250 on January 26, 2023.
The highest-selling 300+ HP tractor at auction was sold by Rediger Auction Service for $471,250.
Specs for the 2018 Case IH Steiger 620 Quadtrac include:
Horsepower: 620

Hours: 1,585

More: 4X4, Luxury cab, PTO, 36" tracks, RTK guidance ready, six remotes, AFX 700 monitor screen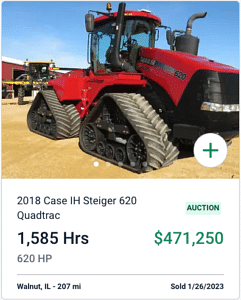 According to Tractor Zoom data, 300+HP row crop tractors with 0-1000 hours averaged over $311,000 at dealerships in January 2022 and in 2023, increased around 6% to 332,000.
Browse 300+ HP Case IH tractors for sale on Tractor Zoom.
Harvesting
Wheeler Auctions sells the top Class 6 combine, a 2014 John Deere S660, for $130,000 on January 28, 2023.
Specs for this 2014 John Deere S660 include:
Separator Hours: 1,623

Drive: 4WD

Condition: Good

More: 3 speed trans, Contour Master, chopper, Ext Wear, 520/42 front tires, 28L26 rear tires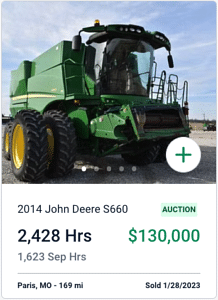 While the average sale price for all Class 6 combines sold at auction in January was just over $36,000, this John Deere S660 was the only combine sold during the month that had less than 2,000 separator hours, which is likely why it grabbed a premium sale price.
Interested in more? Browse combines for sale on Tractor Zoom.
Planting
A 2019 John Deere 1775NT took the top spot for planters sold in January with a final sale price of $281,250 from Rediger Auction Service.
Condition: Average

Rows: 24

Spacing: 30"

More: Bauer flat fold markers, hyd. active down force, Exact Emerge Package, electric drive, tractor pto generation, Surefire liquid fert., 600 gallon starter tank, air row cleaners, pneumatic closing wheels, planted 7400+/- acres, Seed Star 4 monitor ready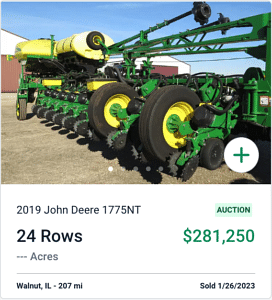 In January 2022, 1775NT 24-row planters were valued at over $255,000 at dealerships and increased about 3.5% to over $264,000 in January 2023.
As you take stock of your equipment needs this year, check out other available Kinze planters for sale on Tractor Zoom.
Harvesting – Row Crop Header
The top row crop header, a 2021 John Deere C12F, was sold by Rediger Auction Service on January 26, 2023.
Separator hours: 222.6

Rows: 12

Spacing: 30″

More: roll max rolls, active fenders, row feelers, stompers, hyd. deck plates, auto height sensors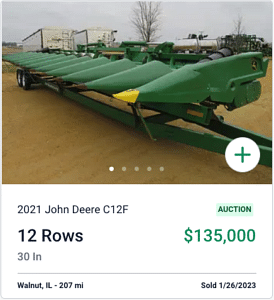 Construction
The top-selling skid steer in January was a 2009 Bobcat A300, sold on January 24, 2023, by Marshall Land Brokers & Auctioneers for $61,800.
Hours: 855

Motor: Diesel Kubota

More: 2-speed, high flow pump, RC ready, heating/air conditioning, lights, hydraulic quick attach, joystick controls, all wheel steering or locked steering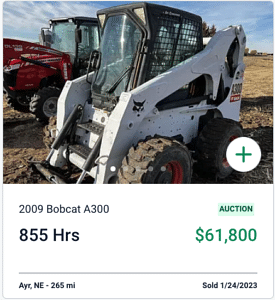 While Tractor Zoom primarily focuses on farm machinery, we also advertise a variety of construction equipment sold at auctions and dealerships around the country. Browse our full selection of construction equipment for sale.
Tractor Zoom Price Prediction Win
A year ago, we launched the Price Prediction model in What's it Worth? and since then, we've made over 13,000 predictions. Price Prediction utilizes Tractor Zoom's extensive database of equipment auction data, plus measures of inflation and cutting edge machine learning techniques to predict the auction sale price of a piece of farm equipment with a high degree of precision.
The Tractor Zoom What's It Worth? Price Prediction was almost exact on a 2013 John Deere S670 combine sold by North Texas Auctions on January 28, 2023. The sale price of $120,171 predicted by Tractor Zoom was off slightly from the actual sale price of $120,000.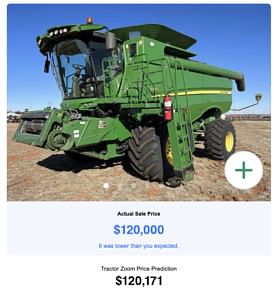 View all Price Prediction make/models.
2023 Equipment Market Expectations at the Iowa Ag Expo
Tractor Zoom Founder & CEO Kyle McMahon presented equipment pricing and volume results for 2022 at the Iowa Ag Expo and discussed how those trends affect equipment value this year.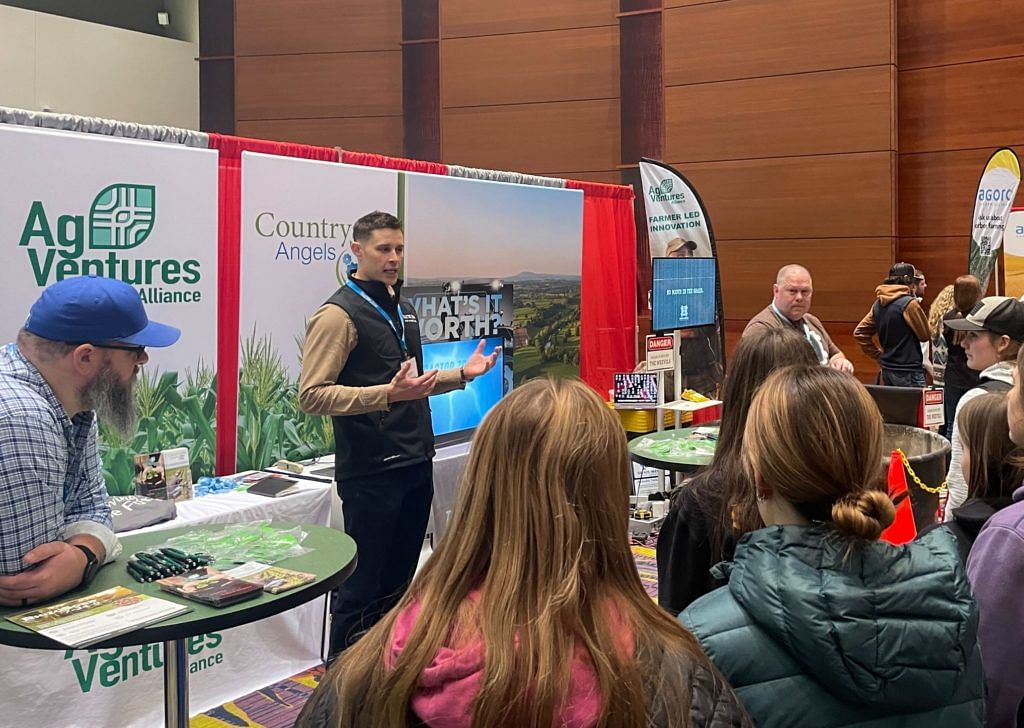 Row Crop Tractors
Between 2018-202, row crop tractors in the 175-300 HP range saw decreasing prices. Beginning in May 2020, due to asset accumulation in the market and improved net farm income, row crop tractors have skyrocketed, up an average of 45% across the entire United States. Currently, there are no data points in the market that indicate OEMs will deliver more equipment, creating a surplus and a decline in value. Instead, equipment values should continue to climb.
Combines
Combines are typically the first to move in a market and follow a cyclical pattern. According to Tractor Zoom data, combine values are beginning to level off or slightly decline. We attribute this to OEMs delivering machines back to the market, fewer combines currently in the market, and that farmers have already upgraded their combines and thus there is less demand.
2023 Equipment Market Expectations
This year, factors to watch that will affect the market include:
Rising interest rates, targeted at 8-9% for equipment
Strong profitability, with 2022 exhibiting a 14% increase year over year
Combine supply returning and cooling in the market
Tractor values remaining strong until new supply returns