Mar. 07, 2023 • Analysis
The spring auction season is off to a strong start! In February, we listed 8,194 lots and saw row crop tractors and planters taking top dollar.
Here we'll dig into the top auction sales across several equipment categories for the month, look at average listing prices, and feature one of many Tractor Zoom Price Prediction wins.
Tractors
Riles Auctions sold a 2018 John Deere 8400R for $356,380 at auction on February 17, 2023.
Specs include:
Hours: 947

MFWD

400 HP

Rear PTO

More: ILS, E23, 85+35CC Hyd. Pump, Front and Rear Duals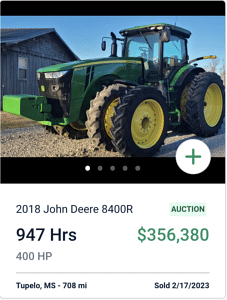 According to Tractor Zoom data, in February 2023, the average list price for a John Deere 8400R at dealerships (for 31 available listings) was $364,000.
For 300+ HP tractors listed in February, we've seen the gap in value between auctions and dealerships tighten to only about a 20% difference.
Browse 300+ HP Case IH tractors for sale on Tractor Zoom.
Harvesting
Sullivan Auctioneers sold a Drago GT 12 row corn head on February 7, 2023, for $104,000.
Specs for this Drago corn head include:
12 Row 30″

One Owner

More: Quad Suspension, Adjustable Deck Plates, Knife Rolls, Headsight Header Control, Row Sensors, Stubble Lights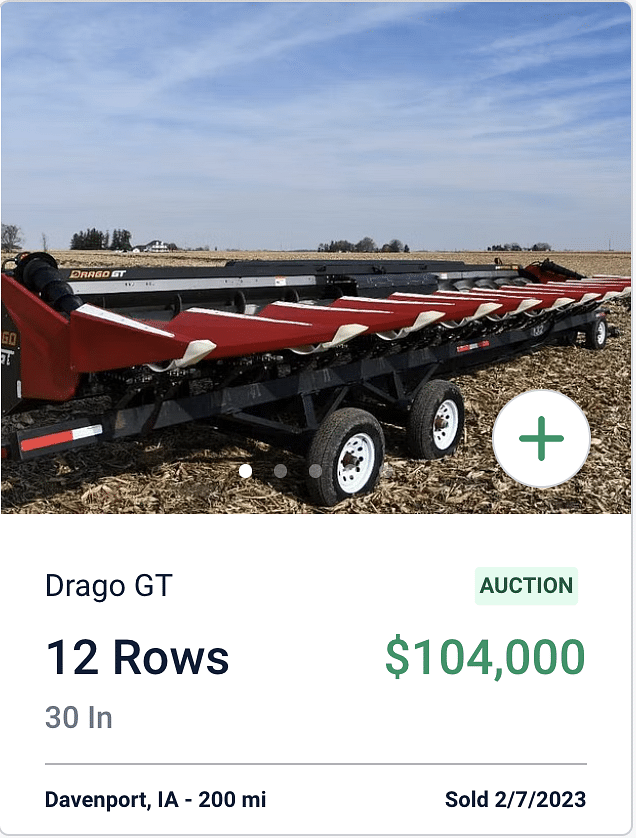 Check out the market for new and used row crop headers online.
Combines
KIKO Auctioneers & Realtors sold a 2018 John Deere S760 for $220,000 on February 25, 2023.
Specs for this John Deere S760 include:
Hours: 1,264

Separator Hours: 827

4WD

More: Second Owner, 3 Sp. Trans, Duals, 520/85 R 42, 600/70 R 28, Premium Cab, Green Star Ready, New Feeder House Chain, Yield Sensor & Moisture Monitor, Hopper Ext., Monitor Screen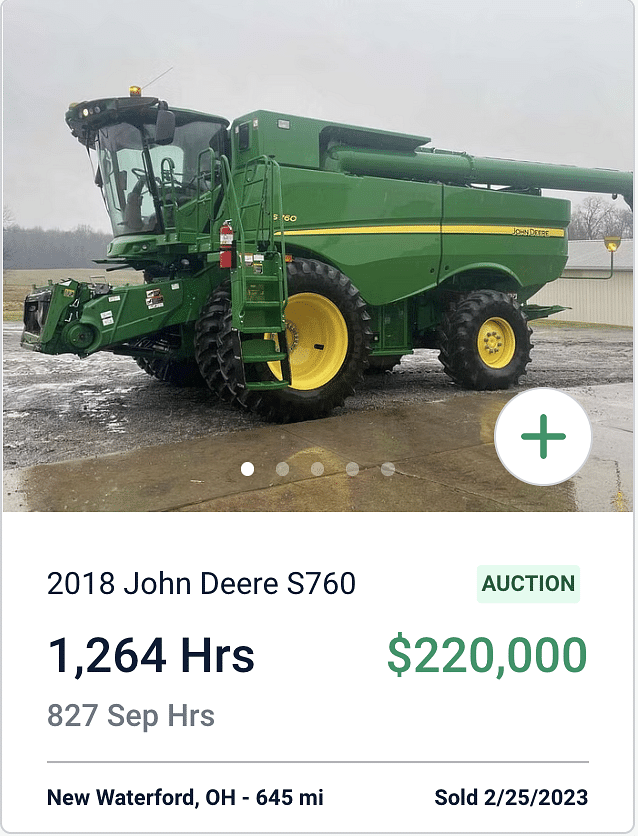 The average listing price for the 271 listings of John Deere S670s at dealerships in February was $157,000.
John Deere S670s with hours between 1,001-1,500 averaged a list price of $189,171 across the month of February.
Browse available combines for sale near you on Tractor Zoom.
Planting
A 2020 Harvest International UltraPlant 60 CCS Planter took the top spot for planter sales in February. Steffes Group sold this planter for $302,000 in North Dakota on February 21, 2023.
Specs for this UltraPlant 60 include:
48×15 or 24×30

More: Hyd. Front Fold UltraPlant Toolbar, Drawbar Hitch, Ultraflex 5-Section Flex Frame w/Hyd. Weight Transfer, LaserPro 1 Row Units, 3 Closed Gauge Wheels, DeltaForce Hyd. Down Pressure All Rows, Precision Planting vSet 2 w/ vDrive & mSet Hoppers, Variable Rate, Automatic FurrowForce Pneumatic Closing System, Dual vApply HD Liquid Fertilizer Systems, Sure Point Ag PR30 Pump Feeding First System to Precision Planting FurrowJet Wings Only, Sure Point Ag PR40 Pump Feeding 2nd System for Dual Rear Dribble Band, Sure Point 3rd In-Furrow System Controlled by Raven RCM w/Manual Flow Indicators Feeding FurrowJet Center Nozzle from 750 Gal. On-Board Tank, Sure Point Ag Wireless Boom Selector Valve to Switch FurrowJet Wings from Rear Cart or Tractor Saddle Tanks, Hyd. Controlled Yetter Narrow Row Trash Whippers w/LaserSweep Integrated Controls, Row Cleaner Depth Bands, Hyd. Air Compressor for FurrowForce, (24) Wing Suitcase Weights, LED Lights, vSet 2 Crop Kits w/Corn, Canola, & Soybean Plates for All Rows, Series 2 Touchscreen Fold Box, Gen 3 20/20 Display, Camso 24 Tracks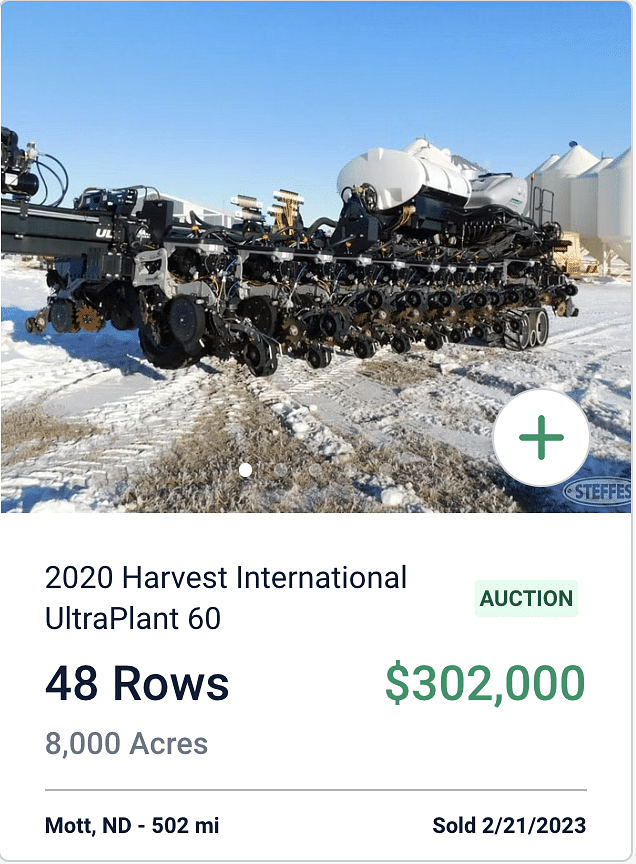 This February, we've seen a 9.06% increase in planters for sale at auction over February 2022. At dealerships, the volume of planters has decreased by 6.44%.
In addition to trends in the number of machines for sale, we use over $26 billion worth of equipment sale data to help answer critical questions for farm equipment buyers like, "What's it worth?"
Check out our analysis of the current planter market and what we expect a Case IH 1255 (submitted by farmer Paul H. in Minnesota) to sell for at auction and dealerships on this blog.
And as we get closer and closer to the pivotal planting season, find other available planters for sale on Tractor Zoom.
Construction
Iron Bound Auctions sold the highest backhoe loader, a Caterpillar 420F2, for $89,000 on February 7, 2023.
Specs for this backhoe loader include:
4WD

Hours: 3,255

Enclosed Cab, Extendahoe, 92″ Front Bucket, 22″ Rear Bucket, Quick Attach, Front Tire Size: 12.5/80-18, Rear Tire Size: 19.5L-24, Cat C4.4 Acert Diesel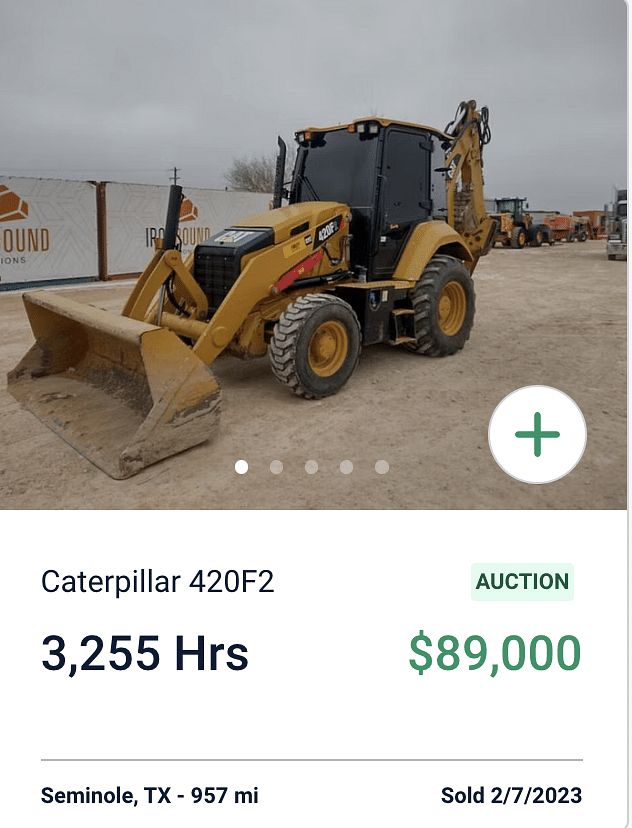 While Tractor Zoom primarily focuses on farm machinery, we also advertise a variety of construction equipment sold at auctions and dealerships around the country.
Browse our full selection of construction equipment for sale.
Facebook Favorite
We featured a lot of antique tractors for sale through Riles Auctions on a #TwoCylinderTuesday in February that sparked interest in several John Deere models.
One of the machines, a John Deere 330, sold for $17,000 at the Riles Auction on February 17, 2023.
Specs for this 330 include:
Top Link, Lift Arm, PTO, Draw Bar, Scruggs Collection

2WD

23 HP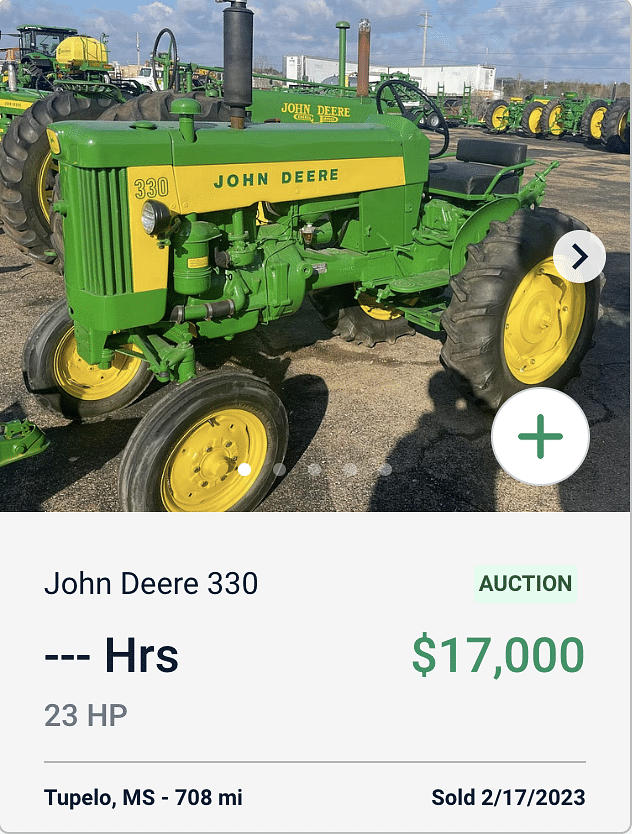 Looking for more unique and antique tractors? Follow us on social so you don't miss out. And check out the latest Interesting Iron about one family's search for a long lost John Deere 4020.
Tractor Zoom Price Prediction Win
Price Prediction utilizes Tractor Zoom's extensive database of equipment auction data, plus measures of inflation and cutting edge machine learning techniques to predict the auction sale price of a piece of farm equipment with a high degree of precision.
This Case IH 7140, sold on February 9, 2023, by Albrecht Auction, was predicted by Tractor Zoom to sell for $29,000 and the actual sale price came in at $29,250.
Specs for this Case IH include:
9712 Hours

18-Speed

4-Hydraulic Outlets, Big 1000 PTO, 20.8R42 Rears with Duals, 420/90R30 Fronts