Jan. 13, 2023 • Analysis
The end of 2022 was buzzing with a staggering 843 farm equipment auctions listed with Tractor Zoom and over 26,000 lots advertised.
Here we'll dig into the top auction sales in several equipment categories for the month of December and look at what values have increased and decreased for both auction and retail markets.
Tractors
DPA Auctions sells John Deere 9RX 540 for $630,000 on December 27, 2022.
The top tractor sale for the month goes to DPA Auctions with the sale of a 6-hour John Deere 9RX 540, posting a final sale price of $630,000. As a brand-new machine, the six hours were accumulated only from factory testing.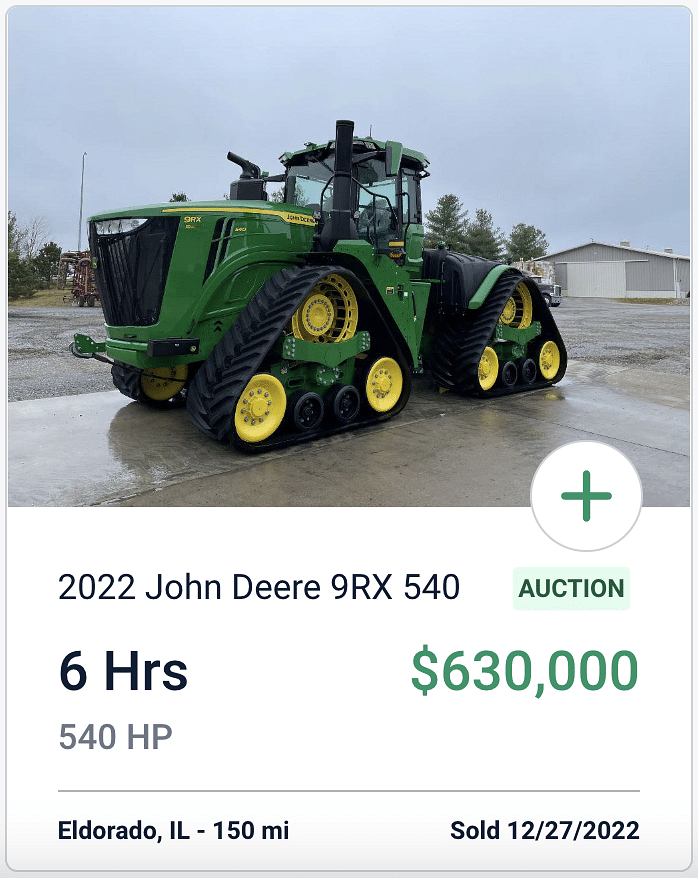 Specs for the 2022 John Deere 9RX 540 include:
Drive: FWD

Horsepower: 540

Hours: 6

Rear PTO: No

More: 36" Tracks, Sydenstricker Nobbe, JD14 13.6L/827 cu in. Engine (model TA13702), John Deere e18 18 Speed PowerShift with Efficiency Manager 40km/h 25mph,13.6L FT4/S5 Cooling Package, Enclosed Cab, Adjustable Seat, Buddy Seat, Heat and A/C, Generation 4 46000 CommandCenter 10" display, Touch Screen Audio Player, 9 Series Visibility Package (24 LED Work Lights and 8 LED Convenience Lights), Rear Hitch, Full-Locking Electro Hydraulic Front and Rear Axle, Camso 4W-5085 and 5W-0533 Rollers
The tractor market remained strong in the month of December. According to Tractor Zoom data, the average auction value for all 300+ HP tractors was over $176,000 and over $284,000 on dealer lots.
In December 2021, 300+ HP tractors with 1,000-2,000 hours were valued around $327,000 at dealerships and $231,000 at auction. In December 2022, that gap tightened and the values increased to nearly $345,000 at dealerships and over $304,000 at auction.
Browse available 300+ HP John Deere tractors for sale on Tractor Zoom.
Harvesting
Osborn Auction LLC sells 2022 Case IH 6150 for $436,000 on December 4, 2022.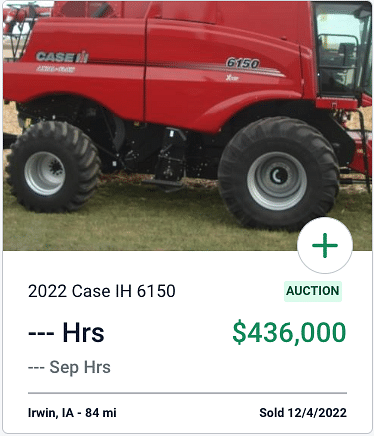 Another brand-new machine took the top sale price in December for Class 6 combines. This zero-hour 2022 Case IH 6150 has the following specs:
Model: Axial-Flow 6150

Condition: Excellent

More: Power Folding Hopper, Adjustable Unloading Spout, Leather Seats & Buddy Seat, Front Tires Michelin 800-65R32, Rear Tires Firestone 28LL-26, Sold w/Delayed Warranty Start Date on 9/1/23
The auction market for combines with 0-500 machine hours have held onto strong prices. In 2021, this segment of machinery was valued at around $334,000 and increased to over $345,000 in 2022. At dealerships, combines with 0-500 hours in 2021 were valued at around $455,000 and in 2022, that number jumped to nearly $500,000.
This fall, we've seen the value of combines with 1,000-2,000 machine hours decrease slightly at dealerships. In December 2021, the value was $180,000, but this year, due to a return of supply and market uncertainty, the value decreased to about $173,000.
Browse available combines for sale on Tractor Zoom.
Additional Post-Harvest Sales
Sullivan Auctioneers sells the month's highest-priced forage header, a 2022 John Deere 772, for $110,000.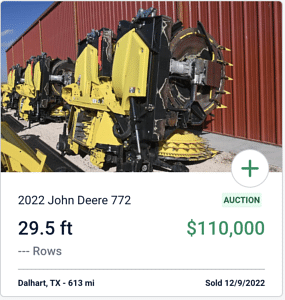 Planting
Denison Livestock sells Kinze 4705 planter for $326,000 on December 5, 2022.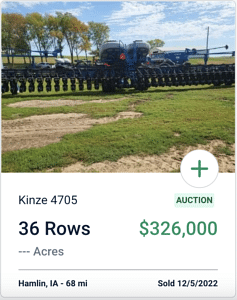 This is the highest-selling Kinze planter at auction we've ever had on our Tractor Zoom site. Specs for this 4705, which was bought new in 2021, include:
As you prepare for spring fieldwork and take stock of your equipment needs, check out other available Kinze planters for sale on Tractor Zoom.
Construction Equipment
Purple Wave Auction sells 2019 Caterpillar 420F2 IT Backhoe Loader for $134,200 on December 29, 2022.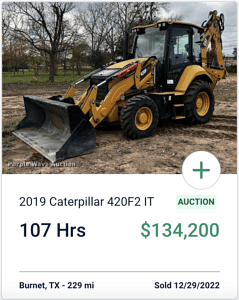 Specs for this 2019 Caterpillar 420F2 IT include:
Condition: Good

Hours: 107

More: Caterpillar C4.4 Diesel Engine, 4.4L Displacement, 4 Cylinders, Powershift 4F-4R, Four Wheel Drive, Differential Lock, Operators Station, EROPS AC, Heat Backhoe, Pilot Control, Pattern Changer, Features Loader IT Carrier, Auxiliary Electrical Outlet, Hydraulic Auxiliary, Bucket Caterpillar 251-1794, Bucket Leveler Capacity: 1.5 cu.yd., Width: 95″, Cutting edge: Bolt-On Backhoe, Extendable Stick, Quick Coupler: Hydraulic Auxiliary, Bucket Caterpillar Width: 24″ Cutting Edge: Weld-on, Teeth: 5, Tires Front: 12.5/80-18, Tires Rear: 19.5L-24, Tires Brand: Goodyear SM Specialty
Only six backhoe loaders with operation hours between 100-110 were listed on auction in December with an average price of $58,575.
While Tractor Zoom primarily focuses on farm machinery, we also advertise a variety of construction equipment sold at auctions and dealerships around the country. Browse our full selection of construction equipment for sale.
Two Allis-Chalmers 4W-305
Swenson & Sons sells Allis-Chalmers 4W-305 for $50,000 on December 28, 2022.
Two fan-favorite 1985 Allis-Chalmers were featured in a Tractor Zoom #twofortuesday on social. Allis-Chalmers only built 412 of these tractors and this first machine was sold out of a personal collection.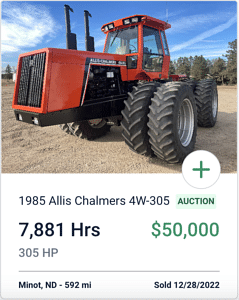 Specs for this Allis-Chalmers 4W-305 include:
Condition: Average

Hours: 7,881

Horsepower: 305

Drive: 4WD

Rear PTO: Yes

More: 731 cu. in. Motor with Twin Turbos, 2-Speed Power Shift, 4 Hydraulic Circuits and 1000 PTO, 20.8×38 Duals, Like-New Inside Tires, Outside Tires Show Some Wear
This tractor was recently sandblasted and repainted with PPG automotive single stage paint. This model of tractor is becoming harder to find and is highly desirable, especially in this type of condition.
The second Allis-Chalmers 4W-305 sold for slightly higher and features the following specs: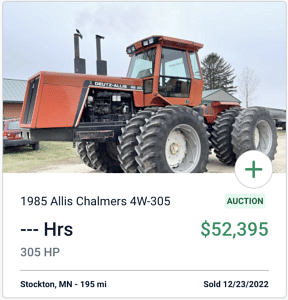 Condition: Average

Hours: 6000-7000

Horsepower: 305

Drive: 4WD

Rear PTO: Yes

More: Tractor Cab Heat and A/C Stereo, Tach Works, 4 Remotes, 3 Point Hitch, Interior in Great Condition, Great Tires, Original Factory Paint
Follow Tractor Zoom on Facebook to see more unique machinery up on the auction block.
Tractor Zoom Price Prediction Win
The Tractor Zoom
What's It Worth?
Price Prediction was spot on for a 2009 John Deere 1770 planter sold at a Sullivan's Auctioneers dealer liquidation auction on December 16, 2022. The sale price of $71,500 predicted by Tractor Zoom matched exactly the actual sale price.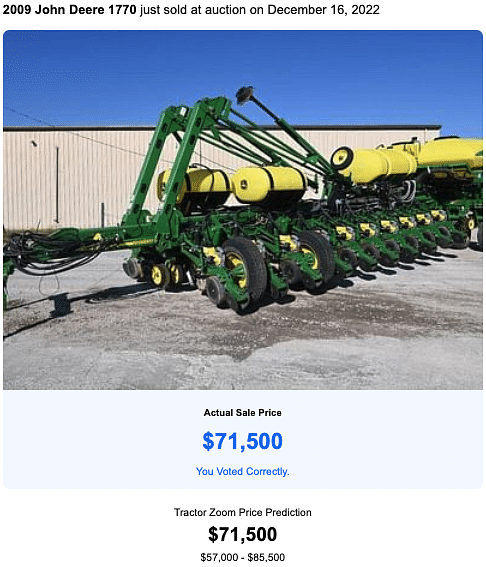 The Price Prediction feature utilizes our extensive database of equipment auction data, including equipment hours, condition, age, make, model and size category, as well as measures of inflation and machine-learning technology to predict the sale price of farm equipment with a high degree of accuracy.