Sep. 22, 2021 • Interesting Iron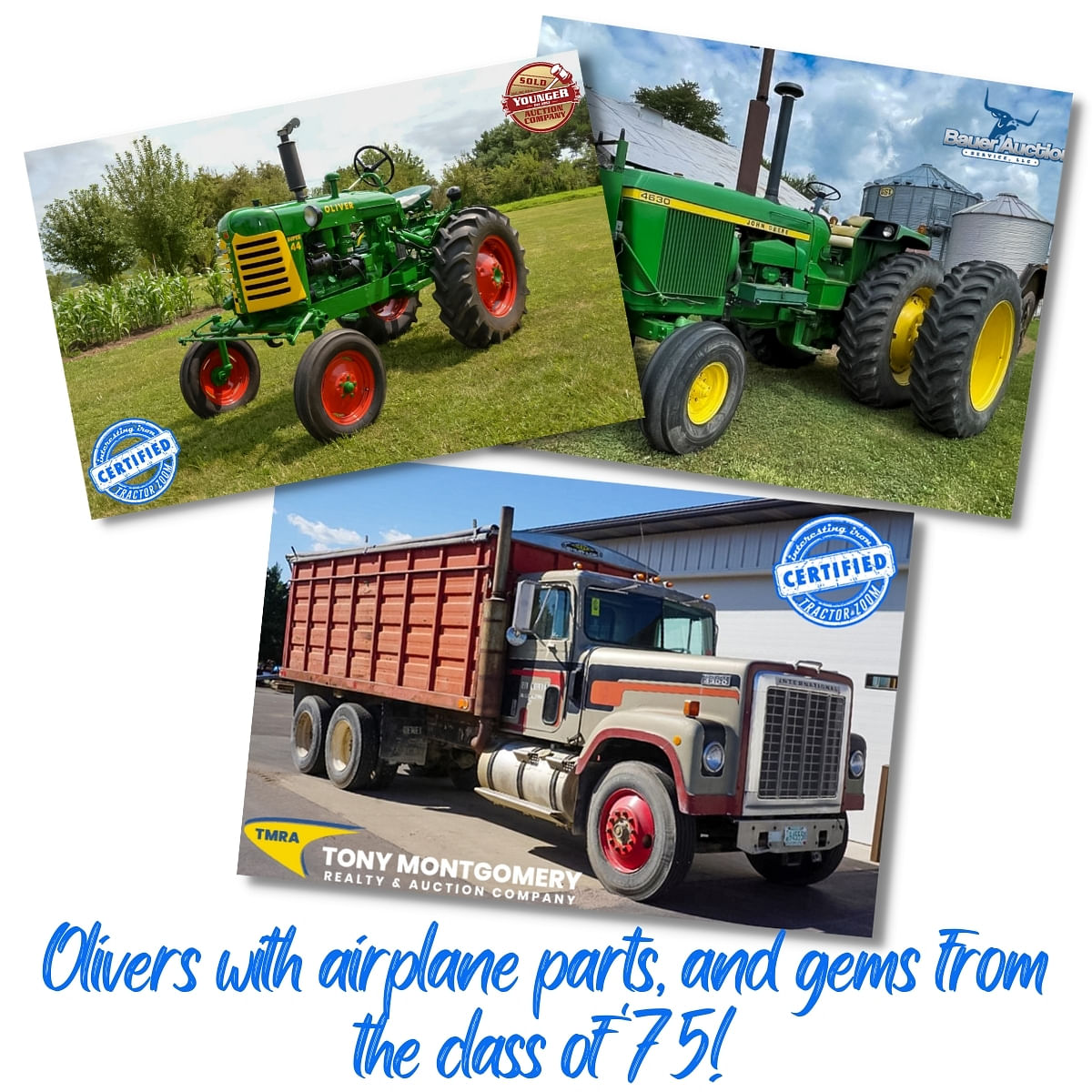 This week, we've got a few nifty farm auction finds in the midwest. One in Missouri, one in Illinois, and one in Minnesota. Let's get to it!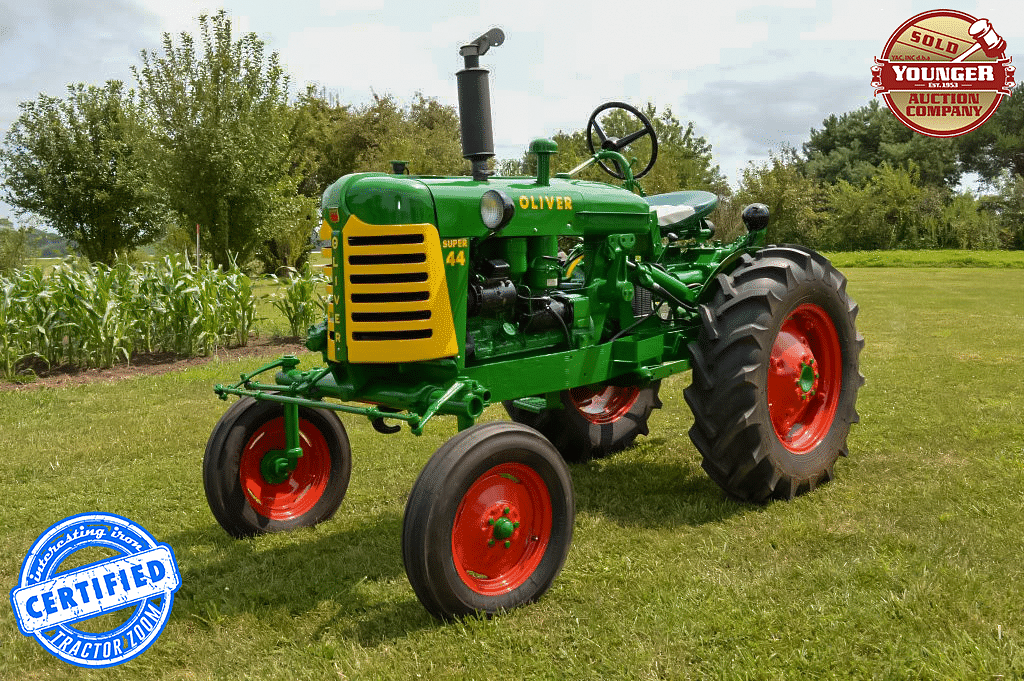 Let's talk low-production Olivers for a minute. If I'm not mistaken, the Super 44 was the second-lowest production in the company's history. It was only produced for two years – 1957 and 1958. Furthermore, Oliver only turned out 775 of these little guys in total!
During the late 40s, International released several small offset models, and the market sort of followed suit. Not to be outdone, Oliver did too. Honestly, the Super 44 was kind of an odd little fella. Oliver outsourced quite a bit of this tractor.  For instance, the motor came from Continental, and the hydraulics came from Cessna (the airplane company)! The steering box came from Saginaw, and both the 4-speed gearbox and axles came from Clark. Nearly every major system on this tractor was sourced from one of Oliver's suppliers.
I'm honestly not sure why, but I wonder if it had something to do with their dealer network. During the 40s and 50s, Oliver had a Dealer Advisory Council – a group of dealers from all over the country – that they regularly solicited product feedback from. Well, in the early 50s, the dealers really wanted a compact tractor to compete with the 8N, and Oliver's design team put a prototype together that looked an awful lot like the Super 44. This was definitely NOT what the dealers were looking for as far as the 8N-fighter. The concept was retooled and the result was the Super 55 (which WAS what the dealers were wanting).
At some point, though, somebody came back to the Super 44 concept and it got the green light. The small, offset tractor with mid-mounted attachments worked really well for cultivating tobacco, and many of these tractors ended up in Virginia, Tennessee, Kentucky, and the Carolinas.
What's it worth?
Up until about 5 years ago, these tractors and the second-generation version (the 440) were the hottest thing going at farm auctions (collector auctions too). If you had one that was nicely restored, you could count on every bit of $10-12K if not more. In 2016/2017, though, prices started to calm back down. They're still pretty high for an itty bitty 30-horse tractor, but they're not as crazy as they once were. I'd imagine that this one will probably sell somewhere in the $7-8000 range. It's been nicely restored and has new rubber all the way around, and it's part of a pretty sweet collection of smaller-sized classics!
Auctioneer: Younger Auction Co.
Sale Date: September 25, 2021
Location: Maryville, MO
Full Sale Bill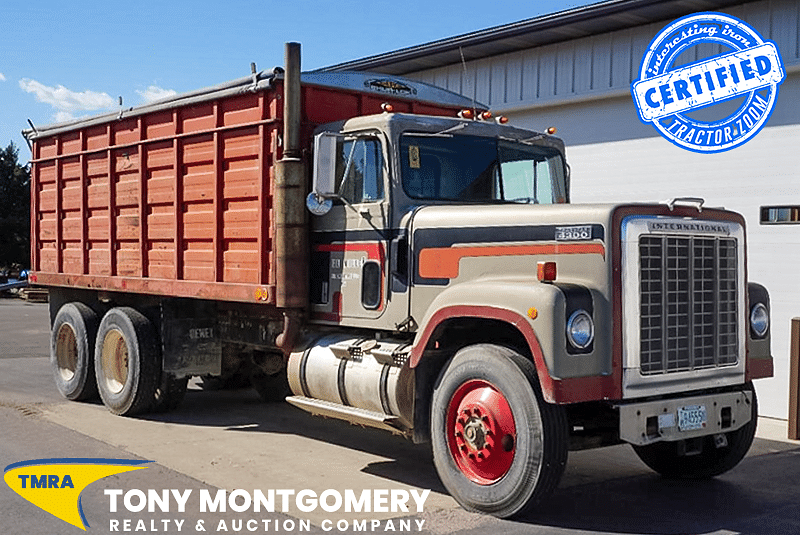 I'll probably always have a soft spot for Transtars. When I was just a little kid, my Uncle John hauled our apples and cherries with Transtar cabovers. It was a tradition that during cherry harvest, I used to ride with him and my cousins up to Graun, MI to Cherry Central to drop that day's load and bring home the previous day's cherry tanks. We were huge Detroit Tigers fans, and always listened to Ernie Harwell & Paul Carey call the games on the way up. Those were some of my favorite memories from my childhood!
Anyway, the Transtar conventional lineup was introduced to compete with the "big" players in the over the road semi market in 1971 (the cabovers came later). Transtars were wider-track than International's previous offerings, and they were very solid trucks. They didn't have quite the same configurability as the Peterbilt 359, but International did have a bunch of engines available.
At the end of the day, the Transtar conventional semis sold okay, but they didn't set the world on fire quite like International had hoped they would. Peterbilt and KW remained on top, but for the day cab and straight truck market, these trucks did sell pretty well. There were – and probably still are – thousands of these trucks lumbering around the midwest hauling corn and soybeans!
This one has survived the last 45 years better than most. It's powered by an 8V-71 Detroit (which I also have a soft spot for), and runs an Eaton/Fuller transmission (likely a Road Ranger). Pretty standard for a grain truck like this one. With about 267K on the odometer, the farmer who owned this one must not have had far to go to get to an elevator. With that Detroit under the hood, though, I'll bet everyone heard him coming!
What's it worth?
In looking at Iron Comps for comparable farm auction results for these trucks, I think it's probably safe to say that this one will sit somewhere between $6-8K. The smaller grain box probably hurts resale a little bit (I think that's a 16′ – maybe 18′), but there's a little nostalgia for trucks with 70s-era striped paint jobs. The Detroit powerplant is probably a bonus, as parts are a dime a dozen in most places, and they're relatively easy to work on. At the end of the day, trucks like these seem to speak to a certain crowd that remembers the world before 24-row planters, hopper bottoms, and huge combines. If I had to guess, somebody like that will go for this one.
Auctioneer: Tony Montgomery Auction & Realty
Sale Date: September 28, 2021
Location: Plainview, MN
Full Sale Bill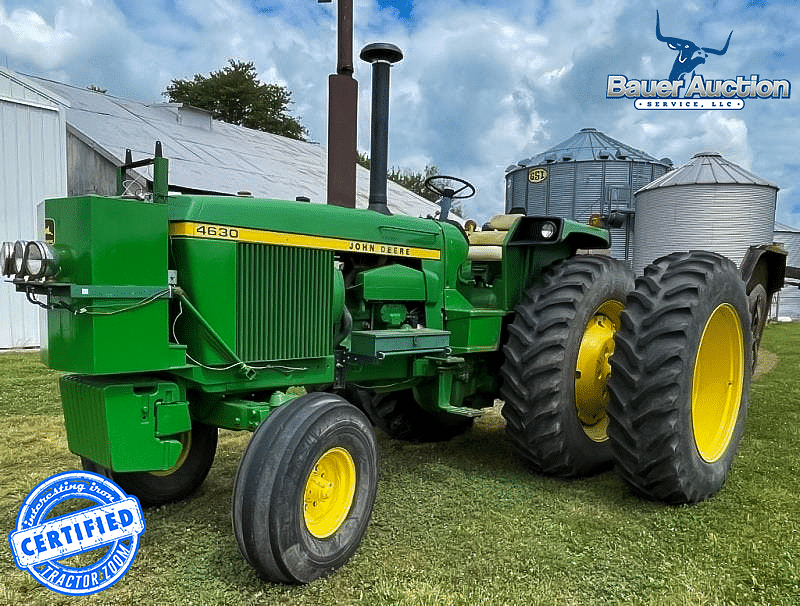 John Deere 4630s aren't exactly rare or unusual. Mother Deere cranked out nearly 25,000 of them between 1973 and 1977. But…finding one that's a factory fender tractor? That's a little less common. Record-keeping wasn't real strong during the SoundGard days, so nobody really knows how many variants were produced. Honestly, I can't remember the last time I saw one at a farm auction!
It IS, however, safe to say that a factory open station is pretty darn uncommon. This one is a two-owner tractor with 6000 hours on it – most of them spent dragging a planter in Illinois! It's been very well cared for, and personally, I think she's a beauty!
The 4630 was the king of the hill for the 30-series (aside from the 6030, which I'd put in a different category altogether). It used the same 404 as its littler brothers, but where the 4230 was naturally aspirated and the 4430 was turbocharged, the 4630 was turbocharged AND aftercooled. That was good for about 15 horsepower over the 4620, a noticeable difference in the field.
The air intake is behind the the stack, which is a dead giveaway that the tractor is later production. Deere had some issues with overheating in the early production. The engineers solved the problem in 1975, by relocating the air cleaner to the top of the motor, which allowed them to cram a bigger radiator out in front.
What's it worth?
It's a sharp tractor, and as a quad range open station, it's a relatively uncommon tractor. That said, it also has 6000 hours on it, so it's probably out of the running for most higher-line collectors. When this farm auction closes, I'd imagine it'll still go for somewhere north of $15K. I don't think it'll hit $20K, but it'll be fun to find out!
Auctioneer: Bauer Auction Service
Sale Date: September 23, 2021
Location: Martinsville, IL
Full Sale Bill