Sep. 02, 2021 • 30s/40s Tractors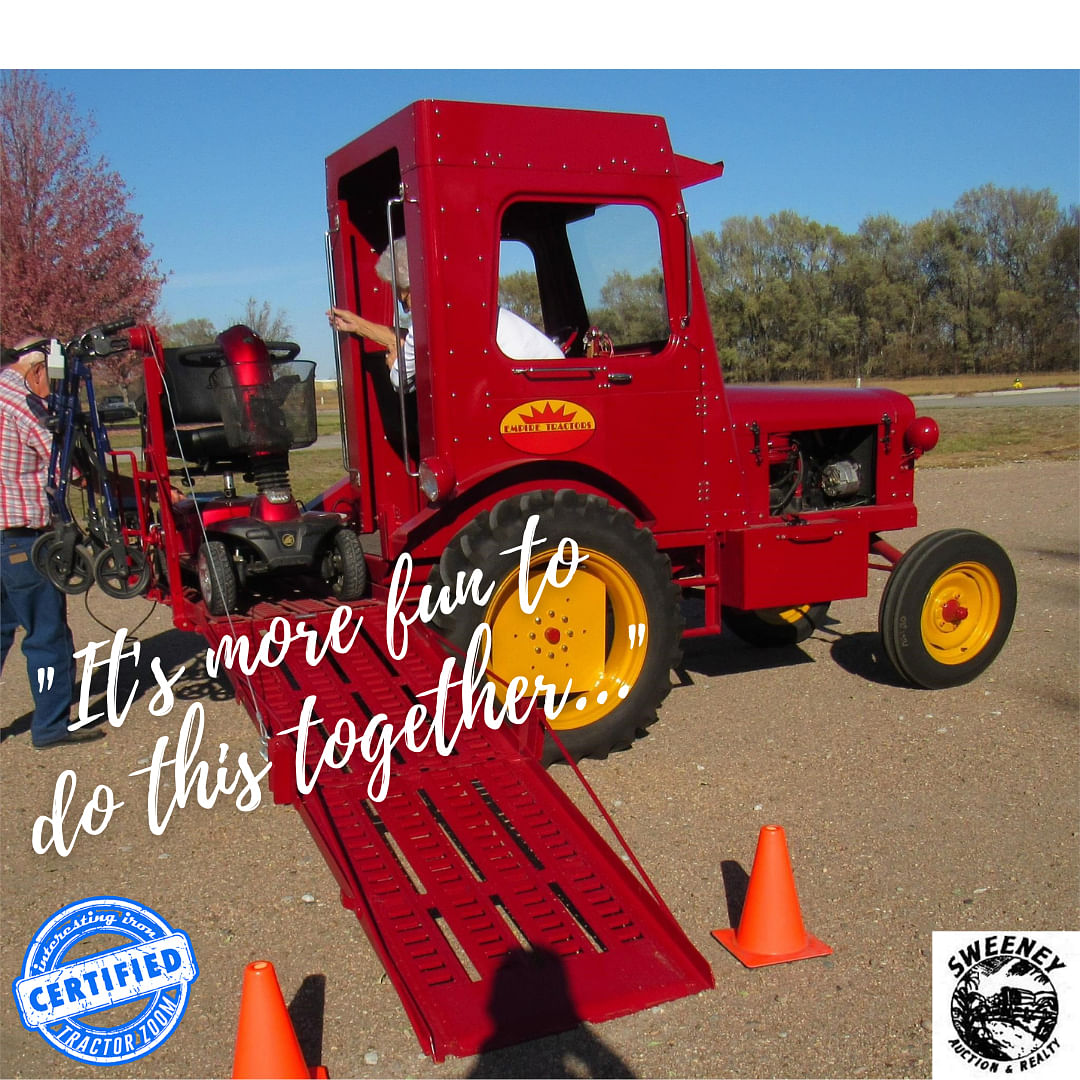 Back in July, I featured a pretty unique tractor rescued from a bone yard in Sioux City and turned into a hearse! It began life as a Thieman tractor, and Harold Boquist, a tractor collector from Nebraska, turned it into a hearse. (You can read about that tractor here.)
When I talked to Harold about the Thieman, I remembered him telling me that he also had another oddball tractor that he would sell later this year. It is an Empire 88, and he said that it is likely the most customized one on the planet.
This week, that tractor showed up on Tractor Zoom, and I knew I had to write about it. This truly is one of the nicest Empires on the planet, and it's definitely the most unique!
The Cliff Notes version of Empire Tractors and their history…
I've written about Empires before. They were fairly run-of-the-mill light duty farm tractors built in the mid-late 40s. Empire built the frames in-house, and used surplus Jeep motors and drivelines to make 'em go. Upon completion, they sold them back to the US government under the Marshall Plan. The US government sent these little 40-horse tractors all over the place to help with WWII reconstruction!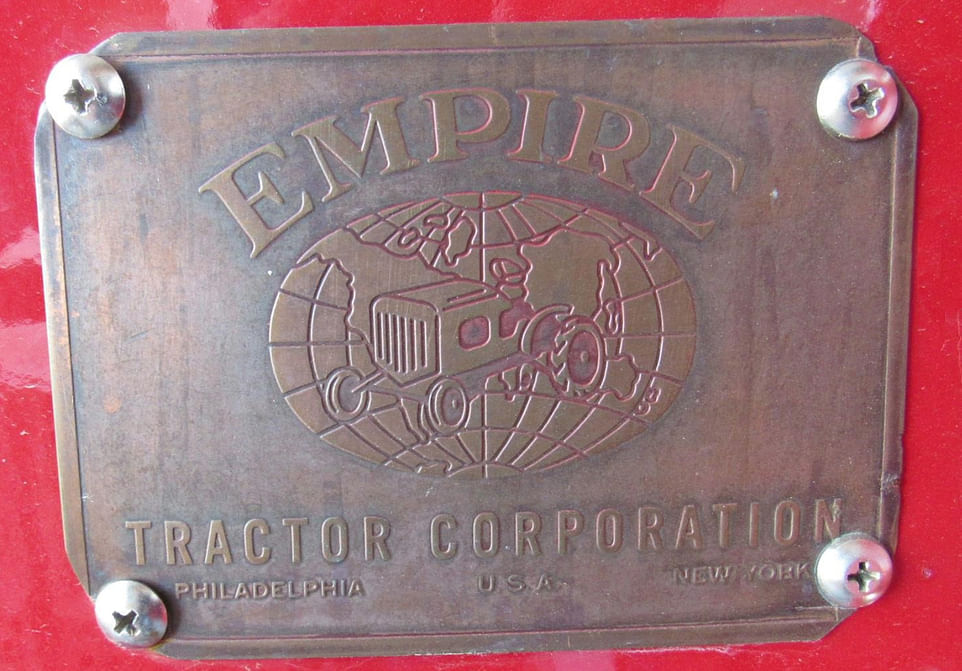 Ultimately, their downfall came when the Argentinian government suddenly declared them unfit for farming. Oddly enough, Time magazine printed a story right about the same time that claimed that the tractors were junk as well. Within months, the company was bankrupt. The remainder of the tractors sold here in North America for about $700 apiece.
I'm not one to put on the tinfoil hat very often, but the timing sure seems suspect on this deal. I sort of feel like maybe somebody who was pretty well-connected had beef with Frank Cohen (the guy who started the company) and organized this.
But that's not really what this story is about. This story is about what Harold did to this tractor when he restored it…and why.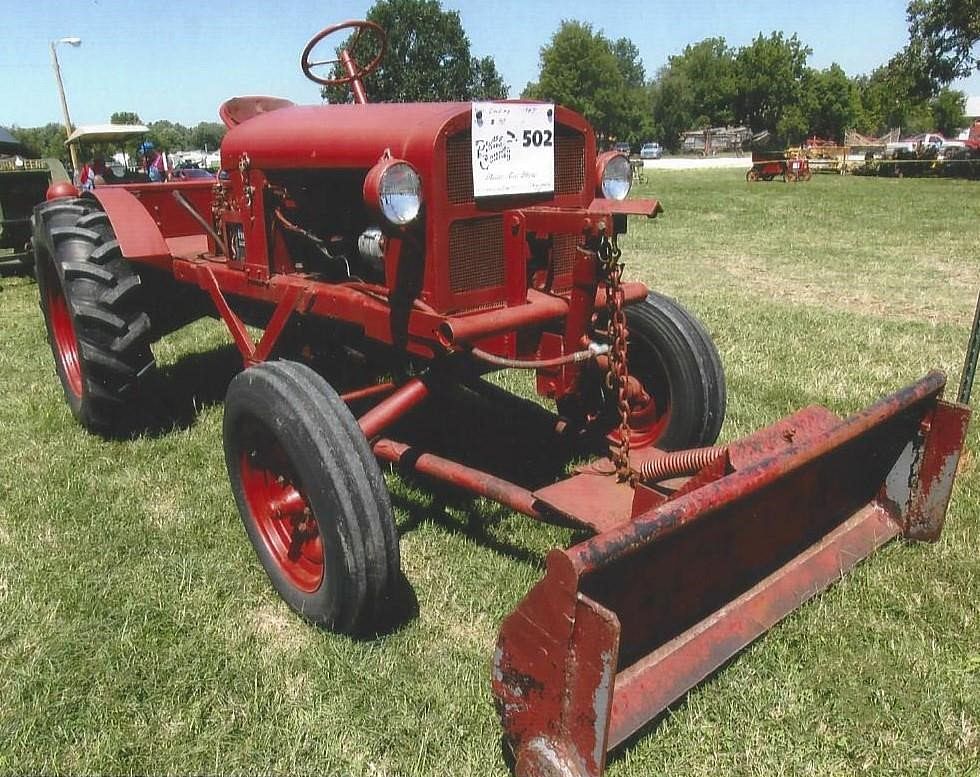 Making an Empire fit for a King and a Queen
Harold and his wife Wilma are in the tractor hobby together. Always have been. They've really enjoyed putting their unique collection of tractors on display over the years. From the Nebraska State Fair to tractor rides all over the midwest, they've had a blast making new friends and using their tractors!
With this one, though, the restoration was a little different. Wilma needs a scooter to get around comfortably. On a tractor ride, space is at a premium, so Harold found a unique solution to let let both of them ride along, and carry the scooter too! "If I ride, she rides," Harold told me on the phone today!
The Cab
The Empire 88 never came with a cab, so Harold solved that problem first. He was at a sale in Iowa when he stumbled upon this cab in the photo below. It was rough, but it was exactly what he wanted.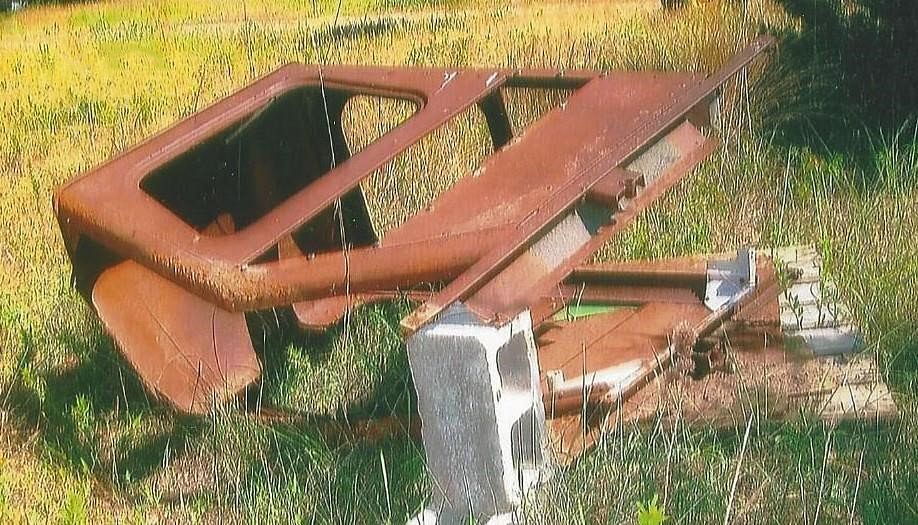 The cab was built by Tokheim Tank & Pump Co. out of Fort Wayne, IN. Their main business was gas pumps and tanks and such. However, they did also make a line of all-steel cabs for a few tractors like the Farmall H, M, and Cockshutt 40.
He took it home and then made it wider and taller (kind of the opposite of chopping & channeling a hot rod). When finished, he adapted it to fit on the platform of the Empire – which he had also made wider and longer. "If it was going to work, it needed to seat both of us," he told me, "so I made it wide enough to put the two of us up there comfortably!"
A place to park a scooter!
The next challenge was to give the Empire 88 a trunk (or a flatbed, I guess), and a ramp so that Wilma could access the cab. The ramp setup unfolds by a winch. Once unfolded, Harold uses a second winch to pull the scooter up onto the platform. The winches both tie in to the tractor's electrical system. All in all, it's pretty slick!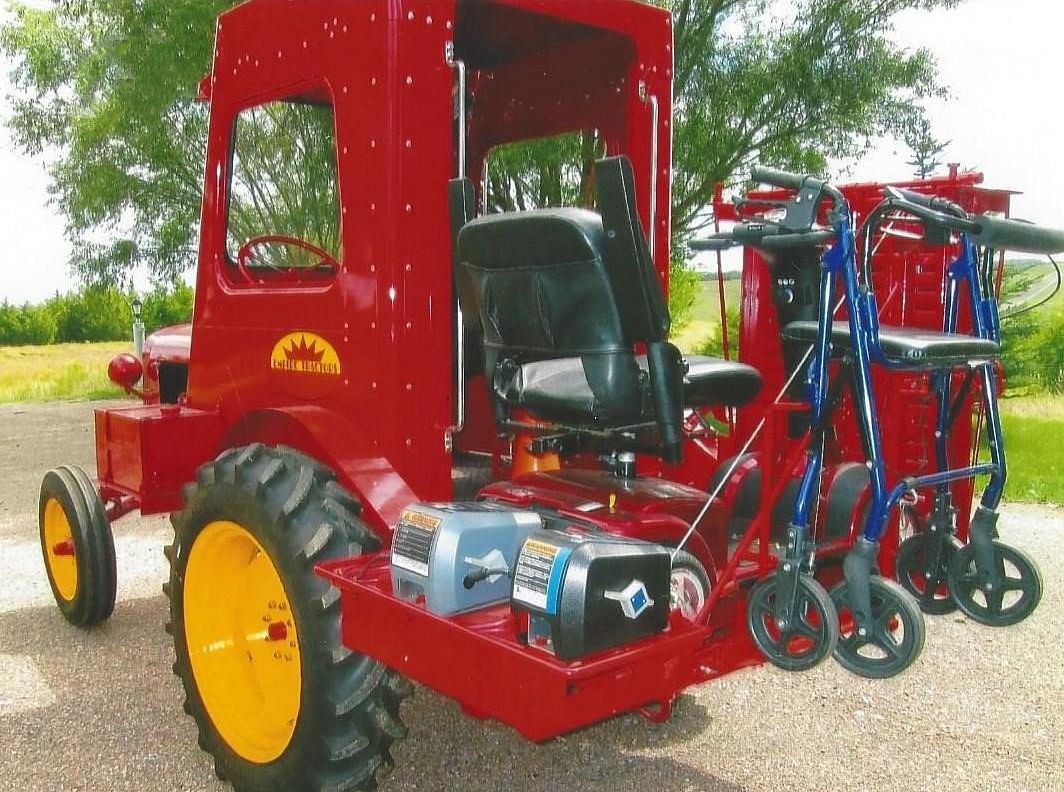 When Harold finished the fabricating, the tractor was treated to a snazzy paint job (which to my eye looks a lot like Massey red and gold, but I'm not positive of it). It's been their parade and tractor-ride tractor ever since!
What's it worth?
Honestly, I have no idea. We've seen a couple of Empires come through Tractor Zoom over the past few years, but none of them have had this level of restoration or customization. There weren't a lot of these tractors sold here in North America after the company went bankrupt in the late 40s, so they are somewhat rare. Of all of them (about 1300), this one is surely the nicest one left. That said, it is customized, and that tends to depreciate the value of rare tractors a little bit. Still, Harold did a terrific job with the workmanship, and it does serve a purpose. It'll take a special buyer, but I wouldn't be surprised if it brings $3-4000.
At the end of the day, Harold built this Empire 88 because he loves his wife, and because the idea of doing a tractor ride without Wilma just didn't sound like much fun. What resulted is a very well-built, very unique tractor that solves a challenge faced by more tractor folks than we probably realize. I'll just about guarantee that somewhere, one of you reading this column has already thought of a husband and wife who this tractor would be PERFECT for – and I really hope you'll share this article with them!
The antique tractor hobby is lots of fun, and very family-oriented. Still, due to the nature of the design, it's not for everybody. People who love tractors but aren't able to climb up on to them for one reason or another are sort of stuck between a rock and a hard place. This little Empire 88 would fix that challenge for somebody!
Auction Details
Bidding opens: Thursday, September 2, 2021 at 5PM Central
Bidding closes: Thursday, September 9, 2021 at 11:29AM Central
Location: Saint Paul, NE (about 45 minutes or so north of Grand Island)
Auctioneer: Sweeney Auction & Realty
Contact: 308.223.0145
Tractor Zoom auction listing & a link to place your bid!