Nov. 09, 2023 • Interesting Iron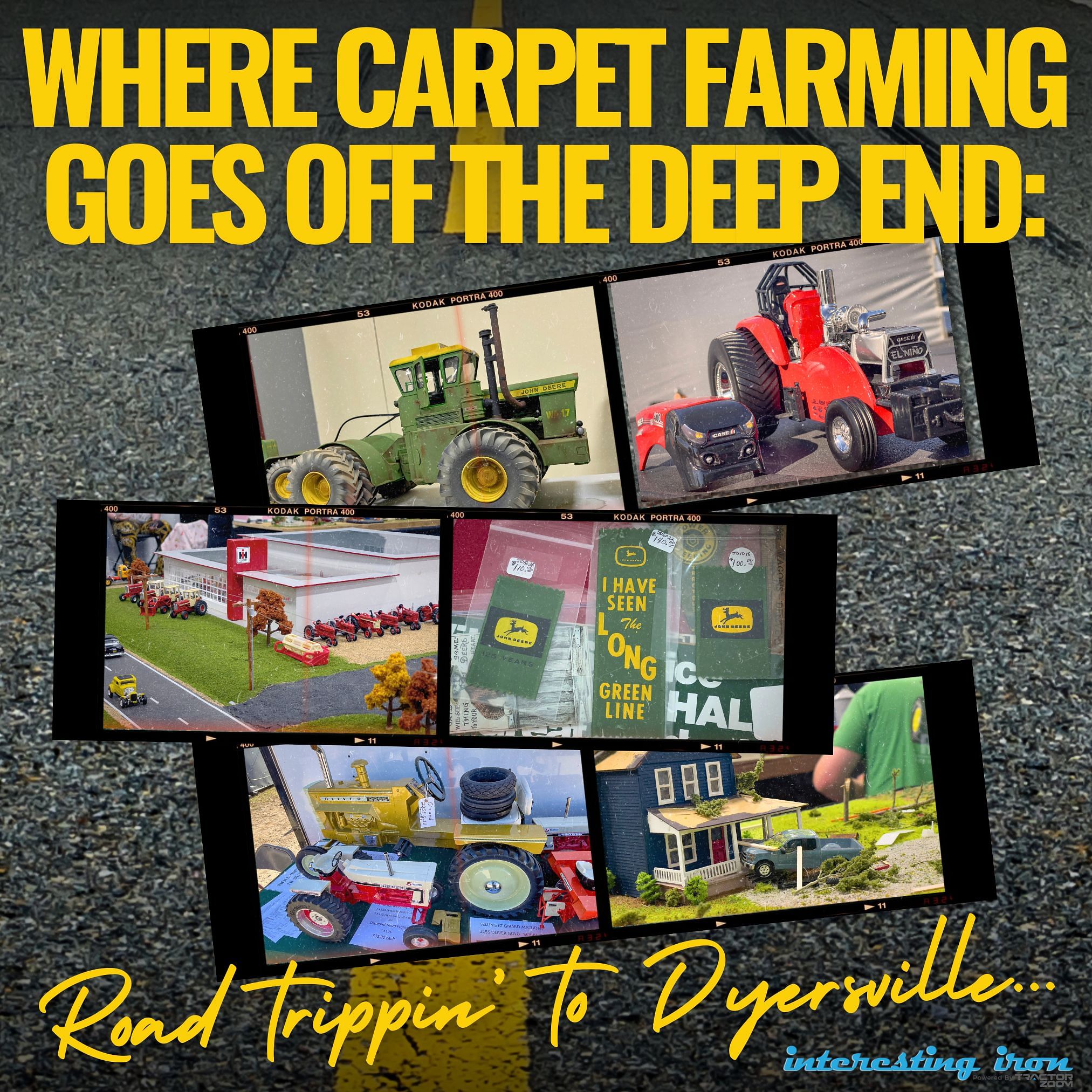 This past weekend, I took a road trip to Dyersville, IA. As it turned out, so did nearly every other farmer who never stopped playing with toys – regardless of age. I felt like we all ended up at the National Farm Toy Show this weekend…and that was AWESOME!
See, normally I'm shooting one last sled pull in Georgia that weekend, so I can't go. However, this year I stayed home. This worked out pretty good, because I snuck up to Dyersville for a few hours this past Saturday!
The Toy Farmer magazine's National Farm Toy Show (2023 was the 46th annual show) is the grand-daddy of 'em all. It's the largest farm toy-specific show on the planet, and draws a pretty huge crowd every year. The Dyersville Chamber of Commerce estimates that the show literally doubles (and on good years, triples) the size of the town for that weekend! Hotels from as far as an hour away see a bump in room sales!
People come from literally everywhere, too. I saw license plates from all over the upper midwest, plus New York, Ohio, Pennsylvania, Michigan, Ontario, Texas, and even one from Manitoba!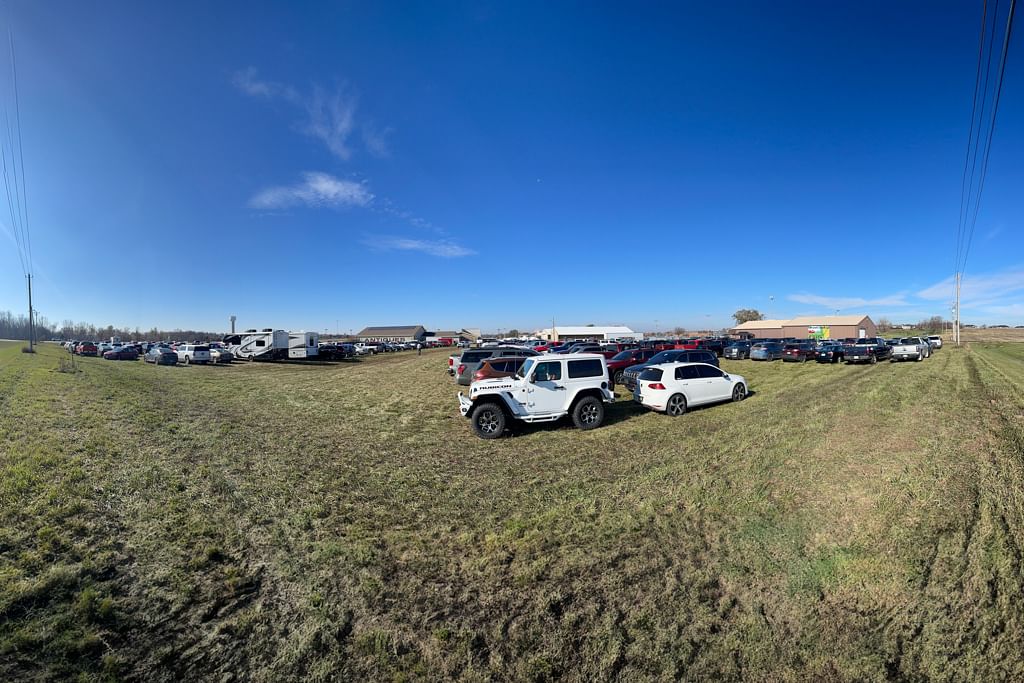 I don't think there's a big enough building in Dyersville to hold the show under one roof. So, the folks at Toy Farmer Magazine (the host and sponsor) splits it up into three main areas – Beckman High School, Commercial Club Park, and the National Farm Toy Museum. The area around the museum also has a bunch of vendors in big tents. Hundreds of sellers set up at this show, and some of 'em bring close to a half-million bucks in inventory with them!
Like I said…this is a big deal.
Stuff you can buy: Die-cast for days…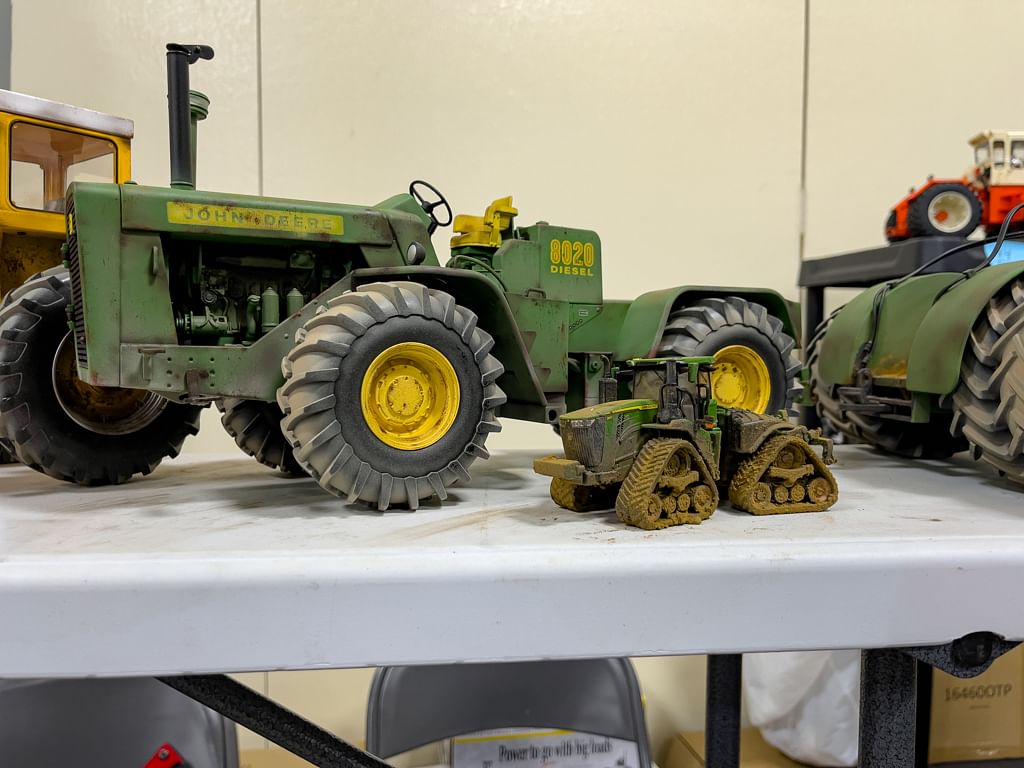 While I didn't get all the way through the show (I don't know how anybody could do it in a day), I did see a lot of neat stuff for sale. Some was fairly inexpensive and mass-produced. Some were completely one-off handbuilt pieces, and some was a mix of both.
Here's what caught my eye this year.
Pedal Tractors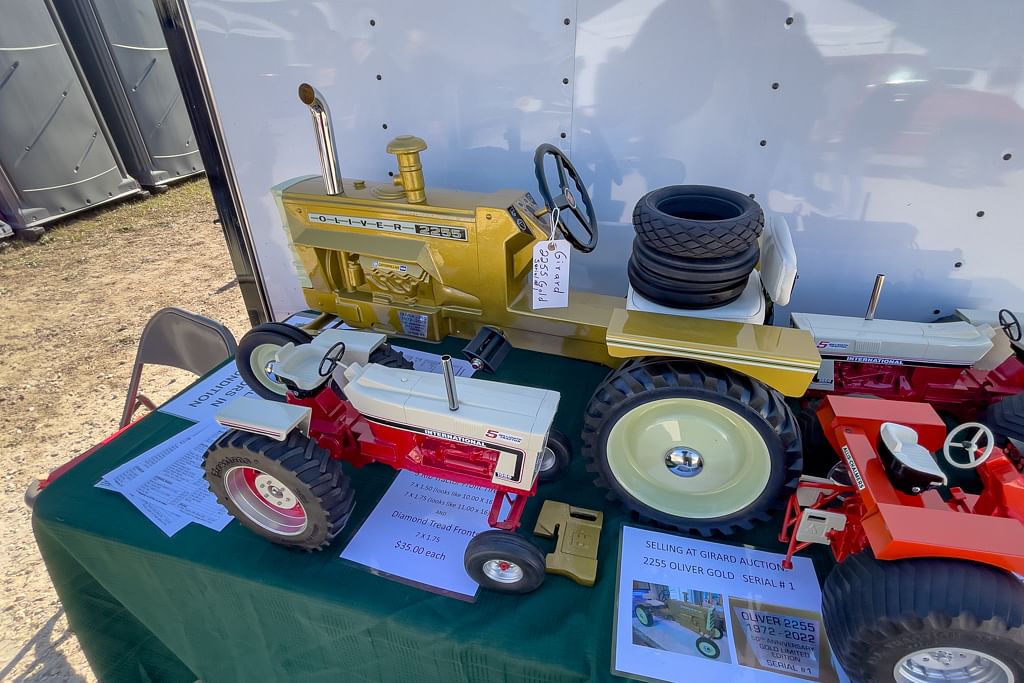 For the longest time pedal tractors only came in a few flavors. Lately, however, that's changed. Both Ertl and Scale Models have really stepped up their game to include more models and styles than ever before. They're experiencing something of a comeback because of it! Furthermore, with guys like Tom Magnuson and Don Turner building highly-detailed custom pedal tractors, the sky is really the limit!
I got to spend a few minutes talking with Tom on Saturday (this photo was at his booth), which was pretty neat. I've seen his work before, but never up close and personal. As it turned out, Saturday was the 23rd anniversary of the day Tom went into business as a custom pedal tractor builder! (Interestingly enough, I think it was Kurt Aumann who encouraged him to start offering his pedal tractors to the public!)
Chrome Chasers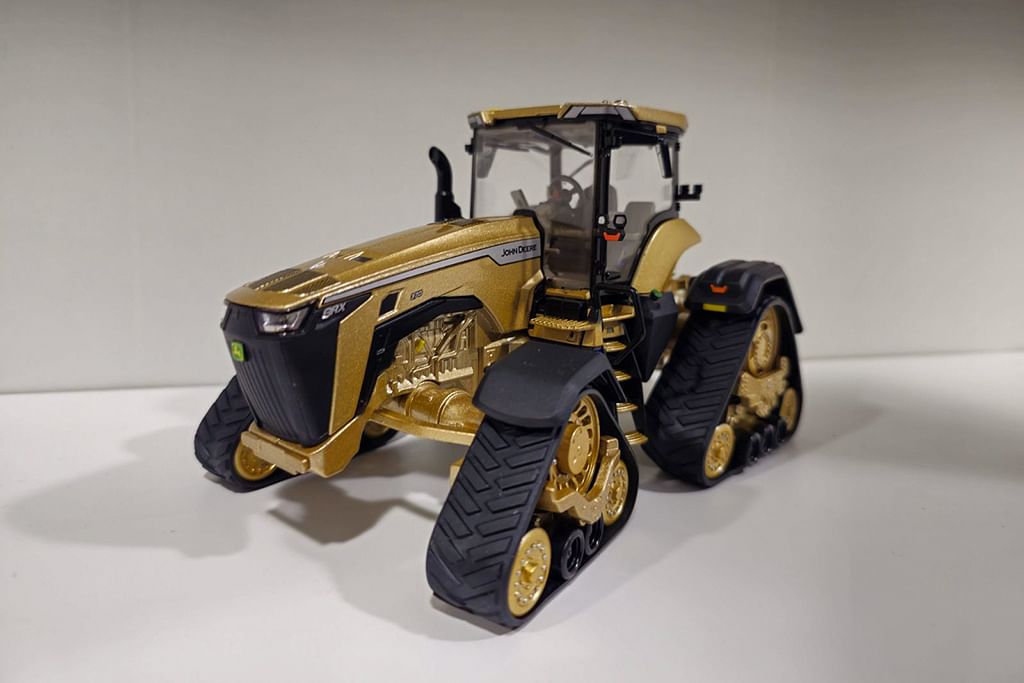 For about the last decade or so, farm toy companies have been randomly inserting limited-run "chrome" versions of their products in case-packs that go out to vendors and equipment dealers. They've become extremely collectible, too, and now they command pretty big bucks unless you stumble on one at a dealership.
I don't have any of 'em in my collection, but there are a few I'd like to own!
Pulling Tractors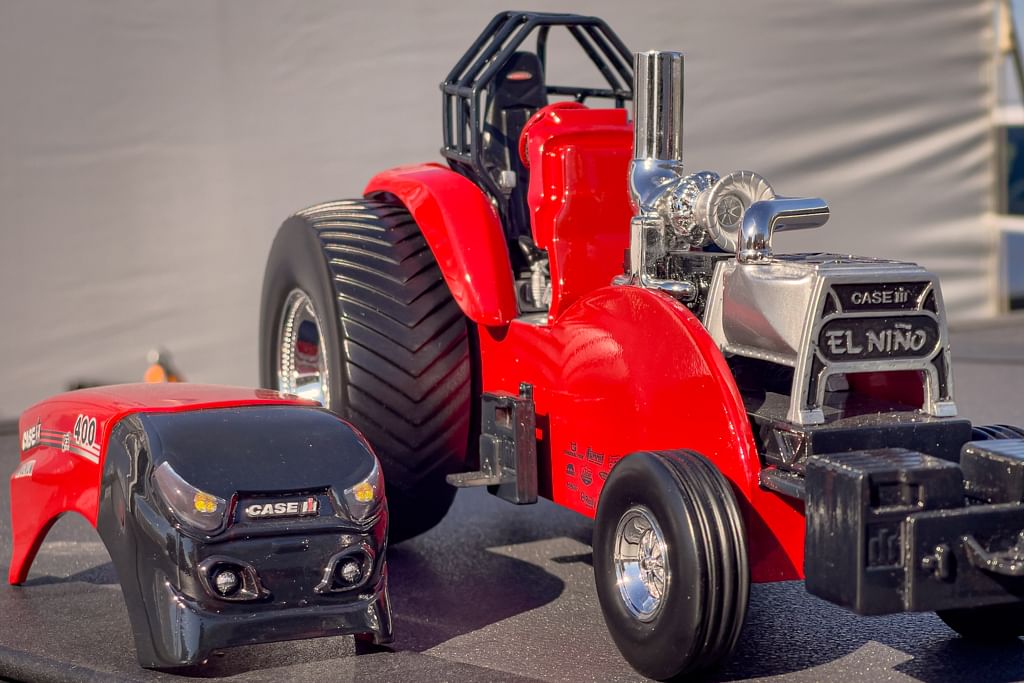 Pulling tractor models are always hot in my circle of friends, and there's always a lot of chatter when Spec Cast puts out a new one. This year, they did the El Niño pro stock as an exclusive for B&B Farm Toys. I think it turned out really nice! It's probably the most detailed production puller I've ever seen! I believe they only made 500 of them, and they're selling for $275.
Want to see the prototypes (they also did a red chrome chaser version) in person? Bryan Maury (one of the Bs in B&B Farm Toys) told me that they'll have them on display at the Howard County Farm Toy Show in Greentown, IN this weekend!
If you're looking for something a little less spendy, Ertl makes a neat series of pretty inexpensive 1/64th pullers too. You should be able to find these (there's a bunch of 'em) at your local farm store for $10-15 or less. They've even got a few sleds too!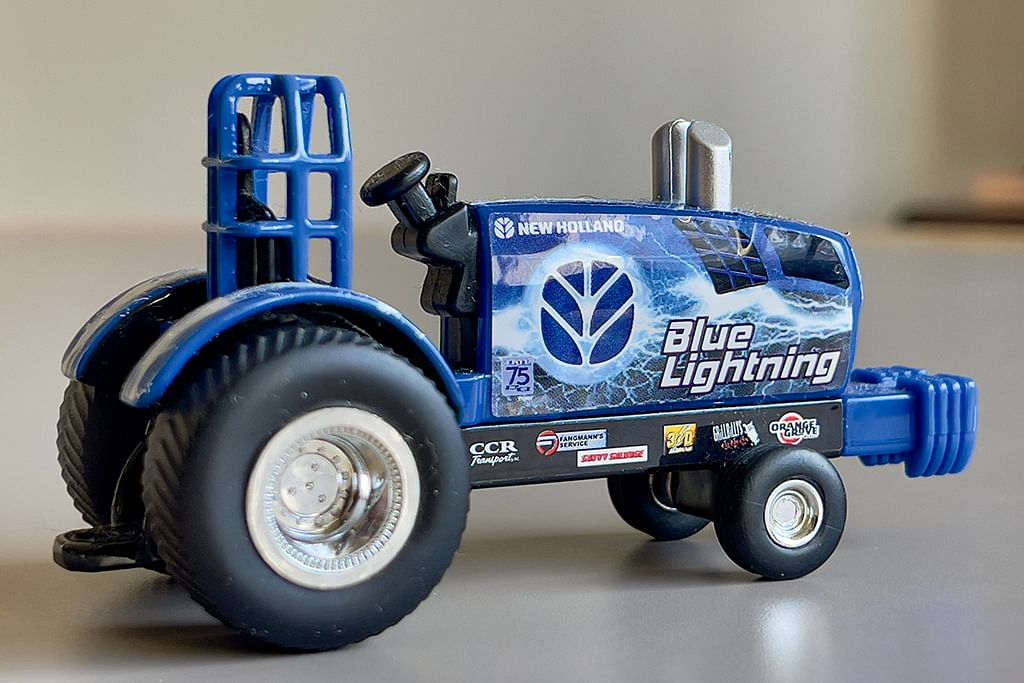 Custom Tractors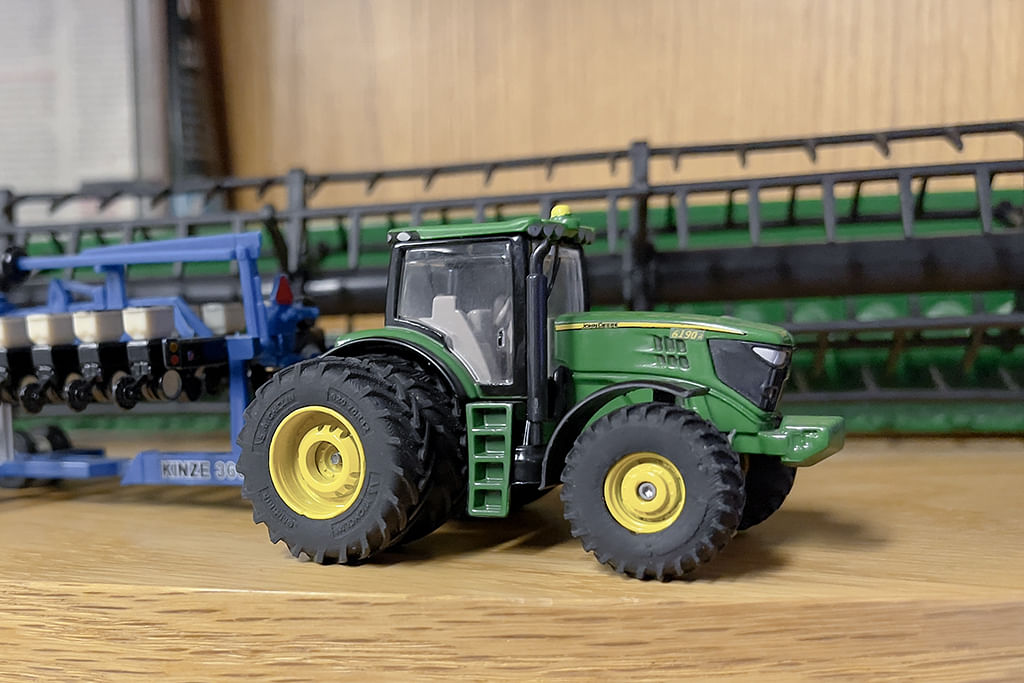 For some collectors, having a nice die cast model like one of their farm tractors is good enough. However, some collectors aren't satisfied with that. They want their tractor. Fortunately for them, there are ways that that can happen!
Customizing is not a new concept; people have been tweaking toy tractors for decades. But with the advent of CNC machines and high-quality 3D printing, the options have really opened up. If Dad dented the hood and scratched up one of the saddle tanks – and you want those in your toy – that can happen. As long as you can take a half-decent photo and you can read a tape measure, just about any detail can be recreated!
There are also a few guys out there who will build custom pulling tractors, and some were on display as well. I didn't get a chance to take any photos, but I do have one of my own that I can show you. Some of you may remember this tractor from back in the day. It was the pride of Charlotte, MI, and one of the three tractors that got me hooked on this sport!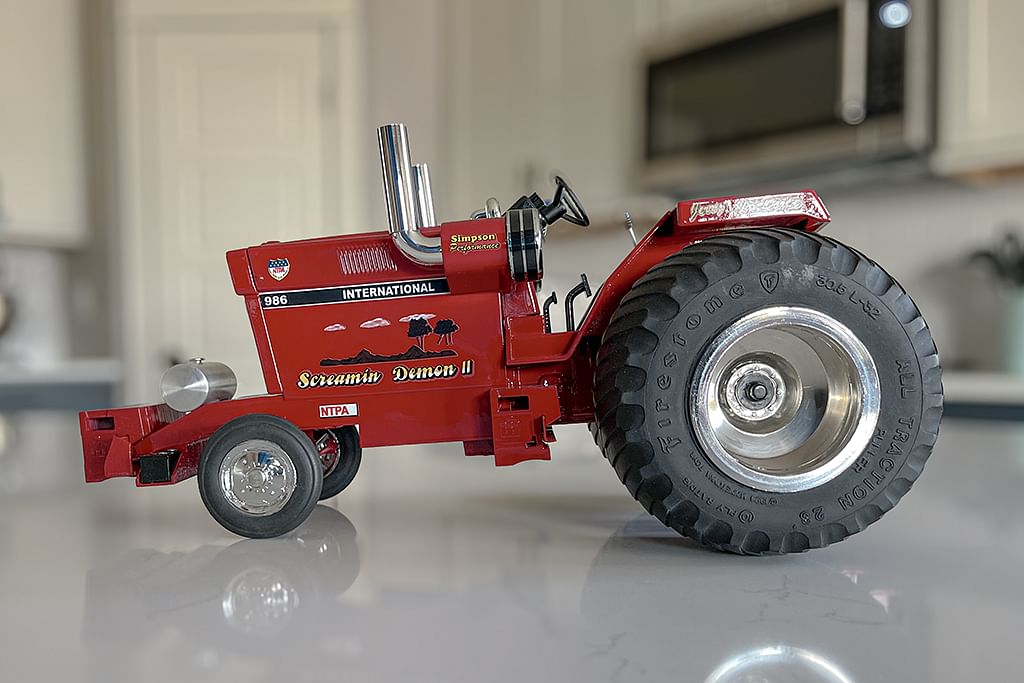 "Weathered" Tractors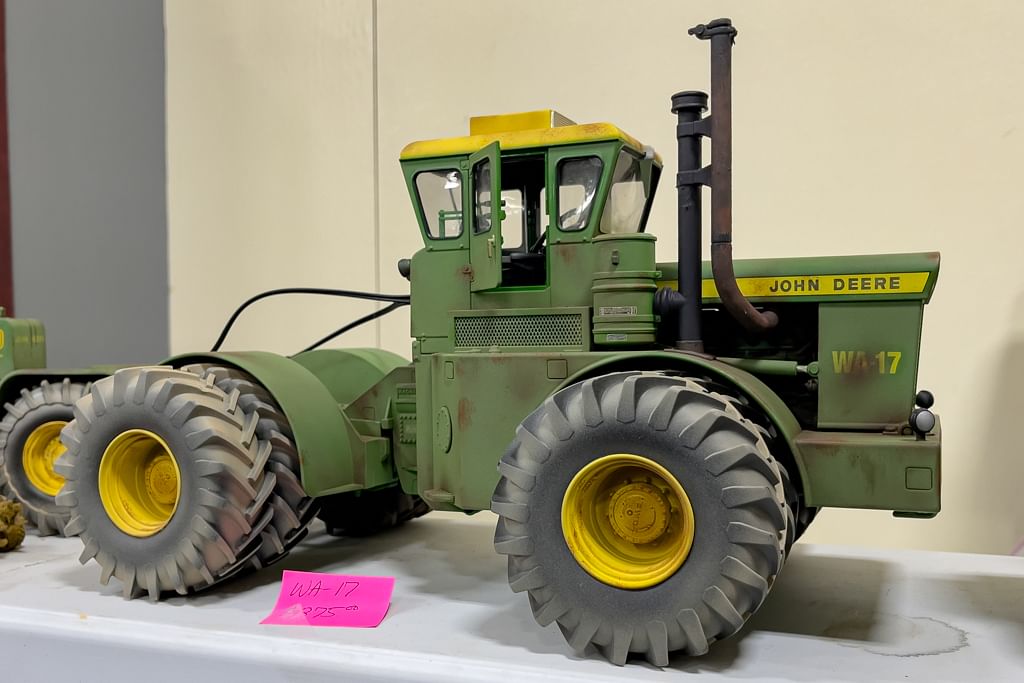 Most real farm tractors are only pristine once in their life – when they roll off the assembly line. After that, life happens. They get used, and they start to show their age. If you ever see a WA-17 in real life, it's far more likely that it'll look something like this one than in pristine, showroom condition. That's just the way it is.
Toy collectors have been vocal about this, and toymakers have listened. You can buy quite a few toys that have been made with a weathered appearance. They actually look pretty good for what they are. However, they're not unique. Every one of those tractors or combines or what-have-you have the same wear spots.
There are a few guys who have developed some pretty impressive techniques for weathering tractors. Nick Baker, a collector/customizer from northeast Iowa, is one of them. I didn't get the chance to say hello to him, but I grabbed a couple of photos of his work, and it's pretty impressive! Furthermore, each piece is unique. Nick doesn't have a template for wear on the hoods of the toys he customizes. He takes "aging" a tractor to an art form, in my opinion.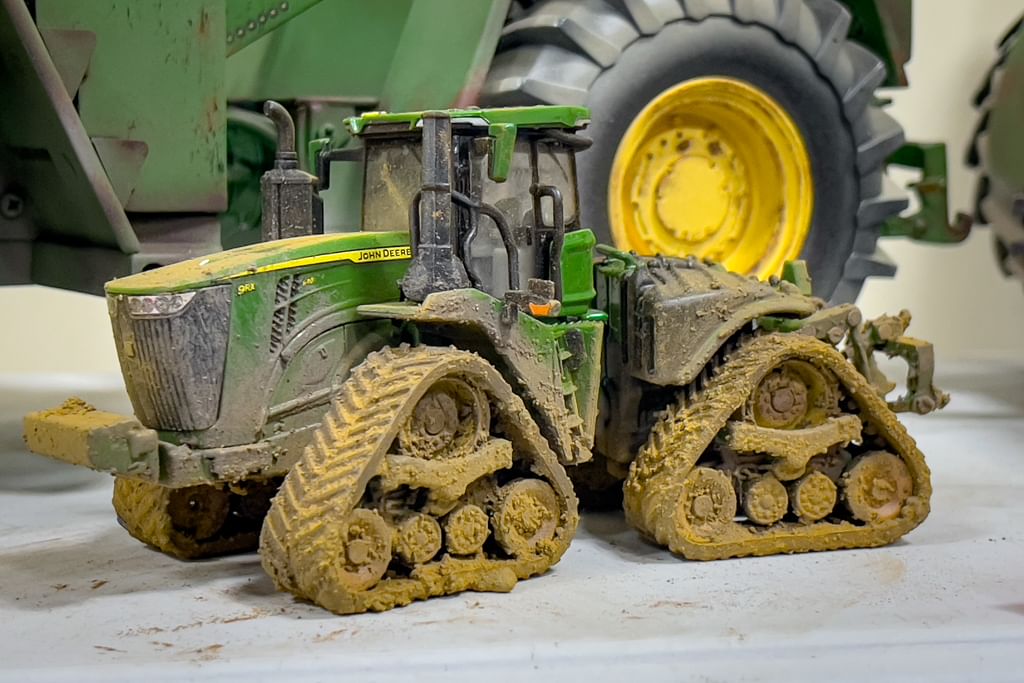 Lastly, what if you could carpet farm…for real?
Boundri: When carpet farming gets "real"…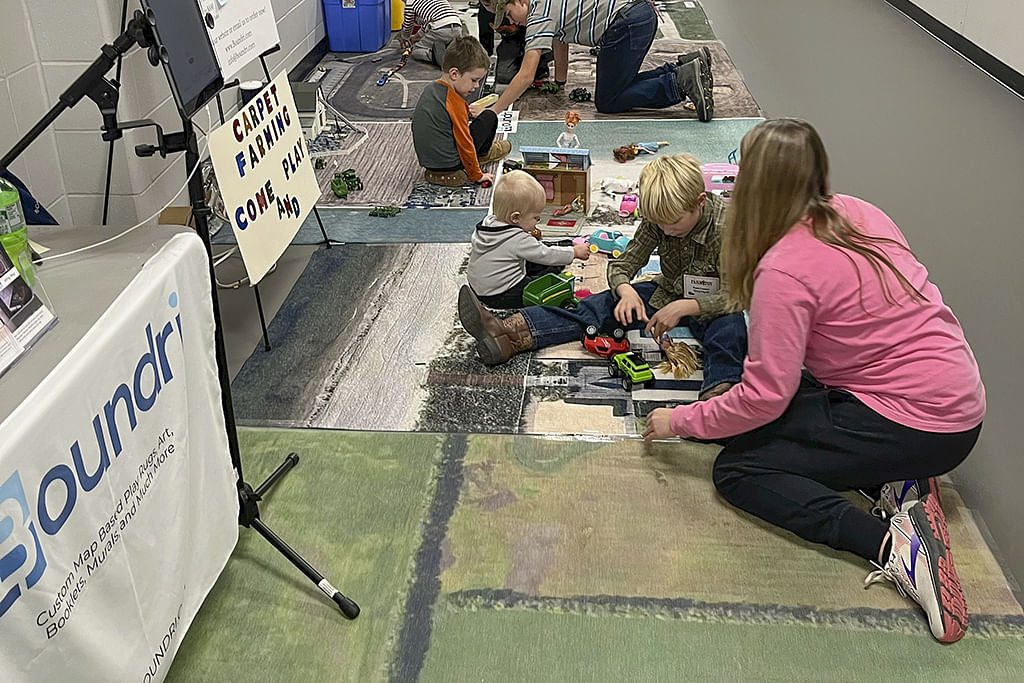 OK, it's come to my attention that some of you don't have the foggiest idea what I mean when I say "carpet farming" so let's explain that using the best possible visual aid on the planet. In the photo above, we have a few indoor/outdoor carpets laid out on the floor. Kids are "farming" on them with toy tractors (and in this case, some monster trucks too). Hence, the term "carpet farming…"
However, those aren't your everyday average doormats.
Look closer.
Those are satellite images of real farms custom printed on those rugs!
I saw a tweet about this from a guy I follow on Twitter, and thought, "Wow, that's so cool! I should follow up on that and see what the deal is!" Annnnd then I promptly forgot about it. ADHD minds work like that sometimes.
At any rate, I saw this booth on my way out of the show, and had to stop and check it out for myself. That's where I met Nathan Faleide, the guy who started Boundri. He and I clicked right away, and it was pretty neat to hear him talk about how he'd come up with the idea, and how he'd gotten the company off the ground.
One of the coolest parts of this whole deal is that he's made the ordering process super-easy and accessible. I'll tell you right now that if you think you can't "do" tech, Nathan built this system for you. You can literally order one of his products in ten minutes. You don't have to find satellite imagery on Google maps and steal it (yes, that's copyright infringement and it is illegal) to have him make one of these carpet mats. It's all pretty much plug and play. Use the software to find the area you want to print on a carpet, answer a couple of questions, pay your money, and he'll handle the rest. It's pretty slick!
It's a neat product. I mean, how much cooler can carpet farming get than when it's on your family's land? Nathan told me that he anticipated seeing a bump in orders as we got closer to the holidays. He told me, "I'm not gonna lie, I've made more than one grandpa and grandma into the heroes of Christmas with those play rugs!" I can totally see that happening, too!
But wait…there's more!
Stuff you can't buy…
There's more to the National Farm Toy Show than just buying toys, though. There are several other important facets of the show that deserve a mention.
Dyersville is well-known for being the farm toy capital of the world. Ertl (now owned by Tomy), Spec Cast, and Scale Models are all headquartered there. Those companies play a very key role in the story of farm toys. One of Dyersville's main attractions is the National Farm Toy Museum. It's a two-story museum that's dedicated to celebrating the history of agriculture and farm toys. I mean, for $7 admission, you can literally learn how the toys you played with as a kid came to be, and see over 30,000 toys on display! It's a really neat place to visit. Furthermore, if you go to the museum during the National Farm Toy Show, it's free with your admission to the show!
The Farm Display Competition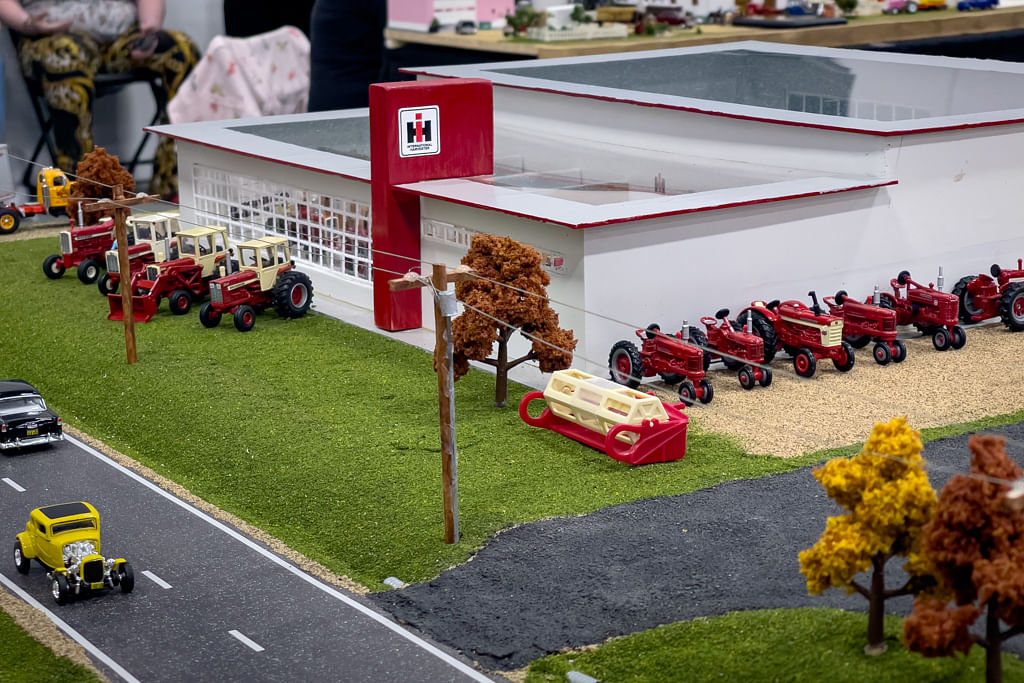 One area that I'd never paid much attention to in the past was the farm display competition, mainly because I was short on time. This year, though, I did. I was absolutely blown away by the level of detail in these things. There were categories for nearly every age group, and every entry was a work of art in its own way.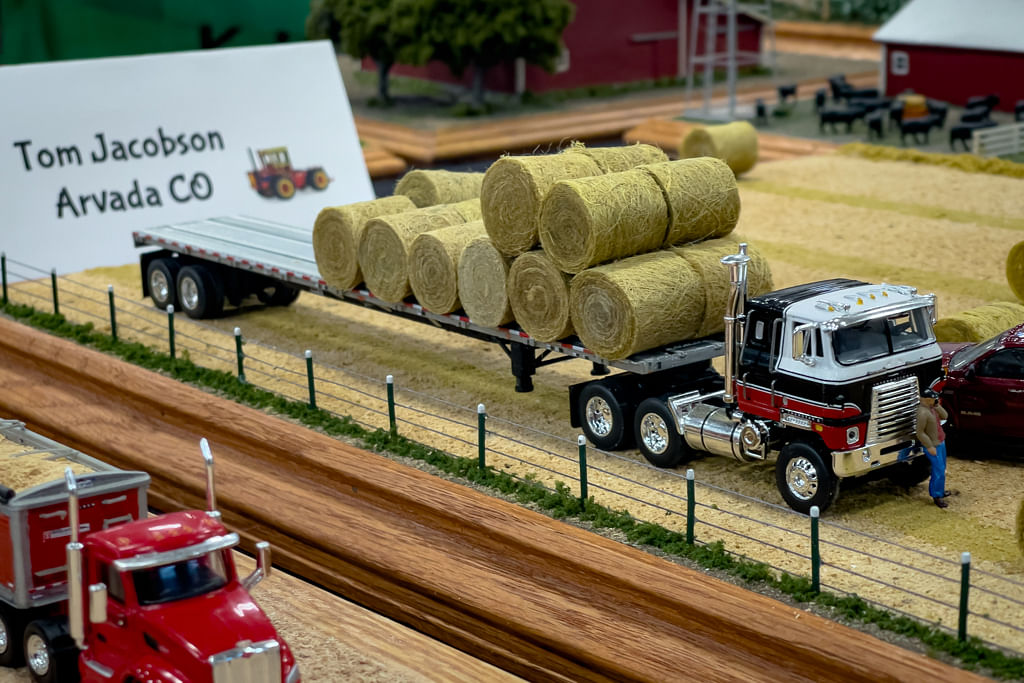 There were lots of displays that I'd have loved to have taken photos of, but when I was there, it was so busy that it would've been nearly impossible to take decent photos. I did, however, find one that really grabbed my attention. It was an 8×8 display built by Brandon Shireman, a fella from Martinsville, IN.
The Tornado Display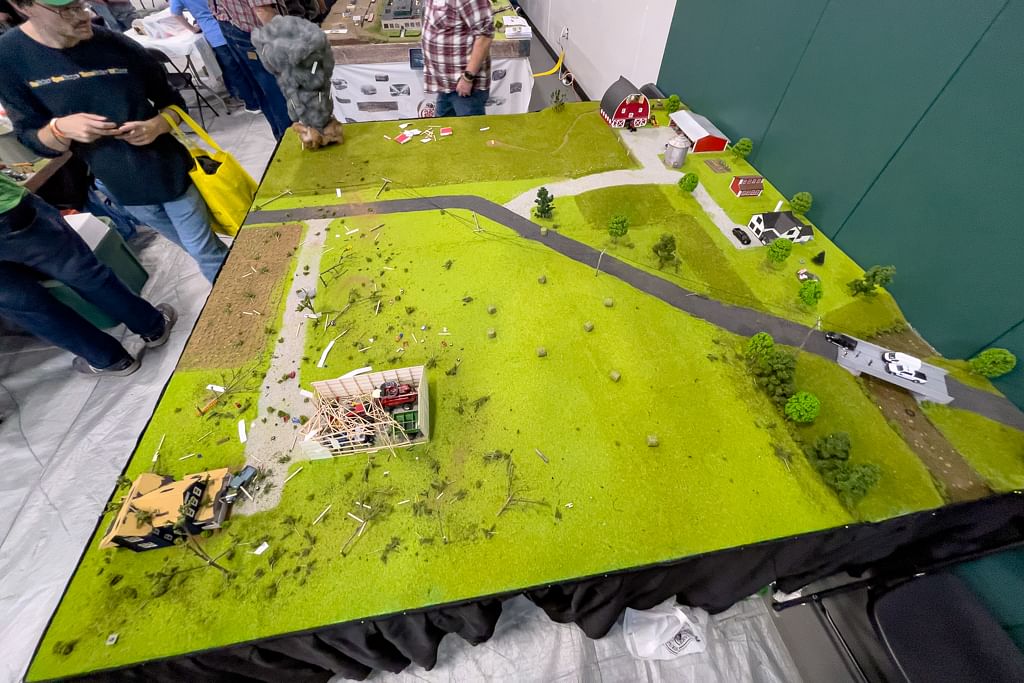 I chatted with Brandon for a few minutes while I was taking photos of the display. It was really wild to listen to him talk through his process when it came to designing this whole thing. Maybe it's because my mind doesn't always that way, but seeing the way he thought through all of the details was just incredible.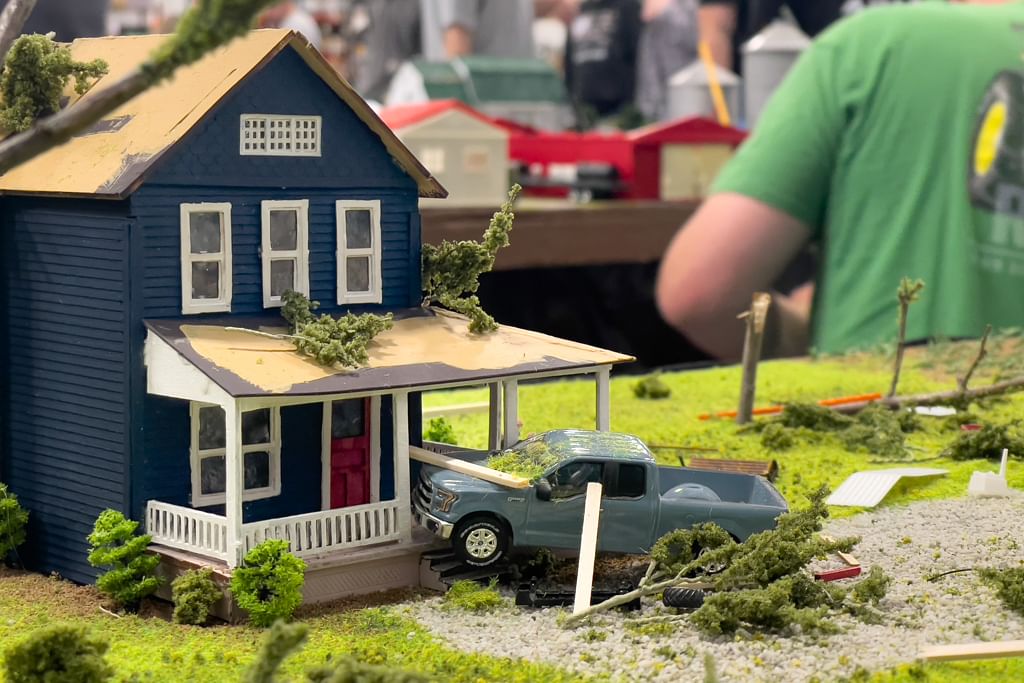 Everything had a place, too. It's not like it was all haphazardly arranged. This was thoughtfully mapped out, with no details left untouched. Even the direction that the trees snapped off coincided with the direction of the tornado's rotation!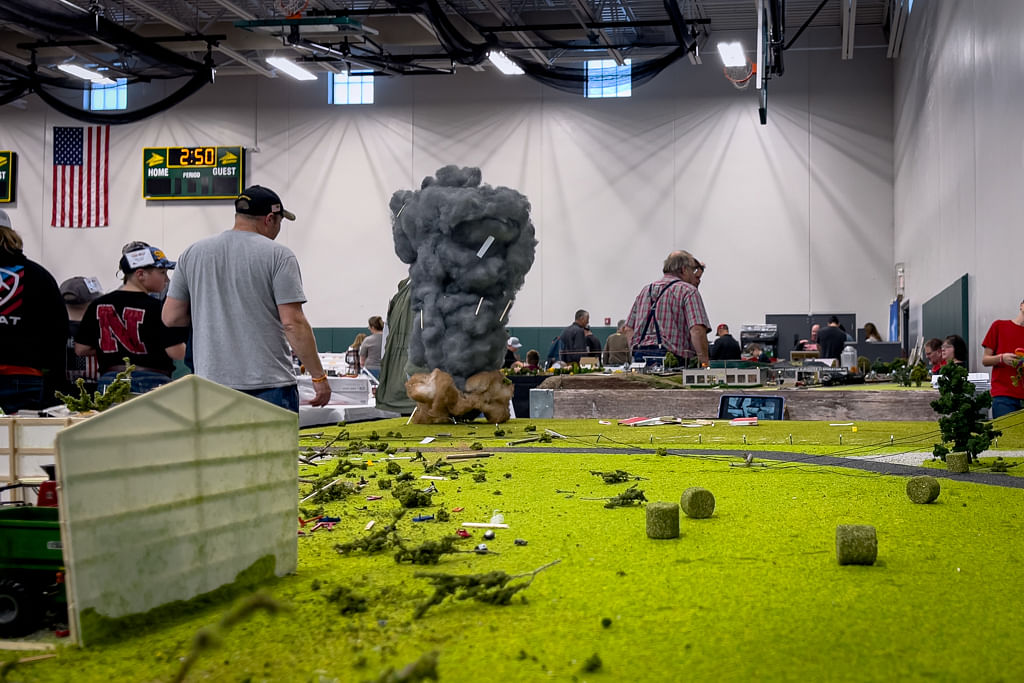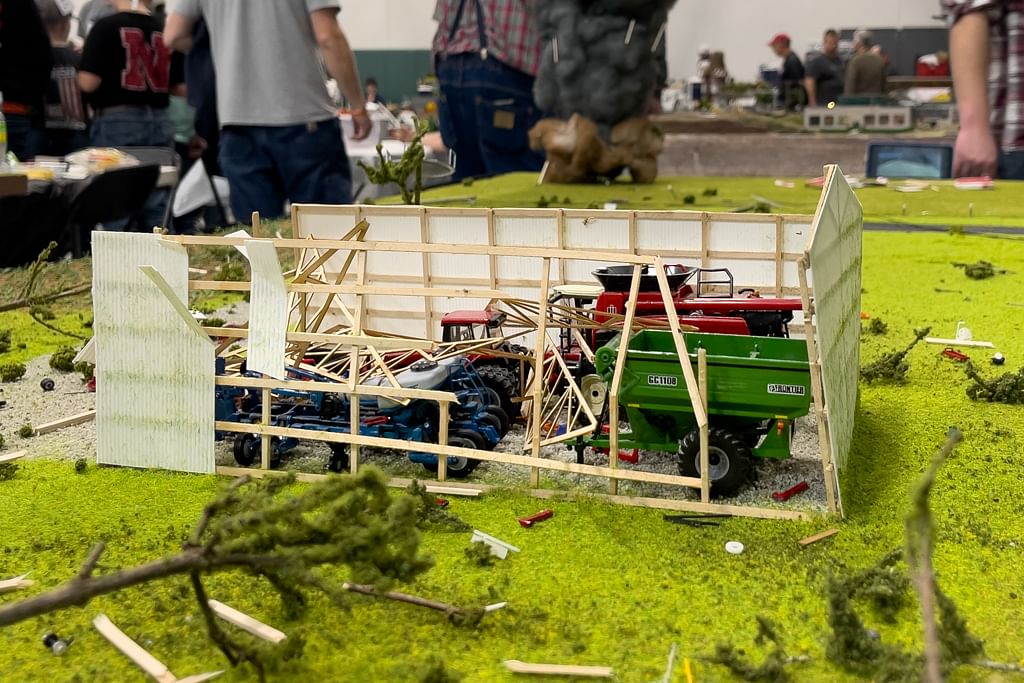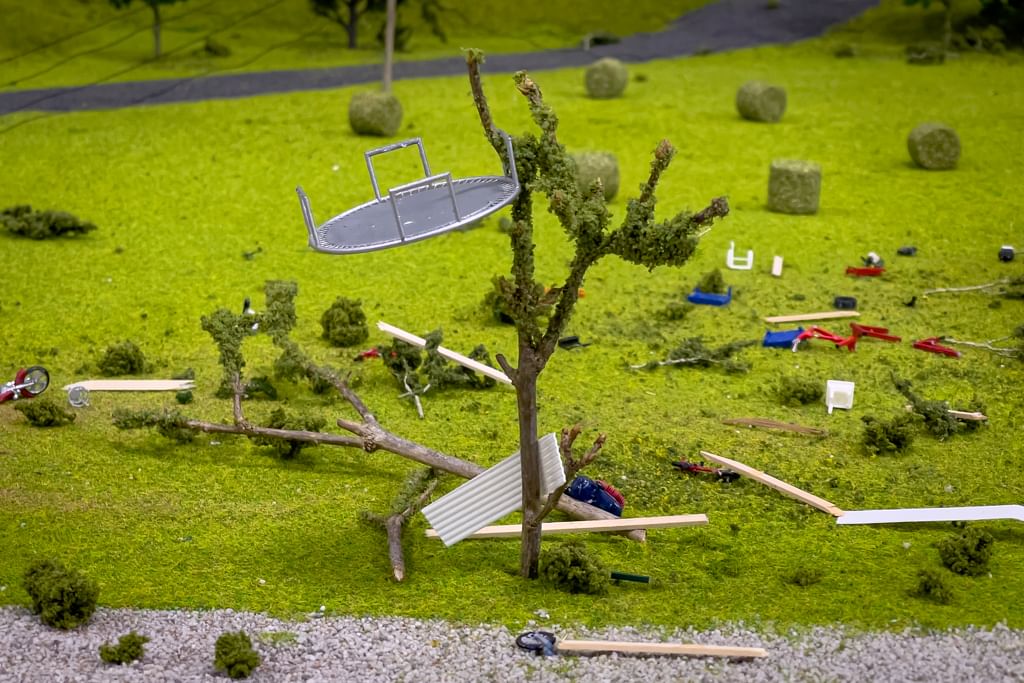 By far, the most mind-boggling thing about displays like this is the dedication it takes to tear these things down, prep them for transport, and then set them back up again! He told me it took him about 8 hours just to set it up after he'd unpacked it all!
I don't know about you, but I sure don't have that kind of dedication.
Wrapping up…
The city of Dyersville has really rallied around this event. Local groups have fundraiser breakfasts and lunches, the original Field of Dreams opens up so kids can run the bases if the weather cooperates, and there's even a free bus service to get you from one end of town to the other! The traffic can get a little busy, but residents are typically pretty patient. Overall it's a great way to spend some quality time with the family…which leads me to my last takeaway.
The family aspect of this event really stuck out to me this year. I'd always known that it was a popular event and a lot of people would be there. This year, though, what impressed me most is the number of families in attendance. I saw lots of multi-generational families there. Grandpa & Grandma, Mom & Dad, and the kids all there celebrating their family's ag heritage. I see that from time to time at other industry events, but I saw the family aspect in Dyersville more than just about any event I've been to in recent memory. I think that's really cool.
So what did I end up bringing home with me?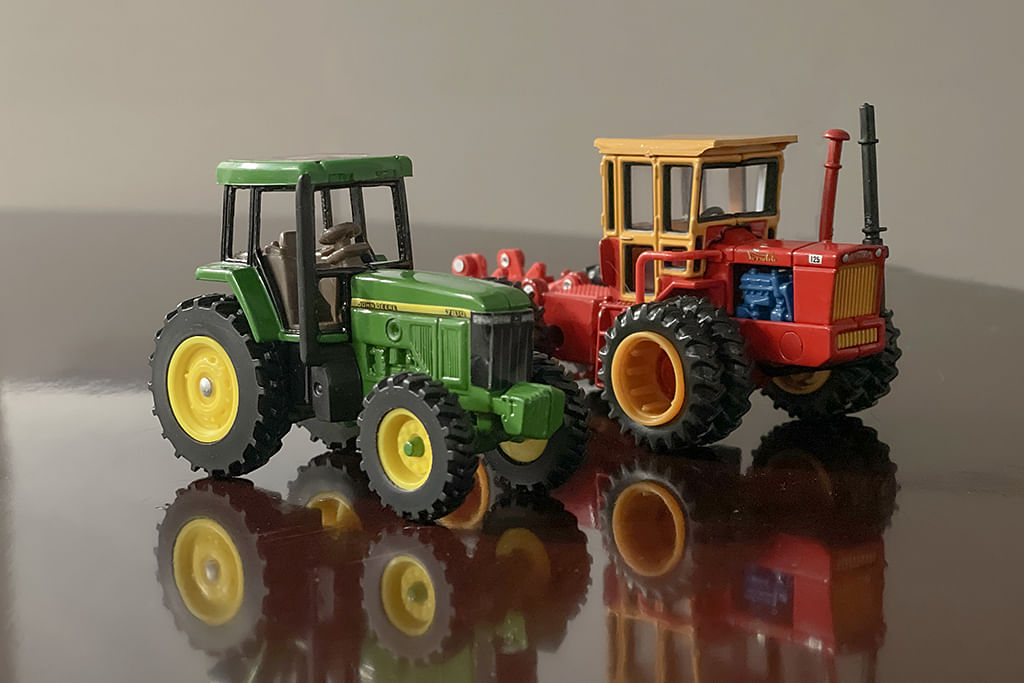 I didn't pick up as much as I have in years past, much to my wife's relief!
The 7810 was a John Deere company conference giveaway from 1998. I've always liked the 7000-series, and I wrote an article about those tractors earlier this summer. The Versatile 125 is another tractor that I wrote about a few years ago, and when I saw it in Gus's Farm Toys booth, I had to bring it home. Gus and I have been friends for years, and this is one of the few places where I get to catch up with him!
Other than those two tractors, all I came home with were new friends, some good catching-up conversations with some old ones, photos, and good memories! The one regret that I had was that I wasn't able to get over to see the pedal pull and the micro-mini pullers in action. There's only so many hours in a day, y'know?
The bottom line is this. If you have even the slightest interest in ag, you've got to get to this show. Hopefully I'll see you there next year!