Mar. 30, 2022 • Interesting Iron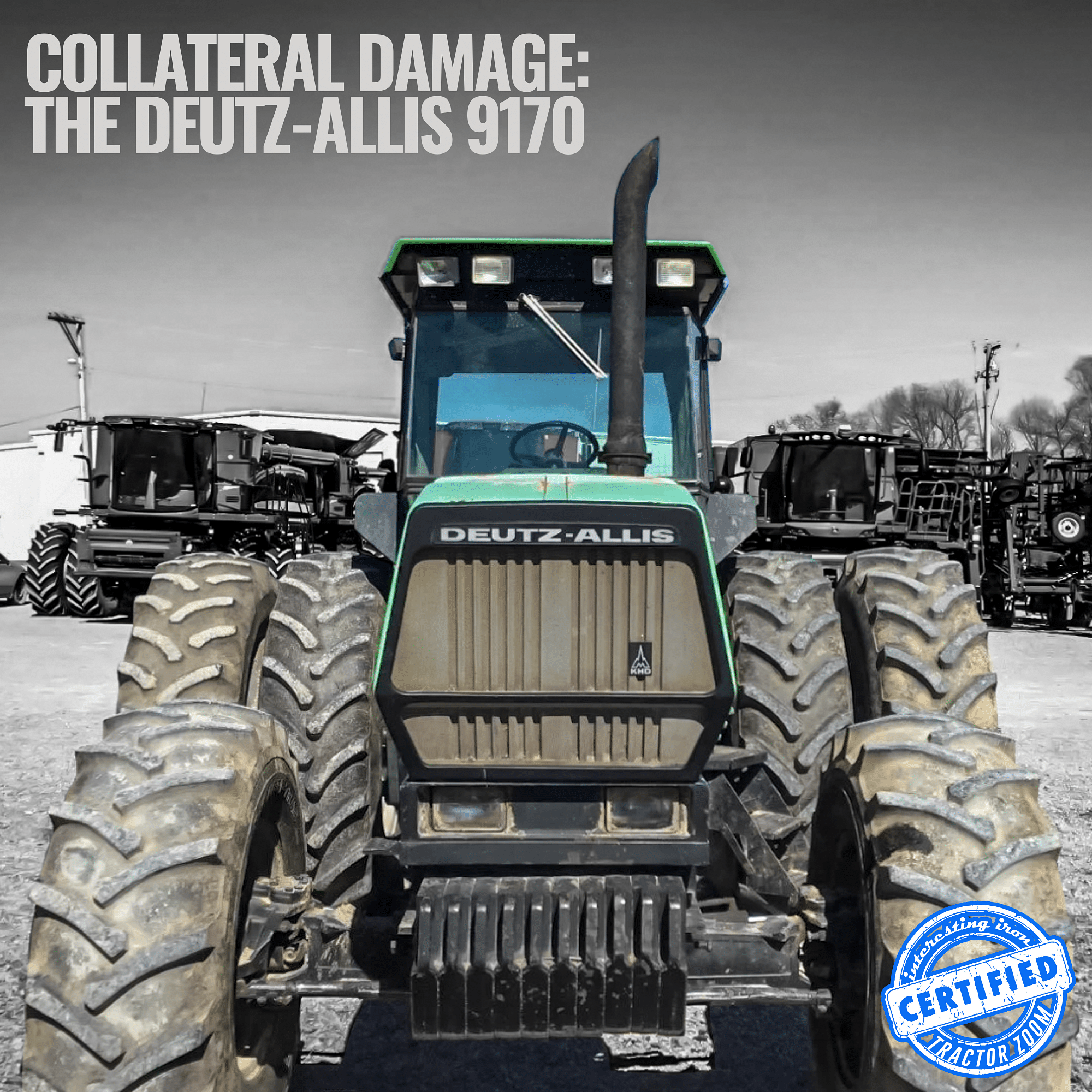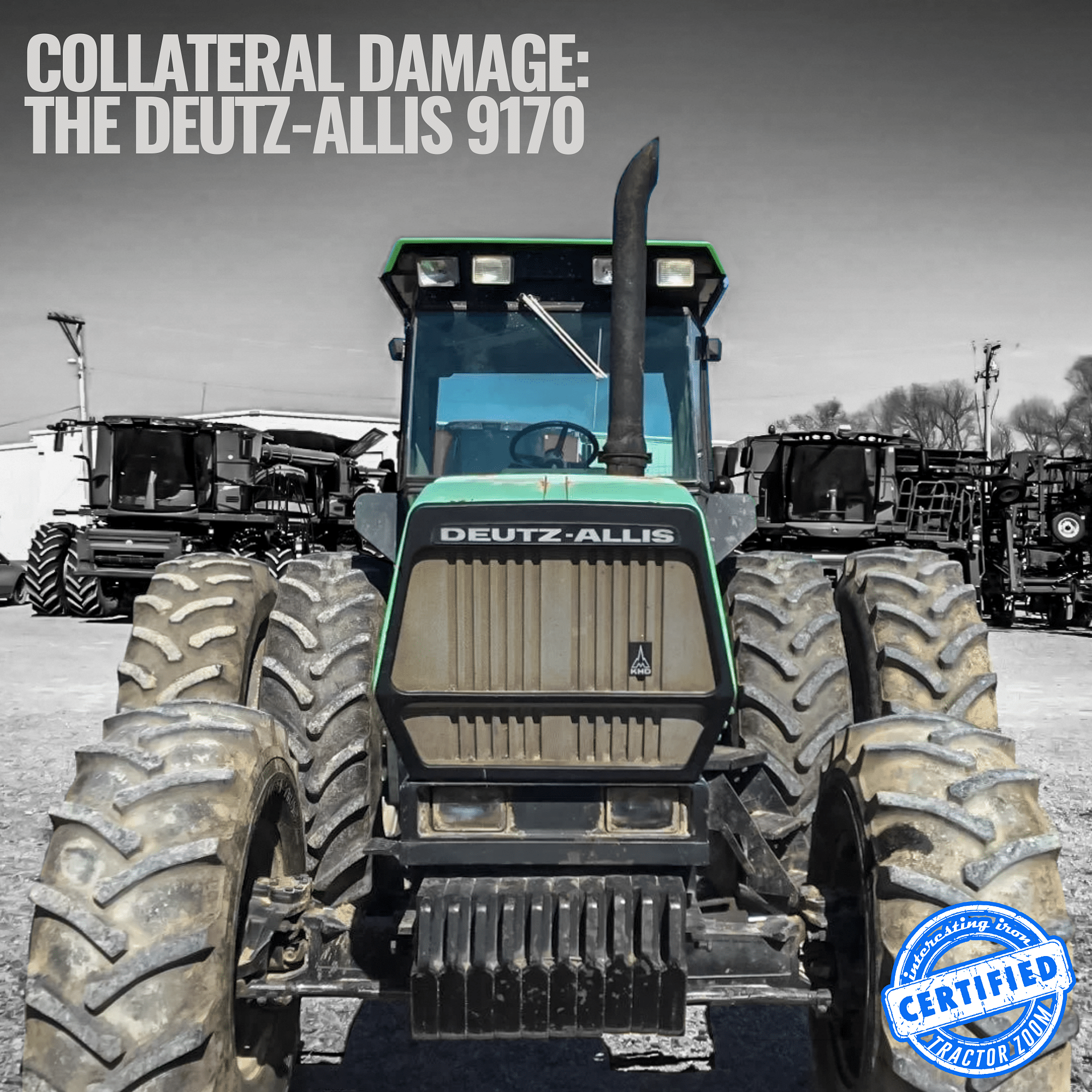 The Deutz-Allis 9170 is a good tractor. Maybe even a great tractor.
But man alive…if you show one to a random Allis guy, there's a decent chance that their head will explode. They'll yell at it a traitor because of its green paint. Kick dirt on it. It'll get awkward. At the end of the day, nobody will feel real great about it, and the 9170 gets the short end of the stick.
In my mind, the Deutz-Allis 9170 is a piece of late-80s collateral damage. We'll get to why in a minute.
First, let's get to the details and the dealer listing and all that good stuff before I forget.
Now, let's unpack this one. To do it right, we need to look at what was happening with Allis in the mid-80s.
Allis-Chalmers hits hard times…
The 70s and early 80s had been good to Allis-Chalmers. The 7000-series tractors sold well in the 70s, and the 8000-series were selling well in the early 80s. Behind closed doors, though, AC was in tough shape financially. By late 1984, they'd sold every non-farming piece of the company they could in order to keep the lights on. Sadly, though, it wasn't enough. In May of 1985, the ag division of Allis-Chalmers was sold to KHD (Klöckner-Humboldt-Deutz), and that was that. The new company, Deutz-Allis, kept the factory in West Allis, WI open just long enough to burn through all the parts. After that, though, all bets were off.
It was a sad end to the industrial giant. In its heyday, Allis-Chalmers had employed over 15,000 workers in the plant on South 70th St., and they turned out 200 tractors a day. By July of 1985, it was down to 300 workers building 17 tractors a day. On December 6, 1985 – the final day of production – there were only 120-some. The last two tractors built were a 6070 that sold somewhere in the Racine area, and an 8070 FWA that I'm pretty sure was shipped to somewhere in the middle east.
The Deutz era…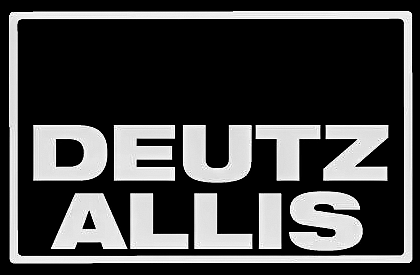 Under the German leadership, everything changed…and it changed fast.
Almost as soon as the ink was dry on the paperwork, Deutz instructed all remaining tractors to be re-branded. New decals, new hood emblems, the works. It could stay Allis orange, but the new decals were mandatory. Dealerships even had to change everything over effective immediately – a bitter pill to swallow for many of them.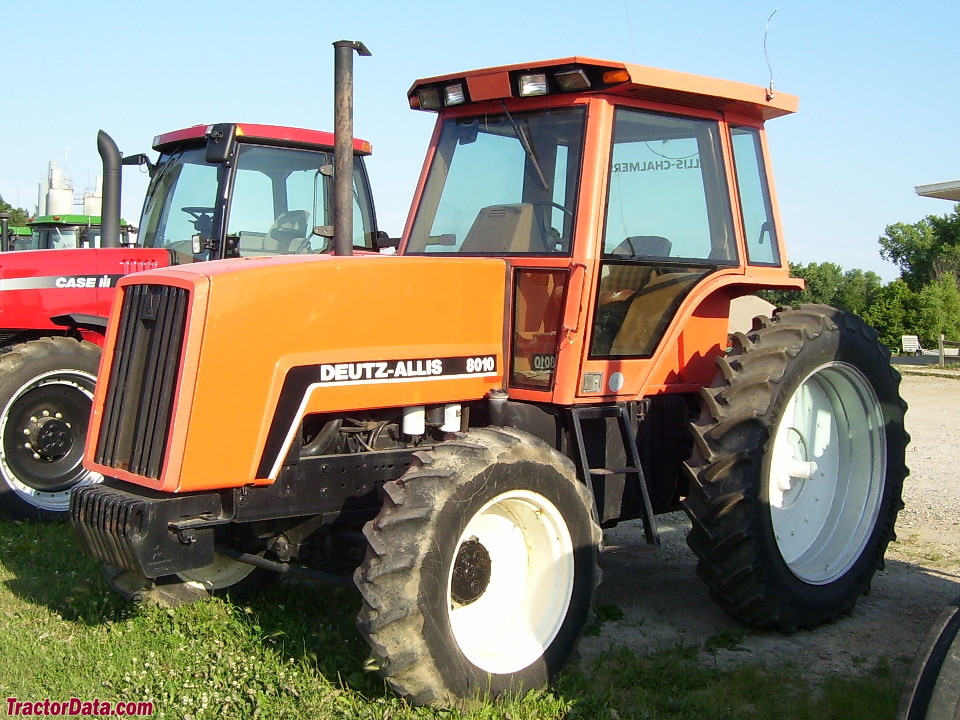 To me, it seems like there were really only two reasons Deutz wanted Allis-Chalmers: their dealer network (which was reasonably extensive at the time), and the 8000-series. They figured they had "big enough" tractors (i.e. the 7100-series) that they could compete with the big row-crop market and buy themselves enough time to spin up a German version of the 8000s that they could sell in the States.
Well, as it turned out, the 7100-series tractors weren't quite fit for the American farmer. They were good enough tractors, but they certainly weren't big enough to handle the breadbasket states. Furthermore, the European styling didn't sit well with test markets, and with an unfavorable exchange rate, they didn't sell well at all. (Occasionally a 7110 or 7120 will pop up on an auction on Tractor Zoom, but it's awfully rare.) 
To compound the problems, Deutz determined that the tooling and ramp-up costs would be too great to build an 8000 in Germany and then sell it back to the American farmer. The exchange rates were once again posing problems here, and farmers wouldn't have liked the price hike. (Furthermore, can you imagine a lime green 8070? And now that you're thinking about it, here's a very poorly Photoshopped version that I put together. Please hold your applause until the end…)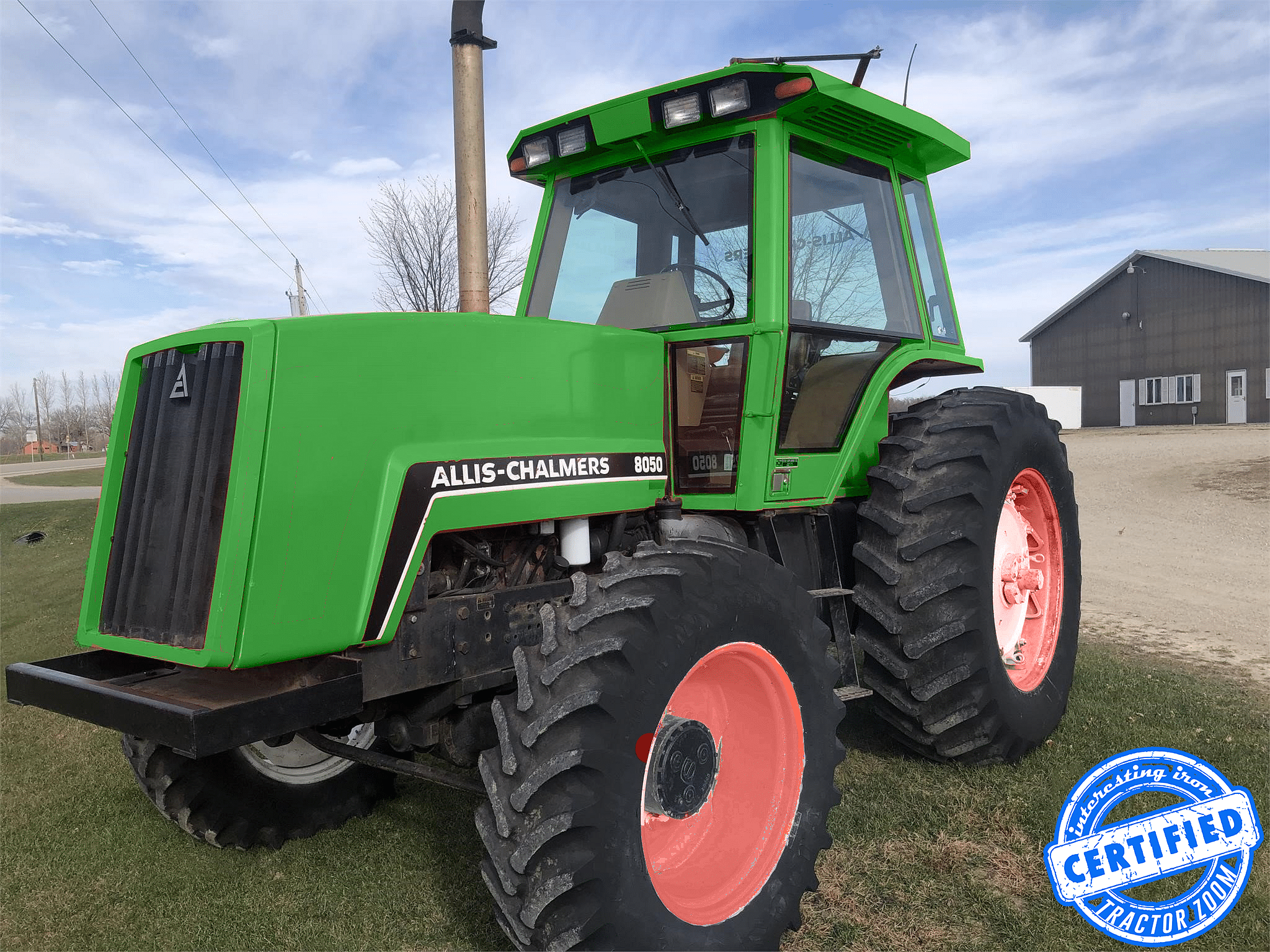 Welp…now what?
Without a big tractor competitor for the North American market, Deutz knew that it was wasting its investment. So, they went with Plan B – they improvised.
(This is the part where the Allis-Chalmers crowd starts to really lose their minds – and I completely understand why.)
Allis had a tractor design group located in Independence, MO where Gleaner combines were built, so the German office tasked them with spinning up a concept. Here's the thing, though; it didn't have ANY Allis parts to it. Nothing. It used air-cooled Deutz motors (374 cubic inches for the 9150, and 584 for the two bigger models) mated to a cab and driveline from the White Workhorse tractors – and it was painted Spring Green. Furthermore, to add insult to injury, the Deutz-Allis 9170 and its siblings were all built by White-New Idea in Coldwater, OH! Allis-Chalmers employees didn't even get to build their own tractor!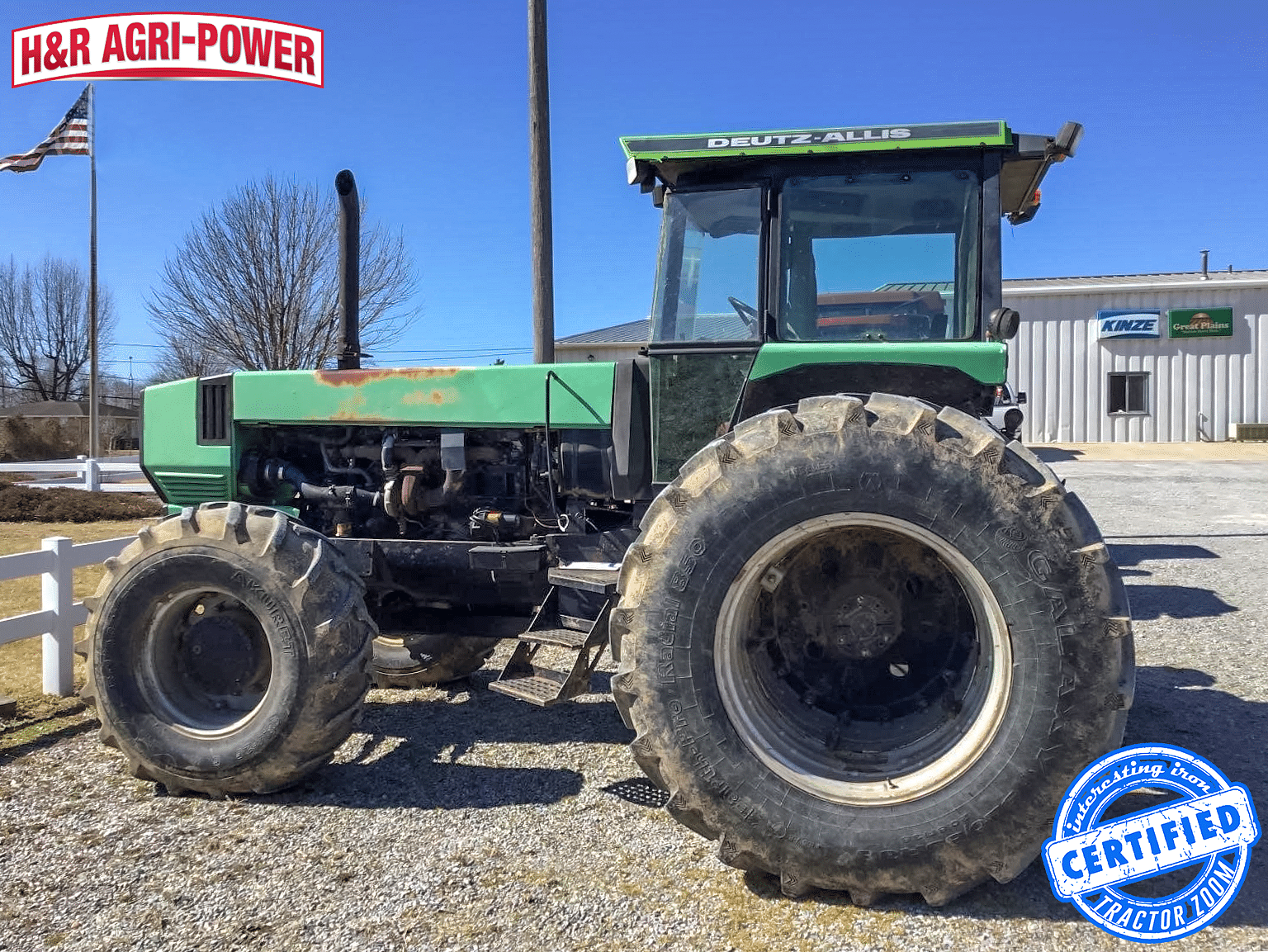 I mean, I can see why Deutz-Allis had the tractors built in Coldwater. White-New Idea was already building the Workhorse line of tractors there, and they had the tooling in place for it. From a dollars and cents perspective, it makes sense. Still, it rubbed a lot of Allis brand loyalists the wrong way, and I don't think the dealers liked it either. It just didn't seem right, y'know?
And the color drove 'em all nuts…
But in the end, Deutz-Allis got what it wanted; a big-horsepower tractor to sell to North American farmers. It didn't break any sales records, but at least they had something.
Stuck in the middle…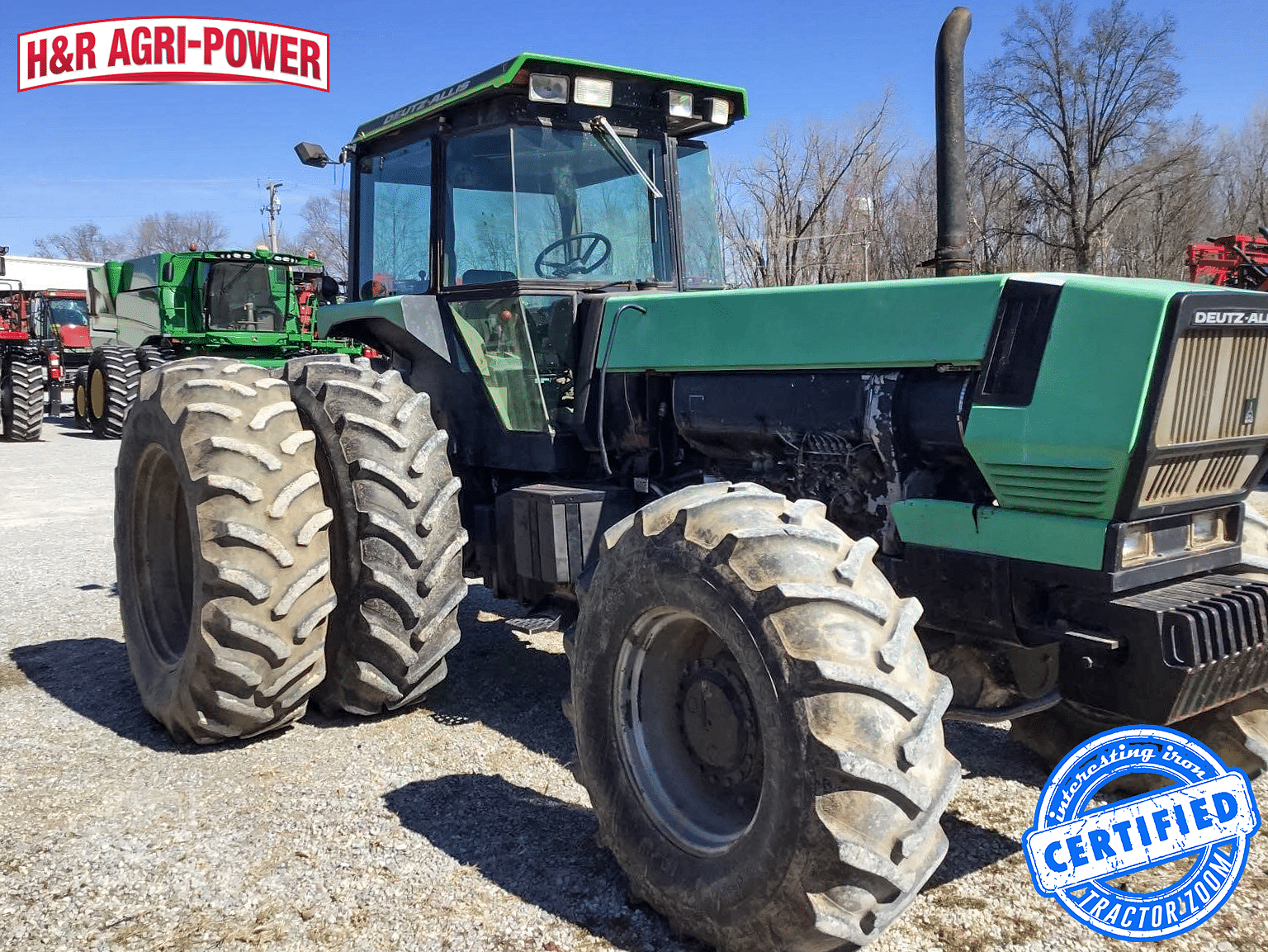 The Deutz-Allis 9170 was actually a very good tractor, but it was different enough that it rubbed people the wrong way. From a performance perspective, it worked well. The big-cube air-cooled Deutz was rated for 172 PTO horsepower (the Nebraska test resulted in a little over 173), but there are plenty of stories that suggest that it could punch a whole lot higher than its weight class. The air-cooled powerplant was a fair bit simpler in design, with a lot less hassle. No plugged radiators, and so long as you kept the cooling fins clear of debris, the tractor could go all day without overheating! They made power at a little higher in the RPM range, and that took a little getting used to, but it didn't take long.
The transmission was a similar story – it took some getting used to. It was essentially an 18-speed partial powershift, but being that it was derived from the old Oliver over/under transmission, it had a one-way clutch on the low side, so it would freewheel downhill. In the age of full powershift transmissions, it seems like this was a step backward. There again, though, I think it was an economy decision, honestly. It was cheaper to build them with White-New Idea's off the shelf package than it would've been to integrate the 20-speed PowerDirector from the 8070.
Creature comforts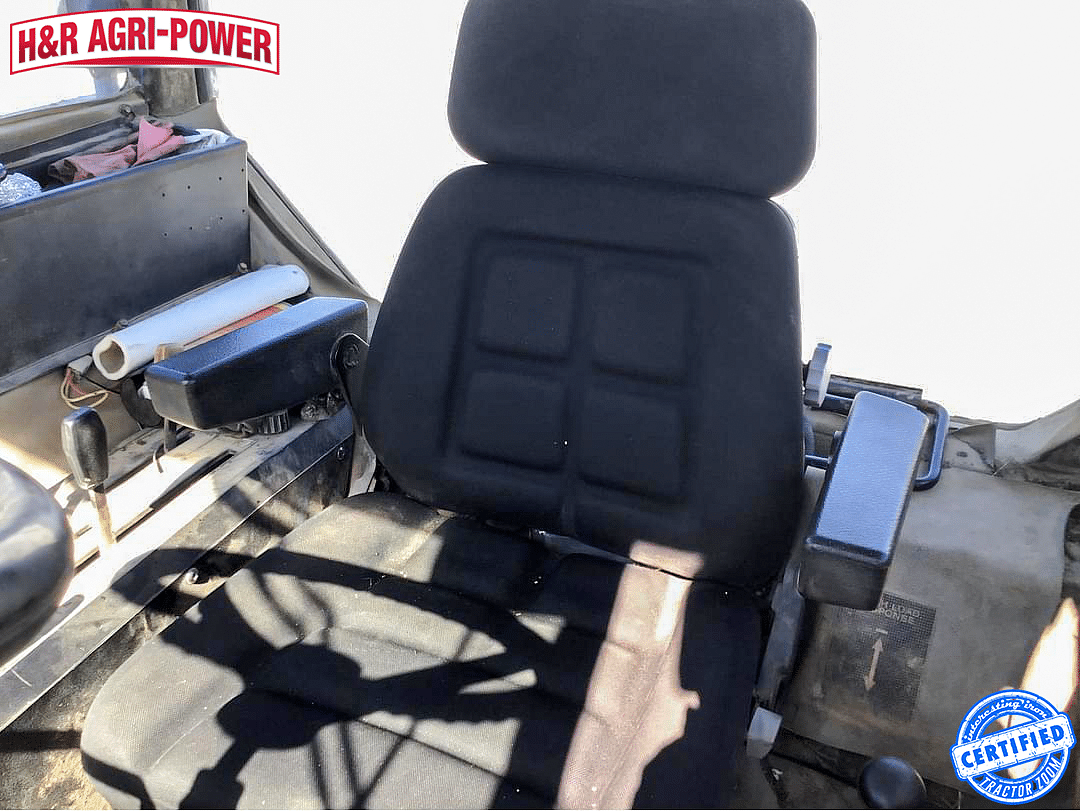 From an operator's perspective, the 9100-series was pretty good. It was a big-frame tractor with a fairly long wheelbase (about the length of a boxcar Magnum or a 4955), so it rode very well. It took some room to turn 'em around, so this wasn't the perfect tractor for tight spaces, but it was well-suited for the open fields of the Midwest. The cab was roomy, and being that it was based on the Series 3 White cabs, it was very quiet as well.
So why didn't they sell?
Like I've been saying all along, none of this was sitting well with the Allis-Chalmers crowd – dealers or customers. The company that they'd grown to love had seemingly been swallowed up by some European company they didn't like. They'd changed everything.
So, when the Deutz-Allis 9170 came out bearing Allis in the name, but not looking like an 8000-series and not having any Allis parts in it…and no orange paint?
Nope…that's not gonna fly.
The tractors did sell, but definitely not to Deutz-Allis's expectations.
A Phoenix rises from the ashes…sort of.
The German people are known for their pursuit of efficiency, and from a corporate perspective, they're not afraid to fail. Such was the case with Deutz-Allis. They bought AC in 1985, and by 1989 after suffering through the worst of the farm economy and not making strides, they were ready to pull out of the US market. With the way that they'd implemented changes over the years, Deutz-Allis had lost the loyalty of the Allis faithful, and they weren't going to get it back. Furthermore, when the Berlin Wall came crashing down in 1989, new markets in emerged very rapidly, and Deutz knew it. They were comfortable (and proficient) in making smaller tractors that fit the European style of farming. This accelerated their desire to wash their hands of it all.
This presented an opportunity for Deutz-Allis's US management team, led by Bob Ratliff. Five of the management group agreed to purchase the US assets from Deutz and form a new company. In June of 1990, AGCO was born.
The first orders of business?
Get rid of the Deutz logo and introduce a new take on the familiar AC triangle.
Make orange great again…starting with the 9100-series. No more Deutz-Allis 9170 that looked like a giant green Skittle. Almost immediately, they resprayed the existing tractors orange!
And there was much rejoicing in the land!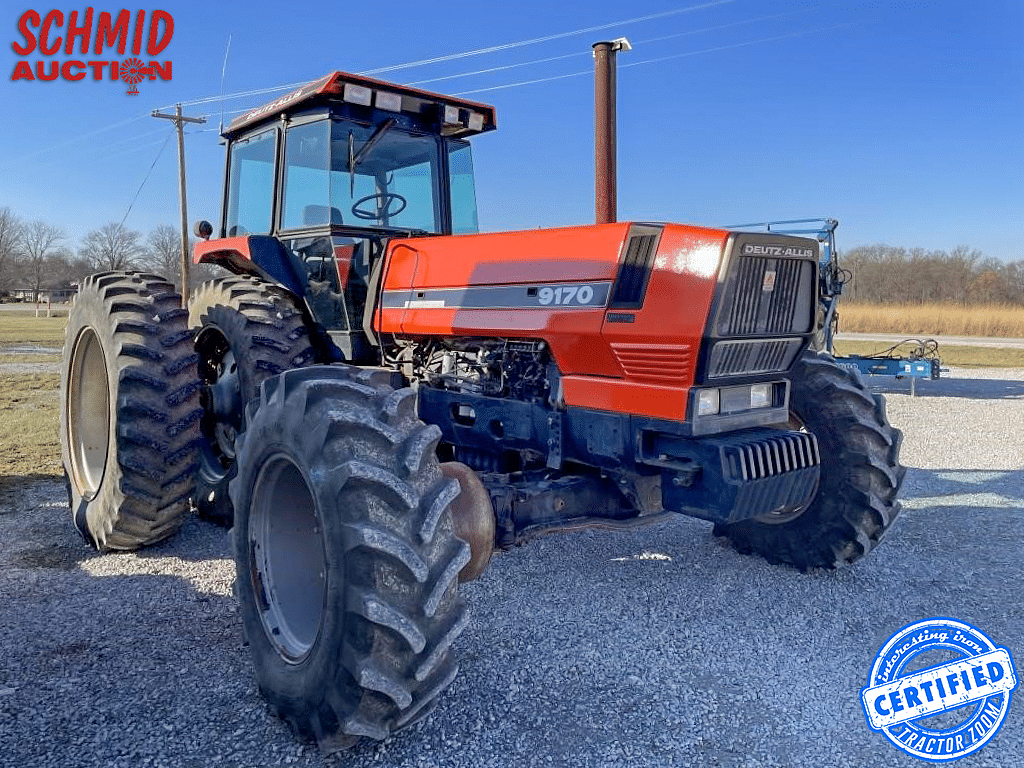 The Deutz-Allis 9170 on H&R Agri-Power's lot…
This particular tractor might look a little worse for wear, but I can tell you that underneath, it's a solid machine. I know this because I talked to Shane McNeil, the guy who took it in on trade a few months ago. He told me that the farmer who traded it in was the third owner, and that he was pretty meticulous in making sure it ran right. He'd owned it for nearly twelve years, too, so it wasn't a flip. Apparently the guy farms with a bunch of these tractors, and this one was the only one in his fleet that wasn't orange! (See what I mean about the lime green paint?)
Shane also told me that a few weeks ago, a potential buyer called him up and schooled him on the way these Deutz air-cooled engines work! H&R Agri-Power is a big Case IH, and he readily admitted that he wasn't an expert on oddball setups like this one. While the farmer had him on the phone, he had Shane run through a laundry list of stuff – checking the fins for dirt and debris (there wasn't any except for near the last fin where there's an oil fitting that's known to weep a little bit – it's an easy fix), start and drive, etc. Shane said that it got that farmer's seal of approval, so I know there's at least one interested buyer out there.
Cosmetically, it could use some help, and also a thorough cleaning. It's missing a couple of side panels, but other than that, it's in pretty good shape! At some point, it'll need new front rubber, but they're serviceable for now.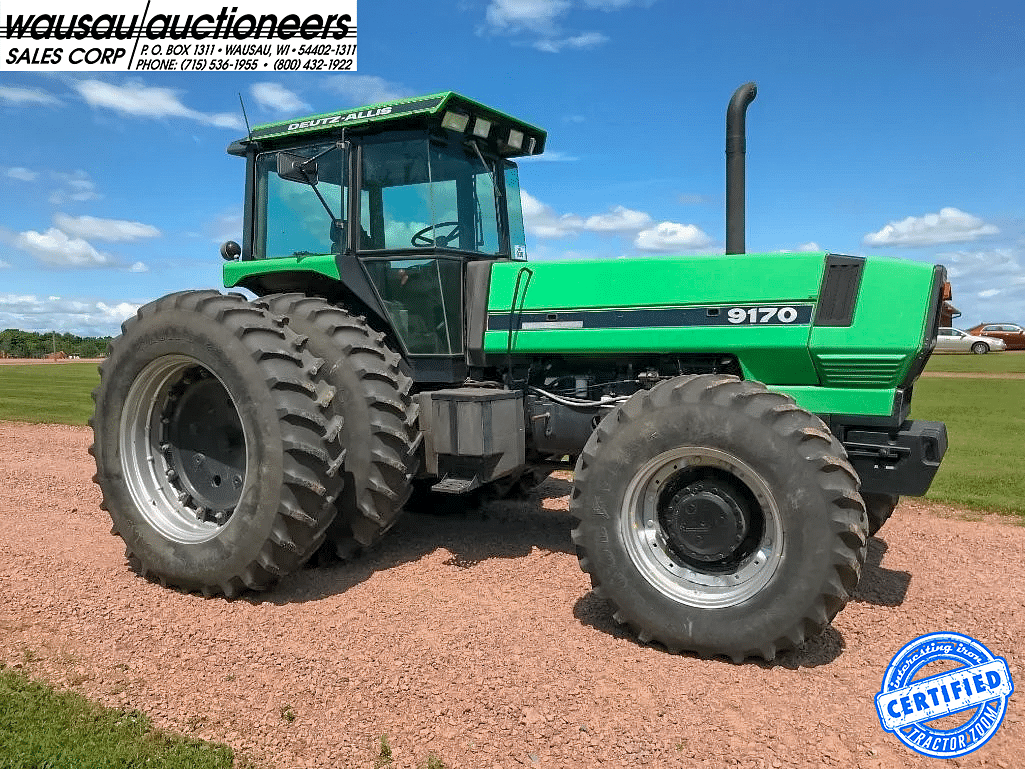 Wrapping up…
The Deutz-Allis 9170 is one of those tractors that got a bum rap that it didn't deserve. I feel like it's a victim of circumstance…collateral damage, if you will. Deutz-Allis made mistakes in handling the AC buyout, but this tractor wasn't one of 'em. Sadly, the green paint and the Deutz emblem on the hood will, for many AC fans, always remind them of when they felt like a German bully kicked them when they were down.
On the plus side, though, it also means that you can usually find these tractors for a bargain. If you don't care about paint color and you're on a budget, these are definitely worth considering. I checked with Garrett Davidson of Osceola Implement in Osceola, NE, and he told me that most of the common parts are still in the AGCO system and can be sourced fairly easily. You might end up using aftermarket stuff for a few parts (ring gears and axle housings, specifically), but most of the common stuff is readily available.
The 9100-series tractors is one of those deals where Plan B actually works, and it's a bummer that they don't get more love!