Sep. 15, 2021 • 4WD

Let's talk cheap horsepower and survivors. We'll get to the temper tantrums later…
Before we get to this week's Interesting Iron…
We've got big news here at Tractor Zoom! We've expanded our industry-leading platform for real-time auction listings by adding equipment dealer listings as well! We're providing farmers a more complete inventory of equipment available on the market than ever before!
One of the biggest frustrations that farmers have is needing to go multiple places to find the equipment that they're looking for. We live in a mobile world now, and farmers expect this information to be easy to find and readily available, too. In a recent survey in collaboration with Successful Farming, 91% of farmers told us they would start the search/shopping process online for their next piece of equipment.
So, we decided to solve it. Check out the new Tractor Zoom! Faster than ever before, so you can find the right equipment RIGHT NOW!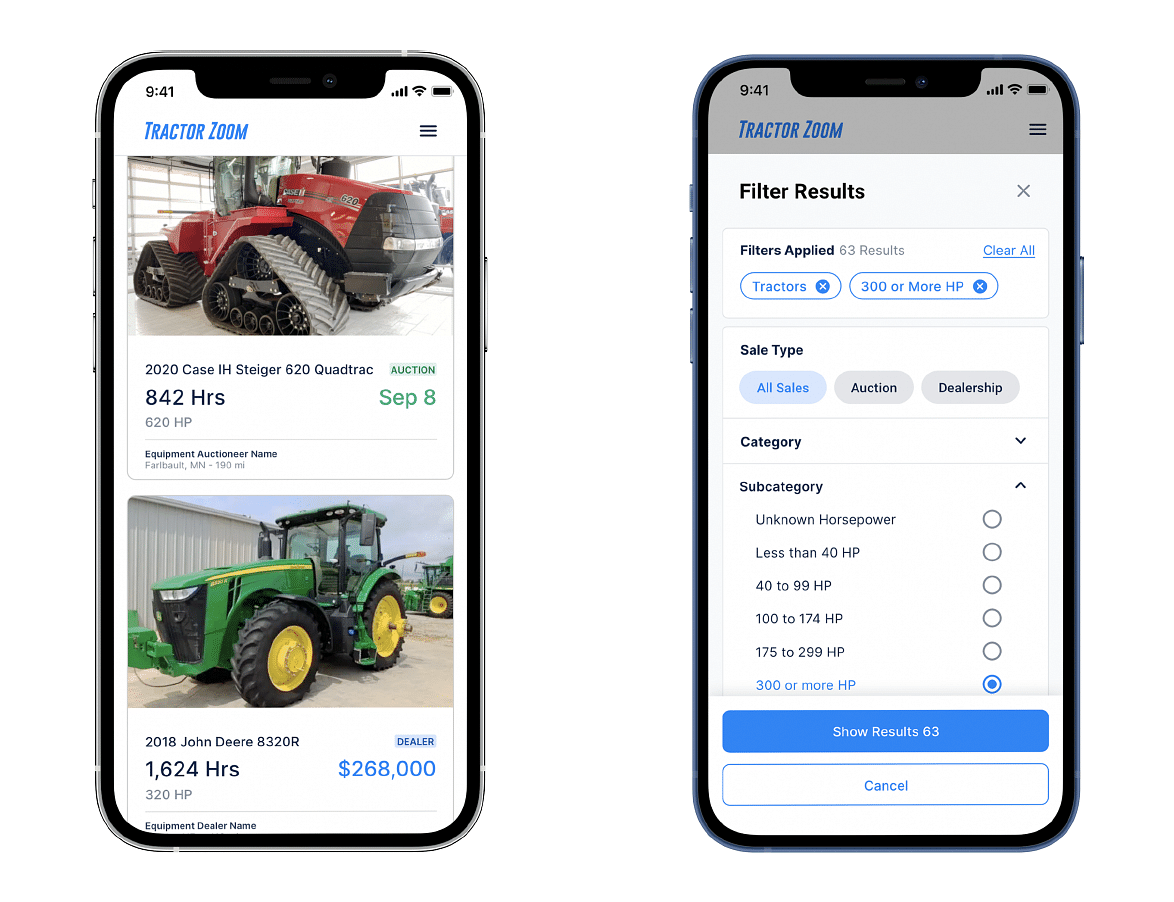 If you're an equipment dealer, and you want YOUR equipment advertised on Tractor Zoom, click here and let's get you set up with free basic advertising today!
Okay, now let's talk Interesting Iron. We'll kick it off with cheap horsepower!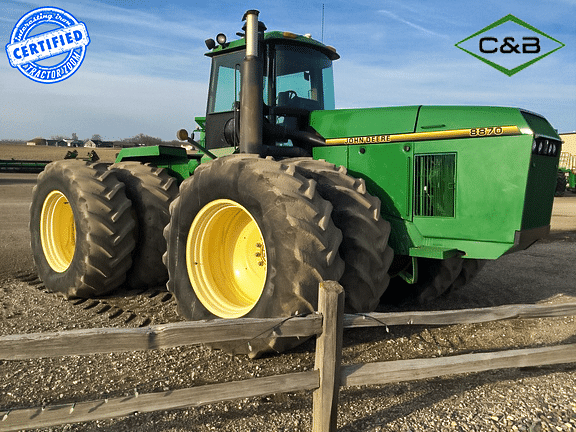 It seems like there's two schools of thought regarding the idea of big, articulated tractors for field work. Farmers either buy the new stuff, or they look for cheap horsepower. It doesn't need to be new or luxurious, it just needs to work. Listed at just over $46K (this one isn't on an auction), this 1996 John Deere 8870 definitely fits the bill!
Technically, this was the very last new SoundGard tractor that Deere ever introduced. The 70-series was the final evolution of the tractor, and the 8870 was the last "all new" model in the line. In the 60-series, there was a notable power gap between the 8760 and the 8960 (300 horse for the 8760, 370 for the 8960). When the 70-series tractors were released in 1993, Deere saw a market for a 350 horse tractor in between the 8770 and 8970, so they built the 8870 to split the difference.
The 70-series tractors were designed for long hours in the field. Deere somehow found a way to shoehorn more sound deadening insulation into the big, roomy cab. This resulted in the quietest SoundGard cabs ever – the 87- and 8870 tested at 73.5 dB! Furthermore, there was a ton of onboard storage  for tools, lunch, and all the stuff that normally ends up bumping around the cab. Lastly, the 70-series came with a fully adjustable air ride seat, making life more comfortable (as well as fighting fatigue).
Under the hood, the 8870 made good use of the 619ci big block, generating nearly 336 horse on the PTO, and over 280 at the drawbar. Coupled with a long 134″ wheelbase and an operating weight of over 35,000 pounds, this was a pretty stout tractor!
The 8870 you can buy today…
I talked to Wade at C&B Operations' Lake Park, IA location for a few minutes this morning to find out a few more details on the tractor. He told me that the tractor is actually a customer consignment. The customer upgraded equipment this summer and doesn't need this one anymore. It was originally sold at Evergreen Equipment in Thief River Falls, MN, and is now on its third owner with 8739 hours.
It was most recently used in the fall of '20 with a disc for some fall tillage, and again with a field cultivator in the spring of '21. According to the owner, it's a very sound tractor. Interior is pretty clean, given the age. The deluxe air ride seat is clean; no rips, tears, or stains. The headliner is starting to get loose in a couple of places. It's also Autotrac-ready; just needs a receiver!
Overall, these big tractors are pretty reliable. Hydraulic pumps can fail once in a while (usually between 6-7K hours), and I've heard that the air to air aftercooler will crack where the tank is welded to the core. In the event you're reaching out to C&B on this one, you might ask about those two potential trouble spots. Otherwise, so long as they're not beaten like a red-headed stepchild, they're typically very durable!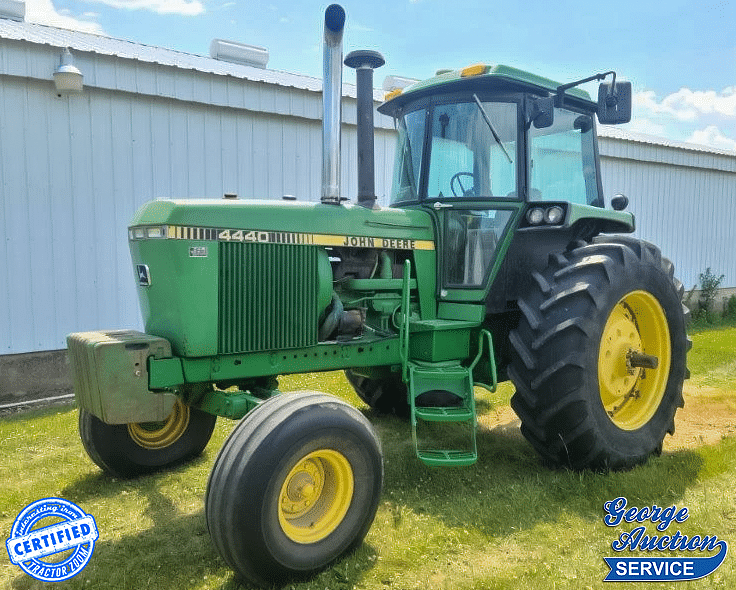 Y'know, I thought for sure that I'd written about a 4440 before, but I just went back through the blog, and amazingly enough, I haven't. Suffice it to say that the 4440 was an icon, and they're prized as working tractors as well as collector's items these days.
They've got a special spot in our hearts here at Tractor Zoom, too. We bought one from Jeff & Amy, owners of Slabtown Tractor Repair in Lancaster, WI in January 2020 and gave it away in a contest that ended in May. The tractor ended up on a small farm just northwest of Nashville where it'll probably enjoy a pretty easy retirement running a baler! While we had it, though, we did have some fun with it. Here's a couple of photos from one of the days when we took her out to stretch her legs a little. (You can find a full album of photos of the Giveaway 4440 on Tractor Zoom's Facebook page!)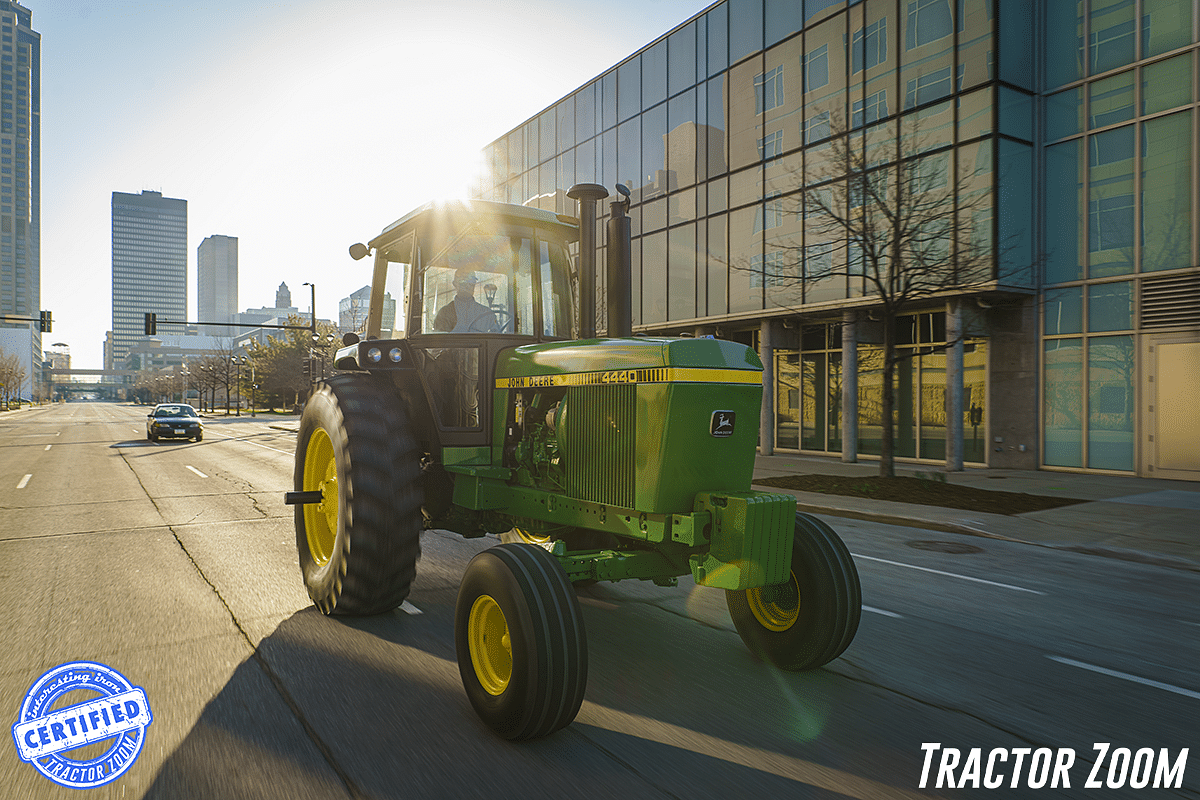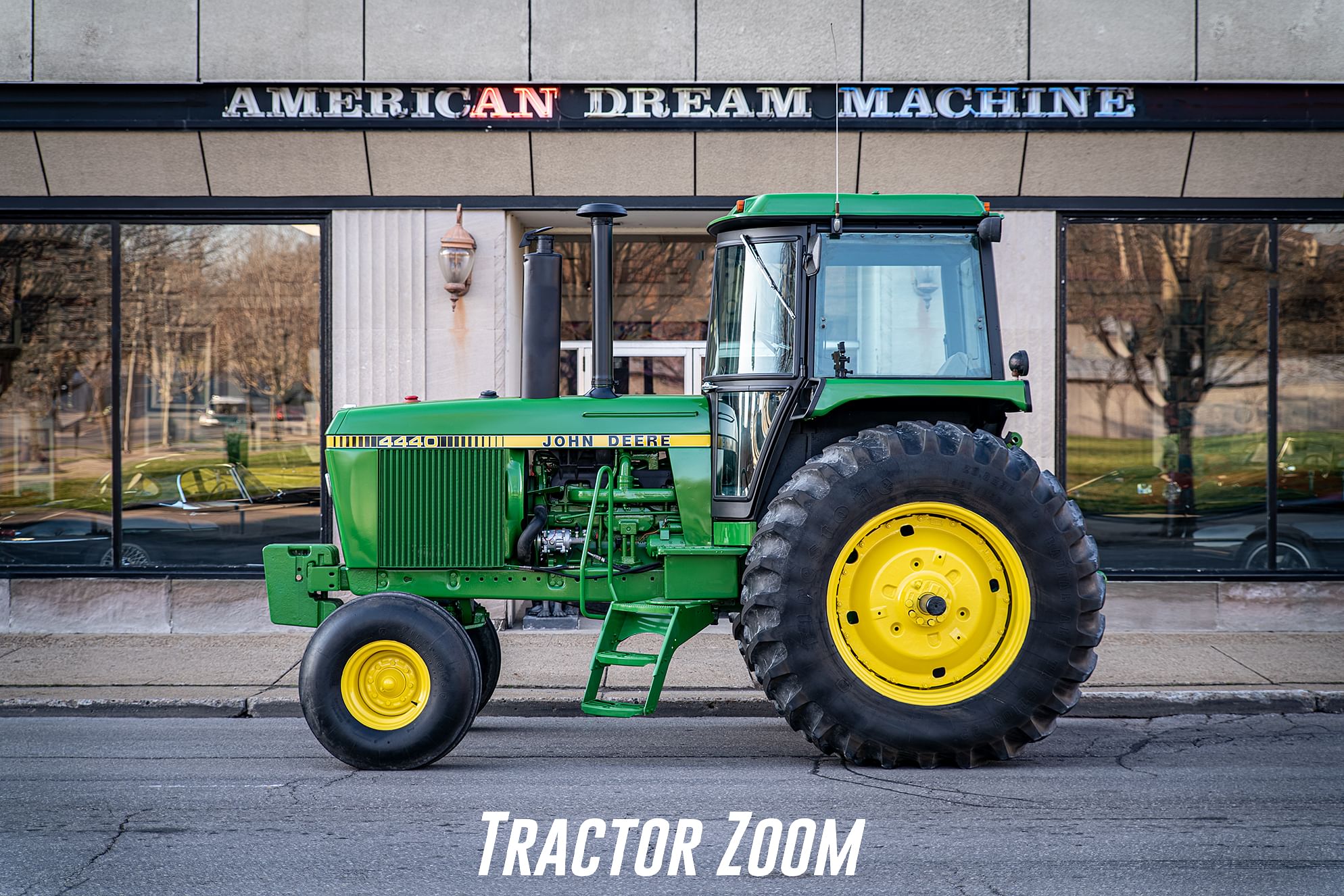 The one you can buy on Saturday…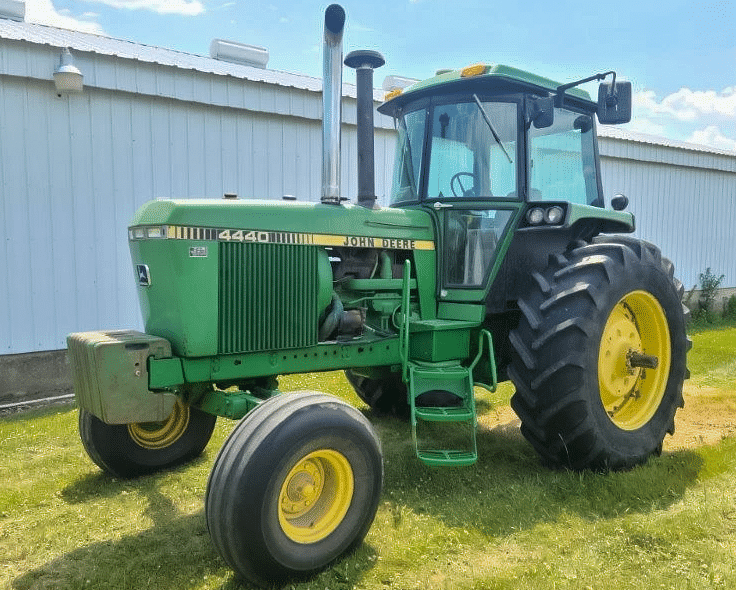 Our friends at George Auction Service are selling this 4440 at an onsite auction in Cottage Grove, WI this Saturday, September 18, 2021. Lamoine & Elaine Haefer have decided to retire after a successful 42 years on their 400 acre farm. The sale will begin at 10AM Central. When I talked to Dean George about this tractor this morning, he told me that they'd be running two rings at the sale to keep things moving a little faster.
Lamoine purchased his 4440 brand new back in 1981, and it was his pride and joy! It's been very well kept, and it's only got 4936 original hours on it! Dean also told me that the kids had come back to the farm last weekend and detailed the tractor, and he said it looks just great!
It's getting harder and harder to find these low-houred hidden gems in the wild, but they're out there if you know where to look! This is probably one of the lowest-houred one-owner 4440s we've seen go across the auction block in the past several years, so I won't be terribly surprised if it brings pretty solid money. $35-40K isn't out of the question for this tractor.
One thing to note – this is an onsite-only auction. If you're interested, you'd best plan on a road trip this weekend. Take a friend or two and make a weekend of it; the weather looks great for Saturday!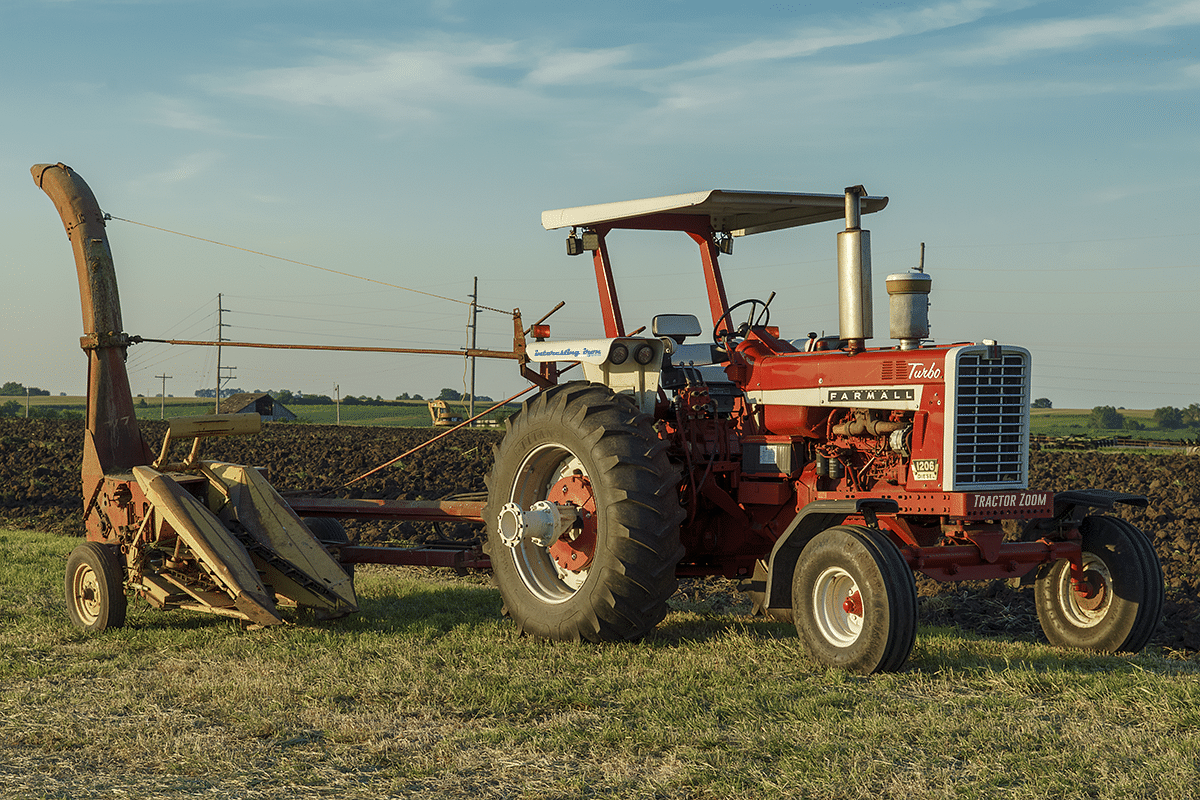 Temper tantrums, YouTube videos, and American icons…
There was an auction at the Farm Progress Show a week or two ago, and there was a pretty 1206 that went across the block. When the hammer fell, a young man from Tennessee paid his $22,000 and loaded it up on to a long gooseneck pulled by an F-350.
An hour later, you'd have sworn that the world was about to end.
Once the news made it to social media, it caused an uproar the likes of which I've never seen before. People made all sorts of horrible comments about the buyer, disparaging the guy's name, wishing him harm, and much worse. It wasn't pretty.
This all happened because the buyer was WhistlinDiesel, a YouTuber with a reputation for destroying nice vehicles (mainly pickup trucks) on camera. People immediately assumed that this tractor would be destroyed for nothing more than views and subscriptions. Maybe they were right, maybe they were wrong. Truthfully, we'll probably never know.
Once he got wind of all this (I know that he read the comments, because screenshots showed up on his social media), he responded like lots of us might. He bristled, and basically told everybody that if the comments didn't stop, this 1206 would definitely be destroyed.
The comments didn't stop.
On Monday night, he posted a video to his YouTube channel. You can pretty well guess what ensued in it. You can go out to YouTube and watch it if you want. Believe me, you won't have a problem finding it.
I don't know about you, but my Mom & Dad taught me that if you don't have anything nice to say, keep your mouth shut. Honestly, the way the tractor fan community reacted on social media was like watching a toddler have a melt down.
Folks, we can do better. We need to do better. Kicking and screaming and hoping that the tractor rolls over with him on it is utterly ridiculous. I realize that not everybody said horrible things, but there were enough that it reflects very poorly on all of us.
My take on this whole thing…
It was his money. He earned it, and he bought something he wanted. In this case, it was a 1206. He paid for it. That means it's his. He's free to farm with it, turn it into a pulling tractor, sit it in a shed as part of a collection…or destroy it on camera.
I don't get a say-so in what he does with it. Why? For the same reason I don't get to tell you what to do with YOUR tractor…it's not my property!
Do I wish that he wasn't destroying it? Absolutely. The 1206 is truly an American icon. Each one of them was built by hand by real humans – not robots – here in the Midwest. They were tremendous performers, too; in its day, nothing could match its performance in the field. I'm a huge 1206 fan, and knowing that there'll be one less makes me sad.
But, at the end of the day, do I support his right to do it? Yep. I do. Because it's his property. He's free to do with it what he wants. Furthermore, I know that because he gets ad revenue from YouTube based on how many people watch it. He's using that tractor (as well as the trucks and other stuff he's wrecked) to earn a living as a content creator. He doesn't do this stuff for free…this is literally his job. You can't fault the guy for doing his job, even if you don't like what it is. To a point, one could argue that he's using the tractor for its intended purpose…to earn a living and provide for his family.  He's just doing it in a highly unconventional way.
The Fallout
At the end of the day, I feel like the way we as a community responded to him buying the tractor may be part of the reason that he's destroying it. We melted down, and he realized that he'd gotten under our skin. If he wasn't convinced that destroying a tractor would drive YouTube views (and make money), our response definitely sealed the deal for him. It's like the proverbial car accident on the highway that everybody cranes their neck at as they drive by. They can't not look, y'know? Well, each time we can't not look, he makes a few more pennies. The pennies add up, folks. That's why he's doing it.
I feel like we might've been able to prevent this. If we as a community of people who love old iron had remembered the whole "if you can't say something nice" thing that our parents taught us, he might've figured that the payday wasn't worth the effort. Now that the toothpaste is out of the tube, I'm pretty sure we may see more of this. He knows it gets under our skin, and that equates to YouTube views…and money in his pocket.
Final thoughts.
I've watched this play out on multiple different social media platforms (and from multiple perspectives). The thing that bothers me most about this is the example that we're putting out there for the next generation of tractor fans. When an older generation (all of us) acts out like we did, the younger generation sees it, and it somehow becomes okay, so they do it too.
Folks, that is NOT okay.
It's okay to disagree on something, and it's okay to share our opinions, but let's be mature enough (if for nothing more than our own self-respect) to not start threatening others online.
We're better than that.
I hope I don't come across as condescending or judgy; it's absolutely not my intent. I totally get the emotion that gets wrapped up in stuff like this. When  this happens to stuff we have a strong connection to, it brings out a lot of very raw emotion. Furthermore, this is just my opinion. You may not agree with it, and that's okay!