Jan. 20, 2022 • Interesting Iron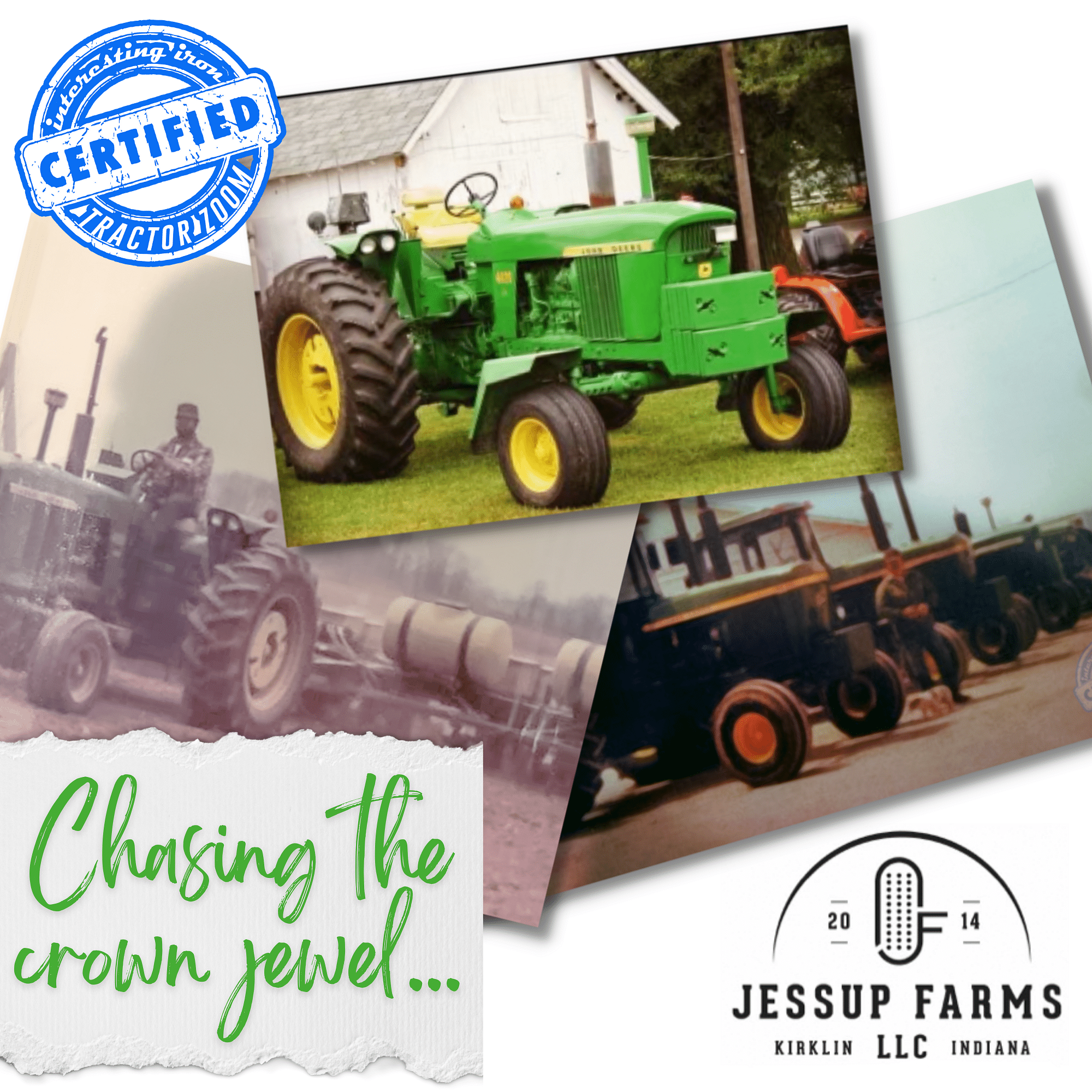 Before we get to Dayne Jessup, and the story of how he found his grandpa's tractor, I've got to give credit to the man who put me in a position to tell it. Had it not been for Brice Volker's passing, I probably never would've met Dayne. In fact, it was Dayne's prayer request in the John Deere 30-70 series group (the one that Brice started), that alerted me that Brice was sick in the first place. After he passed, a few of us kind of banded together as something of a virtual grief counseling session, and that's when Dayne and I got acquainted. 
Dayne Jessup is a first generation farmer from Indiana…who comes from a long line of farmers.
Lester Jessup was his great grandfather; he was a successful Pioneer salesman in Indiana for over 20 years, and he farmed with his son Don (Dayne's grandfather). When Lester retired from farming, Don continued to run the hog and grain operation, but his son (Dayne's father) went to work for Pioneer's IT department. (You can probably figure out where this is going…)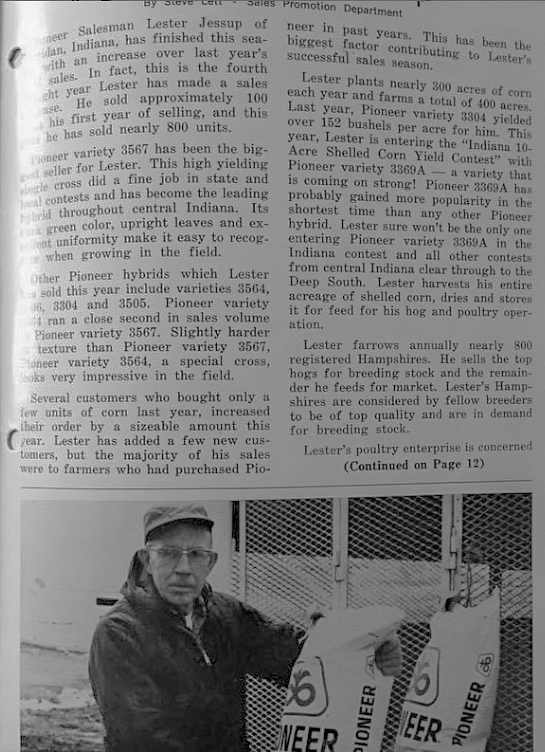 Dayne dreamt of farming since he was a toddler. Mom knew it too; when he was five, she let him turn the formal dining room into a carpet farm. He wasted no time in setting it up just like the ones he'd seen at the Hamilton County Fair…and then charged the family admission to see it! I don't think Mom saw the ticket booth coming, but it proved that Dayne had the hustle to make a farm work!
The bump in the road…
In 2003, Don Jessup decided to call it a career. Ted Everitt hosted his retirement auction on August 30th of that year. It was probably one of the worst days of Dayne's life. At 13 years old, he realized that the Jessup family farm was now a thing of the past. He knew that if he was going to farm, he was going to have to do it the hard way. That's a tough thing to realize at any age, let alone as a young teenager. What was even worse was that he had to watch the equipment leave the farm with new owners. The one that stung the most, though?
Papaw Don's 1969 John Deere 4020.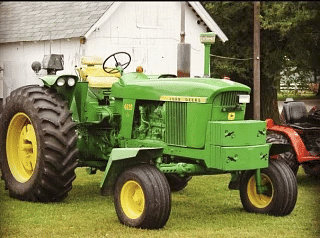 Dayne tried to convince his grandfather to keep it and sell the 3020 instead, but was unsuccessful. Don knew that the 4800-hour 4020 would bring more, and that it was probably more tractor than he'd need once the ground was rented. It brought $7500 at the auction. Dayne felt defeated as he watched it leave. However, he wasn't broken; he vowed to get that tractor back if it was the last thing he did.
The 4020
It was a side console gasser. Lester & Don Jessup bought it new from Booker Farm Store in 1969. For years, it was their workhorse. They double-stacked front slab weights on it and got right after it with that tractor, too. The neighbors always gave Don a hard time about loading it up like that, but he didn't care. The day they bought the 4020, they also brought home a John Deere F145 6-16 plow. When he was working dirt during the spring, you could've roasted marshmallows on the candle shooting out of the muffler. I'll bet you could hear it for a country mile when it was quiet, too!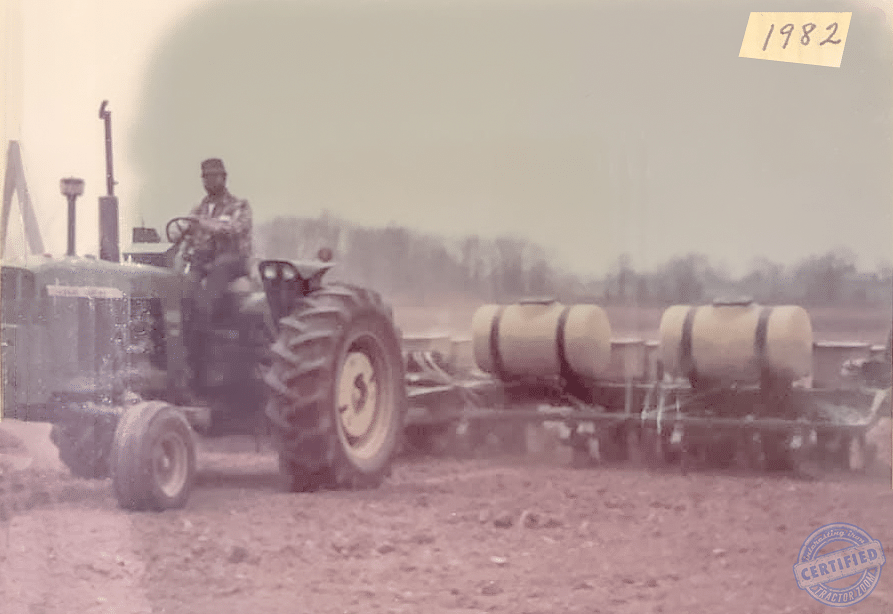 In and of itself, it wasn't super-special. There were probably a dozen of 'em in Hamilton County. That never mattered to Dayne, though. He wanted it back.
Jessup Farms is back…
Remember when I said that Dayne had the hustle and the drive? I wasn't kidding. From winning back-to-back-to-back state football championships in high school, to college and side hustles, Dayne was working up to something. Re-establishing Jessup Farms. The hard work paid off, too; he planted his Jessup Farms flag in some rented ground in 2014. The early years were pretty humble, but since then, he's continued to grow the operation. Today, Dayne and his wife Jenna no-till about 450ish acres, sell seed, and do some custom application in the spring. It's a grind, but he wouldn't have it any other way. They've done it all on their own, and they've built it together.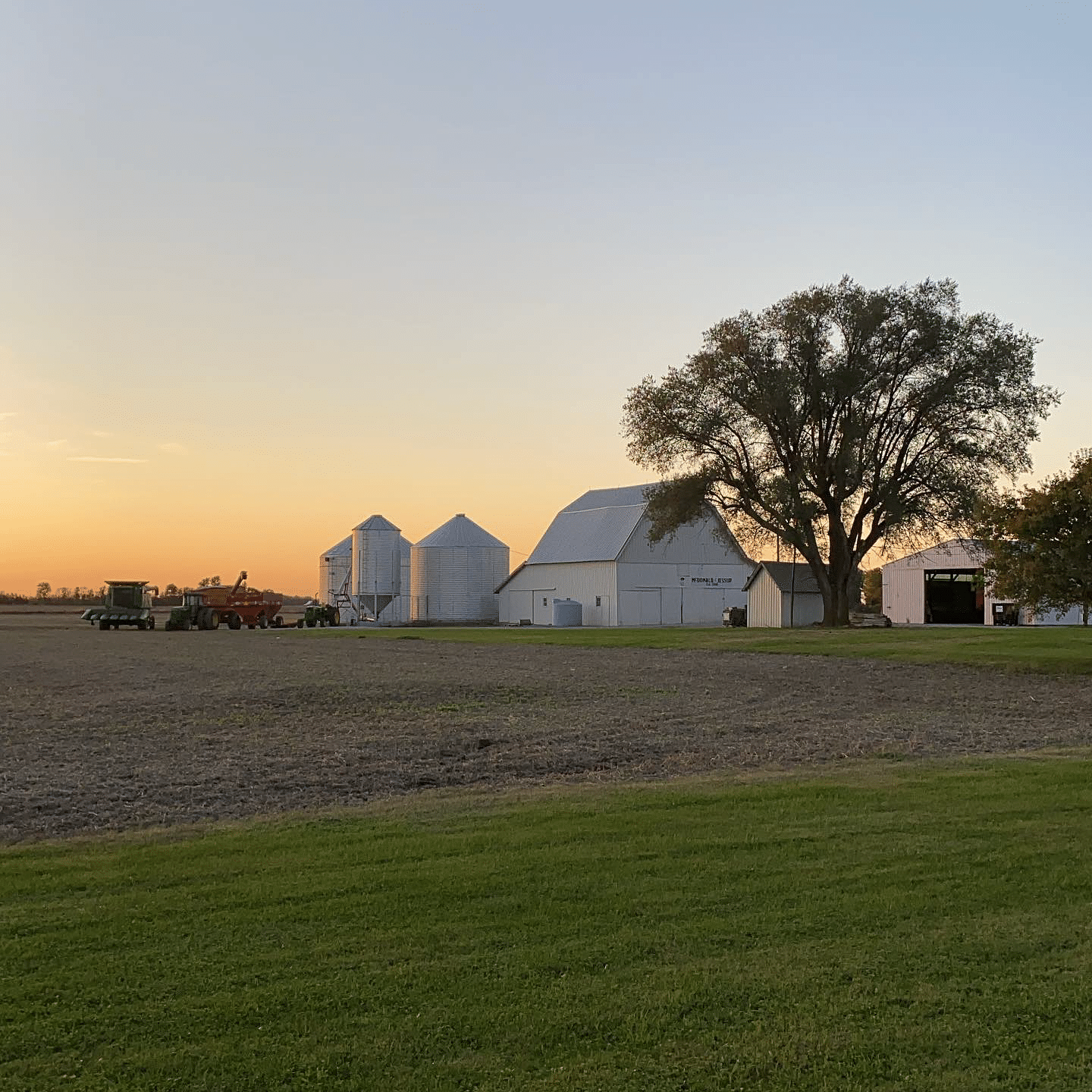 Okay, so now that the back story is in place, let's get into Dayne's search to find his grandpa's tractor.
Finding the 4020…
In December of 2015, grandpa's tractor came to the forefront when he was looking at that photo of it on auction day. Around the holidays, Dayne asked his grandmother if she had anything left from the sale. She pulled out the sale bill and a handwritten list of what things sold for, and who bought them. For the most part, it was complete, because a lot of the equipment went home with local farmers. However, the 4020 only had a city written down – Rockford, MI. It wasn't much to go on, but it was a start.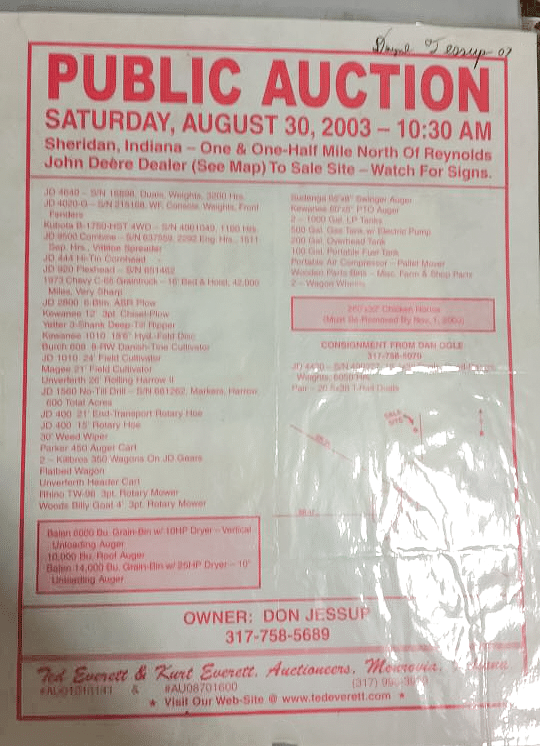 Dayne figured the best place to start was a Craigslist ad, so he put one up, hoping that somebody had some information on the whereabouts of the tractor. The ad ran for a year with no calls. Meanwhile, the farm and seed business were, so the research had to take a back seat for a bit. Life happens, y'know?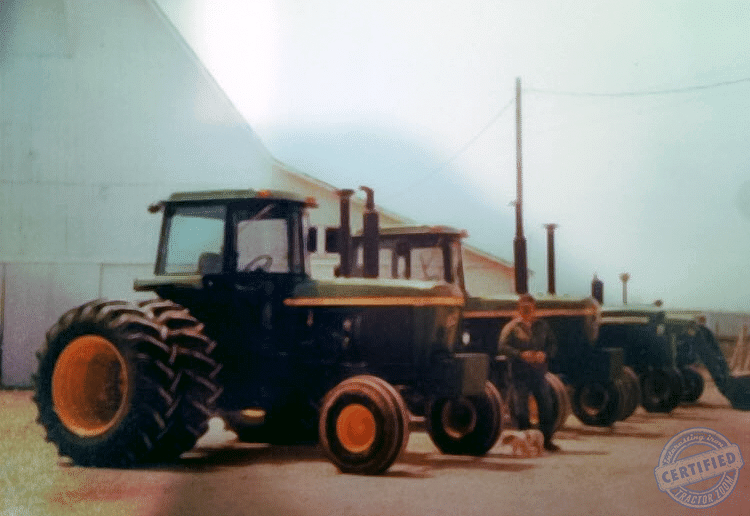 However, once harvest was over and December rolled around, he couldn't shake the feeling that it was time to try again. This time, he went to social media. He posted a couple of photos in a Deere group on Facebook, and while it generated some discussion, it never had any meat to it. So, it went on the backburner again – and there it would stay for another few years.
A breakthrough, and another setback.
Let's skip ahead to January 2020. A lot has happened; Dayne married the love of his life, Jenna, and they have one on the way. The business is flourishing, and he's busier than ever. Seed sales have picked up, he's integrating new nutrient and soil management technologies into his own farm, and it's paying off. Life is good!
One night (actually, almost two years ago to the day I write this), Dayne posted the 4020 photo in a different John Deere group on Facebook. This time was different, though. This time, it got a hit! Several New Generation Deere guys from Michigan started going back and forth, and eventually confirmed that Papaw Don's 4020 had been purchased by a guy named Jerry Brinks. Jerry was a collector, too, which was very encouraging.
Unfortunately, they also confirmed that Jerry had sold off most of his collection at an auction hosted by Aumann Auction back in 2005.
Ugh. Talk about a kick in the teeth. Dayne was heartbroken. If the guy sold off the collection fifteen years ago, the trail may as well have gone cold! He did call Aumann to see if they could help him, but they didn't have records that went back that far.
Nothing left to lose.
With the trail basically having gone cold, Dayne figured that it wouldn't hurt to at least look the guy up on Google. So he did. He dialed the first number in the search results, and as it turned out, Jerry picked up the phone! The conversation that followed must've been one of the most surreal phone call ever; I'd imagine it went something like this.
Jerry: "Hello?"
Dayne: "Hi. My name is Dayne Jessup, and I'm a farmer from Indiana. How are you?"
Jerry: "Uh…good? What can I help you with?"
Dayne: "This might be the strangest question anybody's ever asked you, but is there any chance that you bought a John Deere 4020 from an auction in Sheridan, IN on Labor Day Weekend in 2003?"
Jerry: "Actually…I did. It was a nice tractor!" 
(Dayne's heart skips a beat or two…)
Dayne: "That tractor was my grandfather's. I was at that sale. Is there any chance that you know where it is today?"
Jerry: "Well of course I do. It's sitting in my shop!"
(Dayne nearly keels over in disbelief…)
Dayne: "You didn't sell it at your auction?"
Jerry: "Nope. It was too nice. I had a half dozen 4020s, but I couldn't part with that one."
For the next few minutes, Dayne peppered Jerry with questions about the tractor. Jerry told him that he'd only put (get this) 3 hours on the tractor in the 17 years that he'd owned it. He'd done a little preventative maintenance and changed the seat and water pump, but honestly, that was about it. He loved the tractor, but he really didn't have anything to actually do with it; so, it just kind of sat there in the shop for all those years!
Then Dayne asked the question. "Jerry, would you be interested in selling it?"
Jerry said that he appreciated Dayne's call, but that he really wasn't interested in selling it at the time. He didn't say no, though. Rather, he asked him to keep in touch, and to call him in the spring and let him know how planting was going. The two hung up the phone, and I'm sure Dayne probably collapsed in a heap on the couch. I doubt it was a depressed, bummed-out kind of thing, either. Just knowing that Jerry still owned it, and still loved it, and was taking care of it was reason to be thankful.
Spring 2020
Dayne kept his word, and called Jerry back in late March/early April, just as he was beginning to plant. They talked as friends, and Jerry asked him if he'd like to come up and see the tractor. Of course, Dayne said he would. He asked, only half-kidding, if he should bring a gooseneck with him, and he was shocked when Jerry told him that he probably should. Over the phone right then and there, without knowing how much he'd ask, Dayne committed. Jerry told him, "I'll tell ya what. I'll sell your grandpa's tractor to you for what I've got in it – $10,500, but I can't do it now. I'm scheduled for open heart surgery later this week. Let's talk after I'm out of the hospital and recovered. Is that fair?" Dayne agreed, and they hung up.
He was on top of the world, and I'm just about certain he was bouncing off the walls like a pinball. The way Jenna tells it, he could barely contain himself when he called with the good news. He'd FINALLY found it, and it was FINALLY coming home!
Once the initial excitement wore off, though, the next few weeks were probably the most nerve-wracking days of his entire life. Between planting, delivering last-minute seed and chemicals, custom applicating with a new sprayer, Dayne was BUSY. Not to mention that Jenna was within two or three weeks of giving birth to their first child. Still, even with a thousand things on his mind, he found time to worry about Jerry. Jenna told me the other day that he spent most of the month of April alternating between terrified that something would happen to Jerry, and excitedly planning how he'd introduce Papaw Don to his trusty workhorse.
Patience and persistence finally pays off…
Thankfully, it all worked out in the end. Jenna gave birth to the cutest little girl ever, planting went fine, and Jerry's surgery did too. In early May, Jerry called back, and Dayne headed up the road to the north side of Grand Rapids on May 16th. True to his word, Jerry had taken very good care of the 4020, and it was ready to go! Not only that, it was pretty much identical to the way it when Dayne watched it leave as a frustrated teenager in 2003! Before they parted ways, Jerry asked him, "Whatcha gonna do with Grandpa's tractor, now that you own it?" Dayne smiled and said, "I'm gonna put her to work!"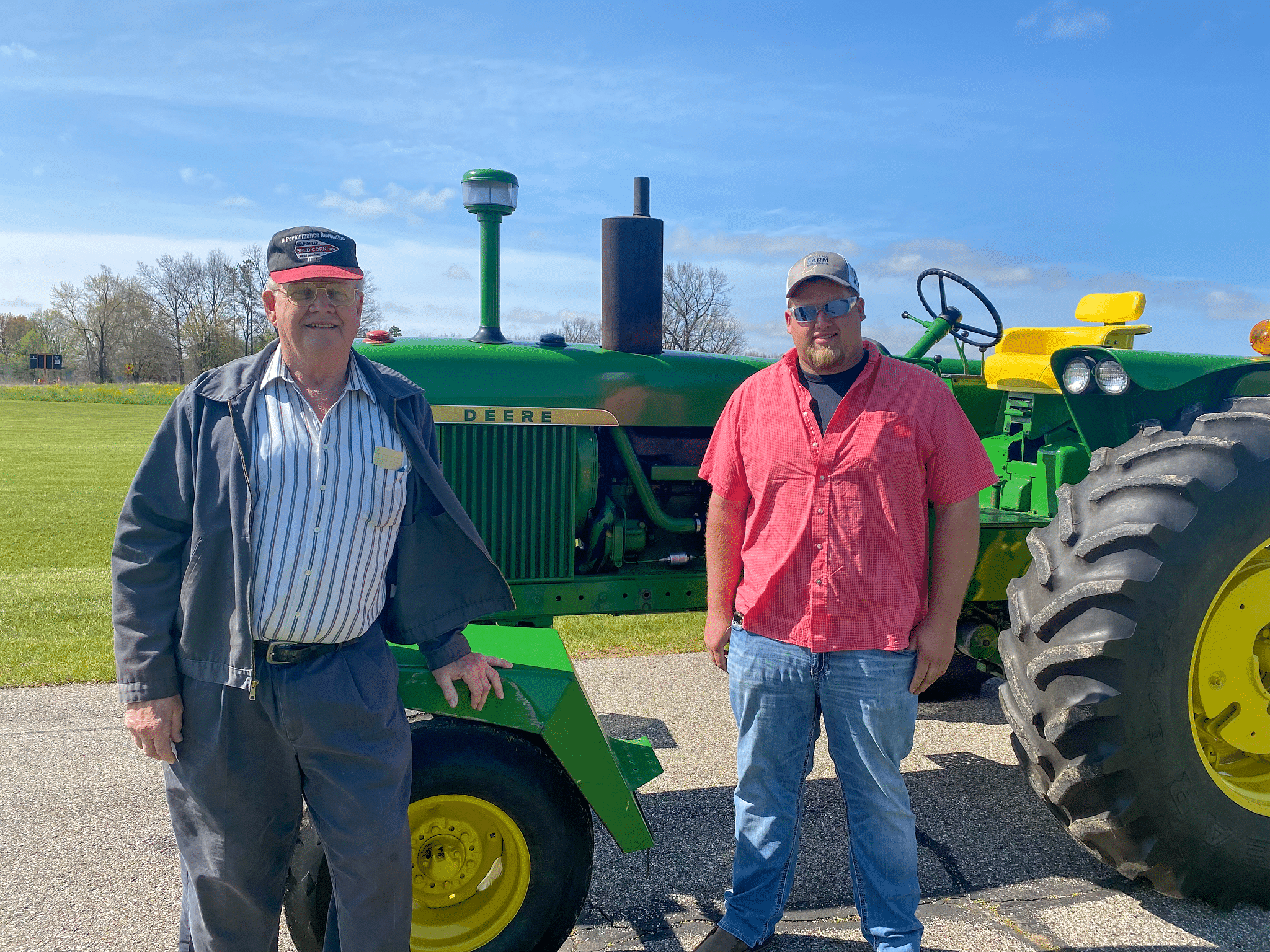 Dayne and I never really talked about how he felt as he shook Jerry's hand and said goodbye, but I suspect you probably know how that went. (I know how it would've gone for me.)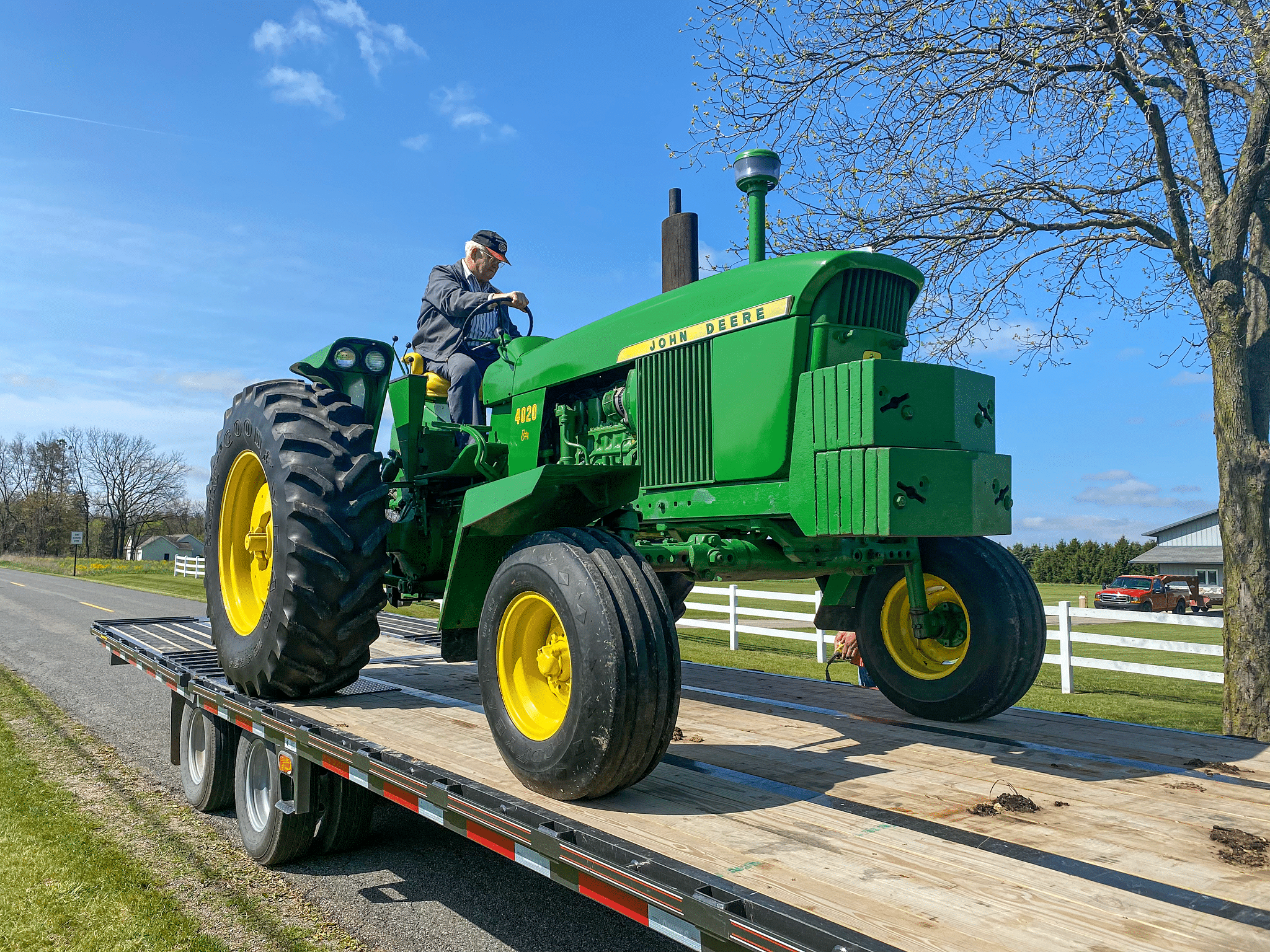 The family was all there when Dayne pulled in the driveway with it. At first Papaw Don, whose memory isn't as good as it was, didn't recognize the tractor as anything more than a 4020. However, as he started to look at it a little closer, Dayne's pretty sure some memories started to come back, because his face broke into a great big smile. If I had to guess, touching those weights might've triggered some memories – I know it did with my wife's grandmother.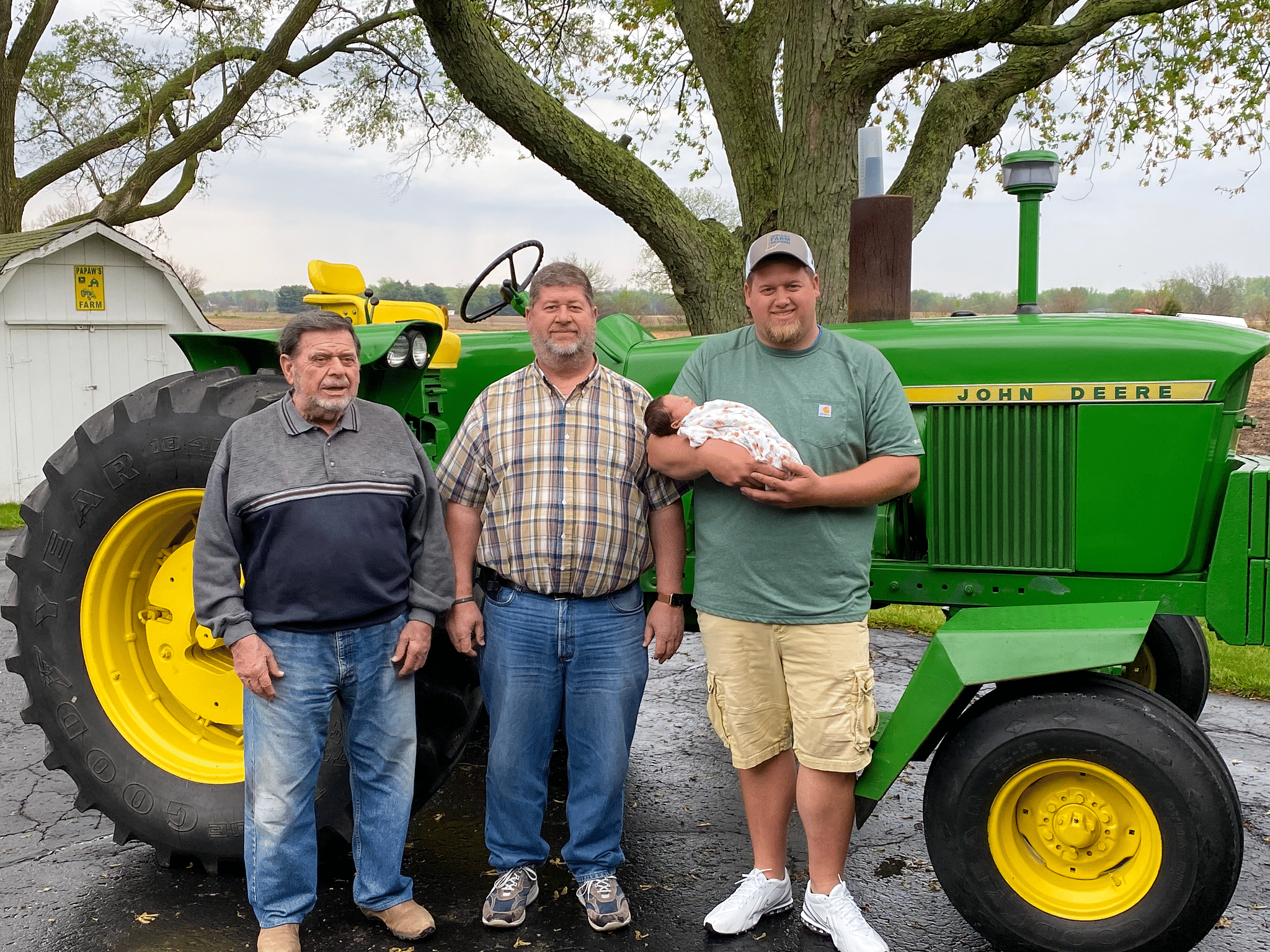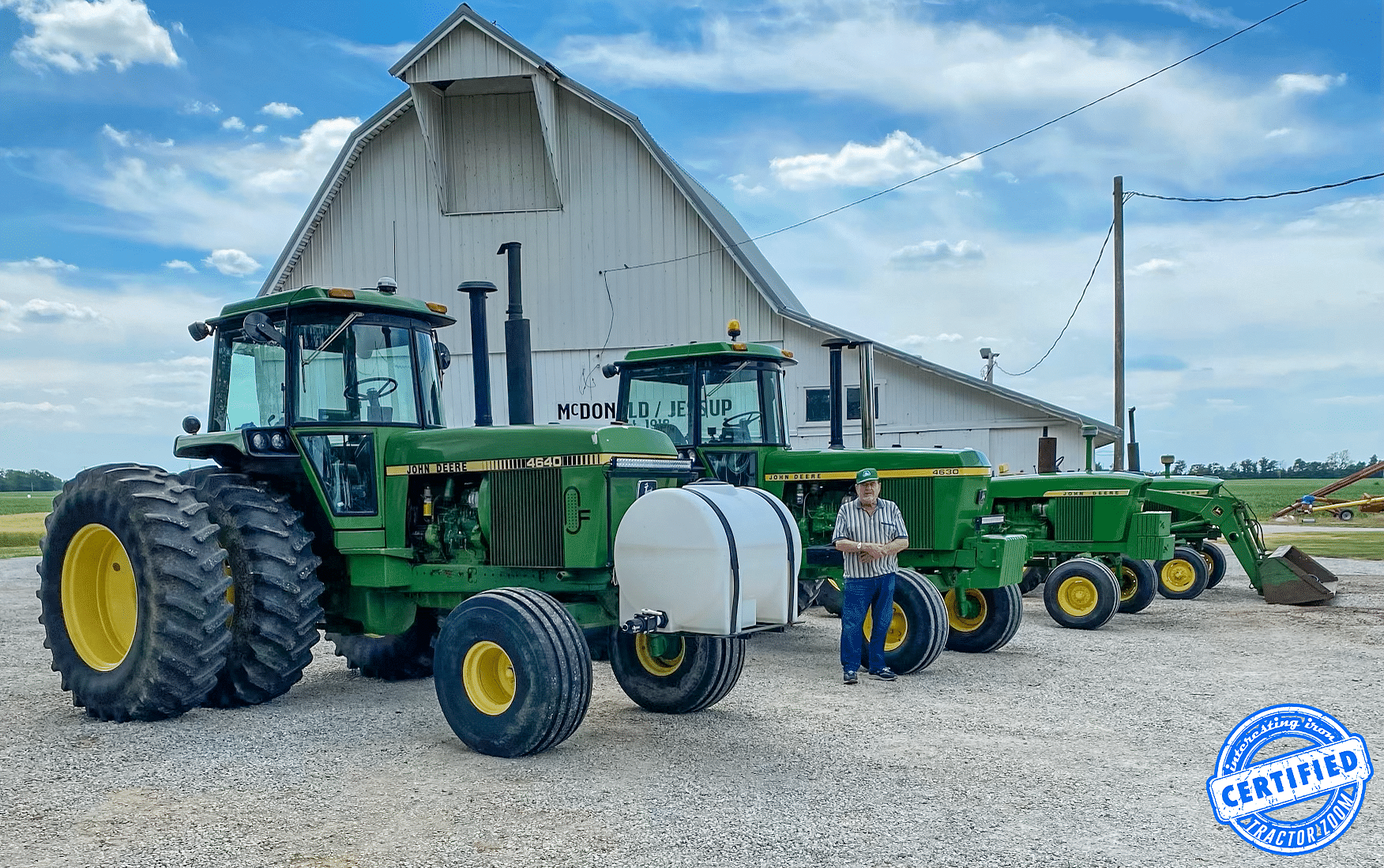 The Aftermath
Even though we live in the age of GIANT farm equipment, Dayne still feels that there's a practical place for machines like his grandpa's tractor. I fully agree with him, too. I know for fact that it's done plenty of mowing since then, but that 4020 gets used for all sorts of stuff around Jessup Farms! It ran an auger last week! (And the occasional 4th of July parade…)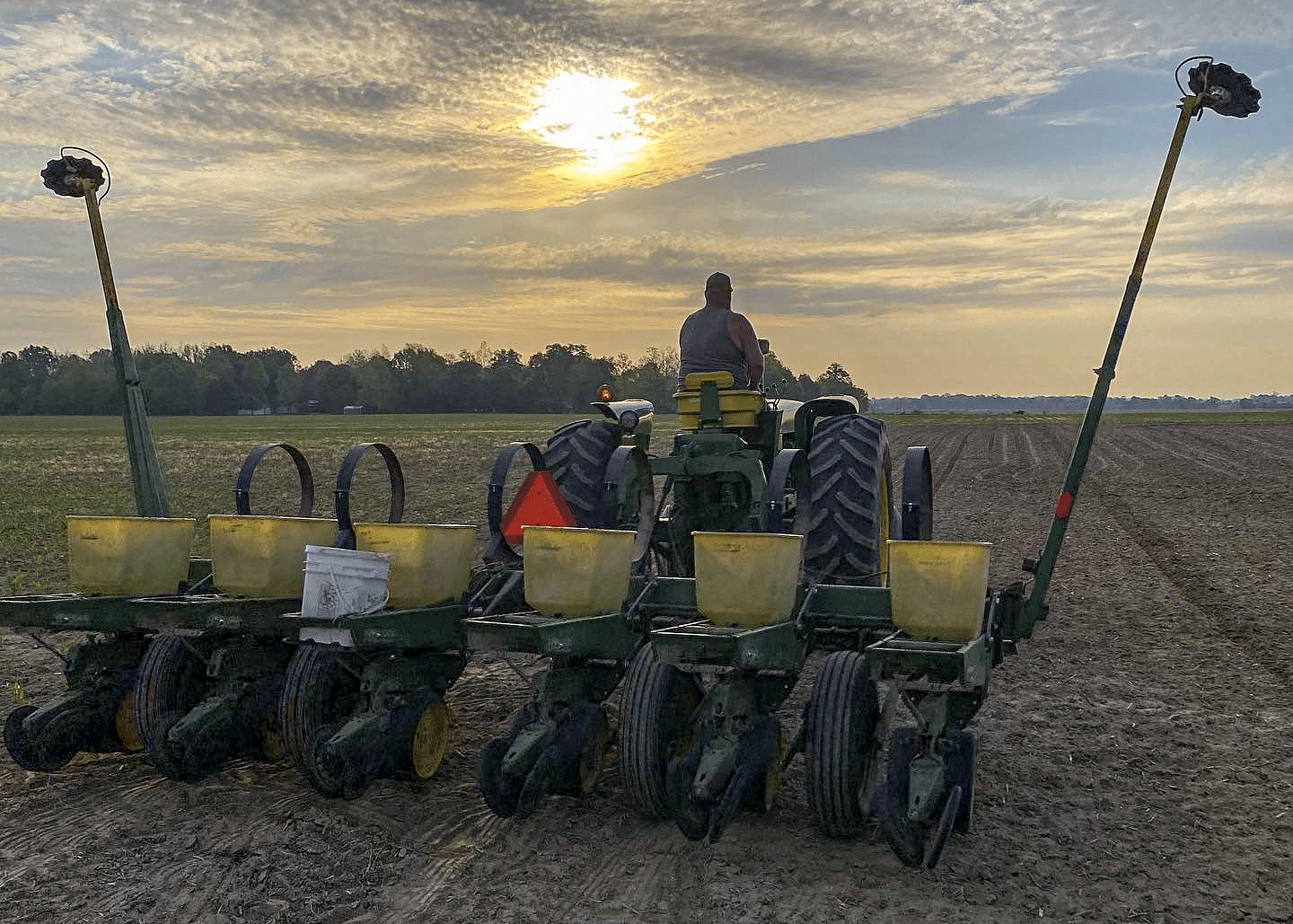 I know there's a lot of Dayne's story that's a little bit fairy-tale, but that's not completely the case. Grandpa's tractor hasn't been a completely hassle-free experience. The year he got it, Dayne spent a fair amount of time chasing goofy little electrical issues and such. Also, since it's a gasser, it's a thirsty little tractor. Well…it was a thirsty little tractor. Last June, he swapped the motor out in favor of a diesel 404 from a 1967 model. Since then it's been a bit more economical to run! He's still got the original gas motor sitting in the shop so that it can be swapped back in when he retires the tractor.
But…if I know Dayne, that won't be for a long time. His great grandfather and his grandfather bought this tractor to work, and as far as he's concerned, it ain't done with work yet!
The Takeaway
When Dayne and I sat down to talk earlier, he told me, "Ryan, I want people to know that it's worth the effort. Regardless of the dead ends, the hours invested, and the emotional rollercoaster, it's worth it. Grandpa's tractor was the crown jewel of his farm for many years, and it's the crown jewel of mine." For him, it's a way to connect his first-generation farm to the previous generations of Jessup farmers.
Lots of young farmers are lucky enough to know where "the one that we never should've sold" went. They still see it working in the field, and they've got the owner's number in their phone. If that tractor goes up for sale again, they know it and if they want it bad enough, they'll get it. But for most of us, the trail has gone cold. I know it has for mine. I'd give nearly anything to track down the first tractor that my family owned (a John Deere BO), but I have no idea where it ended up after it left our farm. Last year, one went up on a Sullivan sale in Michigan and that looked identical to the one that three generations of my family used, and I literally lost sleep wondering if that one was ours.
Here's the takeaway.
Don't give up, and never underestimate the power of social media.
People say that social media is only good for dividing us, but that's not true and Dayne's story proves it. Perfect strangers on Facebook banded together and helped him track down his grandpa's tractor – one that he thought was lost to history. If you're not computer-savvy, ask for help; nieces, nephews, kids in the youth group at church, whatever. They'll help. The search may result in dead ends like Dayne's search did. Don't let that stop you. It might take you 17 years. Don't lose hope.
Dayne didn't.