Apr. 13, 2022 • Interesting Iron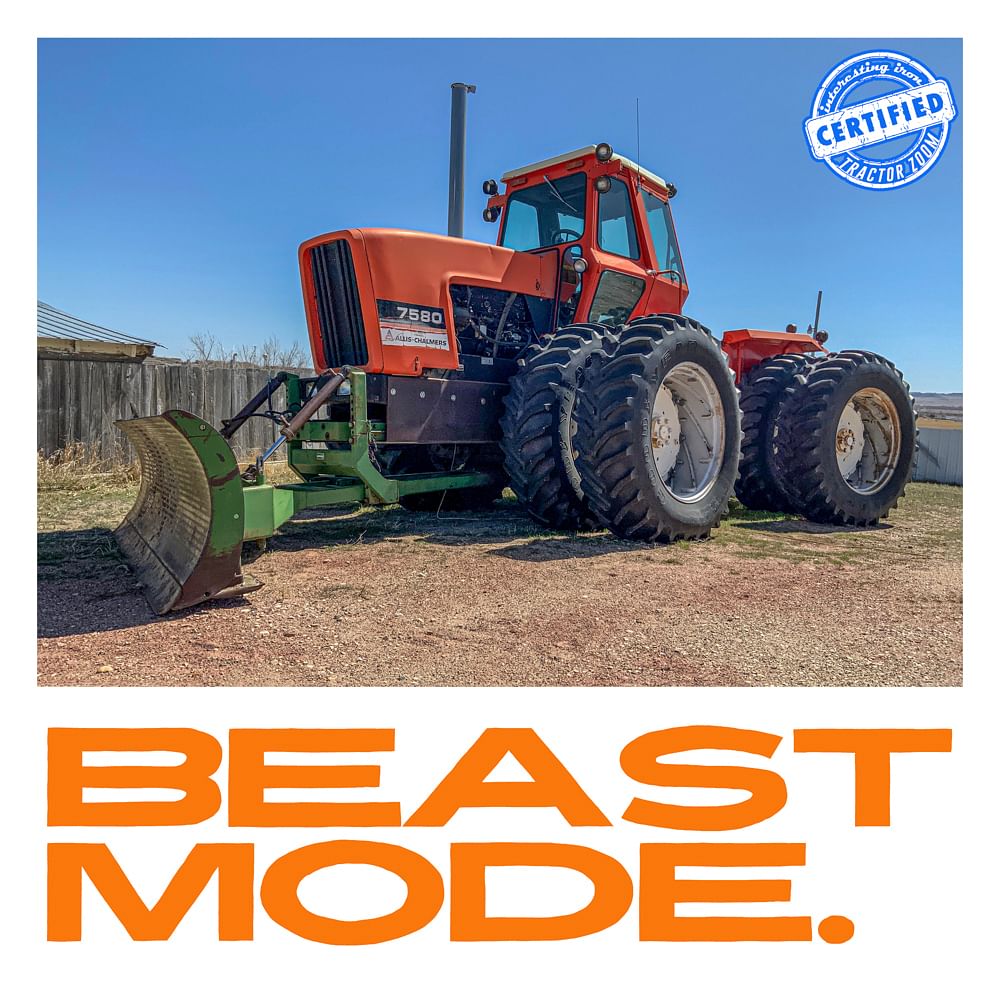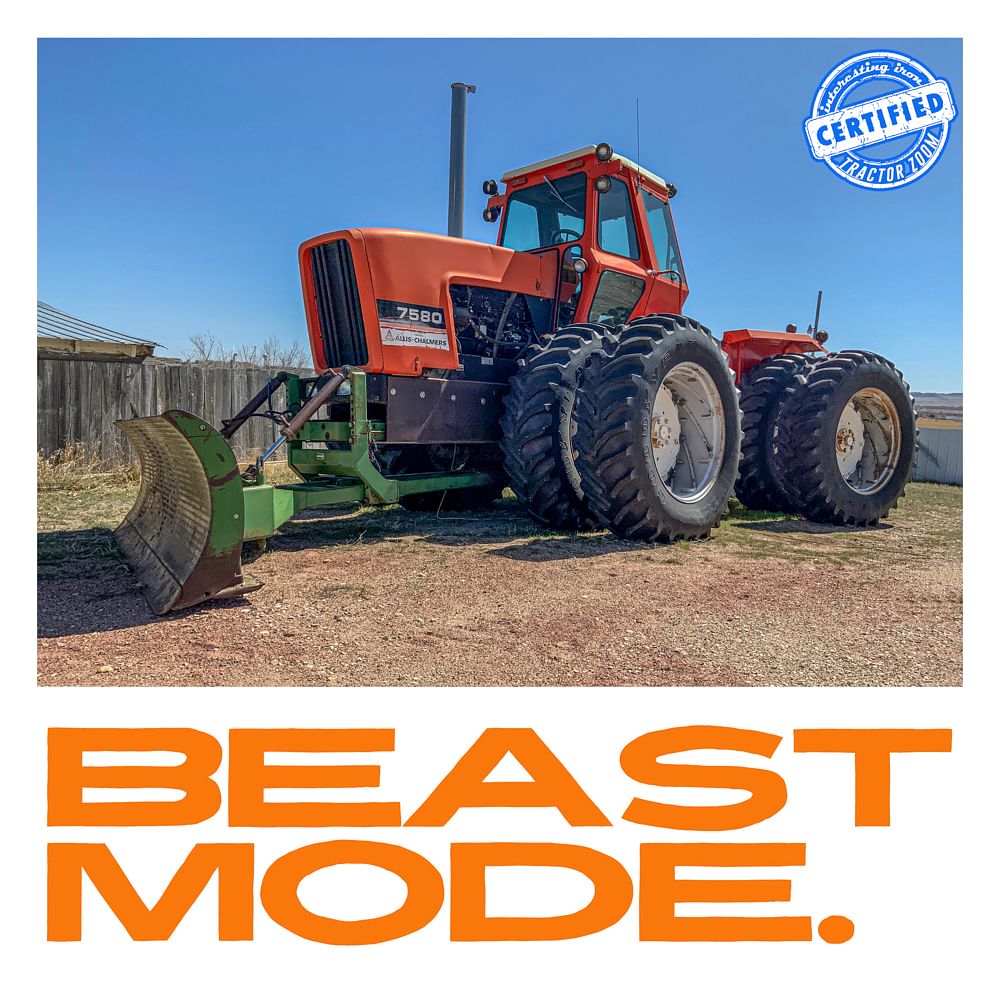 I'll bet some of you are thinking, "Oh good grief..another piece about an Allis Chalmers? You couldn't find anything more entertaining to write about than an ancient small-frame 4WD with a fragile motor and a wimpy transmission?" Well…no. And it's my blog, so neener neener! (Yeah, that'll tell 'em, Interesting Iron-guy…)
I know that a buddy of mine up in cheese curd country had this thought – probably almost word-for-word. This one's for you, Ryan!
The truth is, the Allis Chalmers 7580 was a beast in its day…but it's a little on the fragile side these days. Still, the cool factor is really high, and it's still an imposing piece of machinery today!
Details first, then we'll get to the tractor.
So it's the early 70s, and the big 4WD market is really taking off. America's farmers are covering more ground than ever before, and they need equipment to support that. By 1972, nearly every major player had a big 4WD on the market, or had one in the works…except for Allis Chalmers. In a pinch, they made a phone call to the fellas in Fargo and put a deal together to basically paint a Steiger Bearcat orange and swap a Cummins Triple Nickel (555) under the hood. It didn't set the world on fire when it released, but at least they had something to sell. Furthermore, it bought them enough time to design and build something in-house.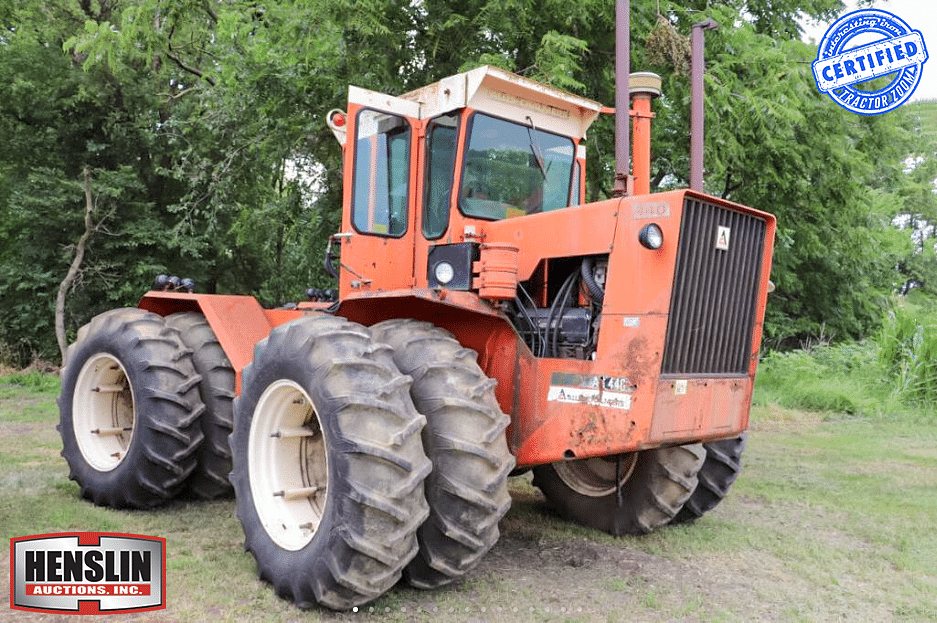 The Allis Chalmers 7580 – "The Beast"
While Steiger was building the 440, the engineers in West Allis were working on their own 4WD articulating tractor, the Allis Chalmers 7580. They used quite a bit of the 7080's components to build the big articulator; in fact, there wasn't actually a whole lot that was super-specialized to the 7580 – only a two-speed dropbox, a diff housing, and some random sheet metal. The result was a pretty imposing tractor. It stood almost 12′ tall and was nearly 19′ long. That may not seem like much today, but in 1976, that was a big tractor!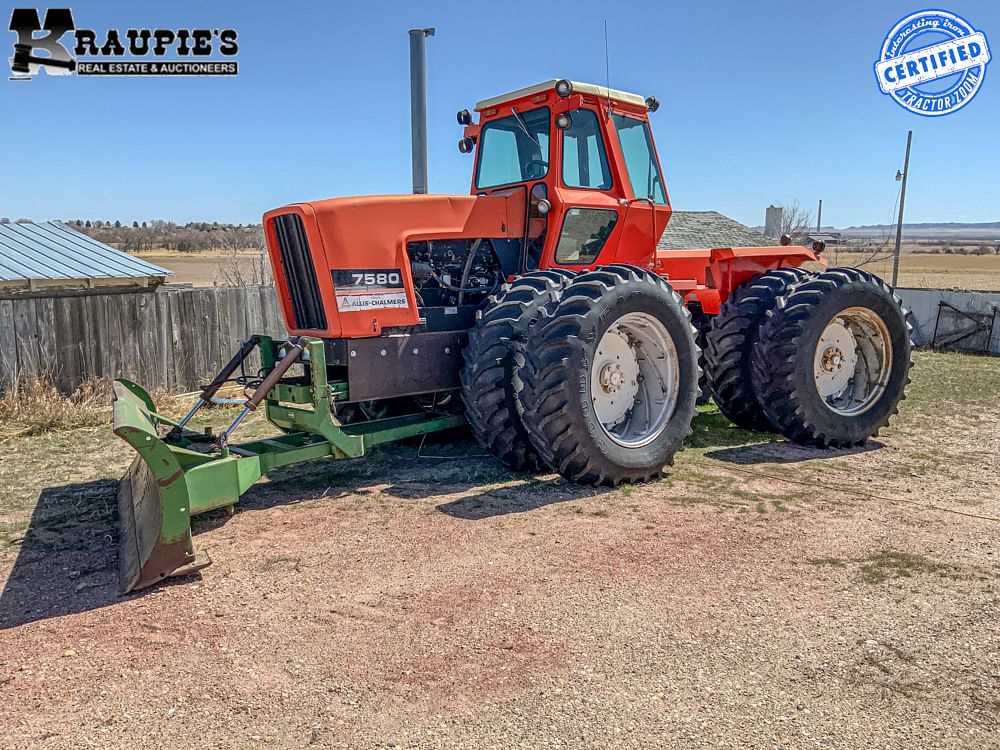 The big ol' Allis used a turbocharged and intercooled 426 cubic inch inline six rated at 222 engine horsepower, and it was mated to their 20-speed Power Director transmission. The Nebraska lab tests netted 186 horse at the PTO, and 153 on the drawbar. They were pretty good numbers, honestly, and it put AC right in the middle of the pack as a competitor. At the time, I believe Massey Ferguson's 1805 made more power, but at the cost of efficiency. The AC 426 was better on fuel by close to a half-gallon an hour.
Initially, the tractors sold pretty well; AC's marketing department began referring to the 7580 as "The Beast" and the name seemed to stick. It was the beast "that eats acres, not fuel." However, it wasn't long before customers wanted more. If Allis Chalmers was to continue down the 4WD path like their competitors, they needed something with more power…
Enter "The Super Beast"…the 8550.
I've written about The Super Beast before, but the long and short of it is that it was the bigger, badder brother to the 7580. It was heavier duty all the way around, and made 300 engine horsepower, 253 on the PTO, and 217 on the drawbar. Furthermore, when I say big, I mean it. It was a full 5 feet longer and when weighted up, two tons heavier than the 7580. It was so big that the Nebraska lab had to partially disassemble the tractor just to get it inside so they could test it!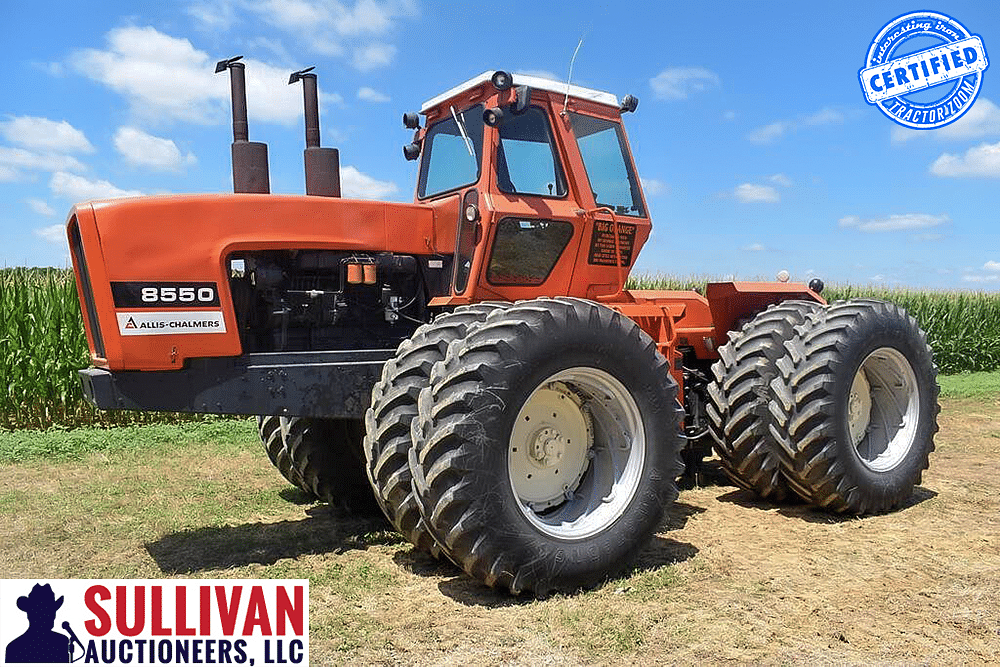 The 8550 sold okay, but not great. I believe there were only about 1020 built. By the late 70s when the big Allis released, inflation was riding a rocket upward, and these tractors paid the price. At almost $87,000, this wasn't an inexpensive tractor.
Anyway, back to the Allis Chalmers 7580…specifically, the one you can buy on April 19 at Kraupie's spring consignment auction.
The Nebraska Beast…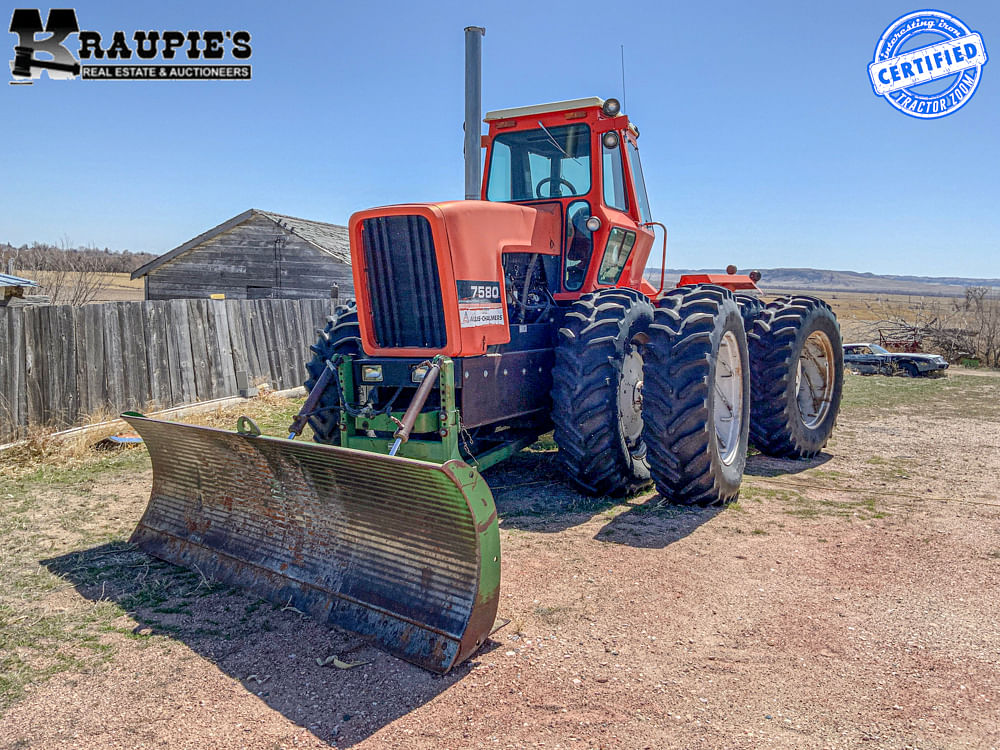 This particular tractor has lived in the Nebraska Panhandle for most of its life, from what I gather. I talked to Jake Kraupie about the tractor yesterday for a bit, and he told me that this tractor came to the its current farm almost like an insurance policy.
Wait…what? Insurance policy?
See, between 2009 and 2011, the Panhandle got rocked by multiple blizzards and bomb cyclones. Crazy-high snowfall totals, bitter cold, the works. And since Bayard is in a fairly rural area, the plows and graders don't always get there as fast as they want to. Well, one of those years, the man who owns this tractor was snowed in for a week! Furthermore, he runs a contract hay mixing business for multiple feed lots out there. If he can't get out to feed those animals, bad things start happening in a hurry!
So, after a year or two of bad winters and being snowed in, he said, "Nope, that's not gonna happen again. This year, I'll be prepared."
And in 2011, he bought this big Allis Chalmers 7580 at a farm sale about a hundred miles north of where he lived, and it became his winter insurance policy. Since he's owned it, it's only really been a snow plow. It's smoothed out a few ditch banks as needed and I think he farmed with it just a little, but other than that, it never really saw much action other than during the winter! That John Deere blade really came in handy, that's for sure!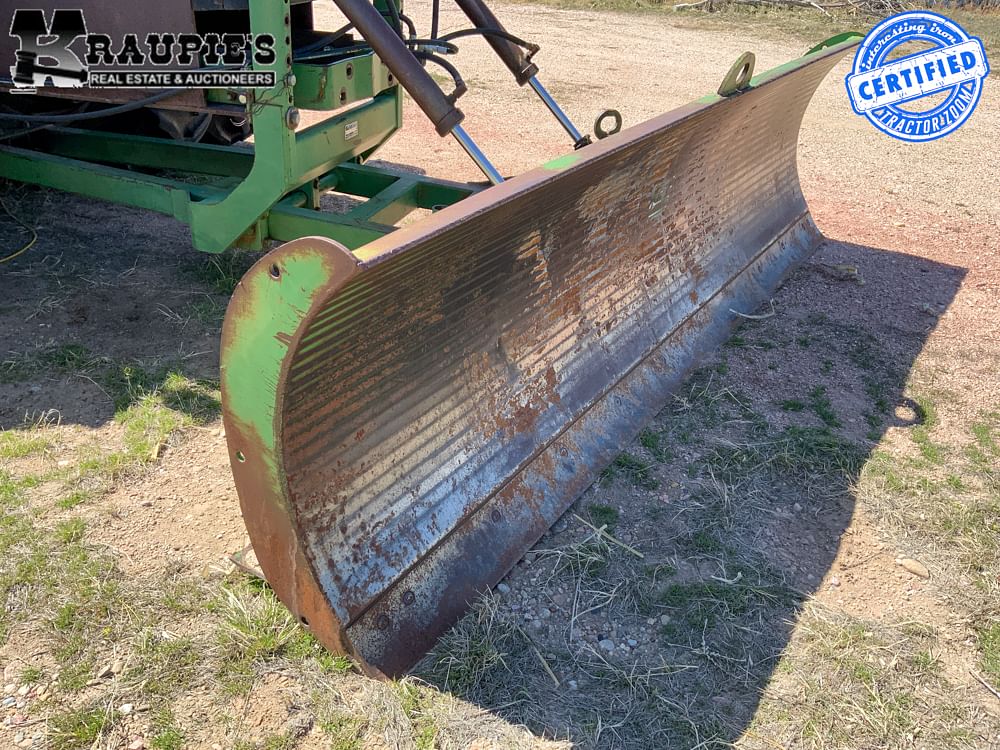 The details on the tractor…
The motor is very strong, and the PTO & 3-point both work as they're supposed to. The transmission shifts hard (which is typical of 7580s), but other than that, it's mechanically sound. Cosmetically, it's in reasonably good shape, too. The cab is in surprisingly good shape for the age of the tractor. The seat is worn but it's not destroyed, and all the knobs, levers, switches, etc. are all there and functional. It needs a new headliner for sure, but aside from that and a general cleaning, it's weathered the years pretty well.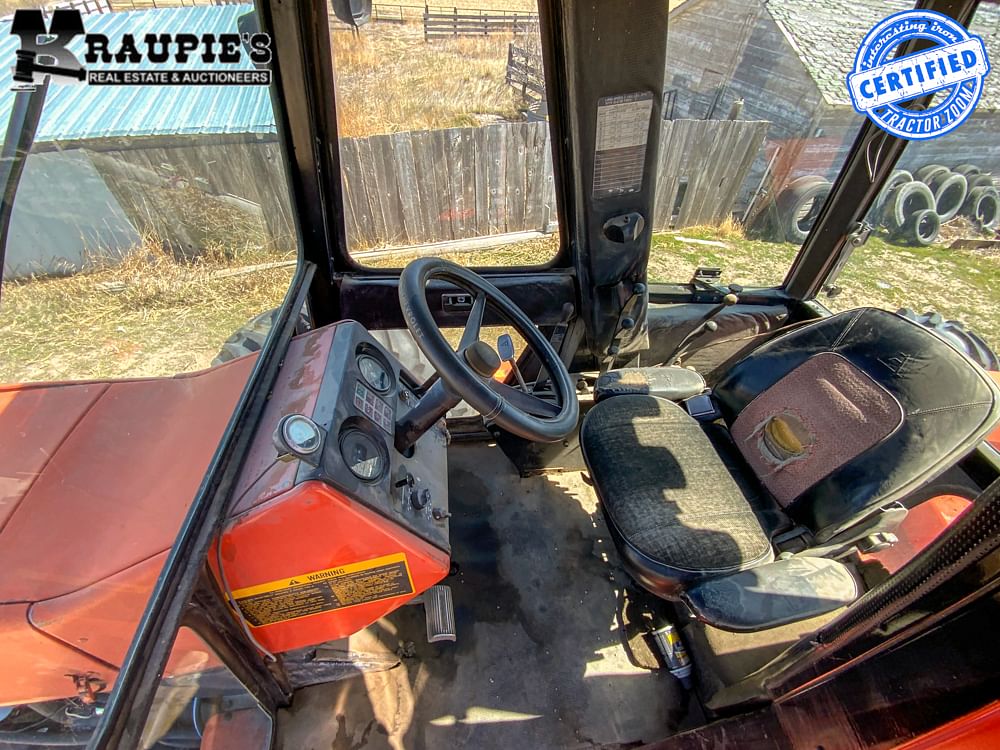 The hood could definitely use some attention; I have no idea what happened with the hood but it's awfully rough.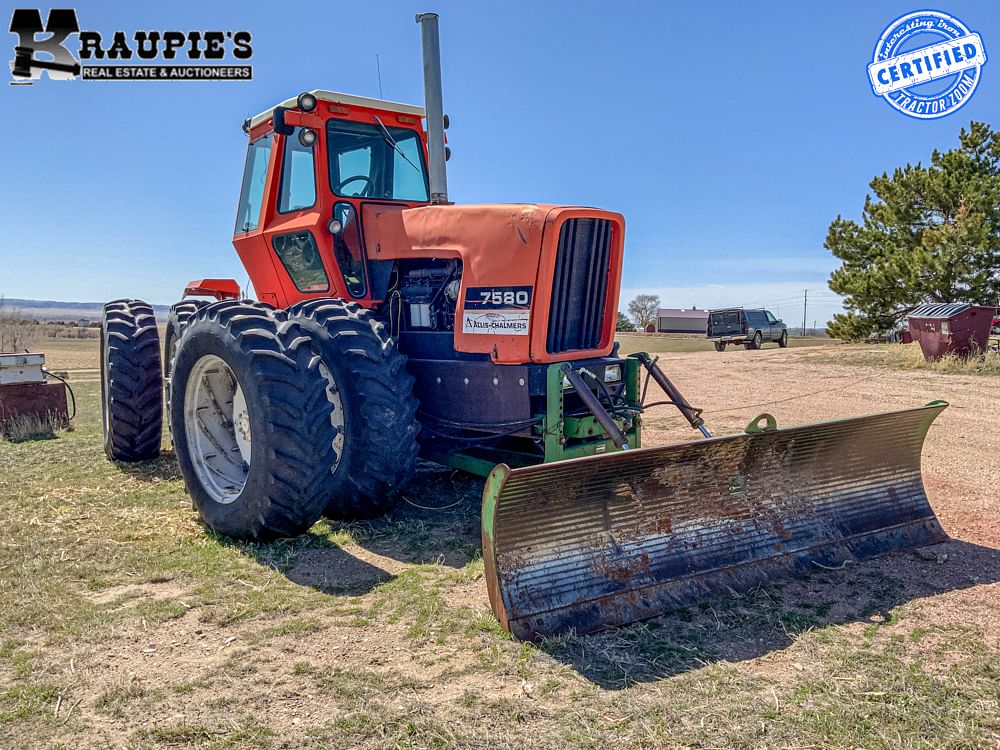 The meter reads 5322 hours, and that's an accurate reading. The rubber is at about 60% give or take, so while it'll need to be addressed at some point, it's not an immediate need.
Stuff to watch out for with a used Allis Chalmers 7580…
So this is where things get a little tricky. The Allis Chalmers 7580 is indeed a beast…but it's a fragile one.
The 426
The 426 was/is a good engine, but to get the power that Allis wanted for the 7580, they really stretched its capabilities. A lot of farmers and mechanics will tell you that in this application, the 426 was on borrowed time right from the get-go…and they're right. If you overwork this motor, it will at some point show you exactly what the inside of the block looks like. They like to throw rods and punch holes in blocks. It's been that way with nearly every tractor that had a 426 in it.
If you buy one used, it's probably a good idea to plan on replacing the rod and main bearings, and probably the rod bolts as well. Do this sooner rather than later.
Lastly…whatever you do, resist the urge to crank open the pump and feed it more fuel. If anything, turn it down. You'll thank me later.
Also – it's not at all uncommon to find 7000-series tractors with a 505 Cummins swapped in place of the 426. In fact, they often turn out to be better tractors with the 8.3 Cummins in them anyway. (C'mon Allis guys, you know I'm right…)
The Power Director
AC's Power Director transmission was a good transmission, but the one in the 7580 isn't as beefy as it really should be. The 426 was more than capable of chewing off the teeth in the gearset, and these transmissions can only take so much abuse, y'know? It probably goes without saying, but if you power-hop an Allis Chalmers 7580, it won't be long before you find yourself dragging it in to the mechanic. Be gentle! This is not a bulletproof 12-speed powershift!
Wrapping it up…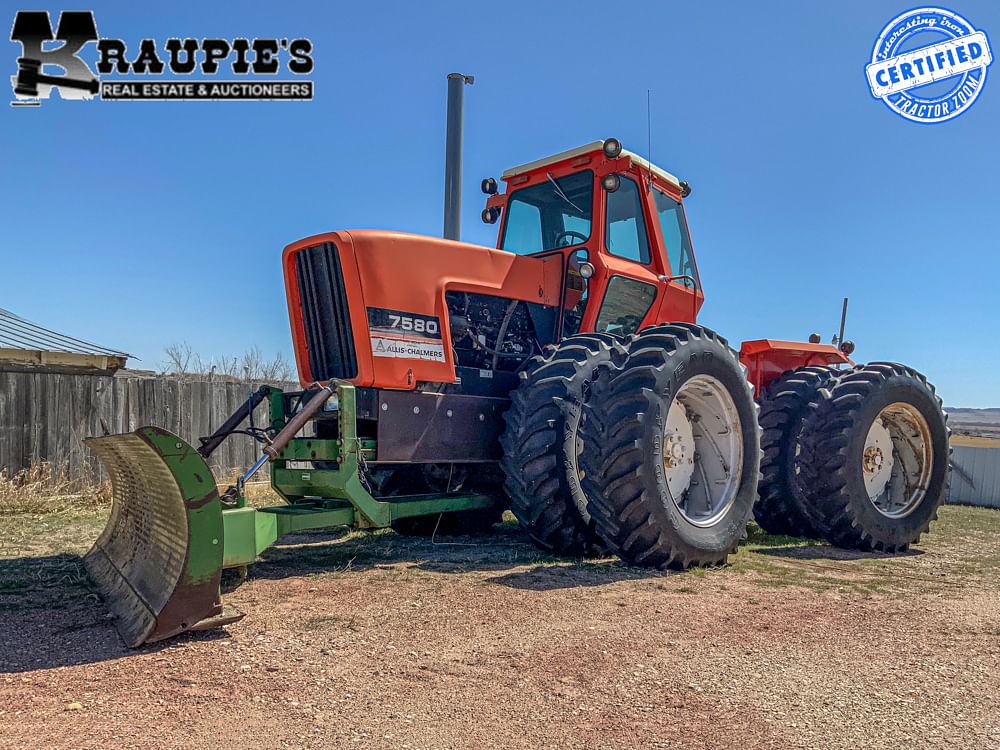 If it sounds like I'm trying to talk you out of buying one…I'm really not. However, at the end of the day, Allis didn't crank these things out by the bajillions. They only built 2018 of 'em over 5 years of production. AGCO has discontinued some of the parts, too, and while there's still a reasonable aftermarket (and plenty of boneyards out there to pick through), some of the specialized parts can be tough to find. You'll occasionally see these go to auction in pairs – one as a runner, another as a parts tractor.
The two best rules of thumb I can give you are as follows.
It's an Allis Chalmers 7580 with Allis parts that were pushed to their limits in this application. It's not a Steiger Cougar. Don't make it do Steiger things. Plow snow? Sure. Run a 600-750 bushel grain cart on flat ground? Yep. 5-shank ripper? Probably. 45′ field cultivator? Definitely not.
Maintenance history is absolutely critical on these tractors. If you're looking at one, talk to the owner and get the history. If for any reason you feel like the tractor hasn't been properly maintained, walk. The cool factor isn't worth the headache!
I will say this, though. The cool factor on a tractor like this is really high. There aren't many of 'em around anymore, and to see one working in the field is always pretty neat!
What'll it bring?
There's been a few Allis Chalmers 7580s that have sold fairly recently here in the heartland, and they've all hovered around $6-8K. They all had issues to a certain degree – some more major than others. This one, given that it runs and drives and everything works, should be in the same neighborhood – maybe a touch higher. I don't think $9-10K is completely out of the realm of possibility if the right bidders get involved.
I wouldn't be terribly surprised to hear that it stays local when it sells, but you never know. An Allis collector could jump on this if it's a final piece of the 7000-series puzzle that they're collecting. Either way, I'll be interested to hear where it ends up going!