Jan. 18, 2022 • Analysis
The time has come to purchase a new planter. We have held out for the past couple years, but now need to purchase a new row crop planter for our Midwestern corn and soybean farm. There are multiple reasons, but mostly it's about the central fill. With the seed tender doing the heavy lifting, my dad can continue to plant without waiting for help or having to manhandle the bags himself. I know 2022 is not exactly the most ideal time to be looking for new machinery, but the alternative of being without one is worse. Plus, will next year be any better? I decided to look at supply and prices onTractorZoom.com to get an idea of what I should expect at auctions or dealerships this spring.
Supply
Dealer consolidations have left us with only a few dealers remaining our area. Before walking their lots, we wanted to start by casting a wider net to understand all our options. Looking through Tractor Zoom I can tell you that, yes, the supply of planters has tightened. 2021 saw just 70% of the comparable planter sales at auction that 2020 had. Yet at the time of writing this, there are over 600 available for sale on our site. Most of those are high quality machines at dealerships. So if you are looking to purchase a corn or soybean planter, you have options. Just not as many as you did last year.
Difference between auctions and dealerships
For our farm, we will likely will be sticking with a 24 row planter. The distribution of available size of planters does differ between auctions and dealers. Dealerships tend to carry more valuable equipment, so it is no surprise that 32% of planters at dealerships are 24 row, and 20% of their inventory has more than 30 rows. Contrast that with auctions where their most common planter size across the country is a 16 row (27 % of auction sales). Auctions can and do offer quality larger planters. It's just not as common as on dealers' lots.
Values to expect
Purchasing a soybean planter can be hard. Determining what those planters are actually worth may be harder. All the row options available create a ton of variability. Yet with all of Tractor Zoom's data, we can still determine average shifts in the market. In 2021 the entire planter market averaged an increase of 15-20% in price over the previous year. Is that what I can expect with the planter we are looking for? If I'm lucky. The category of 24 row planters saw the largest percentage leap in values. Some lightly used 24 row models brought 40% more than they did a year ago at auction! If your operation is more nimble and you are looking to buy a 12 row corn planter, you may be in luck. The smaller 16 and 12 row planters seemed to evade most of the inflationary pressures as you can see in the graph below.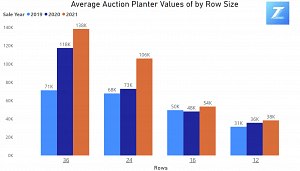 Knowing that supplies are tight and that we have to actively work to find the right deal, we saved a search on Tractor Zoom. (You can register in just 30 seconds to get available equipment to your inbox!) When the right planter becomes available, we'll know it. Then the challenge will be trying to schedule a truck to ship it!