Jun. 10, 2021 • 30s/40s Tractors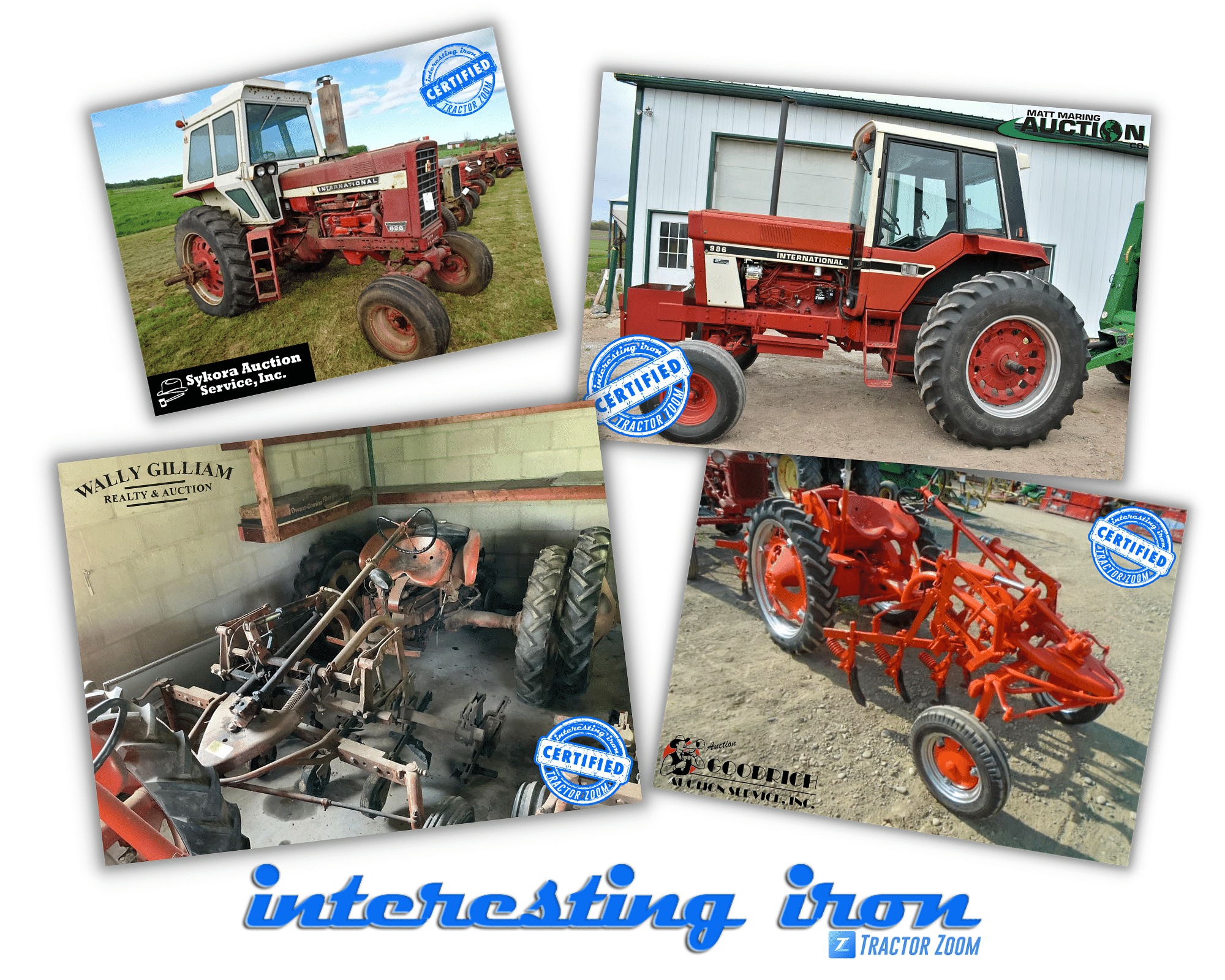 Back when I started this blog a year or two ago, I used to pick three (or more) interesting tractors to write about. Over time, I moved to a one-tractor column. However, if the past few weeks are any indication, I might end up going back to that 3-piece format! Our TZ auctioneers are listing all sorts of neat stuff these days! It's tough to choose a single tractor lately!
So this week, it's three (or four, or nine, depending on how you look at it) neat tractors. A Gold Demo 826 from Michigan, a hay maker from Minnesota, and seven weird-lookin' orange ones from New York and Kentucky! Let's get to it!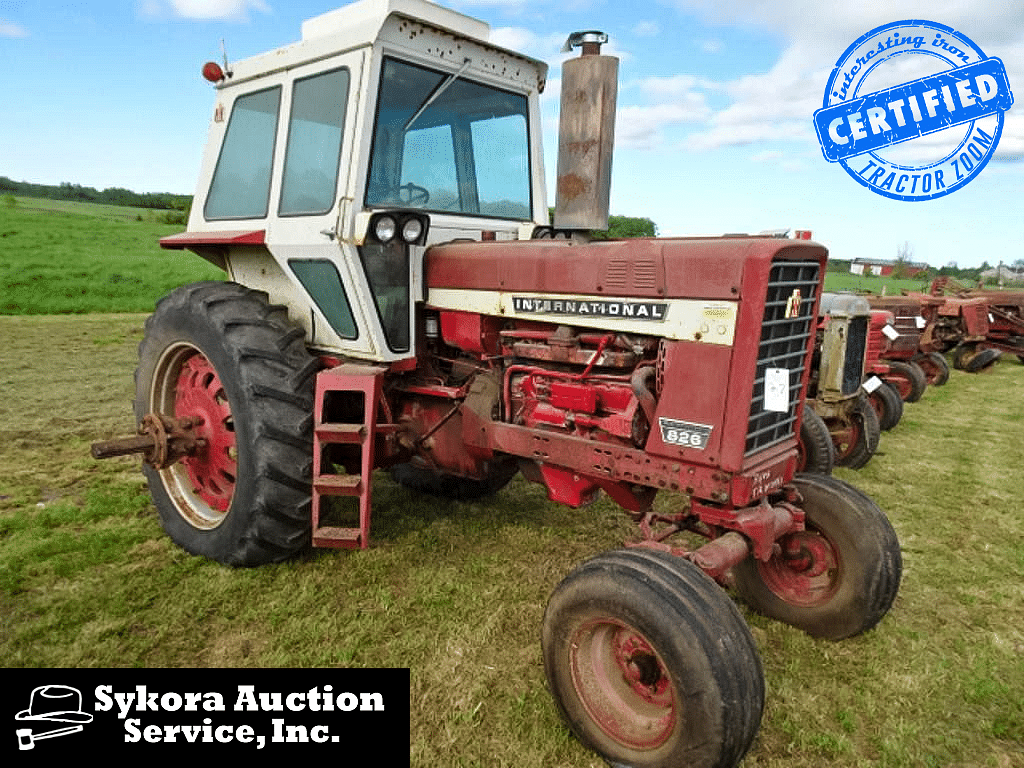 In 1970, Harvester's marketing department rolled out the Gold Demonstrator promo to help push sales of the 544, 656, 826, 1026, and 1456. A handful of each model were painted with gold paint (IH Truck Gold Metallic 4357, if you're playing along at home) and shipped to dealers nationwide. During the promo, those tractors worked in fields all across the country, convincing farmers to upgrade machines.
After the promo, dealerships sold the tractors as demo units. The lion's share of them were repainted after being sold (as was the case with this one). However, if the buyer liked the gold paint, some dealerships would forego the paint job. The folks in Melrose Park frowned on it, but it did happen from time to time.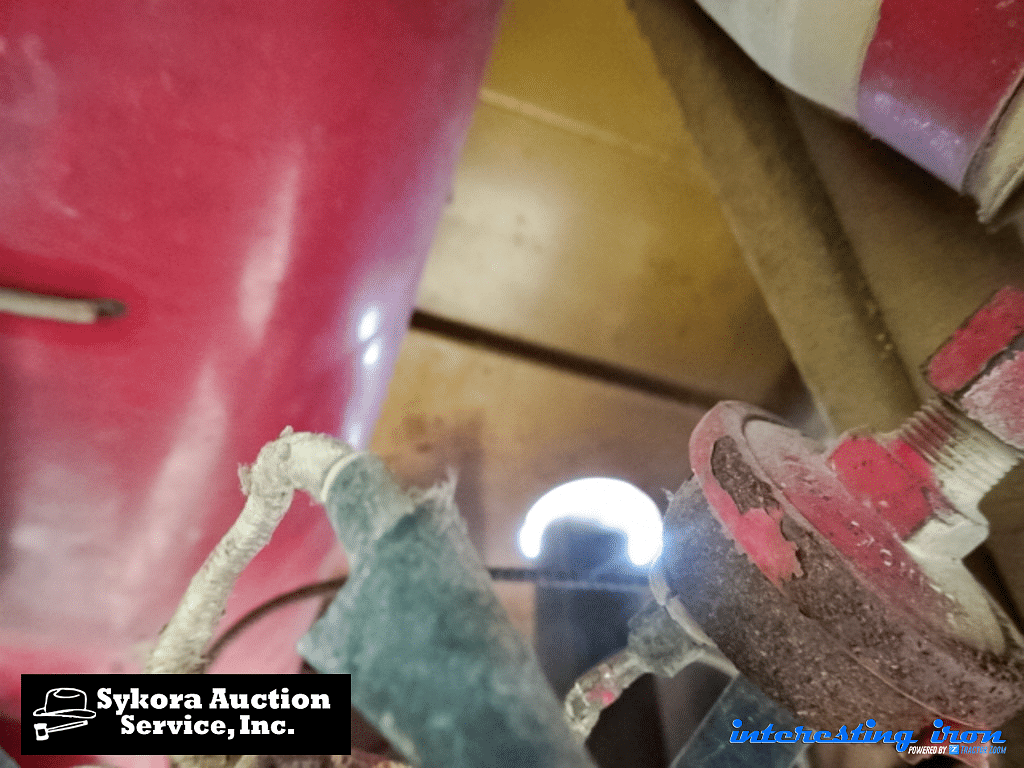 This one lives up near Alpena, MI pretty close to Lake Huron. Our friends at Sykora Auction Services are handling this Saturday's sale. It's part of a pretty good-sized red collection!
Original Gold Demos are rare finds these days; they don't show up very often. If you're looking at one, make sure it's the real deal! Look for IH 4357 gold paint on the underside of the hood and a black operator's console. If you find those, check the serial number and make sure it's a '70. If you can check off those boxes, there's a pretty good chance it's a Gold Demo. I've looked this one over pretty carefully, and based on the photos, I think it's legit.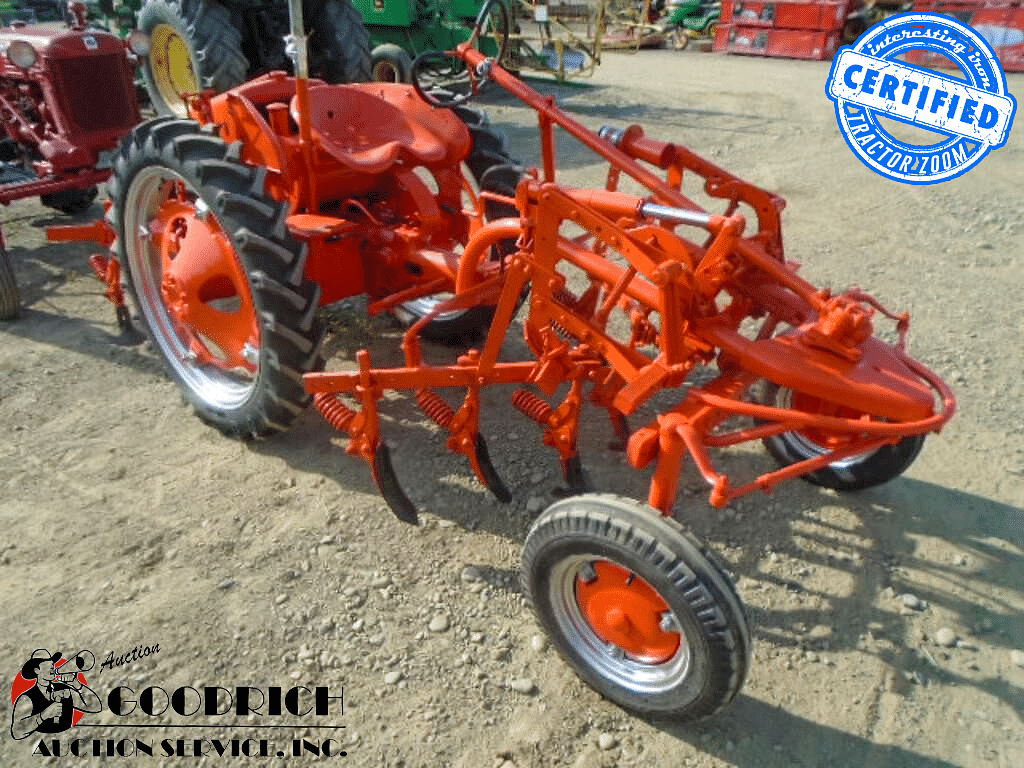 The Allis Chalmers G is a neat little tractor in my book. They're not super-rare, as AC churned out about 30,000 of them between 1948-1955, but they're quite unique. The G is light (1300 pounds, give or take), so most of the weight was hung over the rear wheels so it wouldn't lose traction.
Allis sold the G as sort of an all in one system, and offered a whole slew of row crop implements for them – everything from tillage to planters! They were held in place by a couple of wedge pins, so implements could be changed in about five minutes. Handy for small operations!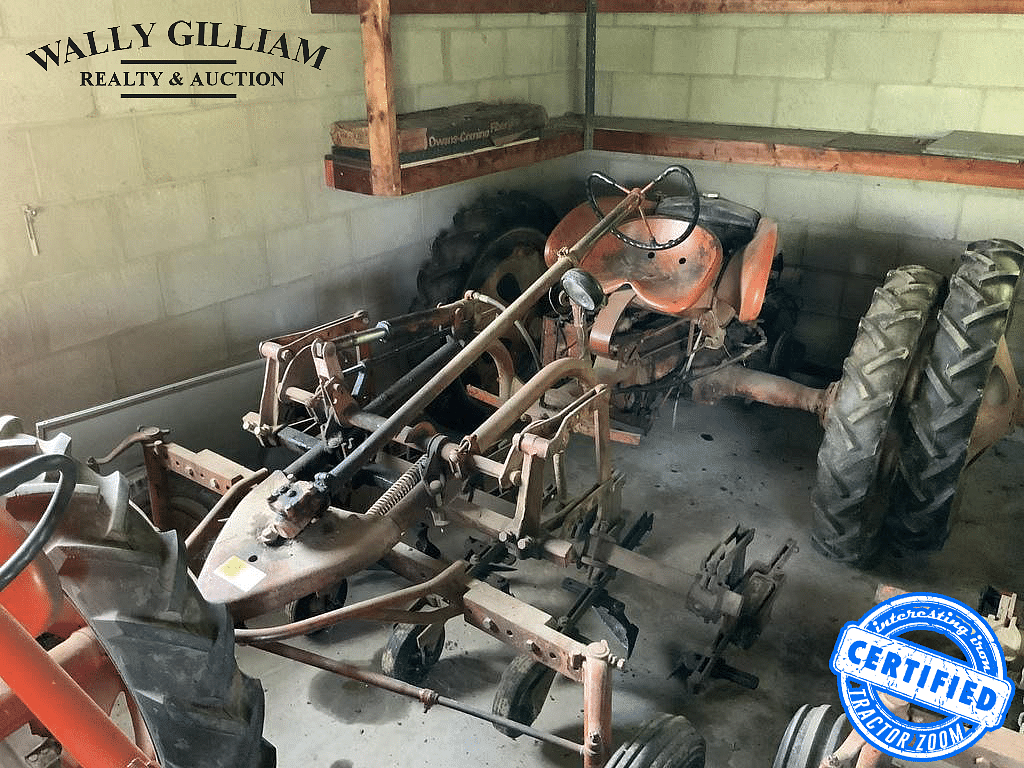 These little guys turned out to be REALLY popular on veggie farms back in the day, and you'll still find farmers using them today! One of the ones on Wally Gilliam's sale even has a 16′ boom sprayer mounted on the back!
Overall, these are still useful tractors that are easy to work on. Parts are still available for the 10-horse Continental L-head engine, as well as the gearbox (from a Model B). They're usually fairly cheap to buy, too; I'd be shocked if these sold for more than a couple thousand bucks apiece.
I've got a buddy in Louisville who makes the greatest pickles on the planet, and one of these tractors would be PERFECT for his operation! Oddly enough, the auction is being held this Saturday in Louisville…
Jeremy, if you're reading this…click here and BUY ONE!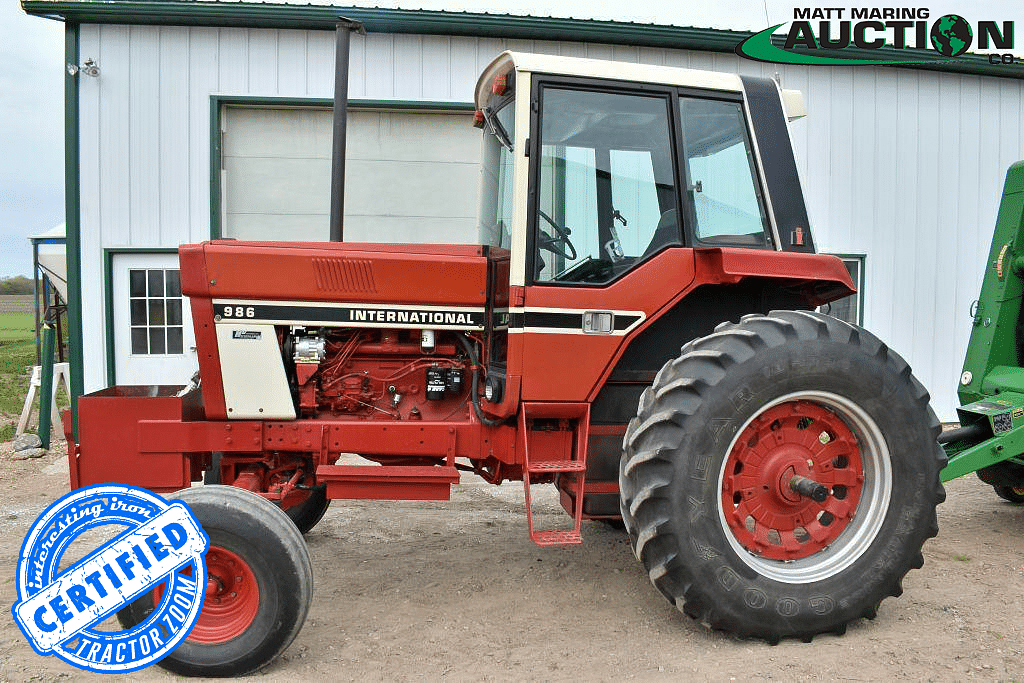 The 986 was a bread and butter tractor for IH in the late 70s. They turned out over 20,000 of these workhorses between 1976-1981. It was the biggest of the naturally-aspirated models, squeezing 117 horse out of the 436 inch inline six. They were quite popular in the midwest as do-it-all tractors – especially with hay farmers.
Such is the case with this one. The owner was a die-hard red guy, and it was a big horse on his farm. He took very good care of it, too. I talked to one of Matt Maring's guys about it yesterday, and while they couldn't say that the 2458 hours were original, it's a strong runner, and clean as a whistle inside and out!
I know most of these columns I write focus on rare tractors or oddballs, but that's not the only criteria I use to find Interesting Iron. Interesting Iron also includes stuff like this 986…a clean farm tractor that's been treated well. It won't set any crazy auction price records, but it'll bring good money when the hammer falls next weekend. There'll ALWAYS be a strong market for tractors of any age when their owners take good care of them.
So, what's the takeaway? Always take good care of your stuff. Maintain it properly. Treat it right, and it'll treat you right when you trade it in or sell it!