Mar. 08, 2022 • Agriculture
At Tractor Zoom, our vision is to bring transparency to heavy machinery data and help people make better decisions. And, while we've spent much of the company's tenure trying to find the best ways to connect farmers with the equipment they need and help them understand what it's worth, we also want to understand what happens when they find that perfect piece of equipment and want to bring it home.
So, we set out to ask farmers.
We partnered with our friends at DTN/Progressive Farmer to ask readers how they finance their farm equipment in an effort to not only understand how and where farmers finance but identify some of the pain points they experience doing so. The following is a summary of our key takeaways.
Takeaway #1: Farmers Still Plan to Purchase Equipment in 2022
High net farm income and low interest rates for farmers in 2021 combined with a limited equipment supply has created a perfect storm for farmers looking to find equipment at a reasonable price point moving into 2022. Despite having to pay 36% more for low-hour, used row crop tractors than they did a year ago, we were surprised to find out that 73% of farmers still plan to purchase equipment in the next 24 months. The majority — over 50% — will purchase equipment in the next 12 months.
With continued supply chain issues, these farmers will likely need to expect an increase in the amount they put down or finance for the late-model, low-hour equipment they've purchased in the past.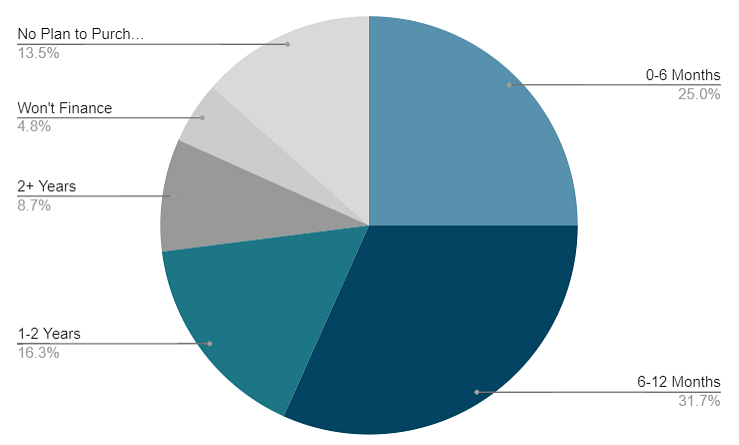 Q. Which timeline best describes the timeline for purchasing and financing your next piece of farm equipment?
Takeaway #2: Majority of Farmers Finance Ag Equipment
72% of the farmers we surveyed have financed equipment, and while 29% utilize cash to purchase farm equipment, survey respondents still utilize an average of 1.9 lenders across their operations.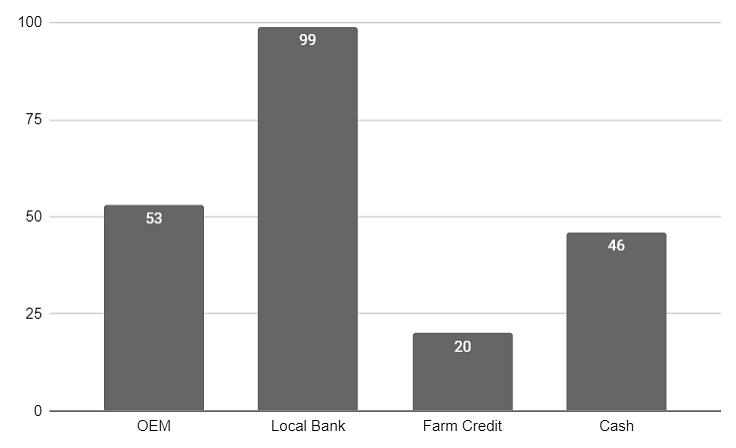 Q. Which of the following have you used to finance your equipment? Check all that apply.
With farm equipment being the second highest asset value on a farmer's balance sheet, it's unsurprising to see so many farmers utilize financing to secure the equipment they need to keep their operations up and running. Low-interest rates, cashback incentives, or warranty promotions are also a powerful incentive to finance, especially when cash can be kept on hand for last-minute or emergency purchases. Perhaps the average of 1.9 lenders is still low to ensure farmers are truly leveraging the best interest rates and financing options available.
Takeaway #3: Existing Financing Solutions Leave Farmers Wanting
Unsurprisingly, securing a low interest rate on their equipment loan is the most important variable to farmers looking to finance equipment. 
But, the next most important variable for farmers? 
It's a tie between the relationship with their lender and ease of the application process. For companies that provide equipment financing, building relationships is a key benefit to financing with a local bank or credit union over other lenders. And, considering a large majority of the farmers we surveyed financed through their local bank, it only makes sense that valuing relationships made its way to the top.
However, when it comes to the ease of application process, the correlation to any lender becomes non-existent. Farmers value ease of the application process over loan term length and payment flexibility. They indicated that submitting financial information is very cumbersome (19%) or somewhat cumbersome (61%) and that the application processing is also very cumbersome (23%) or somewhat cumbersome (48%).
In a post-COVID era where we can now order groceries online, stream new movies, and get together with family 3 states away all from the comfort of our homes, it appears this feedback may be a call to the industry to catch up when it comes to equipment financing and its related technology. With nearly 50% of farmers saying they would be likely or very likely to apply for equipment financing online if they could access quotes from lenders in 60-second or less, who will be the first to answer the call?