Dec. 30, 2020 • 4WD
There are a lot of cool tractor auctions that I never got to write about for Interesting Iron this year. We see lots of neat tractors and trucks listed on Tractor Zoom by our auction partners. Unfortunately, I can't write about 'em all.
Still, they deserve a little time in the spotlight, so let's do a year-end wrap-up of 20 of the coolest tractors, trucks, and pickups that didn't make it to Interesting Iron in 2020! Last week, we covered everything from record-setting red tractors to Big Buds to Cummins-swapped squarebodies. This week, let's look at the rest of the list!
Wagner TR14A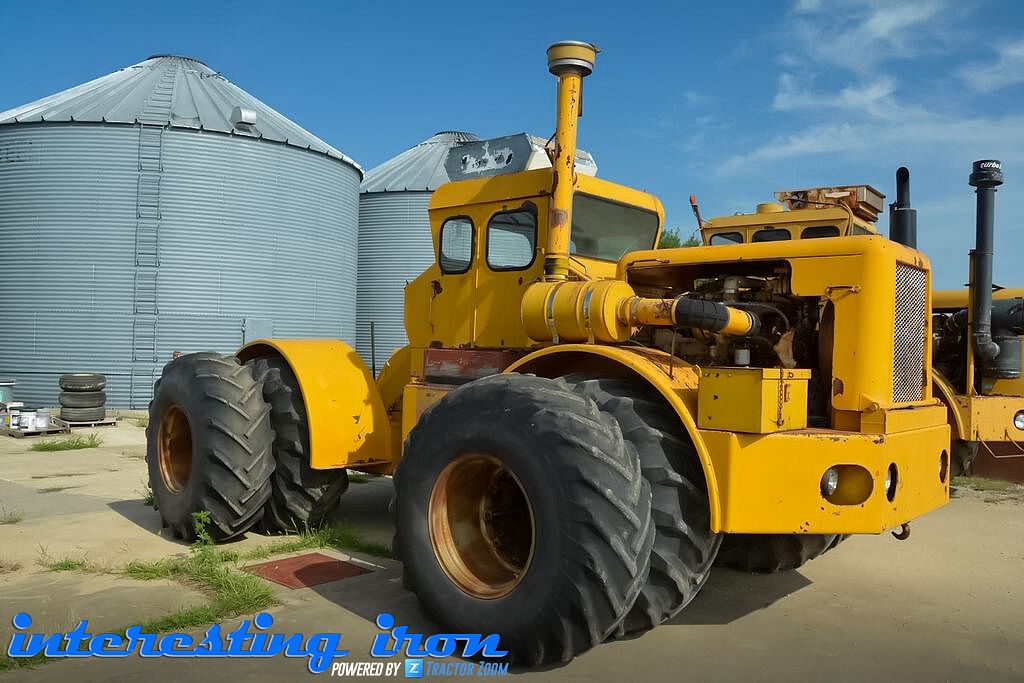 The Wagner Tractor story has a bunch of different angles – way more than I can cram into a paragraph or two, but suffice it to say that they were a pioneer in the 4WD tractor movement. They built great big beasts in an era where lots of companies couldn't even imagine a farmer big enough to need a tractor like that!
This big TR14A was one of two Wagners on a Sullivan sale in northeast Iowa this past August. Neither one of them brought a lot of money, but they still deserve a spot in the history books. Wagner tractors are an integral part of the big power farming story. I don't think they'll ever see the collectability that their green stepbrothers have (Wagner built big tractors for John Deere for a little while – I told you there were a lot of angles to this story!), but they're cool in my book!
Side note: For you big tractor collector types, the silver lining to the low-price cloud is that if you want to start a niche-y collection, they don't typically sell for huge dollars when they do come up! (Sadly, you don't see many Wagners at tractor auctions…once in a while, maybe, but not often.)
Auctioneer: Sullivan Auctioneers
Sale Date: 8.12.20
Hammer Price: $5,500
Lowest-houred 1066 on the planet?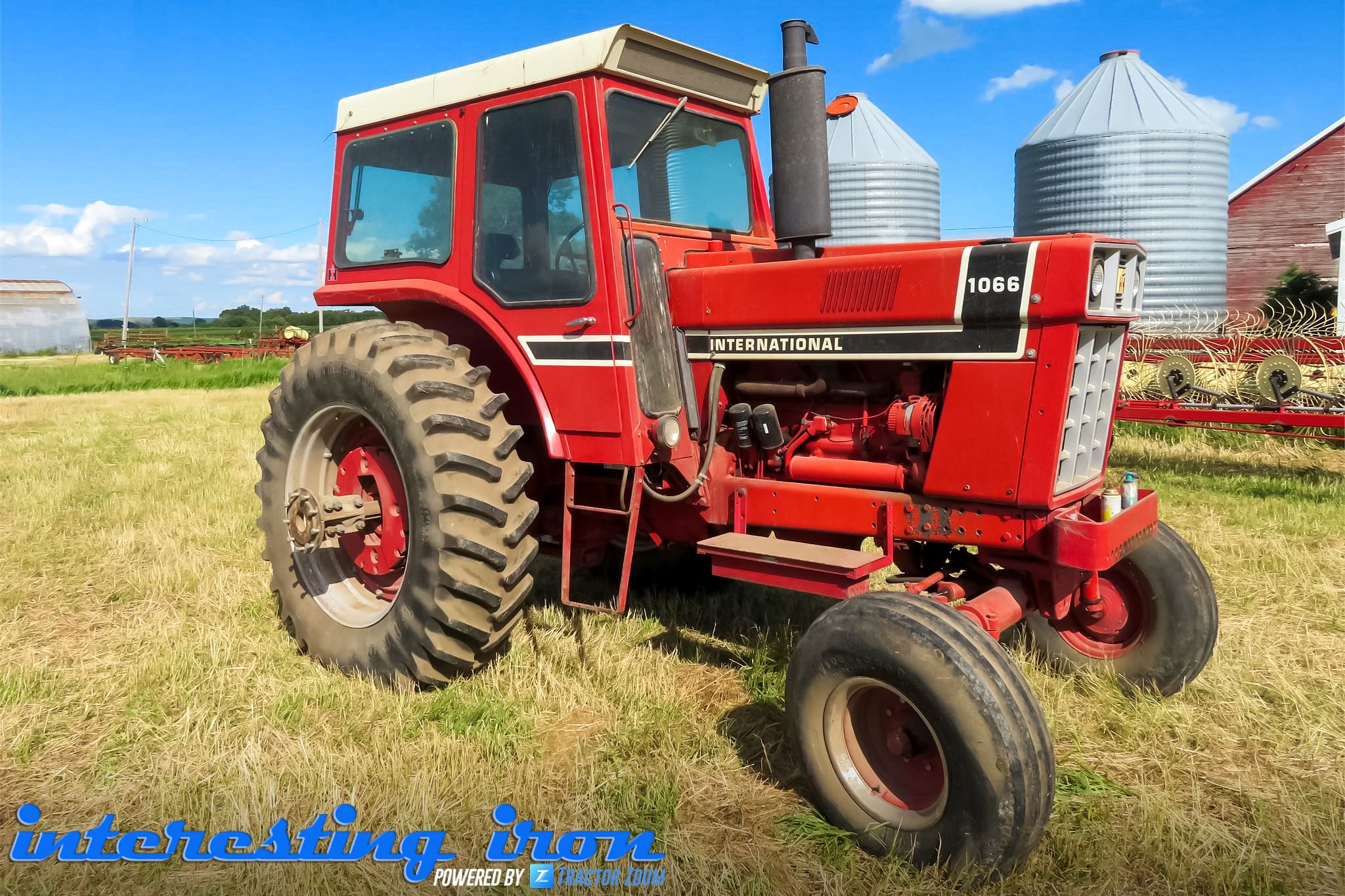 Usually if there's a super-low-houred classic that's coming up for auction, word gets around. Not this time. This 2-owner black stripe 1066 only had 794 original (and verified) hours on it! I've never seen a lower-houred 1066 in my entire life! Needless to say, this beautiful survivor brought big money. It smashed the previous record by $19K, hammering home for $46K after it was all said and done!
People have wondered if maybe the market is starting to slip on 1066s a little bit. I think this one, even though it's a bit of an outlier example, still reinforces the case that there's still demand for classics like this – both for collectors as well as for farm use!
Oddly enough, though…this wasn't the highest-priced 1066 we'd see in 2020. More on that in a minute.
Auctioneer: Creamer, Heimes & Janssen Auctioneers
Sale Date: 8.14.20
Hammer Price: $46,000
The Florida 1206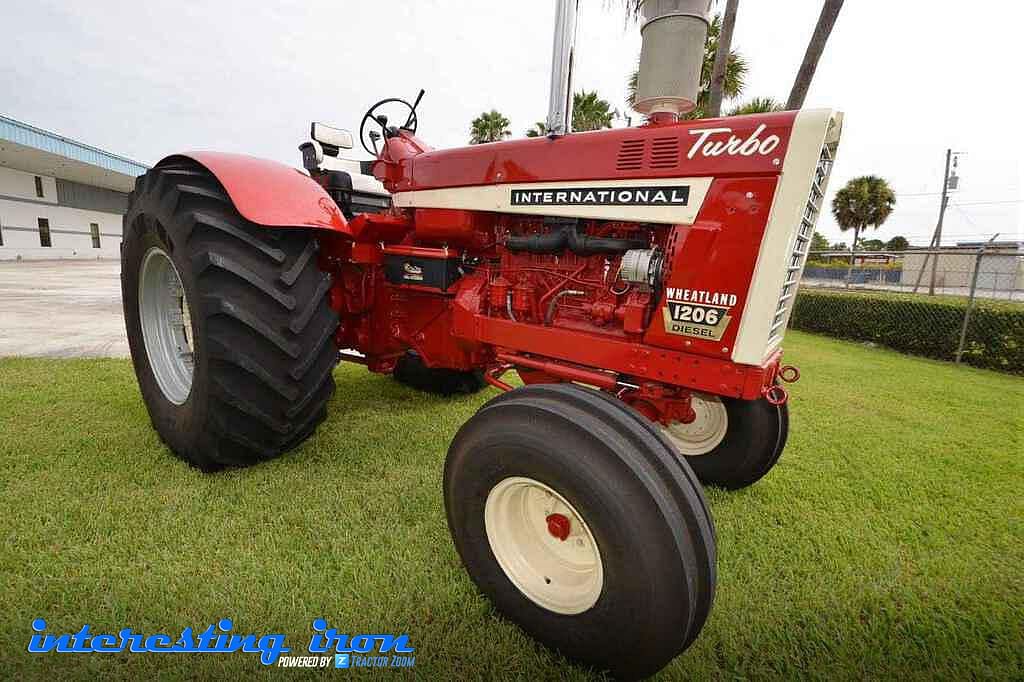 This is probably one of my favorite tractors that rolled across the block this year (maybe a tie between this one and Jerry's 1256 Wheatland). I'm sure there are purists that are cringing over this pick because they think a "true" Wheatland couldn't be ordered with fat tires like this, and they think it looks way too hot-rodded. To each their own. I've seen some of the ordering paperwork and I'm pretty certain you could order these with factory 24.5s like this one.
Anyway, this one presented very nicely in my opinion. In addition, this is the very last IH 1206 built in 1966! The bidders didn't go as nuts over this one as I thought they might, but Deanco still got a pretty reasonable price out of it.
I think what I really like about this one is that it shows that you can still find a decent deal on a collector tractor at an auction. They don't ALWAYS go for a small fortune. I don't know who ended up with this one, but I hope it was a young collector, and it's a cornerstone of their collection!
Auctioneer: Deanco Auction
Sale Date: 8.26.20
Hammer Price: $15,500
The Traction King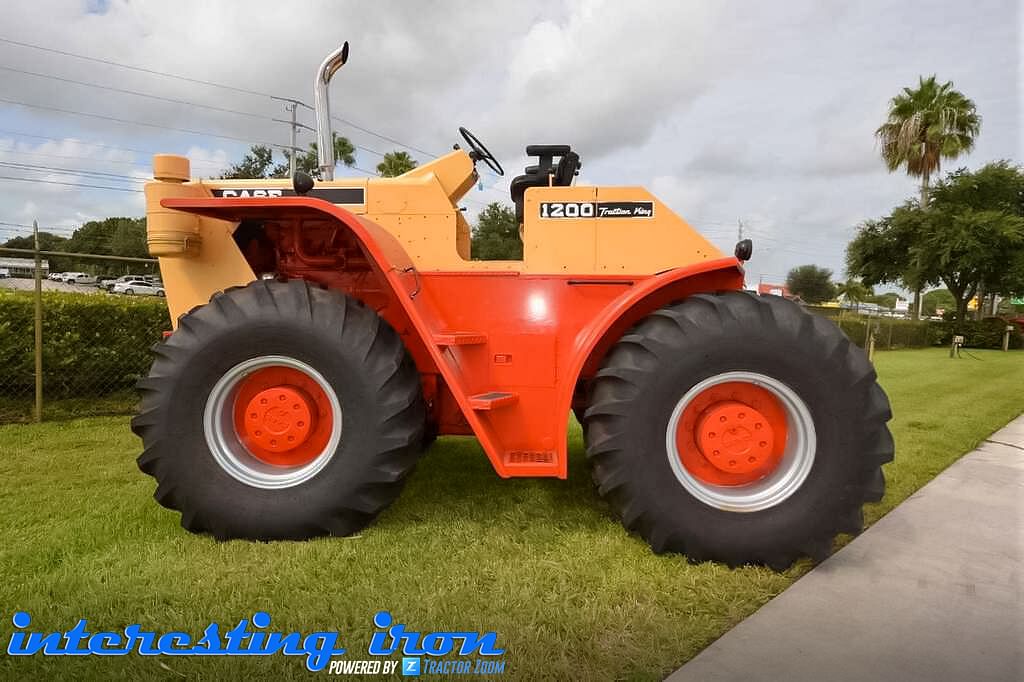 When Case got into the 4WD tractor market in 1963 with the 1200 Traction King, they did it in the typical Case way. They'd always produced a quality product with reasonable features at an affordable price. They drew a box around what they wanted, and they built a tractor that fit within those parameters. In this case, that meant using pieces and parts that were already sitting on the shelf to keep costs down. Had they wanted to, they could've built something super-robust that made a ton of power, but that would've been overkill. They had the components to build a 200-horse tractor that probably would've tipped the scales at 20,000 lbs., but that would've been more than what was necessary for the time.
The 1200 Traction King was, at the time, a great tractor with one rather glaring flaw…the turbocharger. A normal 451 cubic inch Lanova that Case put in this tractor normally made 105 horsepower, but that would've been just a little underpowered for this big tractor. The tractor needed more power, and the only way to get it was to turbocharge it. Unfortunately, though, the turbo'd 451 was a fragile motor with a tendency to run REALLY hot.
The 1200 didn't sell tremendously well, and Case only turned out about 1500 of them. This one was nicely restored, and like the 1206 from the same auction, the bidders didn't go crazy with it. Somebody got a pretty good deal on this piece of history and took it home for $10K!
Auctioneer: Deanco Auction
Sale Date: 8.26.20
Hammer Price: $10,000
Number One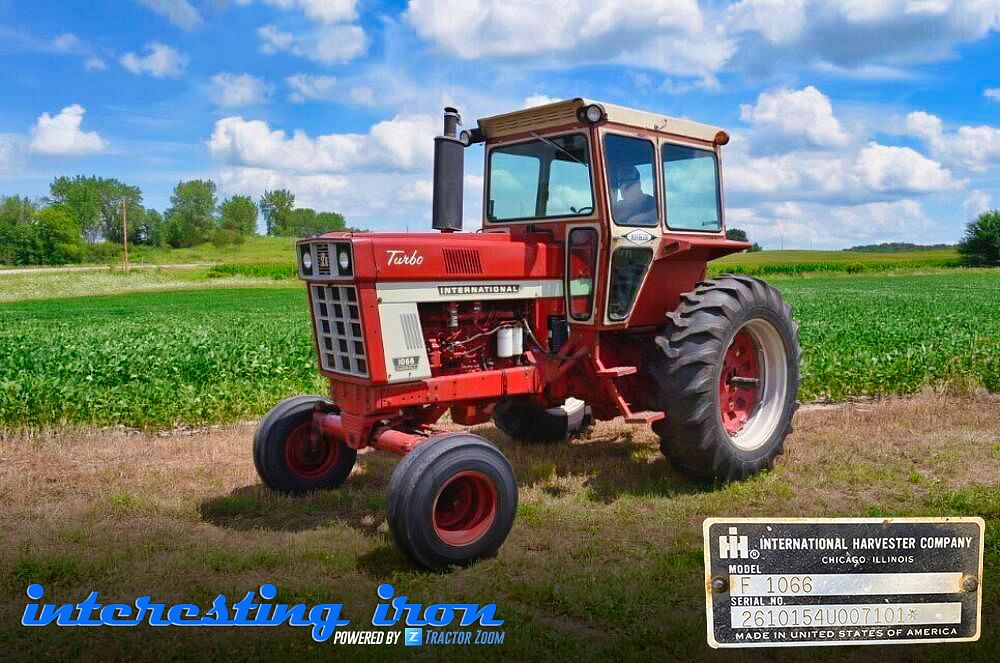 Just like they say that they're only original once…there's only one "first one." This is the very first 1066. Serial number 7101. Amazingly enough, this tractor lived in Iowa all of its life. It was originally sold on December 8, 1971 by Falb Implement in Elgin, IA and only changed hands twice since then. Sometime in 1976, it was sold by Rhomberg Implement in Elkader, IA to Ray Cassutt who farmed with it until November 6, 1987, when Jerry Everitt bought it at Ray's retirement auction.
1066 #1 is an incredibly original tractor. What you see in the photo is essentially what it looked like in December 1971 when it originally sold in Elgin! I believe the only things that aren't factory original are the tires. Otherwise, that's the original paint and Hiniker cab! Here's the real crazy part…even after three owners, it's only got 2993 original hours on it!
There was a LOT of discussion about who would end up with it and how much they'd end up paying for it. Heck, we had even had a pool going with in our office on what it would bring! (And had we not been playing Price Is Right rules, I'd have won the darn thing…)
When the hammer finally fell, the winning bidder paid $86,100. Honestly, it was less than a lot of people thought it was going to sell for (I heard guesses of anything from $50K to a quarter million). There were a fair number of people who were pretty annoyed that Case IH wasn't the buyer. That's okay, though. I'm sure Case IH knows where it went… (I can also tell you that they'll probably have to pay through the nose if they want to get their hands on it.)
Auctioneer: Joel's Tractors/Aumann Auction
Sale Date: 9.22.20
Hammer Price: $86,100
Ain't no feelin' like Petermobilin'!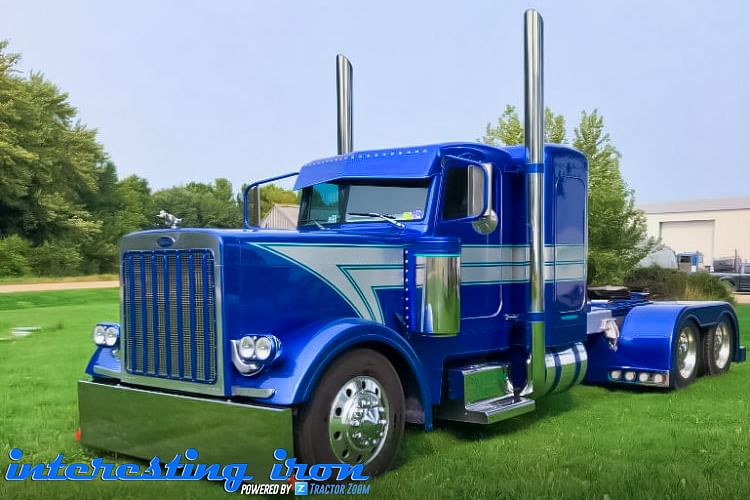 If ever there was an iconic semi, the long-nosed 379 is it. They're the most popular owner-operator semi in history, and it's not at all uncommon to see them customized like this one. I'm telling you…if I were ever to own a semi, this is what it would look like. (I might stretch the frame a little wee bit further and it would likely have a fire-breathing 6NZ Cat under the hood.)
I had a few buddies who had their eye on this truck when it went up for auction, but none of them ended up picking it up. Truthfully, I only saw one thing that likely kept the price from six figures. Most buyers looking for a semi like this are expecting to see some sort of Caterpillar under the hood (a 6NZ or a C15 most likely), and this one had a 60-series Detroit in it. Still, it hammered home for a very nice price and the seller was happy with the outcome.
Auctioneer: Hamilton Auction
Sale Date: 10.1.20
Hammer Price: $84,500
Haaaaay Oliver!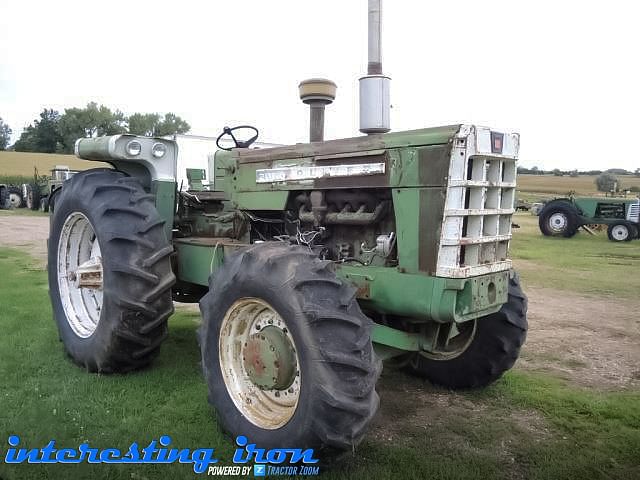 In the world of Olivers, finding a 2050 is a pretty remarkable thing. They only built a total of 383 of them – including Cockshutt variants. But to find a front wheel assisted model? That's exceedingly rare. There were only 93 FWA variants produced in total!
As you can see, this one wasn't in perfect shape, but it was all there for the most part. I don't know where it ended up, but I'd be shocked if it wasn't a collector that picked it up.
Rare classics are out there, kids. You just need to keep an eye open for them! They do show up at regular old tractor auctions once in a while!
Auctioneer: Wieman Land & Auction
Sale Date: 10.7.20
Hammer Price: $13,500
Pro Tip: Smart auction buyers (and collectors) don't waste hundreds of hours scrolling through endless auction listings for the equipment they're looking for. They use Tractor Zoom's custom search alerts and let our system do the looking! Set up a free TZ user account here, and then set up an alert to get a text or email whenever we get a match for whatever you're looking for! With over 450 auctioneer partners, we'll end up finding it faster! (And if you need to find out what equipment is worth, you need to take a look at Iron Comps!)
The Mediapolis Fire Truck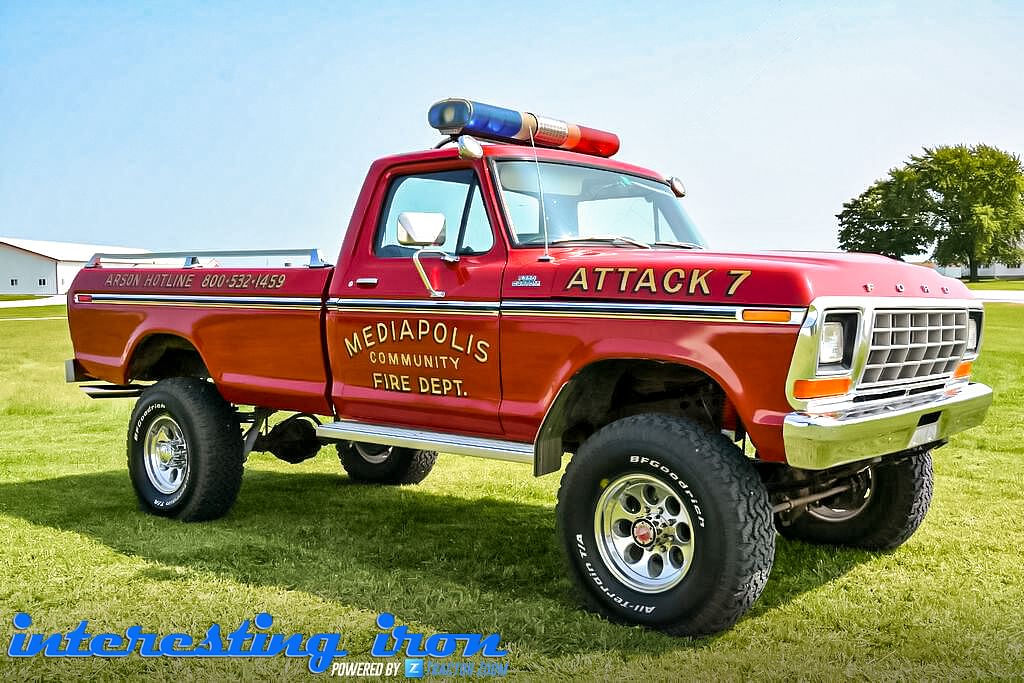 There's been a resurgence in popularity of 70s and 80s pickups over the past few years. They're tough trucks that are easy to work on or restore, and they're darn good lookin' things! For a lot of today's gearheads, trucks like this remind them of learning to wrench with Dad or Grandpa in the garage. In that sense, they become more than just a hunk of iron. They're sentimental.
At any rate, this 1979 F-350 served in the Mediapolis Fire Dept. from when it was new until the fall of 2013 when it was retired. Since then, it's been stripped of the gear in the back (a water pump, tank, and hose reel), and generally freshened up a bit. Nothing crazy. It doesn't need it! At the end of the day, it has 30K original miles and a 400 in it – the biggest motor you could have gotten it with! (And before you start the "You're wrong, Interesting Iron Guy" emails…you couldn't get a 460 in a 4×4 in 1979. I checked.)
Bidders LOVED this truck, and it was one of the hottest sellers on this sale. When the hammer fell, it brought nearly $24K!
Auctioneer: Sullivan Auctioneers
Sale Date: 10.26.20
Hammer Price: $23,750
A tough one to part with…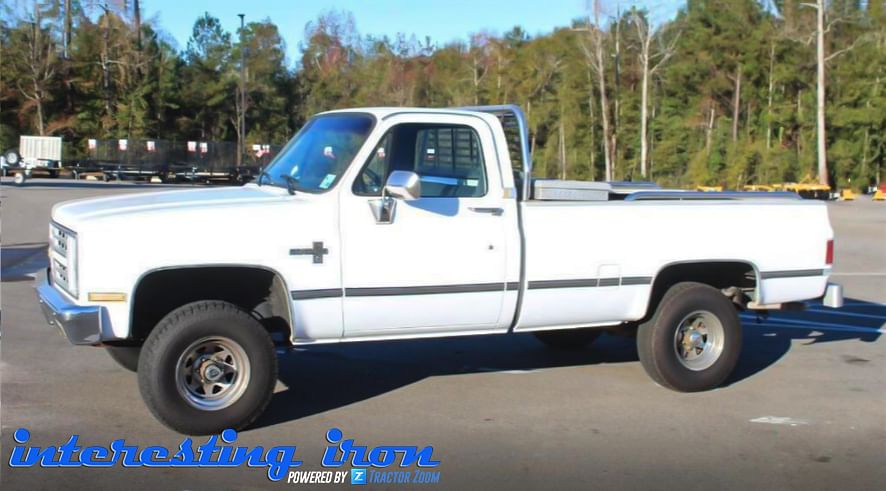 A long time ago, I remember writing something about how, at the end of the day, these aren't just machines. Whether it's a truck, a tractor, a combine, or something else that can be driven, pivotal moments of life have been spent there. How many grandfathers planted corn after dinner with one of their grandsons riding on the armrest of a 1086? How many times has a father consoled a heartbroken teenaged daughter sitting in the buddy seat of a 9770 STS during harvest? Furthermore, how many teenage boys have saved every penny so they could put a lift kit on an old Chevy like this one? My point is that these things aren't just tools that we're talking about.
Life happens in these vehicles.
Nothing that crossed the auction block in 2020 drove that point home harder for me than this truck.
See, this truck belonged to a kid named Seth from Louisiana. It was his pride and joy. He drove it everywhere and I'm sure he had a lot of fun in that truck. I'm sure he drove that truck to his high school graduation ceremony, and maybe out to a party afterwards. Might've taken it out on a first date or two as well.
Then, on his first day of college, doctors discovered that he had bone cancer. Three years and a long, hard fight later, Seth passed away in 2013 at age 21.
Seth's grandfather held on to the truck for the past seven years. I can't even begin to imagine how hard it must have been for him to sit in that old Chevy and think about his grandson. My heart goes out to him, and his family. Nobody ever thinks that they'll have to bury their grandchild. Still, it happens.
A month or two ago, Seth's grandfather decided that it was time that the truck went to start a new life with a new owner, so he consigned it with our friends at Henderson Auctions in Livingston, LA. When the auction ended, the proceeds (including buyer's premium) went to the family's church to help build a memorial pavilion in Seth's memory. It sold for $12,000.
Friends, we're not promised tomorrow. Don't wait to make memories with your family and friends.
Auctioneer: Henderson Auctions
Sale Date: 12.12.20
Hammer Price: $12,000
The Allis Chalmers that couldn't swim…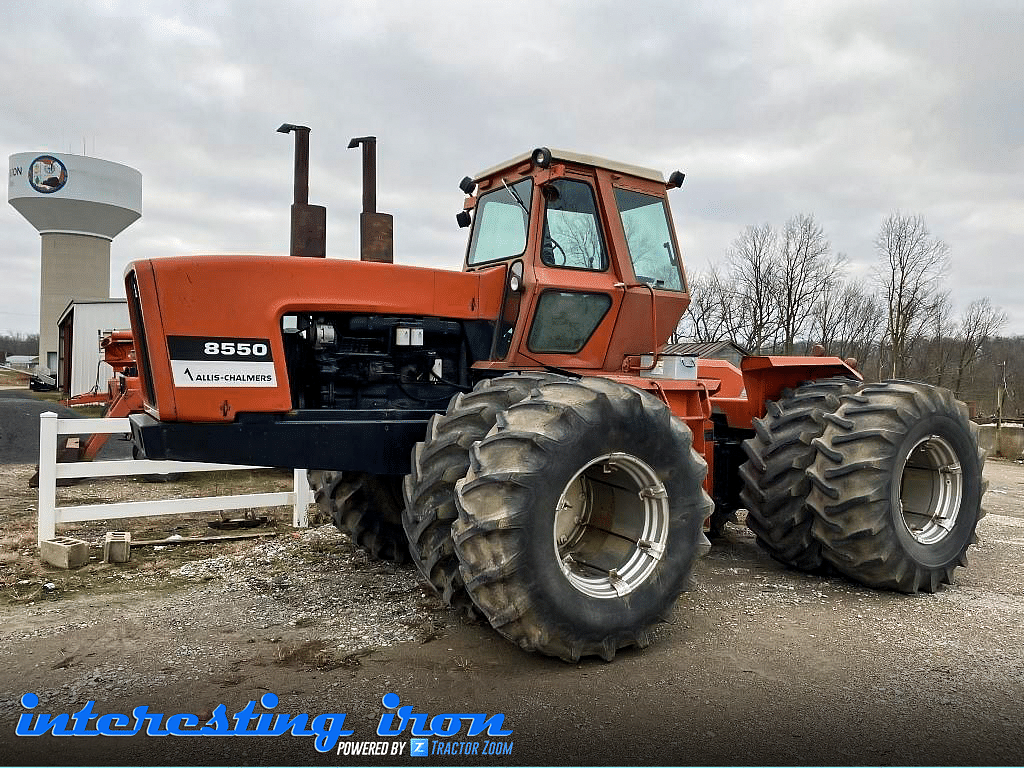 So earlier this summer, there was another AC 8550 that sold at an Indiana retirement auction and smashed the existing record. I think 8550s are really cool and I wrote about that one for Interesting Iron. Super Beasts don't show up at tractor auctions very often; to see two of them sell in a calendar year is somewhat uncommon. In the end of that article in above, though, I told the story of another Super Beast that lived at Loretta Lynn's ranch in the late 70s into the 80s.
THIS IS THAT VERY TRACTOR THAT I TOLD THE STORY ABOUT!!!
See, back in the day, AC had a strong marketing partnership with Loretta Lynn. They had a working hobby-type ranch in Tennessee, and farmed with orange tractors. Early one Sunday morning, one of the local dealers got a frantic call from Loretta's husband Mooney. Apparently he'd learned that Super Beasts can't swim. I believe the story goes that there'd been a little Saturday night drinking involved, and he'd driven it into a pond and cooked the motor in the process.
After a bit of "discussion" between the involved parties, Allis replaced the motor in that tractor, and up until just a few weeks ago, it was still working on a farm in Ohio!
Now, this tractor didn't set a crazy record when our friends at Harmeyer Auction sold it, but $24,000 is still pretty strong money. That Allis landed in a collection up in North Dakota a week or two. Not only did they get the tractor, but they got a heck of a story to go with it!
Auctioneer: Harmeyer Auction & Appraisal
Sale Date: 12.12.20
Hammer Price: $24,000
So there you have it, my friends. The 20 most interesting things that I didn't have the chance to write about for Interesting Iron in 2020. Hope you enjoyed the stories! I'm going to be hard at work finding new stories to tell in 2021, and I hope to run into you at tractor auctions down the road!