Aug. 25, 2021 • Interesting Iron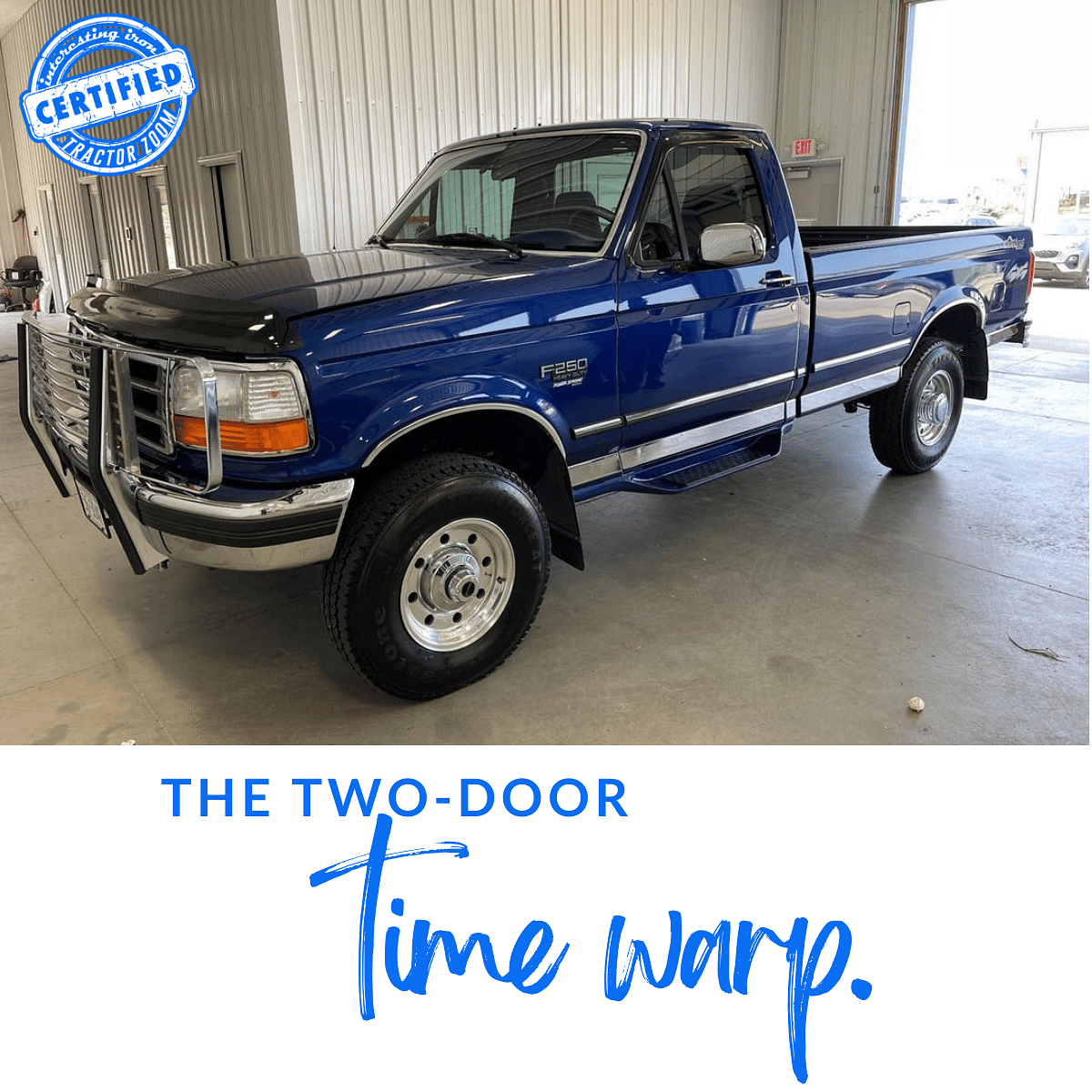 In an average month, we'll see 75-80 F-250s change hands at auctions listed on Tractor Zoom. For instance, we've got 20 of 'em listed as I write this (see them here). Some are pretty cherry, and some of them are absolute basketcases that are probably destined for the scrap yard.
We've never seen a unicorn like this, though. This one is utterly amazing.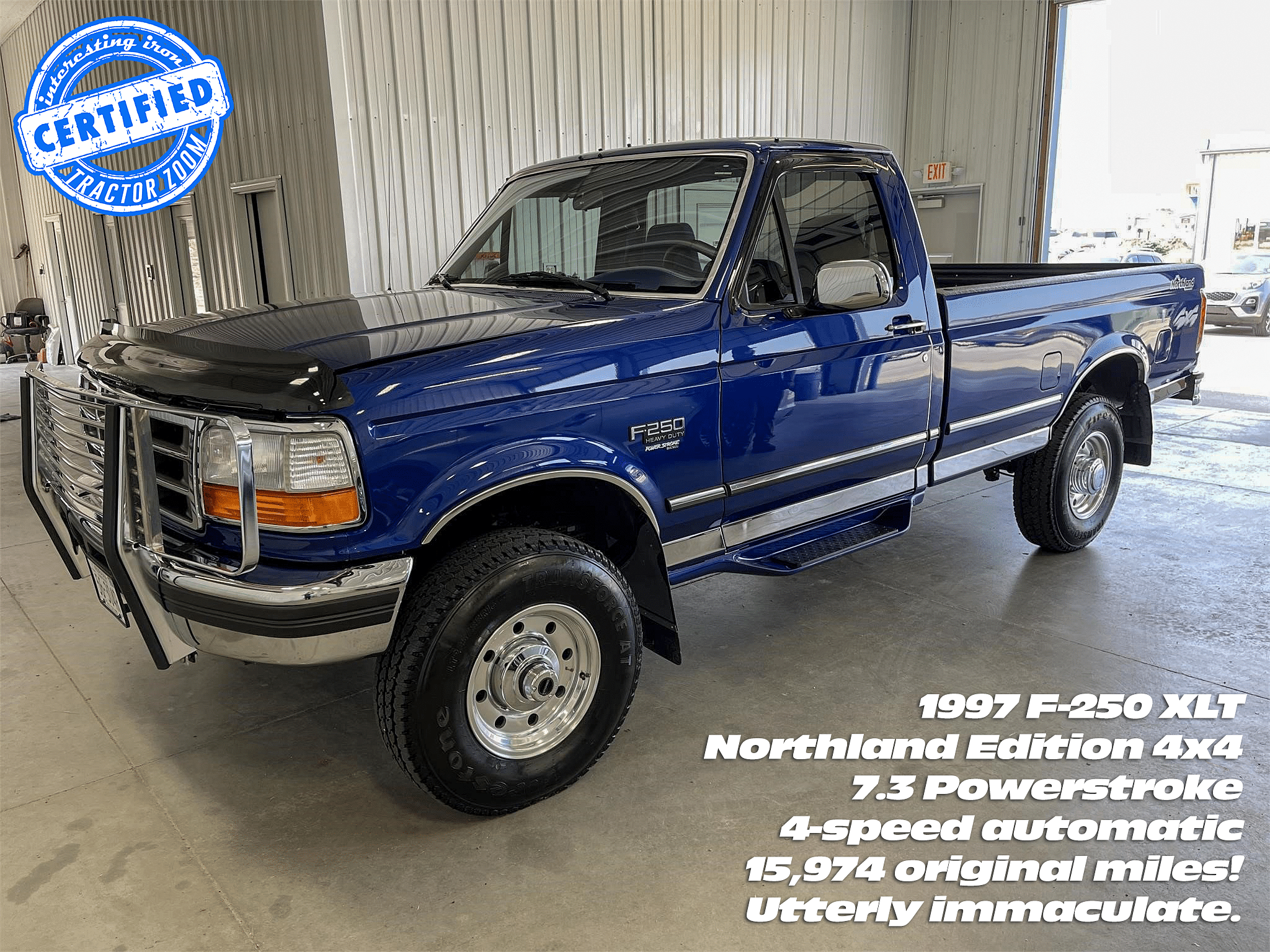 Here's a fact that'll blow your mind: Ford's been cranking out F-series pickups for 73 years. They built the first F-series in 1948, and they're now in their 14th generation of production.
This blue one is a 1997 F-250, which puts it in the 9th generation (built from 1992-1997). 9th-gens are unique, because they were the last version of the F-series where 1/2-, 3/4-, and 1-ton models were styled the same way (Ford truck guys tend to refer to these as OBS – "Old body style").
Furthermore, in 1994, Ford introduced a new engine option: the 7.3-liter Powerstroke diesel. The Powerstroke was the latest and greatest diesel engine from a long partnership between Ford and International Navistar. It was a brand new computer-controlled, direct-injected turbo V8, and it was a pretty major improvement over anything else on the market. As a result, they sold very well.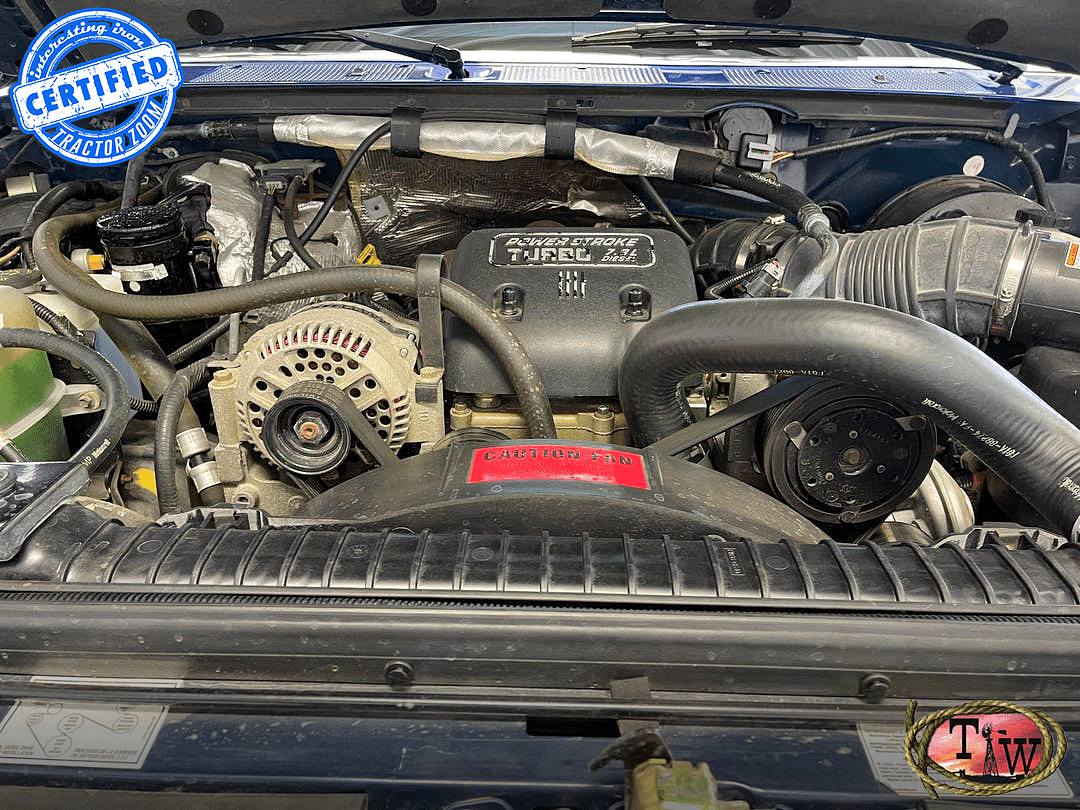 So what's the story with this pretty blue F-250?
I talked with Phil Wieck, the auctioneer selling the truck, for a bit this morning. He told me that it came from either Wisconsin or Minnesota (it was sold at a Wisconsin Ford dealer in the town of Ashland, about a half hour from Duluth, so it was way up there). A man bought it back in late 1997, but only put about 15,000 miles on it before he passed away. His grandson inherited it, and from what Phil told me, it sounds like he stashed it away in a storage facility for safekeeping.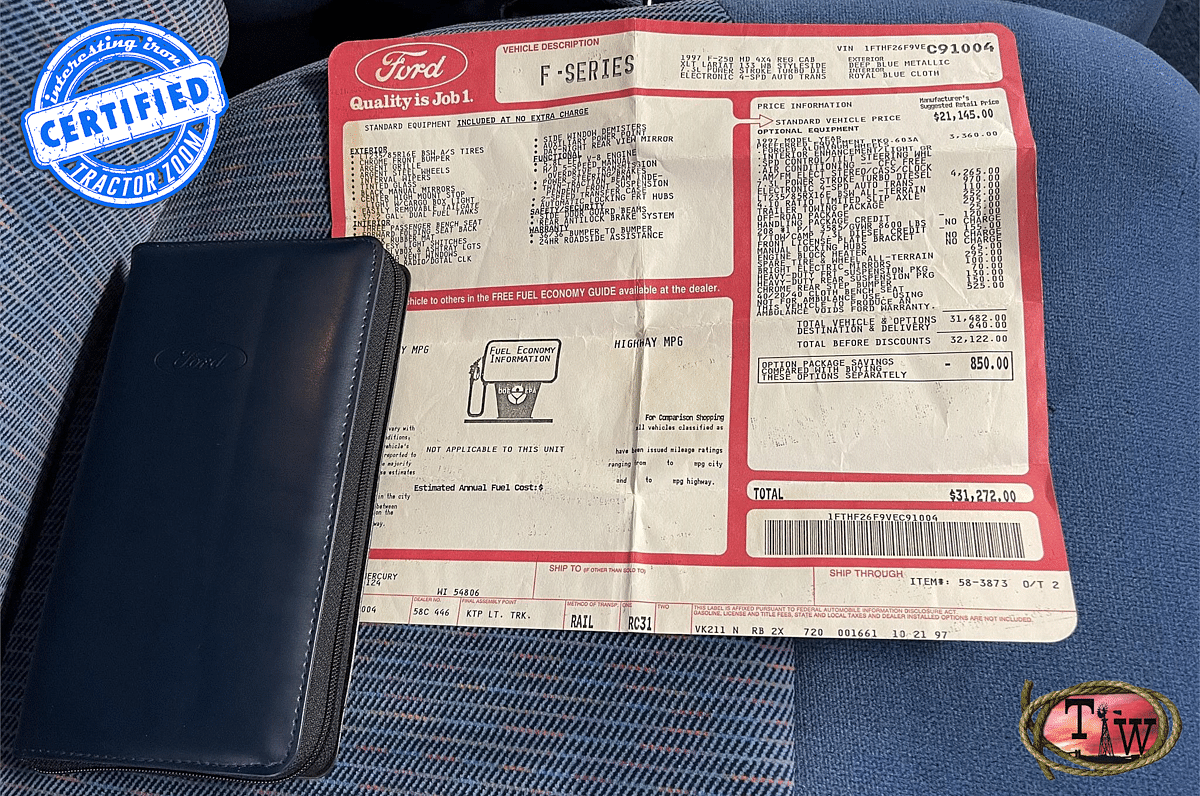 (Here's where we need to stop and recognize the grandson for his efforts to keep Grandpa's F-250 in good condition. There are plenty of instances where this has happened where the grandson goes bonkers at the nearest diesel performance shop and inevitably ends up destroying what started life as a beautiful thing. I don't have a problem in the world with performance – I'm a speed freak, and I like the loud pedal as much as anybody…but don't do it to an immaculately maintained pickup! Thanks, grandson – whoever you are – for not turning Grandpa's pickup into a brodozer!)
Grandpa's F-250 basically remained in storage until about 7 or 8 years ago when a gentleman in Grand Island, NE bought it. Phil tells me that he knew that it was a really clean pickup, and bought it more or less as an investment. The new owner actually parked it in an old milking parlor that he'd turned into a small climate-controlled shop. The owner estimates that he's only put about 600 miles on it since he bought it.
Features
Compared to the way you can trick out a pickup today, this one is pretty barebones. It's a Northland Edition, but from what I'm told, that's not much more than a couple of decals. People like to argue on the internet about whether or not Northlands came with heavier duty batteries and denser insulation and stuff like that. I sort of wonder if some of that isn't fluffed-up sales guy talk, though. Higher density insulation? That seems like a reach…
At any rate, special edition aside, this is a pretty spartan truck. It's deep blue metallic over royal blue cloth interior. Seating is a 40/20/40 split bench, so nothing real special there. AM/FM/Cassette deck, cruise, electric windows and mirrors, but that's about it. Like I said, nothing real special.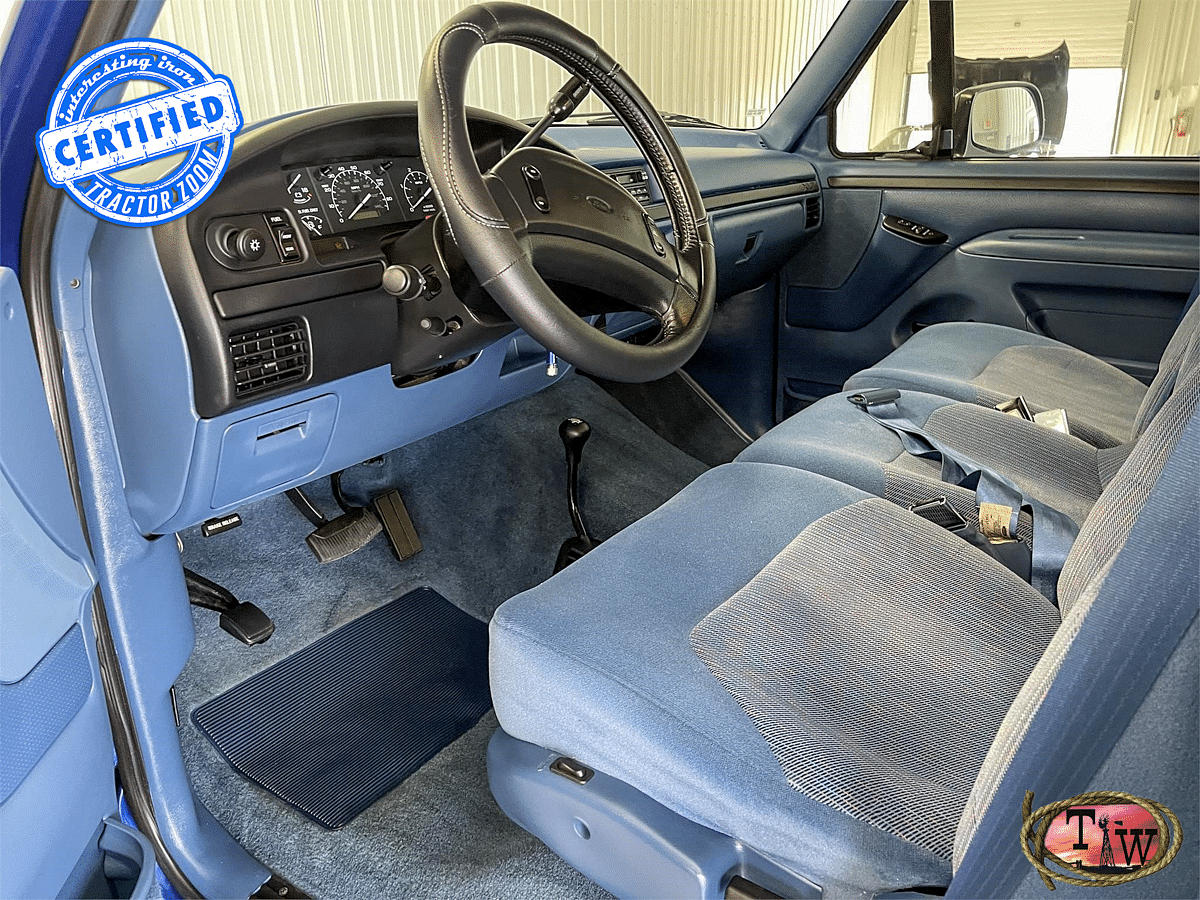 On the exterior side, other than the bedliner and the cow catcher up front, everything is factory original. The truck does ride on fresh Firestone rubber on the 16″ aluminum wheels, which is nice. With it being driven so little, I'd imagine it would've been impossible to keep the tires from dry-rotting. Hoses and belts would all be a little more protected, I think, but new tires were probably a necessity.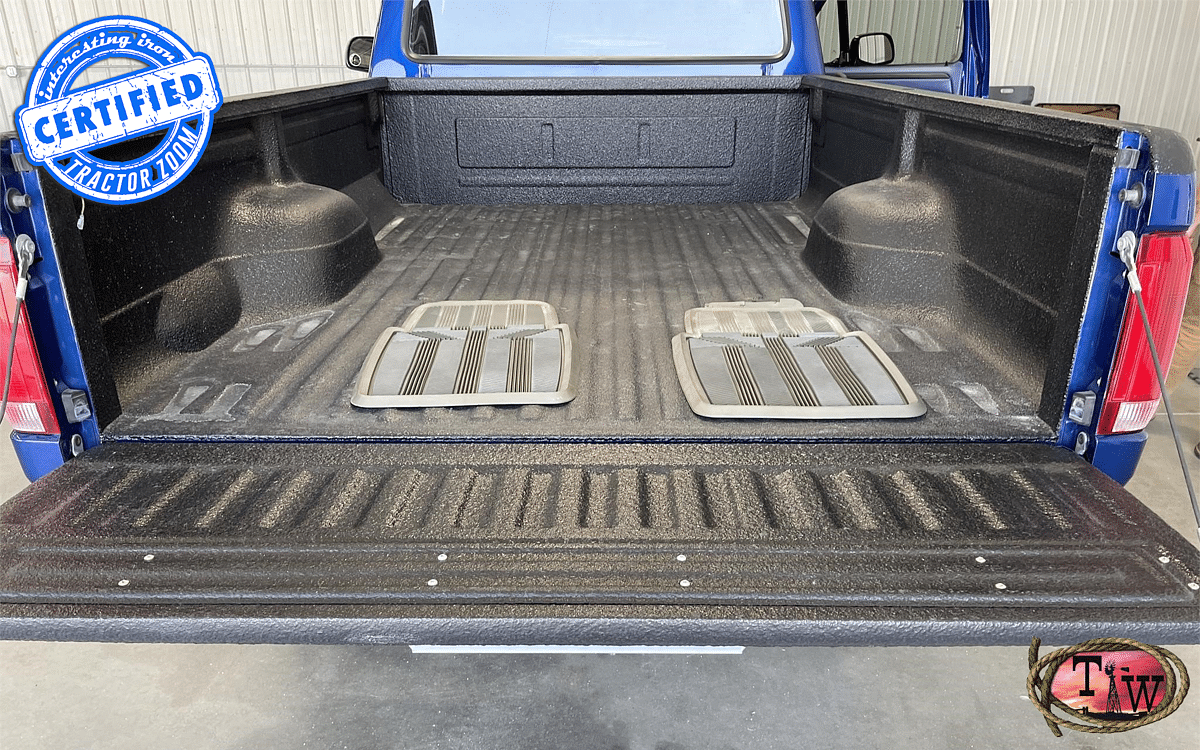 All in all, this is a nearly perfect 1997-era farm truck. I know a half-dozen guys from back home in Michigan who had trucks just like this. The combination of 4WD with a 4-speed automatic and the grunt of a 7.3 Powerstroke would've been one of the most popular farm trucks you could buy back then.
What's it worth?
That's the million dollar question in everybody's minds. My gut feeling is that this is probably going to sell for somewhere around $40-45K.
Here's how I got there.
Normally when I write an Interesting Iron piece, I can look at Iron Comps to value the equipment. However, in this case, there's nothing even remotely close to base a comparison value from. We've got 154 OBS F-250s in the database, but like you'd expect, a lot of them had seen better days. We've got nearly as many F-350s from the same era, but there again, lots of worn out trucks that didn't fit the bill.
So, I went to Bring A Trailer, an auction site that generally specializes in higher-end, rare stuff, to see if they had anything – which they did. The closest I could find to the blue one that's selling in September sold for – get this – $54,321!
At the end of the day, though, Bring A Trailer does tend to carry a little bit of the "BaT tax" – i.e., you're on a collector's site, and you're going to end up paying more. Since this one is listed on a more equipment-focused site, the prices may be a little less "collector-ish" when the auction finishes. Either way, I think it'll be a fun one to watch!
Wrapping up
Both Phil and I agree that the perfect buyer for this truck is likely a farmer in their early-40s. They probably drove past their local Ford dealer's lot every day on their way to school and saw one just like this…and every day on their way to school, they wished that Dad would stop being so practical and would just buy the darn thing!
Now that farmer's been out of school for twenty years. He also sold last year's corn at 7 bucks, so he's got a little money to play with. His practical side says that he really ought to replace a hopper bottom. However, the idea of taking Dad to check pivots and look at the corn – in the pickup that they both fell in love with 25 years ago…that sounds a lot better.
(You can read that and tell me I'm off my rocker and that's a really stupid reason to go buy a 25 year old pickup – and you might be right. But that said, I will guarantee that at least a dozen of you reading this right now are thinking, "How in the heck did Interesting Iron guy get in my head?!?!")
Auction Details
Bidding opens: September 2, 2021
Bidding closes: September 8, 2021
Location: Grand Island, NE
Auctioneer: Wieck Realty & Auction
F-250 photos and description, and a link to the bidding platform
Public Service Announcement – If you're a gearhead-y type person like me, maybe be careful about Bring A Trailer…you'll find a LOT of eye candy, and I'm not responsible for whatever happens afterwards!
Update: 12/21/21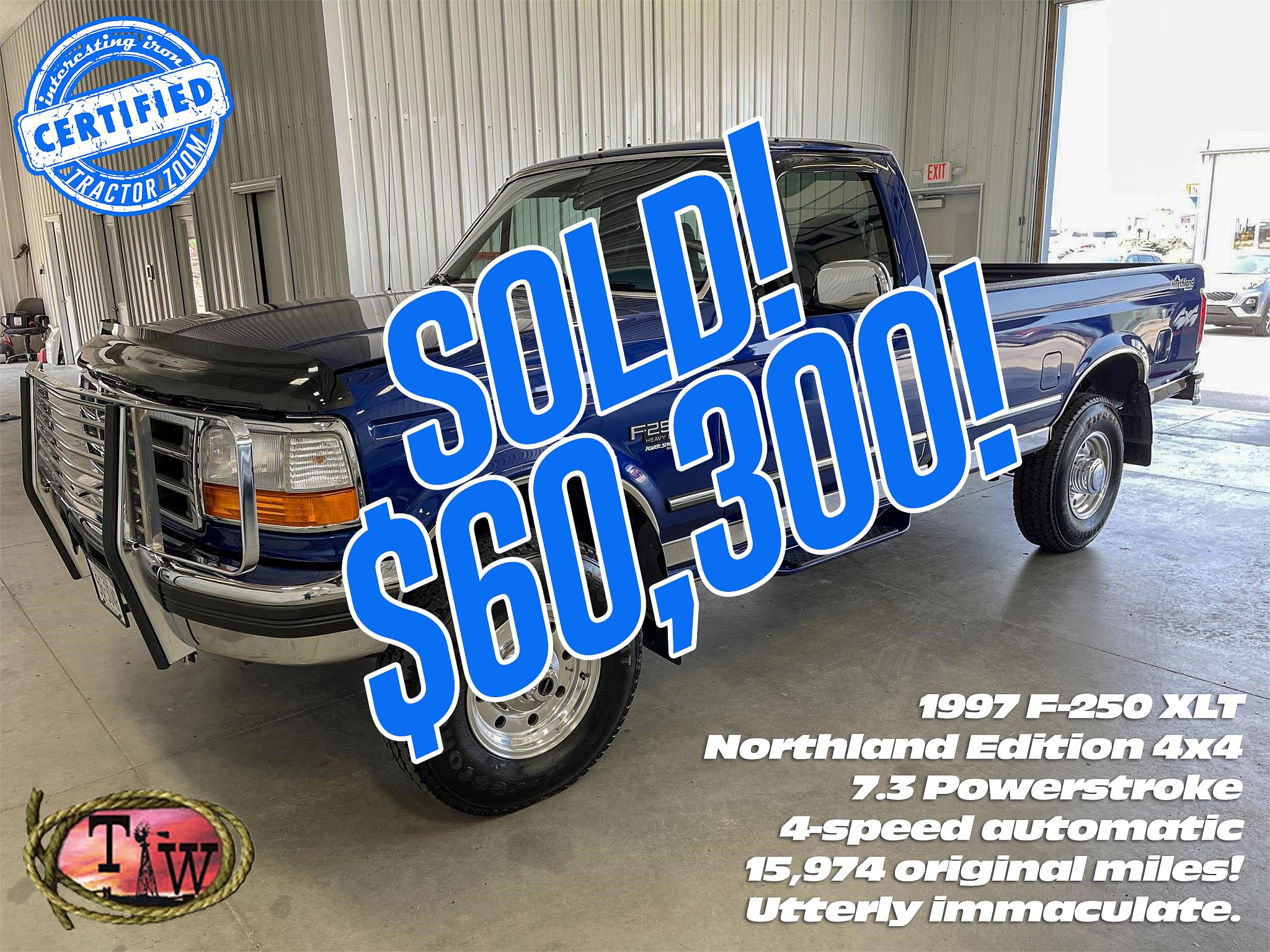 Yep, you read that right.
Sixty grand.
This was far and away the most viral vehicle I've ever written about.
When I posted something congratulating the seller, auctioneer, and the new buyer, I think I almost broke the internet. Man alive, people got bent outta shape about that price! They either thought that we lied about it, the buyer lost his mind, or both!
"SOMEBODY PAID SIXTY GRAND FOR THAT THING??? You've gotta be kidding!?!? That's a $20K truck at most…what kinda drugs was the buyer taking?"
Yep, somebody actually wrote that.
You should see the stuff I had to delete from the thread on our Facebook page. I'm not gonna lie…there are some people with some real bad attitudes in this world, and they all found that post on September 9th.
Here's the thing that most people don't understand about stuff like this:
New(ish) pickups can be collector's items.
Clean, low-mileage examples of OBS Ford with the 7.3 Power Stroke are becoming collector's items. This F-250 is 24 years old. 25 years old allows it to be titled as a collector car, and you can put collector car insurance on it.
Collector cars attract a different market of buyers.
They buy stuff based on a different set of characteristics. For many of them, they're looking at a truck like this as an investment. They'll hold on to it for another ten years in a clean, climate controlled environment alongside six Mustangs, two Corvettes, and thirteen other old pickups that are just as nice. They won't use it like a farm truck. They'll take it out a few times a year just to keep it in good working order. The next time we'll probably see it is when they decide they're going to sell it at Barrett Jackson or Mecum…and when they do, some other collector is going to buy it for $100,000 and do the same thing with it!
Lastly, and most importantly…the auctioneer didn't rip anybody off.
Lots of people claimed that this truck was a fake, or that sketchy stuff was going on behind the scenes with this auction. None of that is true. Phil Wieck, the auctioneer, did a terrific job of documenting and presenting this F-250. He provided tons of photos, videos, and all of the information needed for buyers to decide whether or not it was worth it. Nobody rolled any odometers, nobody slapped 500 pounds of Bondo on a clapped-out farm truck and painted it and tried to pass it off as minty-fresh. This was, and is, the real deal. It's a survivor pickup, and

collectors want those

!
If it proves anything, it proves that presentation matters.
If you want to get top dollar for whatever you're selling – whether it's on AuctionTime, Craigslist, or anywhere else…presentation is important. Three photos, two of which are blurry…that ain't gonna cut it. Drag it out of the barnyard, wash it and detail it, and take a ton of photos. Show the good, the bad, and the ugly. Be truthful in your descriptions, and show the documentation you have. Do yourself a favor and put the time and effort into presenting it nicely. I guarantee that it'll help you get more for whatever you're selling.
Some of you may take issue with me on this, and that's fine. You're welcome to your opinion. I get it; it's tough to see a pickup that's not quite "old" but definitely not "new" as anything more than a utilitarian piece of metal. A trusty pickup. Something to throw junk in the back of, and do truck stuff with.
Believe me, I get that. I drove past a Ford dealer every day on my way to high school back in Michigan, and I drooled over an F-250 just like this. To me, that doesn't seem so long ago, but the numbers don't lie. I graduated in 1996, so I've been out of high school for 25 years now. Those trucks still seem "new" (ish) to me, too.
Would I have thrown down $61K to own that pickup? No. But that's the thing. I'm not a collector. I couldn't justify a truck like that in my garage. But somebody did. This F-250 is worth that much to them, and I'm happy they got something that they really like! I don't think they're insane for paying that, either. They have a different perspective than I do, and that's cool with me. I would hope that it's cool with you, too…even if you think that it sold for too much money.
Somebody thought that F-250 was worth it. Be happy for them!